Developing an Aquaculture Regulatory Framework for Nova Scotia
Elements of the Process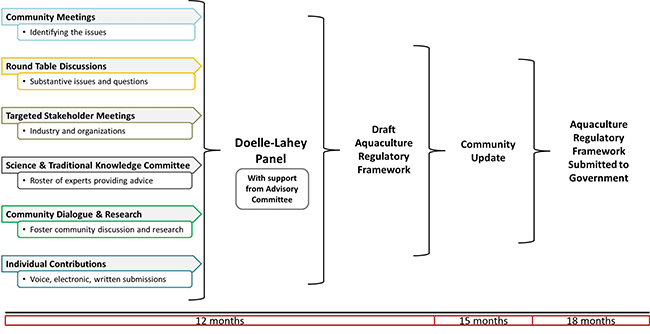 Doelle and Lahey will rely on a variety of sources for consideration in developing the aquaculture regulatory framework for Nova Scotia (to view the schematic larger, click here). These include:

a)    Community Meetings
In person public meetings in communities around Nova Scotia, to be held in the month of July. Meetings will be arranged with Department of Aquaculture and Fisheries. Organizations that own appropriate facilities and that represent/serve the broader community will be asked to host. Doelle and Lahey will split the meetings to reach more communities. Members of the Advisory Committee may attend.
 
The meetings will be informal with the intent to outline the process and ask participants to help us identify the issues we should consider in designing a regulatory framework for aquaculture.

b)    Round Table Discussions
To create a forum for ongoing discussion of the substantive issues and questions as they arise through the process. In other words, the idea is to create a structure for structured engagement with a broader range of key stakeholders and community representatives on a more continuous basis throughout the process. Possible models: Roundtable for Tidal Energy, Colin Stewart Forestry Forum.

c)    Targeted Stakeholder Meetings
Reaching out to specific individual, organizations, groups for targeted meetings on their perspectives, views, and expertise.

d)    Science and Traditional Knowledge Committee
Roster of experts we can call on
 
There will be a need for (a) an initial identification and framing of the scientific issues, which can only be done with a representative group of recognized scientific experts; and (b) a mechanism for bringing scientific knowledge to bear throughout the process by means which reflect the diversity in relevant scientific and traditional knowledge.

e)    Community Dialogue and Research
A modest funding program on application to:

Organize a meeting to allow a group interested in our process to get organized and to formulate a position on issues relevant to our process OR
Conduct research or otherwise gather information not otherwise available to us that will be relevant to our process, such as relevant traditional knowledge.
 

Click on Participation Funds for more information.

f)    Individual Contributions
Click on Contact Us for ways to provide your input.

The Advisory Committee provides advice to the Panel as the Panel carries out its mandate (Click on Advisory Committee for more information). Prior to submitting the final report to government, the Panel will provide community updates with highlights from the draft report.