High school is an exciting part of anyone's educational journey, especially if you're about to graduate. What's the best way to capture the essence and spirit of your senior year in high school? A photoshoot, of course. You can customize your photography session by including themes showcasing your hobbies, ambitions, and individuality. Including the special milestones of your high school journey can make your photo session more personal.
But, quite obviously, the interiors of your school or home can form constraints to the ideas of your session, whereas the outdoors can provide avenues for setting up all your themes. In this article, we discuss and explore the different genres and various outdoor senior picture ideas that anyone would love to implement.
We've also mentioned the best general tips to consider while preparing for your photo shoot. Read on to plan your fun and insightful senior year photo shoot!
General Posing Tips for Outdoor Senior Picture Ideas
1. Exploring Different Poses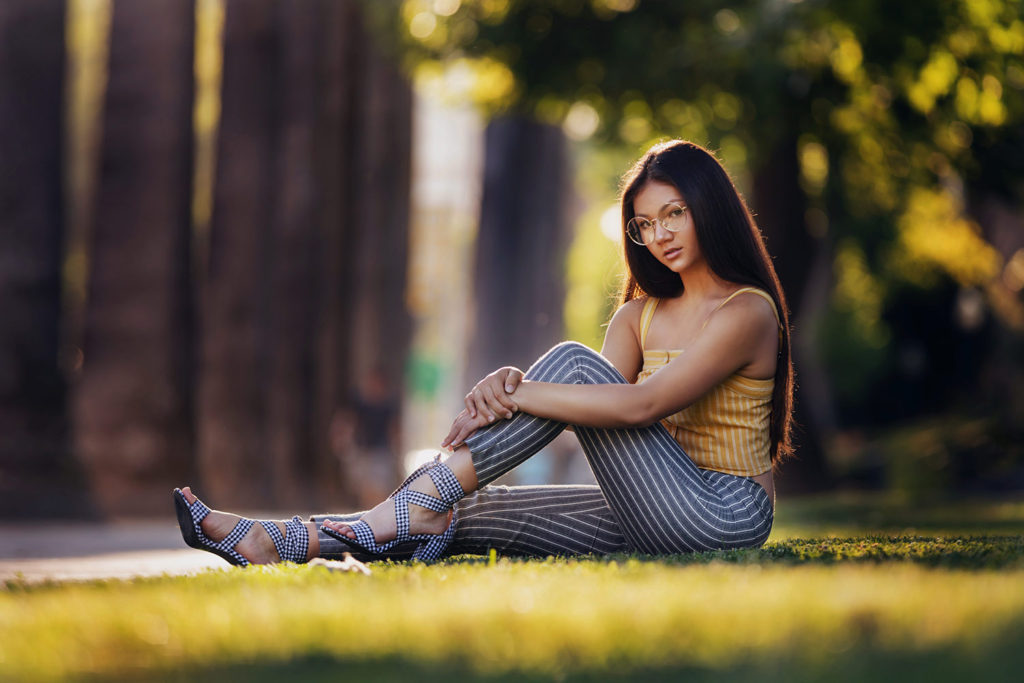 Since senior-year students are teens, they usually have little to no experience in professional photo shoots. This might make it tricky to create natural and effortless poses. Hence, exploring the different suitable poses is essential. Try sitting down or leaning against something, as it would avoid awkward and stiff positioning. You can also crouch or use a prop to pose with your arms since they are usually the trickiest.
2. Looking Sideways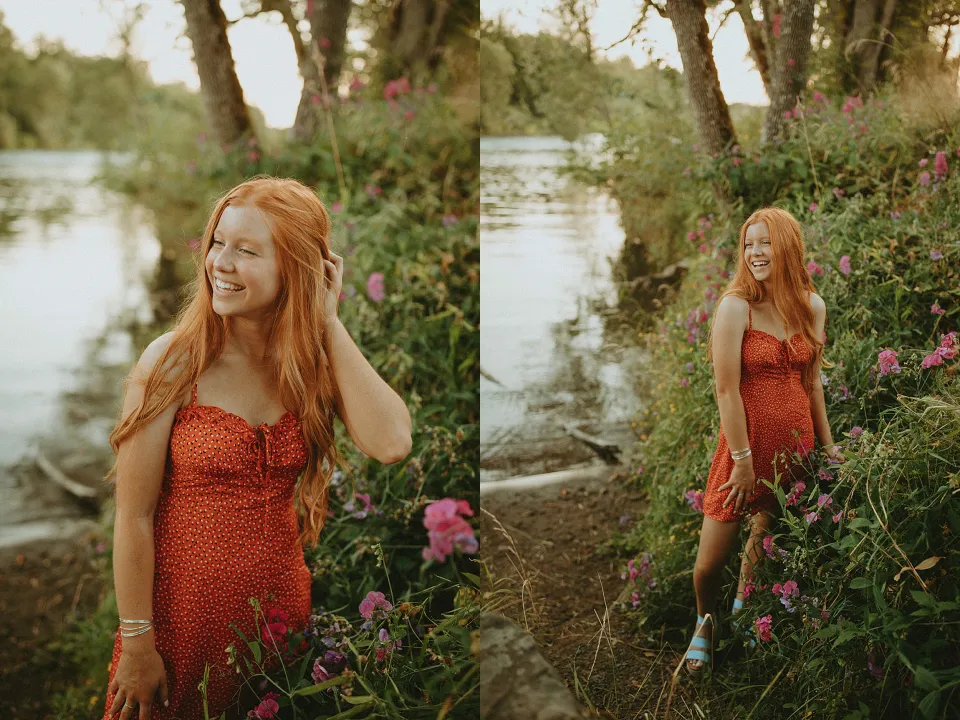 Sometimes looking directly at the camera can make your glare seem weird and your body bulky. Instead, if you turn your frame slightly away from the camera and look sideways, it will better capture your curves and create a great pose. The photographer can achieve a similar effect by changing the positioning of the camera. For instance, take the picture from a downward angle, or capture the snap from above.
3. Show Movement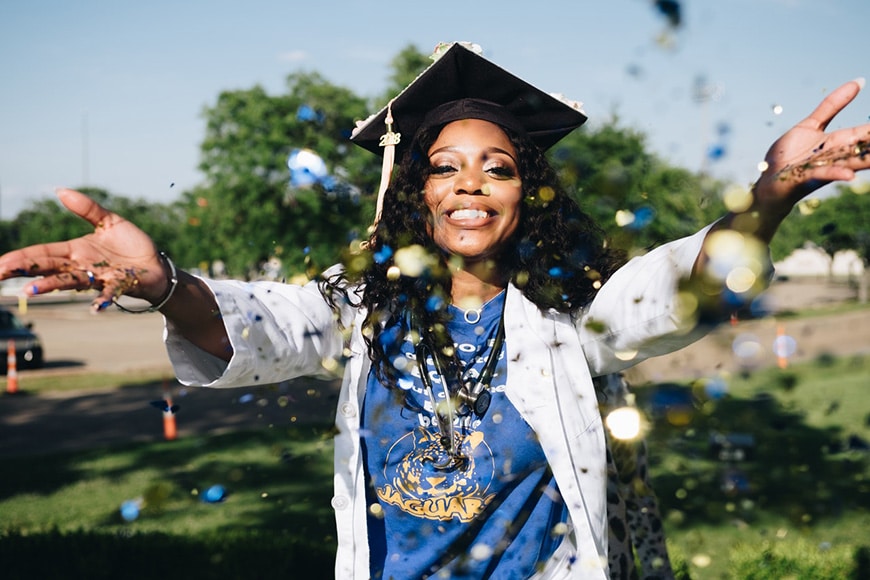 Showing movement is a creative way to make your pictures more natural and candid. You can twirl your dress or walk towards or away from the camera. If you play any sports, you can get a few pictures while playing. Or perhaps if you acted in theatre, then a couple of snaps in the middle of your act or of you dressed up as your character will genuinely enhance your photo shoot manifold.
4. Arms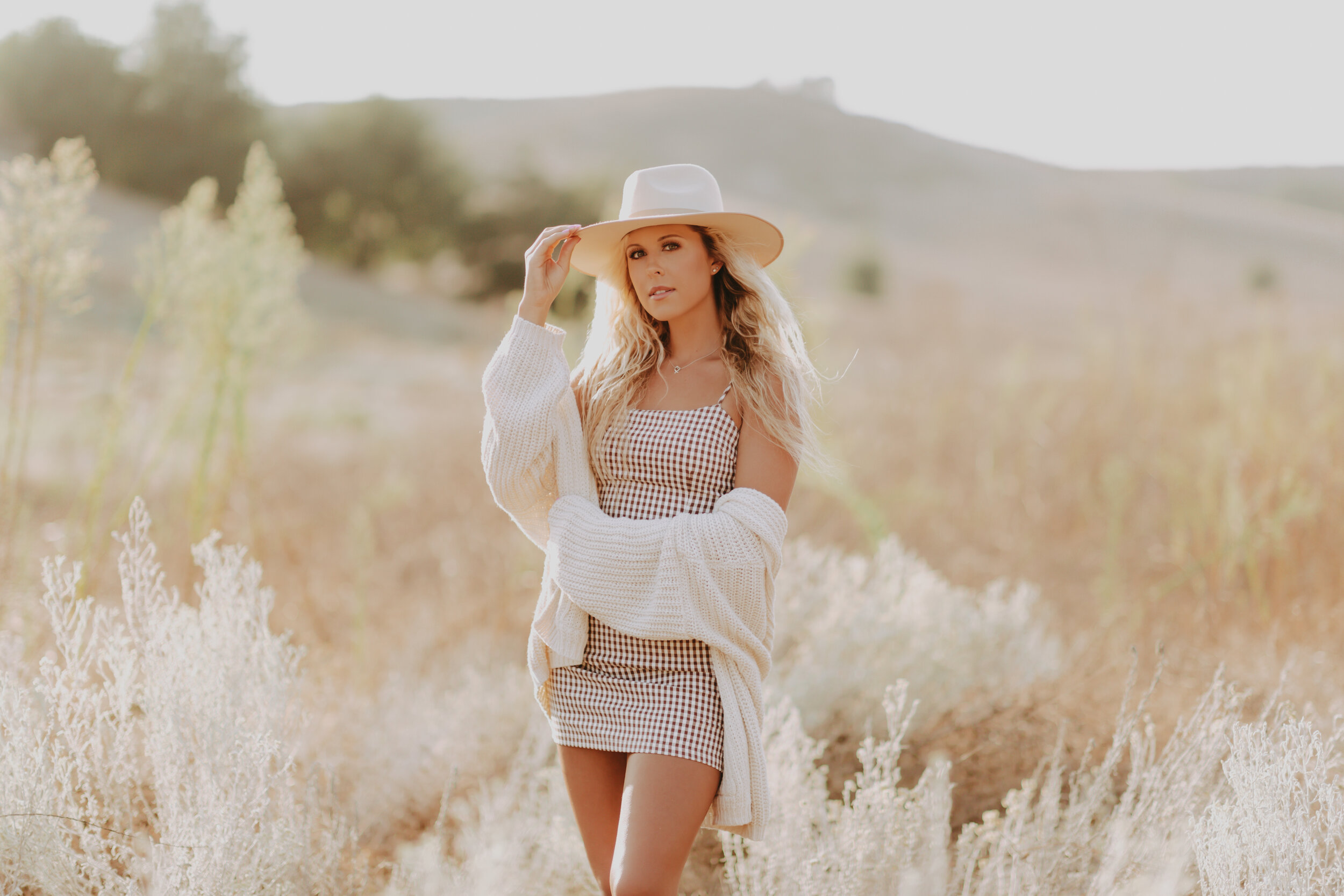 In photography, posing with your arms is often strenuous. As aforementioned, the positioning of your hands can make or break your picture. If you do not focus on this, your pose may seem awkward and out of place. How can you fix it, then? Either you can let your arms fall naturally or do some activity. You can also use a prop to engage your hands.
Classic Outdoor Senior Picture Ideas
5. Cap And Gown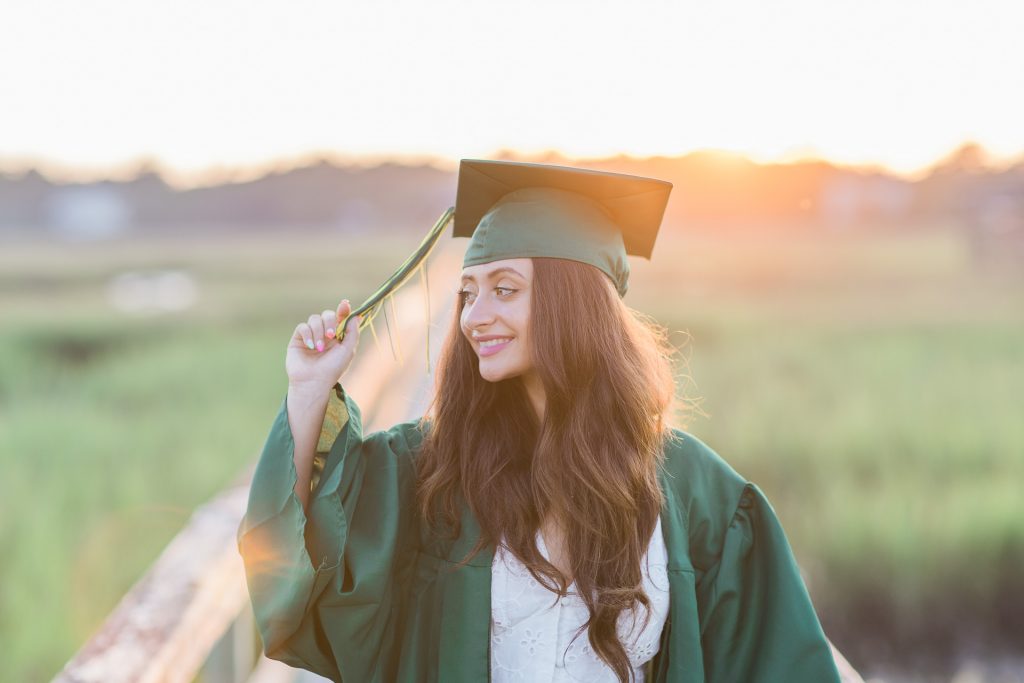 Cap and gown pictures are a proven classic, which makes a great addition to outdoor senior picture ideas. This snap will remind you of your graduation ceremony and its fun moments. It's best captured with a backdrop of a solid color, preferably in contrast with the color of your gown. You can also take candid shots like parents adjusting the gown or you tossing the cap to create a natural setting.
6. Group Photograph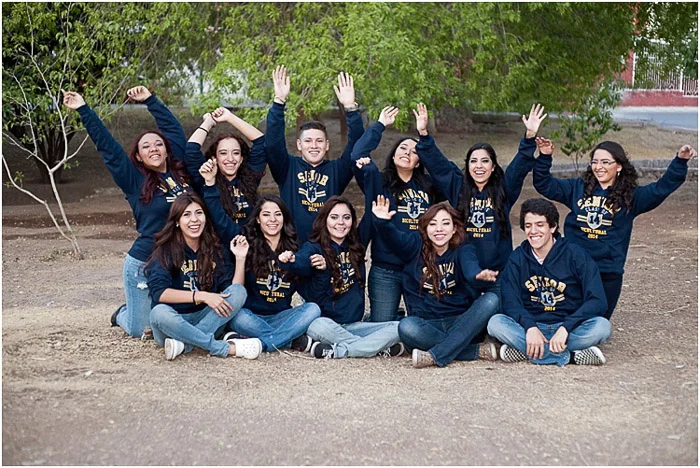 Include your friends! Is there a better way to remember your senior year than to take a group picture of your class together? You can all plan to wear matching clothes or decide on outfits of one common theme. If you don't wish to include all your classmates, you can get a few shots with your school sports team or the choir, with everyone's uniforms on.
7. COVID Inspired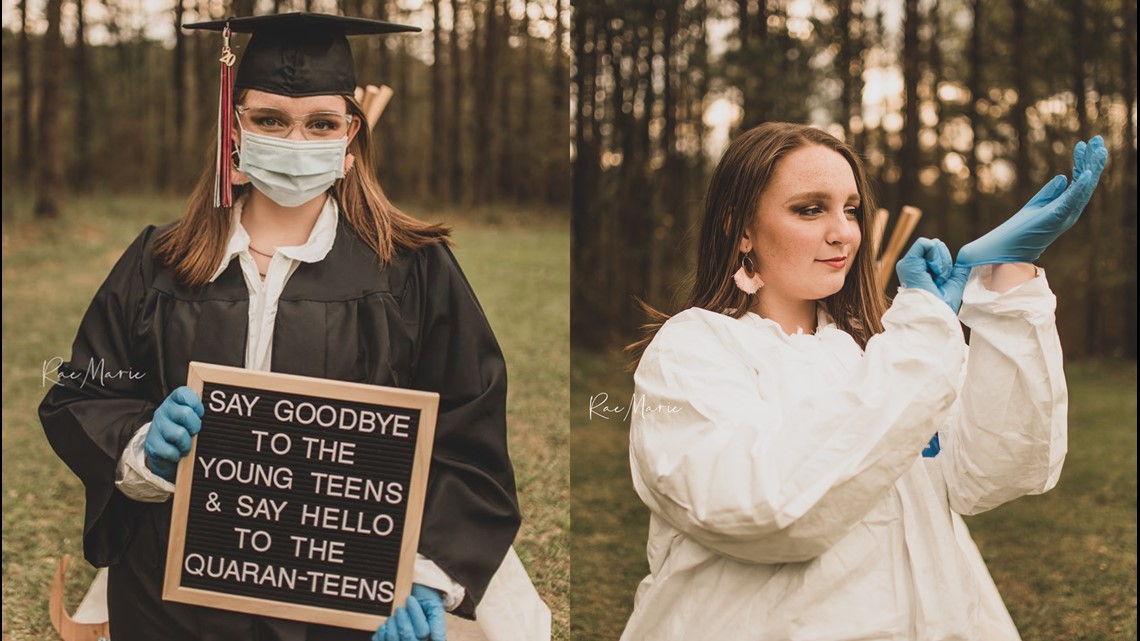 COVID-19 has affected all of us profoundly, especially the students. If you were in high school when the pandemic struck, much of your high school life must have passed online or during lockdowns. There's even a high chance you missed your graduation ceremony because of it. Including a COVID theme in your outdoor senior picture ideas is a fun way to reminisce about the difficult times with a positive outlook.
8. Prom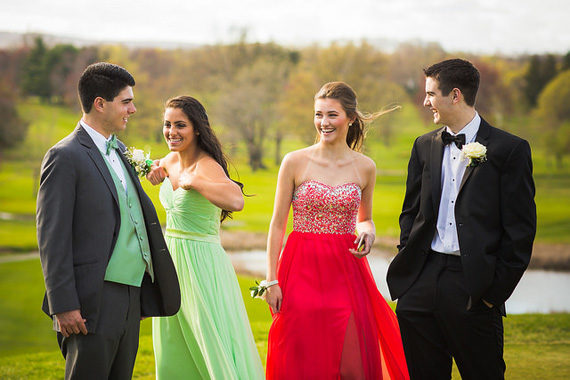 Prom night is one of the most exciting milestones in a student's life. Picking an outfit, mustering the courage to ask your date, dressing up, and enjoying your night is a thrilling and memorable processes. So, the best way to hold onto your cherished moments is to include them in your photo shoot. Dress up in your prom outfit and take a few snaps. As a bonus tip: pose with your prom date!
9. Be a Patriot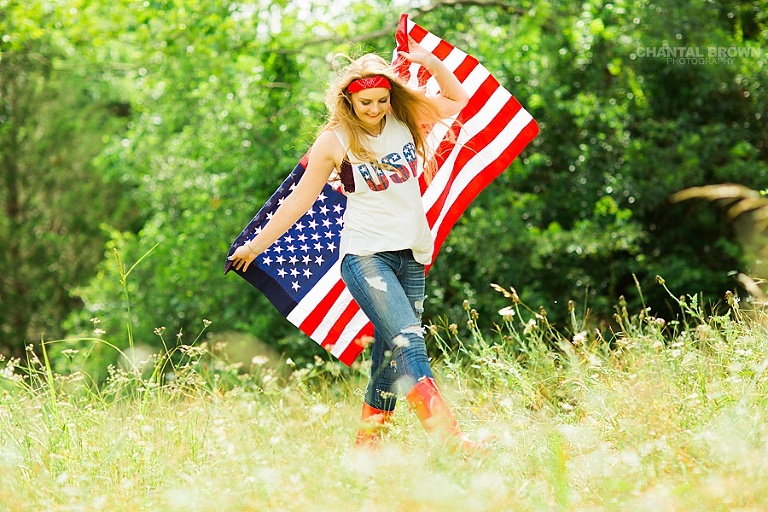 Show the flag of the country you are from. Being proud of your native place and expressing your pride is an essential trait to have. You can incorporate this theme in your outdoor senior picture ideas. It is especially impressive since both boys and girls can experiment with this idea. If you think a flag is a bit overboard, you can try a t-shirt or scarf of your choice for a similar effect.
10. Surrounded by Books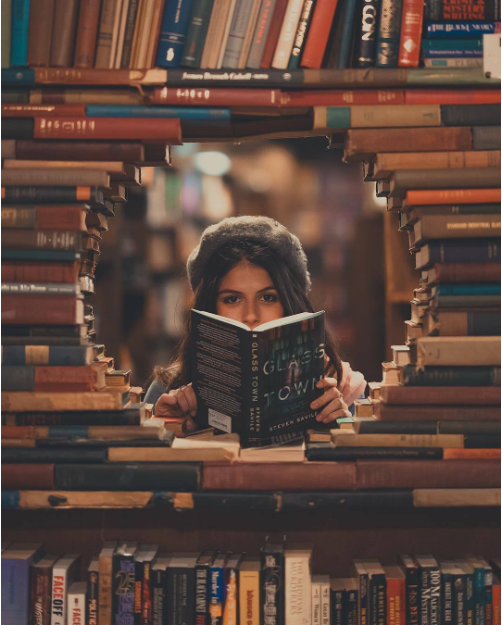 Surrounding yourself with your books is a splendid theme for all bibliophiles. Reading is often a quiet getaway from the stress of schoolwork. Students also look at it as an escape from the everyday monotone. If you love reading, try incorporating your novels in the photo shoot, as well. Or you can stack your study guides and textbooks on top of each other to show the effort you put into school!
11. Show a Timeline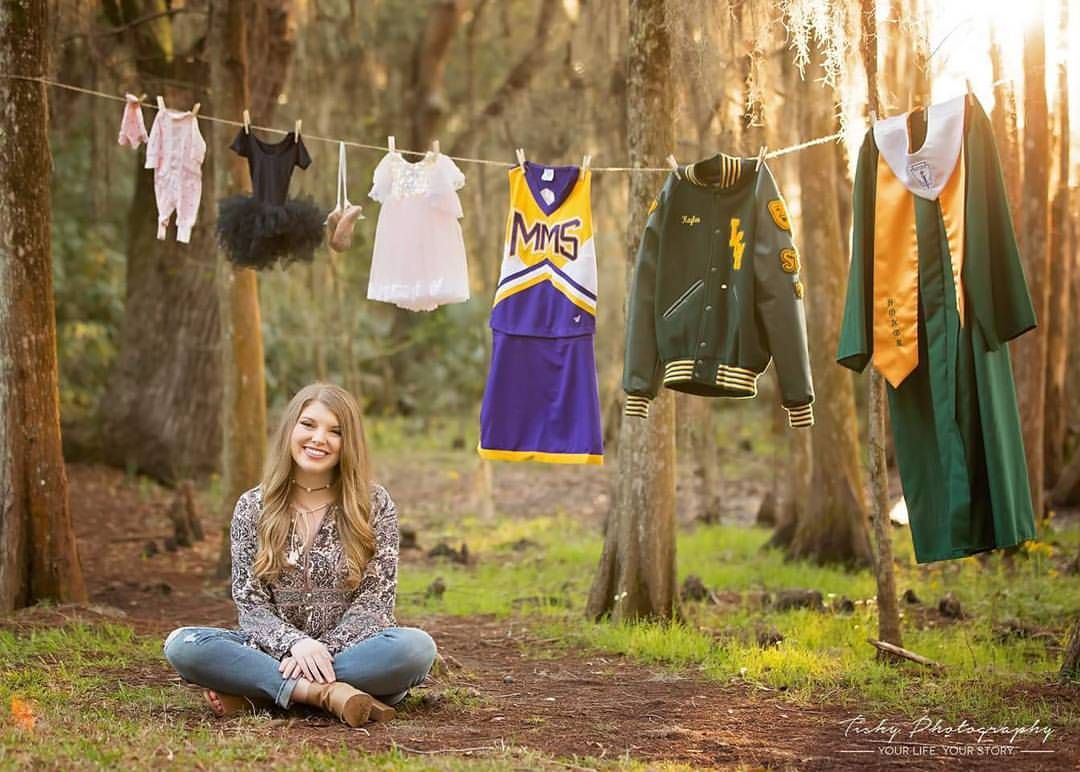 By showing a timeline, we mean to use the pivotal moments of your life to create a theme. The best way to do this is to incorporate a stunning backdrop. But how exactly? Use your clothes to design the background, starting from when you were a kid to your graduation. You can also add your cheerleading costume or sports kit to make it even more memorable.
12. Graduation Year Balloons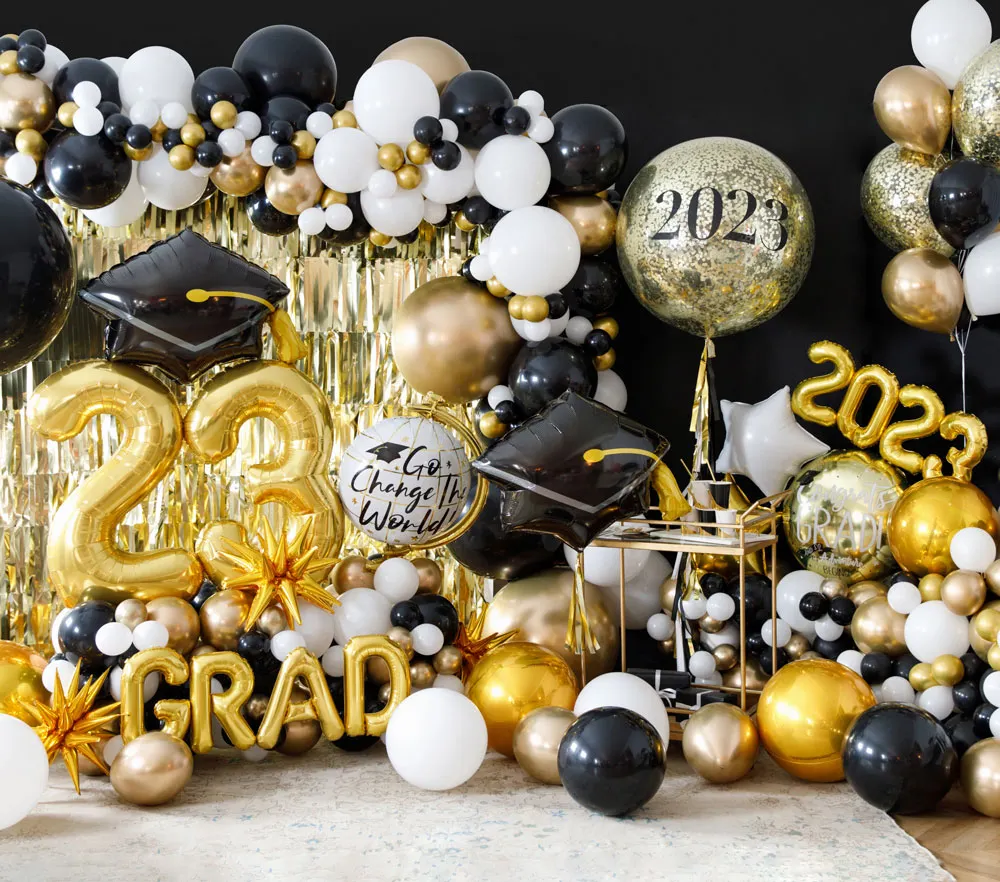 Getting large balloons and setting them up in the background is an incredible bookmark to mark in your outdoor senior picture ideas. However, how can you make it better? Get balloons that depict the year of your graduation. You can also innovate and write the number on the board if you click a few pictures in the classroom. Buy the number of balloons for your photo shoot online via this website.
13. Show Your Hobbies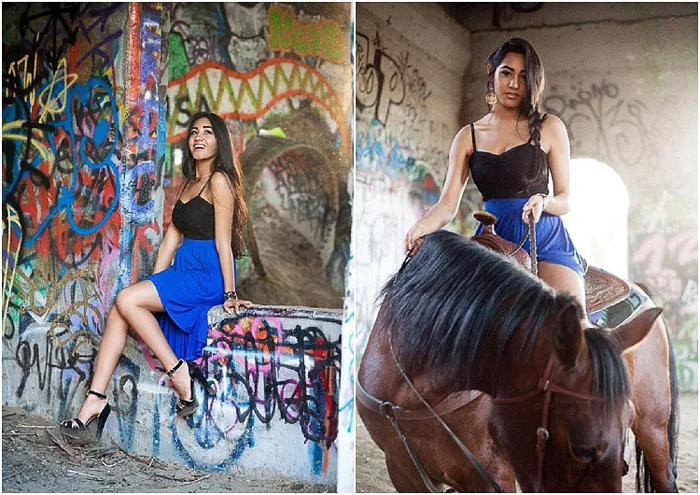 Similar to reading, hobbies can provide a temporary refuge from the mundane and repetitive cycle. Often, several teens develop their core hobbies during their formative years. Hence, these can be an exceptional contribution to your high school journey. You can incorporate these hobbies in your outdoor senior picture ideas in various ways. For instance, if you play an instrument or dance, you can show that in the photo shoot.
Themes for Outdoor Senior Picture Ideas
14. Pets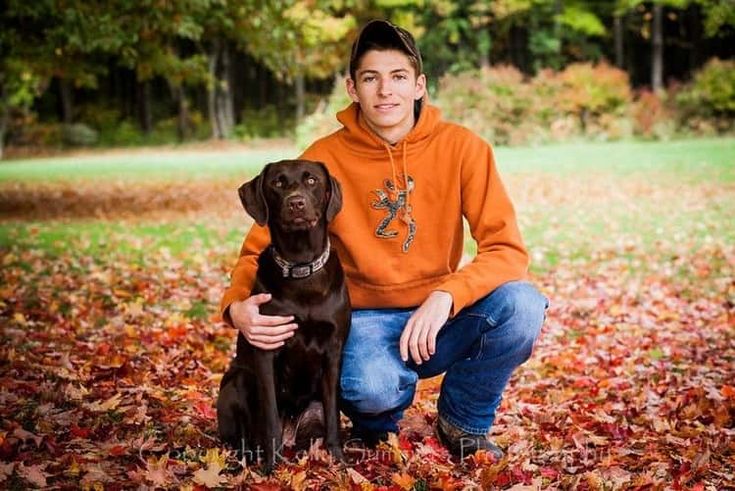 Many teens who have pets often form deep emotional bonds with them to compensate for the unpredictability and dynamic life of high school. Then, why not include your pet in the photo shoot? You can find creative ways to click pictures. For instance, if you have a dog, you can get candid shots during a walk or a game of fetch in the park. It adds a personal touch to your photo shoot.
15. With Your BFF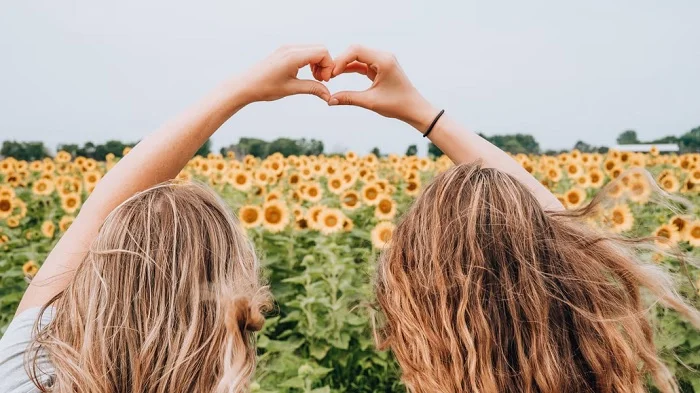 BFF photo shoots are incredible fun! If you and your best friend have spent the four years of high school doing everything together, why not do a combined senior year photo shoot, as well? You can find matching outfits and style yourselves similarly to make it more fun. There are many themes for best friend photo shoots that you can explore and then plan your own accordingly.
16. Moving On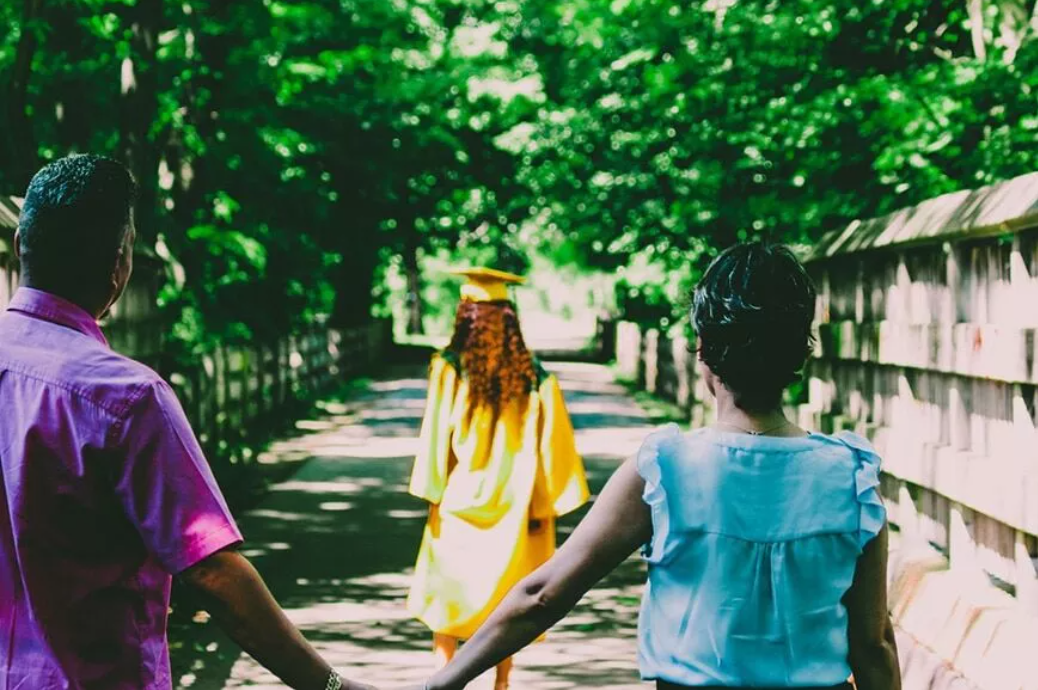 While closing the chapter of high school and moving to college can be stressful for you, it's also a substantial change for your parents. You can include this theme in your photo shoot to make it a fond memory and a bittersweet phase to look back at. One way to create this pose is to ask your parents to look at you fondly while you walk away. It will also form a powerful metaphor for life.
17. Popular Landmark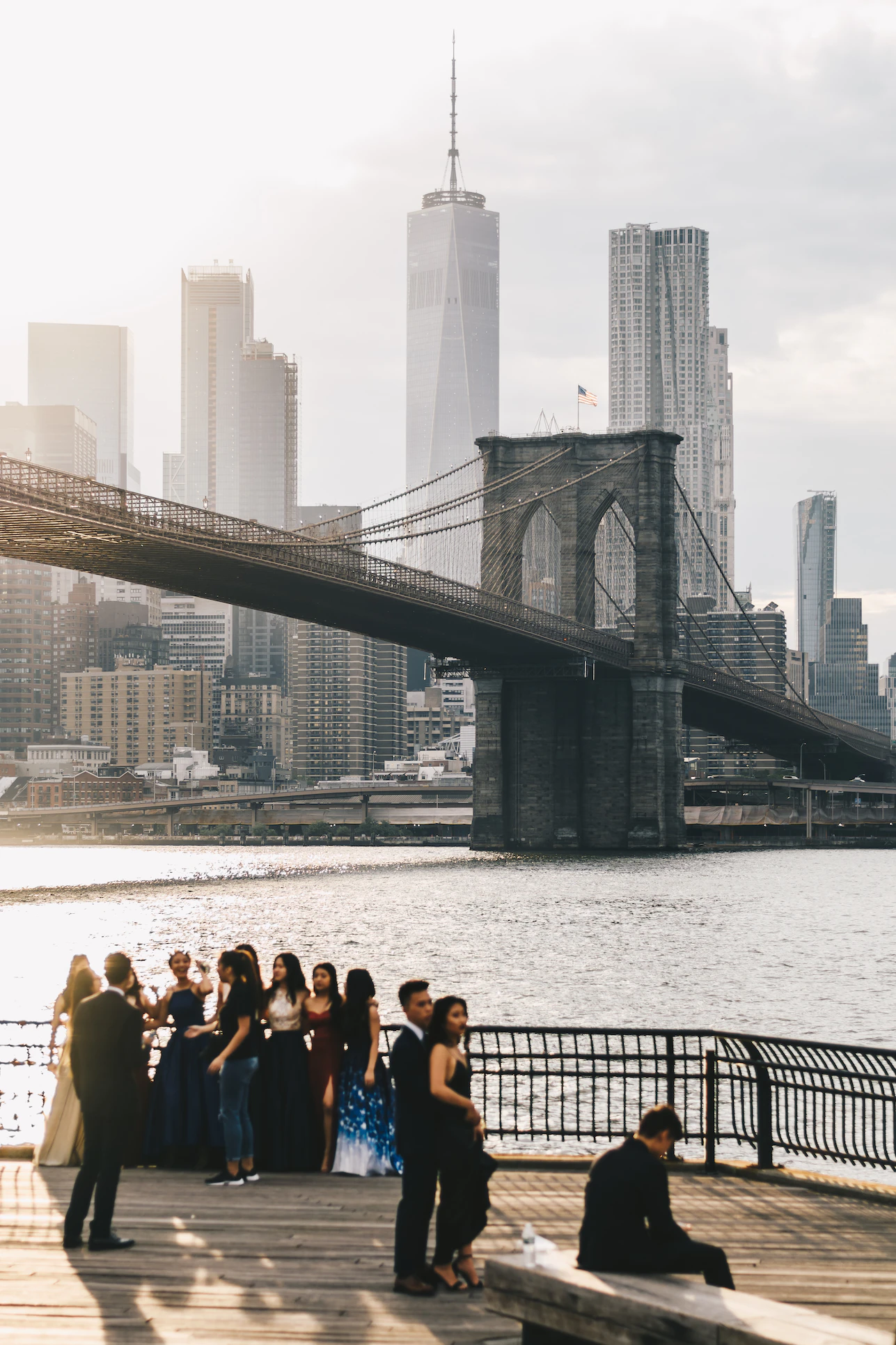 If you're considering moving to a bigger city with more opportunities or going abroad to pursue higher education, integrating your hometown into your photo shoot can be a sweet way to remember your roots. One way to do this is to conduct your photo session at a renowned landmark in the town. You can also dress up in traditional clothes or ask your siblings to join you so your final snaps are even more nostalgic.
18. School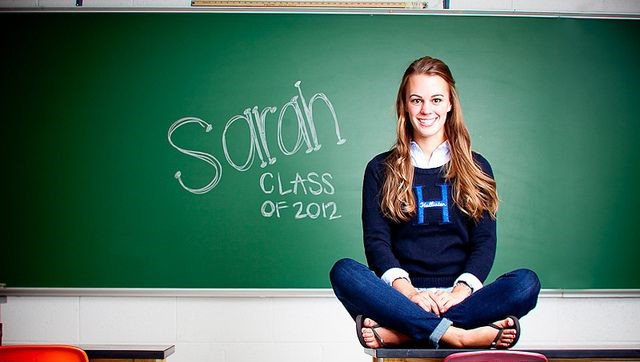 What's a better location to execute your outdoor senior picture ideas than the school itself? You can click pictures in the classroom or the corridor to create a nostalgic vibe. Students often have a secret hangout place. If you have one too, go there with your friends and click fun candid pictures for the memories. If you were in a sports team or the choir, try to use those places as your backdrop.
19. Favourite Hangout Place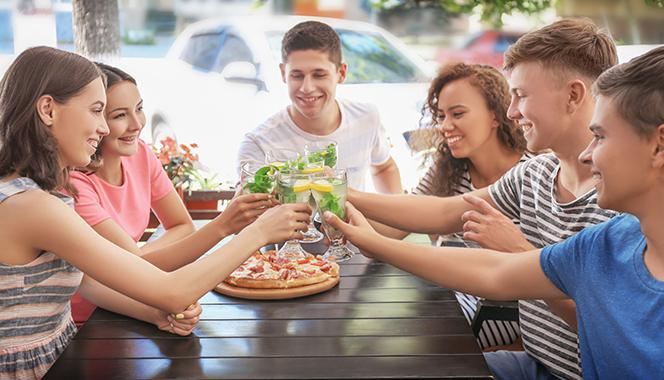 A themed photo session at one of your favorite cafes or restaurants is a perfect way to preserve the memories of your teens. Get your gang of friends together, and use the vibrant surroundings as a backdrop to striking candid moments. This theme works magnificently to capture unforgettable moments. Try exploring your creativity and style to reminisce self-expression and a sense of nostalgia better.
20. The Special Someone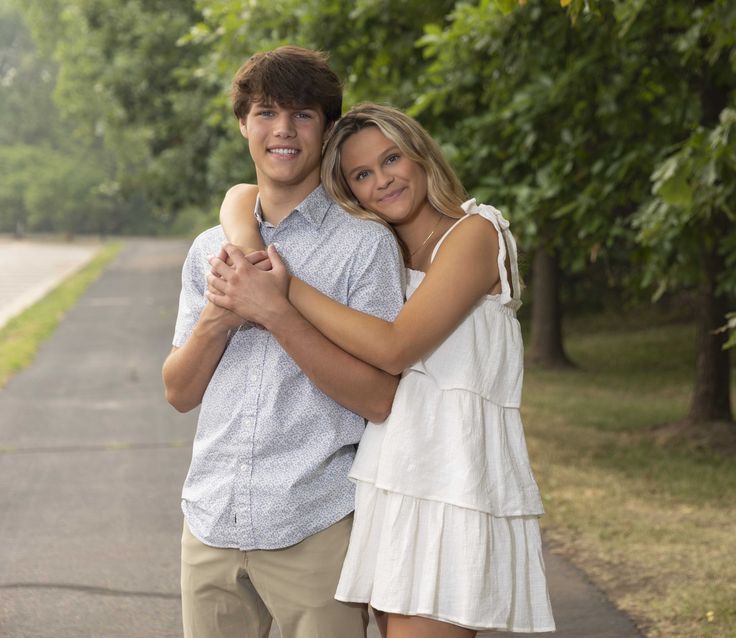 Everyone tends to have a soft corner for their high school sweetheart since the first love is always special. Why not make it imperishable by including your special someone in the photo shoot, too? You can explore several couple photoshoot themes and merge them with some of these outdoor senior picture ideas. You can also do your photo shoots together and preserve those significant memories.
21. Future Goals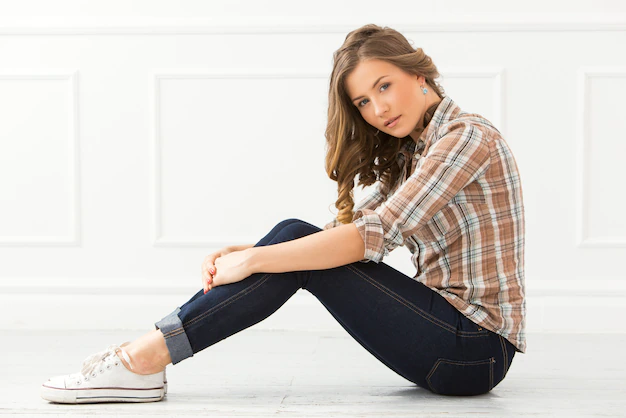 Dress up as who you aim to be. These pictures will not only be a sweet way of preparing for your future, but they will also provide the necessary motivation during tough times. Moreover, you can also use these shots as your 'before' pictures once you finish your degree and decide to do another fun photo shoot! You can dress up as a doctor, air hostess, influencer, or even a professional model.
Conclusion
A senior-year photo shoot is an incredible way for graduating teens to preserve their memories and capture the essence of their last year in high school. Especially by exploring outdoor senior picture ideas, you get the opportunity to incorporate your hobbies, interests, special experiences, popular native places, and such vibrant landmarks by specifically curating the backdrop as you like.
You can explore different themes and poses to create visually stunning and self-expressive photographs. Another fun idea is to conduct your photo shoot with your best friend or group of friends to make it even more memorable.
The photo session is a means to portray your creativity and individuality, which you have formed over the years. Not only do they help you cherish your time in high school, but to also create timeless photographs for your family to preserve.
Overall, an outdoor senior photo shoot is an excellent idea for any high school student.
Frequently Asked Questions 
How Do You Take Amazing Outdoor Senior Pictures?
Since most outdoor senior photo shoots are conducted during summer or fall, the sunlight can be a bit tricky to work with. However, you can turn it to your advantage by taking pictures at sunrise or sunset. If you're a photographer, try to control the exposure to create optimum lighting conditions for the subject.
What Can I Wear for My Photoshoot?
If you are interested in taking nature-inspired photographs at the beach, garden, pond, lake, or near the woods, you may want to wear colors that would complement the background, as well. For instance, light blue, lavender, or blush are such colors that work wonders in natural settings.
How Can I Make My Senior Pictures Unique?
The best way to make your senior pictures unique is to incorporate your individuality in the best ways possible. Also, choose an interesting, out-of-the-box location and preferably close to your high school experiences. Try to include themes and poses which would allow you to portray your hobbies and interests in the photo session.
How Many Outfits Can I Choose for My Senior Photo Shoot?
Outfit changes not only make your photo shoot fun but also add variety to your final shots. As a photographer, you should recommend that your clients bring at least two outfit changes apart from the traditional cap-and-gown picture. As the subject, you can explore as many outfit changes as you want. After all, the main goal is to have fun!
What Should I Not Do for Senior Pictures?
Firstly, do not settle. Don't choose any outfit, location, or theme that you don't like or feel comfortable in. Bring your family or friends along only if you feel a hundred percent comfortable around them. Lastly, don't forget to have as much fun as you can!