A camera always helps people to express themselves, capture special moments to live them again and again and tell everyone about their journeys, life and travels through the pictures.
Nowadays, with the increase in options of the cameras and the competition between them has also increased the confusion to choose the best one.
However, we have come up with another review blog where we will be comparing two cameras which were launched years ago, but they have not lost their charm yet. They are still among the top-options for many users around the world even now.
In a Hurry? Here are Our Top Choices:
Here is a quick snapshot of our top-rated picks.
They are none other than the MVPS of two huge brands, Canon and Nikon. From the side of Canon, Canon EOS Rebel T7 is the DSLR cameras which will be competing with the Nikon D3500 from the side of Nikon.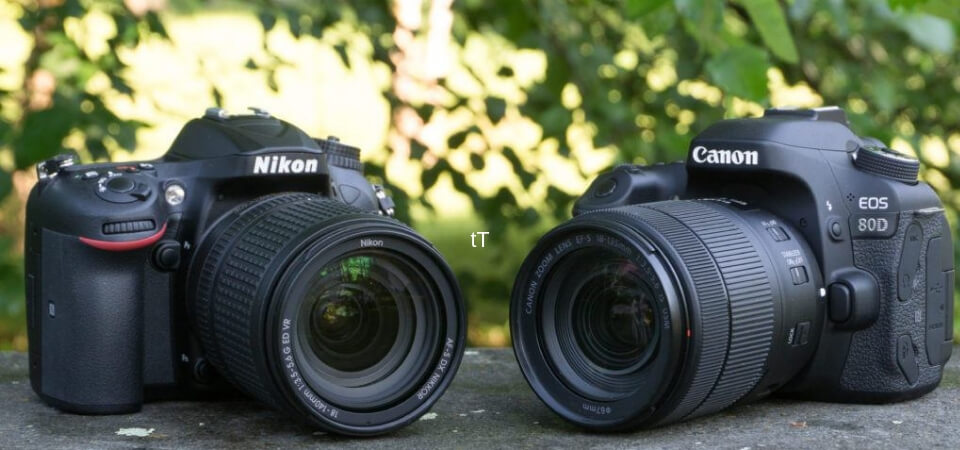 Well, without any doubt, both of the cameras are quite good performers and represent outstanding value as well. These two DSLR cameras were released in the year 2018 with the targeted audience who were looking for any DSLR camera packed with semi-professional features at an economical price. So, without any further delay, let's look at their features and find the best one for you.
Brief Comparison Between Canon T7 and Nikon D3500
SPECIFICATIONS

CANON REBEL T7

NIKON D3500

Launch

February 2018

August 2018

Sensor

It has APS-C Sensor which is slightly smaller in size than Nikon D3500

It has APS-C sensor which is approximately 11% bigger in size than Canon T7

Design

It is built with a silent focus motor which helps to focus faster more quietly on the subject

It occupies less space as compared to Rebel T7 to fit in anywhere

Display

Has LCD display with 3 sub-pixels per pixel and resolution of 920k dots

Has LCD display with 3 sub-pixels per pixel and resolution of 921k dots

Optics

It offers lower light sensitivity of 12800 ISO with only 9 focus points and 3fps continuous shooting at high resolution

It offers higher light sensitivity of 25600 ISO with 11 focus points and 5fps continuous shooting at high resolution

Video Quality

Rebel T7 offers video recording of 1080x30fps but doesn't support 24p cinema mode video format

D3500 offers video recording of 1080x60fps and 24p cinema mode vide format

Audio Quality

It has a single microphone with no additional features

It also has a single microphone no additional features

Connectivity

Rebel T7 supports Wi-Fi and NFC connectivity

It doesn't support any wireless connectivity

Extra Features

It offers flash coverage more than the D3500.

It also supports the Remote control feature.

It offers better magnifying quality than the Rebel T7

Battery

It will capture only 500 shots per charge

It captures 1500 shots with one time charge
LAUNCH
Canon EOS Rebel T7 was launched in the market in February 2018 whereas Nikon D3500 was officially introduced to the market in the same year just after 6 months i.e., August 2018.
SENSOR
As we all know, how the size of an imaging sensor plays a very important role in determining the image quality of a camera. A camera with larger sensor will have large individual pixels and also provides a clearer low-light sensitivity with rich color depth. Also, camera having the larger sensor will help the photographer to have more control over the depth of field in the image. Ultimately, improving the image quality and ability to isolate the subject from the background.
Both the cameras, Canon Rebel T7 and Nikon D3500 use APS-C sensor, the size of their sensors differ slightly. While Nikon D3500 has a larger sensor area of 23.5×15.6mm which is 11% bigger than that of the sensor area of Rebel T7 which is 22.3×14.9 mm. A larger sensor will help to gather more light yielding better image quality.
From the above comparison, we can see Nikon D3500 as a better camera than Canon T7.
DESIGN
In the first glance, the design of both the cameras might seem very look alike but there are many differences between them if we dig deep into their specifications.
Both the Canon EOS Rebel T7 and Nikon D3500 cameras, are designed with 95% viewfinder coverage. More coverage will help you to compose the images correctly when capturing the photo. With less coverage, you might have to crop the images to make them look perfect.
Volume is another parameter in a camera which helps you to identify the amount of space that any product occupies.
So, the D3500 will occupy very less space as compared to the T7 and may fit easily into your travel bag while travelling.
DISPLAY
Both the Canon's Rebel and Nikon cameras offer LCD displays with 3 sub-pixels per pixel, which will give crisp and sharp images to the photographer.
However, there is a slight difference in their screen resolutions. The screen resolution of a camera is a vital determinant of the image quality. The Nikon D3500 offers screen resolution of dots which is one unit more than the 920k dots of Canon T7.
A camera with more screen resolution will always give clearer and sharper images which will help you to review your photos with more ease.
Therefore, with larger sensor size and screen resolution, the Nikon D3500 is going to give you the clear and sharp images, you have always wanted to.
OPTICS
The focus points in a DSLR camera helps you to focus on any particular subject in a scene. It is also useful for the image sensor to identify the right area to focus on any scene with different automatic modes.
The Nikon D3500 has 11 focus points which is more than the 9 focus points offered by Canon T7.
Also, the D3500 camera provides a higher light sensitivity (ISO level) of 25600 ISO than Canon T7 which has only 12800 ISO. Higher light sensitivity can be used to click moving objects with fast shutter speed and take photos even in the low light without any flash.
In addition to the above two features, Nikon D3500 also offers a 5fps continuous shooting at high resolution whereas Canon T7 offers only 3fps. Fast continuous shooting helps you to capture action shots.
So, in this case, the Nikon D3500 is one step ahead of the Canon T7 camera.
VIDEO QUALITY
The video recording in the main camera is one of the most important feature of any DSLR camera. Cameras with maximum resolution and frame rates offer better quality videos than the cameras with lower resolutions.
The Nikon D3500 camera offers video recording of 1080x60fps which is higher than that of Canon Rebel T7 which offers only 1080x30fps.
While both the cameras offer phase detection autofocus for videos, the Canon EOS Rebel T7 lack the 24p cinema mode video format which is available in the Nikon D3500.
The 24p cinema mode will help you to create movie-like motion elements through your DSLR camera.
AUDIO QUALITY
Both the cameras, Canon T7 and Nikon D3500 are quite similar in terms of audio quality. Both of them possess single microphone. The number of microphone in a camera decides the sound quality of the device and enables it to filter the background noise
So, in case of audio quality, it's a tie between the Rebel T7 and Nikon D3500 DSLR cameras.
CONNECTIVITY
One of the important factor in the process of camera decision is up to what extent a camera can communicate to its environment for some of the imaging applications out there.
A Wi-Fi connectivity is convenient to transfer images to any off-camera location, The Canon T7 offers you Wi-Fi connectivity to connect to nearby available Wi-Fi networks whereas the Nikon D3500 does not support Wi-Fi.
Also, the T7 camera supports NFC(Near Field Communication) connectivity which allows it to perform basic wireless transactions while the Nikon D3500 doesn't.
Thus, the Rebel T7 camera provides better connectivity options than the Canon D3500.
EXTRA FEATURE
The extra feature of any camera is like an additional treat to the photographers. The Canon D3500 provides 0.85x magnification which is than more than that of 0.8x of the Rebel T7.
Canon T7 is not behind in terms f features, it offers flash coverage of 9.2 m which is 2.2m longer than the 7.0m flash coverage of Nikon D3500.
Also, the Rebel series camera has remote control feature which will help you to control the device remotely.
So, in case of extra features, Rebel T7 outshined the Canon D3500.
BATTERY
The battery power of any camera is an important feature which will decide how many pictures you can capture. The Nikon D3500 has 1230mAh battery whereas Canon T7 has power of 1020mAH only. Hence, the battery life of the former camera is better as compared to that of the Canon Rebel T7. One time charge of D3500 can last up to 1500 shots which is way more than the 500 shots offered by Rebel T7 with same amount of charge.
CONCLUSION
From the comparisons done between the MVPs of two biggies of the market, Nikon D3500 is clearly the winner. Both the cameras are recent models which are still a part of current product queue. The Rebel T7 followed on from the earlier Canon T6, whereas the D3500 is the latest makeover of the Nikon D3400.
If we briefly compare the strengths of Canon Rebel T7 and Nikon D3500, the former offers anti-alias filter which avoids artificial patterns on images, easier file upload, heavily discounted and easier device pairing, on the other hand you can go for the Nikon D3500 as it is less heavy, offers better video quality, faster burst, larger viewfinder image, more modern and longer lasting.
With the above comparisons provided and knowing which camera outperforms the other, you will take the decision more precisely and wisely.