Announced in February 2020, the Fujifilm X100V has quickly become a household name amongst photographers and tech enthusiasts. Known for its astounding image quality and sleek features, the X100V has become a compelling option for clicking a diverse range of shots. The innovative design enables those creative and out-of-the-box shots in pristine 4k resolution.
Whether capturing the chaotic streets, the calm indoors, or intimate portraits, the Fujifilm X100V ensures high performance, crispness, and usability. This ingenious camera comes with an exciting blend of features that help it rise above its predecessor, the X100F. With each successive model, Fujifilm has triumphed in making a more compact product while retaining its wonderful retro design. So what makes this device so popular it went out of stock?
Read on to find out how this high-performance camera creates the ultimate experience for photography.
KeyFeatures of Fujifilm X100 V
You might notice that Fujifilm has gone above and beyond to bring some exceptional features into a 128mm x 74.8mm x 53.3 mm compact device.
Technical Specifications
4th generation, 26MP X-Trans sensor
Revamped 23mm f/2 lens (compatible with previous converters)
Built-in 4-stop ND filter
2-way tilting 1.62M-dot touchscreen LCD screen
Larger, high resolution 3.69M-dot OLED viewfinder, with redesigned OVF optics
Up to 4K/30p video recording with Eterna film sim and F-Log internal capture
2.5mm mic port, headphones through USB-C 3.1 port, and adapter
Weather resistant (when lens filter is used)
Battery life of 350 shots with the EVF and 420 with the OVF
Shooting at 11 frames per second.
Single SD card slot
Bluetooth and touchscreen
Updated mini joystick in place of the 4-way controller
The X-100 series is widely known for its compact design, engaging features, sleek looks, and gorgeous image capturing. The Fujifilm X100V takes these features to new heights with its innovative engineering coupled with a classic look. It is a great addition for street photographers looking to upgrade their gear. While a good pick for photo lovers, is it a worthwhile investment to owners of older X series models?
Sale
Fujifilm X100V Digital Camera - Silver
Great photography every day, everywhere: X100V features a newly designed,...
Designed for quality and speed: From fleeting holiday moments and family...
Two ways to see an Image: To truly convey the magic of a scene, you need to be...
Frame the perfect image: X100V has been specifically tailored for photographers...
Let's look at some key features of Fujifilm X100 V:
1. Faster Processors and Speed
The revolutionary CMOS sensor drastically increases the speed of the camera. With its electronic shutter, you can get speed bursts up to 20 fps with the full width and even more while cropping. This makes it an ideal choice for those crucial, one-in-a-million moments of street photography.
2. Autofocus
The new sensor brings a highly responsive autofocus system, which considerably improves face and eye detection. It delivers a high-speed performance even in dimly lit shots or for moving objects. Similar to the X-Pro 3, it also contains a focus range limiter, perfect for those incredible street shots. Unfortunately, the autofocus becomes slower in EVF mode. The face detection technology, while impressive, can stutter sometimes.
3. Lens and Image Quality
The Fujifilm X100V boasts a completely redesigned lens. The 23mm f/2 lens provides a dynamic focal length, enabling different styles of photography with ease. Its wide aperture allows background blur, giving a wholesome, cinematic feel to your shots. Improving upon its ancestors, the X100V removes the haze that comes with small focus distances. Fujifilms' color chrome effect is present in this model. This useful feature helps boost contrast in saturated areas of a photo. When it comes to image quality, the X100V is quite similar to the previous model.
4. Video
The video feature is where the device shines. It gives a 4k/30p recording along with the Eterna film simulation profile, which makes those jaw-dropping shots possible. The camera also contains a "movie silent control," which disables the dials and allows you to adjust the settings with the touchscreen. This creative solution prevents the camera from capturing its own sounds while shooting a video.
5. Viewfinder
According to Fujifilm, the viewfinder on the X100V is identical to the X-Pro 3. This camera comes with a hybrid viewfinder and has a modern electronic mode (EVF) as well as a classic optical mode with a switch. While the optical mode is average, the electronic mode is where the device impresses. The optical mode is traditionally used for a brighter setting, while the EVF provides much higher contrast.
Fujifilm X100 V: Design and Build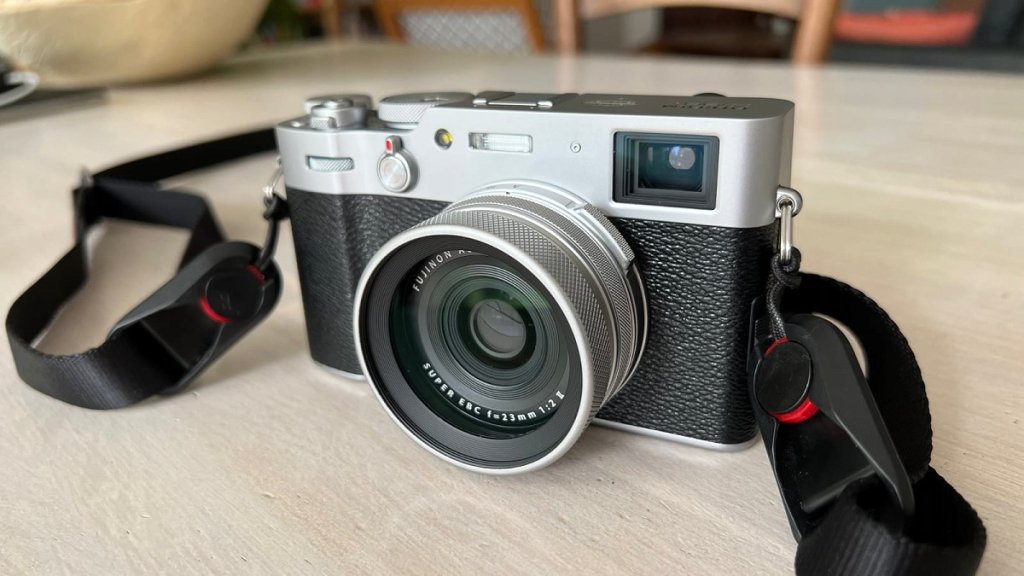 The Fujifilm X100V's innovative design oozes style with a dash of luxury. With a tilting screen, the camera allows you to capture those amazing moments in new, refreshing angles. This impressive feature sets it apart from the previous models, where the angle of shooting was limited. The touchscreen allows you to place the autofocus with your finger and drag it at your convenience. The screen can be folded to make the device so sleek and compact; it can easily fit in your pocket.
The Fujifilm X100V does away with the cheap plastic build of its predecessor. The body is made of light aluminum plates held together by a magnesium alloy frame. Enthusiasts may notice the lack of a D-pad controller. The new model instead comes with a joystick for making your way around the various settings. This new add-on has received a few complaints. The touchscreen lowers the customization features of the D-pad, and the menu can be a bit complex to navigate.
Another great addition to its list of amazing features is the ISO ring. These seemingly small but significant changes over the earlier models have enhanced the Fujifilm X100V's reliability and performance. Finally, the weather-resistant finish takes the Fujifilm X100V to new heights. Although not 100% resistant, the camera is quite reliable during light showers. So don't be afraid to take those gorgeous monsoon clicks!
Fujifilm X100 V: Performance
The Fujifilm X100V comes equipped with the latest X-Processor 4. This image-processing engine helps increase the cameras' speed and responsiveness while making the autofocus incredibly quick. The video resolution has been improved to 4K from 1080p, while the EVF has a 3.69 million dot resolution.
Interestingly, the X100V comes with two aspherical elements, which help improve resolution and decrease distortion. Especially when compared to the older X100F, the new model stands out. A common complaint of the X100F was that the resolution was a bit hazy, especially at close distances. But the X100V offers pristine clarity and center focus even on wide shots. With a minimum focal length of 10cm, it produces an excellent depth of field with crystal-clear images.
Another welcome performance booster is autofocus. It easily keeps up with your fast-tracking shots, provided you switch to continuous autofocus. The face and eye detection mechanism works seamlessly and without much lag.
Is Fujifilm X100 V Competing with Ricoh GR III?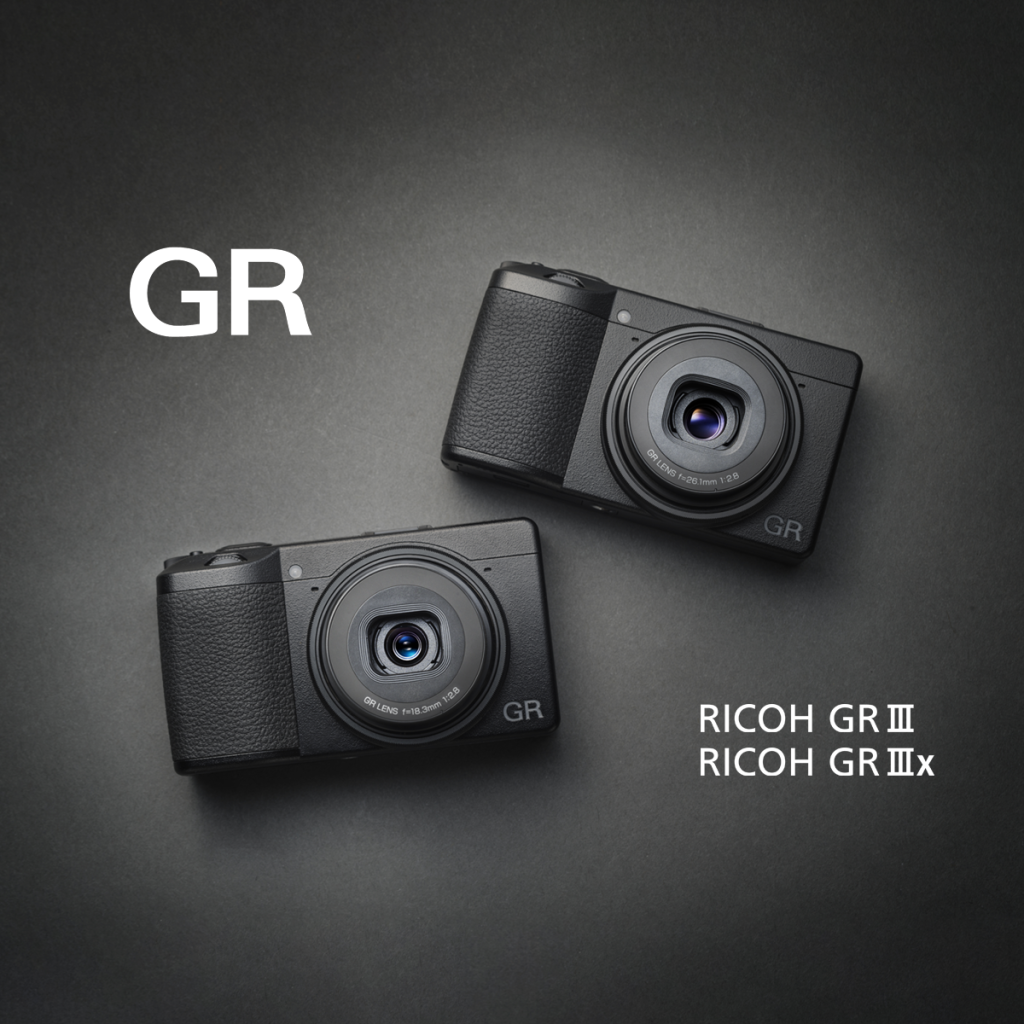 A close rival of the Fujifilm X100V is the Ricoh GR III. It is more compact than the X100V but does not come with a viewfinder. Priced much lower than the X100V, the GR III lacks many of its features and suffers from short battery life. It also does not feature a tilting screen, which limits its usability. If you're looking for a simple, pocket-friendly camera, then this is the one for you. But the Fujifilm X100V is the superior product when it comes to design and performance.
Benefits and Drawbacks of Fujifilm X100 V
| | |
| --- | --- |
| Benefits | Drawbacks |
| Amazing build, weather-resistant coating, and retro aesthetics | Not 100% weather-resistant, needs an additional filter |
| Compact enough to fit in your pocket | Quite expensive, may not be affordable for many people |
| Redesigned lens removes the haziness at small distances that plagued previous models | It is a fixed-lens camera, and the lens cannot be changed |
| The option between the optical and electronic viewfinder | Autofocus becomes slower in OVF |
| Jaw-dropping visual clarity due to its 4k/30p features | It has a rather complex menu that is not very user friendly |
| Tilting the touchscreen makes creative shots possible | Touchscreen may not work for everyone, as the D-pad was more accessible |
| Long battery life of 420 shots | Battery life reduces In EVF mode |
| Smooth face and eye detection features | |
Reception and Verdict
While giving it a gold award, the Digital Photography Review (DPReview) showered praise over the Fujifilm X100V and called it "the most capable prime-lens camera, ever. Multiple glowing reviews catapulted its price over the months to almost twice its original markup. On release, it became a hit with critics and users alike. It was praised for its incredible performance and looks. High demand for the product forced Fujifilm to stop taking more orders. On the other hand, the X100V was criticized for its high price.
The Fujifilm X100V quickly became known as the best compact camera of its time and a brilliant companion for street photography. You must beware that it isn't an all-around camera. Its specific manual features make it a niche that might not work for everyone. The camera's tilting screen makes it way more versatile than the earlier models of the X series, allowing for creative filmmaking. Its weather-resistant build simply puts the cherry on top.
Sale
Fujifilm X100V Digital Camera - Silver
Great photography every day, everywhere: X100V features a newly designed,...
Designed for quality and speed: From fleeting holiday moments and family...
Two ways to see an Image: To truly convey the magic of a scene, you need to be...
Frame the perfect image: X100V has been specifically tailored for photographers...
Conclusion
The Fujifilm X100V expertly blends modern innovation with old-school retro aesthetics. Along with exceptional speed, build, and performance, it is compact and comfortable. With top-of-the-line features like autofocus, viewfinder, redesigned lens, and touchscreen, it has become an essential addition to a photographer's gear.
While the limited battery life and high price might cause some hiccups, its strengths far outweigh its flaws. Whether used by travelers or photographers, the X100V delivers on nearly every promise, providing some incredible features with a classic look.
All in all, the Fujifilm X100V is an excellent device and a great addition to a street photographer's arsenal. Do you think this is the camera for you?
Frequently Asked Questions
How Many Frames per Second Can the X100 V Shoot?
The Fujifilm X100V can shoot at a continuous rate of 11 frames per second using its mechanical shutter. It is also equipped with an electronic shutter, which boosts the rate to 20 frames per second, allowing you to capture faster moments with ease.
Can the Lens of The X100 V Be Changed?
No, the X100V does not have interchangeable lenses. It comes with a 23mm/f2 fixed lens, which is an integral part of the camera's design. Although, the camera does offer extensive options for digital zoom, which adds focal length flexibility.
What Is the Battery Life of The X100 V?
The X100V has a long battery life of 420 shots per charge when using the OVF, which may be reduced to approximately 350 shots per charge if you use the electronic finder. The camera also offers USB charging. The battery life can be extended with additional options.
Is the Fujifilm X100 V available for Purchase?
The X100V is available for purchase on various e-commerce websites like Amazon, but its high demand makes the purchase unpredictable. It is recommended that you purchase this camera quickly, as it has been out of stock for a long time.