Nikon D610 and Nikon D750 are both amazing DSLR cameras. They share some similarities and differences, but they have some major differences in performance. The image quality of the camera depends on its specifications and overall performance.
All its features and specification together decides the quality of the image that the camera produces; it is not just about megapixels. You need to look at the type of sensor, resolution, lens quality, and various features before concluding.
If you are here to know the image quality of which one of these two Nikon 6D610 vs D70 cameras is better, let's do a detailed study of various specifications to compare them.
Image Quality of Nikon D610 vs D750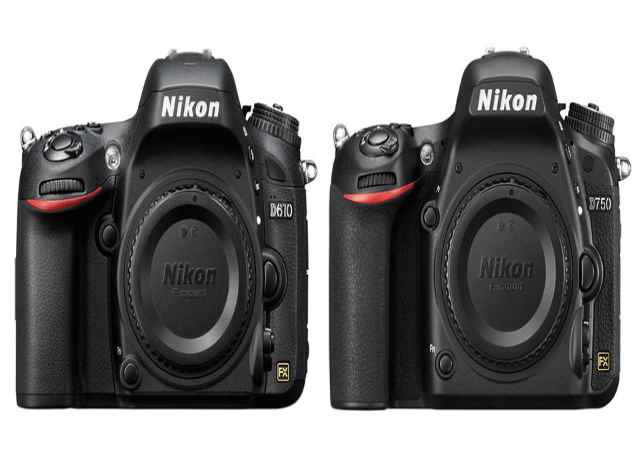 1. Sensors
The imaging sensor size of a camera determines the quality of the image. A large sensor has better pixels, low light sensitivity, wider dynamic range, and rich color depth when compared to a smaller sensor of the same technical generation.
Nikon D610 and D750 have a full-frame sensor and a similar format factor and aspect ratio. But the Nikon D750 uses a little better technology for the advanced image processing engine of EXPEED 4, whereas the Nikon D610 uses EXPEED 3. EXPEED 4 processor enables high-speed continuous shooting, reduced noise, and sharp images.
2. Design
Nikon D610 and D750 both have a built-in focus motor that moves the lens to autofocus and enables the photographer to use a wider range of lenses. Both DSLRs are also weather-sealed, which helps avoid failed shots due to water splashes, raindrops, or dust. The only difference in design is that the D750 has a flip-out screen, which is useful for taking tricky shots with flexible positions, like when you want to take shots from the waist or overhead levels. The screen is helpful to create vlog videos or take selfies. Nikon D610 has a fixed screen.
3. Focus Points
The sensor size of both cameras is the same, but the Nikon D610 has 39 focus points, and the D750 has 51. The higher number of focus points gives the image more flexibility to focus. The increased number of focus points enables the photographer to track and maintain focus on a moving object. The focus points of your camera in any frame are generally noticeable when you press the shutter halfway.
4. FPS
The other optical feature we can talk about is continuous shooting speed. Nikon D750 has a speed of 6.5 fps, which means it can take 6.5 pictures per second. Nikon D610 comes with a speed of 6 fps. This feature enables you to select the best shots among the various shots taken by a camera at a particular moment.
5. Display
These Nikon cameras have a similar LCD with 3 subpixels per pixel, producing sharp and crisp images. But the resolutions are different. D750 has a higher screen resolution with 1229k dots to display more detailed visuals than D610, which has a 921k dots resolution. A higher resolution makes the image look sharper and, hence, is quick and easy to review.
6. ISO Sensitivity
ISO sensitivity is a standard to represent the sensitivity to light as a numeric value. ISO sensitivity determines how strongly your camera responds to light. A camera with a higher ISO sensitivity requires less light to capture a high-quality image. D750 has 100- 12800 ISO, which can be expanded to 50- 51000 ISO, but D610 only has 100- 6400. D750 will capture 2 times better quality images, even in low light.
7. Video Quality
Nikon D610 and D750 both support 24 frames per second video format. But their resolution is 1080×30 fps and 1080×60 respectively. The videos shot with a high-resolution camera provide better-quality images. So, the D750 proves to be better, but there is a feature called phase detection autofocus, which is present in the Nikon D610 but not in the D750. Phase detection helps to capture videos clearly and sharply, even when there are a lot of fast moments and motions happening while recording.
Summary to Compare the Image Quality of D750 and D610
| | | |
| --- | --- | --- |
| Features | Nikon D610 | Nikon D750 |
| Sensor | Full frame sensor with advanced Image processing engine of EXPEED 3 | Full frame sensor with advanced Image processing engine of EXPEED 4 |
| Design | Build in autofocus with fixed screen | Build-in autofocus with flip-out screen |
| Lens Focus Points | 39 focus points | 51 focus points |
| Speed | The camera can take 6 pictures per second | The camera can take 6.5 pictures per second |
| Display Resolution | Full-screen LCD with 921k dots resolution | Full-screen LCD with 1229k dots resolution for detailed visuals |
| Light Sensitivity | Responds to light with 100- 6400 ISO | 100- 12800 ISO, expandable to 50- 51000 to take two times better images in low light. |
| Video Quality | Resolution of 1080×30 fps with phase detection autofocus | Resolution of 1080×60, but no phase detection |
On the basis of these features, the image quality of the Nikon D750 is better than the Nikon D610. Apart from all these features related to image quality, some other features are present in the Nikon D750 that are not present in the D610, like Wi-Fi connectivity, controlling the device with a phone, stereo microphone support for better audio quality, and headphone socket. But if you consider the price of these cameras, the Nikon D610 has a lower price and is comparatively more affordable. So, your usage preferences and purpose of buying the camera play an important role in the DSLR buying decision.
Conclusion
You might have already derived from the above comparison that though the prime abilities of both cameras are quite similar, the Nikon D750 clearly does have better features and better image quality. D750 offers better jpg, a detailed LCD, can take better pictures in low light, and is fast with some more additional features.
We can say on the basis of these observations that the Nikon D750 is a better professional camera than the Nikon D610. But, the D750 was discontinued by the brand and is now being succeeded by the Nikon D780.
Though the D750 is better in several aspects, the camera you should buy depends on your personal needs and preferences.