Many factors play into clicking a good photograph, and one of the factors is lighting. Just imagine having a great camera and using your skills and experience to click a bad-lighting photograph. But if you have good lighting, then it doesn't matter how bad or good your camera is. The final outcome will be perfect.
Lighting means not only brightness and darkness but also mood, atmosphere, and tone. So it's very important to control the amount of light so that you get the best texture, vibrancy of colors, etc.
In this article, we'll discuss everything about detachable camera flash. If you are a budding photographer who wants to click photographs in every lighting, then this article will be perfect for you.
Types of Camera Flashes
There are 3 main types of flash: On-Camera Flash, Off-Camera Flash, and In-Camera Flash. Let's discuss those briefly.
On-Camera Flash: This type of camera flash usually comes as a built-in or attachable flash unit that can be directly connected to your camera. It is commonly used in low-light situations to provide additional light. You must have definitely seen it, especially at weddings when you are told to stand in a group by a wedding photographer. Then, a sudden flash comes out from the top of the camera, and all you have to do is say cheese without closing your eyes. That flash is an on-camera flash.
Off-Camera Flash: An Off-camera flash isn't like the previous point where it comes attached, or you have to attach it. This type can be positioned anywhere independently from the camera to provide a creative and versatile lighting option. Compared to on-camera flash, the off-camera flash provides a professional and dynamic lighting effect. Actors and models usually use it for their photoshoots for different magazines, movies, music videos, etc. Photographers even use it for clicking photos of different products. It even comes with modifiers like umbrellas or softboxes. These days, you may even find social media influencers using those for their videos and one of the common ones is the ring light.
In-Camera Flash: This type of camera flash is somewhat similar to the on-camera flash. But this one comes with an attached flash, and you can find it on the body of the camera. But one camera flash has the flash on top of the camera. The second differentiation is that this flash is not as powerful as the on-camera flash. It is great for quick snapshots, especially when you need a burst of light. But the results won't be as promising as the previous two types.
How to Attach and Detach Camera Flashes?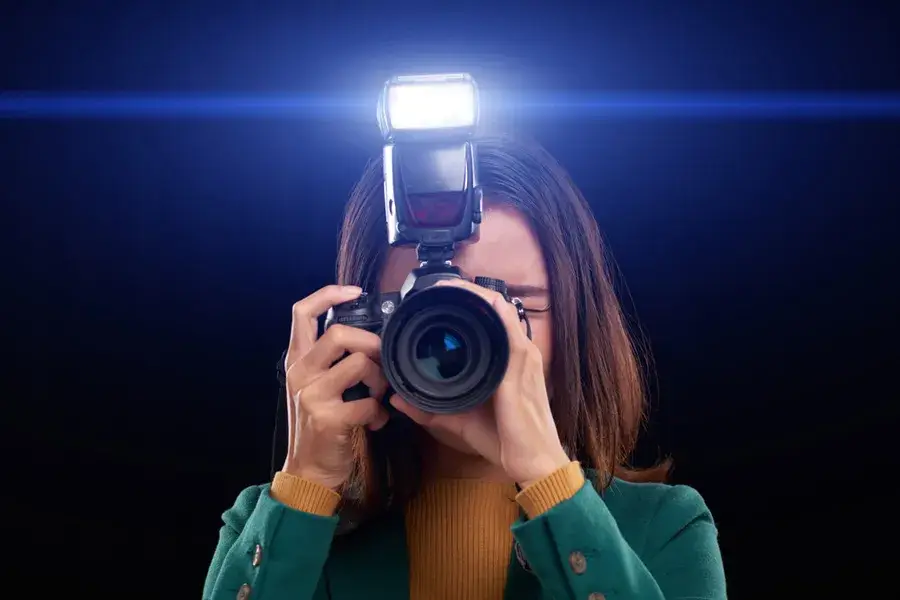 Having detachable cameras is the best product for photographers that has ever been invented. Attaching and detaching camera flashes is also known as Speedlites, and it varies depending on the camera as well as the design and mechanism of the flash unit. You'll find this product with every professional photograph as it is one of the main accessories for them.
In the market, you'll find many detachable camera flashes of different brands. Some of the famous ones are Canon's Speedlite 430EX III-RT and Nikon's SB-700 AF Speedlight.
It is very easy to attach and detach a camera flash onto a professional camera. All you have to do is mount it onto a camera's hot shoe, a bracket, or a clamp. There isn't much to learn as the camera companies try to keep it as straightforward as possible. But there are different models in the market, so it is recommended to read the manual before attaching it.
What are the Advantages of a Detachable Camera Flash?
More Powerful: Detachable camera flash is more powerful compared to the in-built flash in cameras. This means that they can reach further and illuminate larger objects in low light conditions.
More Control: Having a detachable camera gives you the freedom to be more creative with your photography. You can experiment by positioning it in different angles and in a variety of ways, which will elevate the quality of the photograph.
Faster Recycle Time: Another amazing advantage of the detachable camera flash is that it has a faster recycle time compared to the built-in camera flash. So you can click multiple pictures in a row, helping you capture every single moment.
More accessories: Another cool advantage is that the detachable camera flash can be used in a variety of accessories like diffusers, reflectors, and snoots. This gives you the freedom and creative space to control the lighting of your photos and click amazing shots.
Adjustable Brightness Level: This is an important advantage in that you can easily adjust the brightness level of a detachable camera flash, but in an in-built flash, you cannot. It is very important for professional photographers as they know the amount of flash they need for a single photo.
Conclusion
Detachable Camera Flash is an amazing product for photographers who, despite the lighting, want to click amazing photographs.
It is very easy to attach and detach a camera flash as it is made with the intent that anyone can learn it and apply it easily. But it is advisable to read the manuals before trying to attach and detach.
In this article, we learned a lot about detachable camera flashes, their types, their advantages, and why it's important. If you still don't have a detachable camera flash, then what are you waiting for? Purchase it right now!