Long, Flowy dresses are a timeless fashion staple that will always add elegance and sophistication to any photo shoot. Knowing how to pose will create beautiful and striking images, whether at a wedding function, model photoshoot, or casual photoshoot. They add an element of elegance and grace, but the challenging part is posing and getting the desired look.
While doing the pose, you may feel intimidated, but with the right practice and guidance, you can ace any pose in a stylish long dress. Make sure that the pose captures the dress's beauty and your unique style. The long flowy dresses will showcase the dress's flowy nature and highlight your best features to create memorable and beautiful images.
In this guide, you will see 18 stylish long frock poses to create a gorgeous picture to cherish for years. These tips will help you feel comfortable and confident in front of the camera while creating visually stunning images.
1. Hands-on The Hips
We will start with the basic pose, hand on the hips. This pose is usual, but placing your hands on the hip will very well define your curve when you wear a stylish long dress. Though it is a basic pose still, it is a damn good one. Keep the arms straight to your body to look tall. Do not dip your arm down.
This is a simple pose among the stylish long frock poses; here are a few ideas to improvise
Place your hands on the hips and slightly tilt your body towards any side, either right or left.
Hands-on hips and bend towards the camera.
Hands-on hips swirl your frock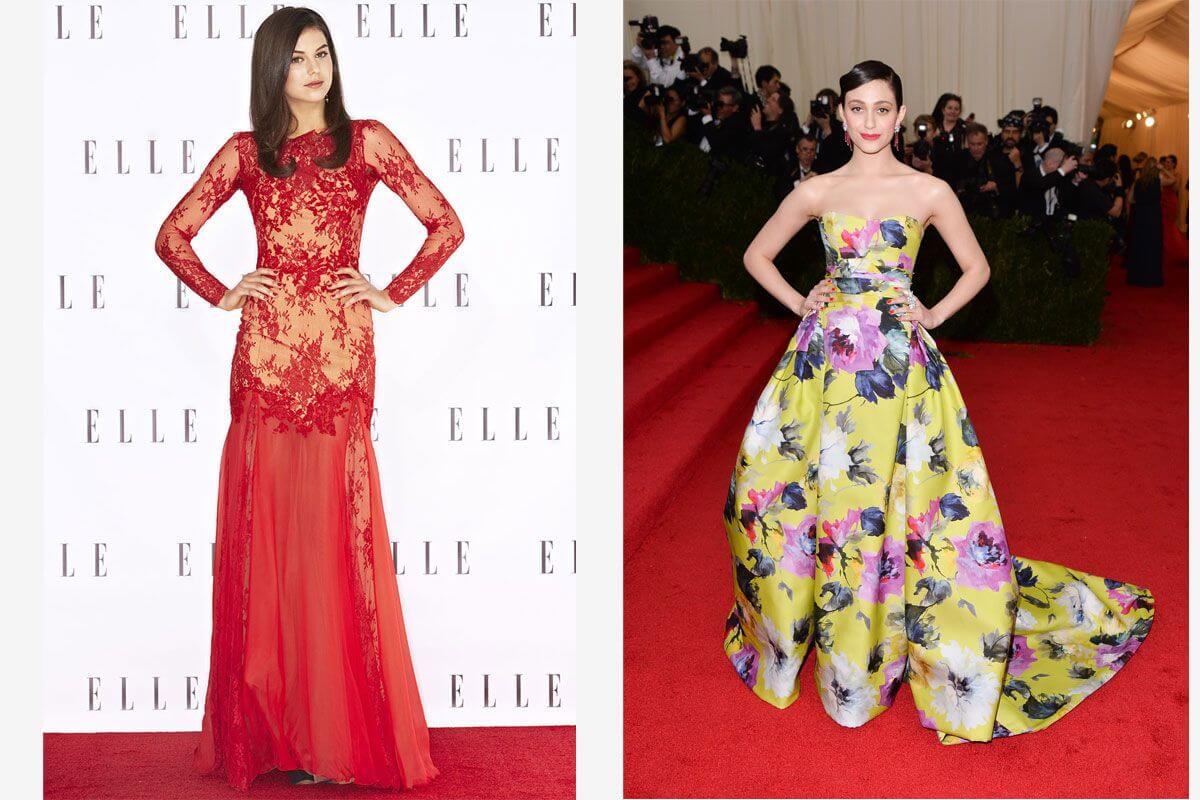 2. Hands Behind You
Yet another simple pose, but this pose brings out the cuteness in you. Hold your hands behind you and show off the long dress. Again, keep your body relaxed, and let the camera do the work in this pose. In stylish long frock poses, hands behind may be simple, but it needs a little knowledge about the camera angle and placement to get the desired result exactly.
Here are a few steps on how to capture a perfect stylish long frock pose
If you want the arms to look light, wear a long dress with a full sleeve.
Do not shrug your shoulder; keep it relaxed.
Place the camera in the centre and stand 90 degrees for the camera.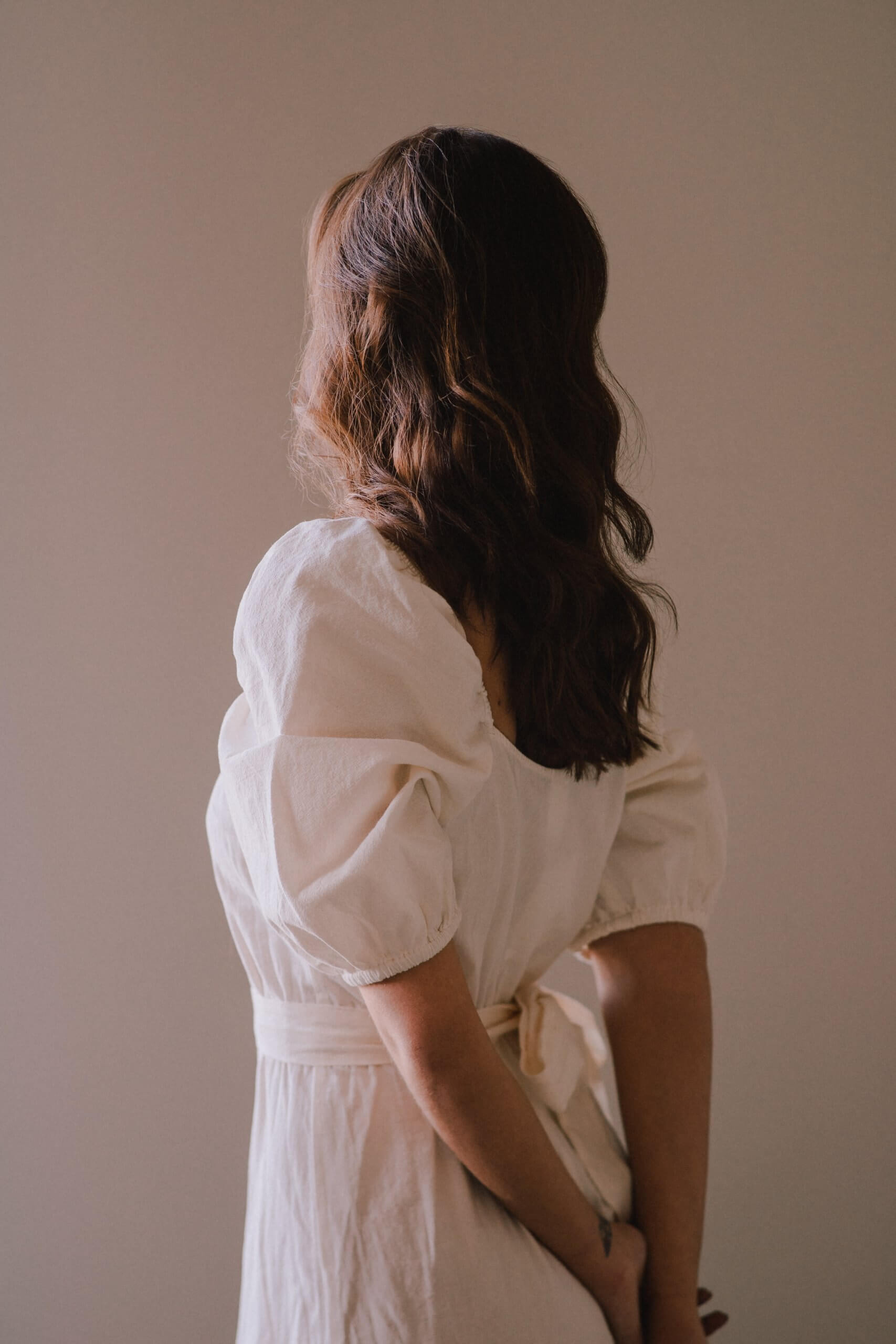 3. Stretching out Both Arms
Let us look at the sky and stretch out our hands is what all this pose is about. This pose seems simple, but it takes time to get a perfect shot. Relax your shoulder and not build any tension while stretching your hand out. It may look artificial and odd. While stretching your hand out, keep the arms aligned with the shoulder.
Choose a background perfect to feel and pose; I suggest a natural environment, like in the middle of the woods or facing a mountain. Look at the sky while stretching out the arms and place the camera below for this pose. While standing for this pose makes it natural to look natural, it will take time to bring out the expected outcome in this pose.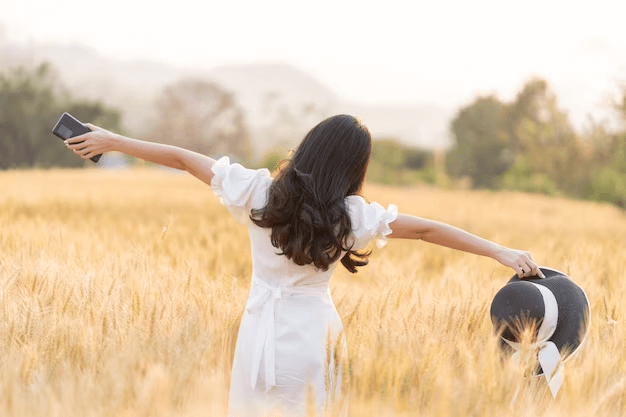 4. Holding Your Frock Out
Every woman out there will love to pose by holding their frock and showing off the dress. For this pose, wear long clothing with design patterns like a single pattern, floral pattern, or frock with pleats. Then, take a handful of wrinkles or cloth, spread the dress, and show the designs.
There are other criteria to look upon while using this pose, keep your body straight and work on your facial expression, or you can also look away from the camera. Give a good smile to complement this pose, and hold your dress like a butterfly to give extra elegance to the carriage. Finally, have the dress and give a swirl to the frock, turn around slowly, and click the picture.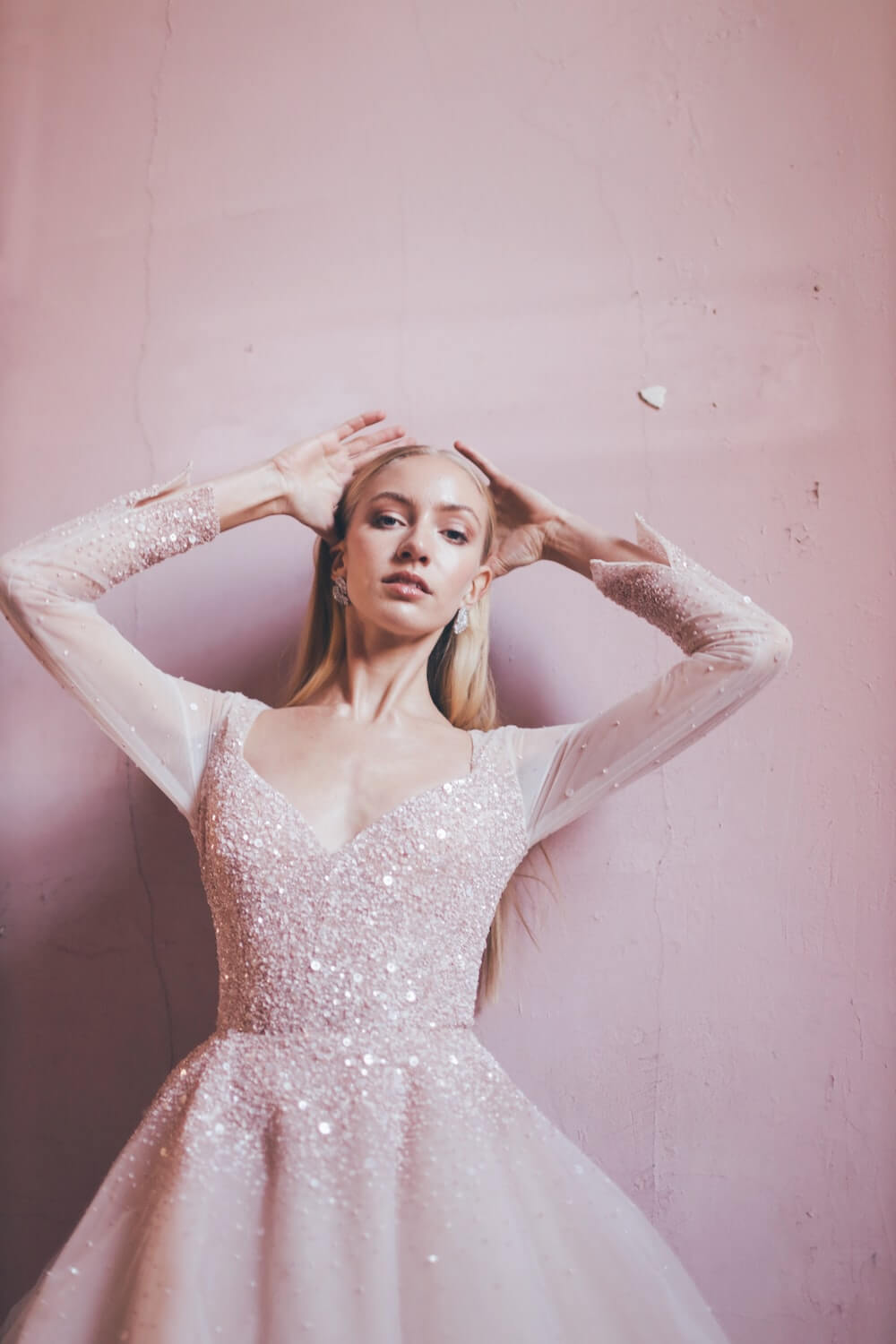 5. Both Hands Behind the Head
Keeping your hands behind your head, touch your chair's back by raising both arms. This pose, I would say this is a model pose. Again, work on your facial expression for this, though the pose is about arm positioning. Your face will be a second focus.
Wear a sleeveless, deep neckline long frock without a hip hemming will be a great choice for this pose. Hands behind the Head will depict your neck, shoulder, and hip curves. You can turn your Head to either side by keeping your hand on your Head for some extra attention. Place the camera in front of you to your exact height for full cover.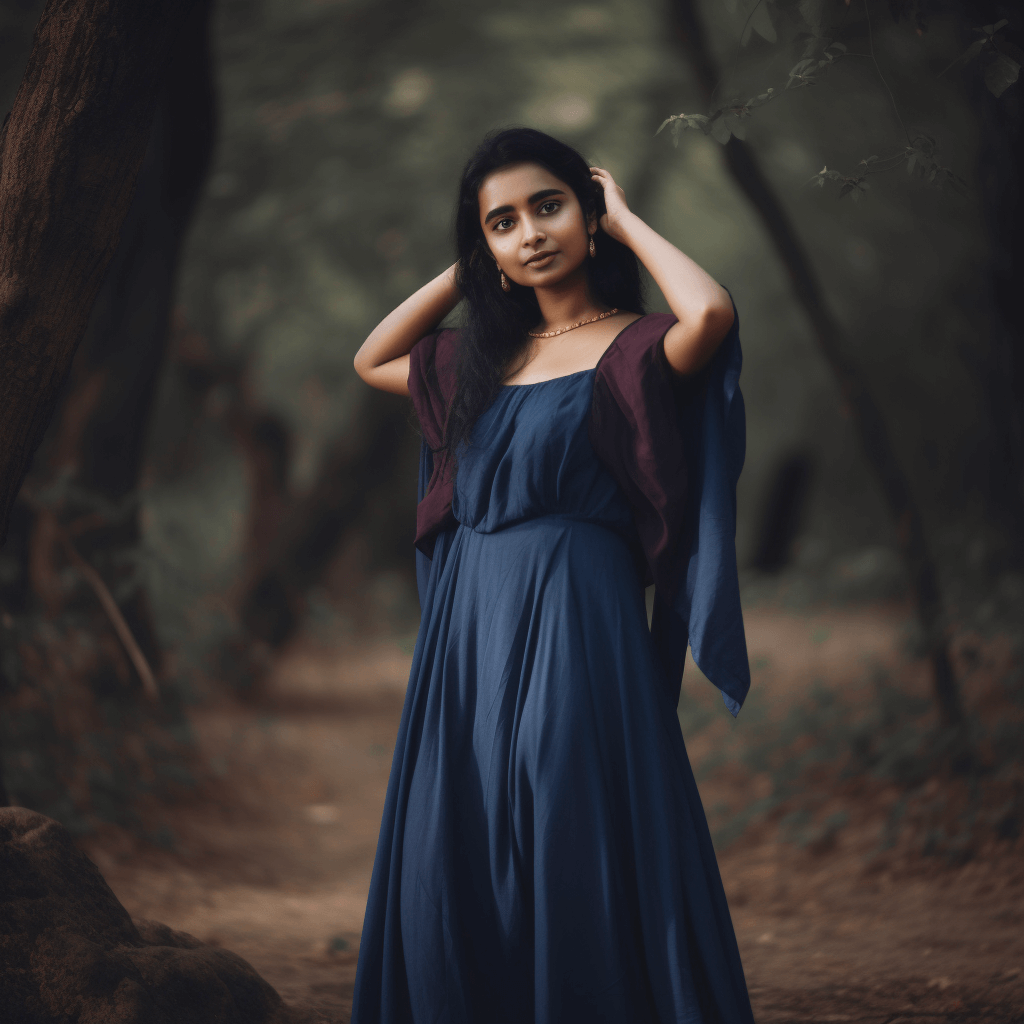 6. Crossing the Hands Above the Head
After keeping your hands behind the Head, lift them above it and cross your arms. This is also a model pose; crossing arms means not keeping the left hand straight and striking it with the right hand. Practice this pose before taking a final shot; the model poses a little more practice.
I suggest wearing a long flowy dress with a slit at the side. So, the picture will look so dreamy when you are in this pose with hands above the Head crossed and putting out your leg on the other side through the dress slit. But, to bring out that nostalgic look, you must bring out those emotions through this pose.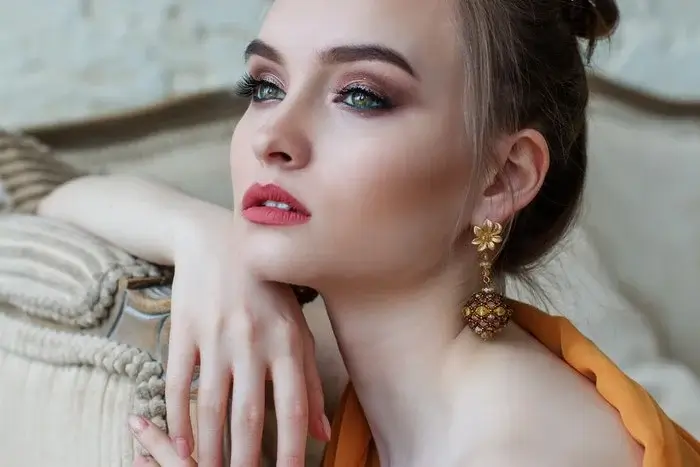 7. Hand on The Chin
Hand on chin pose will be a classic pose discovered for women. Just stand straight, keep one hand on your chain and the other wrapping your hip, or one hand below your chin and the other hand parallel to your forehead. You can also sit in a chair, rest your hands on the table, and use both hands to support your chin.
As I said classic one because this pose brings out the feminine side of the women in a childish way. The camera placement is 45 degrees to your body, and this pose will look good from a side angle. Place the camera height according to your desire by checking with trial shots.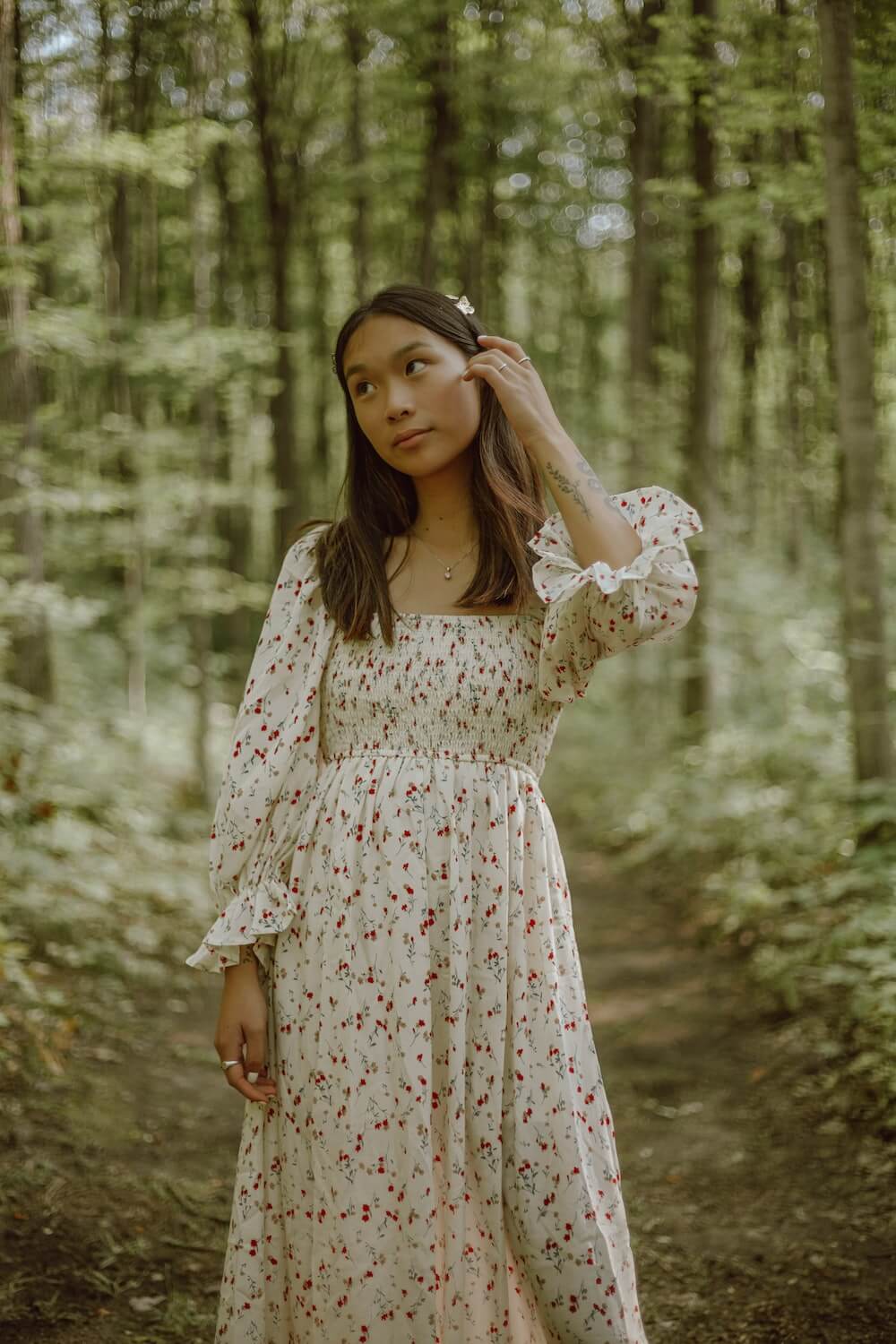 8. Play with The Hair
Playing with your Hair is the trending pose with a long dress. Free Hair or half-free Hair will always go with stylish long frock poses. This pose lets you play with your Hair and take a candid picture. An added advantage for women is their long, short, or medium Hair, adding extra beauty to all their images.
Here are a few ideas for stylish long frock poses with your Hair
With one hand, brush one side of the Hair and give a small smile.
Use both hands to lift the Hair and look at the side.
Put your hair behind your ear pose.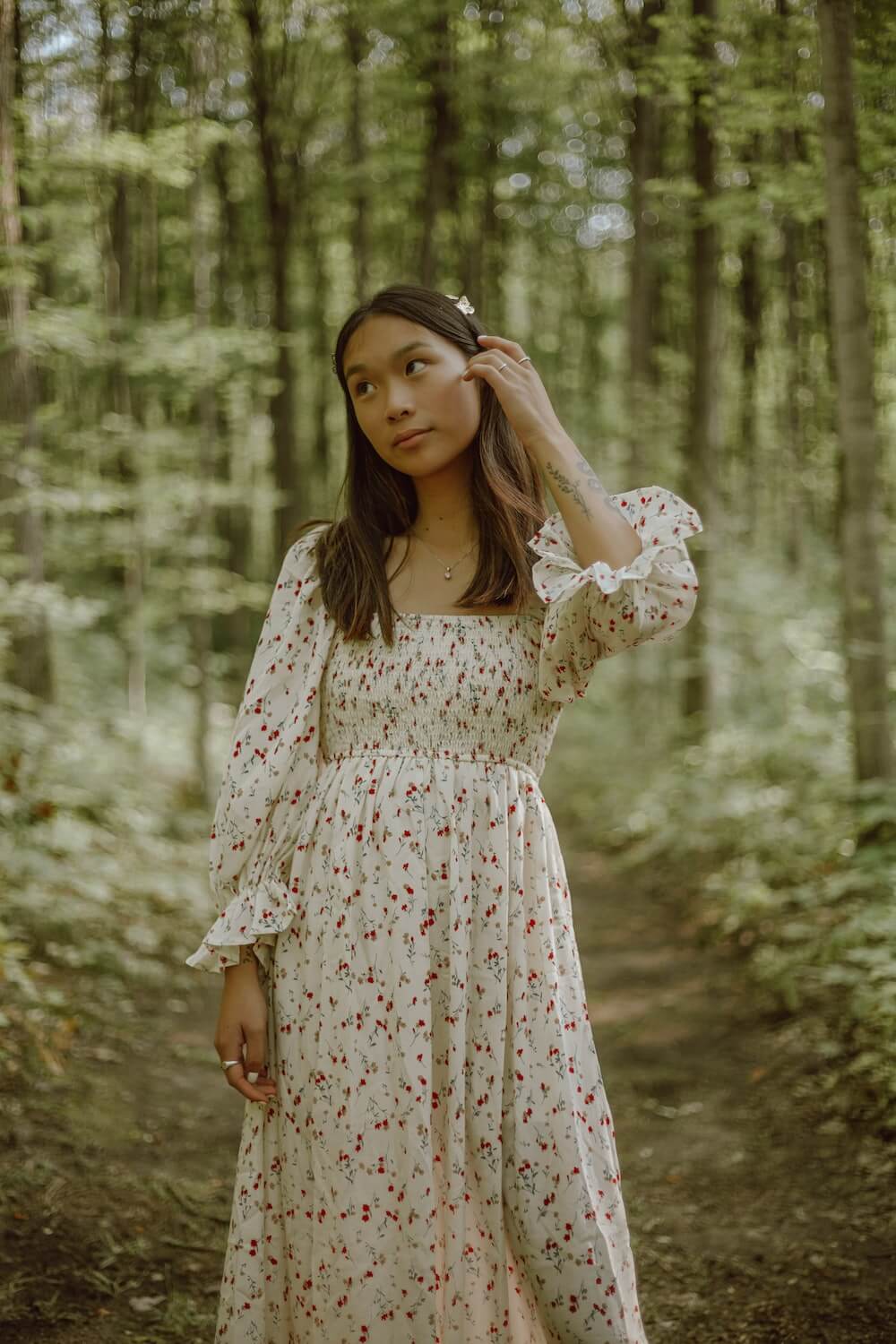 9. Hands in Pocket
Yes, long dresses and maxis with pockets give you a confident look. It is a simple pose by putting hands in the bag, but really a damn good one. Just put your hands in the pocket, stand straight, shoulders back, and give the best smile.
Four fingers inside the pocket, and both thumbs out of the bag. Or keep one hand inside the pocket and the other hand out. If the entire arm is dipping, it is all about preference and comfort. In this pose angle of the camera is the key factor; keeping the camera 45 degrees to either right or left will work fine for this pose.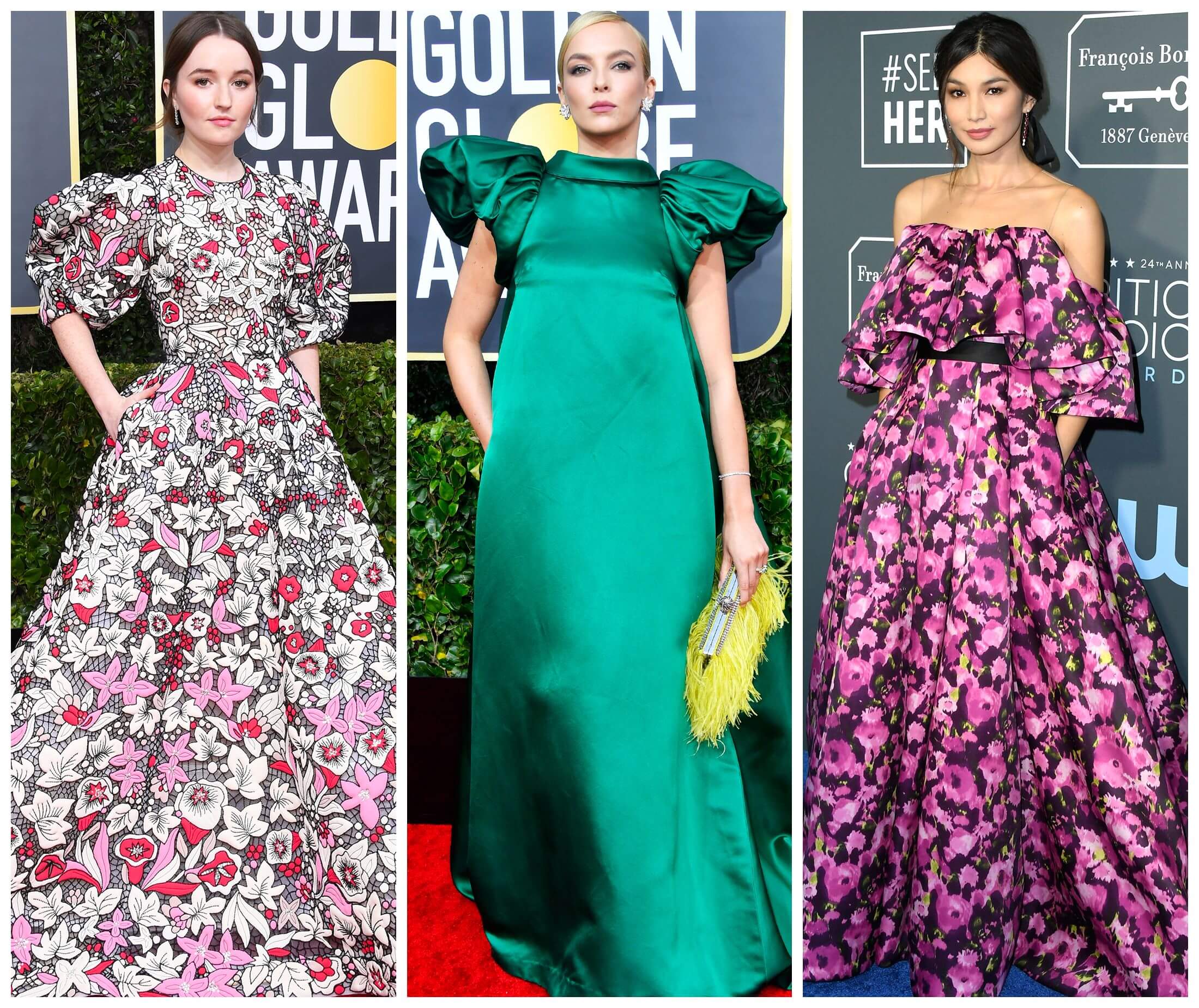 10. Hand on Hand
Among all the stylish long-frock poses, this is the good girl pose. Keep your left hand down straight and hold the wrist of the left hand with the right hand. This pose is an easy pose to slay it.
Keep your facial expression minimal for this pose when I say it is a good girl. Give a small smile, or you can show your teeth slightly. Make sure your Hair flows down the front of your shoulder to add charm to this pose. After holding hands barely, tilt toward your side to give a soft look.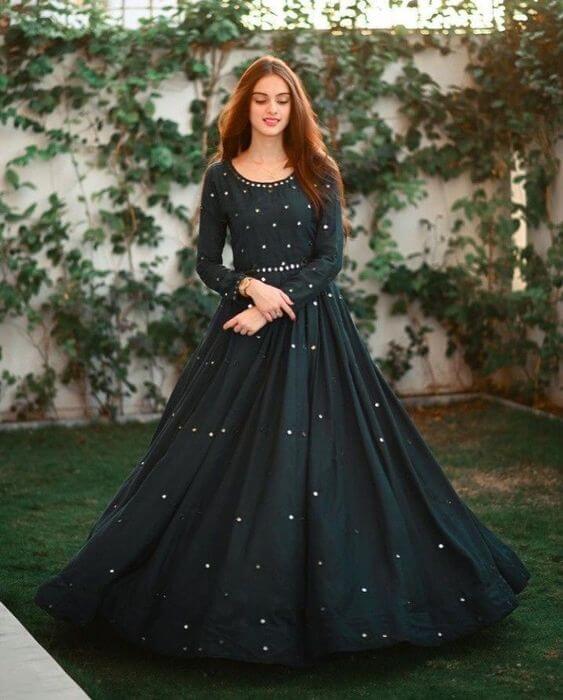 11. Knee Pop
This pose is a celebrity pose, and many celebrities use this pose on the red carpet. You will stand straight, turn one foot to the side and bend your knee slightly. This will put the whole weight on one side, and the knee pops out.
This seems to be an easy pose, but it will be picture-perfect with proper practice. I suggest wearing a long flowy gown that defines the curves at the hips. Also, while standing in this pose, keeping your hands on the hip will define your curves. So, go for it but practice in front of the mirror before the final shot.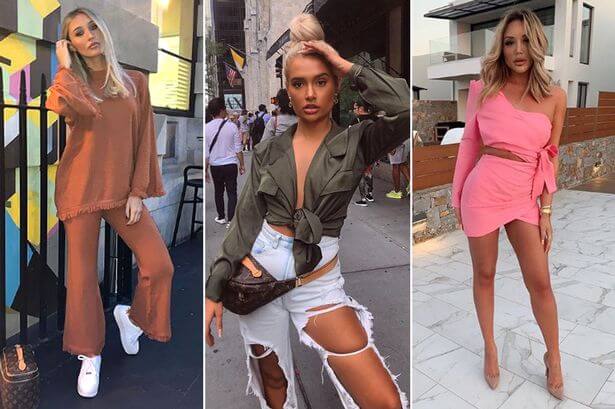 12. Cross the Legs
Here is another of my favourite poses in the series of stylish long-frock poses. Stand straight with one leg shoulder-width apart and bring another leg to the crossing. Place your hands on the hip or s at the back so the shoulder will not dip, giving a sluggish look.
Crossing your legs while wearing a long flowy gown, your portion will not be visible. But while travelling, you are your body type, and curves will be well-defined in this pose. So I suggest wearing a lightweight monochromatic long gown for this pose.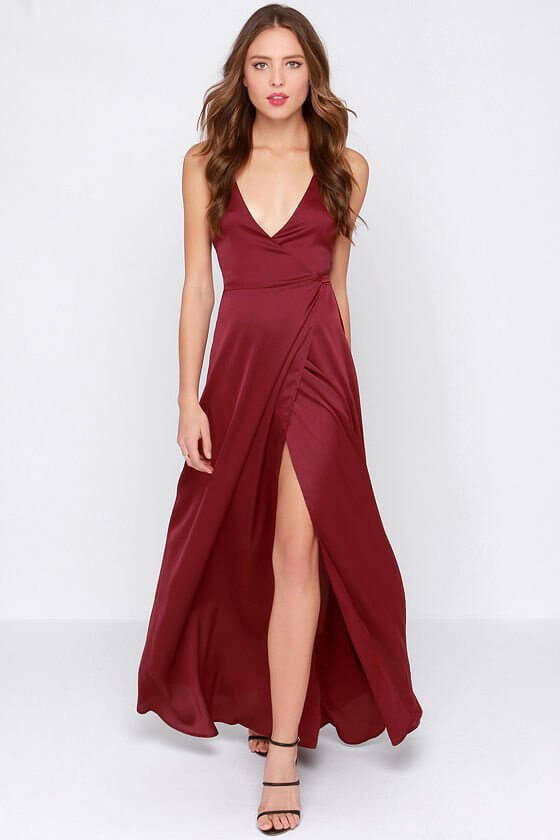 13. The Walk Pose
The most favourite candid pose in the series of stylish long-frock poses. The walking postures are not exactly captured while walking. This is to give an idea of walking but standing in the carriage.
Look and turn your body in the direction of 45 degrees to the camera, and keep the right leg in front and the left in the back at a small distance, not a big step; slightly turn your body towards the right. Then, bend towards the right leg and keep your left leg on the toe. Now, this shows that you are walking; to complement this, you play with your Hair or look down or straight.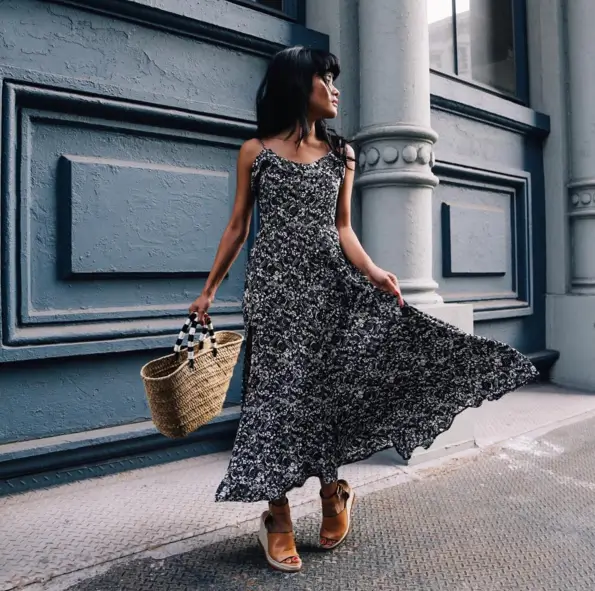 14. Lean Against a Wall
Here comes another stylish pose in the series of modern long-frock poses. You are standing up against the wall by placing one leg on the wall. This is a model pose used in modelling. This pose is simple, but you must concentrate on your eye's direction and gestures to create the desired picture.
Standing against the wall by placing one leg on the wall, I suggest wearing a long gown with a side slit. Place the leg on the wall on which side the long dress has the side slit. By exposing a part of your leg, concentrate on your hand and placement too; either keep the writing on the wall facing down. Keep your hands on the hips and bend towards the camera slightly.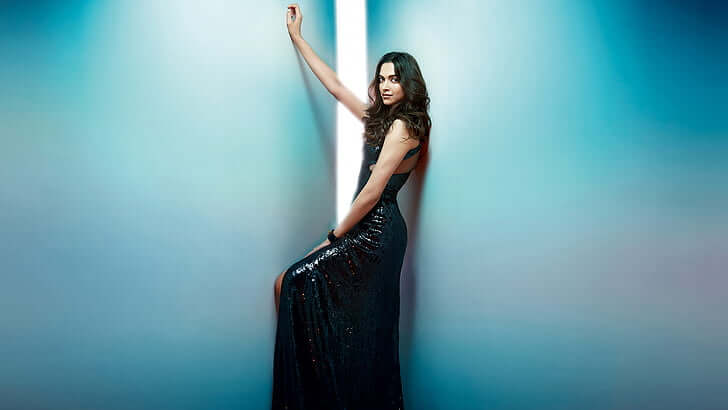 15. Lying on The Floor
Let us take some aerial shots by lying down on the floor. Place your camera at the top angle for this pose. Get help with anyone, or use a tripod to fix a maximum grade. I suggest wearing a long gown with double colour patterns, many frills, or a beautiful design pattern.
Here is a step-by-step instruction for this pose in stylish long frock poses
Lie down on the floor with a camera angle at the top
Spread out your flowy gown and create a butterfly-like beside you
Place both your hands on the stomach
Keep one leg straight and lift your other leg knee slightly up.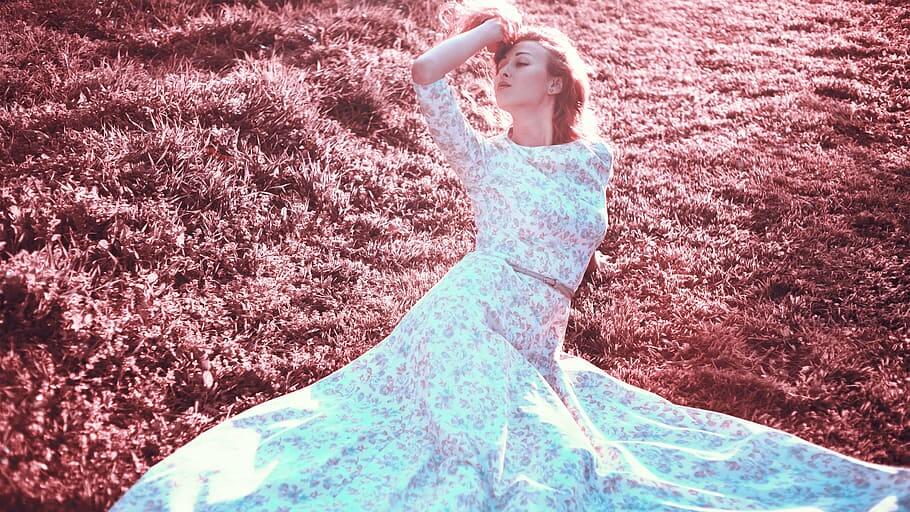 16. Back Pose
Choose a long backless gown for this pose; the name pose tells you to flex your back opening. Long flowy gowns have many designs for the back of the dress. If you are wearing one such dress, go for this pose.
Please have a good hairdo as we focus on the back posture; Hair will be a focus. Choose a backless dress with a curvy structure at your hips, show your back to the camera, put your Hair in front from one side, and look in the opposite direction. Give a side look in the opposite direction of your Hair placed.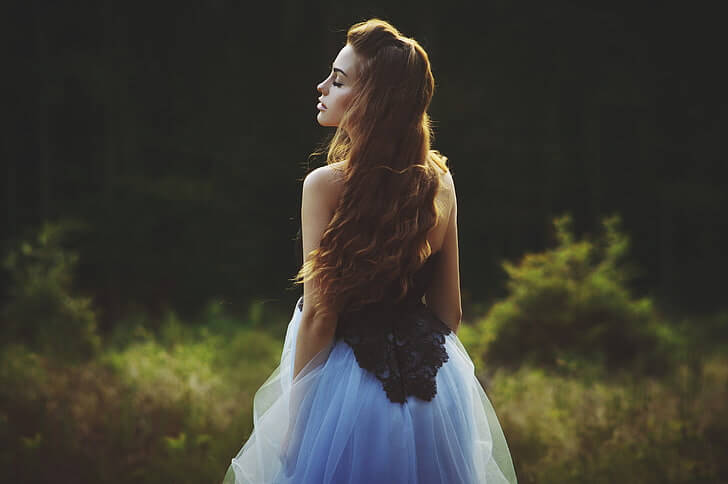 17. 45-Degree Angle Look
Just looking straight into the camera like a kid, you know, will not give a good look in the photo. It will also not do any good with lighting and other kinds of stuff, as it may spoil the photo's mood. So, the experts tell us to look 45 degrees from the camera.
But make sure your gaze is not artificial; make it look like you are telling some story. Turn to your one side, keep one foot out, and look at the side of the camera. I suggest a side slit, long flowy gown for this pose.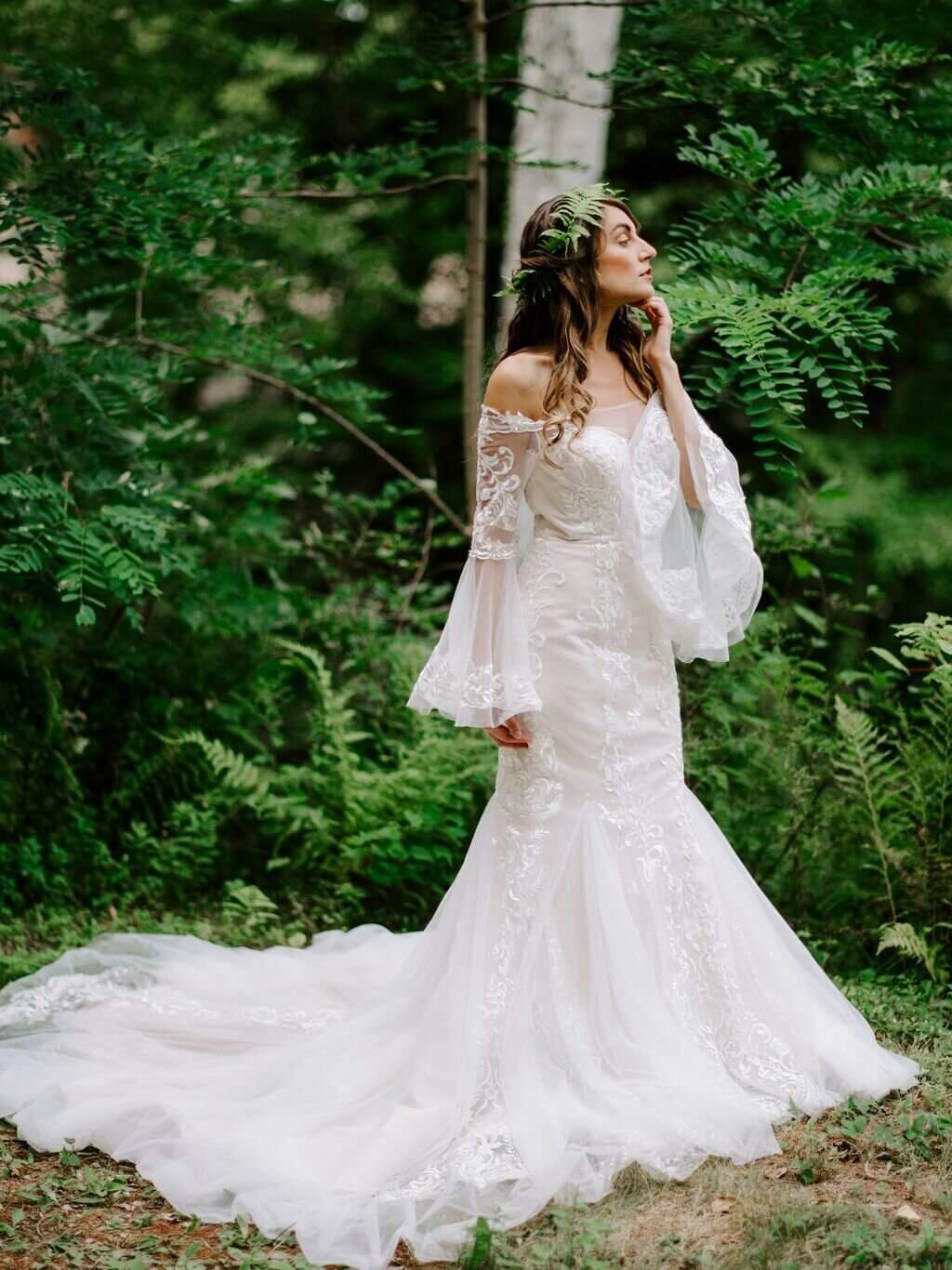 18. Look Off-Shoulder
Have a dress with a bare back or some design at the back. This pose will be a perfect one to show off the dress. Stand facing away from the camera and show your complete back to the camera; turn your face towards your back like you are looking behind you. This will focus on the back of your dress.
I suggest wearing a long flowy gown with designs at the back; you can probably put a floral bun for the Hair. So the Hair will not disturb the focus from the back of the dress. This will be my favourite pose in the series of stylish long-frock poses.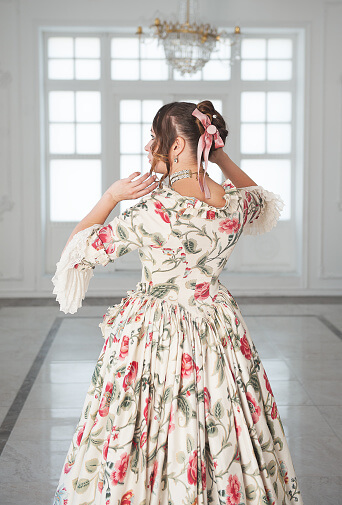 Let's Click on Some Candid
As we know, we click the memories as pictures and treasure them. Unfortunately, memories may fade, but photos will not. So, try clicking pictures with some candid moments, fix your camera in place, and be you. It is also important to consider a dress's colour, material, cut, and length for the photoshoot. Remember to use your arms and legs to create some interesting pictures. Elongate your body and create a graceful silhouette.
Long flowy dresses may seem daunting, but with the right techniques, they are the perfect choice for an elegant photoshoot. Experimenting with different poses will help you find the ones that flatter your body. Pay attention to your facial expressions and deliver the proper emotion or mood. Do not feel intimidated to try new poses to capture a perfect shot.
Wear a long flowy gown and flex it like a princess. Use the above 18 Stylish long frock poses as a guide for your next photoshoot.