You have already spent a lot of time finding your life partner, and now you are getting engaged or married soon. Since you are excited about one of the best and most special moments with your partner, You have fixed the date, location, and many other essential things.
Now, you also want to create some of these best couple moments of engagement near the beach and capture some of the best couple memories in pictures. But you felt lost and confused about the best beach poses for couples, which can make your engagement pictures and videos alive along with your connection with your partner. Your confusion is normal, so don't worry! We have specially curated this blog post with engagement photoshoot ideas for couples like you to guide you about the 23 best beach poses for couples.
This compilation has a wide variety of poses, from romantic to traditional.
Preparation for Upcoming Photoshoot
Once you have finalized the destination, finalize your dress, time, and a good photographer who can assist you with good beach poses for couples and stunning pictures and moments.
Choose the colors which look best on your body, and enhance your confidence.
Decide whether you will take the photoshoot during sunrise, sunset, or daylight.
Work on your connection and bonding for natural poses so that it reflects your love in pictures too.
Beach Poses for Couples by Holding Hands
1. Slow Walk
Start your session with a casual warm-up couple walks by holding each other's hands. This will alleviate the anxiety and foster natural expressions. This couple's pose not only captures the heartfelt moment of the couple in the picture. But also helps you to establish a connection with your partner and boost your energy, which will reflect in your special moments and pictures.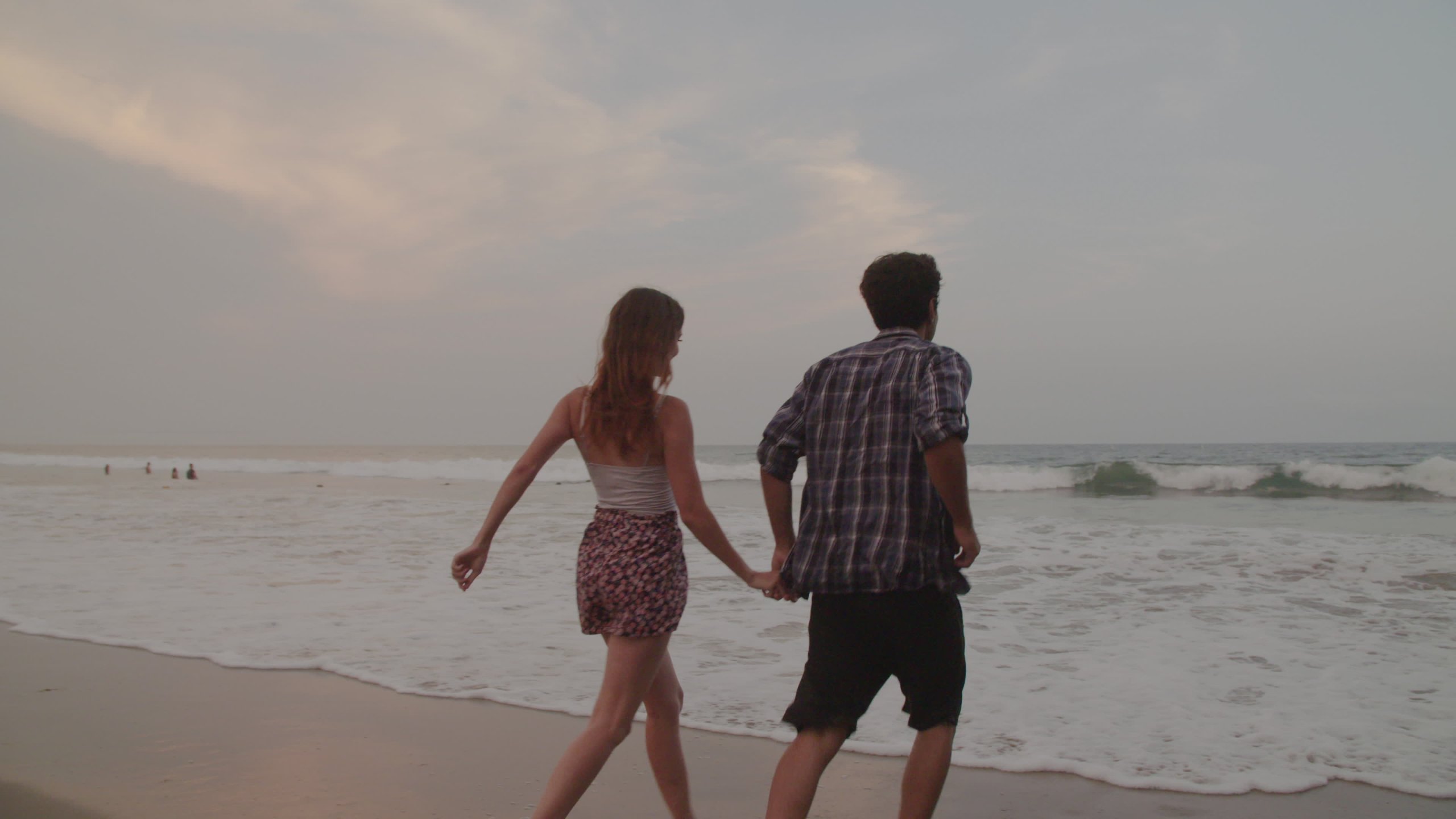 2. Show Your Engagement Ring
While walking hand in hand, you can show your engagement ring to the photoshoot camera. To flaunt your engagement ring, you can wear it on individual ring fingers and show it to the camera by holding each other hand. You can also flaunt the engagement ring by holding it in your pinch of another hand together, where both partners make a heart shape with their other hand behind the ring.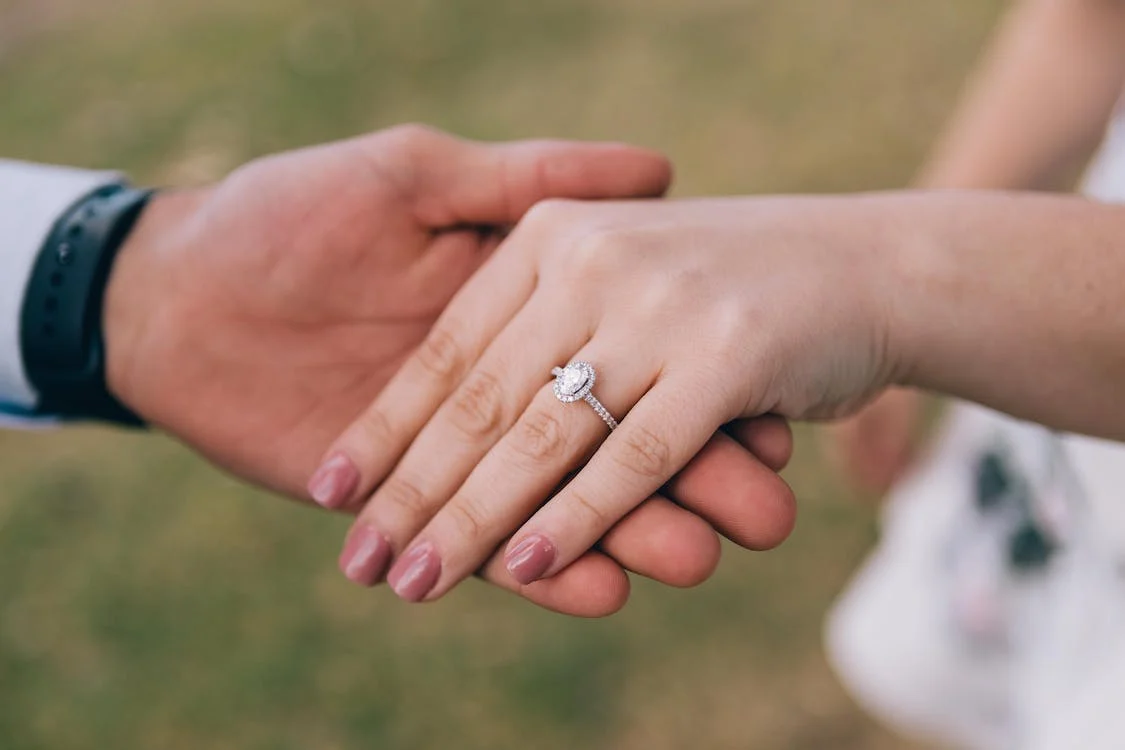 3. Slow Dance
For elegant poses, you can dance slowly, holding each other's hands at sunrise or sunset. It will bring out your natural smiling, glowing face, and the soft sunlight will add magic to your happiness and photoshoot. The girl can flaunt her dress to the fullest while swirling or slowly turning around, creating a romantic and heartfelt scene.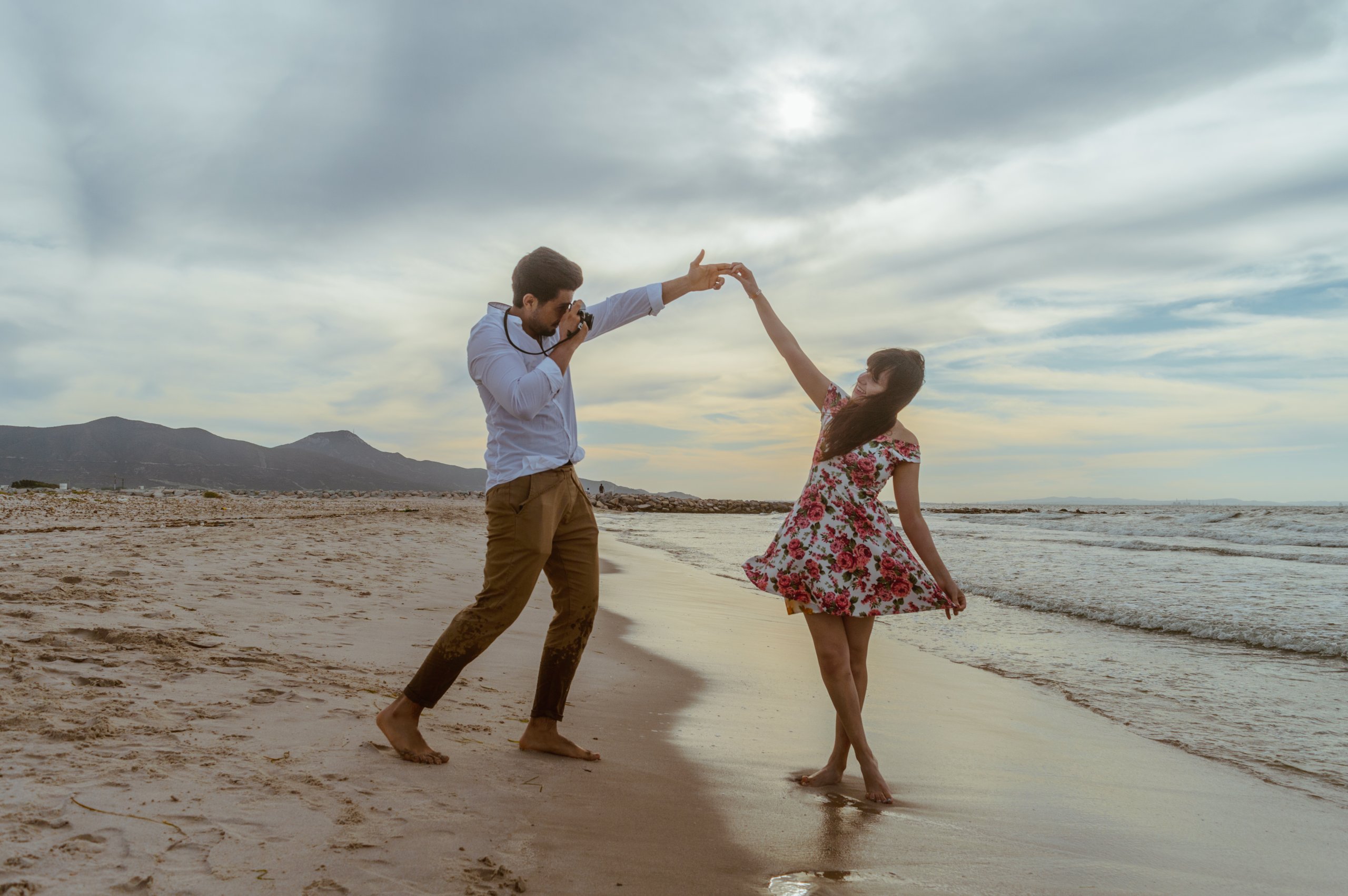 Kissing Beach Poses for Couples
4. Head Kiss
The simple standing face-to-face pose will be lightened up by flaunting a kiss on the forehead of your partner. You can also flaunt a kissing pose by pulling your partner closer to you and holding their waist from the backside. For natural memory capture, you can also flaunt a head kiss in the sitting position, facing each other side by side.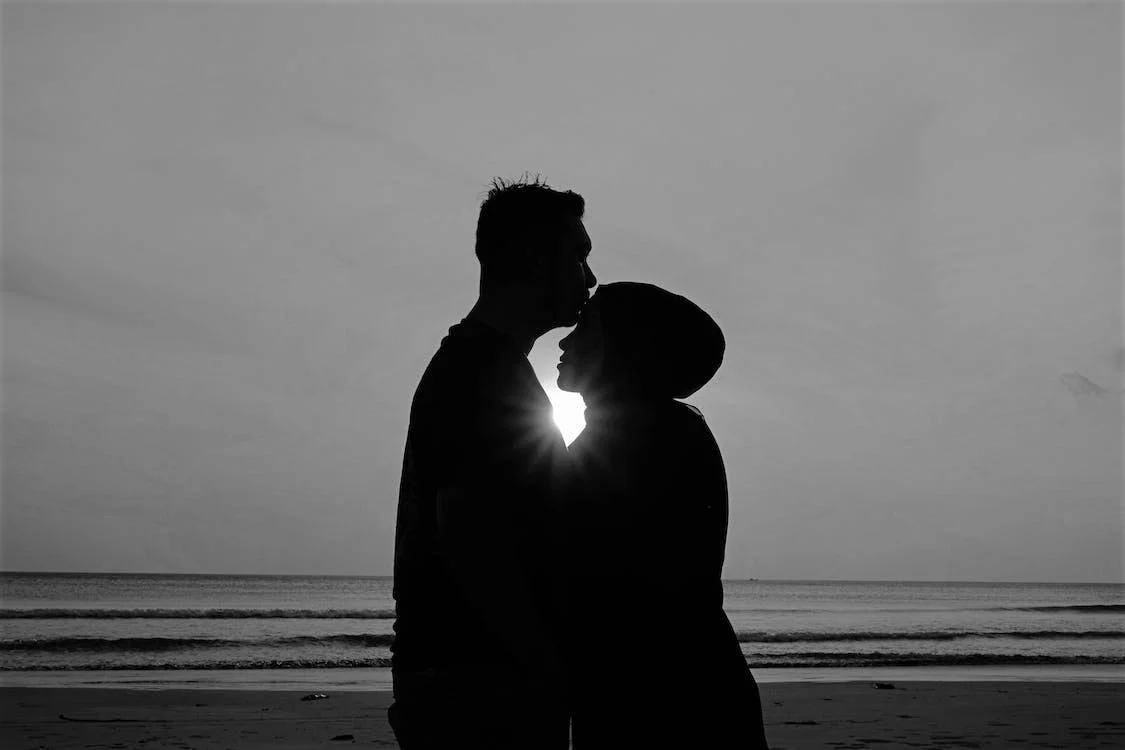 5. Kiss on the Cheek
A sweet moment with light romance can be captured by setting up the mood, pulling each other's face close to each other, and then planting a kiss on your partner's cheek. The moment will not only speak in the picture with the strength of your bond, but it'll also make it alive with the present moment, and all focus on both of you.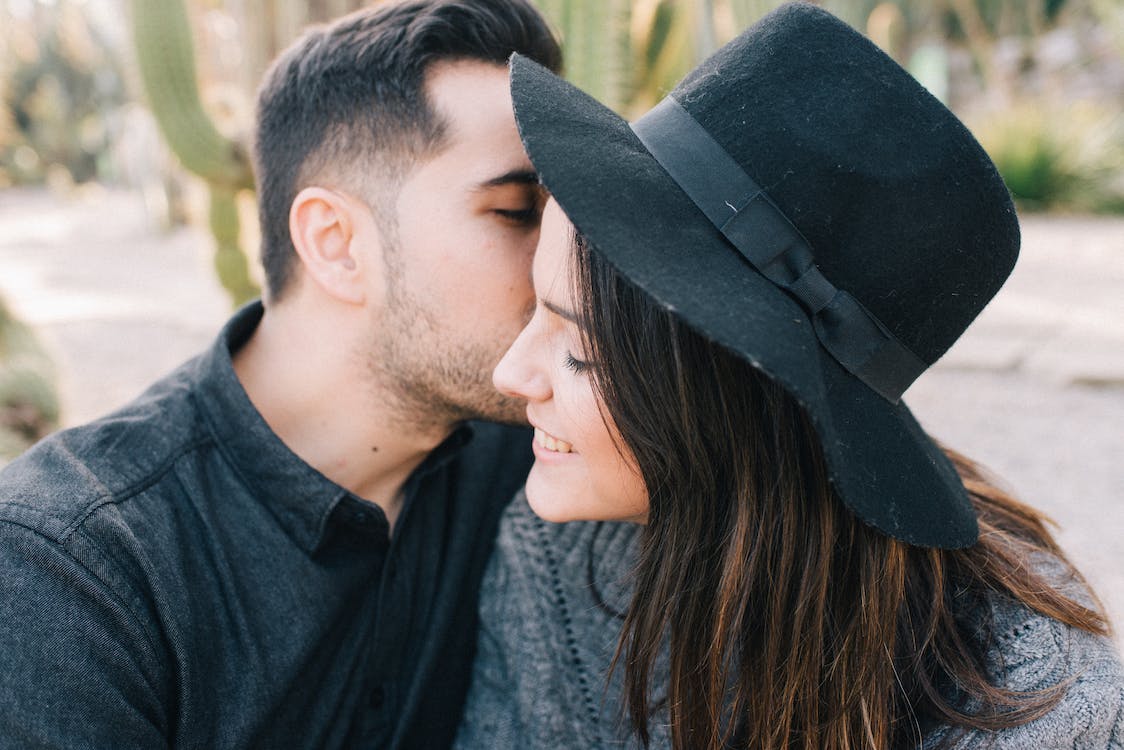 6. Hand Kiss
When the couple holds each other's hand, they can flaunt a kiss on the hand with happy faces in several ways. While walking, bring your partner's hand closer to your heart and flaunt a kiss. You can also focus on showing your engagement ring while planting a kiss on their hand. Also, the moment can be captured while dancing slowly and suddenly flaunting a kiss on your partner's hand by taking it toward the camera.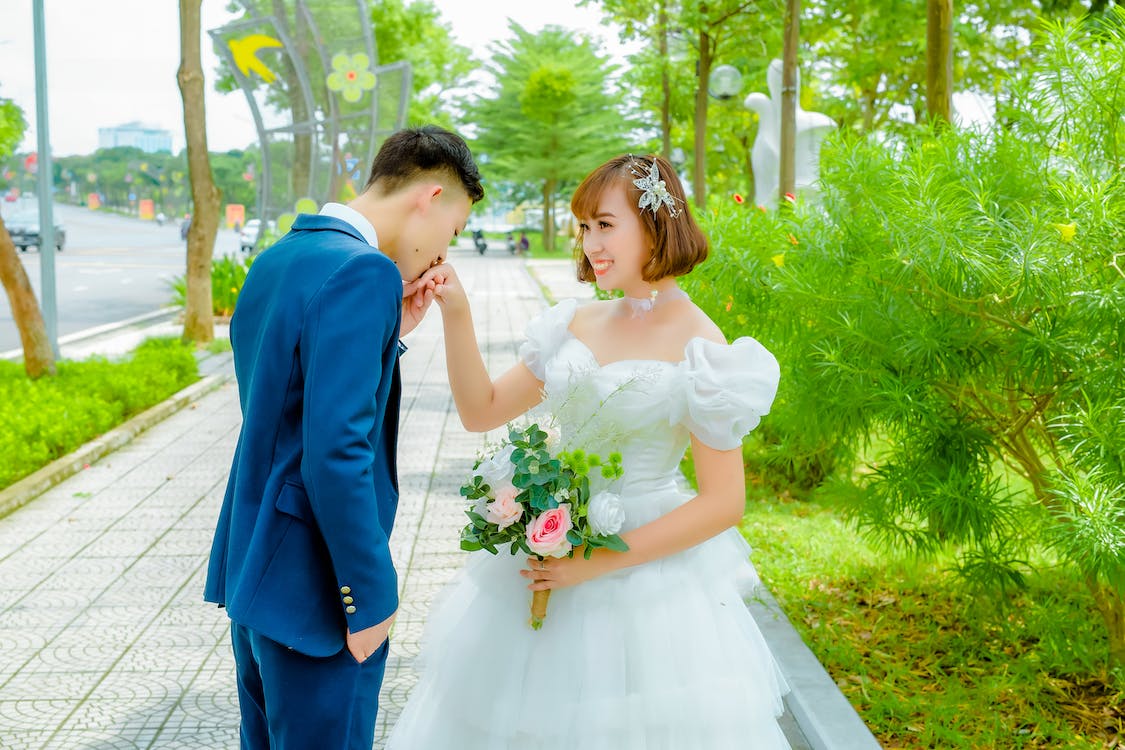 7. Hidden Kiss
If you have a big family who is going to see your engagement beach poses of couples, then you can flaunt the hidden kiss, either with a big hat or a bouquet of bright red or neutral flowers. If you are a shy couple and not comfortable in posing the kissing scenes as shared above, then you should try the hidden couple kiss pose.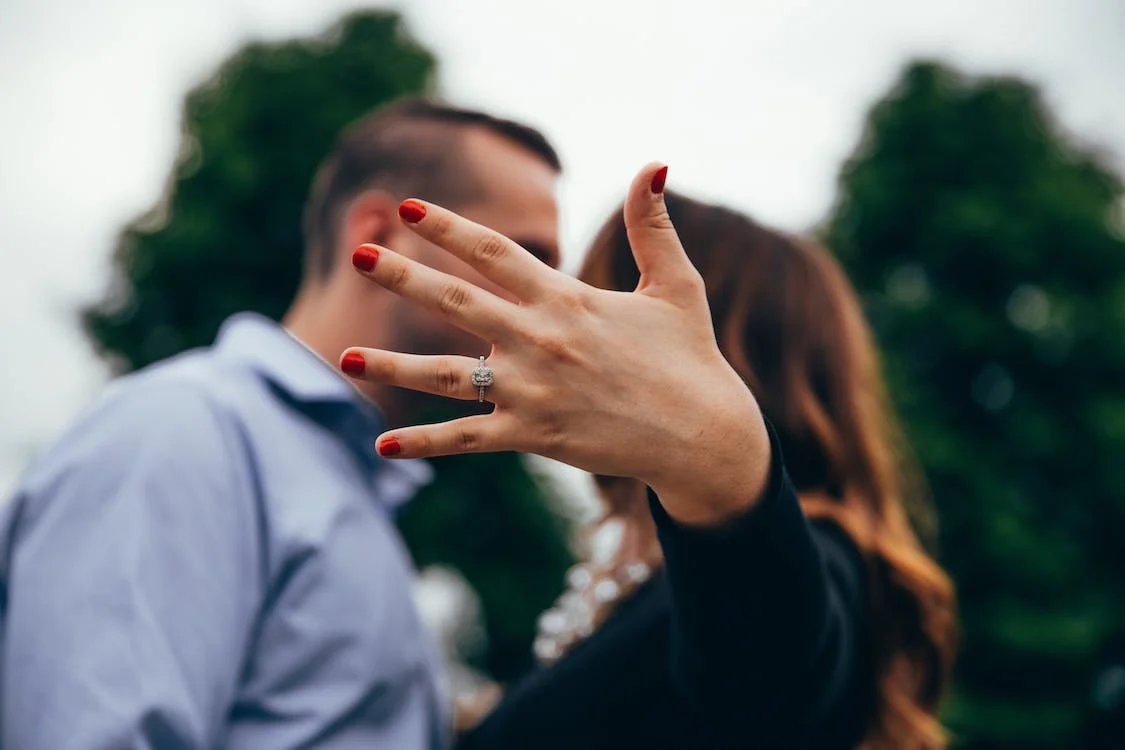 Flaunting Engagement Date Beach Poses for Couples
8. Write on the Beach Sand
Draw or write your engagement or wedding date on the beach sand. And capture the moment while doing so to give a friendly couple look, who are comfortable when they are with each other.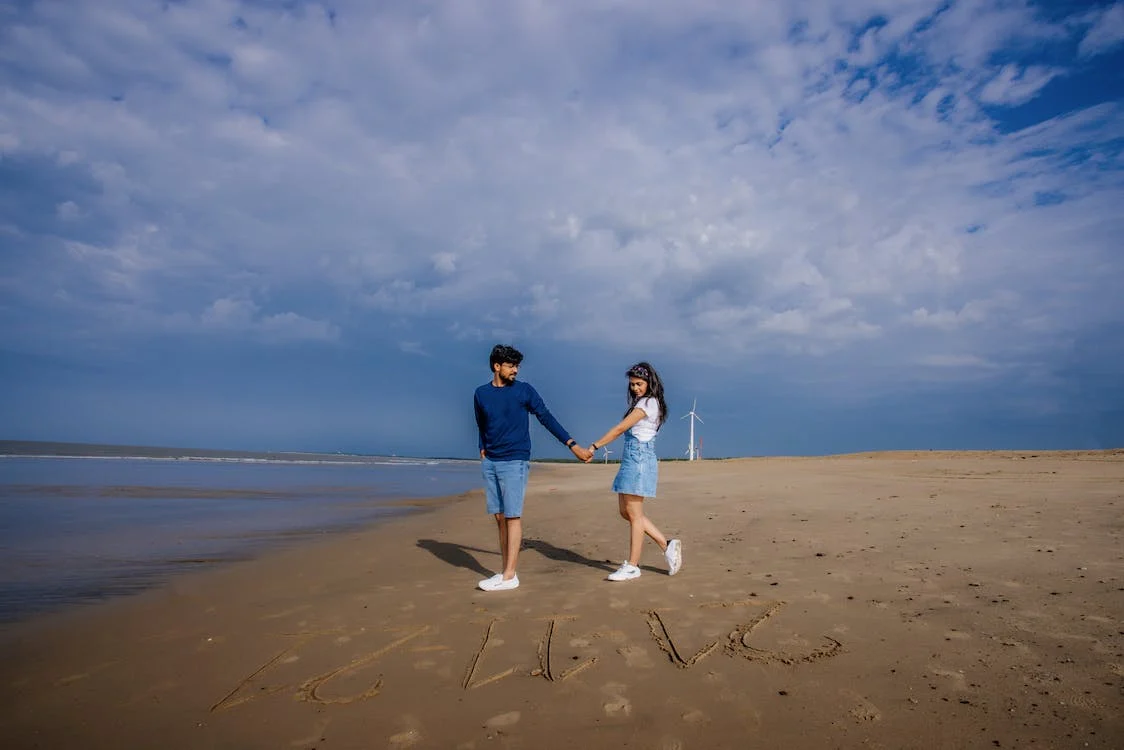 9. Walk Towards Your Date
Hold the hand of your partner, and slowly walk towards the written date, indicating the excitement of engagement or that the wedding is so close. This will capture the excitement and happiness on your faces regarding your special event.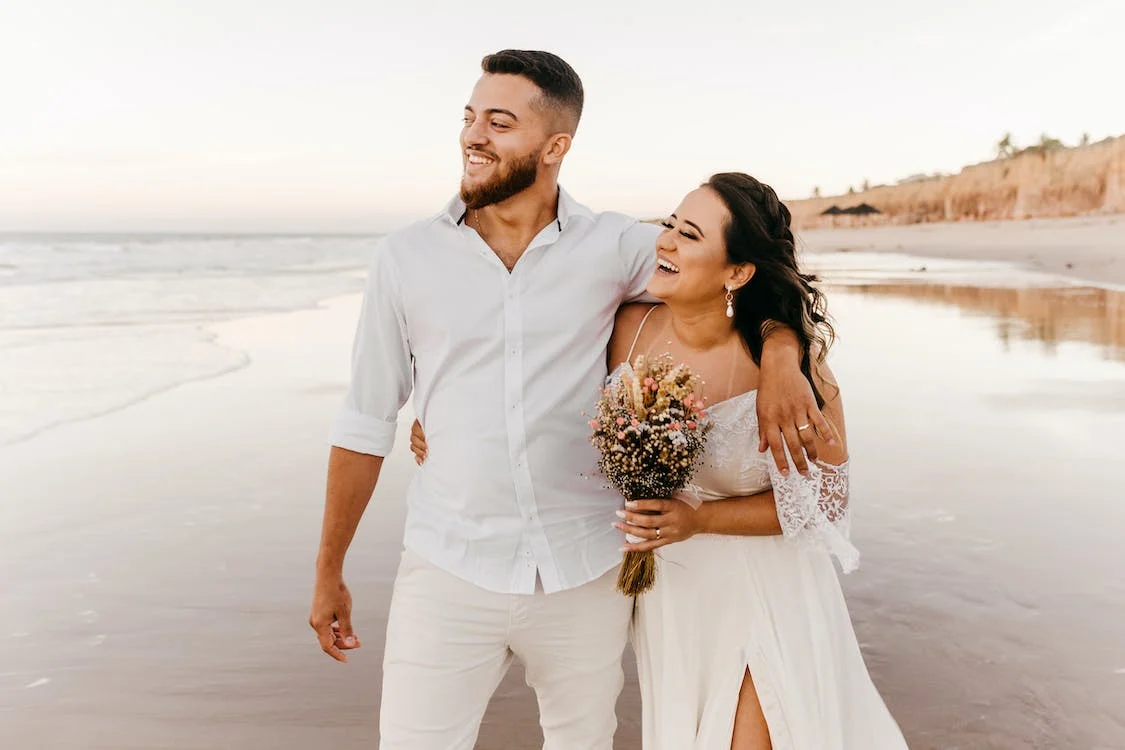 10. Pull Each Other Closer
Stand up near the date written on the beach sand and give a pose by slightly pulling each other closer. Wrap your arms around the waist of your partner to beam up the happiness in your special moment.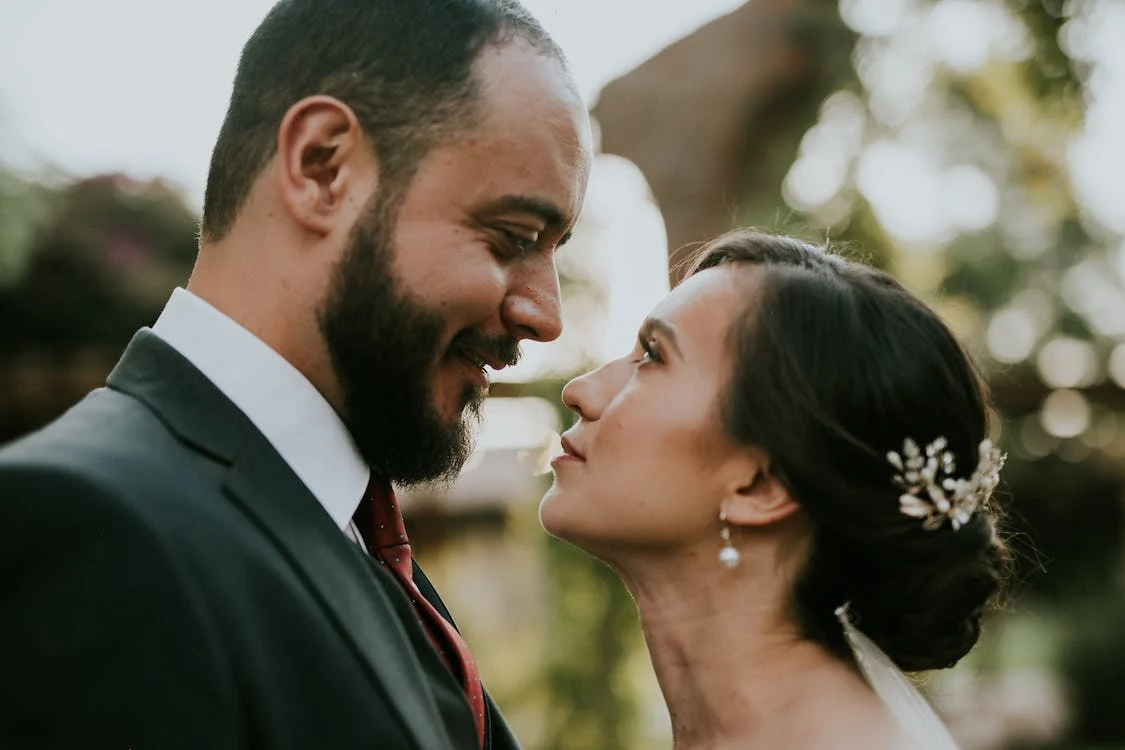 11. Lost in The Happy Conversations
Sit down near the engagement date and get lost in the natural conversation like you are talking for hours. You can keep your face towards the camera or give a side pose to show your soul chemistry.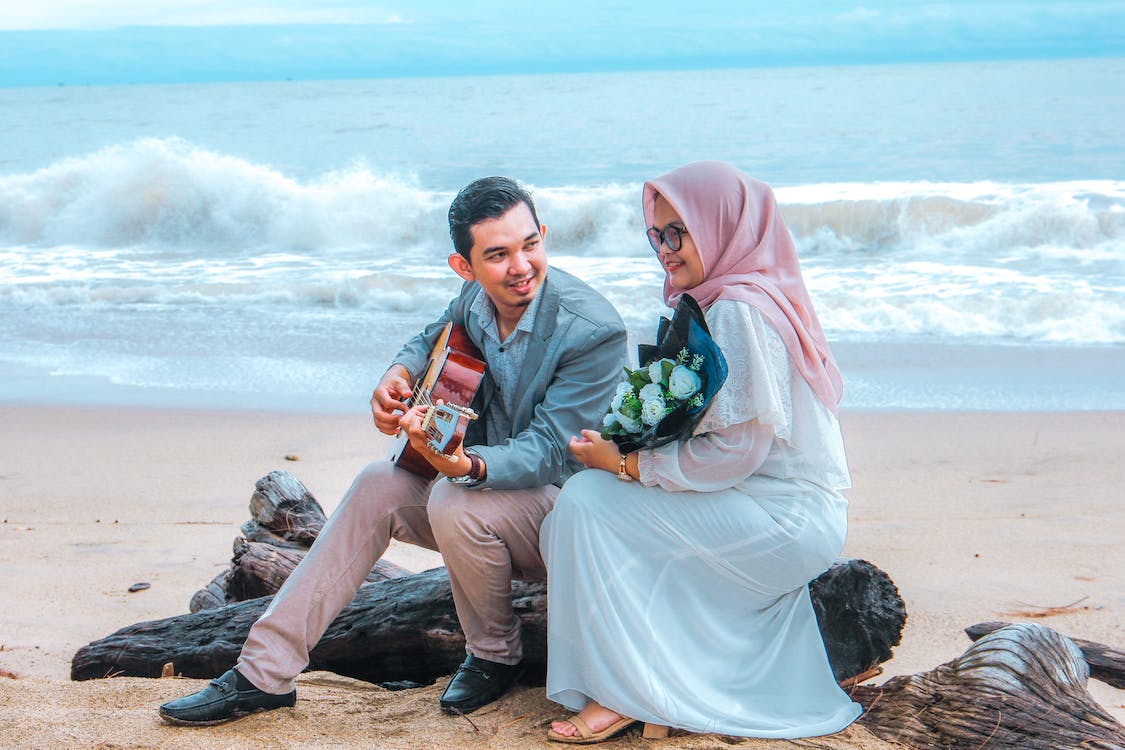 "
12. Propose to Your Partner Again
What an exciting moment it can be to revive those memories again when your partner accepts your proposal of getting married to you. Do it again on the beach sand. Hold the ring in your hand and sit near the engagement or wedding date. Get down on your knee, and propose to your partner. The pictures will become alive with the glowing faces moment.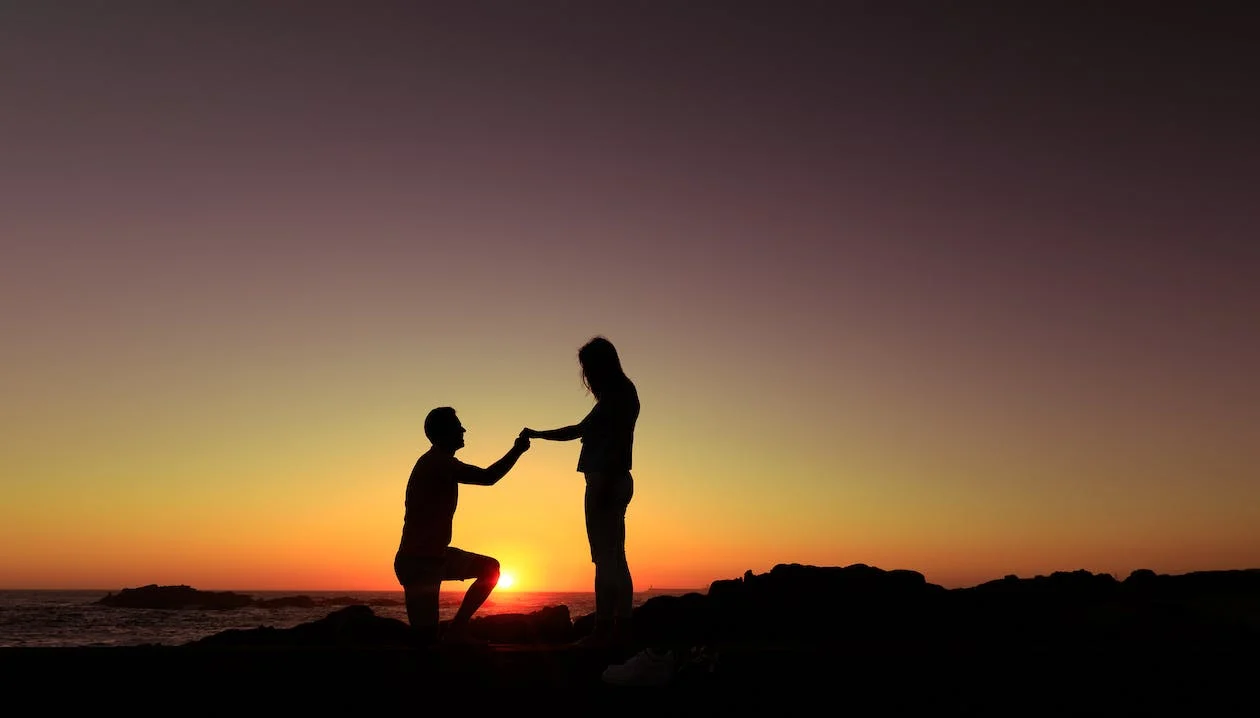 Capture the Moments of Sharing Smiles or Laughter
13. Embracing the Natural View
Flaunt the beach's natural beauty with the soft golden sand during sunrise, where couples feel lost in each other. They are smiling while gazing at the sunrise or beach, talking to each other, stealing eyes from eyes, or holding each other hands. With this pose, you can show the closeness of your relationship while walking or sitting near the beach.
14. Sharing a Blanket
Take a blanket and use it as a photoshoot prompt. Pull your partner closer to you in the blanket, and wrap the blanket with a smile. It'll flaunt the genuine care and warmth in your relationship. Your partner's face will beam up with a smile or shy laughter, which is enough to capture the alive caring moment.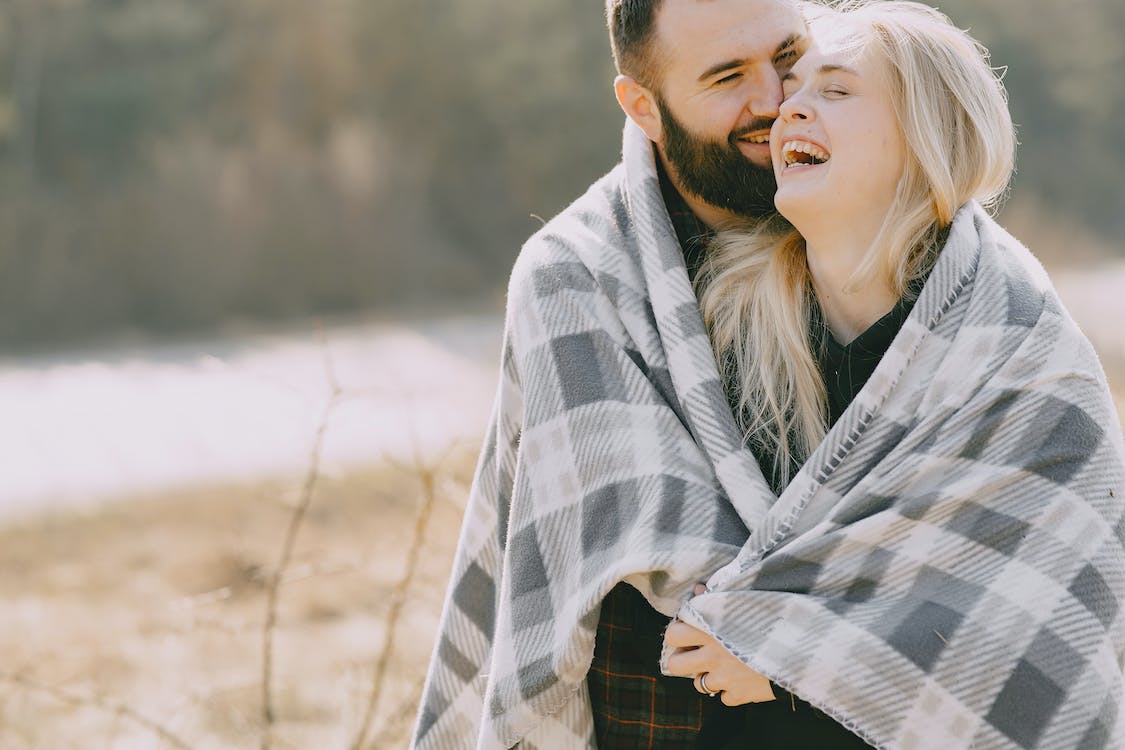 15. Playing with Sand
Write cute short notes on the soft sand to express your love to your partner, bring a natural smile to their face, and capture the live moment. You can also do small art like drawing hearts, indicating fingers, rings, hand holding, or partners instead of messages. To show highly energetic and playful pictures, you can behave like kids, imprinting your footprints or handprints carefully on the soft sand near the beach while giving smiling couple poses.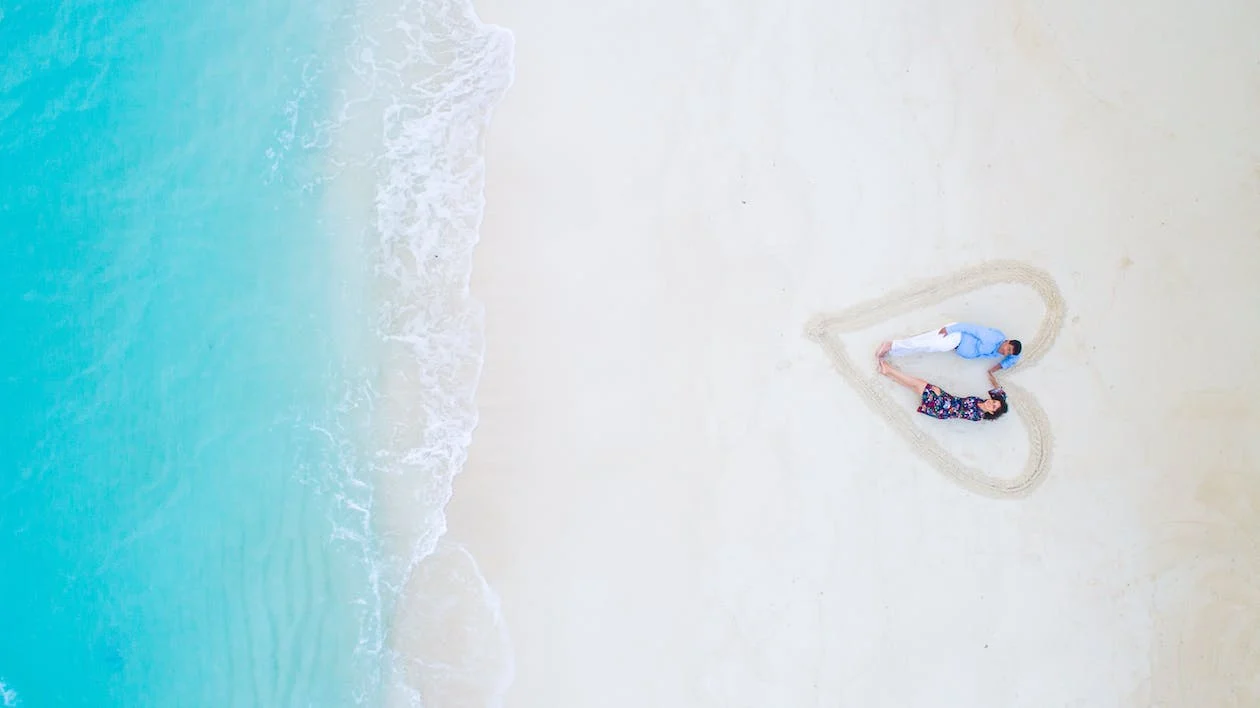 16. Classic Portrait
Stand up close to each other, side by side, facing the camera, holding each other's hands with a smile, and proudly flaunting your relationship with the world. It is a perfect pose for couples on the beach. You can also sit down near the beach, side by side, facing the camera, for a classic portrait. This most decent couple pose memories can also be used in the frame of your living room along with your memories album or even sharing a handful of pictures with the elders of your family.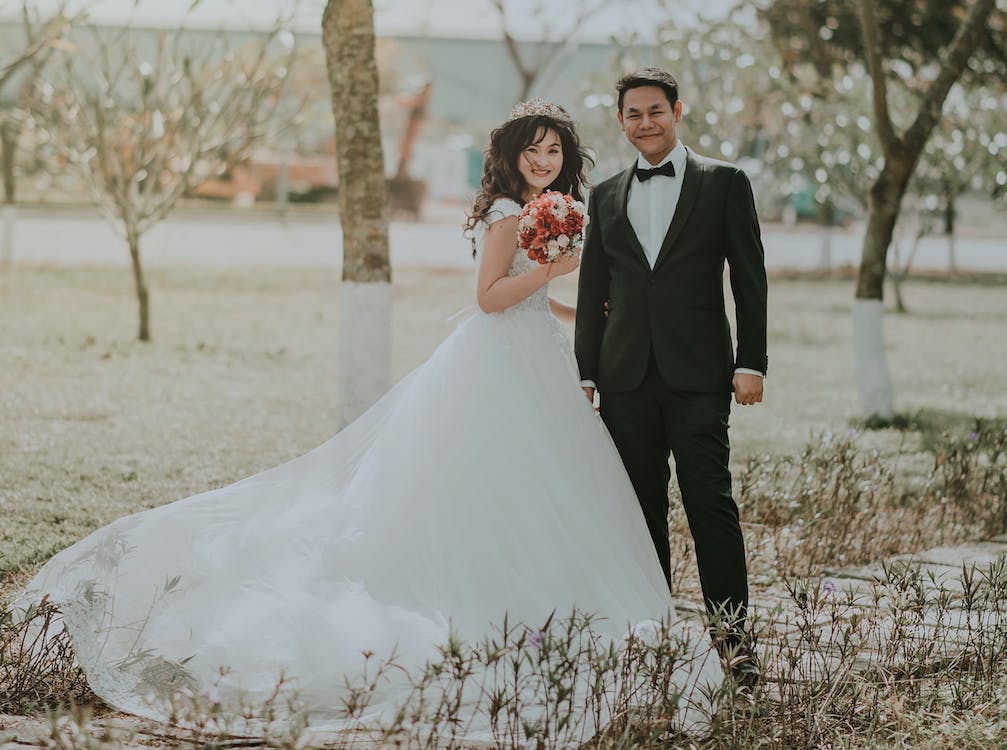 17. Candid Laughing Pose
Who doesn't love happy faces and pictures? People love them. More than that, couples also feel real happiness in the moment apart from the captured memory in the photo shoot. In a candid laughing pose, you can crack up a few light jokes while looking at each other, which will bring natural laughter to your face, and your partner's face.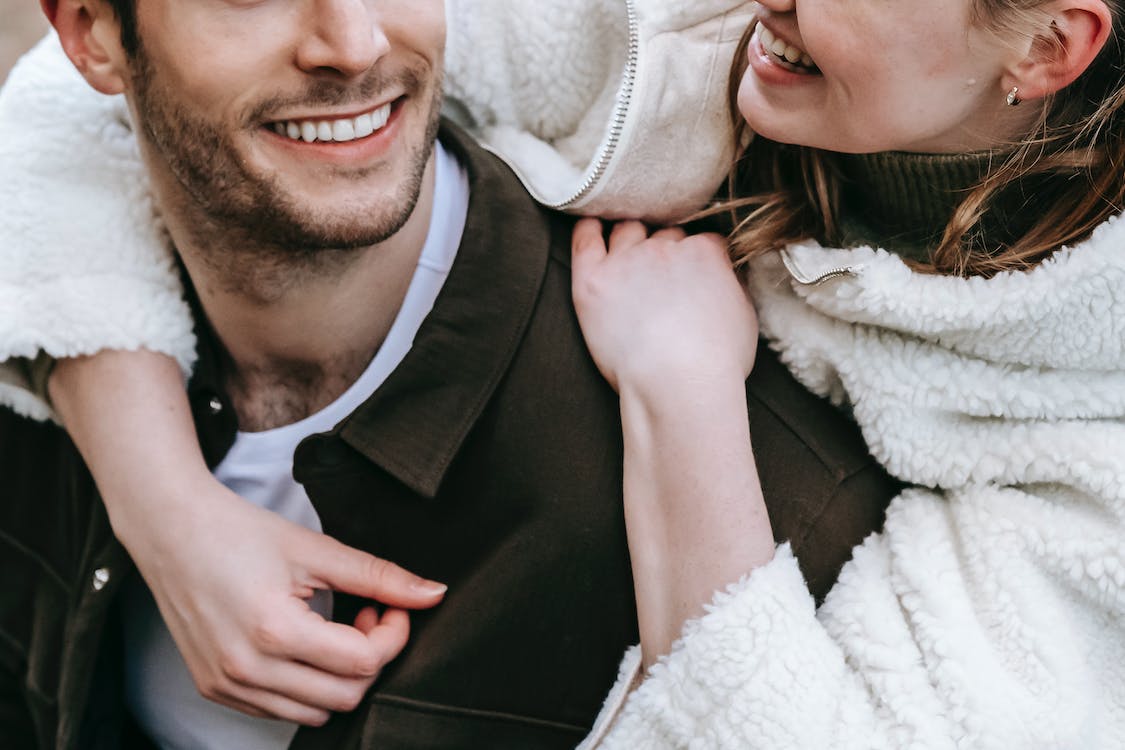 Traditional Beach Poses for Couples
18. Hand-to-Hand Pose
Stand firmly while facing each other and bring your hands together. Now, open your palms and place them on each other's palms, keeping your finger straight. You can also curl your fingers into each other's fingers, giving them the look of a locked-up couple fist and gazing into each other's eyes. Flaunt your palms and hand toward the camera.
19. Nose-to-Nose or Forehead-to-Forehead
While holding each other closer, bring your face near to your partner's face and bring your nose closer to each other, giving a look of nose-to-nose kisses and laughing memories. If you want to capture a more candid pose, you can try a forehead-to-forehead pose. In the forehead-to-forehead pose, you bring each other's forehead closer. Then one partner slightly leans into the other partner with a smiling face, like they are going to get lost in each other.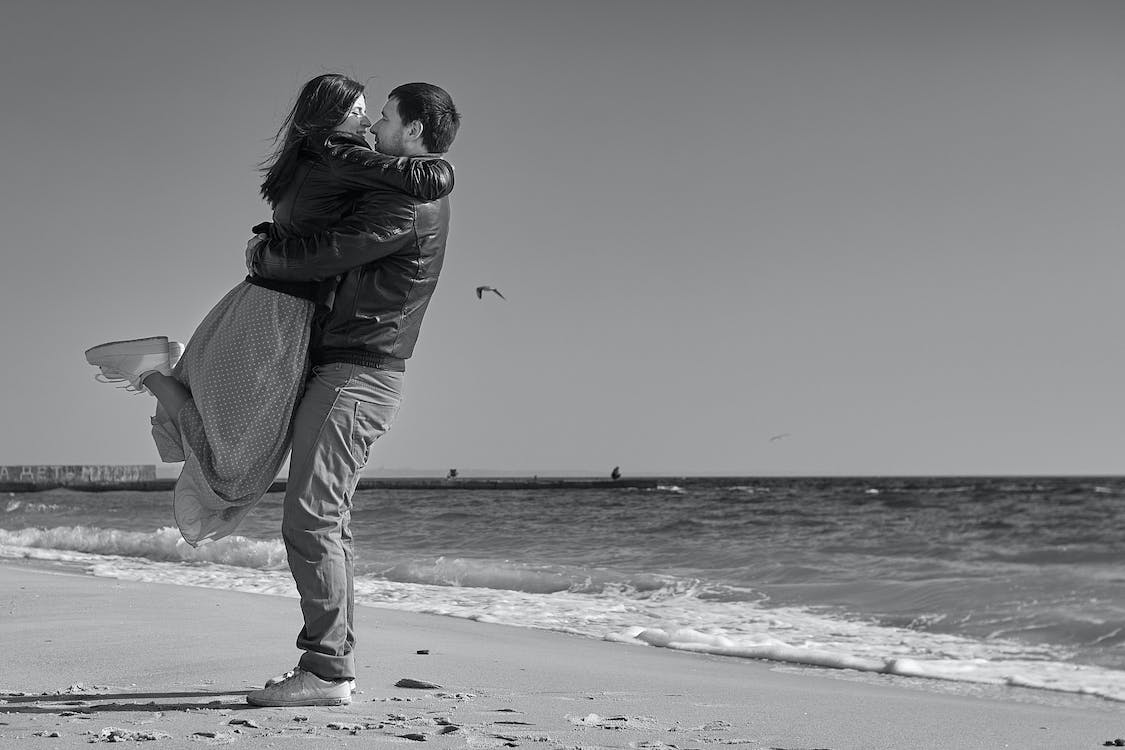 20. Open Your Arms
Stand at a little distance from your partner by facing each other. Open your arms and spread them like you are walking towards each other and going to hold each other soon to give a tight bear hug.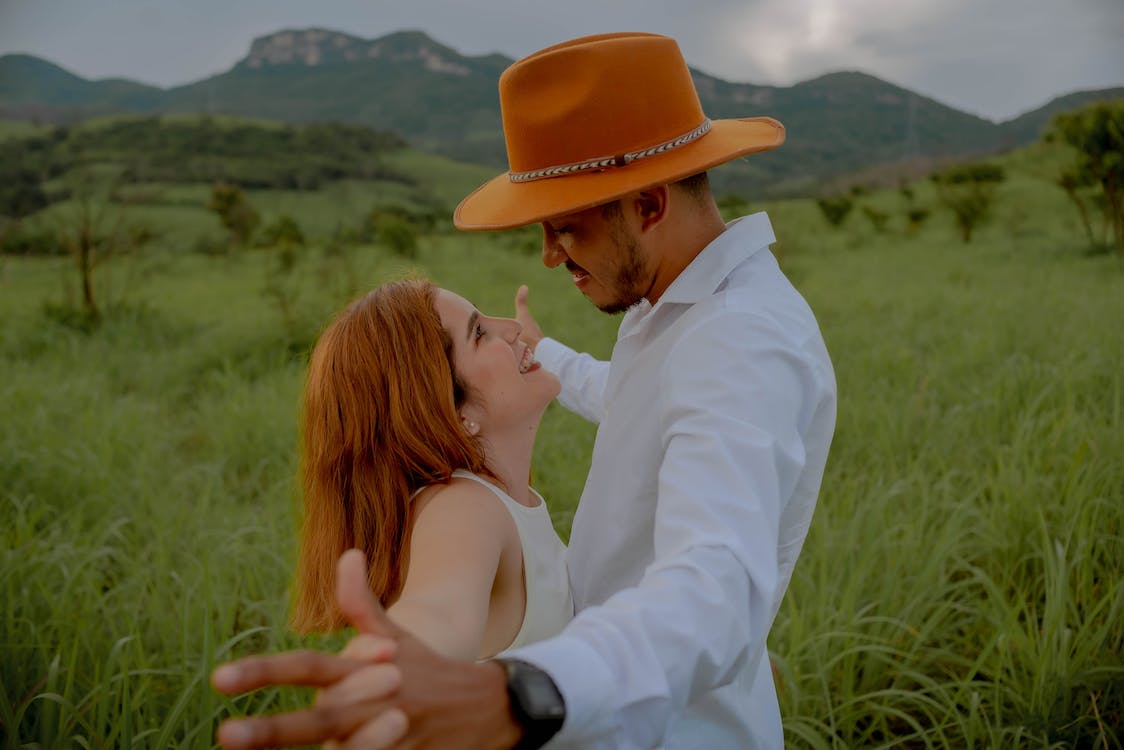 21. Give a Bear Hug
What can flaunt the warmth of a relationship better than a hug? So for a warm beach pose, you can give a bear hug to your partner where you are facing each other in a standing position. Men can also lift their partner in their arms by giving the pose of lifting the body up or in the lap.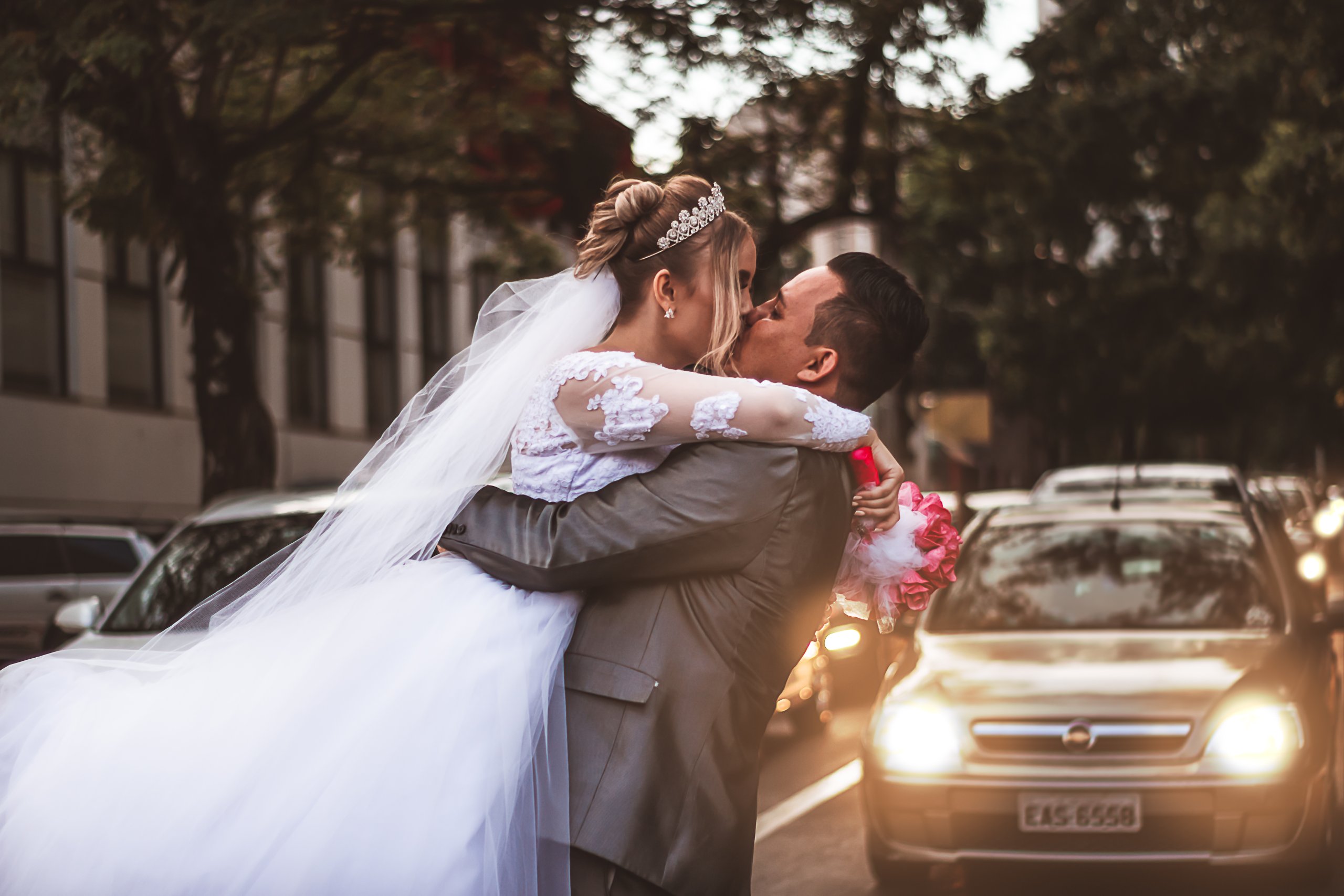 22. Back-to-Front Hug
To capture some shy, happy moments, you can try the back-side hug, where one partner is standing behind the other partner holding their waist. Partners can also pose by sitting behind another partner. One partner wraps their shoulder around the other partner's shoulder or waist. This pose will capture your memories of care and protective nature.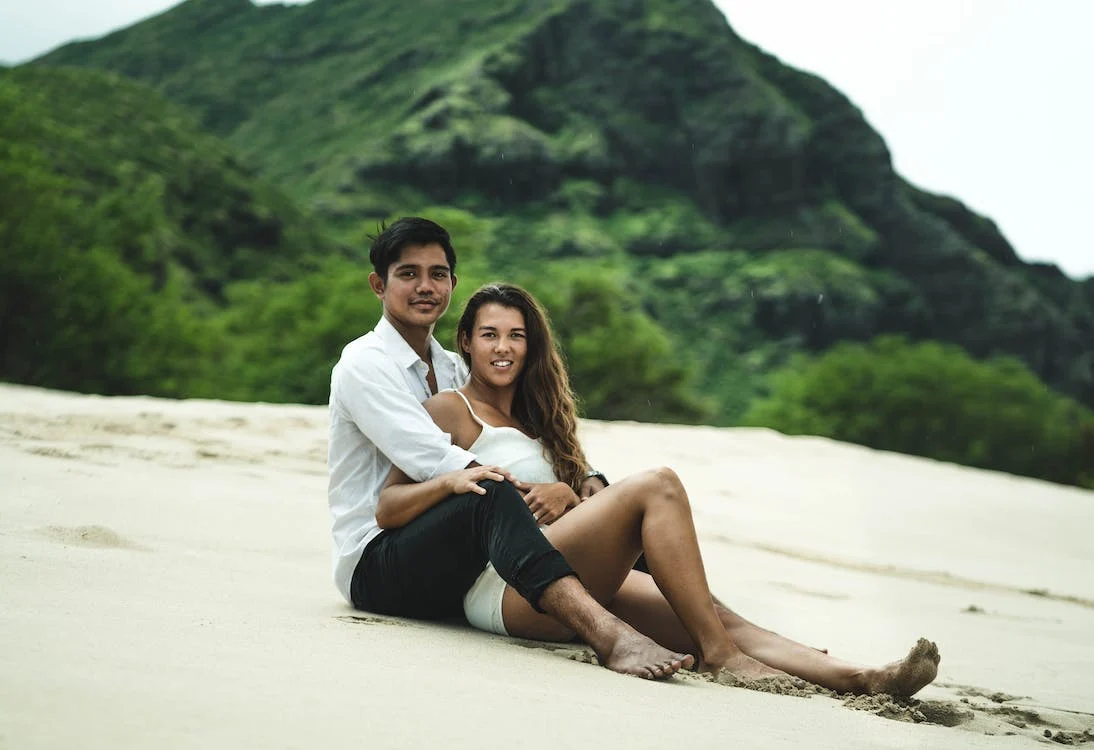 23. Dance in The Shower of Flowers
By holding each other's hand, you can walk and capture the happy couples feeling the natural flowers shower on their face and body. Couples can also slowly dance to flaunt the bride's dress glamour, in the shower of light water drops or flowers, near the beach.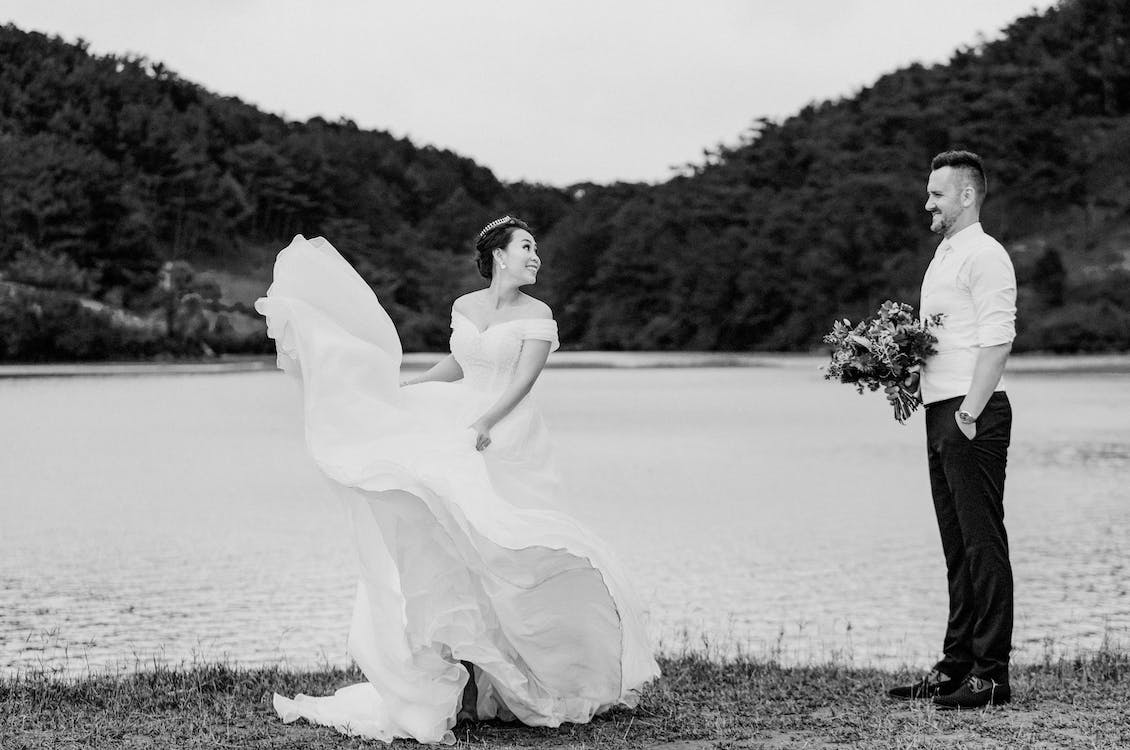 Conclusion
Every couple wants the best moments of engagement, and capturing the best engagement poses is the best way to retain those memories. This compilation showed you some of the best 23 engagement photoshoot ideas and beach poses for couples to capture your best memories perfectly.
We have covered a wide range of poses for you, from engagement prompts to several poses. Such as simple, kissing, romantic, flaunting your engagement date and ring, special event date poses, smiling, sharing laughter, and traditional poses. Handpick a few ideas and practice them with your partner before the real beach poses photoshoot. You will capture the perfect beach poses for couples memories with your partner.
If you are looking for perfect beach poses for couples moment captures, connect with one of our highly skilled and professional photographers and make your special memories more beautiful with ease.
Frequently Asked Questions
What to Wear for a Beach Engagement Photoshoot?
For a beach engagement photoshoot, you can wear a simple and light outfit in which you feel comfortable while moving around the beach and on the soft beach sand. As it is a special moment, I prefer decent casuals or special outfits for the perfect memories.
What Are the Best Colors of Clothes for Beach Poses for Couples' Engagement Photoshoots?
For a beach engagement photoshoot, give place to your favorite color that suits your skin tone and body the most. Still, if you can not finalize it, go with neutral, light, and pastel colors, such as peach, light pink, light blue, white, yellow, pastel, cream, beige, sage green, and other light color shades.
How Can I Calm My Nervousness About the Beach Engagement Photoshoot?
To calm your nervousness about the beach engagement photoshoot, remind yourself that it's ok to feel less confident and nervous. Prepare your clothes before the photo shoot so you don't feel stressed about your dress. Share your concern with your partner, and select at least five to ten beach poses for couples for your engagement photoshoot. It'll help to calm your nervousness.