Action cameras are versatile as they are small and can be used to film in extreme conditions. They are used to capture activities like surfing, skiing, skateboarding, etc. They have great video and audio, and as a result, they have been used for vlogging and for making films also.
Before you buy the camera, you would have considered a variety of features like image stabilization, waterproof rating, battery life, video resolution, etc. However, these are features of the camera, and more accessories need to be purchased, like stands/ tripods, cases, extra batteries, microphones, etc.
If you record only with your camera's microphone, the sound might not be of professional quality. So to create a better video experience, it is best to invest in an action camera microphone attachment.
Here are 12 optionsfor that!
What is an Action Camera Microphone Attachment?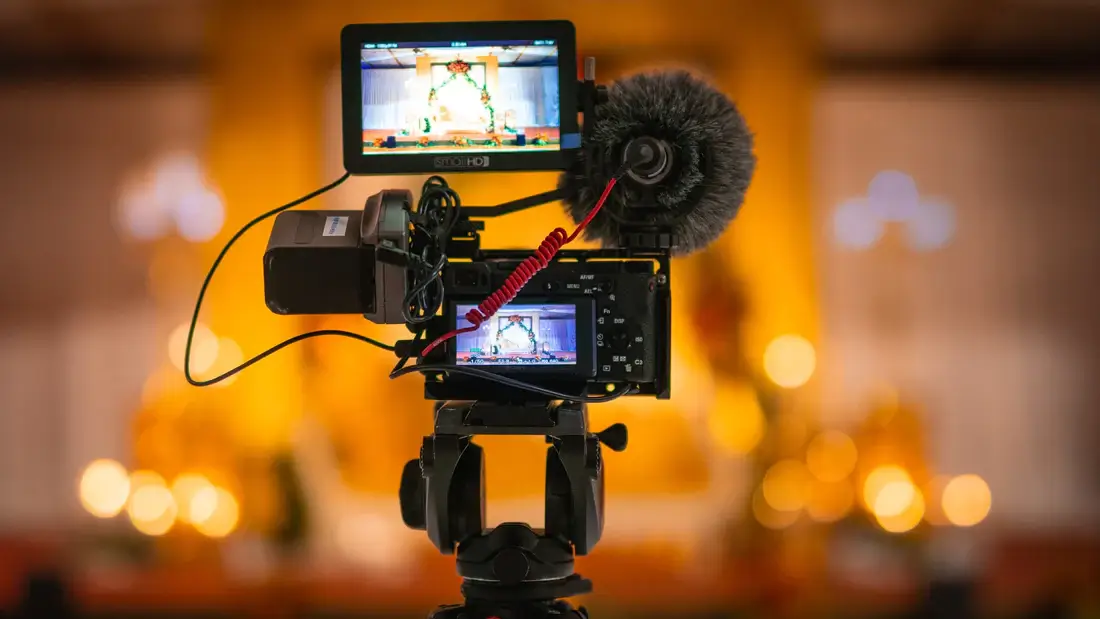 Action cameras have great videos, but their sound might not be that good because of a lot of external factors like dust, shock, etc. The camera can withstand difficult conditions as they have been water, dust, and shockproof, but there is no guarantee that the sound recorded will be clear. In noisy environments, they will not pick up sound well. Therefore, action cameras need microphone attachments. But it is a bit complicated because action cameras may not have direct input for microphones.
There are different types of microphone attachments like wireless, lavalier, and shotgun microphones. Wireless microphones may be the best choice if you don't want the cable in your way while filming. Lavalier microphones are small, and they can be easily attached to the subject's clothes or the camera, so they are ideal for filming interviews, vlogs, etc. These can be easily hidden as well. Shotgun microphones tend to pick up sound from a specific direction. You need to choose a good action camera microphone attachment based on features, pricing, and quality, and these 12 are the best options available in the market. So let's get started!
Best Action Camera Microphone Attachment
Rode Wireless Go II is the world's first smallest and completely wireless microphone, and this explains why Rode is so famous in the microphone setting. The connector jack is 3.5mm, and it has a rechargeable battery. It is very compact, and its pick-up pattern is omnidirectional. It has wide compatibility with cameras, phones, and computers. It can record audio from long distances such as 200m (line of sight) and has good stability. It is easy to carry as it comes in a small charging case. They are two microphones and one receiver, and they serve different functions. It can be easily clipped to clothes or can be attached to a magnetic mount. It has a great battery life of 15 hours which when compared to other microphones. It is best for vlogging and interviewing but can be used for other purposes like filmmaking also. It is a bit pricy when compared to other microphones available in the market, but the quality that it offers is unparalleled.
This microphone is a worthy competitor to Rode's Wireless Go II as it also has a great battery life of 15 hours and, in addition, has 14 hours of built-in recording storage. It has a better recording range of 250 meters as well. The TRS output cable is 5mm, and it is compatible with USB-C and iOS devices. It has a rechargeable battery, and it has magnetic attachments that can be used to attach it to surfaces easily, and an OLED touchscreen which will help to control the features without any difficulty. The product comes with accessories such as a 128GB memory card, hard case, charging case, mic clips, receiver, transmitter, carrying pouch, and an impressive 2-year warranty. However, it is a bit more expensive when compared to Rode, but it still comes at a good price for the features it offers.
This GoPro Media Mod is a great choice for GoPro users as this is a wireless mic that can directly be attached to your camera using a USB-C connection. It has a built-in wind suppressor, and therefore it will reduce the external noise recorded. It also has a 3.5mm mic port that can be used for more attachments. It is a lightweight product that weighs around 58 g and is compatible with GoPro cameras. It is tough and can withstand difficult weather conditions, just like GoPro cameras. Different accessories can be bought along with it, such as chargers, batteries, display mods, etc. There is an HDMI-out port to monitor the footage with the sound. It has a directional mic that works well for voice audio. One interesting feature of this is that the footage recorded can be directly uploaded to the cloud if there is a subscription to GoPro.
Movo VXR10 Pro is a Wireless Shotgun Mic. This product has a connector jack of 3.5mm, and this mic is compatible with any camera where the jack size is the same. It can be used with Nikon's DSLR range, iPhones, smartphones, and Canon's EOS range. Therefore, it can be used with both phones and cameras. It is a battery-free design, and the polar pattern is super-cardioid. If you are someone who shoots a lot of videos on your phone, this is a great attachment as it records clear and crisp sounds. It also has a compact size, and it comes with accessories such as a hardshell case, windscreens, Rycote Lyre Shock mount, TRS, and TRRS output cable, along with the mic. The Rycote Lyre shock mount provided will eliminate the vibrations and handle noises effectively. Headphone monitoring of the recorded sound is also possible. It has a battery-free design as it uses the battery from your phone or camera, so no extra batteries are required. It is lightweight and weighs around 59.4g.
This model is small, compact, and has rechargeable lithium batteries, and there are working indicator lights for easy monitoring. It can transmit sound from a good 50 m range, and it has both mono and stereo output. The pickup pattern is omnidirectional. It can be charged wirelessly and has a great working time when compared to other Lavalier mics in the market, as this can be used for 8 hours on a 1.5-hour full charge. It is best for interviews as it is a Lavalier mic that can be easily attached to clothes. The connector is of USB-C type, and it is compatible with laptops, DSLR cameras, tablets, smartphones, etc. Along with the product, a 3 in 1 charging cable, TRS and TRRS camera cables, and 2 external Lav mics will be provided. It can be used for live broadcasting also as it is efficient. The display will show various features like the battery level, recording mode, etc.
Although this model was designed especially for the DJI OsmoAction model, it has an adapter that helps you use it with other action cameras. There are 2 microphone/transmitter units and a receiver. They can be stored in a solid charging case. It has a transmission range of 250 meters, and it works best for live streaming, vlogging, and recording in outdoor settings. It has a 15-hour battery with a charging case. It has a magnetic attachment that helps to attach to clothes and objects easily and can be concealed well. The receiver has an OLED touch screen that displays details of brightness, volume, and battery information. It can record up to 14 hours and can store the same also. It comes with an instruction manual, mobile adapter, charging case, windscreen, audio cable (TRS and Type C), and carrying pouch. The polar pattern is omnidirectional. The total weight of the product of 30g. Due to the features offered, it is a bit expensive.
This model is very light, about 45 g, and super compact. The pickup pattern is omnidirectional, so it will pick up sound from all directions. It doesn't require any additional batteries as it draws power from the camera. It records quality audio and is best for interviews. Due to its lightweight, it is a great action camera microphone attachment. This is compatible with GoPro Hero 3, 3+, 4, and more. A GoPro adapter will also be given along with the microphone. Overall this is an affordable option when compared to other microphones.
The connector jack is 3.5mm, and this model comes with batteries, a shock mount, etc. The pickup pattern of this mic is super-cardioid. One good feature that this mic has is a step-less gain control which means that you can increase this to pick up more sound in quiet conditions and decrease it in louder ones. It has a good battery life of 50 hours. The mic also detects which device is connected to it. It is compatible with laptops, cameras, and phones. It weighs about 142 g which might be a bit heavier when compared to other mics. This might be good for recording singing.
This is a lightweight model that is of the shotgun type. It is small, which makes it effective for recording. It has a connector jack that is 3.5 mm. This doesn't need batteries and is compatible with smartphones, laptops, computers, and cameras. It comes with a windshield (which helps to reduce noise in loud environments), a TRS cable (5mm), and a USB-C cable. It weighs about 33 g. The pickup pattern is a cardioid one. It is a great broadcast-quality microphone.
Another great model from Rode is wired, of shotgun type and compact. This weighs about 42 g and is very small as it is only 3 inches long. This comes with a furry windshield, an adapter for GoPro action cameras, and a Rycote Lyre shock mount to reduce the shock, which is some added benefits. This doesn't need any batteries and will start recording as you plug it into the camera. The pickup pattern is cardioid. It also has an impressive 1-year free warranty and an all-metal body.
This was created for mobile creators, especially because this is a compact model. It is great for live events, vlogs, etc. It weighs only 35 g and doesn't require any batteries. This also has a step-less gain feature that allows you to increase it in quiet situations to capture more sound and vice versa in louder situations. The pickup pattern is a cardioid one, and it best captures what is in front of the camera. It comes with a case, mount, adapter cable, fuzzy windshield, and the microphone itself. It is quite an affordable model for the features it offers.
This advanced model weighs about 128 g and is powered by batteries. The pickup pattern is super-cardioid. It comes with a microphone, shock mount, windshield, manual, TRS cable, and pouch. It is compatible with Apple devices, and this can be done by using a special cable. A single AA battery can be used for 150 hours. There is a feature called 'low cut' that minimizes the external, unwanted noise. It is very strongly built as it can operate in extreme temperatures such as -10 to 60 degree Celsius.
Summing It Up
Action cameras are small, have great video quality, and can withstand difficult weather conditions. For these reasons, they are widely used for filmmaking, travel photography, capturing sports, vlogging, etc. Although they have great videos, the sound quality recorded may not be that good. Therefore, it is best to purchase an action camera microphone attachment that serves your needs. These microphones come in different price ranges, sizes, and types.
The 12 microphones mentioned are all of great quality, but they all have slight differences in the features they offer. You need to understand your audio requirements clearly and fix a budget so that you can choose the best one that fits you. Rode, Synco, DJI, Movo, Sennheiser, etc., are all brands that are leading manufacturers in the market, offering an amazing range of products.
Frequently Asked Questions
Can Microphones Work Well for Smartphones Too?
Yes! Although they are commonly called action camera microphone attachments, many of them have cables that let you connect them to your smartphones, laptops, and computers. Make sure you know the type of USB you have on your device, and then check if that cable is available in the model you wish to buy.
What Is the Polar/Pick-Up Pattern in Microphones?
This essentially means how well the microphone can pick up the sound from a specific direction and how sensitive it is to it. For example, some might pick up sound from all around, whereas some mics might pick up sound that is in front of it only. There are different polar patterns like cardioid, omnidirectional, bidirectional, etc. Depending on the need, a specific microphone can be chosen.
Why Do I Need an Action Camera Microphone Attachment?
Action cameras have great video quality, but their audio can be affected by a lot of factors like camera instability, handling noises, location, etc. If you buy a microphone, then that gives you the ability to place your camera in one location and your mic in a different location, and this opens up several possibilities for how you shoot the video. The audio quality recorded will also be better and more engaging.