Taking amazing photos and videos of your holidays and adventures will look wonderful on your social media, especially if you are an influencer or a nature and wildlife photographer. You will need an action camera for these kinds of experiences. An action camera is a digital camera that records action while being a part of it. But even the action camera could still get knocked over or bumped into something. Even traveling and transporting pose some risks for your camera. This is why you need a protector for your action camera.
An action camera protector will help extend the camera's life and get the best image or video quality. For example, these protectors keep the lenses from being scratched and give cleaner and sharper footage. You can even take photos and shoot videos underwater with the help of these protectors. In this article, you will learn about action cameras, protectors, why you should get one, and many examples of protectors.
Overview of An Action Camera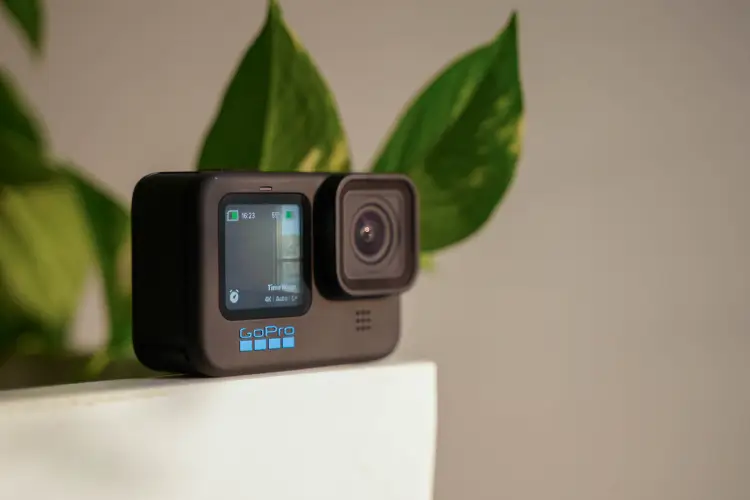 An action camera is a digital camera designed to record action while immersed in the activity. Action cameras are usually rugged, compact, waterproof, and weather-resistant. An ordinary digital camera will not suffice in specific environments.
Action cameras are made for rugged outdoor use since this keeps your camera protected. But this type of protection can only go so far. To overcome these limitations, a camera protector is your best bet. These accessories provide increased safety and safeguarding from the harsh environment.
Why Are Accessories Important for Action Cameras?
Now that it is established that camera protectors are important, let's look at 9 different camera protectors in various categories available in the market. The categories discussed in this article are the screen protector, camera case, waterproof case, and camera cage. First, let's look into the screen protector category.
Screen Protectors
Screen protectors protect your screens and lenses from scratches and nature. Your viewing will not be disturbed; clear images all the way.
1. Screen Protector for GoPro Hero 9,10, and 11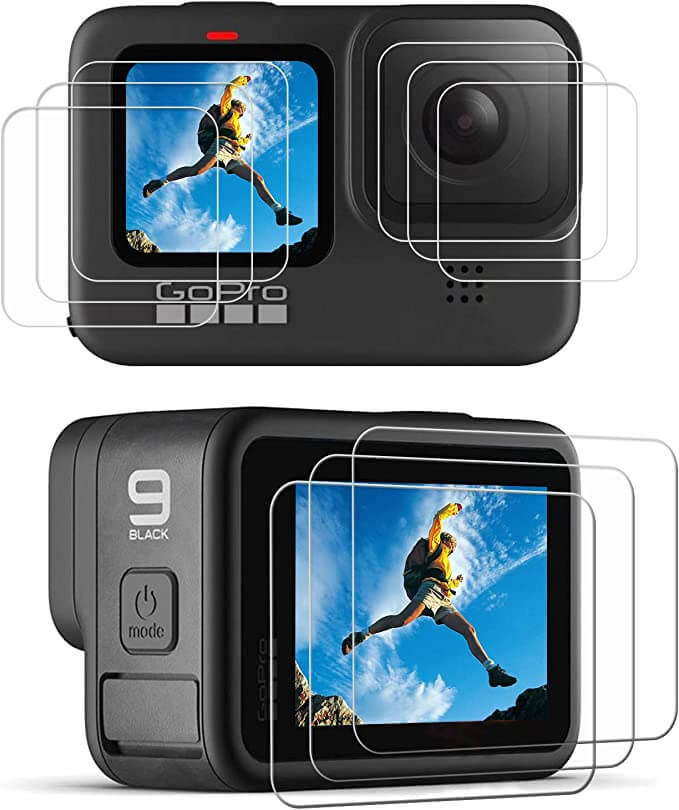 You will get a tempered glass screen protector, tempered glass lens protector, and tempered glass front LCD display film all in one product. This is compatible with GoPro Hero 9, 10, or 11. With a surface hardness of 9H, the camera screen is protected from scratches, high-impact drops, and sharp objects like keys, knives, etc. The anti-reflective tempered glass is 0.3mm thick and has 6 layers of coatings, giving crystal clear viewings; the screen is still responsive to every touch or tap due to its 3D touch technology. These will cover the screen from all edges and are easy to apply.
2. Silicone-based Glass Screen Protector for GoPro Hero 9,10, and 11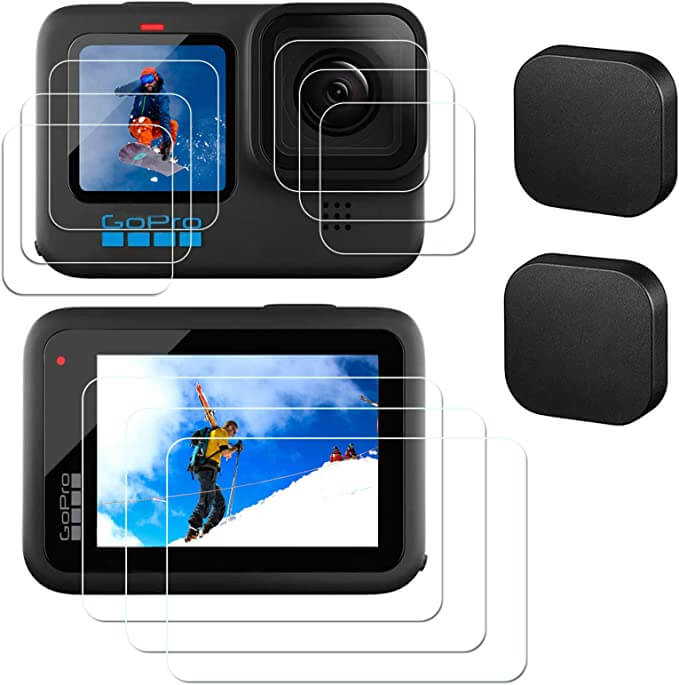 This tempered glass screen protector has a high-quality silicone lens cap, keeping it scratch free. This way, the camera is completely protected. This screen protector is specially designed for GoPro Hero 11, Hero 10, and Hero 9, fully compatible in size and thickness. This ultra-thin tempered glass is made of anti-fingerprint reflection and has a 99.99% light transmittance, high-definition visuals, and a high-sensitivity screen touch response. Your videos and images will come out looking stunning, as always. The 9H hardness protects the screen from scratches, high-impact drops, abrasions, sharp objects, and dust. This accessory kit will perfectly accompany your action camera on all your adventures.
3. 9H Tempered Glass Film Screen Cover Protector + Lens Protector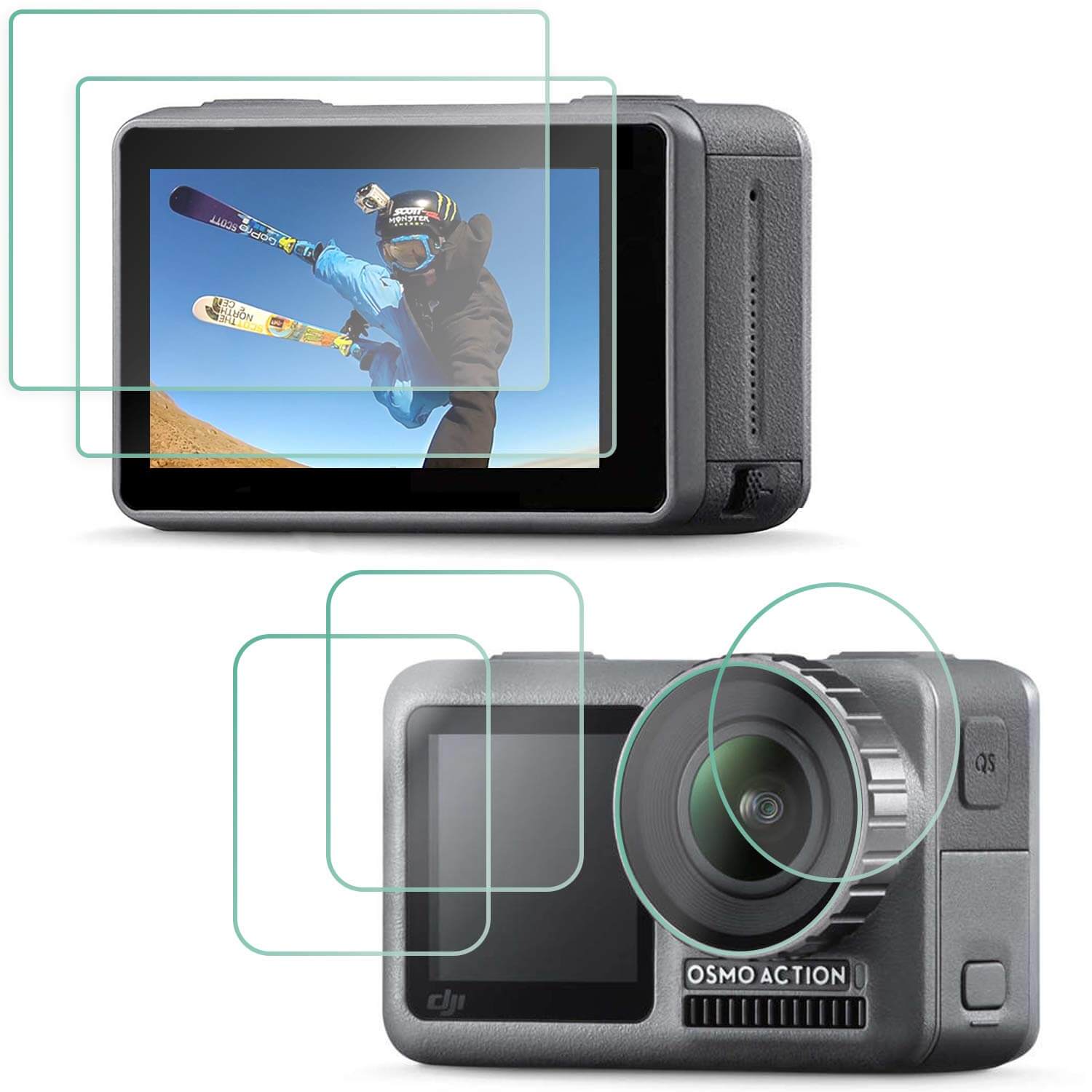 The screen protector can be easily applied so that there is no extra weight or thickness to your action camera. Any minor bumps, scratches, or fingerprint smudges will not mar your action camera lenses and display screens. Of course, the 9H hardness helps in camera protection just as well. Any debris, dust, or water spray will not spoil your lenses, and your display screen keeps its touchscreen properties. While installing or handling your camera, the rounded edges prevent any cuts. Take as many high-definition images as you want since the image colors will not change due to the protector; what you see on the screen is what you see with your eyes.
Action Camera Protector Case
You can keep your camera and its accessories safe with a camera case. You can travel anywhere with these compact cases and store them in backpacks, suitcases, or carry-on luggage.
4. Protective Bag with Water Resistant for GoPro Hero Models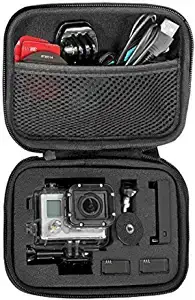 This camera case is compatible with GoPro Hero 11, 10, 9, 8, 7, 6, or 5, AKASO EK7000, Brave 4, V50 Elite, V50X Native, Brave 7 LE, Brave 8, Dragon Touch, SJCAM, and many more. This way, it does not matter what type of camera you have; it will fit into the case. This case is durable and water resistant, with a high-density foam-padded interior. Store and organizer your action camera and the accessories like memory cards, camera mounts, batteries, battery chargers, etc. This sleek case is lightweight and compact so that anybody can carry it without any trouble. Store the camera case in your backpack or luggage pieces; you are good to go either way.
5. Waterproof Hard Case Compatible with GoPro Hero Models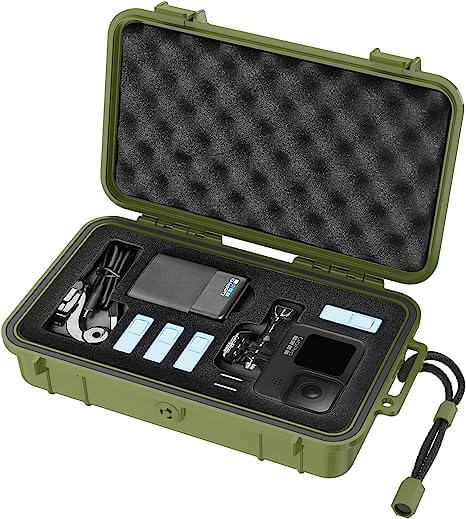 Safely store your GoPro Hero 11,10, 9, 8, 7, 6, or 5 chargers, batteries, and other small camera accessories in this camera case. The protective camera case is made from ABS material, making it waterproof, and has a secure and airtight latching system. This way, your camera and accessories are safe from water and will not fall out accidentally. The hard shell exterior, internal sponge foam, and secure interior cutout keep your camera and accessories safe from shock, dust, bumps, etc. Do not worry about scratches if it falls, as the anti-scratch property has your back. Go on your wild adventure without any concerns.
Waterproof Protector Case
Are you going to the beach? Need to keep your action camera safe? You should invest in a waterproof action camera protector case, and then you can take all the photos and shoot all the videos you want.
6. Waterproof Protector Case Housing for GoPro Hero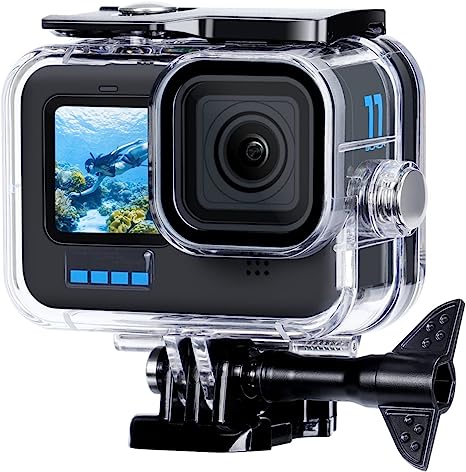 This waterproof case is made using high-quality PC material. The maximum diving depth you can reach is 60 m or 196 ft. Your camera gets all-around protection, even on land; the protective case can withstand harsh conditions such as water, sand, ice, mud, and snow. The buttons and metal are stainless steel, so they are resistant to corrosion and oxidation.
The acrylic resin lenses have an AF/AR double-layer optical coating; you get high transparency and scratch resistance, which restores clearly shot images and videos. This way, you can head to the beach without worrying about your action camera.
7. Double Lock Waterproof Housing for Go Pro Hero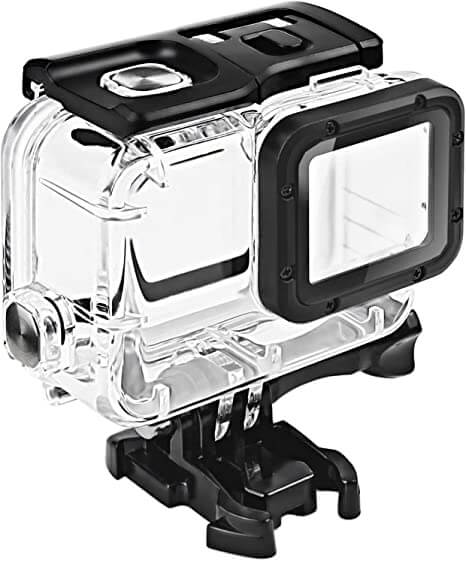 The waterproof case is compatible with Pro Hero 7 Black, Hero 6, Hero 5, and Hero HD (2018). It is 0.4″ bigger and 35% thicker than the standard. Your camera is protected up to 45 m underwater, perfect for surfing, diving, snorkeling, and other water sports activities. With the double lock feature, there are fewer chances of accidental collisions. Admire the maximum image sharpness above and below the water with a large flat glass lens. Use the anti-fog inserts and lens cover so that your action camera is well protected.
8. Protective Case Shell with Bracket Mount Accessories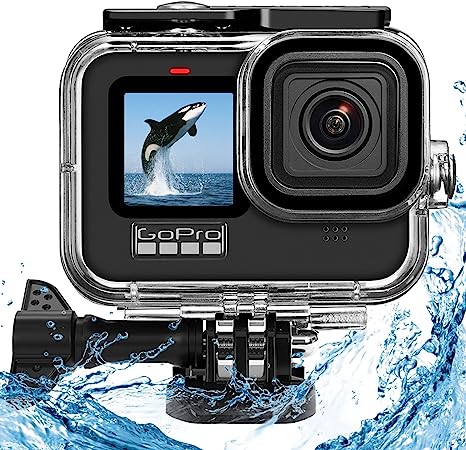 Keep your GoPro Hero 11, Hero 10, or Hero 9 dry with this waterproof case. It will fit perfectly and be tightly sealed as you go deep water diving, snorkeling, surfing, other water sports activities, and extreme outdoor adventures. With an upgraded waterproof sealing ring and tight buckle, you will not have to worry about water leakages. Up to 60 meters or 196 feet deep, you can record underwater activities and not spend time fretting about leakage or destroying the effects; your shots will be sharp and vivid. Connect your action camera to a tripod, bicycle bracket, helmet, or suction cup bracket due to the quick-release bracket. The high-quality PMMA plastic will protect your action camera lens and display so as not to concern yourself about any high-strength drops, scratches, and dents.
Camera Cage
Place your action camera in a camera cage so that it is protected and stays stable. Whether you are into vlogging or photography, you are ready.
9. Aluminium Alloy Camera Frame Cage Case
This camera cage case is made from high-quality aluminum alloy, so you know it is solid and durable. The camera base supports horizontal and vertical mounting modes, so you are not restricted when taking photos. The hollow design is better for heat dissipation. The quality is exquisite, precise, and reliable. There is a reserve battery opening for direct and quick battery replacement. The upper side is designed with a cold shoe interface so that it can be expanded for a microphone and filling light.
Conclusion
Buying a protector for your action camera is a good investment. Your action camera will be safe on your adventures in nature, on the water, or underwater. Your action camera's lifespan will be expanded and free from damage. Action cameras have evolved, but they are still vulnerable to damage.
Since action cameras have a wide price range, camera protection should also be on your shopping agenda, not only for the gorgeous footage but for your peace of mind. These protectors are made from durable materials so that they can withstand nature's elements and rugged use.
There are many action camera protector types in the market; they are built to last a long time, and you can easily access all the camera's buttons and ports. A lot of thought and care is put into making these action camera protectors.
Write down your experience with action camera protectors in the comments below and share your knowledge.