In today's fast-paced digital age, creative skills like photography are more accessible than ever. Surrounded by the growing fad of influencers and social media platforms, kids are an emerging group of passionate photographers who love to explore this field. Encouraging this interest at an early age can help them develop their skills more creatively.
One crucial aspect that comes into the picture is the equipment. Appropriate gear can affect your results to a large extent. Do you have a young aspirant in the house who wishes to develop their photography skills? If yes, then considering the camera and associated equipment might be an essential step you don't want to miss. Choosing correctly from the different cameras for kidscan be a daunting task since you need to take into account all the specifications, utility, durability, and, of course, the fun.
Fortunately, our guide below will help you find the perfect camera for your kids.
Best Compact Cameras for Kids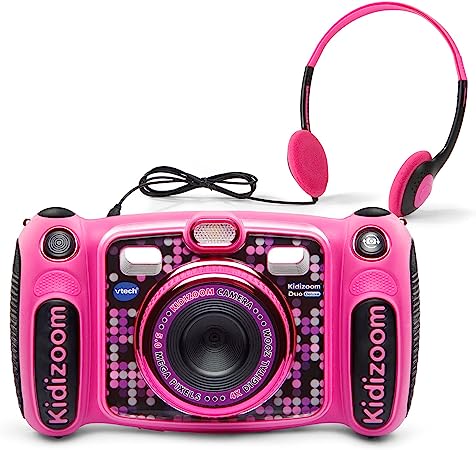 User Age Level: 3+ years
Photo Resolution: 5MP
Video Resolution: 320*240 pixels
Zoom: 4*digital zoom
VTech KidiZoom Camera is famous for selling its wide range of kid-friendly gadgets. The KidiZoom camera, a similar gadget for kids over the age of 3 years, also offers the same standard of quality. One of its salient features is its physical structure. The durable build comprises oversized rubbery material to absorb the shock in case your kid bumps or drops the camera. It also has five built-in games for the kids. All you need are 4 AA batteries and a microSD card to get your toddler photographer going.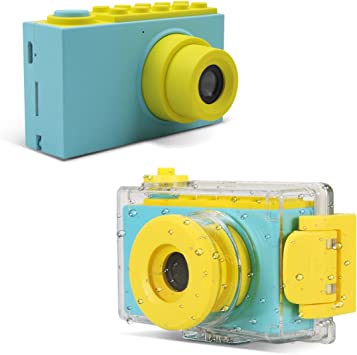 User Age Level: 4+ years
Photo Resolution: 8MP
Video Resolution: 320*240 pixels
Zoom: 3*digital zoom
Oaxis MyFirst Camera 2 is designed for slightly older kids and has several exciting features as well. The most appealing one is its underwater housing, which means you can use it in the pool or while swimming in the sea too! Just make sure the water-resistant protection is properly secured, and you are free to use it up to depths of around 10 feet. The manufacturers have also added an optional slot for a microSD car, which allows you to click loads of pictures without inhibitions.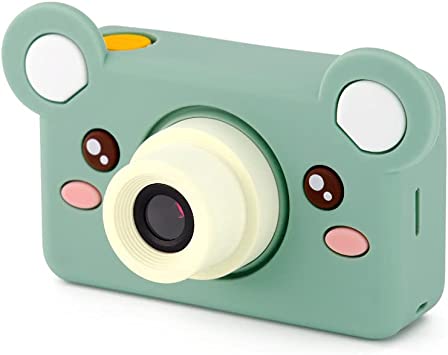 User Age Level: 2+ years
Photo Resolution: 48MP
Video Resolution: 1980*1080 pixels
Manufactured by a small family business in Canada, Kidamento Kids Digital Camera is a lovely camera for kids with cute designs and several useful features. It's so user-friendly that even children as young as two years can take pictures via this gadget. A perfectly designed 3" touchscreen is apt for use by the tiny fingers of a toddler. It also consists of a utilitarian physical design, made to survive any occasional drops. Built-in image stabilization, night mode, and face detection are some more of its fun features!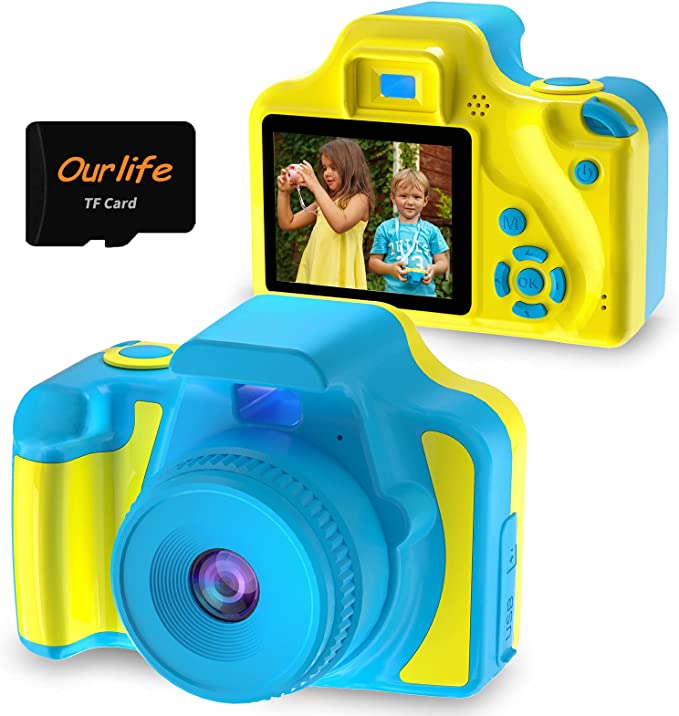 User Age Level: 6 to 15 years
Photo Resolution: 8MP
Video Resolution: 1080p/30fps
Ourlife Kids Camera is one of the most highly recommended waterproof cameras for kids. It stays water-resistant up to 30 meters. Is your child interested in videography too? Then the special 180 flip lenses will prove to be even handier. Since it's an action camera, it's great for taking pictures in portrait mode, along with a 5 to 10-second timer. Some other incredible features include face detection, 12 frames and effects for images, seven filters for videos, and light filters that can be used to control the exposure for night shots or video shoots in the middle of the day.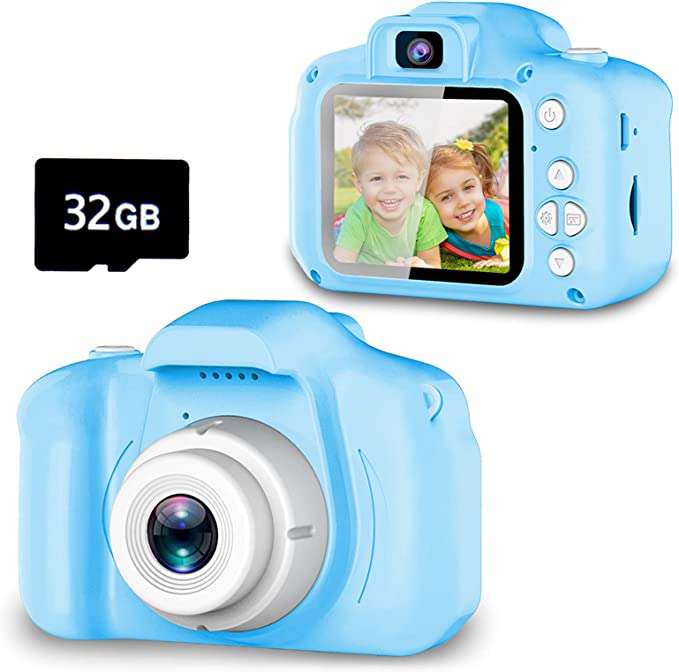 User Age Level: 3 to 9 years
Photo Resolution: 4MP
Zoom: 8*optical zoom
Do your toddlers wish to feel like professional photographers? Then you certainly want to opt for Seckton Kids Selfie Camera. Its dynamic design gives the essence of an actual camera. Its upgraded versions include the selfie feature. Otherwise, if you accidentally get the older one, your kids can still take advantage of the timer of 2 to 10 seconds. It also comprises several games, an MP3 player, a 32 GB SD card, six color filters, and 28 different frames and stickers. All in all, a thrilling camera for kids who want to feel like photographers!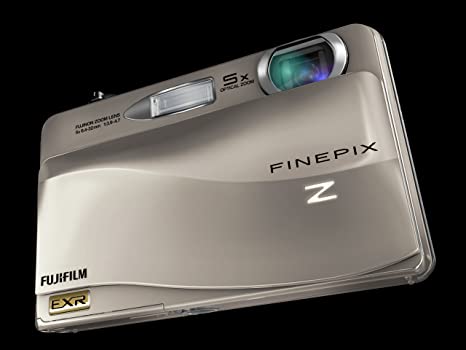 User Age Level: Kids to adults
Photo Resolution: 16.4MP
Video Resolution: 4K
Zoom: 3*digital zoom
One step further from the Oaxis myFirst Camera, Fujifilm FinePix is water-resistant up to 25 meters and shock-proof against drops of around 1.8 meters. It is also freezeproof and dust-resistant. Hence, on careful consideration, you can see that this camera for kids is perfect for any kind of vacation. Even adults can use it quite effectively. Also, on comparing the price, we have found that it is relatively cheaper and offers more features than its competing gadgets. Many color options are also available.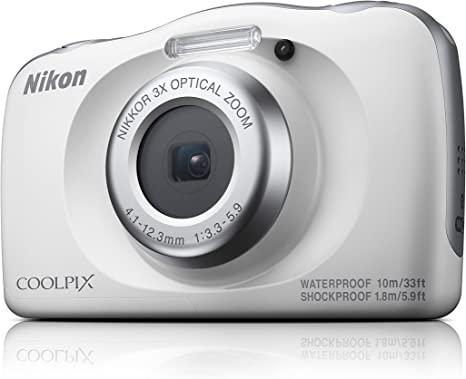 User Age Level: 6+ years
Photo Resolution: 13MP
Video Resolution: 1080p
Zoom: 3*digital zoom
The Nikon CoolPix W150 is extremely user-friendly and utilitarian. Along with features like resistance from water, shock, dust, and freeze, the camera has a built-in flash, 18 incredible video shooting modes, and a point-and-shoot form factor. One of its more impressive functionalities is the HD video with surround sound, which works exceptionally well underwater, too. You can use Wi-Fi or Bluetooth services to connect the Snap Bridge and extract the snaps taken by your kids.
Best Instant Cameras for Kids
1. Instax Mini 11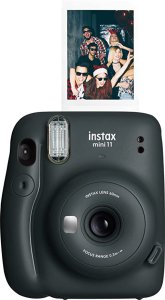 User Age Level: Kids to adults (preferably tweens)
Lens: 60mm
Focus Mode: Normal, selfie
Viewfinder: Optical
As with all instant cameras, Instax Mini 11 provides the perfect way to capture pictures and relish them almost immediately. Apart from its incredible design and lightweight, it has a built-in selfie mode and automatic exposure to control the lighting. Although the picture quality itself is top-notch, its film must be bought separately in 10-sheet cartridges. You will also need 2 AA batteries to run the camera. Because of the limited film, Instax Mini 11 teaches kids a more careful approach, that is, to consider the moment before clicking the shot.
2. MyFirst Camera Insta 2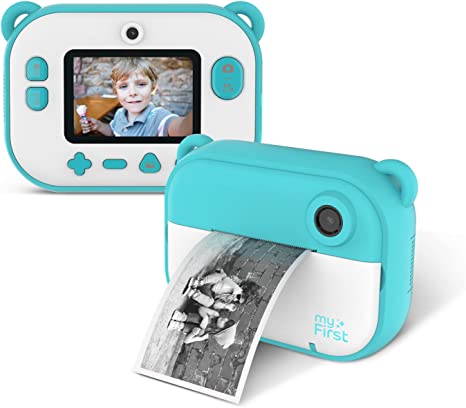 User Age Level: 4+ years
Photo Resolution: 12MP
Shooting Mode: Automatic
Zoom: 3*optical zoom
MyFirst Camera Insta 2 is another one of the fun cameras for kids. It has a 2.5-inch screen with great quality for your pictures and videos. Its salient feature is that you can acquire unlimited prints since the camera uses thermal printing technology. However, a small catch is that the pictures are all black and white, although it does add an aesthetic vibe. The camera additionally has internal storage and a slot for an SD card. This way, you do not have to print every picture and get more leeway to experiment with your creativity.
3. Instax Mini Hello Kitty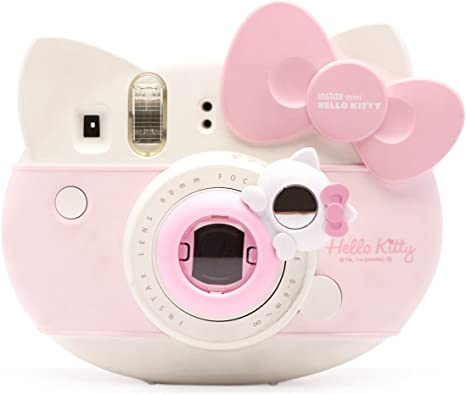 User Age Level: For kids and beginners
Lens: 60mm
Viewfinder: Optical
Image size: 3*3 inches
Apart from being one of the cutest cameras for kids, Instax Mini Hello Kitty is also one of the best for toddlers and young kids who want to become photographers. The camera has a relatively larger body design which facilitates the kids to hold onto it tighter. It includes an added selfie mirror that can be attached to click adorable selfies. Although this camera does not provide many technical advantages over other instant cameras, its incredibly beautiful design certainly increases its appeal amongst kids.
Choosing the Best Cameras for Kids
If you have a little one showing signs of interest in professional photography, encouraging their skills to develop is the most supportive thing you can do. But what all factors should be considered while purchasing a camera for your child?
Read on to find out!
1. Durability
Kids are clumsy users. They usually tend to drop or bump the objects in hand several times. Hence, to ensure that the cameras last longer, consider their durability. Cameras which have rubbery bodies are generally more durable since they're better shock absorbents and also light in weight. Also, check for water, freeze, and dust resistance to increase durability.
2. Battery Life
Having your young photographer complain about the battery running out every few hours can be an exhausting task to deal with. Therefore, choose a camera offering sufficient battery life, that is, at least 3 hours. Also, since kids typically forget to turn such gadgets off, look for cameras having an auto-off feature.
3. Weight
If you're getting the camera for a toddler, you may want to finalize one which is lightweight. If the camera is heavy, your kid may not want to use it for longer durations, despite its many appealing features. Also, the camera should be easy to hold and user-friendly in terms of its size. Remember, bigger cameras also need a bag to be carried around.
4. Body Design
The body design is an attractive feature for kids. If the camera is adorable and cute, the chances of them carrying it around are significantly higher. Hence, it's best to ask your kids to choose the design. Instant cameras usually have more options to select from. If you're getting the camera for a teen, check out some funkier designs.
5. Cost
As aforementioned, kids tend to be rough users. Hence, it may not be wise to invest a lot in those cameras. However, if you're buying a camera for an older kid or a teen, buying a camera over budget is a good idea since they tend to use gadgets more carefully and are also more likely to develop photography as a full-time skill.
Summing It Up
In parting words, we emphasize the need to choose the appropriate camera for your kids. Consider the durability, image quality, battery life, cost, and size, among other things. Depending on the use and suitability, you can select compact, instant, or digital cameras for kids. The cameras discussed in the article are highly recommended since they strike a perfect balance between user-friendly features and impressive attractions that increase the appeal. Also, remember to consider the specifications of the camera you finalize.
It's best to ensure your kid is comfortable with the camera and likes the overall design and features. Encouraging and nurturing kids' interests from a young age is an essential part of being a parent. Therefore, look after their developing skills and provide them with apt guidance. What has been your most fascinating experience while engaging with your kids' photography skills?
Let us know in the comments section below!
Frequently Asked Questions
What Aspects Should I Consider While Buying Cameras for Kids?
While buying cameras for kids, remember to consider the gadget's durability, size, body design, quality of image, built-in features, cost, and other technical specifications. These statistics will ensure that the camera lasts longer and provides a more enjoyable experience for the user.
At What Age Can Kids Start Photography?
Kids can start photography as early as the toddler stage. If your kid is younger than five and interested in photography, then you can still get toddler-friendly cameras and help them capture the world around them from their perspective. Usually, instant cameras are highly-attractive among young kids.
Is Photography a Good Hobby for Kids?
Photography is a fascinating hobby for kids since it teaches them patience, perfection, and the skill of focusing on the details appropriately. Kids can practice photography for fun and use it to capture their everyday life in a fun and interesting way.
Which Are Some of The Best Cameras for Kids?
Some of the best compact cameras for kids are VTech KidiZoom Duo 5.0, Oaxis MyFirst Camera 2, and Kidamento Kids Digital Camera. Instax Mini 11, Instax Mini Hello Kitty, and MyFirst Camera Insta 2 are the most highly recommended instant cameras for kids.
How Can I Develop My Photography Skills?
The best way to develop your photography skills is by practice. Understand your equipment and use its features to your advantage. The next step is to focus on the more intricate details like the lighting, contrast, and exposure. Hence, by inculcating these soft skills, you can gradually develop your photography.