Looking for the best gimbal for your iPhone? One trick is to look according to your iPhone weight for compatibility and then search according to your profession and other requirements.
This gimbal review guide will help you to get the most suitable gimbal for your iPhone. If you are a professional content creator, go for the gimbals made up for professionals offering you great stabilization. If you want personal use, go for the most affordable gimbals, which can offer you the best.
The best gimbals for iPhones make your videography journey easier and more interesting. They are compact and offer you a smooth user experience. The best gimbals offer you great stabilization while capturing videos.
We have compiled a list of the 9 best gimbals for your iPhone for a seamless shooting experience!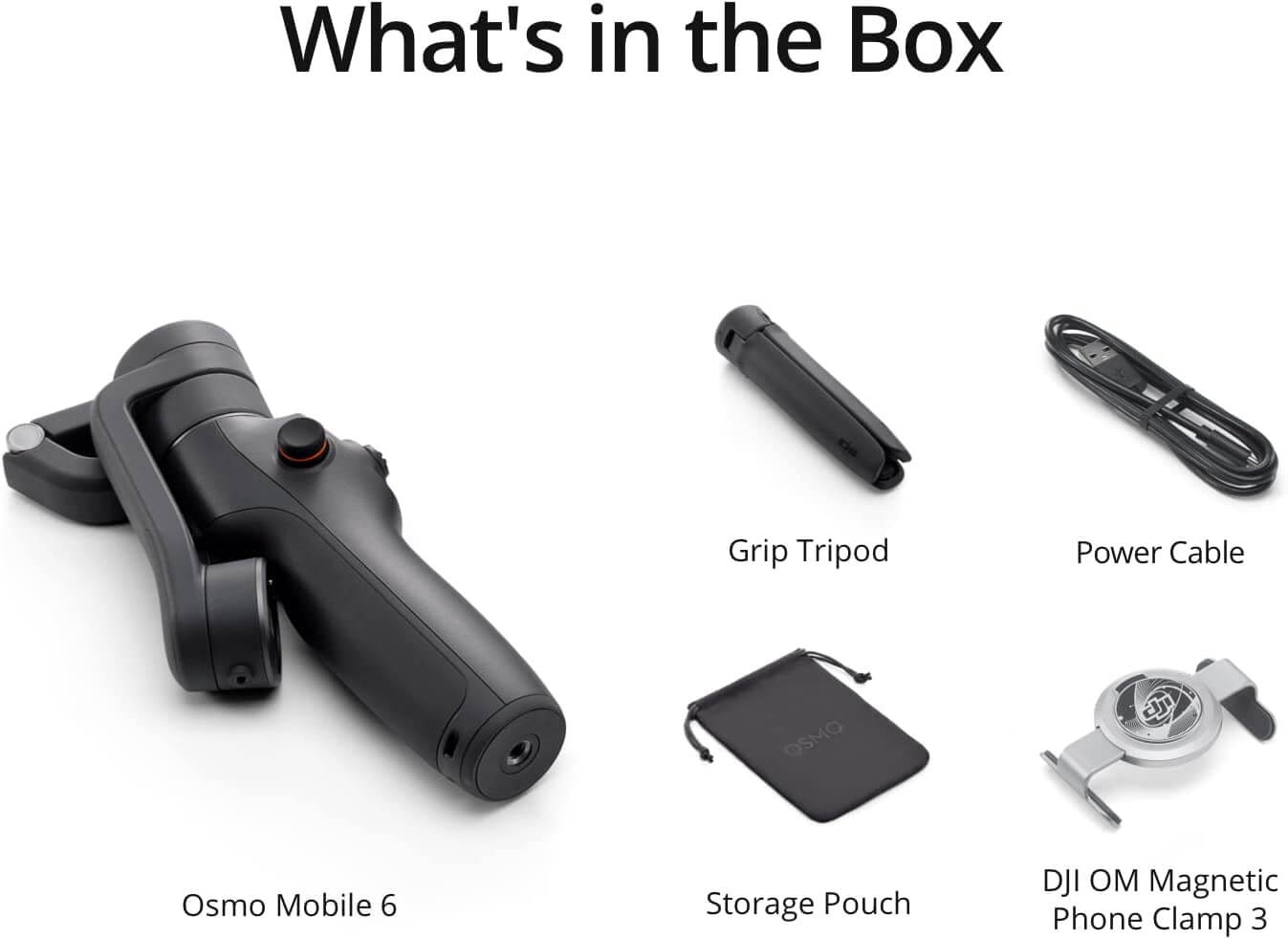 DJI OM 6 phone gimbal is user-friendly and a runner-up. This comes with an advanced app that serves as a companion. This gimbal is foldable, making it compact and easy to carry. You can use the battery for up to 6.5 hours after charging it fully. While using DJI OM 6, the friction is minimum.
When it comes to compatibility, this gimbal is compatible with most iPhones, especially iPhone 8 and higher models. It can bear up to 290 grams of the payload. This gimbal works well with a wide, ultra-wide, and telephoto camera.
When you mount the iPhone with the DJI OM 6, you can get instant access to the DJI Mimo app and start the recording, which makes it the fastest gimbal. The side wheel of OM 6 allows you to zoom smoothly from the side wheel.
This gimbal for iPhone is the go-to choice for self-recordings or versatile recordings.
Pros
The build quality is robust.
The setup is fast and seamless.
This gimbal is lightweight and portable.
An 8.5-inch rod serves as a helpful extension.
Cons
The panning range is limited.
This gimbal only allows manual tracking.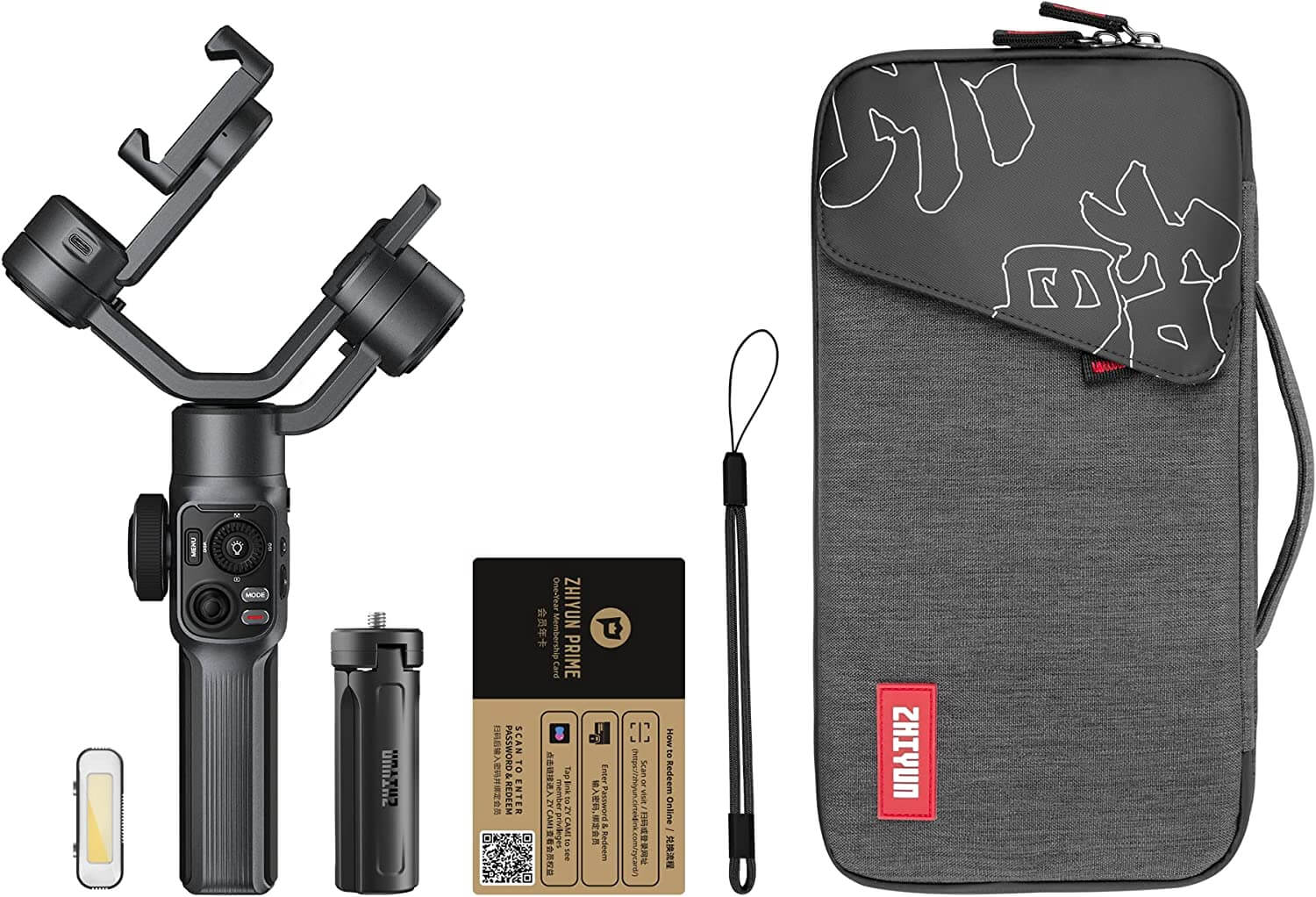 This gimbal for iPhone is a better choice for professional videographers. You can adjust most of the changes from Zhiyun Smooth 5 without using the mobile screen frequently. The upgraded body is compatible with most iPhones, like the iPhone 12 & 13 Pro Max, which are heavier and bigger than the other iPhone models.
The battery of Zhiyun Smooth 5 can run up to 4.5 to 12 hours after charging once. The body construction is rugged, and the motors are stronger, offering consistent, smooth panning. The AI-enabled features allow gesture controlling and subject tracking smoothly. The focus wheel allows you to shoot with advanced techniques and smooth zooming.
All these features make the Zhiyun Smooth 5 gimbal easy to use; therefore, this gimbal offers a seamless user experience.
Pros
The built-in quality is solid.
The controls feature is amazing.
The combo package allows magnetic fill lights.
The user experience is seamless.
Cons
This gimbal is comparatively costly.
This is heavy, and you can't fold it.
The companion app is not polished.
The grip is uncomfortable and not smooth.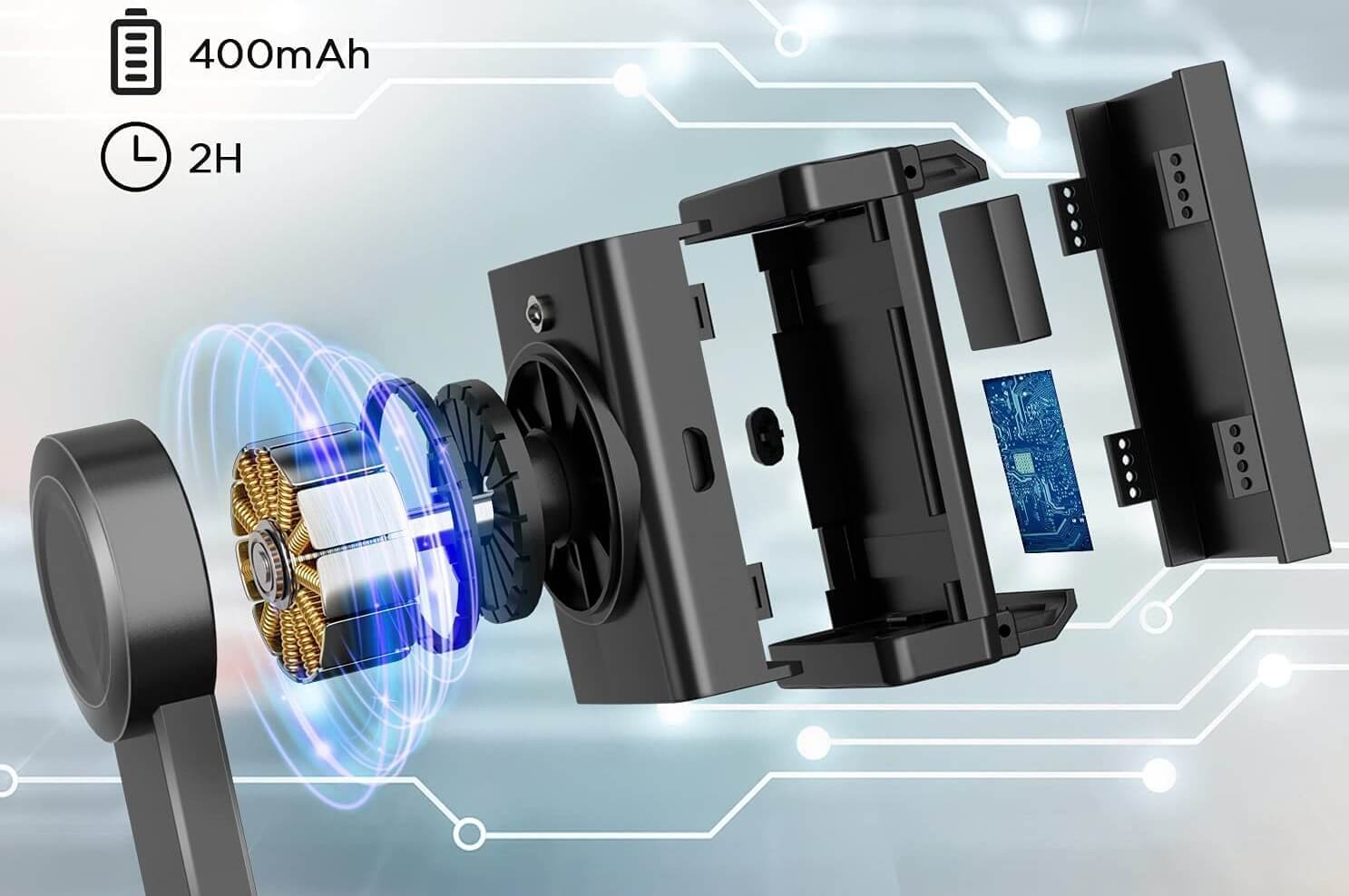 This 3-axis Stabilizer gimbal offers you 360-degree automatic rotation. While capturing selfies or shooting vlogging, it offers great stabilization. This gimbal allows you to switch from landscape to portrait mode and vice versa easily.
IKOMMI comes with an integrated tripod and selfie stick. When the battery drains very low, you can lock the motors to put it on power saving mode. IKOMMI also allows you to capture low-angle video shots, making it the best choice in gimbal for iPhone. It has an accelerator sensor and a high-precision gyroscope, making calculating real-time angles in professional mode and quality easier.
The head clip of this gimbal offers great protection to your iPhone by saving it from falling or scratches. The battery of this gimbal can last up to 2 hours.
Pros
Easy to use.
It allows 360 degrees of automatic rotation.
Affordable gimbal.
It offers high-precision control.
It has an inbuilt selfie stick and tripod.
Cons
The companion app is not polished.
The battery only lasts up to 2 hours, which is comparatively low for long video shoots or big events.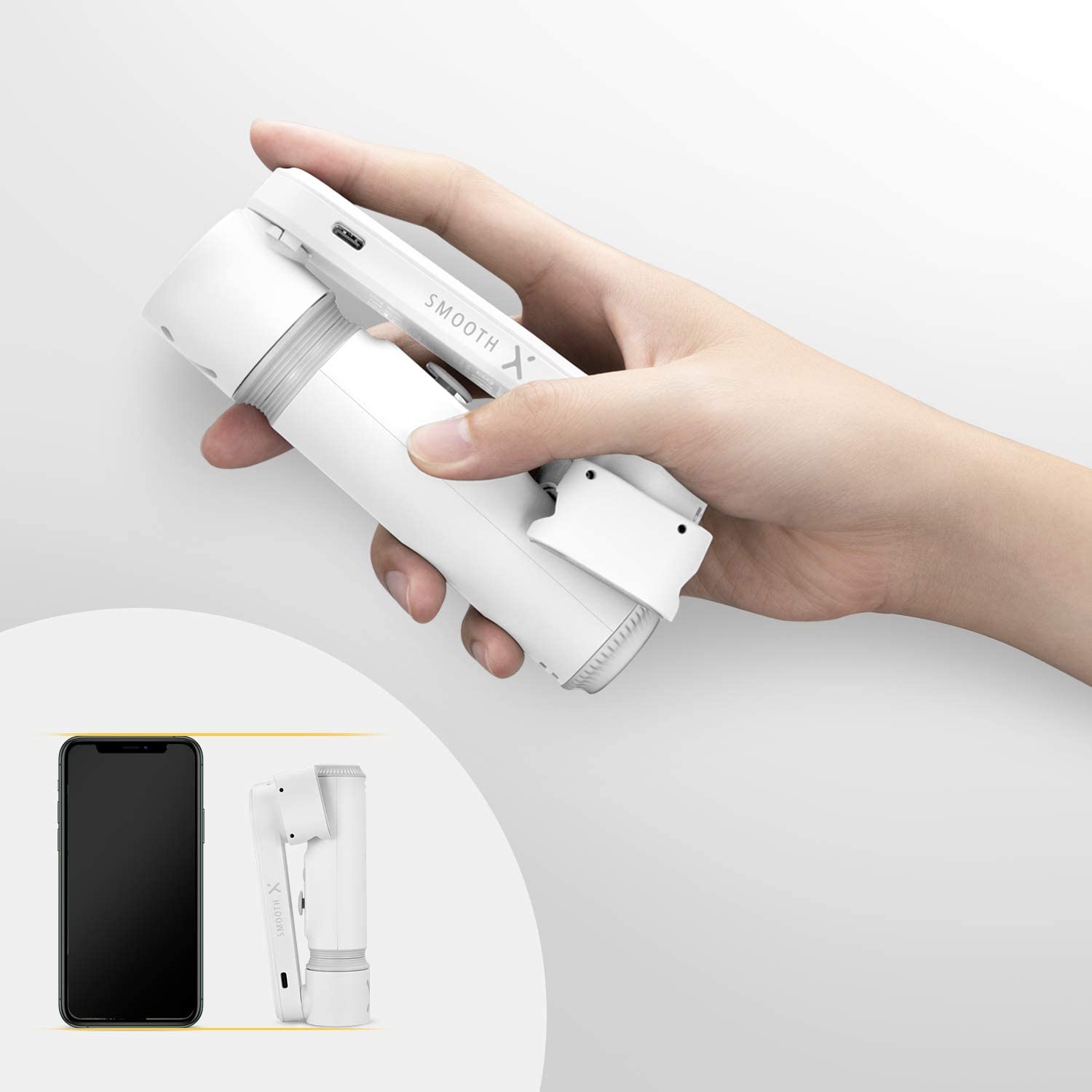 If you want a smaller, more powerful 2-axis gimbal, Zhiyun Smooth X is a good choice. This gimbal for iPhone is designed for Instagram and Tiktok Content creators especially. This can bear a payload of up to 235 grams. It offers a 10-inch long extendable selfie stick too.
The battery can be used up to 4 to five hours after charging fully.
The downside of this gimbal is the below-average stabilization performance while recording up and down movements like moving on stairs. This gimbal also struggles to bear the heavy payload.
Pros
This gimbal is compact and lighter.
This is affordable.
Cons
This gimbal can't stand heavy payloads.
The Stabilization performance can be much better.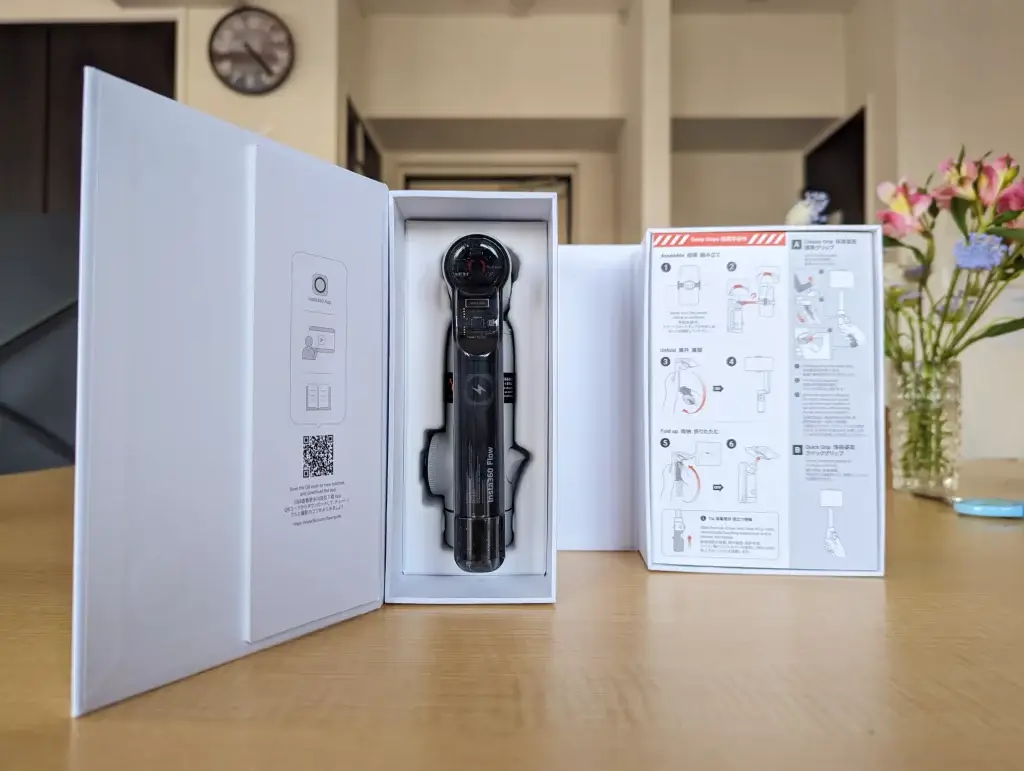 This pocket-size compact gimbal is considered the best for iPhone. If you want an alternative to DJI OM 6, this choice can offer you better features and an amazing experience. The mounting clap mechanism is magnetic, and the 3-axis high-performing gimbal can easily manage to record intense actions.
Insta360 flow can bear a payload of 300 grams, making it a suitable choice for heavier iPhones. The companion app makes the user experience good and friendly, and it can be used for both iPhones and smartphones. This allows comprehensive instructional guidance.
You can also use this gimbal as a portable iPhone charger. And can utilize the cold shoe mount as well. The battery of this gimbal runs up to 12 hours after full charging. This gimbal lets you rotate the action cameras 360 degrees and tracks the subject based on Ai features, making it the best gimbal for iPhone.
Pros
This gimbal has a built-in selfie stick and doubles as a tripod.
The stabilization performance is great.
This gimbal allows 360 rotation for the action cameras.
The object tracking is unrivaled and excellent.
Cons
The grip of this gimbal is short.
The tilting range is limited because of the foldable design.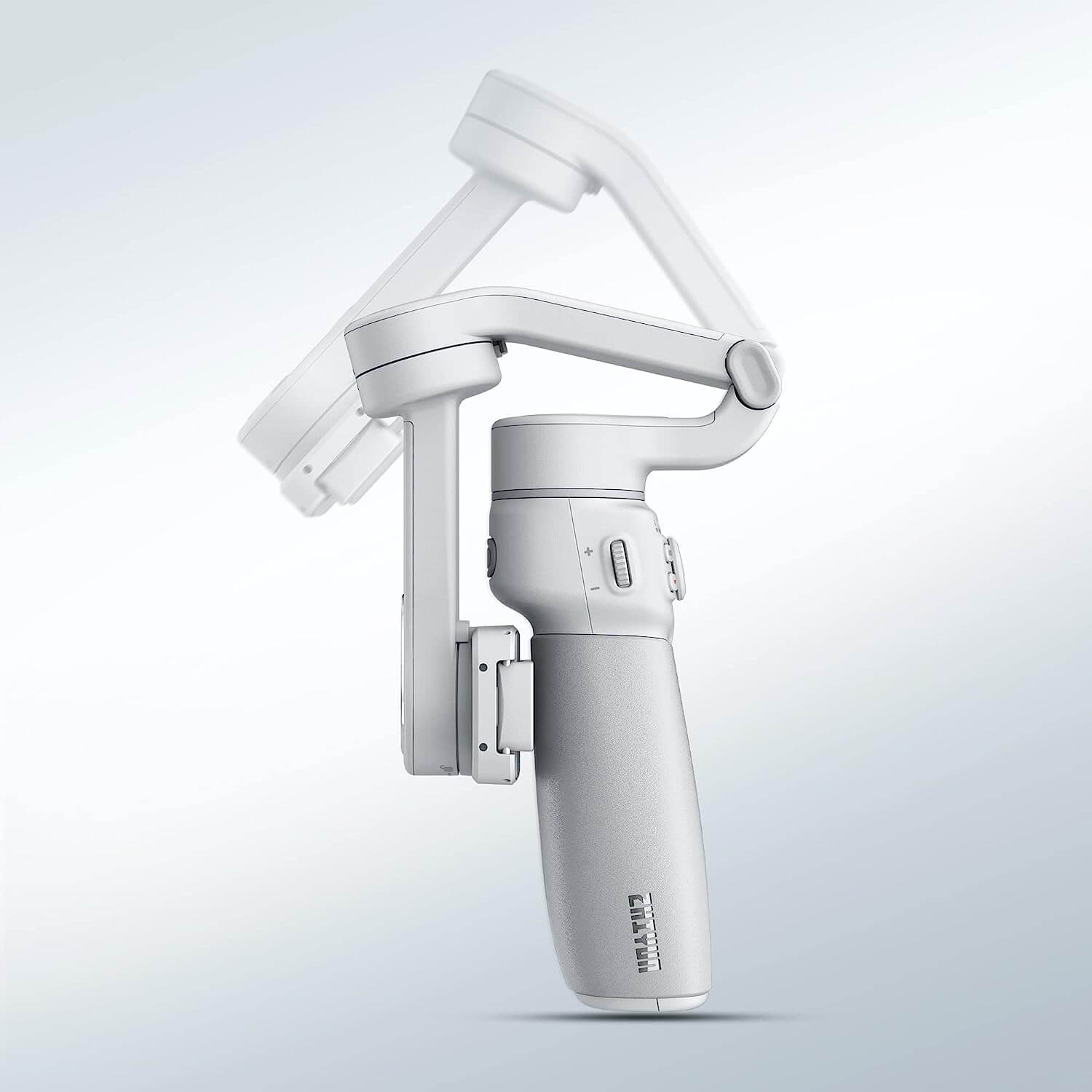 This 3-axis affordable gimbal offers effective selfie tracking. Zhiyun Smooth Q4 is good for professionals offering great stabilization is the horizontal level. The Bluetooth connection allows you to handle basic functions like tilt and pan, rotate, zoom in, and zoom out, all from one hand.
This gimbal can bear a payload of 280 grams and offers a great rotation of 331-degree panning and 338-degree tilting. Zhiyun Smooth Q4 is compatible with the iPhone and smartphone's thickness of 7 to 10 mm and a 55 to 90 mm width.
Pros
Great object tracking.
Faster to start and record.
Bluetooth connection makes this gimbal easier to handle.
Cons
Poor stabilization performance in the PANO mode.
Compress the hyper-lapse clips.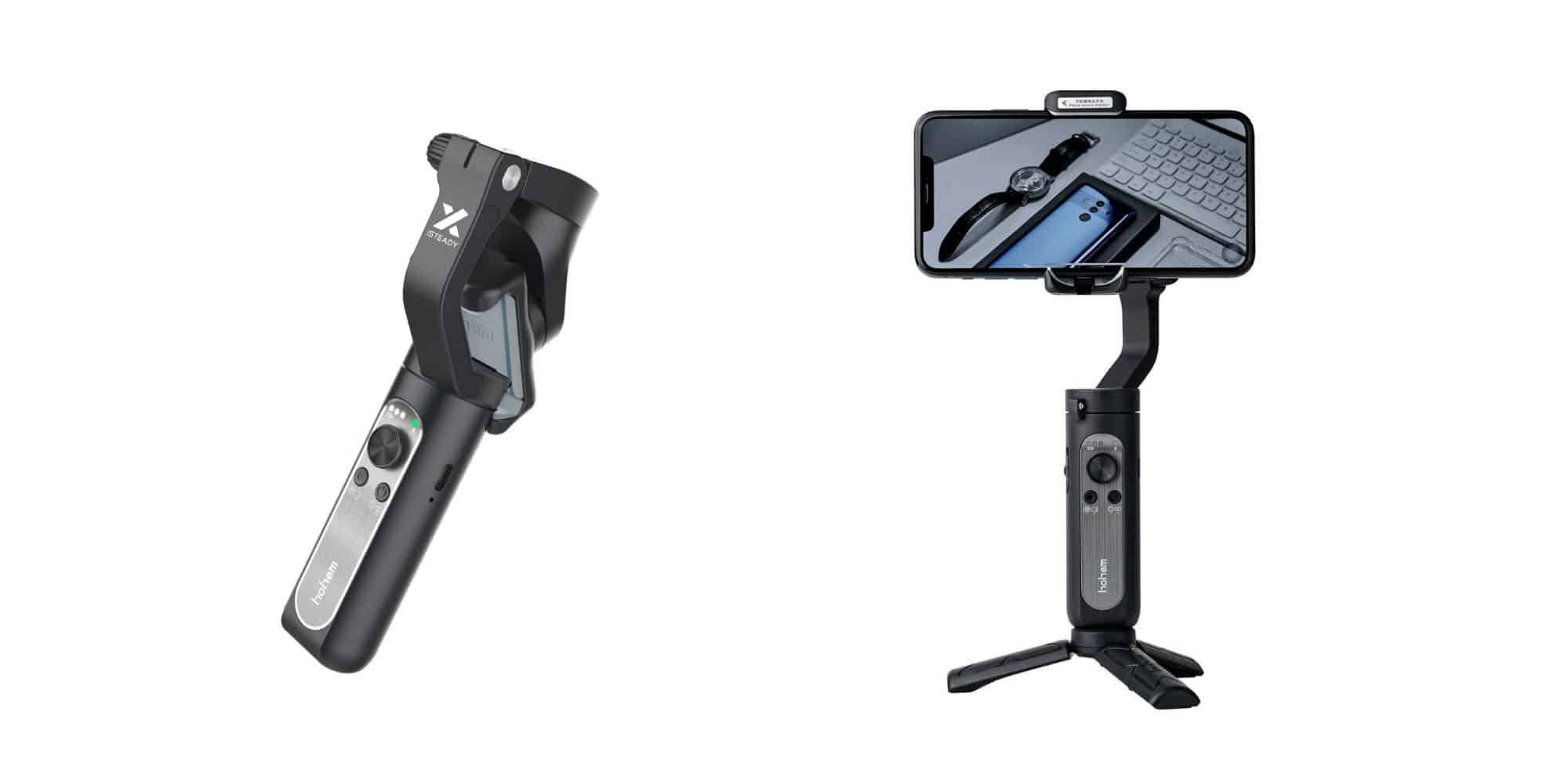 This 3-axis gimbal stabilizer is budget-friendly. You can easily fold and carry this gimbal. The battery serves up to 8 hours after the full charging. It can handle a payload of up to 290 grams and an iPhone width of 90mm, making it compatible with most gimbals.
This gimble is good in stabilization performance and comparatively cheapest. You will need the Hohem Pro companion app to activate the Hohem iSteady Xgimbal and use it with your iPhone. This app is compatible with iOS 9.0 or greater versions, Android 6.0, and later versions.
Pros
The foldable design makes this gimbal compact and portable.
The stabilization performance is decent.
Cons
The companion app is not advanced and polished.
The grip is not better.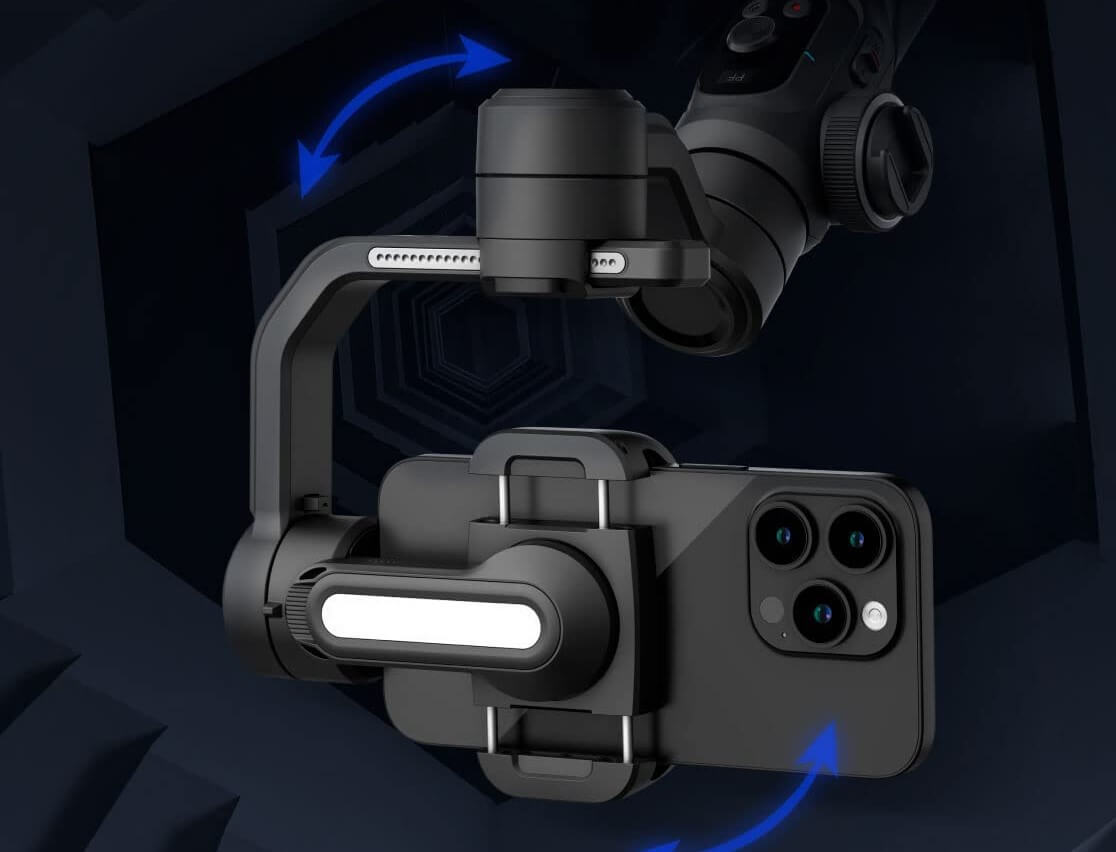 This gimbal has smart 6.0 face tracking and smartly records the video while focusing on the face. The inception mode gives you the flexibility of 360-degree rotation.
AOCHUAN Smart S2 lets you capture the clips in panorama or widescreen mode. The professional 3-axis offers a larger vision and helps you record the cinematic view. The integrated microphone and fill light allow you to create the proper light view and record better, so you don't need an additional mic or LED lights. The left focus wheel makes it easier to zoom smoothly. This gimbal also works in high angel videography and photography.
Pros
Versatile.
Easy to use.
Extendable metal grip.
Built-in microphone and adjustable 3-position fill light.
Cons
The Wensot gimbal is compatible with most iPhones, including 11, 12, 13, and 14 Pro max models. This gimbal allows seamless video recording with vertical and horizontal automatic shooting locks. Wensot Gimbal offers you 360-degree automatic and manual.
With its adjustable length features, you can easily record higher and longer distance angles and wider clips. Wensot has the longest inbuilt aluminum telescope rod of 28.8 inches, which serves as a selfie stick. The stabilization performance is great for both pictures and videos.
Wensot offers 3 in one feature like a stabilizer, tripod, and selfie stick. The Bluetooth feature allows you to manage and handle it wirelessly. The grip of the handle is good to avoid slipping from the hands.
Pros
This gimbal is Compact.
Easy to use.
Longest 28.8 aluminum alloy telescoping selfie stick rod.
The quality is good, and in build is strong.
Cons
The battery life is poor.
Factors to Select the Best Gimbal for iPhone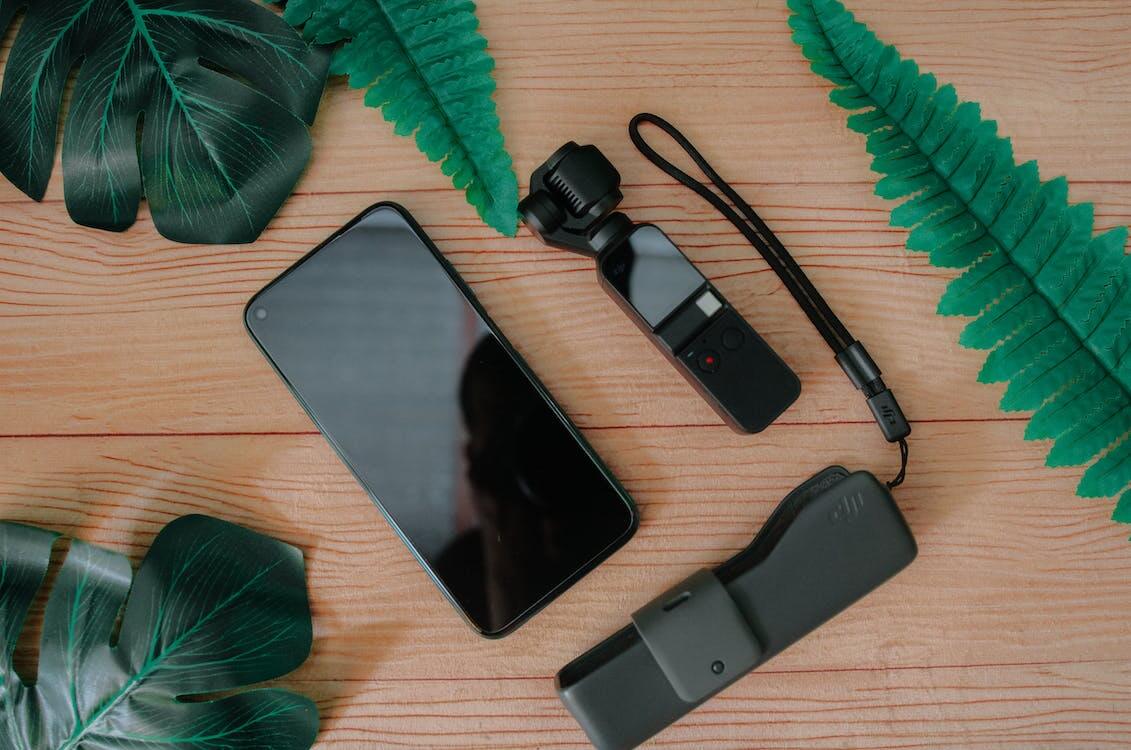 Phone Size And Weight:The first thing to look for while looking for a gimbal stabilizer is to check the compatibility of your phone's dimensions and weight. So that it can handle the payload and your iPhone widths without any damage.
Phone Rotation: Examine the maximum smooth rotation of tilting and panning to capture wide-angle or all-around video shots easily.
Compactness Or Foldable Design:If you are doing vlogging, compactness is a must so that you can easily carry it outside and shoot the video clips whenever needed. So check whether you can fold the gimbal or not to carry it easily.
Extendable Selfie Sticks:If you are a content creator who handles all the video shooting by yourself, check the size of the selfie stick and how much you can extend it. While taking selfies or recording the video by yourself, it is a must.
Built-in Magnetic Lights Or Microphones:It is a great advantage if the gimbal has built lights or a microphone, as you don't have to buy the mic or lights.
Final Thoughts
This mini guide showed you the nine best gimbals for your iPhone. Selecting the one according to your iPhone's weight and dimensions can help you to find the compatible gimbal for your iPhone. You can look into the pros and cons of your requirements to make your decision clear about the gimbal for iPhone. Once sure, you can buy one of the gimbals for iPhone recommended here with the attached link and start your videography with great stabilization without shaking moves.
If you are a professional videographer vlogging regularly, the Gimbals like Insta360 Flow or Zhiyun Smooth 5 recommended for professionals are the ones you may need. If you are a beginner, then the compact, beginner-friendly, and affordable gimbal for iPhone is the one you may need. If you are an Instagram or TikTok content creator, Zhiyun Smooth X is the gimbal that can serve your purpose because you can keep it in your pocket and never miss that next inspiration you get while traveling.
If you are looking for the cheapest, Hohem iSteady X is the best gimbal for iPhone.