Being a mother is the best thing in life, they say, and by far, pregnancy is a phase full of emotions. Well, it should be because you are going to welcome a new life into this world. You would want to remember your first pregnancy, and there is only one best way to commemorate this phase of life, which is by having a pregnancy photoshoot so that you'll have an album of all those memories to look back to it.
However, before you opt for this option, there are some important details to keep in mind. The most appropriate time to have a pregnancy photo shoot should be between 28 and 32 weeks when the baby bump is big and looks adorable in pictures. Apart from timings, there are certain things, such as maternity outfits, that would look appealing in the pictures. Also, when you are choosing a photographer, choose to look at their previous work. Check whether you find their work commendable or appealing.
However, you don't have to worry about the poses, as we have covered that for you. The top 20 photoshoot ideas are below to make your baby's bump photos look beautiful.
Outdoor Pregnancy Photoshoot Ideas
Outdoor locations can add a fun element to your pregnancy photoshoot, and if the weather shows decide to play along, then it would be the best thing to happen. Below we have mentioned some best outdoor maternity photoshoot ideas. Make sure to check them before you have your pictures clicked.
1. Sunbathing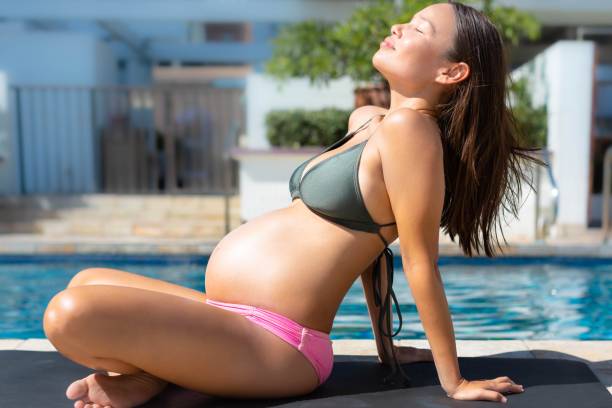 We all know that the sun is so essential for the development of the baby, and this can be the most innovative way of capturing a pregnancy photoshoot. Moreover, the light makes it easier to capture such photos. A photograph clicked in an offbeat woody area with proper sunlight and looking upwards would work. Also, keep in mind to wear sunscreen properly before heading for the shoot. 
2. Beside the Beach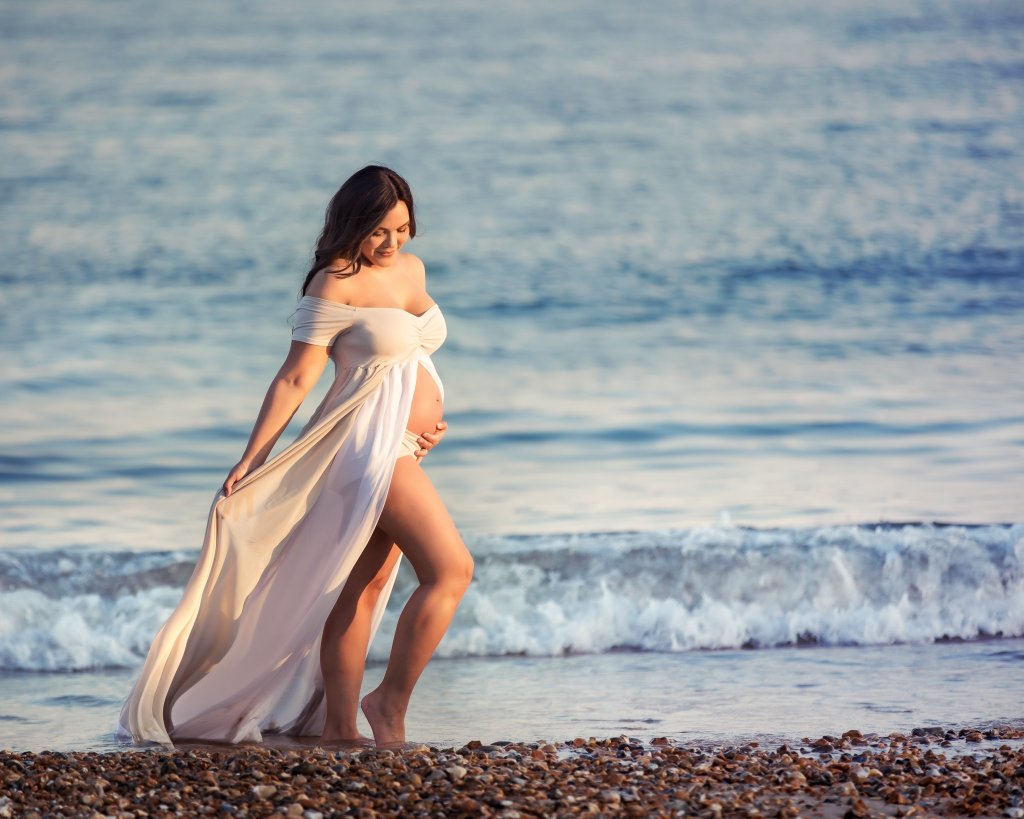 The beach can add a lot of elements to your pregnancy photoshoot, and still, the whole focus would be on your baby bump. You can pose in any way, like a classic maternity pose looking down at the belly, which can be done sitting, standing, or lying on the sand.
3. A Simple Stroll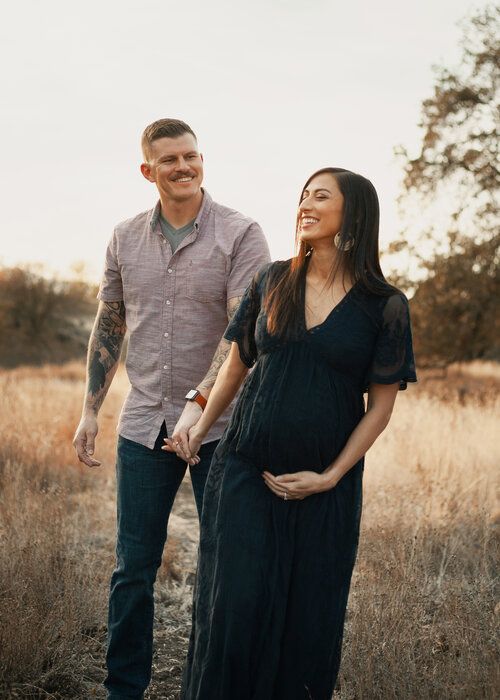 You can take a simple stroll with your partner in a nearby garden or on your favorite road. This can be done in any way, whether with your husband or with your other kid. This is a great pregnancy photoshoot idea, and if you wear a floral maxi dress, then it would make the images look more vibrant.
4. Fairytale Forest
This pregnancy photoshoot idea would be amazing if you have a forest or woodland around you. You can become the fairy or the queen of the woods. Just wear an evening gown that flaunts your belly. Later, tell the photographer to create a foggy effect around you which will make the photograph more mystical and breathtaking. 
5. Field Of Maternity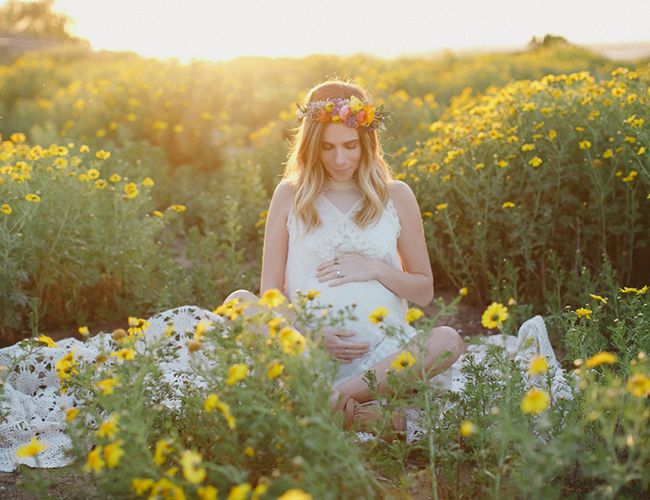 Well, this pregnancy photoshoot is one the most dramatic yet beautiful ways to capture the joy of being a mother. Moreover, a field full of grass and flowers and sunlight around the sunlight will create a majestic look to capture the moment while you are embarrassing your motherhood, holding the bump. You can choose to wear something light and comfortable. A long flowy maxi dress could work. 
6. On The Bridge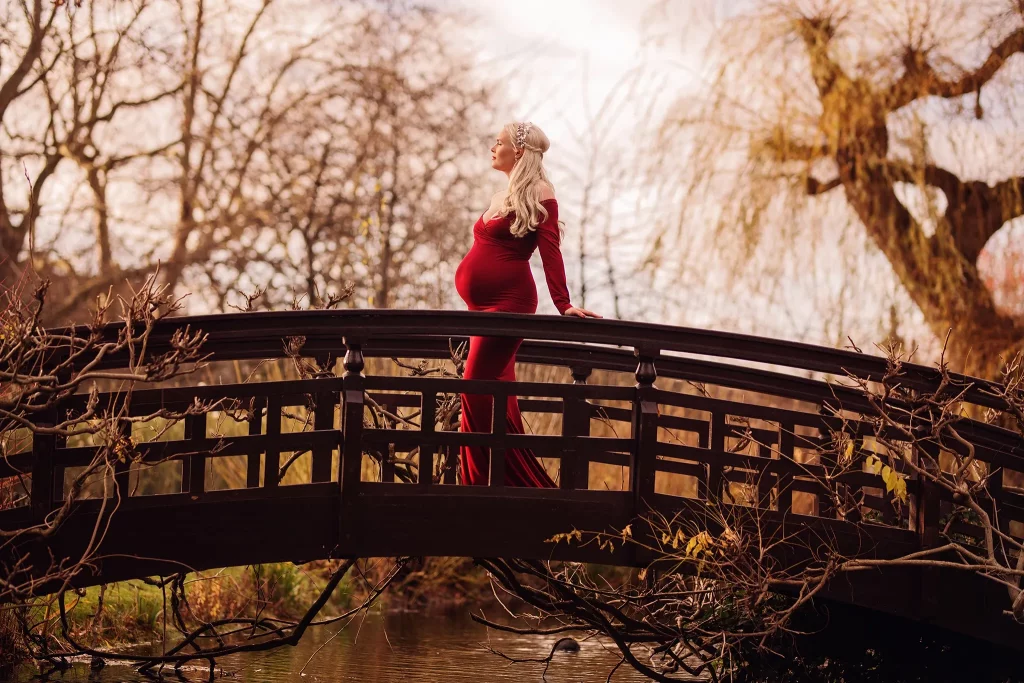 To the surprise, a rusty old town bridge, a beautiful evening gown, and a growing belly are beautiful ideas for a pregnancy photoshoot. This combination is new and straightforward, with no other requirements. All you need to do is wear a gown and a bridge where you need to stand. The magic will be created by the sun, so find an appropriate time, mostly like dusk or sunset. 
7. Lean on The Tree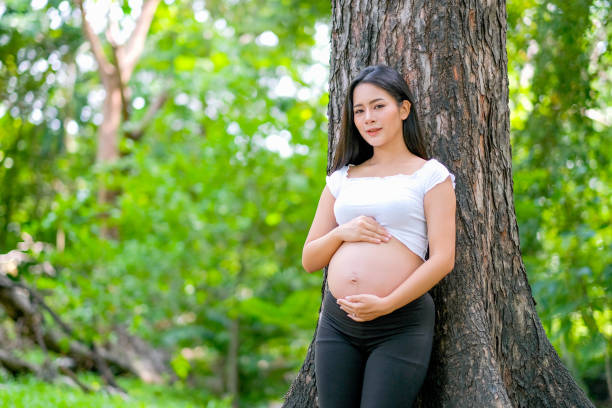 Mother Nature gives the best pregnancy photoshoot ideas. You can dress up in the green and stand next to a tall tree in the park or backyard. Further, you can ask your photographer to capture the light through the sunlight. Also, give a pretty decent smile in the photos, and surely you will get the desired outcome.
8. Foreground and Background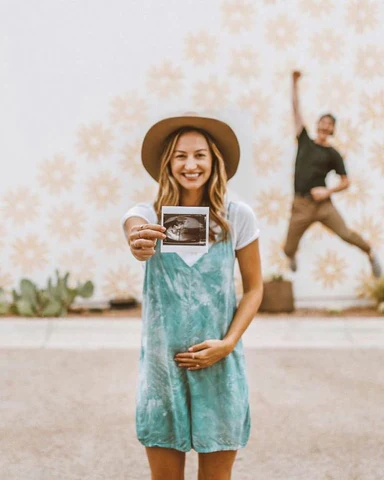 This is an exciting concept with a more creative mind rather than just using traditional pregnancy photoshoot ideas. You have to be with your partner and let him show the sonogram in the foreground. Then you can stand in the background. However, the main focus should be on the father, and the softer focus should be on the mother holding the bump.
9. Classic Hands on The Belly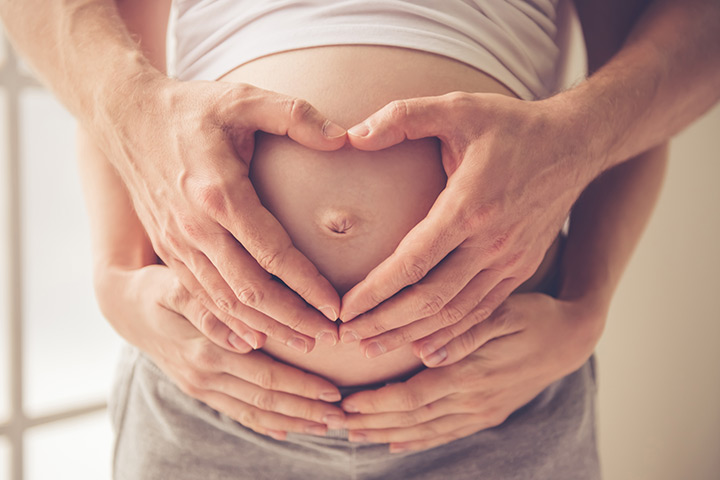 Being pregnant is a soul-to-soul connection between the parents with the kid. Thus, you can show this thought by having a couple for a pregnancy photoshoot by having both parents holding the bump together. It would be a close-up shot with both parents holding the bump. To create a more significant impact, you can have this photograph in monochrome or in black & white.
10. Sitting on The Ground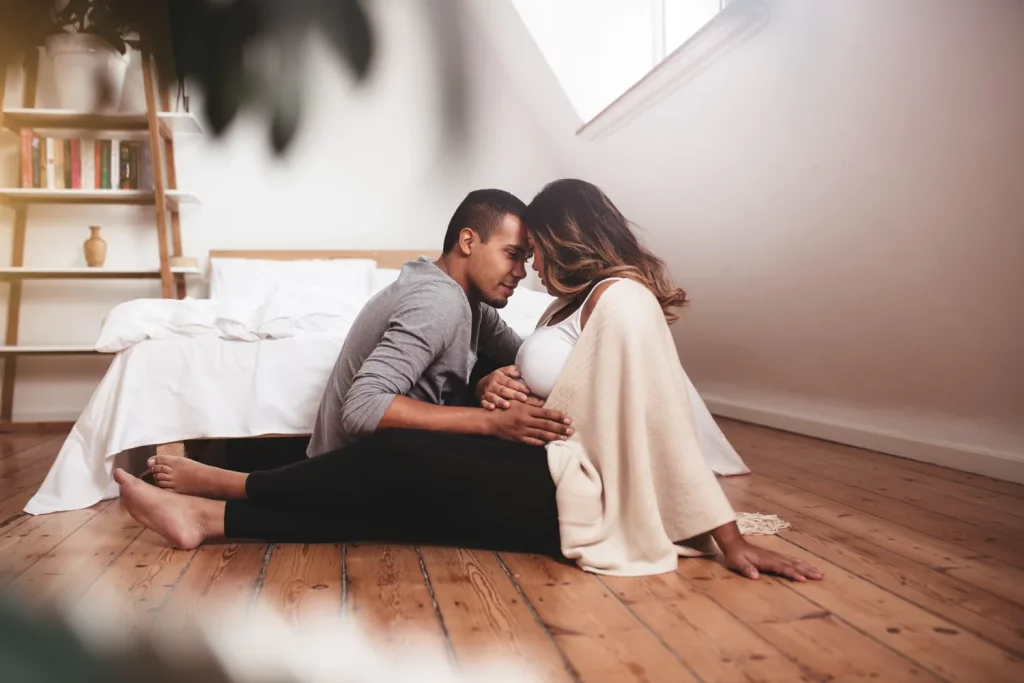 Sometimes having a casual pregnancy photoshoot also feels fantastic. All you need to do is just sit on the ground and have a happy and goofy conversation. You can wear whatever you like, whether casual pajamas or an evening gown and suits. This is an excellent idea for a maternity shoot. An evening time would be perfect for this photoshoot.
Indoor Pregnancy Photoshoot Ideas
There are several pregnancy photoshoot ideas if you don't feel like stepping out of your home. This is a lot simpler as you don't have to worry about the weather or traveling or any kind of props. Below we have mentioned a few creative indoor maternity shoot ideas.
11. Snuggling on The Couch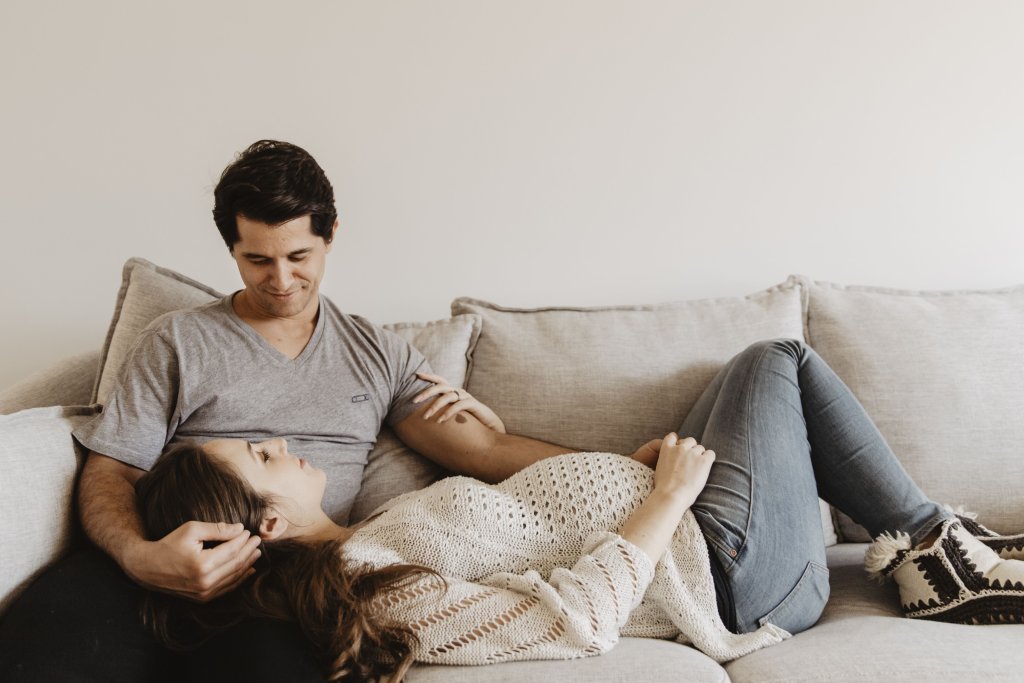 You have seen several posed pregnancy photoshoots, and those stills can be very glamorous to watch. But if you don't want to go out and have a fancy photoshoot, it's not a big problem. You can have a more intimate feel shot on a comfy bed or a couch. Also, include your family members to capture the essence of love and family hood. A casual setup would be perfect for capturing a shoot like this. 
12. The Baby Nursery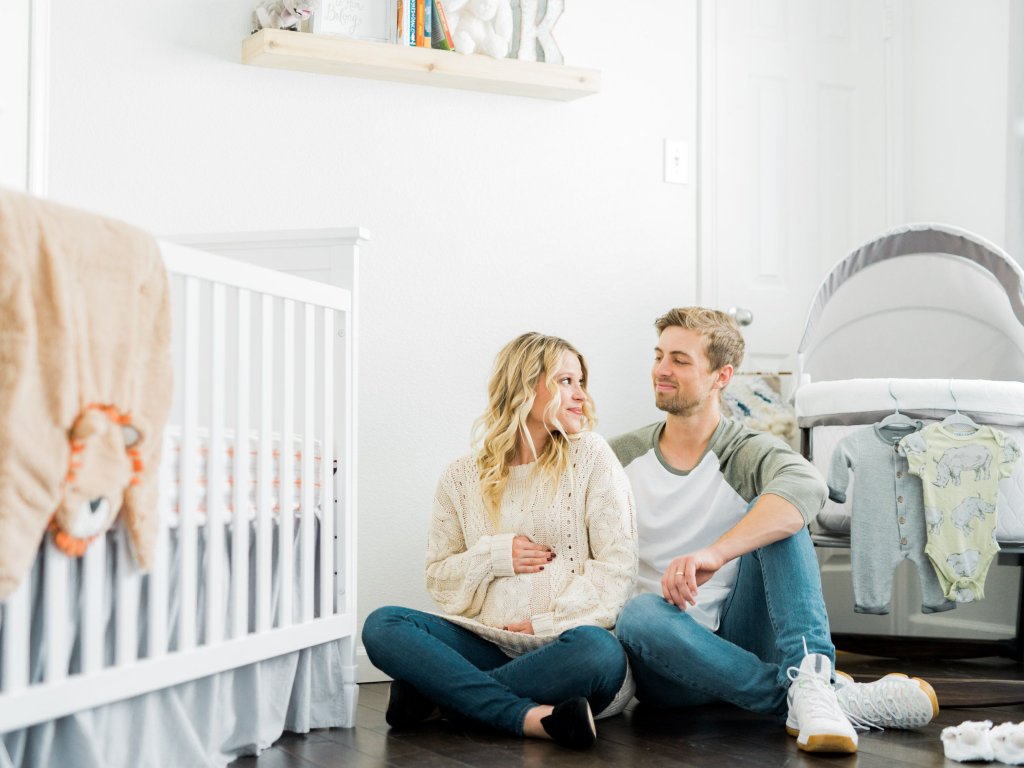 Well, having a nursery at your home can be very tiring, and if you have managed to complete the task, then why not use it for a better cause? You can totally utilize a baby nursery as a prop for your pregnancy photoshoot idea. This could be a cute addition for an indoor maternity shoot, and all those bright colors that you have used in the nursery will add so much color to your album. You can choose any outfit for this photoshoot.
13. A Letterboard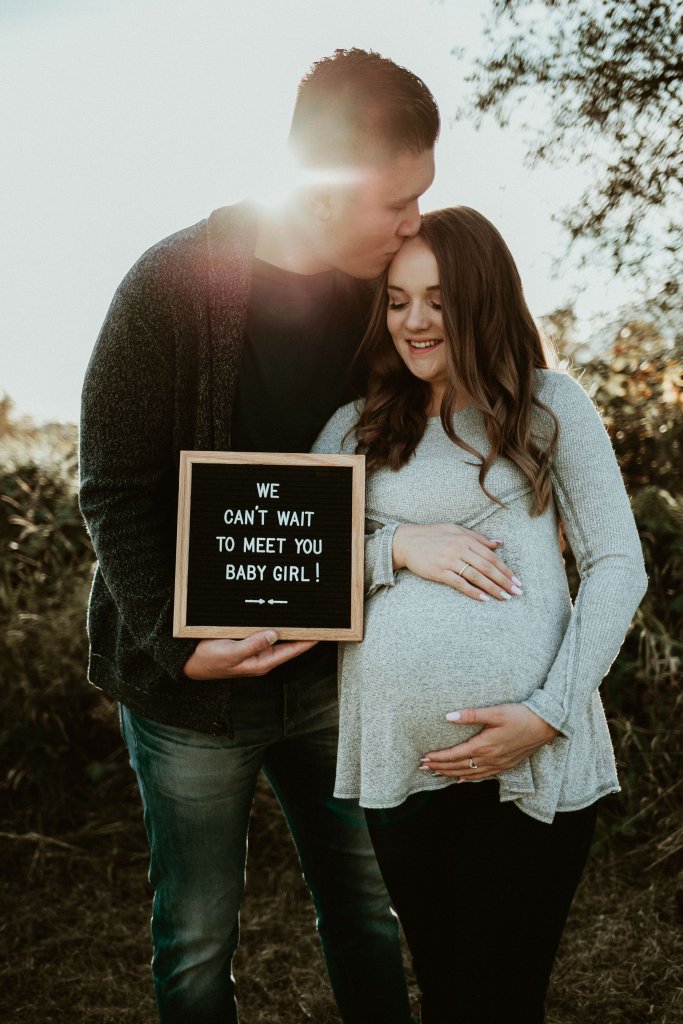 Well, letterboards are cute and can be very useful in clicking pictures, especially when you are hunting for ideas for a pregnancy photoshoot. This could be a playful element as you can write cute messages on the letterboard to depict the cuteness of being pregnant. You can find plenty of stuff to write on it, which could be charming to read and also grab attention. You can wear anything casual and flaunt your baby bump in your house. All you need to do is hold the letter board for posing.
14. Be Goofy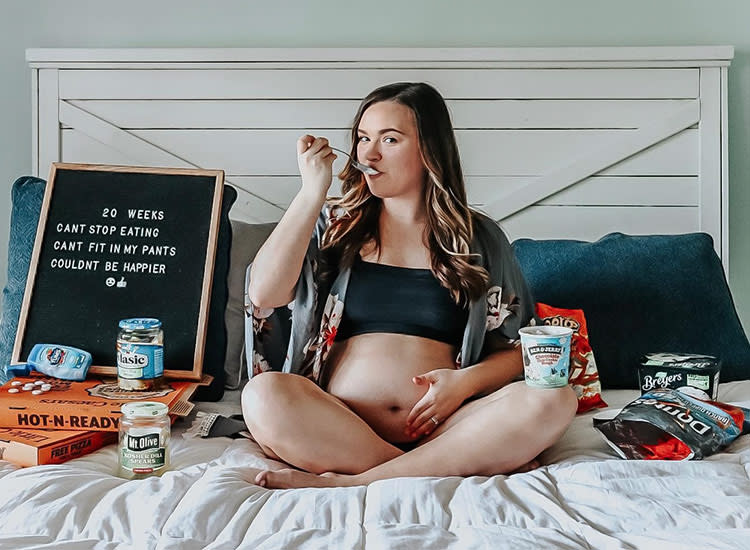 Yes, right, you can be goofy and be cheerful, just show your real self. We all know that during pregnancy, women go through a roller coaster ride, then why not show it through your pregnancy photoshoot? You can shoot while having any crazy food combinations, whether it be sour cream with sweet candy or cookies with lemon soda. You can have it all and ask your photographer to capture the natural emotion while you are enjoying your unusual combo. This can be an excellent idea for a humorous photoshoot. Also, you can enjoy this while wearing any outfit you like and sitting in the kitchen. 
15. Lay with Me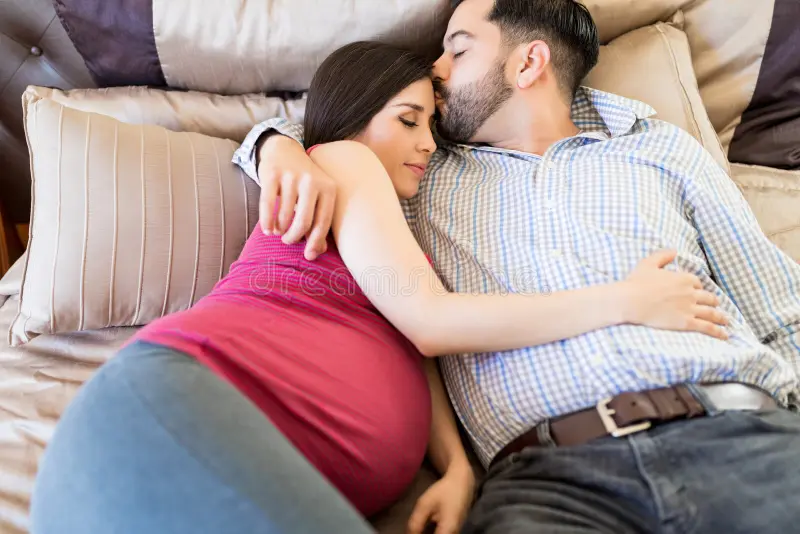 Cuddles, hugs, or kisses are great ways to show love to anyone. Why not include this gesture in your pregnancy photoshoot? All you need is a partner and a comfy bed. Just lay down with your husband and let him hug you from behind, holding your belly. You need to be free and let your emotions ooze out so that you can be happy when you see those images in the future. You can wear anything comfortable, even a bathrobe, if you are comfortable in those.
16. Play with The Laundry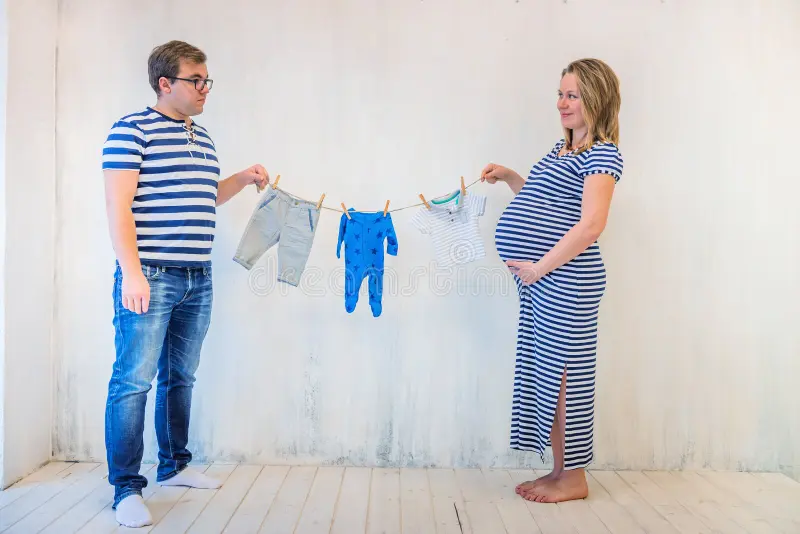 This could be fun to shoot or watch. You can totally ace it by holding a laundry line with baby clothes on it. Also, you can have outfits that have cute baby quotes on them. All you need to do is just have a very original emotion in the shoot. Do not try to pose in it, as you would lose the real essence of the photograph. Moreover, you can wear anything you want, whichever dress makes you feel special as this is your big moment.
17. Tiny Shoes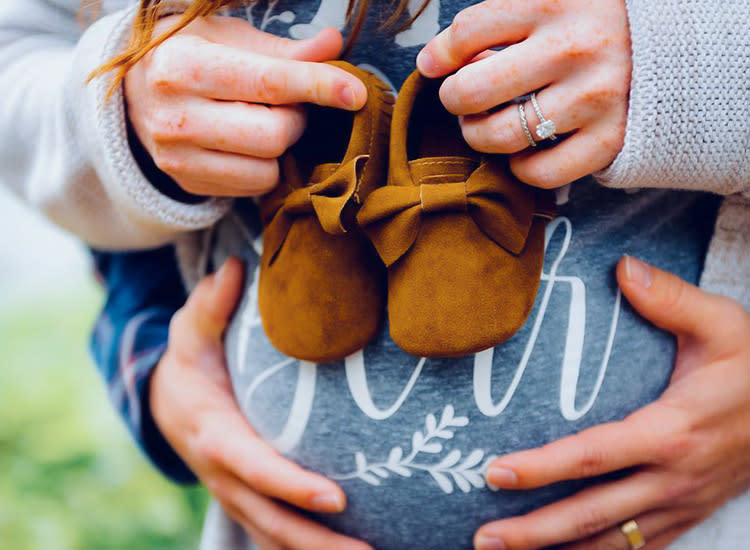 Adding baby shoes or any other baby accessories can surely add a cute element to your pregnancy photoshoot. All you need to do is find an appropriate corner of your house and then place a pair of shoes in the foreground with the soft focus of you and your husband in the background. You need to keep yourself or the shoes blurry. This surely grabs attention and makes it look perfect. 
18. Go the Mathematical Way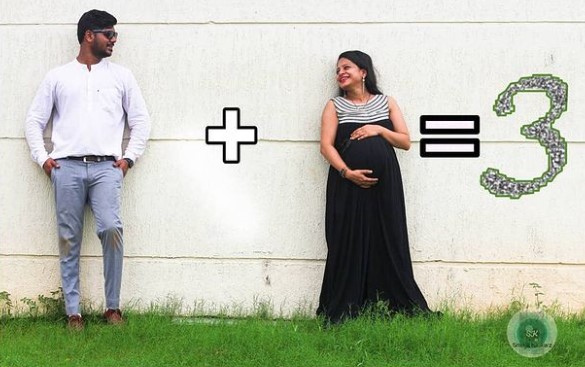 Why not be more creative and choose a mathematical way to have your pregnancy photoshoot done? It is quite simple. All you need to do is choose a simple background around your house and ask your husband to stand a few feet away from you. Then both partners have to look at each other and give a pretty smile to each other. Later on, you can either Photoshop or choose balloons as a prop, as this will help in creating a mathematical equation. Make a plus sign between you and your husband. Then, the equal sign after you and the number three at the end. Which means one plus two equals three. Moreover, you can choose any desired outfit to have this shoot done.
19. Twinsies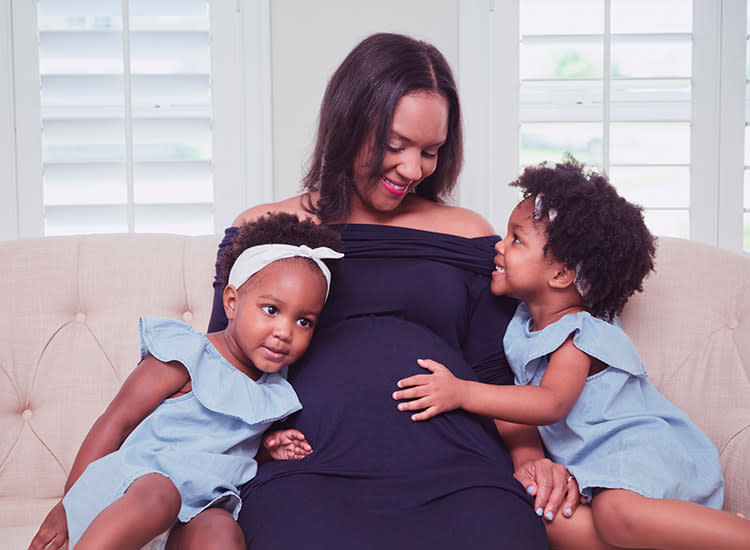 You can have your elder child snap a cute photo together while having the same outfit as you. Twinning can be a great idea for your pregnancy photoshoot. Just give big smiles while placing the hand on the belly. This will surely make the photograph look extra cute. You can click the photograph on your bed or couch. 
20. Melons Is All I Got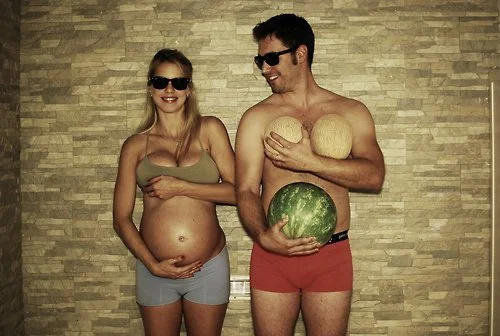 This is a pretty simple and very creative pregnancy photoshoot idea. All you need is some melons and a husband with a sense of humor. You can use a watermelon referring to a baby bump and two smaller melons as breasts. These will seem like your husband's pregnant parts. Further, you both can stand side by side, and both of you should have a similar pose as holding your breasts and belly. 
Conclusion
There are surreal and so many poses for you to flaunt your new beginning in life. All you need to do is be happy and confident while posing for your pregnancy photoshoot. These are precious memories that you are going to see afterward. While you see those memories, you need to feel those emotions when you are pregnant. Moreover, you will find many maternity shoot ideas, but it's your moment, and feel free to choose one that shows your personal side of you in those photos.
If you are funny and have a great sense of humor, then have a funny photo shoot, or you could choose an outdoor photoshoot if you are an outdoorsy person. Also, there is no restriction to wear a particular type of clothes. Feel free to wear anything that makes you feel comfortable.
Trousers or loose gown dresses both work well when you look happy in the photographs. So just go have a fun maternity shoot.