Knowing the sex/gender of your baby is one of the most memorable milestones in your pregnancy journey. The day you reveal it to your family, friends, and loved ones should be captured creatively so that you can remember these special moments for a long time. The best way to do this is to have a photo shoot, and the resulting photos, you can share with others who couldn't make it to your party. Through the stunning photos captured, you and your family can share your joy on your social media also!
In recent years, gender reveal parties have become a popular trend, and there are several unique ideas on how to host such parties on the Internet. If you are worried about which one to choose, don't worry.
We've got you covered with these 9 epic ideas for announcing your pregnancy and your child's gender!
What is a Gender Reveal and How to Do It?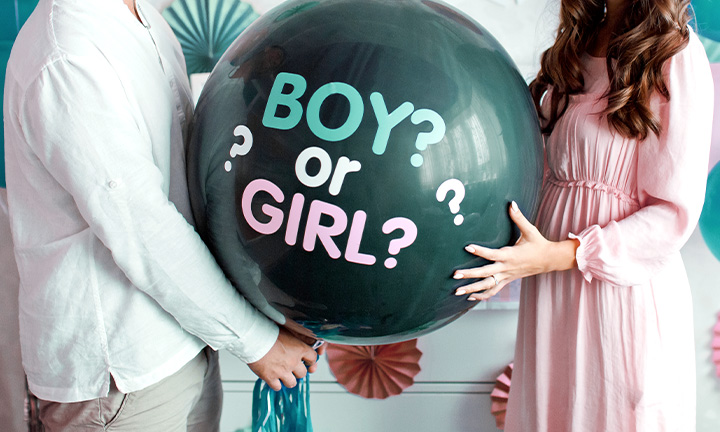 During the 18th and 20th week, through an ultrasound, you will be able to know the sex of your baby. Gender reveal is an announcement through which you are revealing the sex of your baby to your loved ones. You need to plan exactly how much you will spend on the gender reveal party (for invitations, venue, food, etc.) and the photoshoot, as that is one of the important segments of your party.
In addition, to make your party more interesting, you can have a color scheme, have colored foods depending on the sex of the baby, plan games, and more! You can hire a professional photographer to have the best results, but you can also use these ideas and have someone in your family capture them using a camera. Choose one of these ideas to get beautiful announcing pregnancy photos that you will cherish for a lifetime!
Epic Gender Reveal Photoshoot Ideas
1. Smoke Bombs Make for Bomb Photos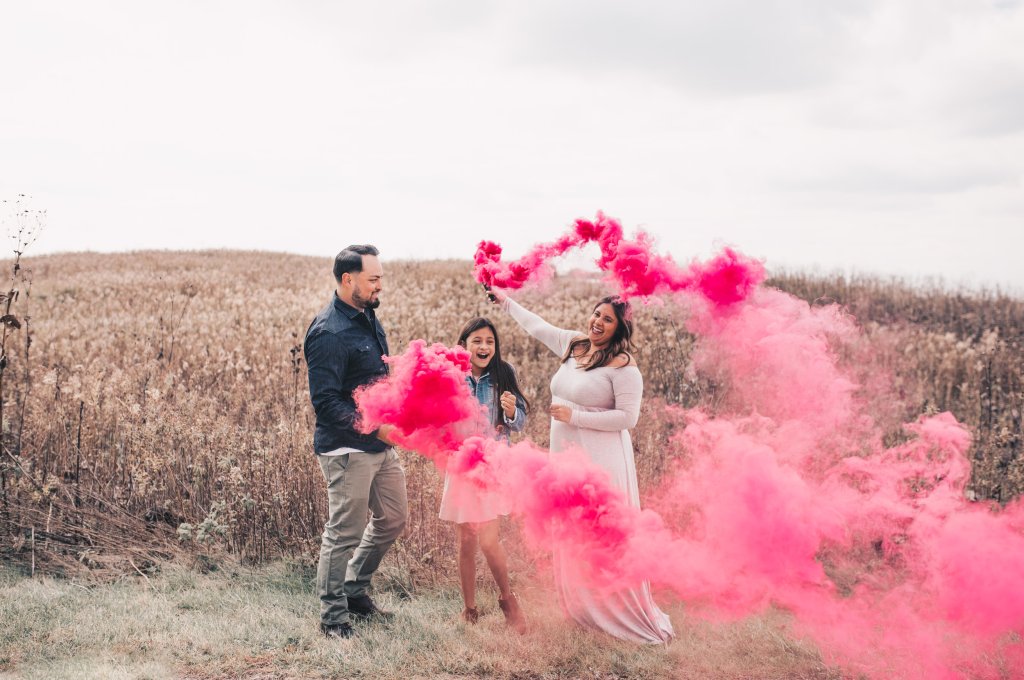 Smoke bombs come in different colors, including the traditional ones of pink and blue used to indicate girl and boy. You can let the event planner or a close family member know the gender of your baby and ask them to prepare the smoke bombs if you also want to be surprised. These smoke bombs will be amazing, and they will make for awesome photos.
You can try different poses and also have other props, such as your sonogram, balloons, etc., in the photo. However, during pregnancy, it is of utmost importance to focus on health, and these smoke bombs may not be the healthiest option out there. It can cause respiratory issues, stain your clothes, etc. You can do your research and try to find smoke bombs that will not affect the mother or baby in any way.
2. Holi Paint/ Powder for Stunning Announcing Pregnancy Photos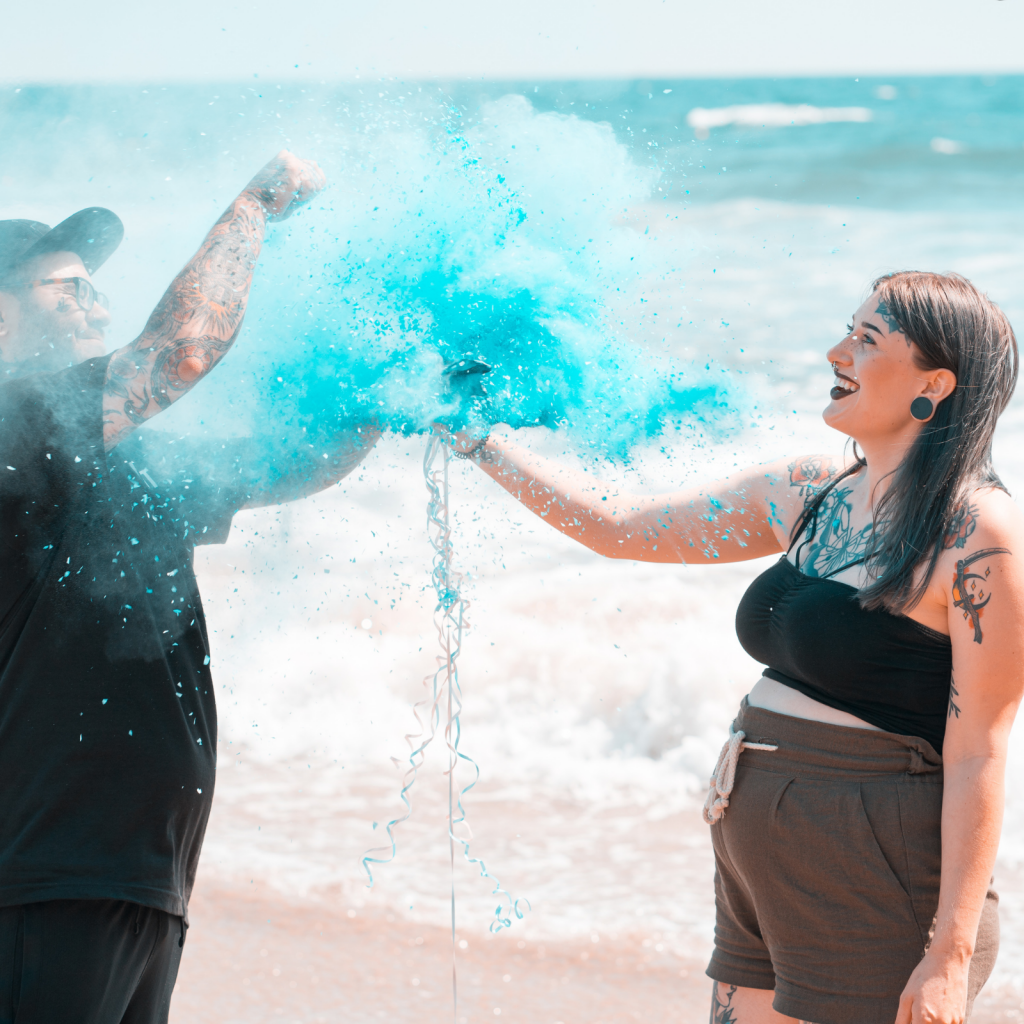 You can use the color powder that is used during Holi, known as the Indian Festival of Colours. The tradition in Holi is that you wear white clothes, apply color to each other, and celebrate. You can replicate the same idea but reveal the gender of your baby!
Be careful here, as well as health is the priority. You can announce the gender and take captivating photos when there is less powder everywhere. This way, you will get awesome photos without any risks.
3. Using a Sonogram to Reveal Gender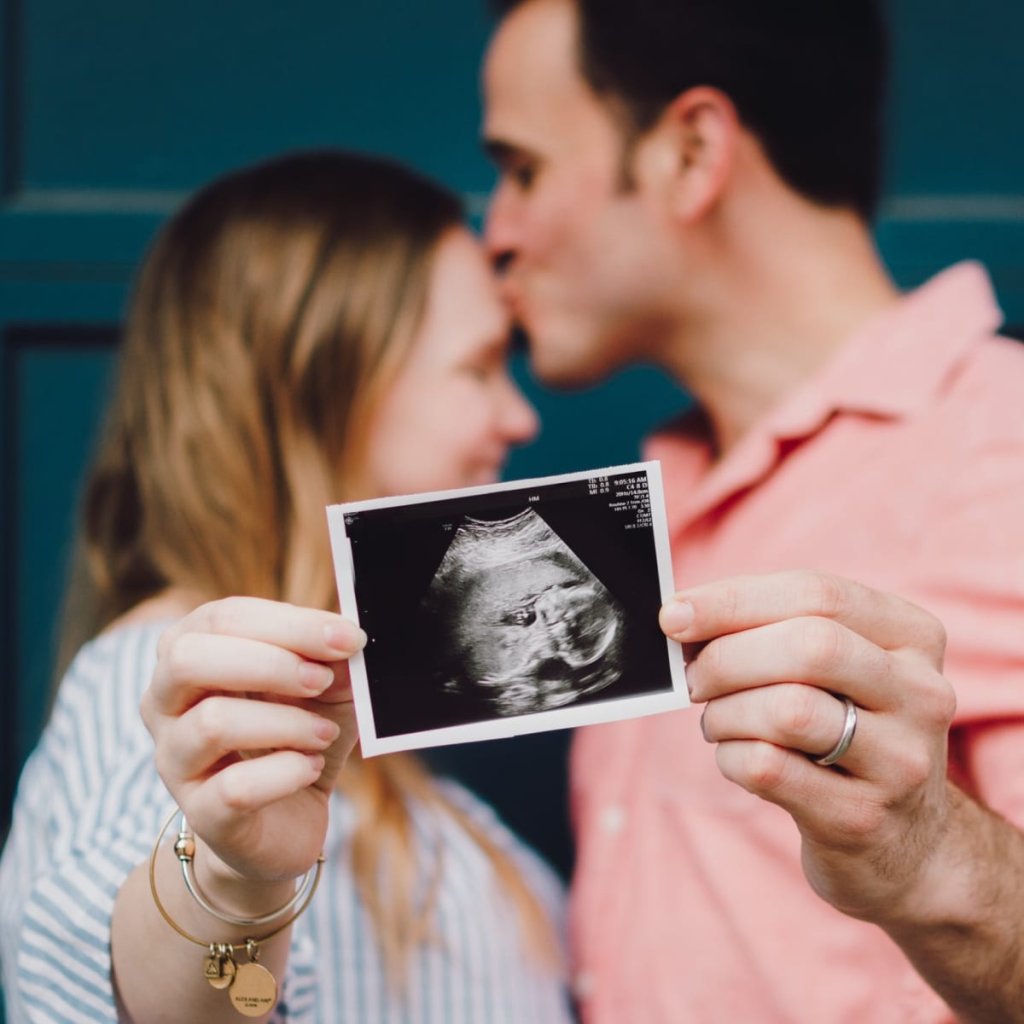 You can print out the sonogram and use it in different ways to get memorable photos. You can try quieter photoshoot ideas like taking photos of the sonogram and a collection of items in pink or blue. You can show the sonogram while standing in front of a beautiful background, such as party decor, outdoors, cutting a cake, etc.
You can also show the sonogram while using smoke bombs or during a Holi party which are the louder ideas! This way, your photo will have both good contrast and connection. Using sonograms is a classy method of revealing the gender of your baby, and they help you take striking photos also.
4. Let's Use Balloons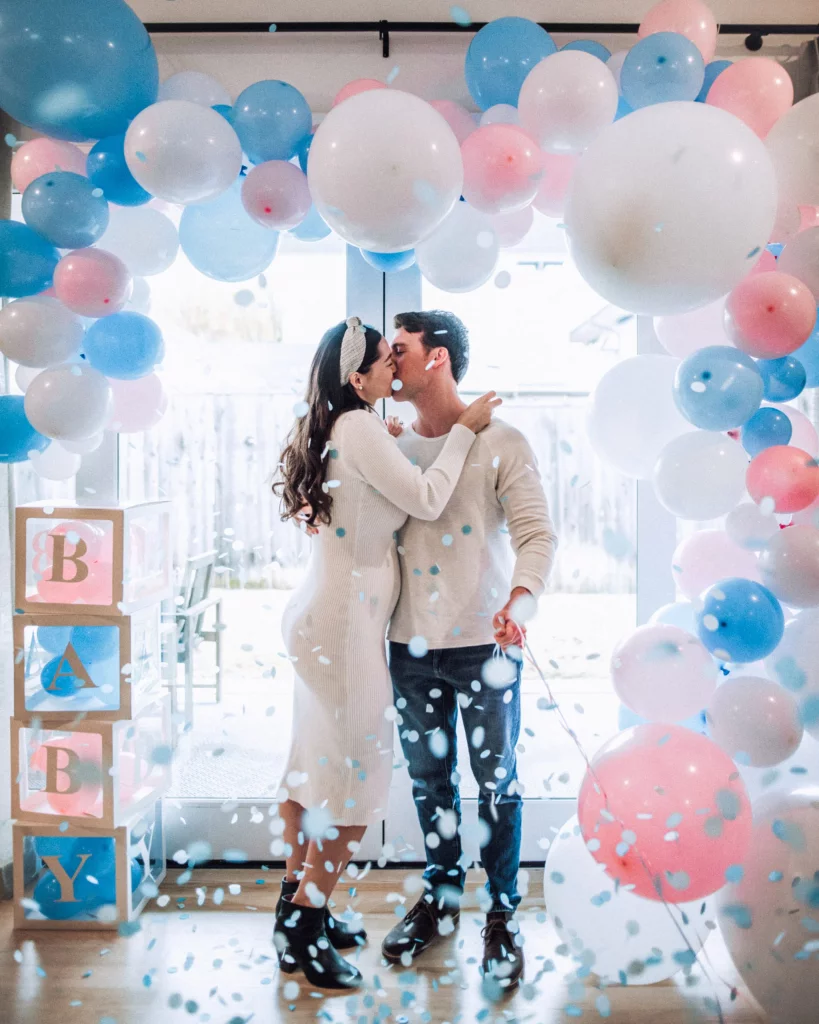 These balloons can be flown after you open the box or can be as part of your decor, but the first choice will be more fun to try! And the moments that you share with your loved ones as you open that box can be captured on the camera. These candid photos will make you smile for years to come.
Balloons can also be used in a more interesting way: fill these balloons with paint or powder that is pink or blue and throw darts at them till you find out the gender. These will also make for amazing photos. Balloons have no risk or health concerns whatsoever, so they might be a safer option while being an aesthetic prop for gender revealing as well. Balloons can be used in many ways, and they are versatile.
5. Revealing the Gender Through the Baby's Siblings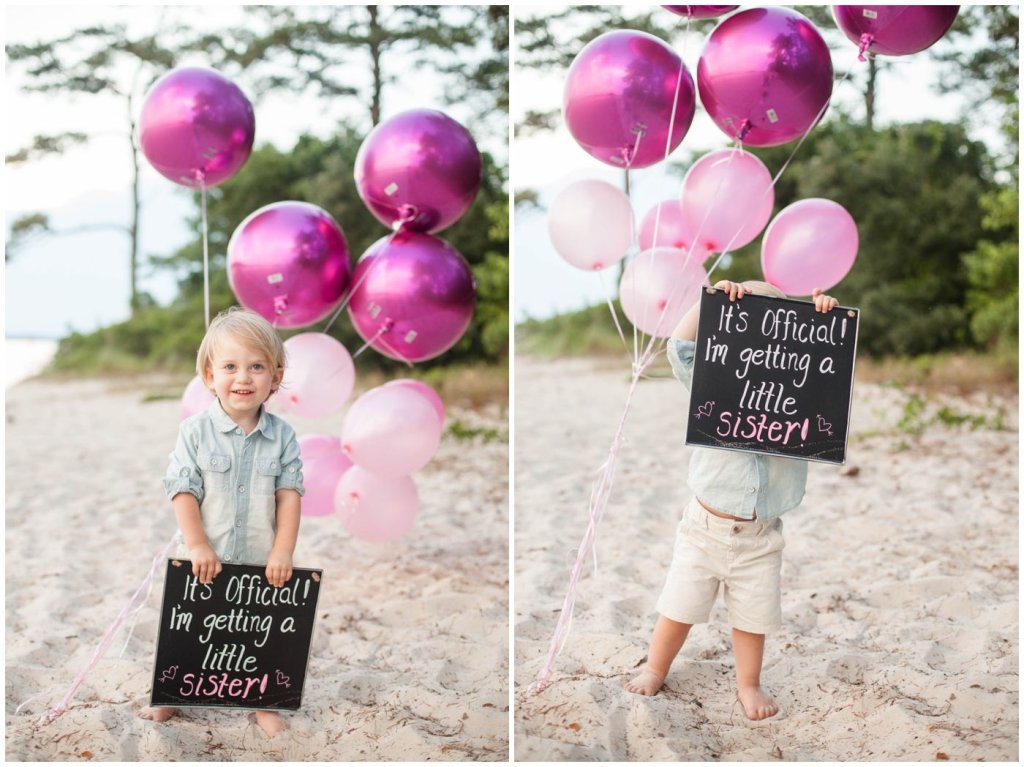 Siblings might be excited to welcome their brother or sister, and they will be very happy to be included in the process. And what better way to reveal the gender of the baby than by having the siblings do it? They can use balloons and let them fly, smoke bombs or paints can be used, or props like shoes or clothes in pink or blue will also work.
All these make for loving and warm gender-reveal photos that capture the love in the family. This way, in the photos, the father, mother, and siblings can together be the focus and welcome the newest addition to the family. However, this will only work if you already have children and this is at least your second pregnancy.
6. Having Pets Reveal the Gender of Your Baby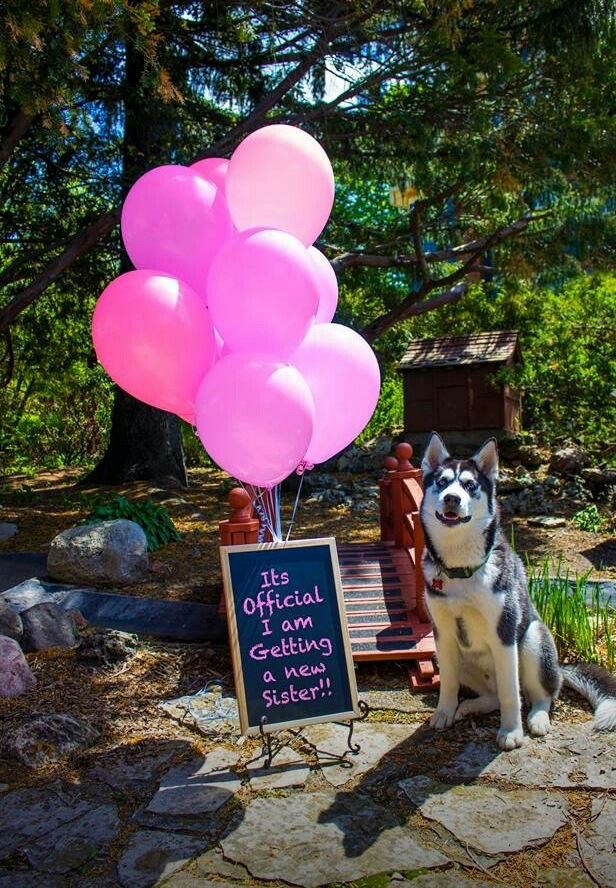 Pets are often regarded as children of the family, and they are often excited when others are excited. Pets show unconditional love to all the members of the family, and having them reveal the gender of the baby will be an interesting choice. The photos will turn out amazing, and it will not be an expensive idea to implement as well. Make sure the pet can carry the object without causing any harm. For instance, if you give them something edible that is colored (food coloring, of course), they might eat it before bringing it to you!
They can wear a T-shirt, bandana, medal, etc. Then you can have them run to you with the exciting news. This can be beautifully captured by the camera! Or you can have a full-fledged photoshoot with your pet revealing the gender to you and your family also. These will be one of the warmest announcing pregnancy photos ever.
7. Cut the Cake and Share Your Joy
Order a delicious and good-looking gender-reveal cake from your favorite local bakery by letting them know the gender beforehand. This is a great way for the couple to surprise each other if only one knows the gender of the baby or for the couple to surprise the rest of their loved ones after they know the gender.
The bakery can be given the envelope from the doctor without being opened, and the couple can be surprised as well. This is a beautiful way to reveal the gender of your baby, as your guests will enjoy and be actively part of the entire process as well. In addition, you can have colored cupcakes or cookies for your guests so that they get the excitement of finding out the gender of the baby! These moments captured will make you smile whenever you look at them!
8. Confetti Confessions of Baby's Gender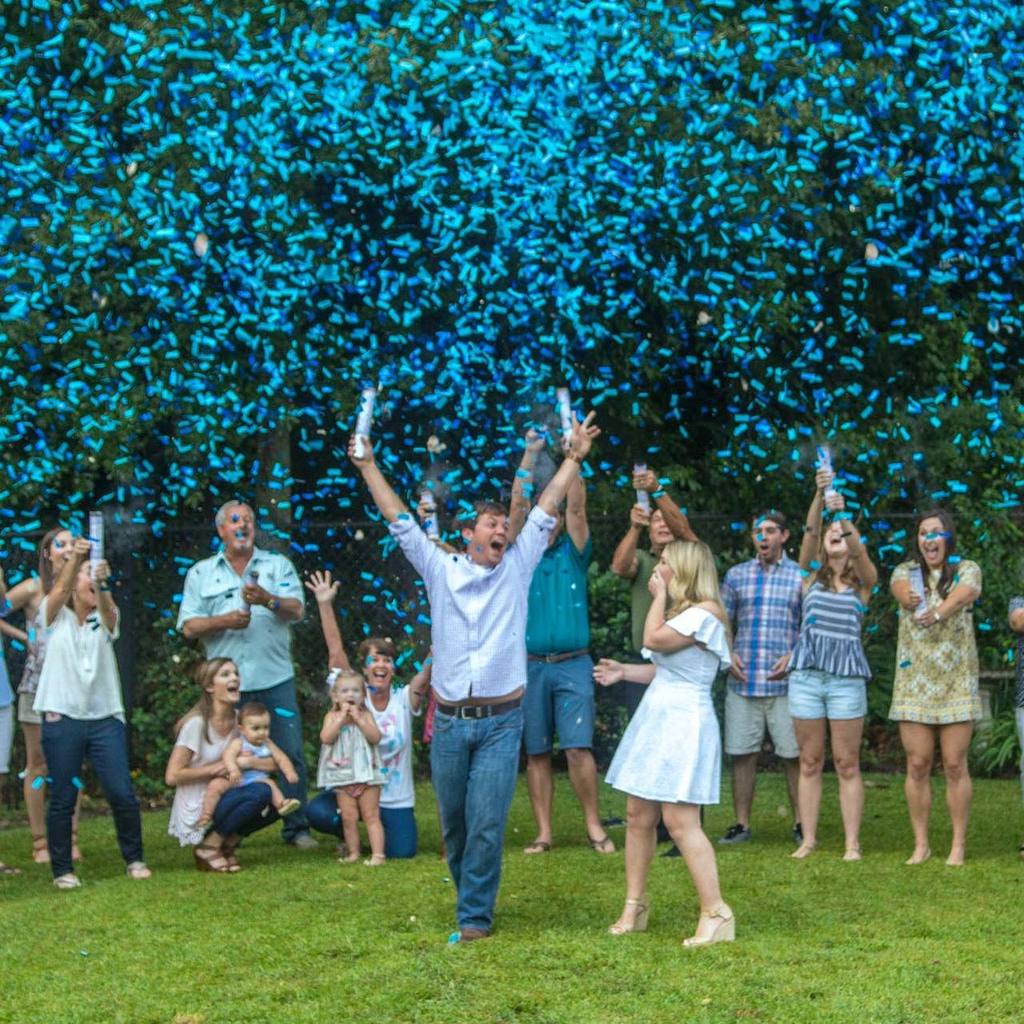 Confetti may be small bits of paper, but they make everyone happy. Confetti can be used in several ways to reveal the gender of your baby. For instance, you can use cannons/poppers with blue or pink confetti inside them. The photos will be amazing as the confetti will create a unique effect.
You can also use this separately with any of the other ideas mentioned except for the pet idea, as they might get scared or startled badly if you use poppers. This can be used separately in gender reveal photoshoots to give the photos a celebratory vibe.
9. Play Around with The Pinata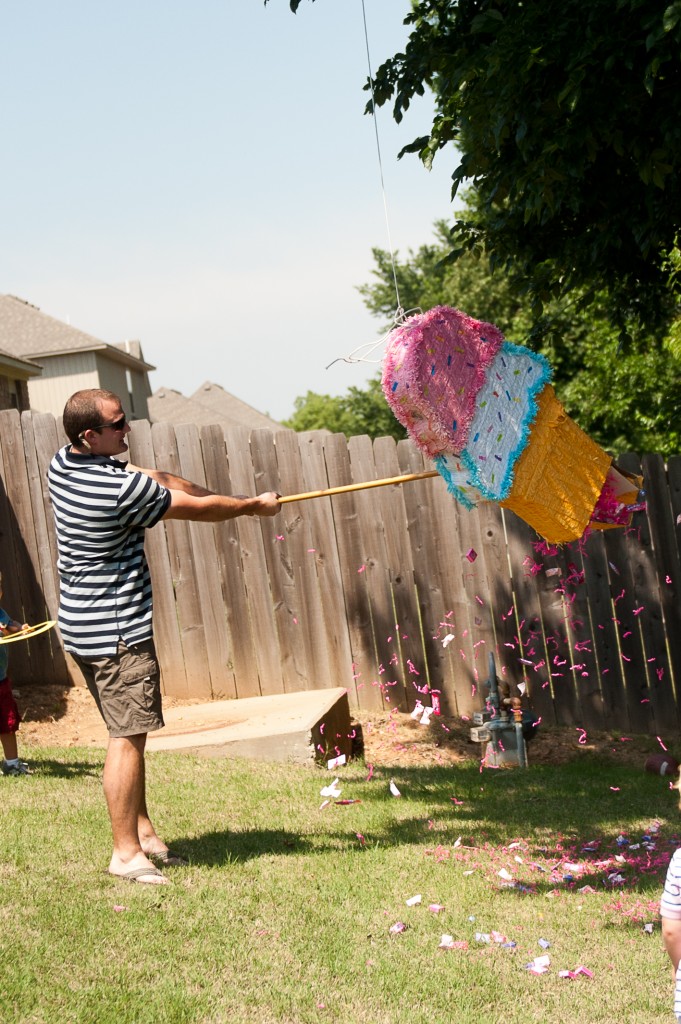 A piñata is a small animal toy that is hollow and filled with confetti, sweets, or chocolates that will be hung at a height. Children play this game where they are blindfolded, and they have to hit the piñata with a stick to be showered with what's inside. This is a beloved game that has been around for a long time, and this game is called 'Hit a piñata.'
You can try recreating this game at your party, but inside the piñata are the confetti or sweets that are colored according to the gender of your baby. This will be a very entertaining way to reveal gender and make for unique announcing pregnancy photos! The photos of this gender reveal party will be able to record the smiles and happiness on everyone's faces as the piñata opens and showers them!
Three Bonus Tips for Announcing Pregnancy Photos
10. Express Happiness Through Paint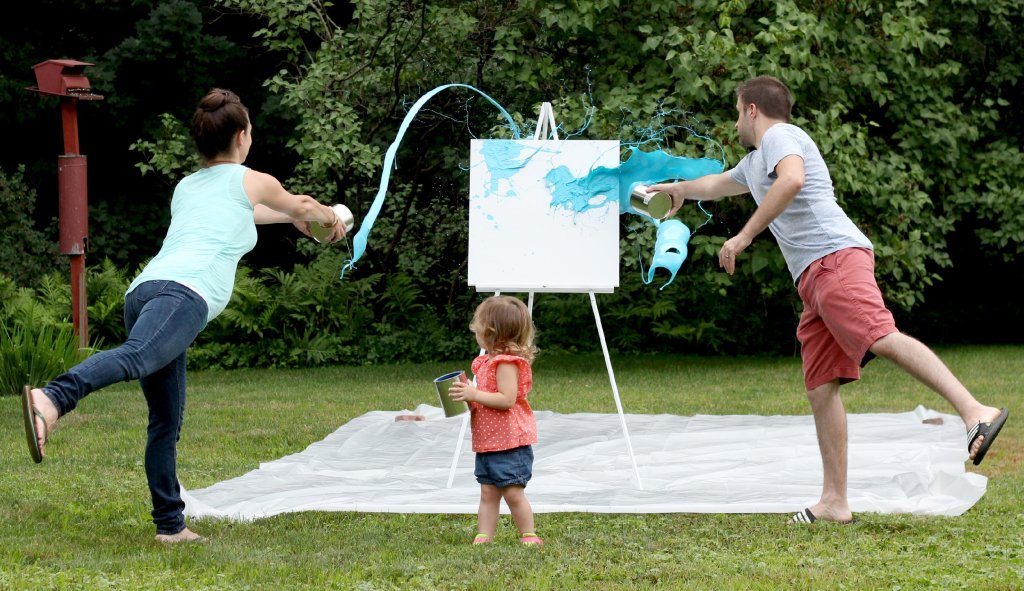 You can have your guests shoot paintballs at a canvas and see for themselves the gender of your child. This will definitely be a fun way to entertain your guests while getting amazing pictures! You can also have them pour paint while you stand under an umbrella, and the photos will capture your happy face.
11. Gender Reveal for Sports Fans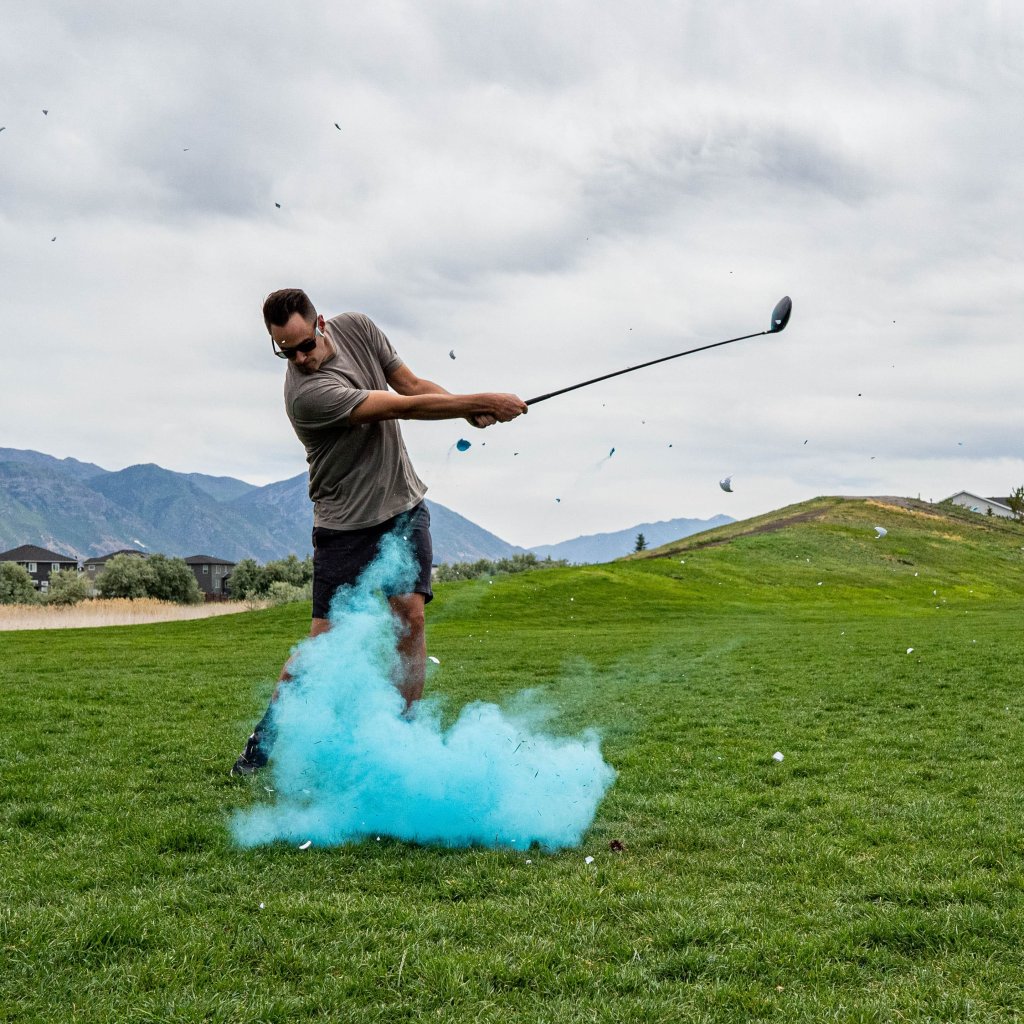 You can insert colored powder or confetti inside the ball and have a match with your loved ones. And once you hit the ball, the gender of your baby will be revealed! This is really fun for the parents-to-be as well as for the viewers.
12. Bubblegum and Lollipops
The bubblegum orlollipop will be wrapped and given to your loved ones. Once they open it, the gender of your baby will be revealed, and the excited reactions can be captured through the lens for you to cherish!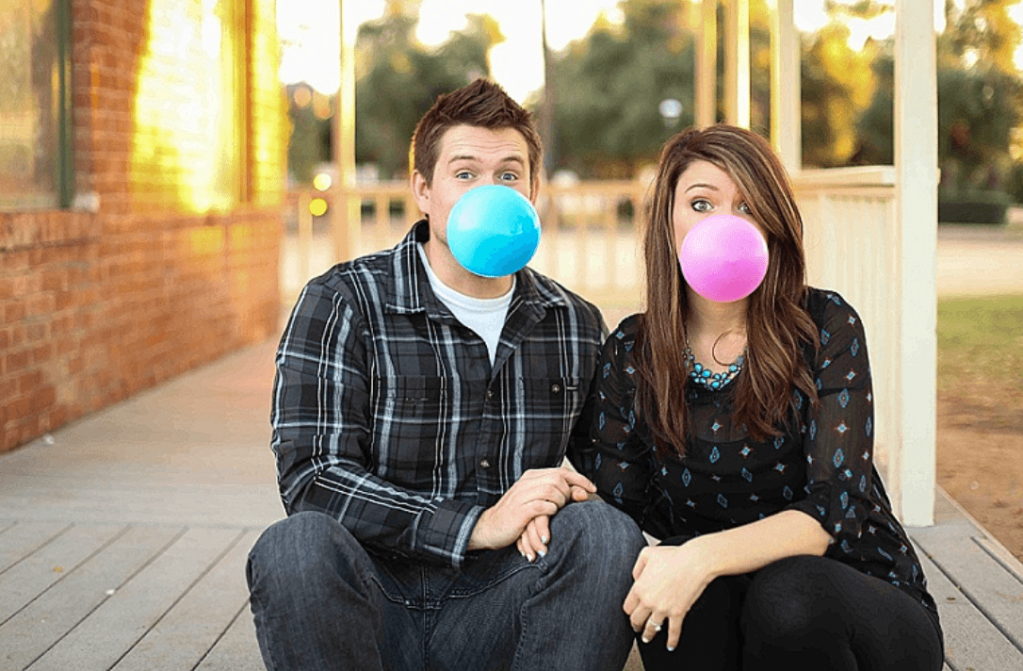 Gender reveal parties will always hold a special place in your heart, and what better way to remember this day than through memorable photographs that capture these special moments?
There are several ideas to do a gender reveal party, but we have compiled the best and most epic ideas for you to try. These ideas will not only work for gender reveal parties but also help to create amazing announcing pregnancy photos. Some of the ideas, like using balloons, paintballs, confetti, cutting a cake, and so on, will be entertaining to you and your loved ones.
You can share your joy with them if you implement one of these ideas. But since during pregnancy, the health of the mother is most important, the potential risks of these ideas are also mentioned so that you can make the best choice. If you tried one of these ideas, make sure to let us know!
Frequently Asked Questions
Are Gender Reveal Smoke Bombs Dangerous?
The short answer is they might be. Since there is smoke coming out of it, it may cause respiratory issues. But there are a few safe smoke bombs that might not irritate your airway in the market. But please do your research before using smoke bombs. Also, if you have pets or guests who have breathing issues, this may not be the best idea.
What Are Ways in Which I Can Use Confetti for a Gender Reveal Party?
Confetti makes everyone, regardless of their age, very happy. It makes us feel a child-like joy. You need first to find gender reveal confetti which is colored either blue or pink. So, you can use it in the form of cannons and poppers, or you can also put it inside a piñata and play a game to shower everyone in confetti.
Which Gender Reveal Idea Will Help Me Take the Best Photos?
There are different ideas that you can try, and almost all of these will lead to amazing pictures. The secret lies in who is taking the photo and how it is composed and edited. You need to plan the party in detail, and if all goes well, you can expect the photos to be very memorable!