Who does not want to look sexy in pictures? Getting that perfect sensual picture is a dream for many. Whether it may be for a professional purpose or just to impress your better half, DIY boudoir photography has become a part of life.
And although it is not the most talked about topic but we all may be guilty of indulging in it at some point. Both females and males alike can equally benefit as well as have fun clicking this style of pictures, but as easy as it sounds, boudoir photography can, at times, get a little overwhelming too.
Clicking sensual pictures is an art. Making the subject look sexy and not vulgar is a big challenge behind the camera while feeling comfortable and confident is yet another hurdle if you are in front of the came.
So here's presenting you some ideas to get the most out of yourself while you click those amazing sexy shots.
Creative DIY Boudoir Photography Ideas
1. Get Comfortable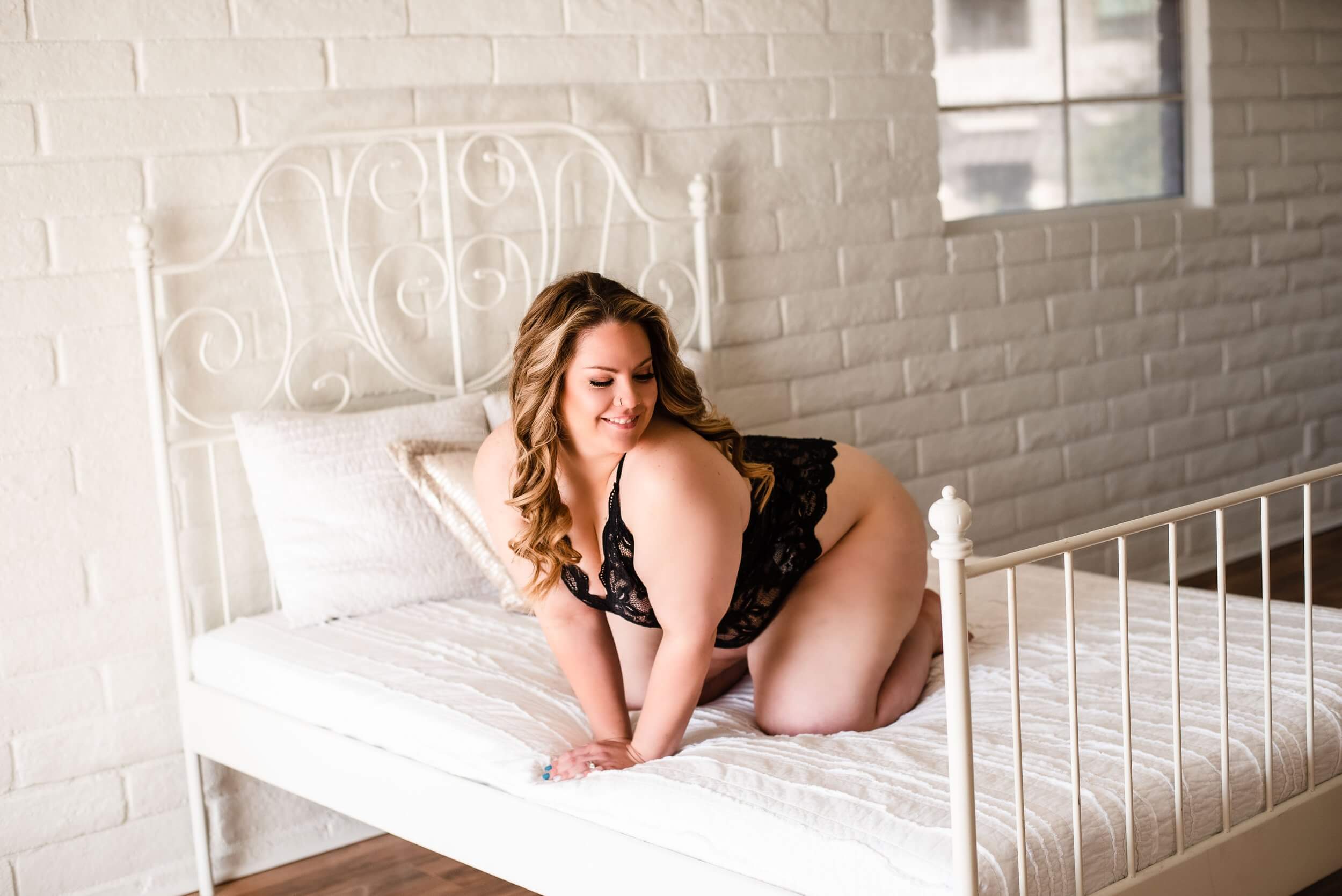 The first and foremost rule of boudoir photography would be to get at ease with yourself and your body. This will make you more comfortable in front of the camera too. Do not let the technicality of it all get under your skin. Keep in mind the purpose of the whole activity, and be it anything, understand that you are going to be the most important part of the picture. You will define the shot and not the other way around. So relax yourself, take a deep breath, and prepare your mind and body. Get comfy, and get confident. You do not need to do anything that you may not agree with. Just be yourself!
2. Keep It Fun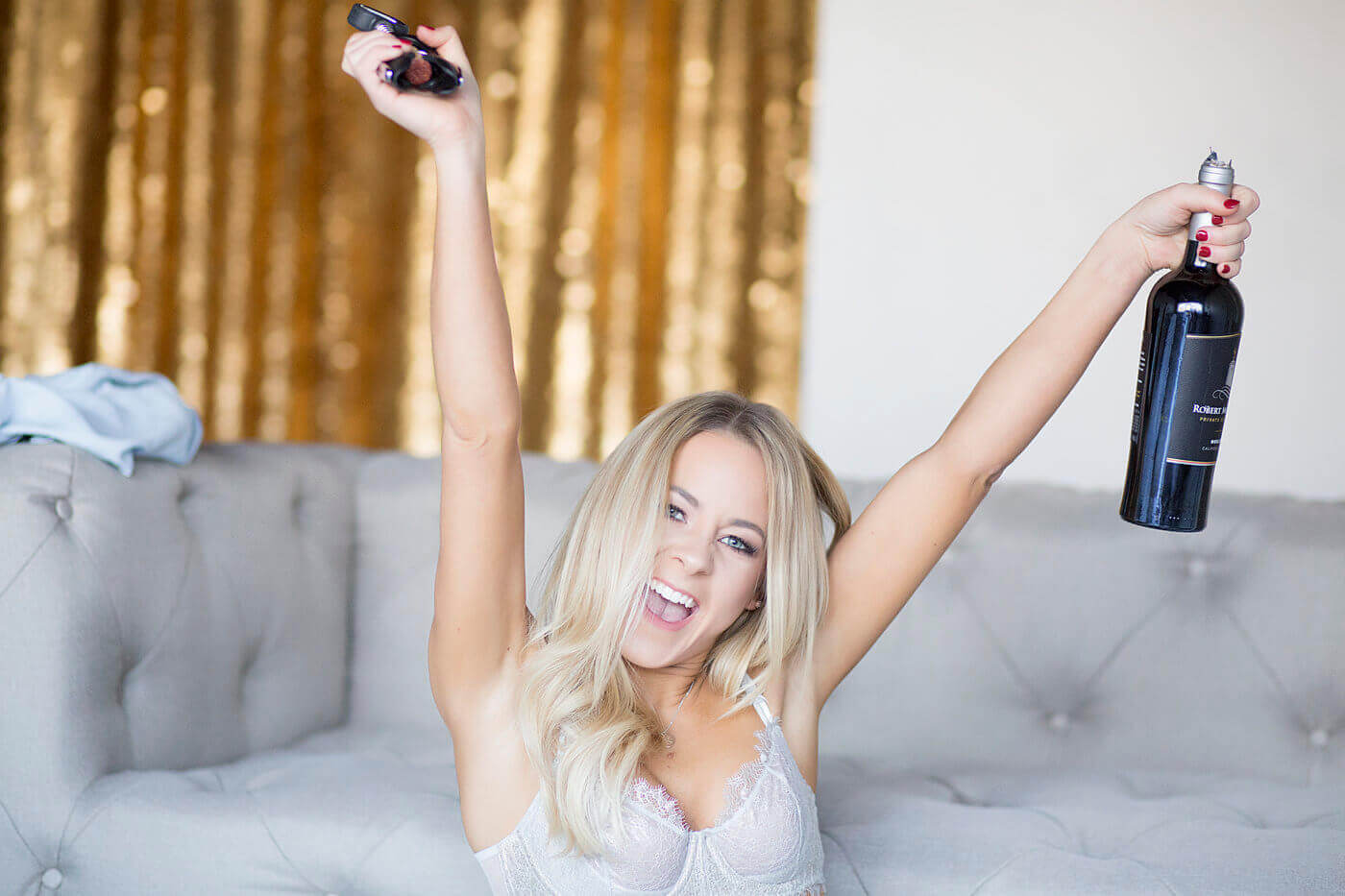 Photography may be a serious business for many, but what's the harm in keeping the atmosphere a bit lighter and bouncing things up just a little bit? You can try putting some light music to brighten up the mood of the model as well as the photographer. Try playing some games or just indulge in something you enjoy doing, like dancing or jumping around, singing some peppy songs, or just cracking some spontaneous joke. This will ease the pressure off you, especially if you are a rookie in front of the camera. You can also sip on some wine to loosen yourself up. Enjoy the experience as much as you can!
3. Light Light Baby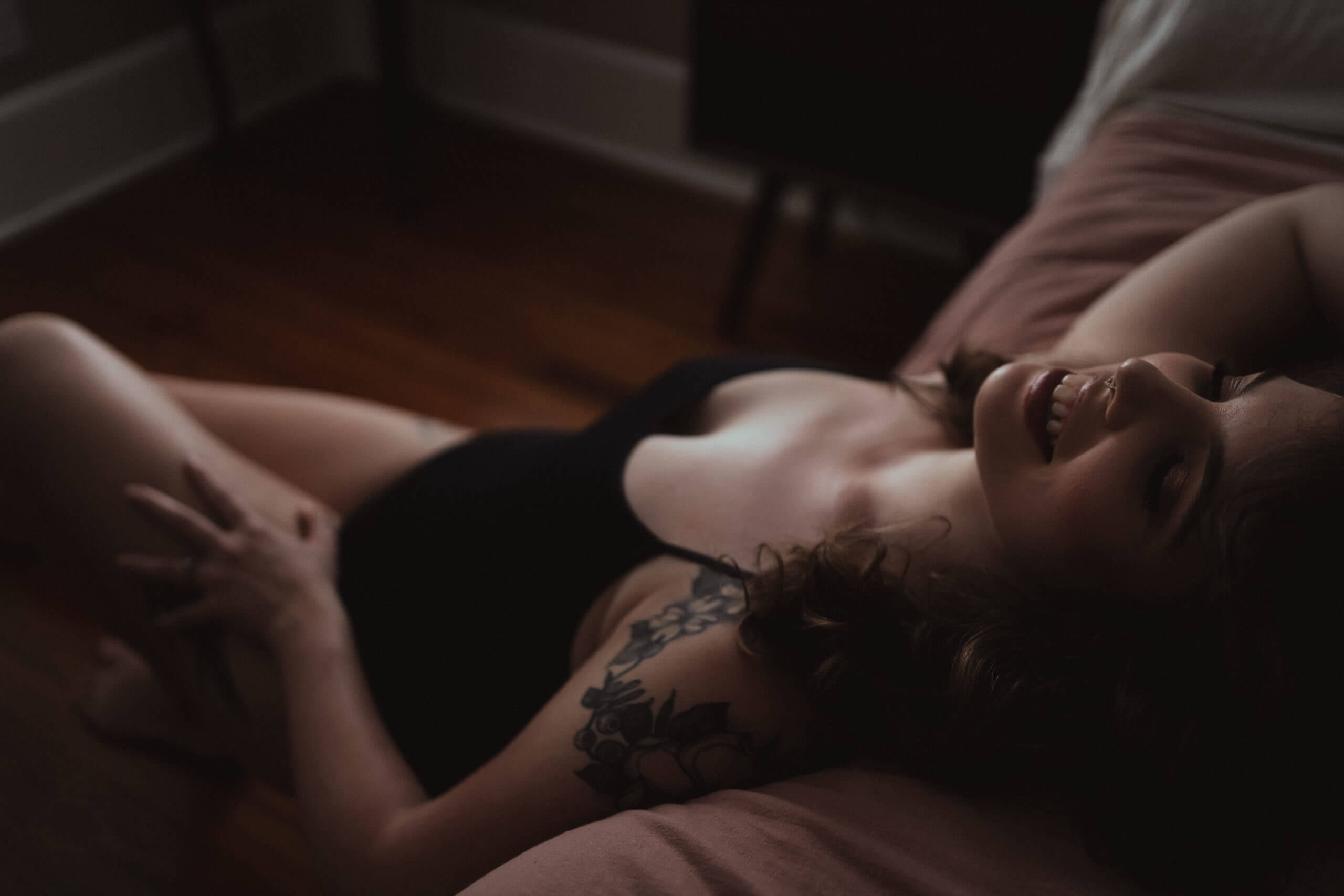 Choose the correct type and amount of light that will flatter your body. Play with the lighting depending on your settings. If you are going to shoot indoors, you can use the windows, and natural lighting will be sufficient. Also, keep the time of the day in mind while doing so. You can even focus the light on that part of your body you want to highlight and hide your little imperfections by shadowing it down. You can even invest in a ring light. Soft front lighting will hide your skin tone imperfections and make your skin look flawless. Silhouette photography can be best captured with backlighting, while light from the side enhances your shape and muscle curvature.
4. Prop It Up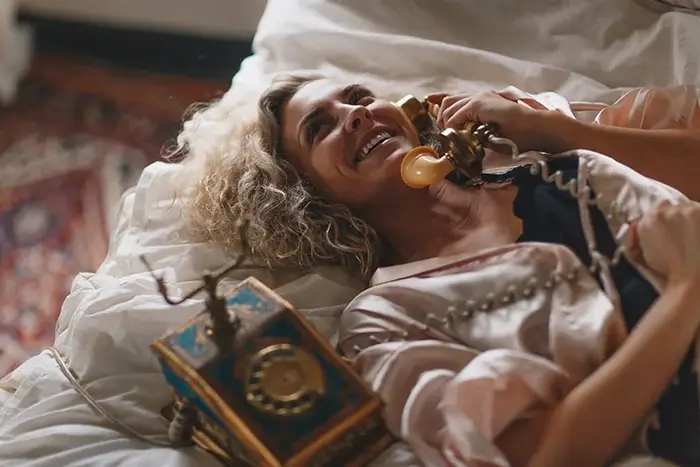 Props are the best tools to enhance your boudoir photography and elevate it to the next level. Choosing the props takes some effort, nevertheless. You want the prop to complement you and not hero your picture. You need to take care that the focus should not shift to the prop completely. You can select the prop according to the theme of your picture or use something that can justify your personality. Either way, it should blend in with the picture perfectly. The second aspect would be the number of props used. Keep the use of props to the bare minimum. A simple coffee mug, a book, or a fruit like a strawberry or even some chocolate can spice up your photography when used cleverly.
5. Little Details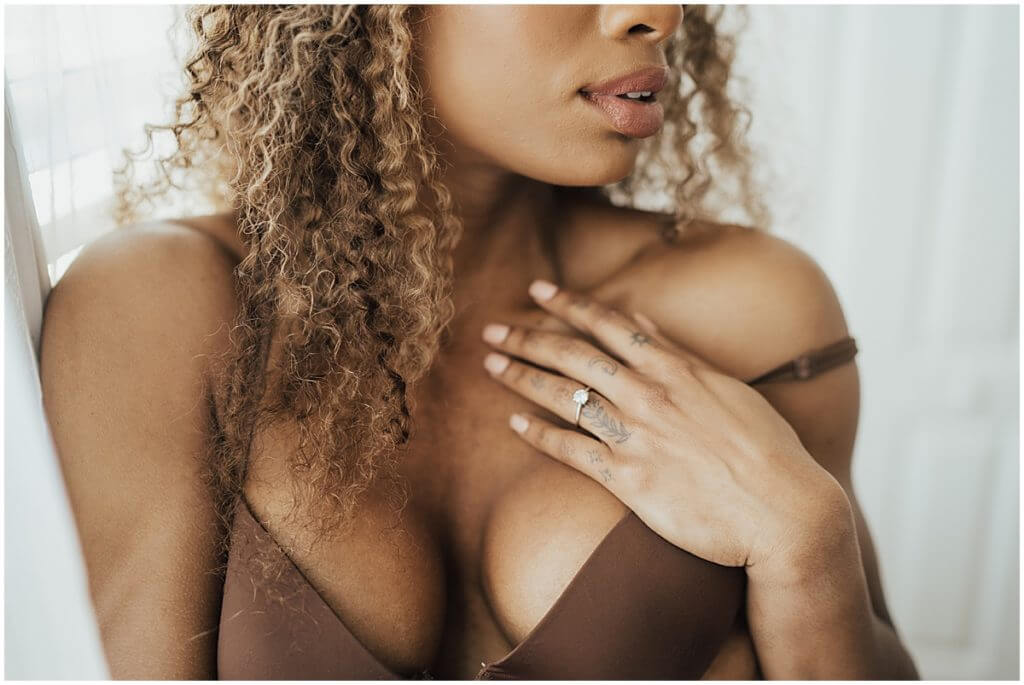 You need not take full-body shots while doing a boudoir shoot. And as many people think that the entire body should be visible in the picture, this is usually not the case. You can shift your attention to the little details of your body. From your abdomen to the curvy fingers with long nails or those sexy legs to the luscious locks. You can use whichever part of your body you feel the most confident about and click it in detail. Make it the subject of the picture. This idea works excellently for those who want to do boudoir photography but may be shy facing the camera themselves. Now that your facial expressions are not visible, capturing the details would become easier.
6. Accessorize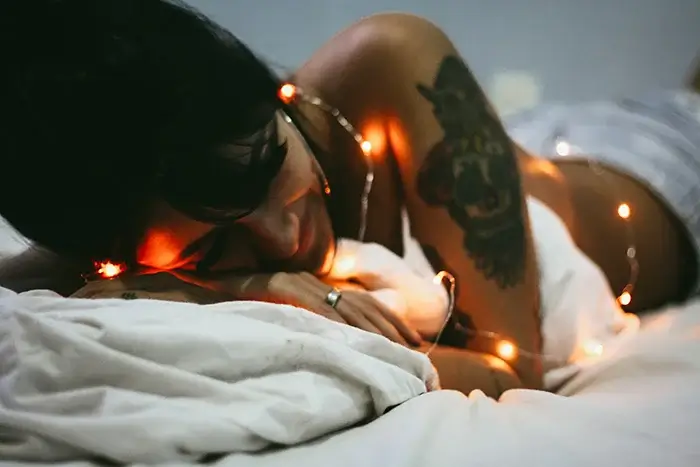 Accessories can become the central theme of your boudoir photography. Like props, keep them minimal. You can even use them to grab attention to the details mentioned above. Accessories like a pair of heels can accentuate your calves and make the picture ooze out oomph! Jewellery can also be used in the same manner. You can use a wide spectrum of accessories from stockings, belts, and eyeglasses to even hats and ties and click impressive boudoir pictures. The tone and color of the accessories can help in enhancing your photograph.
7. Fit Your Outfit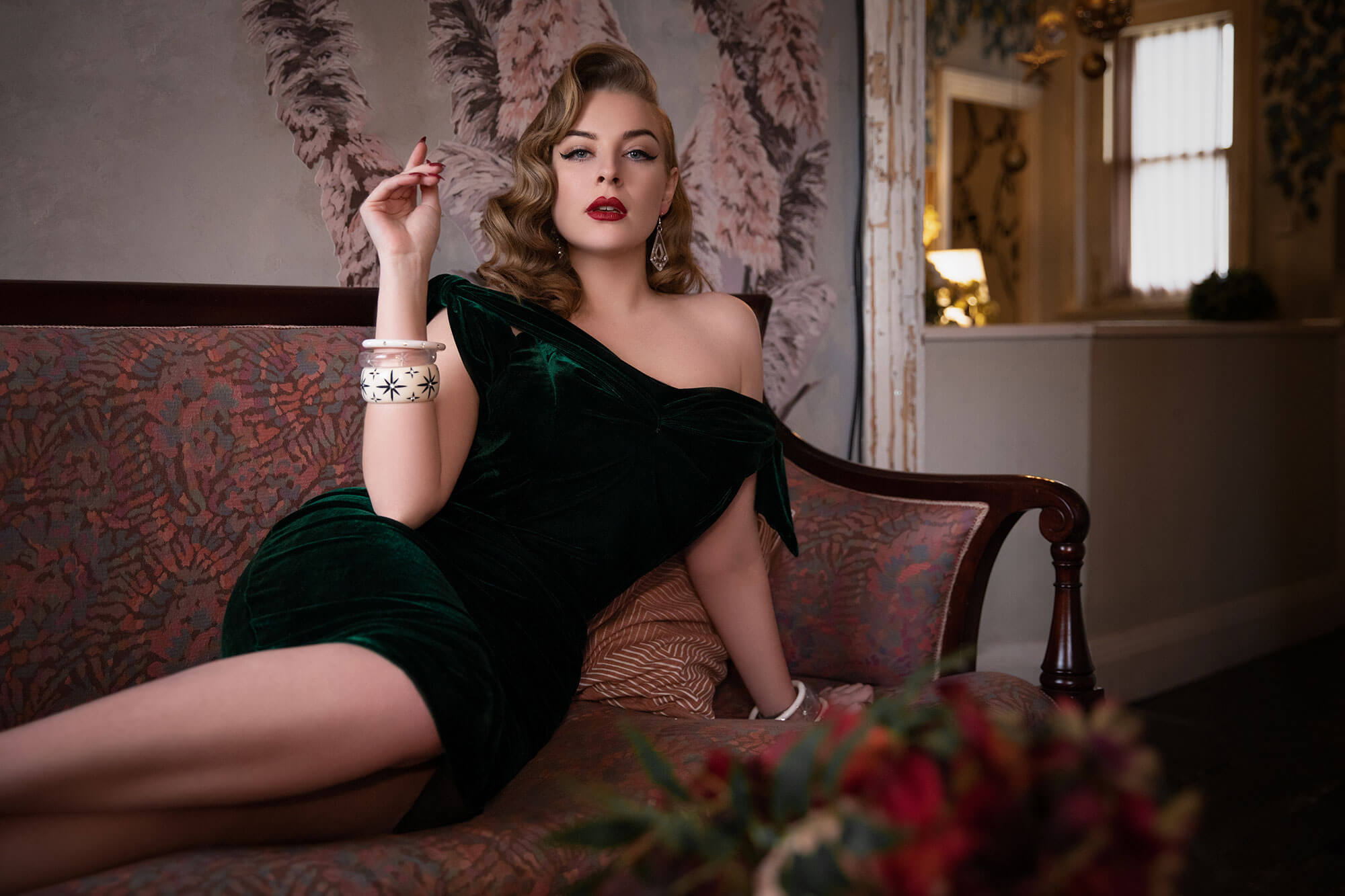 To begin with, you can either choose whether you want to wear an outfit or not. If yes, your outfits for DIY boudoir photography may not be restricted only to lingerie. You can go well beyond your imagination and create your own outfit. Let your creative juices flow and DIY your outfits too. You can use things like towels and bathrobes. Also, the outsit may not always be revealing. Something like a deep neck t-shirt can also be used. You can even experiment with swimming suits and trunks. Always remember the first thumb rule while going for an outfit for a DIY boudoir photo shoot. Keep it comfortable.
8. Get Your Partner Involved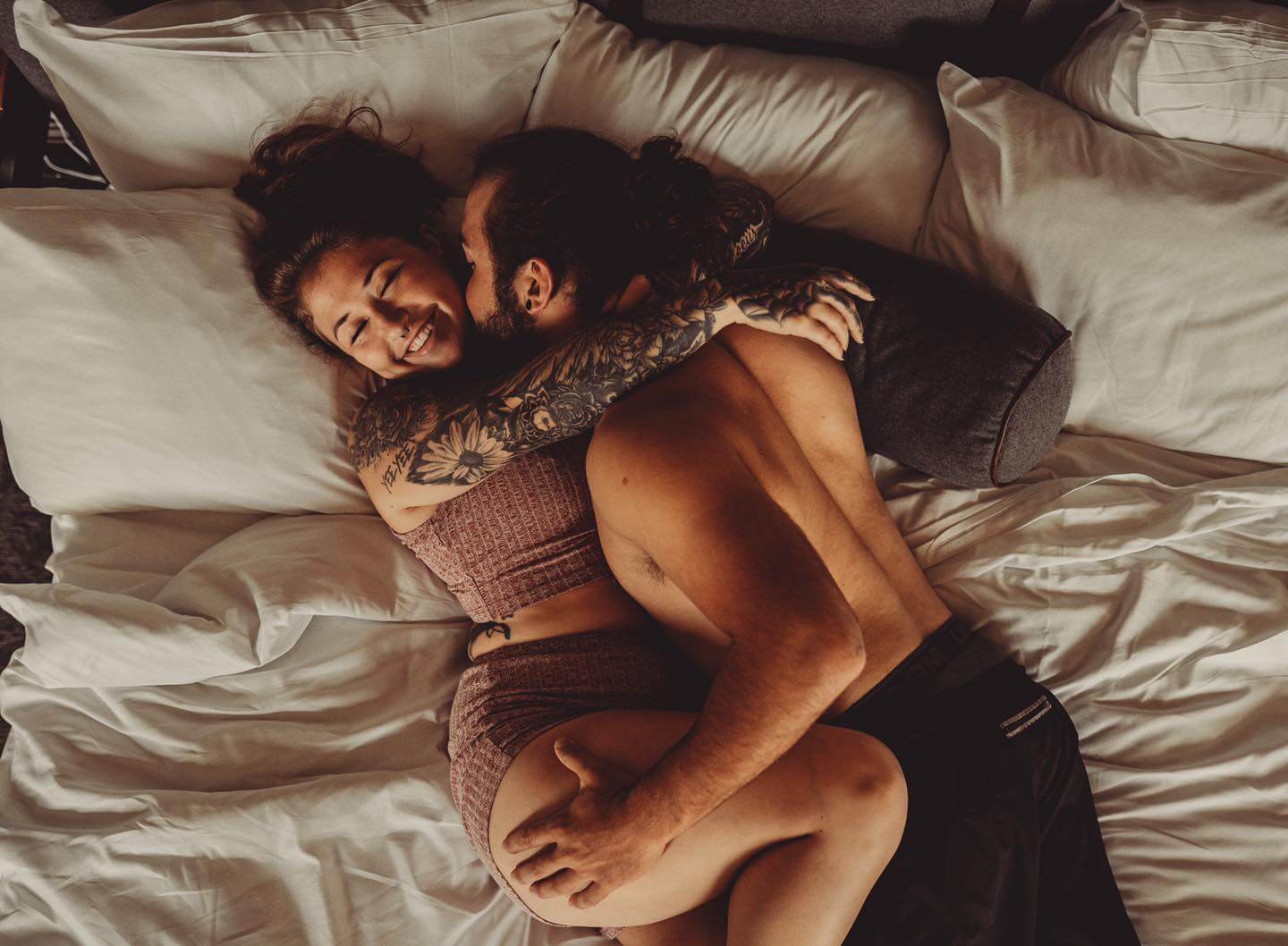 DIY boudoir photography can become more interesting if you rope in your partner too. You can not only spend some quality time with each other but also bond and get to know each other better physically as well as mentally. You can have a moment for yourself and also understand what the other person likes about you and want to see more. Talk openly and honestly to each other before starting the photoshoot, and be open to creative suggestions. It may not be easy to find the perfect flattering body always, and that is ok!
9. Correct Backdrop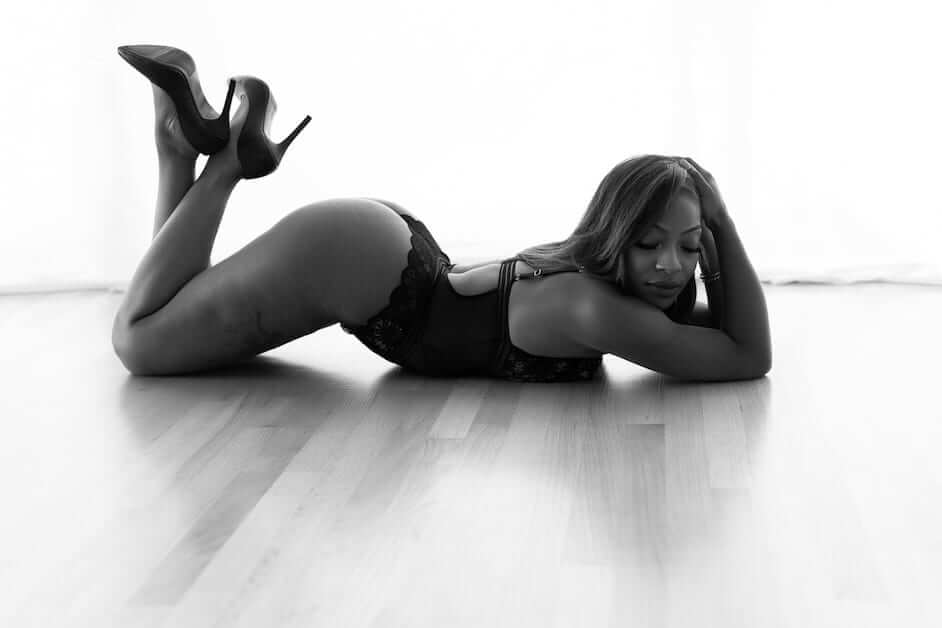 While clicking DIY boudoir pictures, it is easy to forget about the background, so it is usually messy and cluttered. Your pictures may not look good with a messy background, and hence you need to pay special attention to the same. You can use curtains or bedsheets to create an aesthetic backdrop. A natural backdrop like that of the sand or grass in the midst of nature looks appealing too. Keep the colors neutral to again avoiding the focus shift from you to the backdrop itself. You can even play around with the texture of the background. Click a few images and choose the one that suits your needs. Keep it simple. You can also move around the house to change the backdrop. From the balcony to the kitchen, you can use the background to set the theme of your DIY boudoir photography.
10. Tripod and Remote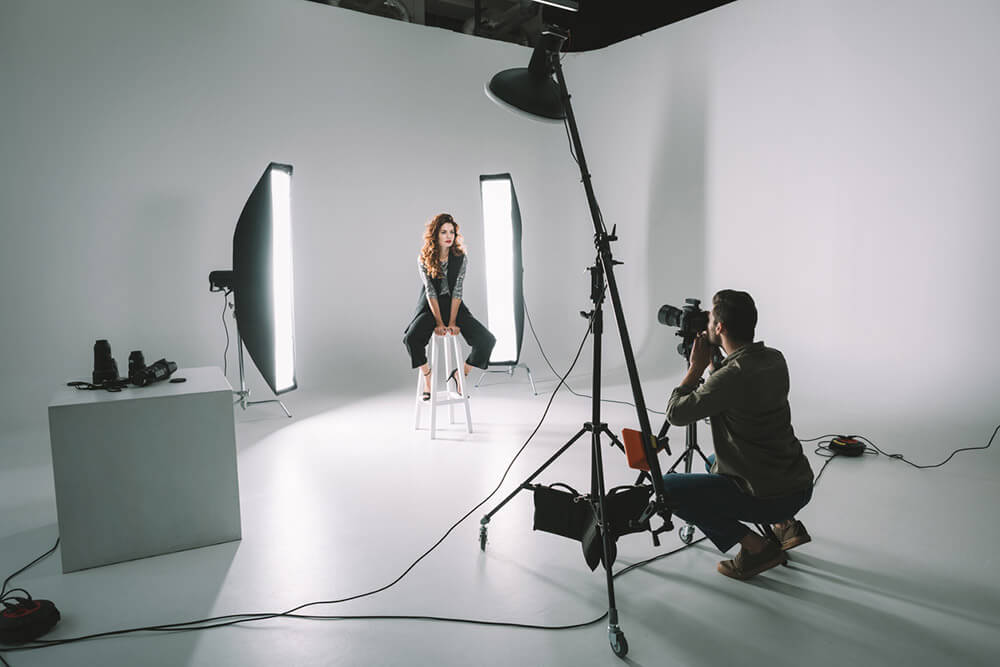 You will be clicking your own pictures, and hence you may need something to hold your camera with. A sturdy tripod may just be an answer. If you are using your phone, you can even try a selfie stick, but this may restrict some of your angles, and you can use only one hand while taking the pictures. Nowadays, there are tripods in the market which can mount your phones too. These can be a safer bet. Along with a tripod, you can even invest in a remote. You may have a timer on your phone, but it will definitely become inconvenient when you are clicking on your own. Get a remote, and you do not have you hurry with setting the timer and wasting your time to come and pose. You take your time to decide on the pose. Clicking a silhouette can become much simpler with the remote. A tripod and a remote will surely make life easier for you. Just make sure you hide the remorse while clicking the picture!
11. Pose, Pose, Pose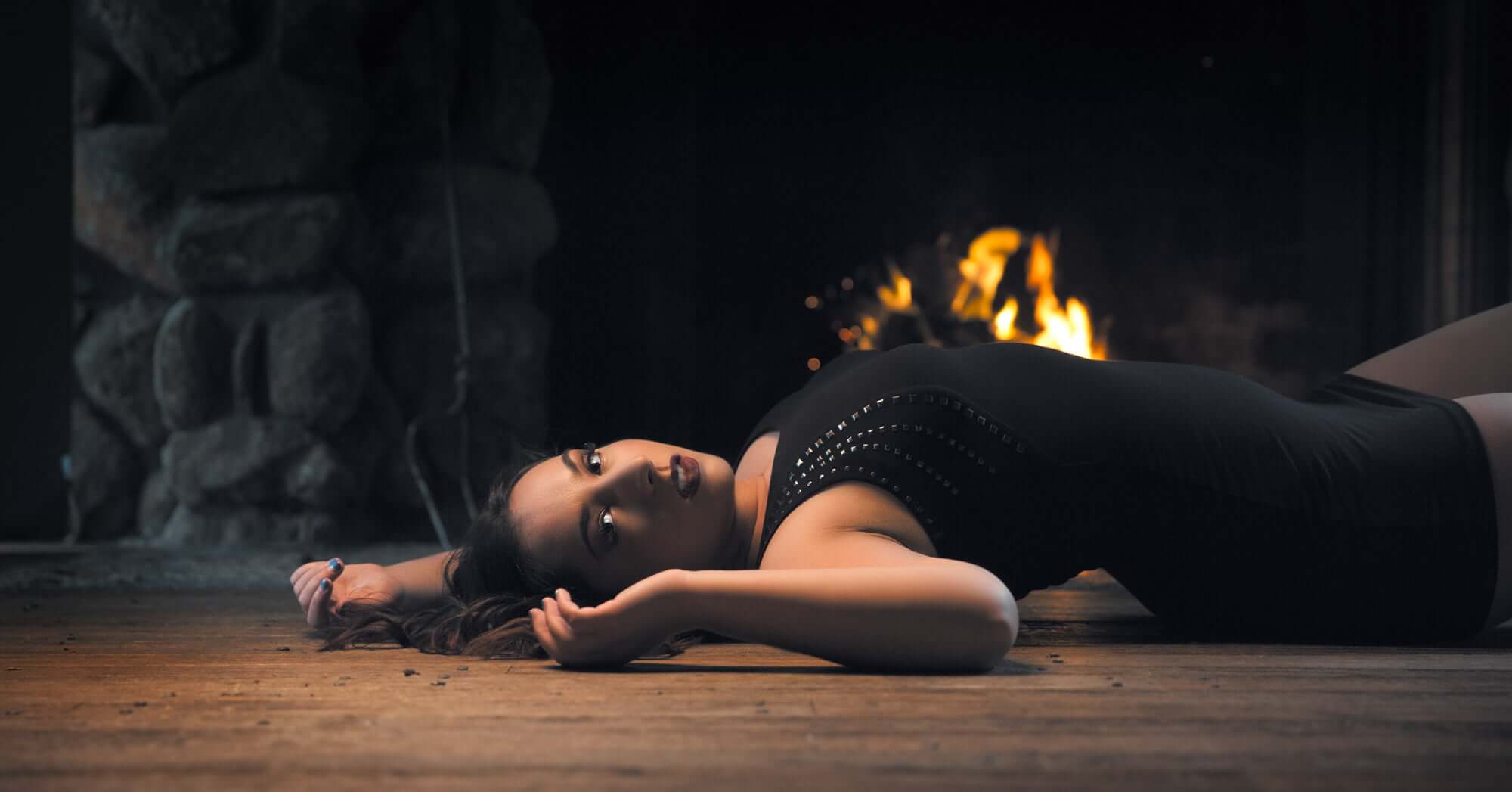 "
Find references for your poses. You can take inspiration from your favorite Hollywood actors for the same. Google a few poses. There are numerous ideas on sites like Pinterest too. Make sure you do some research as to how to pose for DIY boudoir photography. Also, understand your body's strengths and weaknesses and pose in such a manner that you highlight the most flattering aspect of your body. Try practicing the poses before you get into the actual act. Go in front of the mirror and see yourself get into the pose. This will also make you understand what pose works best for you. You can also try touching the different parts of your body. This will make you more confident too.
12. Hair and Makeup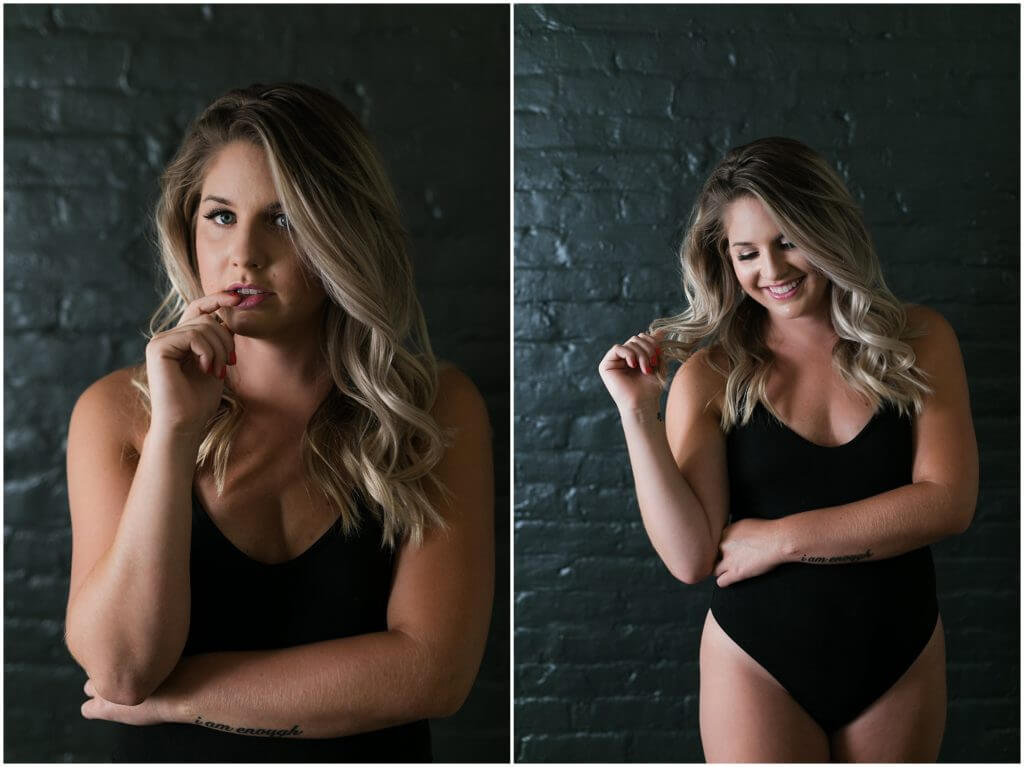 Practice your hair and make-up beforehand. You can hire a professional makeup artist for the same. If not, you can also keep it simple and do it yourself, provided you know what looks the best on you. Makeup should be such that it looks natural and not over the top. For the hair, you can have the option of letting it flow or tying it up in a messy knot. You can even experiment with your hair color and go from blond to brunette and vice versa. You can get yourself a haircut before the shoot or, like a makeup artist, hire a hairstylist to do the same for you.
13. Snip It Up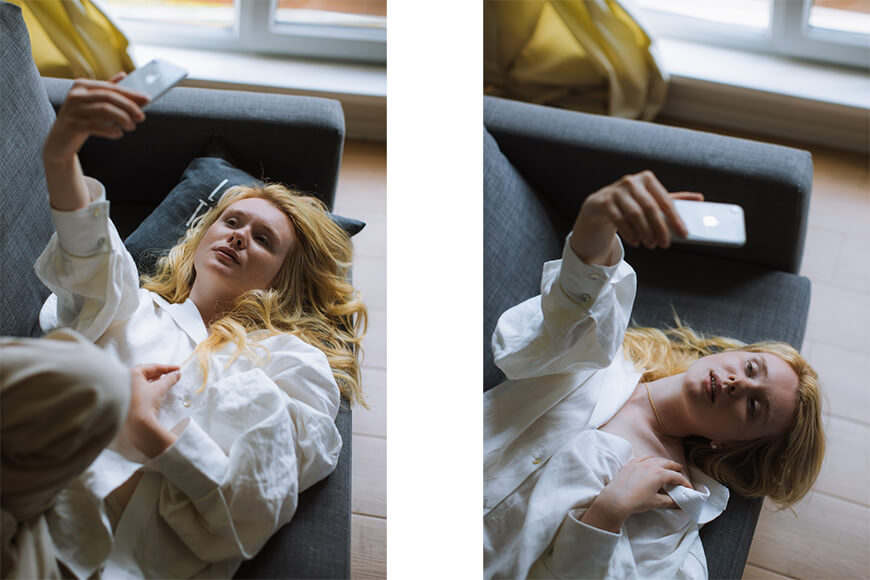 Nowadays, pictures can be edited on the go. You can edit the DIY boudoir photos using various mobile phone applications. You can smoothen and even the skin tones and also edit imperfections. You can crop the unnecessary details from the background or remove unwanted items too. You can even change the color and contrast settings f the pictures as and how you feel good. Apart from this, you can also hire a professional editor who can do these things for you. Always remember to hire a professional who you can trust with the job.
14. Mirror on The Wall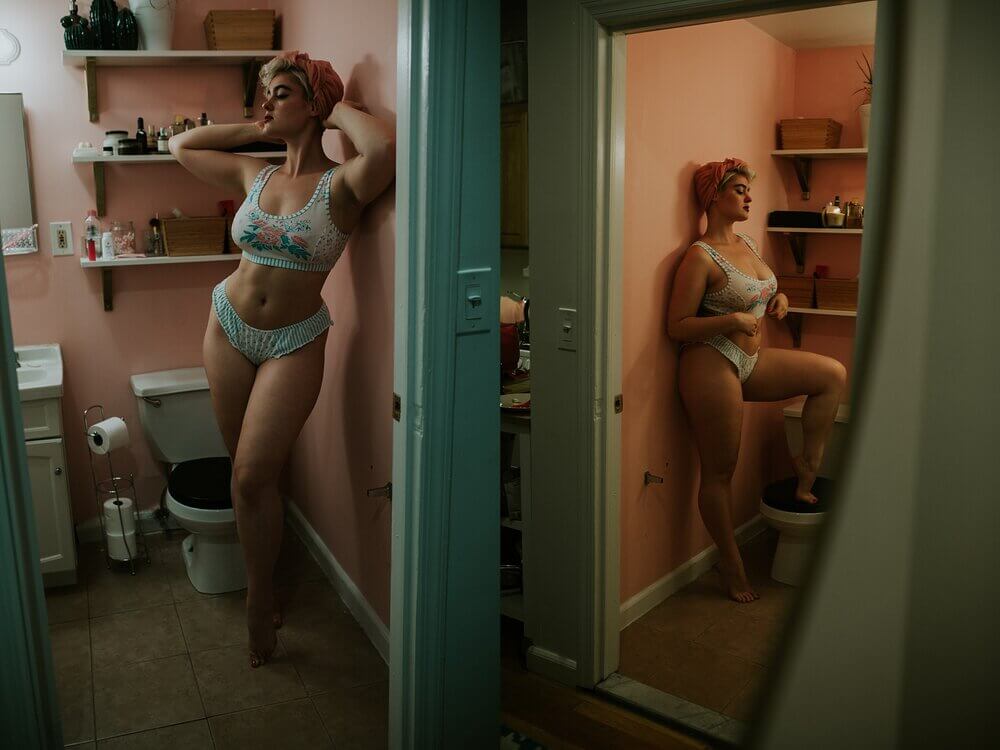 Using mirrors and clicking mirror images can make your DIY boudoir photography more interesting. Mirrors add an extra element to the photograph. Reflections can make you look more aesthetic and accentuate your body parts. You can try using a big wall mirror or smaller mirrors at different angles to give depth to the picture. Mirrors also add an element of reflectivity and will help you focus your light under conditions where the lighting is insufficient. Try different arrangements of the mirrors to bring out the most aesthetic parts of your body in the DIY boudoir pictures.
15. Tell Your Tale
You can choose a theme for your DIY boudoir pictures. It may range from modern to vintage according to a time series or have a thematic color. You can tell your story with diy boudoir photography. Props will help you with that too. You can re-create those intimate moments with your partner, which may have been milestones in your lives, like your first kiss, the first time he proposed, or the first night of your wedding. DIY boudoir photography can become an excellent manner in which you can fulfill your fantasies and also those of your partners.
Final Thoughts
DIY boudoir photography can become a very satisfying and enjoyable experience if you make it so. It does not need some fancy equipment or a complicated setup. You can keep it simple but classy at the same time. It is all about the attitude and your outlook towards yourself. Once you get comfortable, then there is no looking back at all.
Surely you will not just capture moments but also create memories along with boosting your self-confidence and self-esteem likewise. It can also act as a stress buster and get that adrenaline flowing. Not just this, if you involve your partner, DIY boudoir photography can also become something you can bond on and look forward to for these sessions. You can make your own personalized album and gift it to your significant other. Make them go crazy for you and vice versa.
So what are you waiting for? Get clicking!