Earlier this year, DJI released their much-awaited drone, the Mini 3 Pro, and it garnered very good reviews. It was aimed at more experienced flyers and content creators with some impressive technology. But at what cost? The Mini 3 Pro surely would burn big holes in the pocket, especially if you were new to this world and just starting your piloting journey.
The base price got pretty hefty and so the Mini Pro 3 could not be called a budget or entry-level drone. Step in the new DJI Mini 3, which has features very similar compared to the pro, and boy, the holes in the pocket become considerably smaller. This compact Mini 3 version is a wonder in itself for those in search of a quality drone for beginners on a budget.
This blog gives you an in-depth overview of the DJI Mini 3 with its specifications, promising features you should look out for as well as limitations.
DJI Mini 3: Strengths and Weaknesses
Strengths
Under 250 grams weight
Prolonged battery life
True vertical shooting
Intelligent features
Weaknesses
No Timelapse feature
No collision avoidance
No subject tracking
Overview of The Dji Mini 3
The DJI Mini 3 comes as a completely folded up, compact drone with a dimension of 148×90×62mm folded and 251×362×72mm unfolded. The bottom legs open forwards while the top arms open behind. The ultra-lightweight range of sub 250 grams and the foldable design makes this drone always ready to go with you on whichever adventure you decide. Whether it is an elaborate family vacation or just a quiet evening in your backyard, the DJI Mini 3 will fulfill most of your requirements.
1. Controllers Options for DJI Mini 3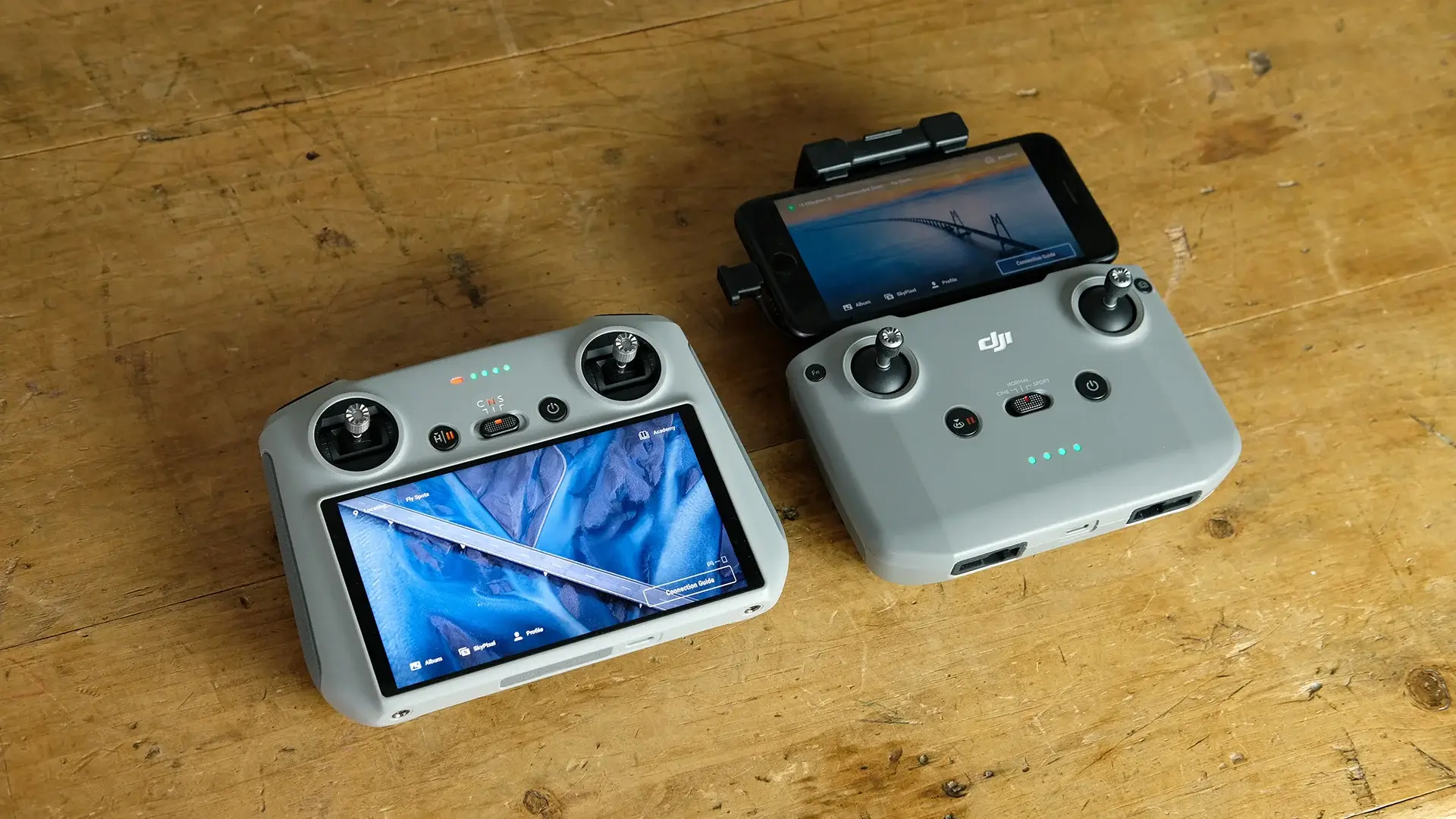 You can choose between two controller options for the DJI Mini 3. The DJI RC-N1controller is a part of the less expensive kit, a standard model in which you can attach your smartphone to the telescopic phone holder on top of the controller to access the drone and camera settings as well as view the feed.
DJI RC Smart Controller is the higher and more expensive version of the controllers having a 5.5-inch touch screen with 700-NIT brightness. You have to connect this with your mobile phone's wifi hotspot to use maps, but it is not very convenient in utility if you go to see it as a whole.
2. Battery Life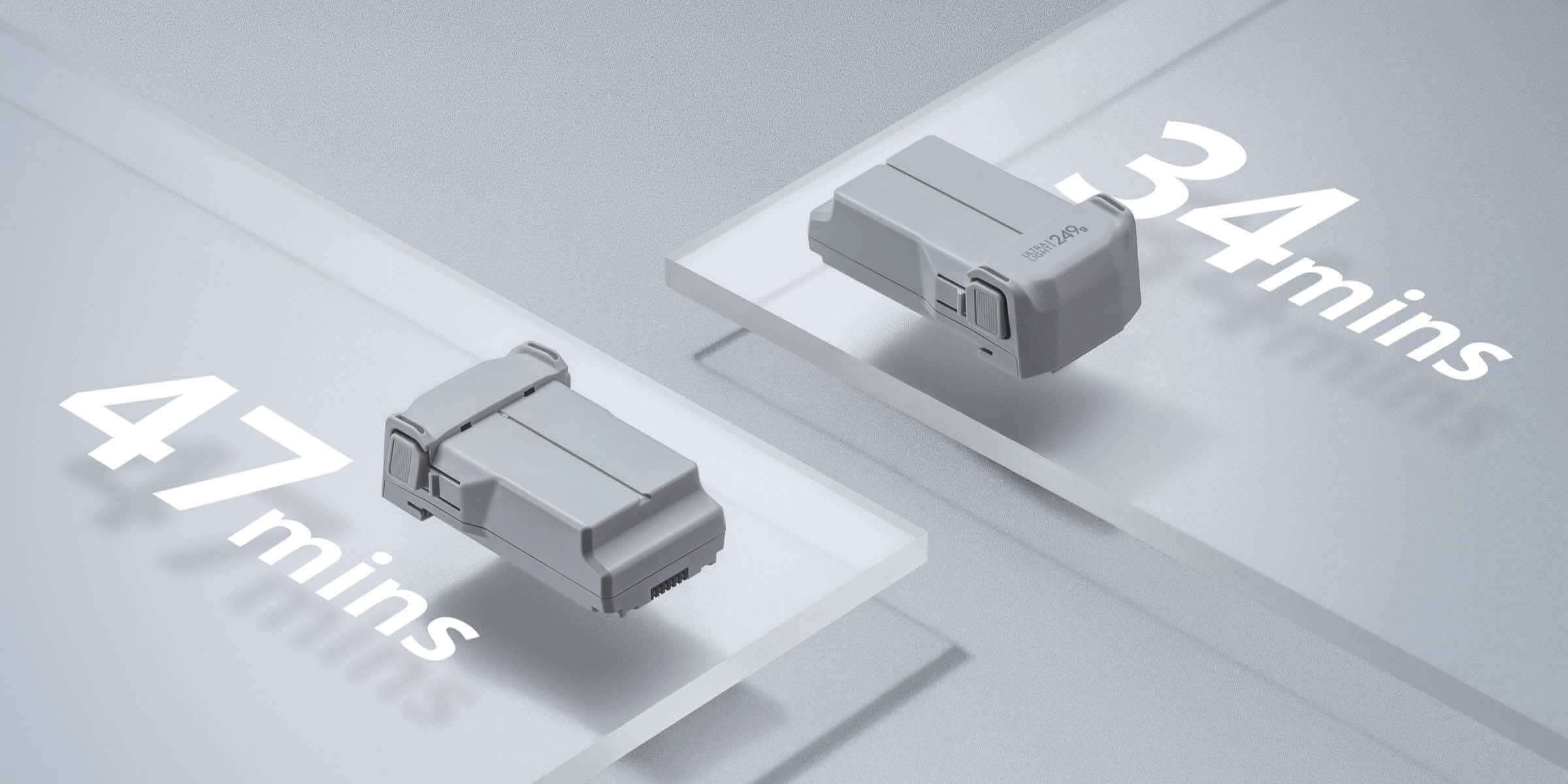 The Mini 3 has a USB-C port on the back to handle charging. The SD card slot supporting up to 256GB cards also resides here. Underneath these two sits the removable rechargeable battery. The remaining battery capacity is indicated via four green lights.
Similar to the controllers, the DJI Mini 30 gives options for the battery too. It originally ships with a lightweight 2453 mAh Li-ion Intelligent Flight Battery that's good for up to 38 minutes of flight time. The Intelligent Flight 3850 mAh Li-ion Plus Battery pushes the airtime to a whopping 51 minutes. The weather conditions in which the drone is used affect the battery life as well. Flying against the wind or leaning heavily on the high-speed Sport mode will reduce the battery life.
3. Camera, Picture, and Video Quality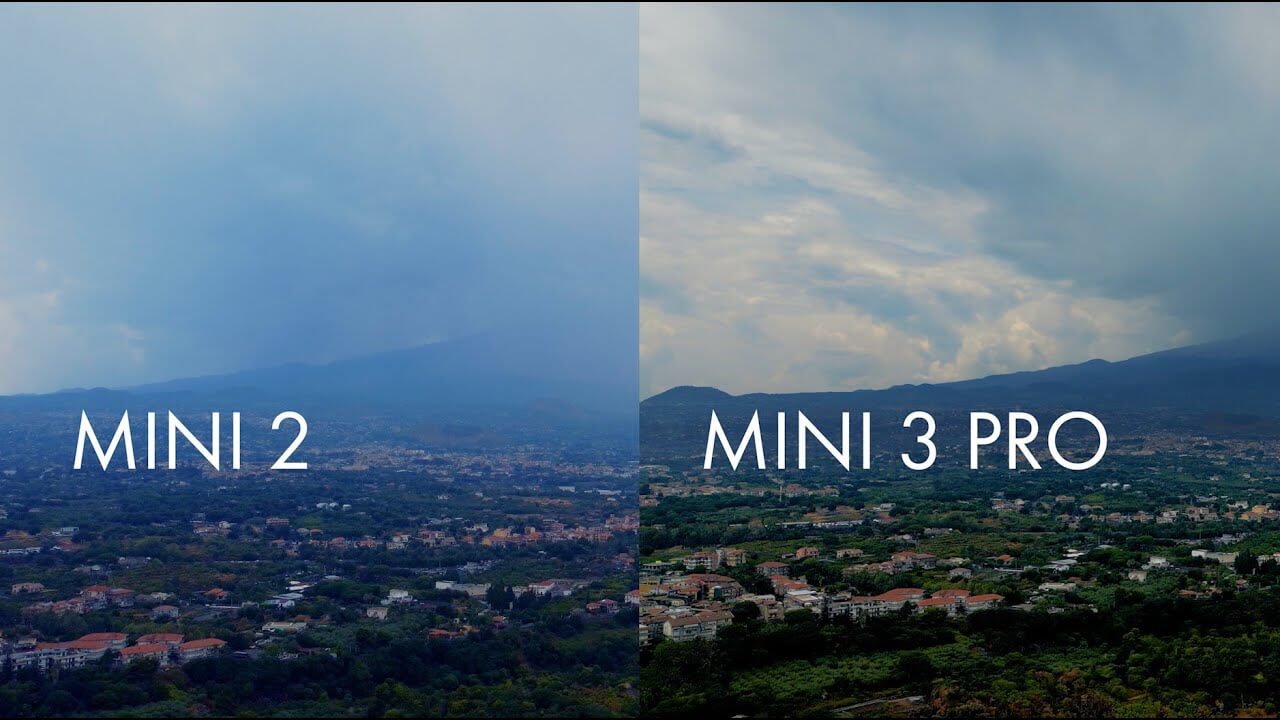 The DJI Mini 3 uses the same camera as the DJI Mini 3 Pro, so it has excellent image quality and high ISO handling throughout the ISO 100-3200 range. Thus you can capture acceptable low-light footage at twilight and even at night (as long as there's some ambient lighting in play). It features an F1.7 aperture and a 1/1.3-inch 12MP sensor that can be rotated 90° to shoot in landscape and portrait orientations. This comes in handy for capturing cleaner high-quality photos and videos for social-media-optimized shots. It can even focus on objects from 1 meter to infinity.
The camera is capable of ariel photography and supports 12 MP shorts. These can be shared directly in JPG format or Raw DNG format. The latter is more editor friendly as the JPG mode gives only one color profile. As far as video shooting is concerned, the Mini 3 can shoot 4K video at up to 30 fps or up to 60 fps in 2.7K and 1080p. The video transmission range given is up to 7.5 miles / 12km. Another feature is the HDR shooting at 24, 25, and 30 fps. MP4 files with a bitrate of 100 Mbps can be recorded while you also get a 2x digital zoom in 4K, 3x in 2.7K, and 4x in Full HD. This allows you to get closer to your subject while still flying safely.
Features of DJI Mini 3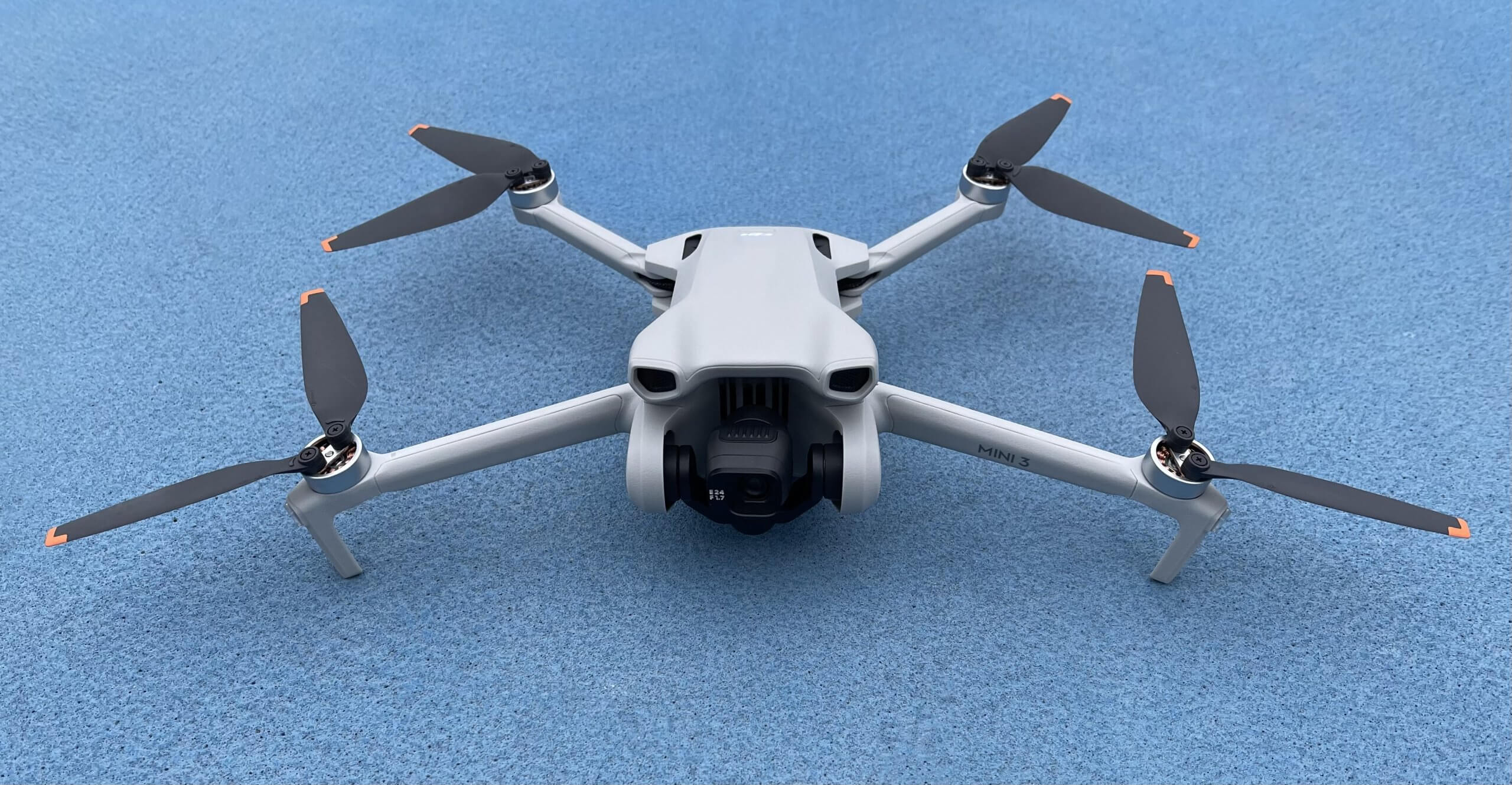 DJI provides its users with various features in the Mini 3 that make it a go-to option for enthusiast fliers.
1. Flight and Shooting Modes
The Mini 3 has three main flight modes, which are Cine, Normal, and Sport. The Cine mode is the slowest, with reduced control sensitivity for capturing smoother video footage. The Normal mode is the most commonly used, while the Sport mode is the fastest of the three, with a top speed of 35.8mph. Various shooting modes are also available. These include Single Shot, Timed, Auto Exposure Bracketing, Panorama Sphere, 180°, Wide Angle and HDR.
2. Safety Features
The hovering accuracy is maintained by the downward vision sensors. They work in sync with the GPS, GLONASS, and Galileo global satellite positioning. The drone thus can hover in one single position when you release the controls. You also get various return-to-home safety options. They help in automatically flying the Mini 3 back to you in several cases, like when the battery is low or when there is a weaker connection between the controller and the drone.
3. Quickshorts
The drone supports Quickshorts. These are a bunch of automated modes which make the Mini 3 create certain dynamic movements at one touch. These include the Dronie (a drone selfie), Helix, Rocket, Circle, and Boomerang. Another plus point is that they are available in both horizontal as well as vertical shooting modes.
4. Light Cut
This video editing app is officially recommended by the company. It meets the filming needs of drone users by providing rich shooting and editing functions. It supports real-time footage previews and quick output without you exporting the footage from the drone. Using an AI-based one-tap editing function, diverse video templates, and shooting tutorials, it allows you to edit and create pictures and videos wherever you go.
5. Quick Transfer
It is another app by DJI that allows you to quickly and wirelessly transfer media from the drone to your mobile device. This means you can share highlights from your flight right away. You don't have to wait until the end of the day when you can get back to your computer.
Peer Comparison of DJI Mini 3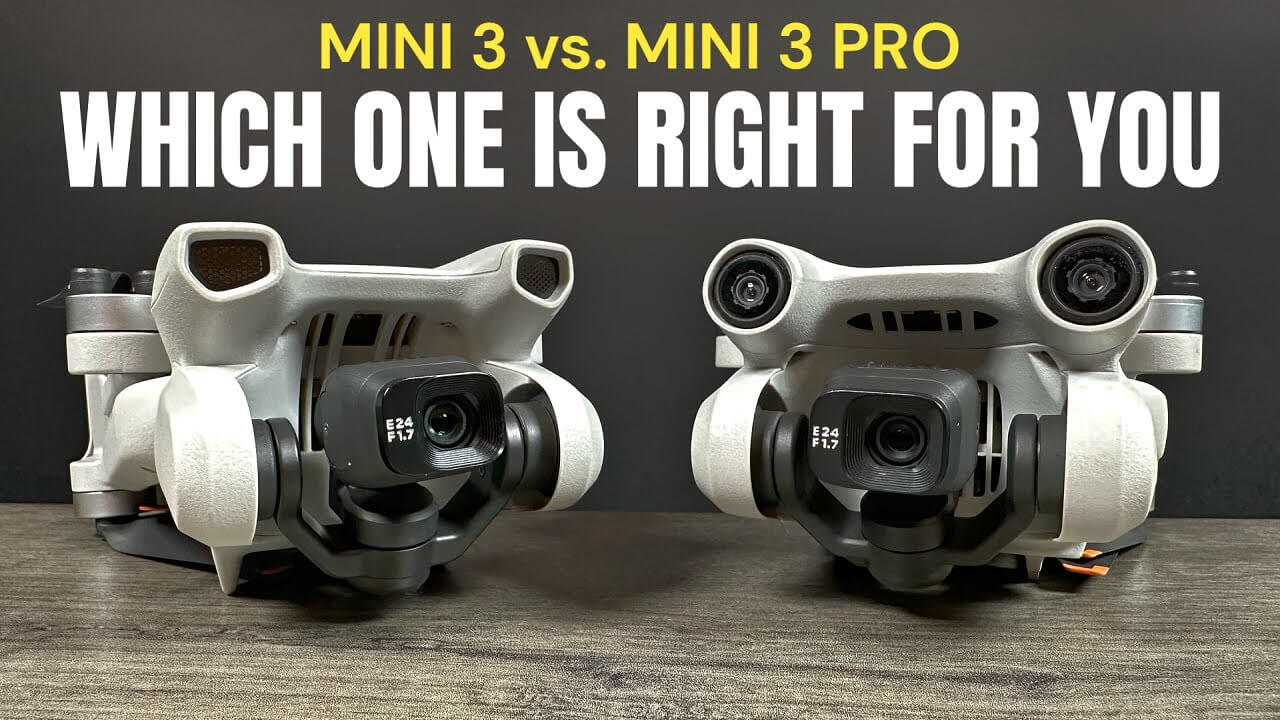 Compared with the Mini 2, the Mini 3 is more robustly built. It can handle stronger winds more efficiently and has a better and more stable gimbal. The flight time is longer, too, if compared to the Mini 2.
But if you go to compare the DJI Mini 3 with its Mini 3 Pro version, some significant shortcomings may not be tolerated by some of the professional and more demanding users. The photo and video quality is compromised with the absence of 4K video at 60fps, and there is no D-Cinelike color profile for the video. 48MP photo option is missing, too, while the exposure bracketing is limited to three rather than five exposures. Timelapse features, collision avoidance, and subject tracking are unavailable.
Pricing and Buying Options
The base kit of the DJI Mini 3 with the DJI RC-N1 controller is priced at just $469 on the official DJI website store. The DJI Mini 3 Fly More Combo (DJI RC-N1), including two additional 38-min Intelligent Flight Batteries, a Two-Way Charging Hub, a shoulder bag, spare propellers, and more, are priced at just $658. The batteries are also sold as upgrades, with the DJI Mini 3 Series Intelligent Flight Battery priced at $65 per piece versus the Plus at $95 apiece.
The Mini 30 is available on Amazon, too, starting at the price of $375 for the drone only. DJI Mini 3 Fly More Combo is available for $585.54, while the DJI Mini 3 Fly More Combo (DJI RC) is available for $678.90.
Final Thoughts
The choice to opt for the DJI Mini 3 will solely depend on your requirements as well as your finances. If you are in the novice category and looking to explore the skies on a budget-friendly schedule, generally, you can go in for the DJI Mini 3 with no second thoughts. But if you are a long-time content creator for whom the above-given limitations can become a source of concern, then you may need to think about purchasing it again. The overall verdict is that the Mini 3 is an impressive bird with good video quality and can be considered an affordable option for beginners!
All in all, DJI Mini 3 seems perfect for someone who is just starting out or one who is not sure about the pro variant yet! You will not be disappointed with this variant either.
Its a great bang for the buck for its price and the features that it offers.