Graduation day is the result of years of hard work, growth, and effort. You might experience a roller coaster of emotions where you will feel nostalgic as you get ready to leave your school or university, sad and bittersweet as you bid farewell to your friends and faculty, and ultimately proud of your achievements. Such a precious day deserves to be remembered for a long time, and what better way to do this than by having a photoshoot?
This tradition of taking graduation day photos has been around for a long time, and this explains its importance. You can try something unique that suits your personality. With time, how graduation photoshoots are done also changed, and today there are chances that it could become awkward or have nothing unique about it. But don't worry about this.
We've got you covered with these 20 creative graduation photoshoot ideas!
Creative Graduation Photoshoot Ideas to Make Your Day Special
1. Popping the Champagne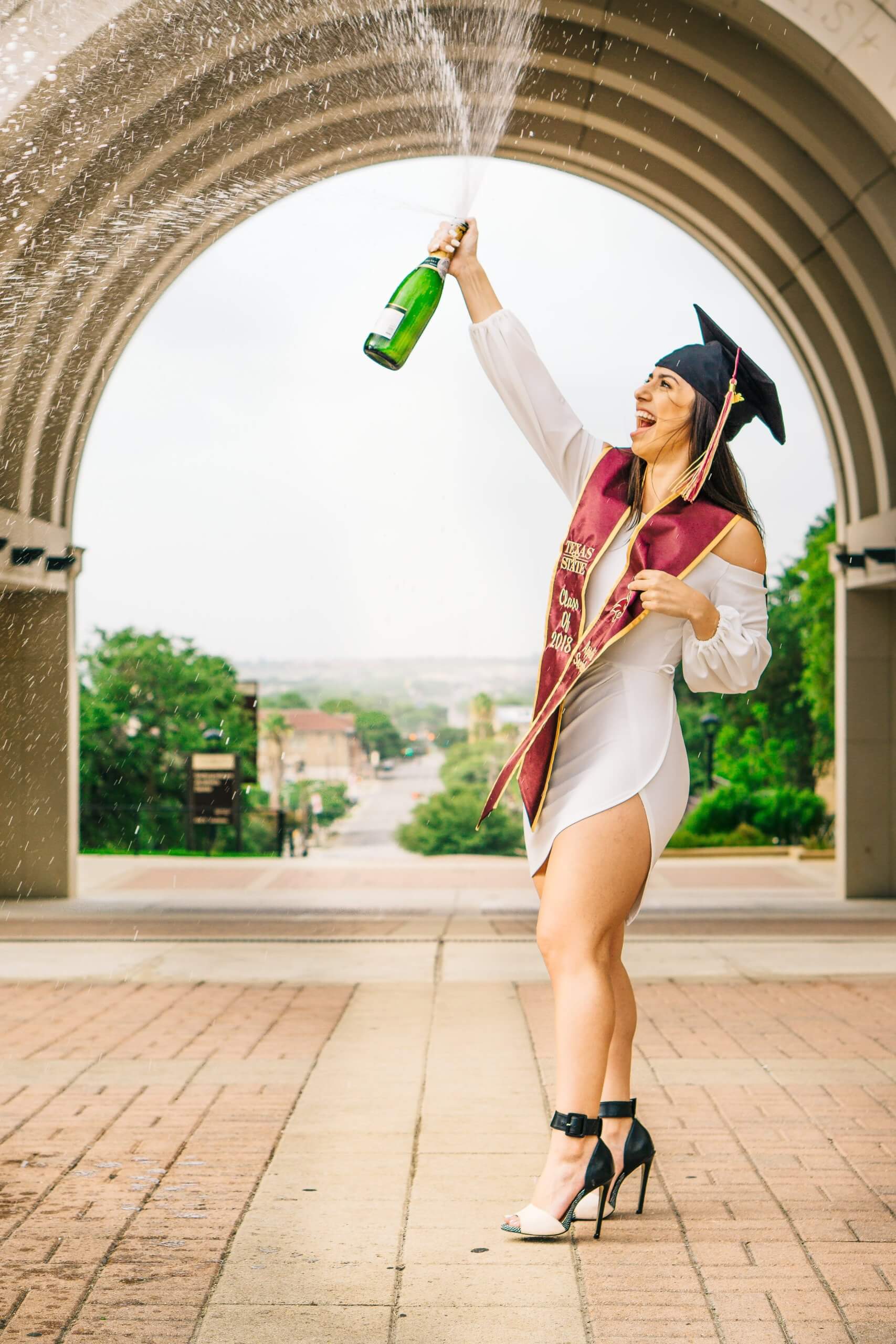 Champagnes are known for celebrations, and when we think of it, we think of success, fancy parties, and cheerful moods. Graduating from high school or university is a huge milestone for you, your family, and your loved ones. If you are opening a bottle of champagne, make sure to capture it. As the champagne bottle pops open, the smile on your face, along with the champagne sprayed everywhere, will make the photo look playful and celebratory. Make sure to wear your black gown and graduation cap so that your accomplishments are captured in the camera.
2. Classic Pose – Throwing the Graduation Cap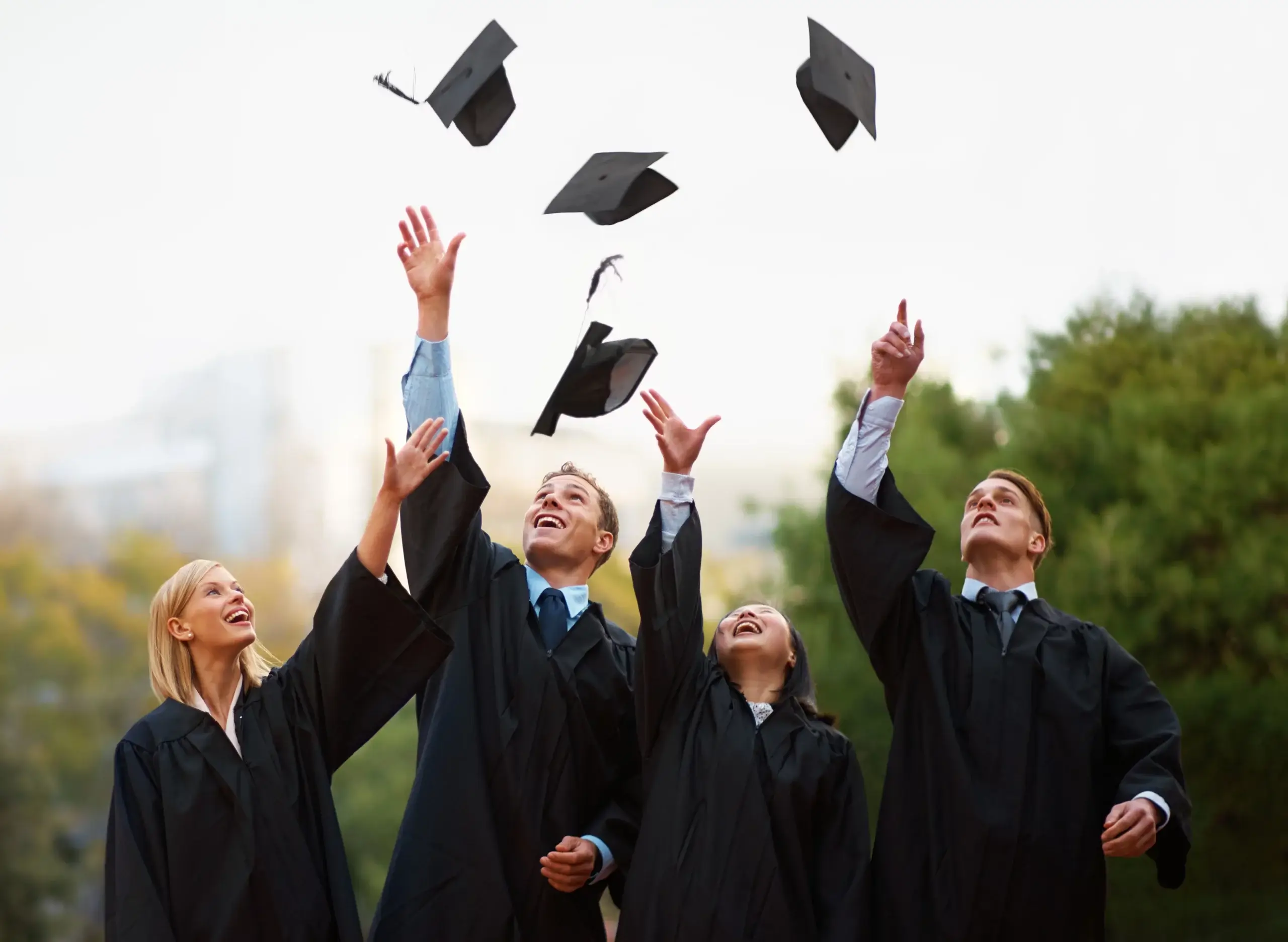 This classic scene has been captured and portrayed in countless movies and TV shows. This is an iconic scene, especially when the entire graduating class is throwing their graduation caps at the same time or if a group of people are doing this. If the shot is well composed, it should include the university buildings or monuments in it. Because then this photo will be even more memorable!
3. Jumping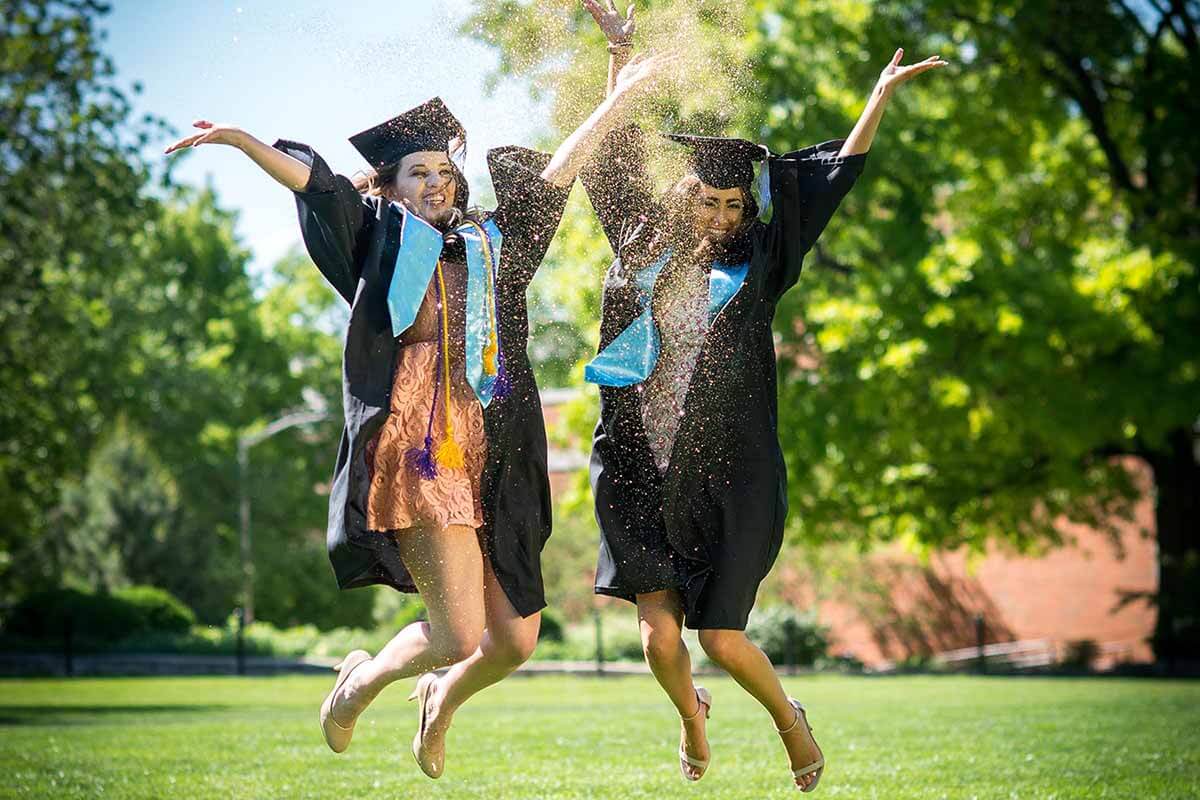 After you receive your diploma/degree, you will be very happy and excited for the future. A movement that will capture it is jumping. You and your friends can take solo or group pictures of you jumping. You can also try throwing your caps at the same time! Your joy will be evident on your face, and this raw emotion will be cherished for a long time.
4. Standing out In the Crowd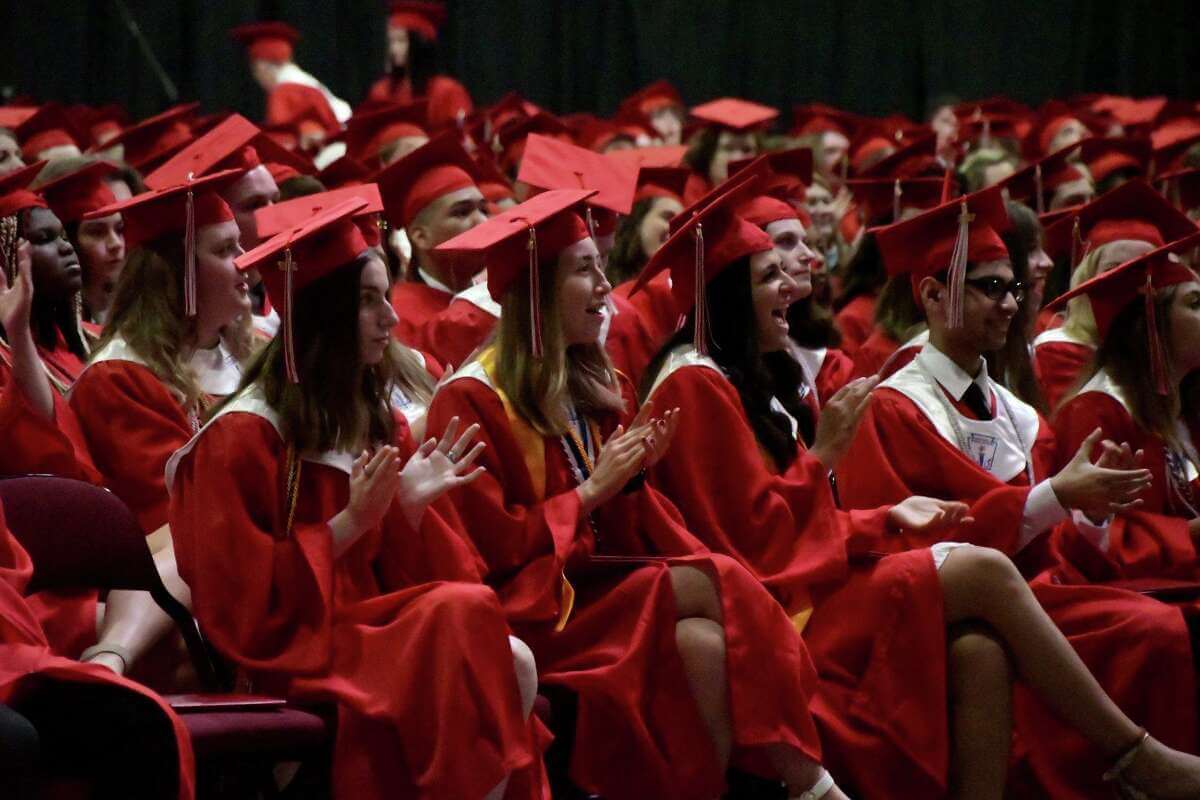 As you stand with fellow graduates in the auditorium to get your diploma/ degree, the photographer can focus on you and click a picture. This photo will also remind you of your achievements. However, most of the time, only candid shots can be taken due to constraints in the location and settings, as you cannot control how others pose. But this shouldn't stop the photographer who wants to do a great job. Even with this pose to your friends and family, you will be standing out of the crowd, of course!
5. Highlighting Your Extracurricular Activities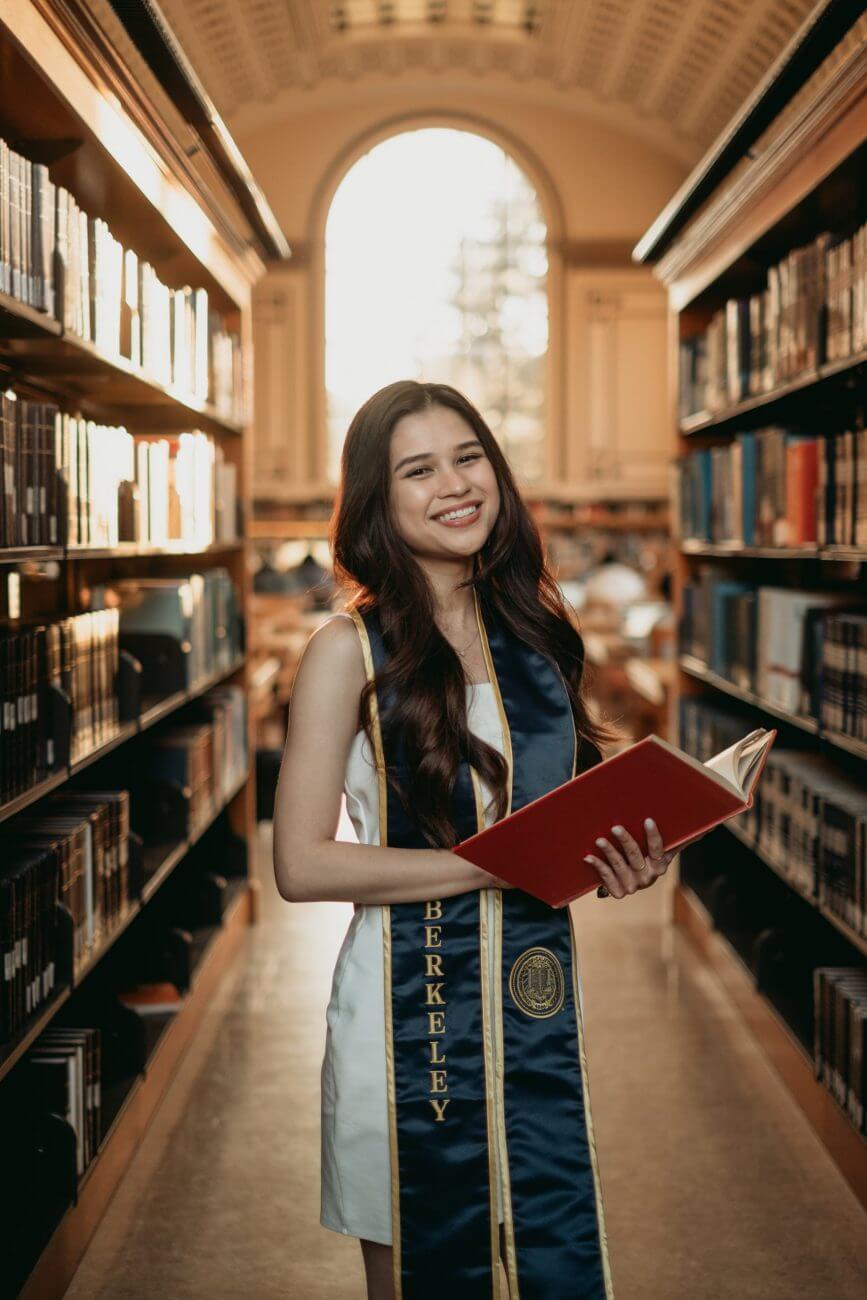 Academics won't be the only highlight of your time in your college, university, or school. You would have participated in and loved, or at least liked, an extracurricular activity like sports, arts, literature, etc. As your graduation is not only an academic achievement, you can take photos in the place where you spent your time doing extracurricular activities. This will remind you of the good times you had when you were a student.
6. As You Receive Your Diploma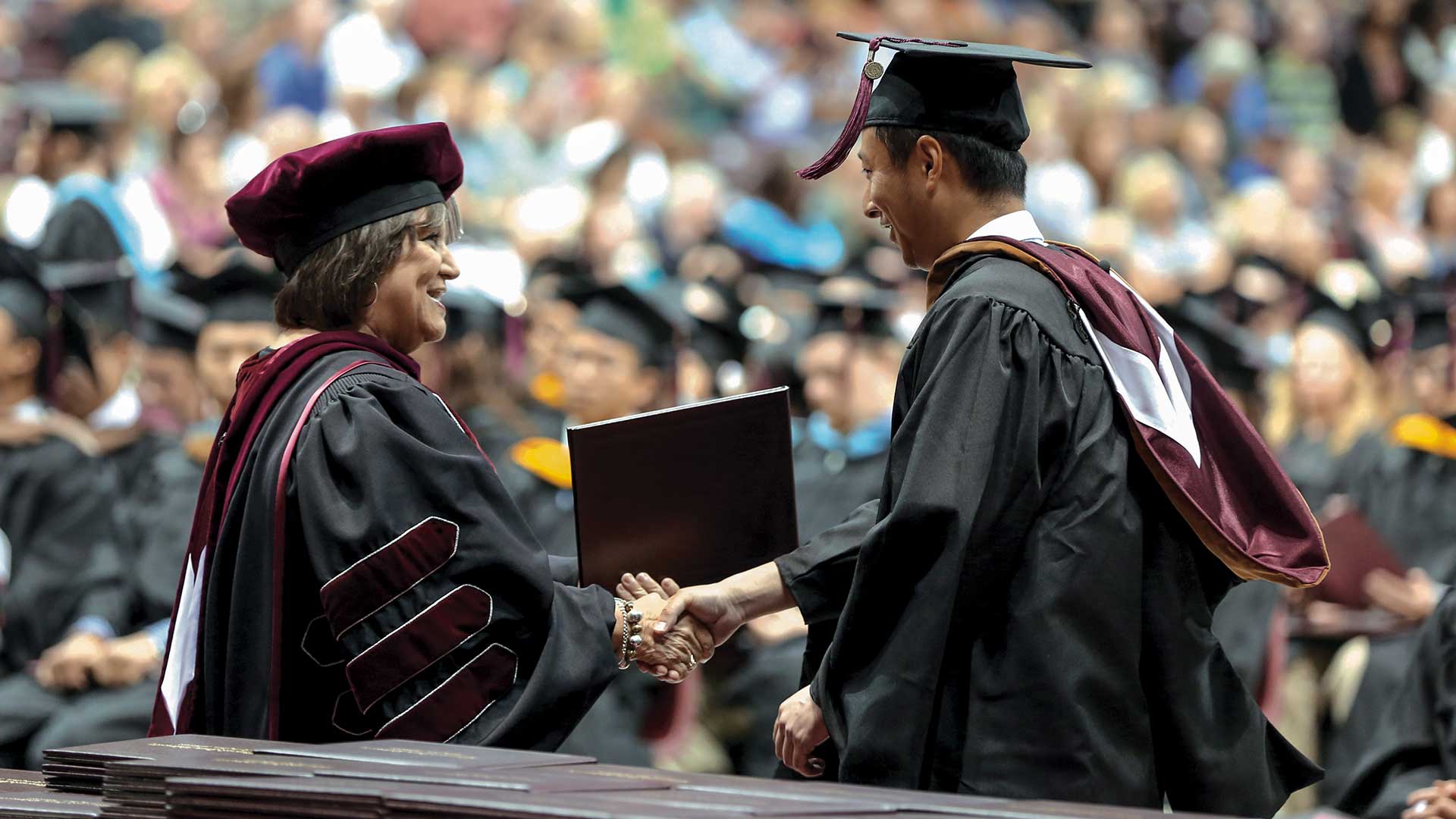 The moment your diploma is handed to you is one that is extremely special to every student, and what better graduation photos than to capture this moment? The auditorium echoes the claps of the audience, and you will be on the stage with a bright smile. This moment captured will be a fond one that you will cherish. However, the background will not be in your control as the stage will be set up by the authority, and there is a short window of time to take the photo. But to professionals, this shouldn't be an issue. This photograph will remind you of your potential and will inspire you as well!
7. Capturing the Emotions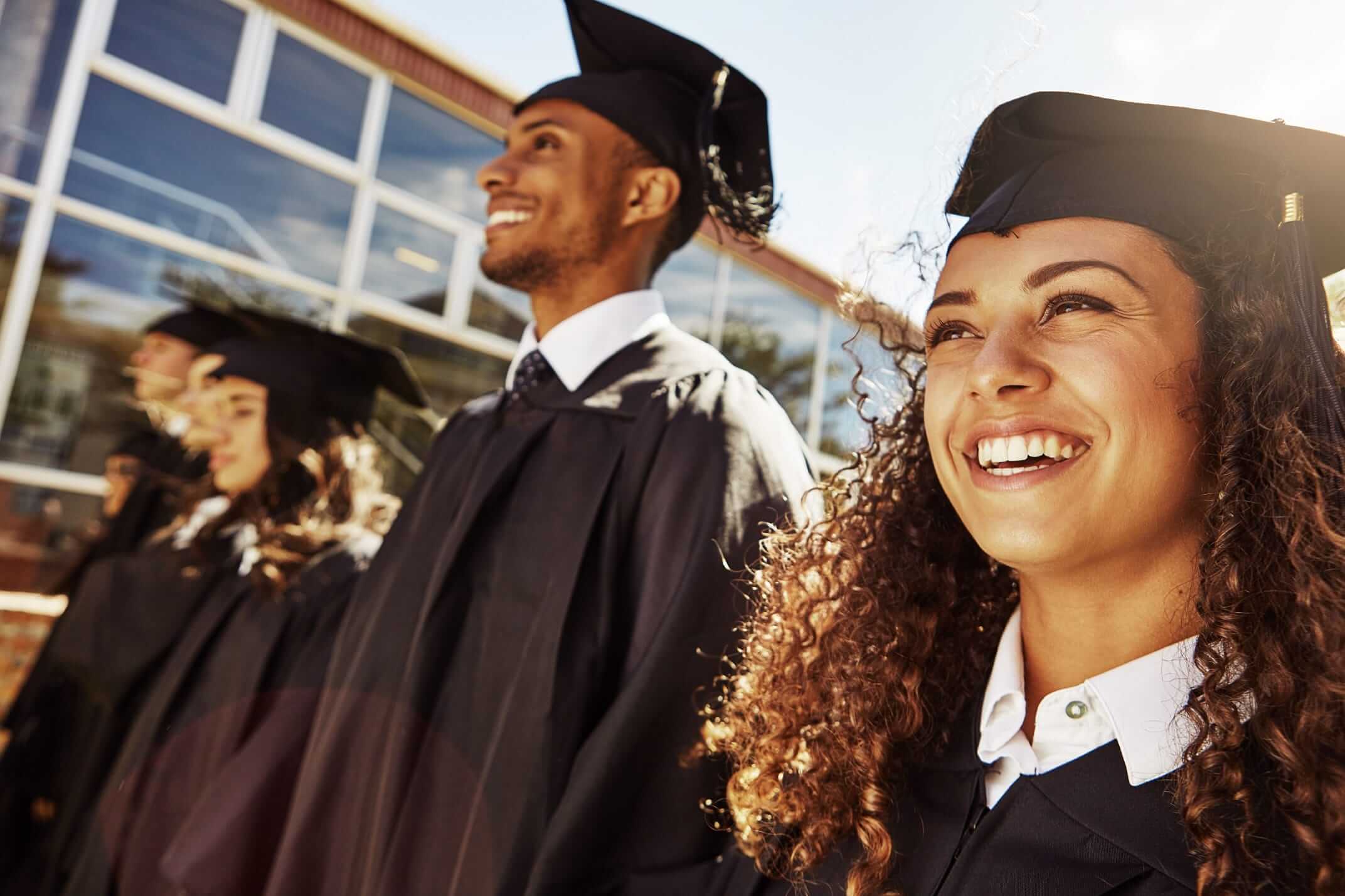 As you wear your gown and cap or get your degree/diploma, or when you finally meet your loved ones after you get down the stage, you will experience a range of emotions from joy to relief to nostalgia. The photographer can take pictures of this moment so that such a valuable moment in your graduation for both you and your loved ones is photographed beautifully.
8. Being with Your Family and Loved Ones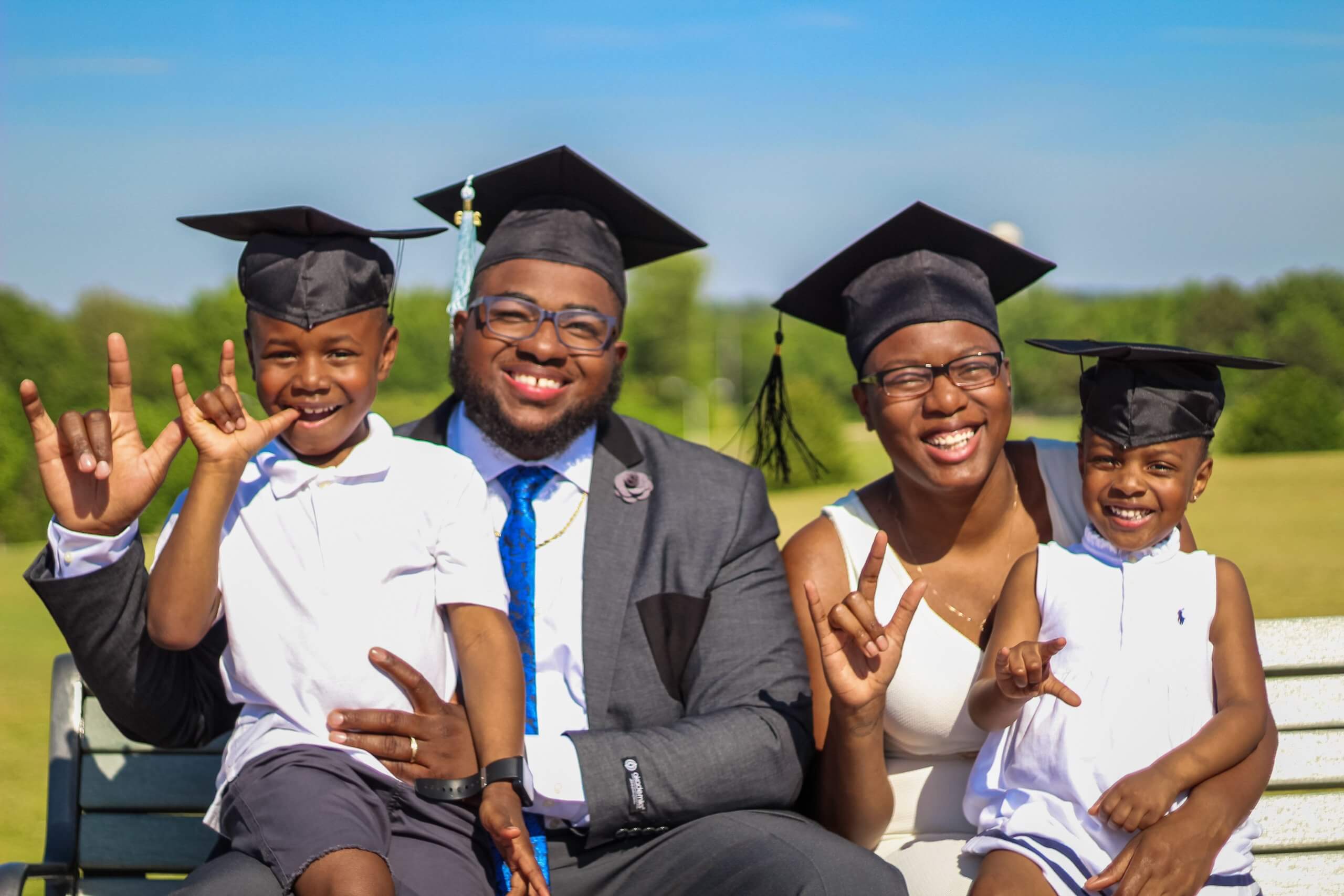 A proud moment with you and your loved ones needs to be captured. As you are hugging them and sharing your joy, this warm moment can be photographed. This way, the emotions on your face and your loved one can be remembered for a long time. In addition, you won't have trouble posing, as the shot will be candid, natural, and beautiful!
9. Confident in The Confetti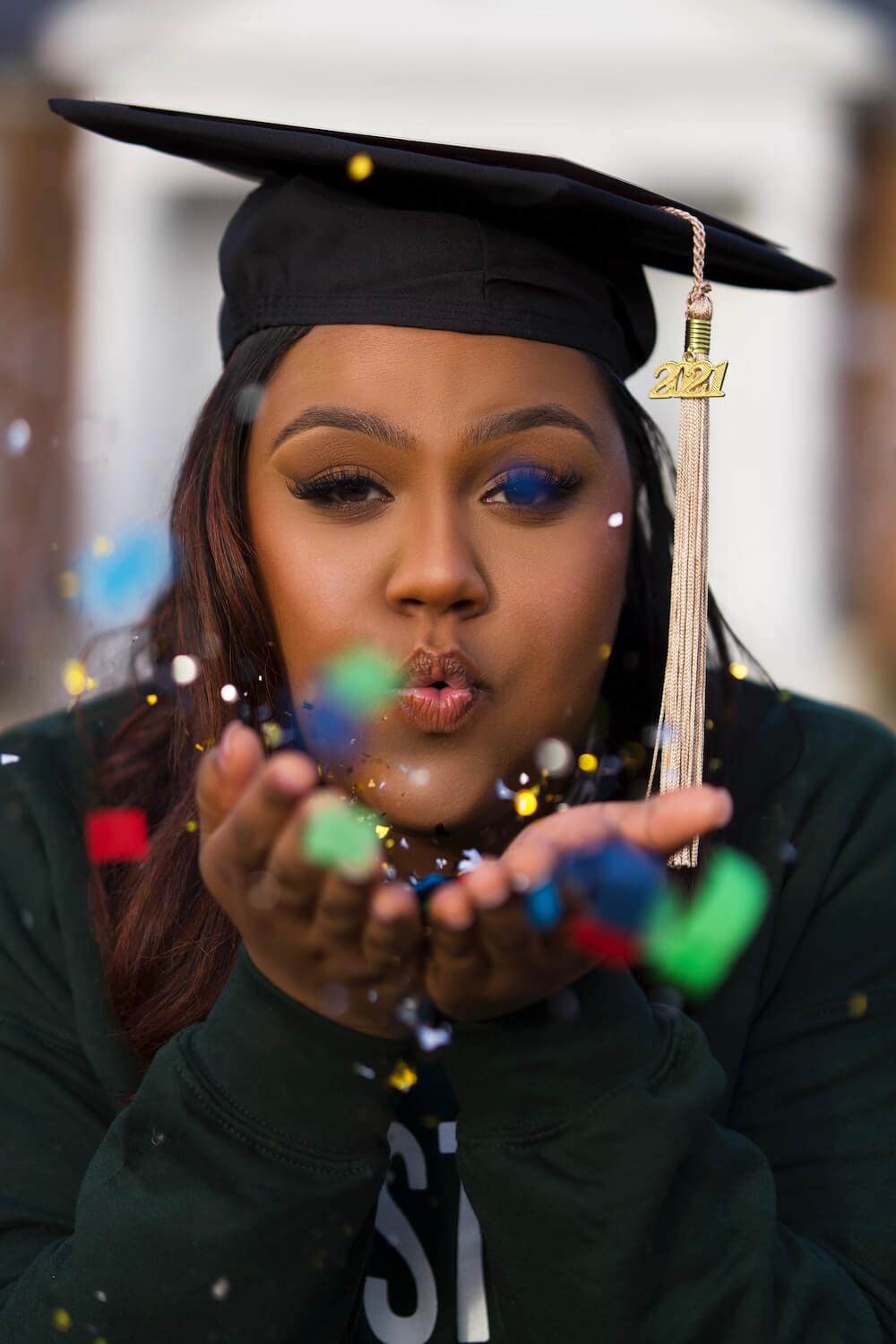 Just like how champagne reminds us of celebration, confetti also does, but in a more playful manner. There are different ways in which you can use confetti as a prop for your graduation photoshoot. You can try popping a confetti canon, or you can take some and throw it toward the camera. Both of these will lead to stunning photographs. You can also do this with your friends and family and cherish the resulting photos.
10. Group Photos with Your Friends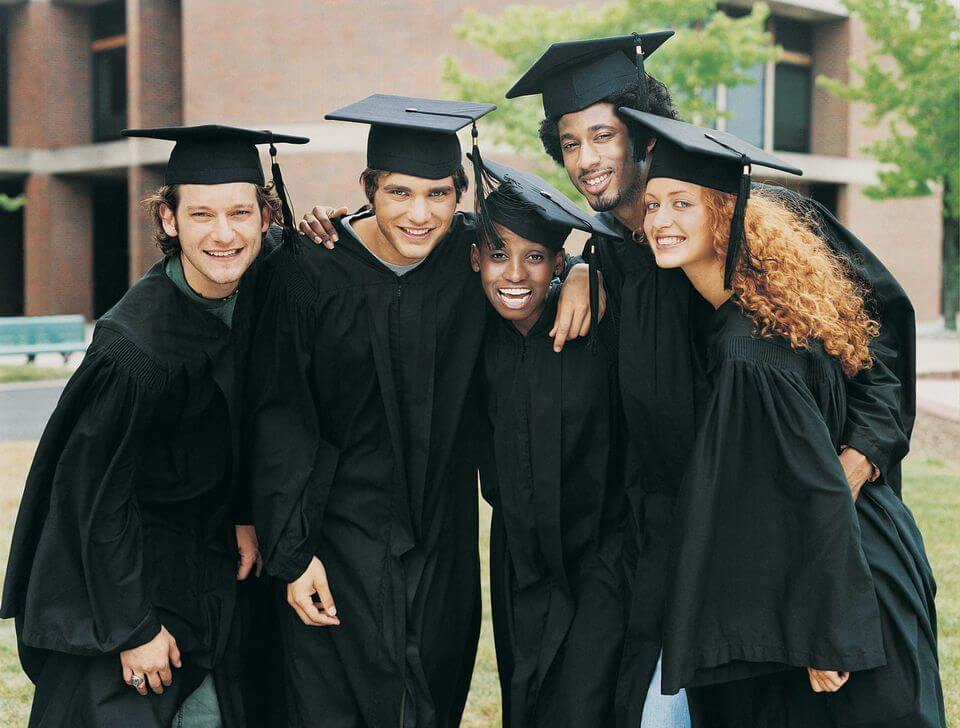 Without friends' support, none of us will have a good time at college or school. The laughter, tough times, confusion, breakdowns, etc., will be the most memorable moments rather than the serious lectures you have had before graduation. And so you need to get graduation photos with your friends. This way, you can happily remember all the memories you made in school or university, both the good and the bad, and how your friends were there for you through all that. These photos can be creative, and you can try to make unique poses that have a special meaning for you.
11. Somewhere Iconic in Your School/University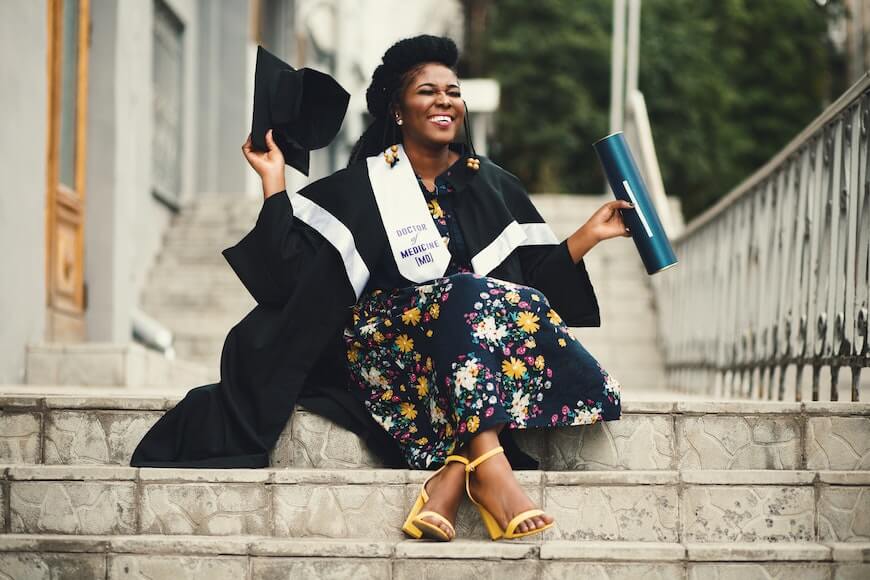 Every institution will have one or two iconic and memorable places, which could be a cafeteria, staircase, building, clock tower, library, basketball court, or even a majestic tree! It might be one of the symbols representing your college or school, and as a recent graduate, you will have some memories of that place. If you take photos in these locations, anyone who sees your graduation photo can probably tell where you studied if the place is well known. Even otherwise, you will remember how great and special your alma mater is to you every time you see your graduation photos!
12. Put Your Arms up In Victory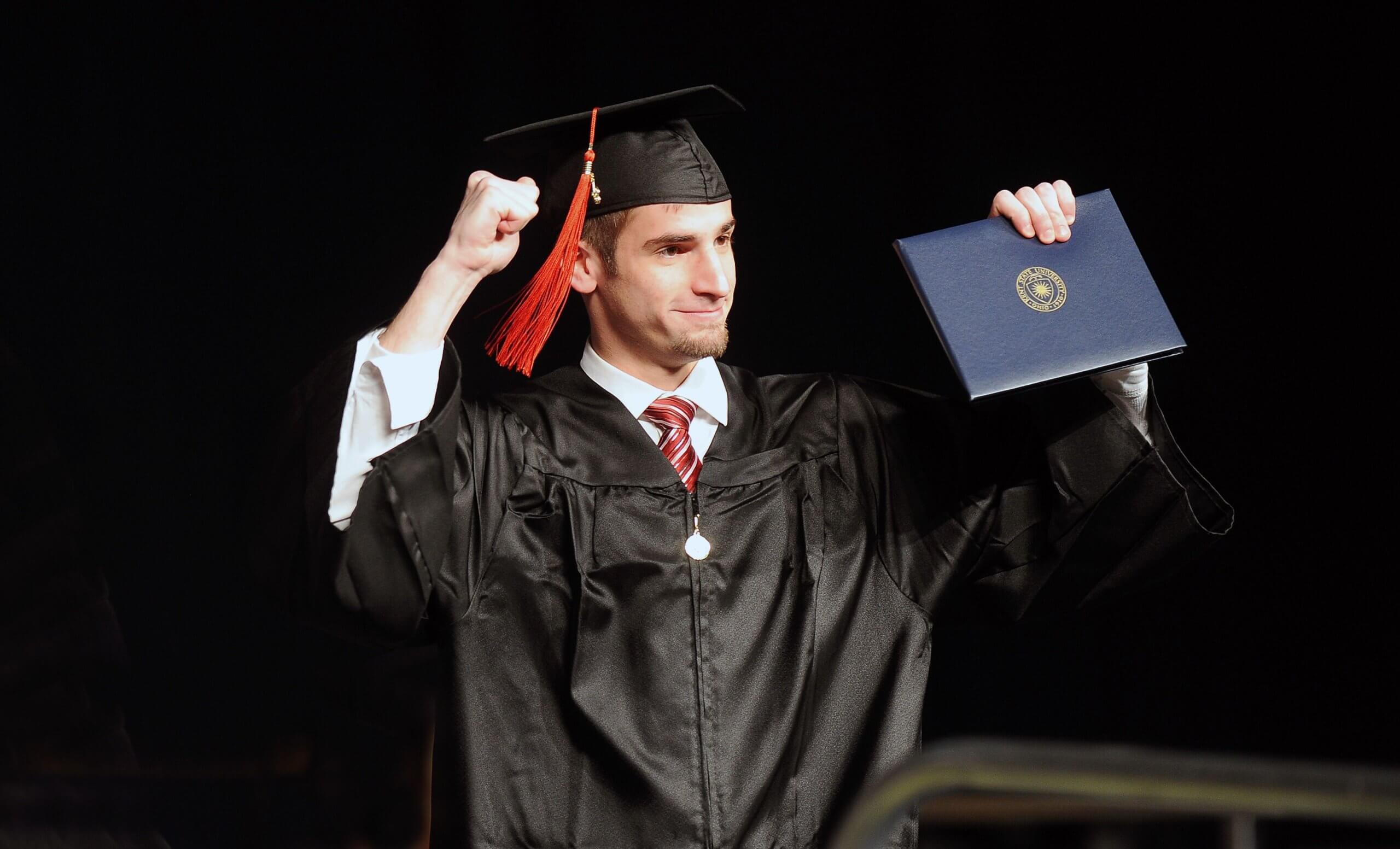 You would have gone through several hardships in your school or college life, and getting through those hurdles wouldn't have been easy. But you have done it and are going to graduate now. This definitely requires celebration, and you can showcase this victory or success by putting your arms up with a happy smile etched on your face! This will make the photo look glorious, especially if you are doing it in front of some iconic location on your campus or in front of your department or school.
13. With Your Diploma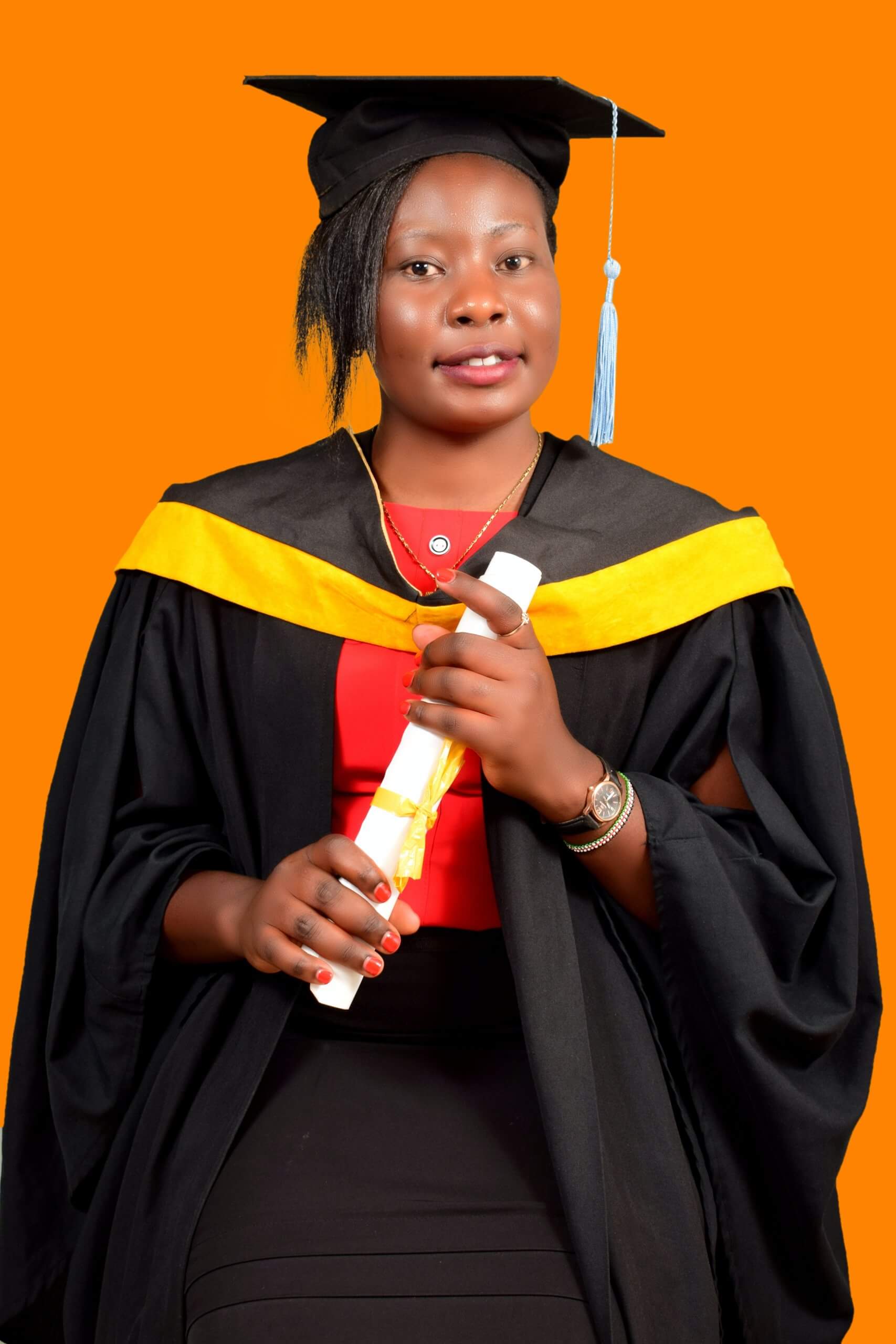 This is another classic pose. Traditionally the diplomas are framed and hung in the house as a showcase of your achievements. And this feeling can be obtained through a graduation photoshoot also. You may be confused with other photos on how to position your hands, but with this pose, that confusion is resolved as well!
14. Unleash Your Inner Superhero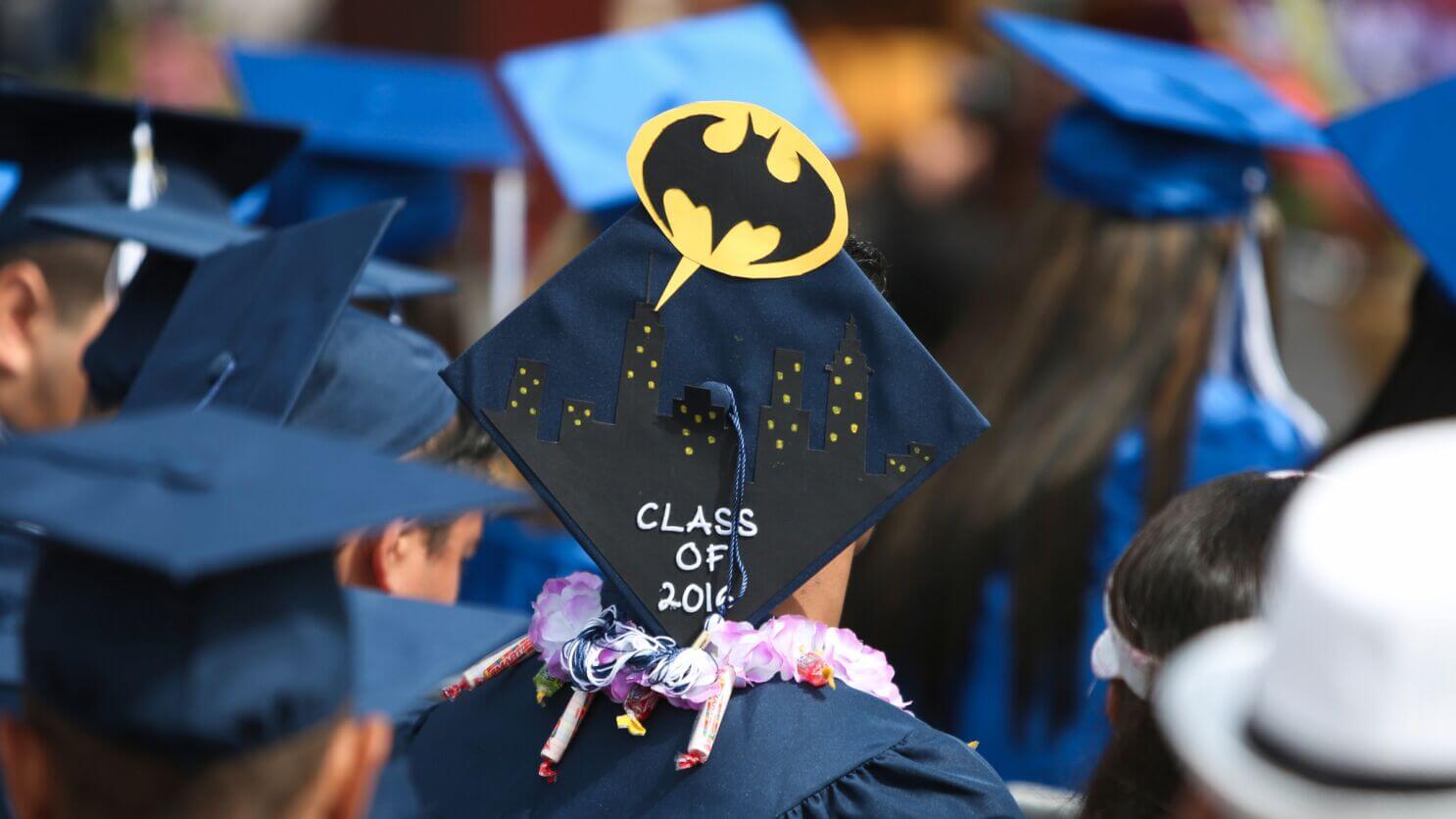 Graduating from school or college isn't a simple feat, so you can try these quirky superhero poses, the most common one being Superman's signature pose. The photos can be taken with your best friends, and together, each of you can try different superhero poses. The resulting photograph will capture the fun that you had during that day!
15. Photograph the Celebration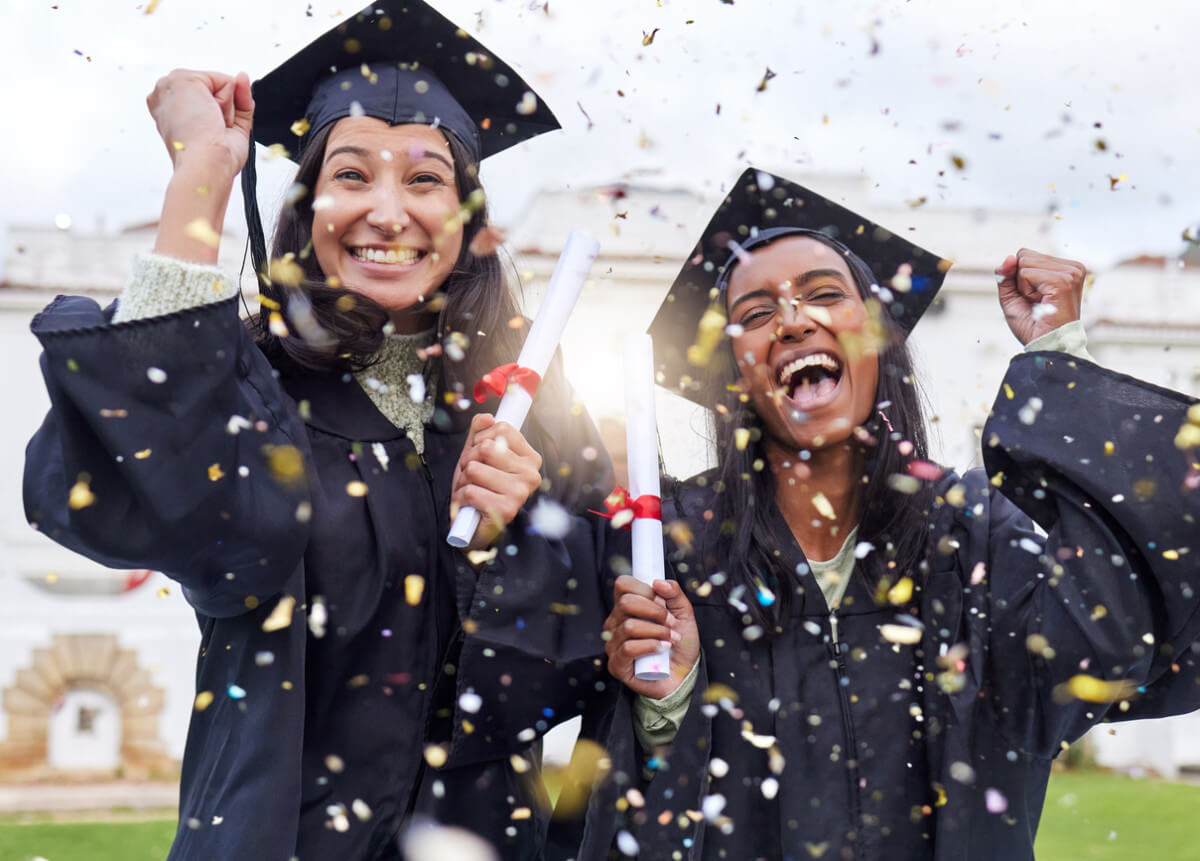 In addition to taking solo photos, make sure to take photos with your fellow batchmates. Or if you are the one taking the photos, don't forget to click on some moments experienced by others. When you look at these photos years later, you will feel proud of the achievements of you, your friends, and your batchmates.
16. In Your University Sweatshirt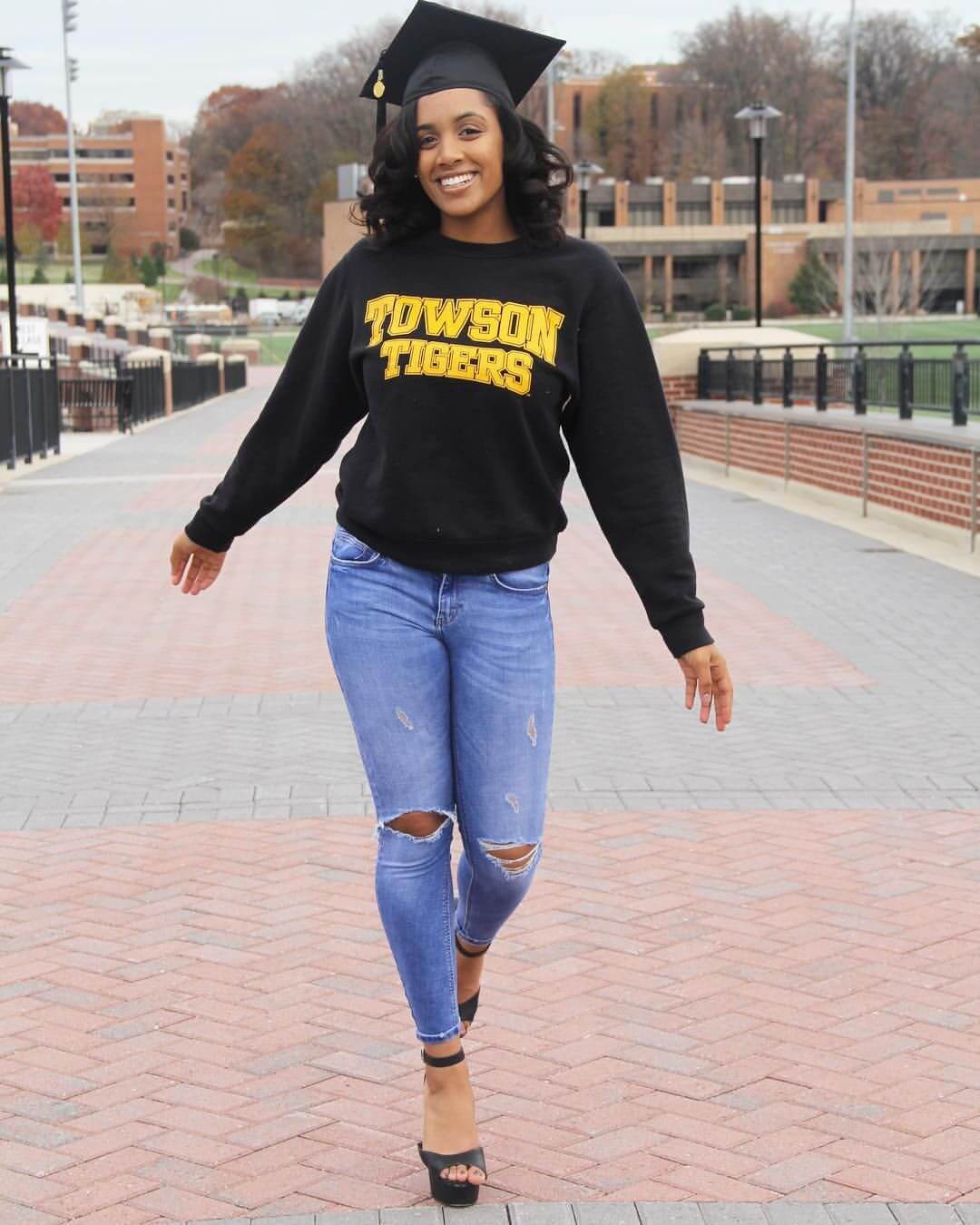 School sweatshirts evoke a unanimous feeling in all the students: team spirit! You would have worn these sweatshirts or t-shirts countless times, and it symbolizes your love towards your school or university. When you graduate, the same feeling will still be there, and you can take some photos in your sweatshirts. These photos will not only highlight your school/college life but also make you feel the spirit of the institution.
17. Chalkboard Confessions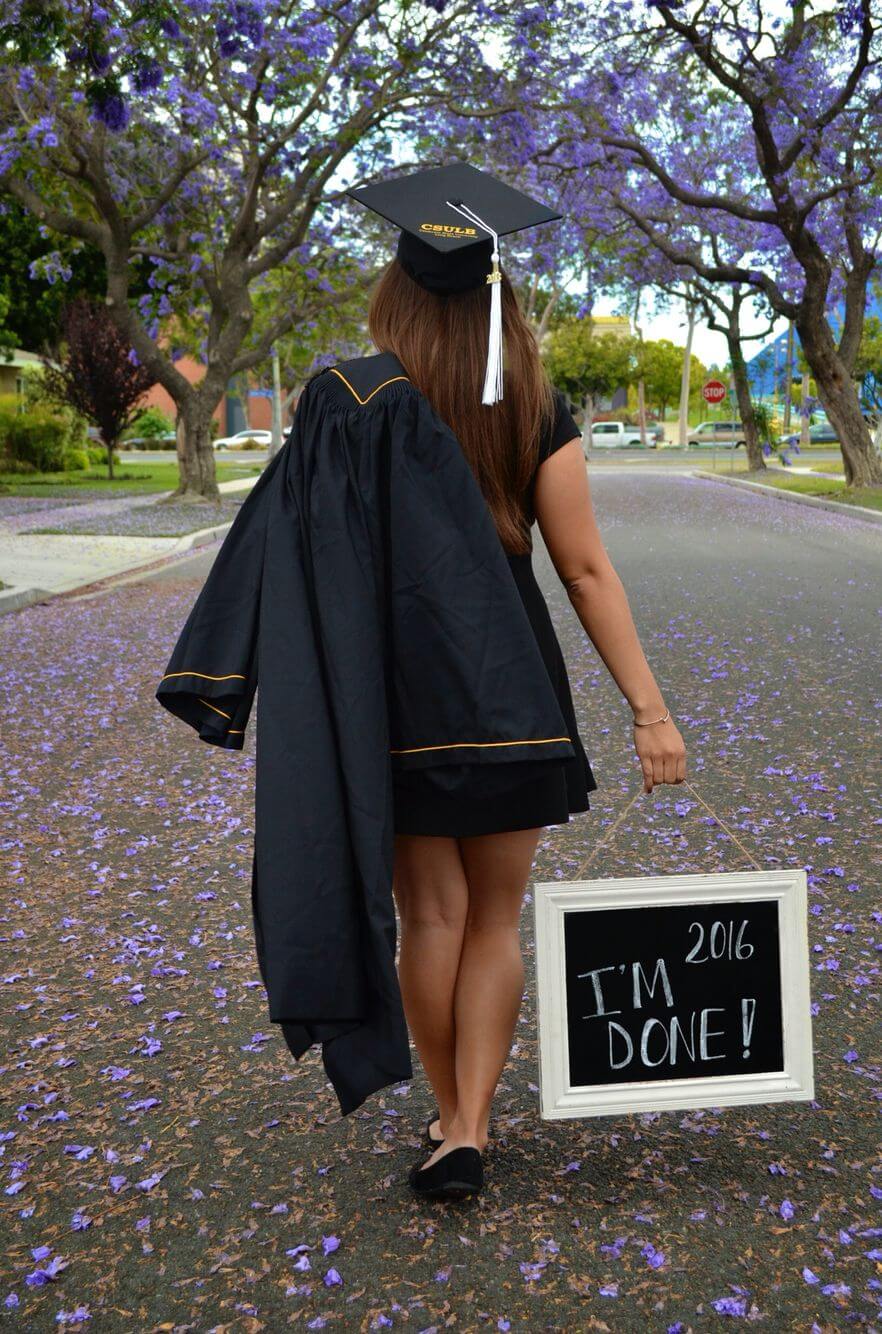 You can write some quotes, how you are feeling, your degree's name, or a message on the chalkboard and take a photo with this. The focus will be on you and the message on the chalkboard, so make sure that you write something that you will want to see for a long time. You can try writing some funny phrases, and this way, regardless of when you look at it, you will not feel embarrassed. This simple prop will improve the quality of your graduation photoshoot by conveying the things you wish to say!
18. Close-Up Shots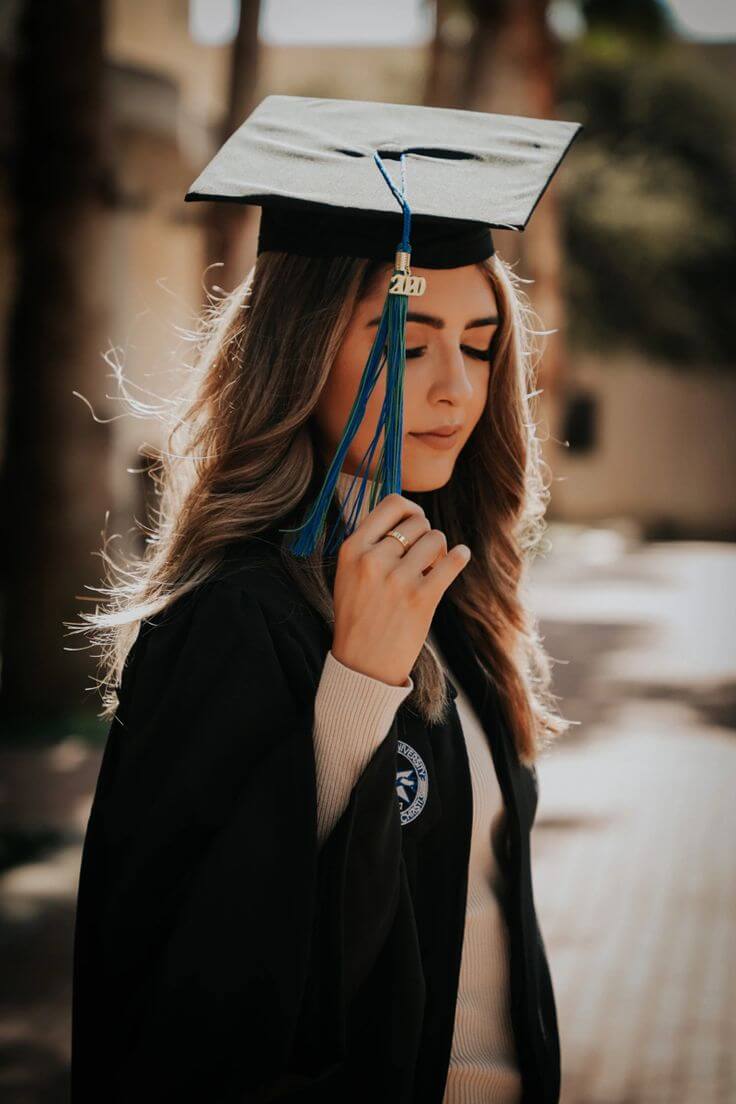 These shots will come in handy as they will capture the details of your graduation outfit. You can hold the tassel and look at the camera, or if you are wearing some jewelry or having a family heirloom with you, you can subtly pose with that to the camera as well. Make sure to let your photographer know which aspect should be focused on so that both of you are on the same page. This is definitely one of the best creative graduation photoshoot ideas, as it focuses on the small details.
19. Sunset Graduation Photos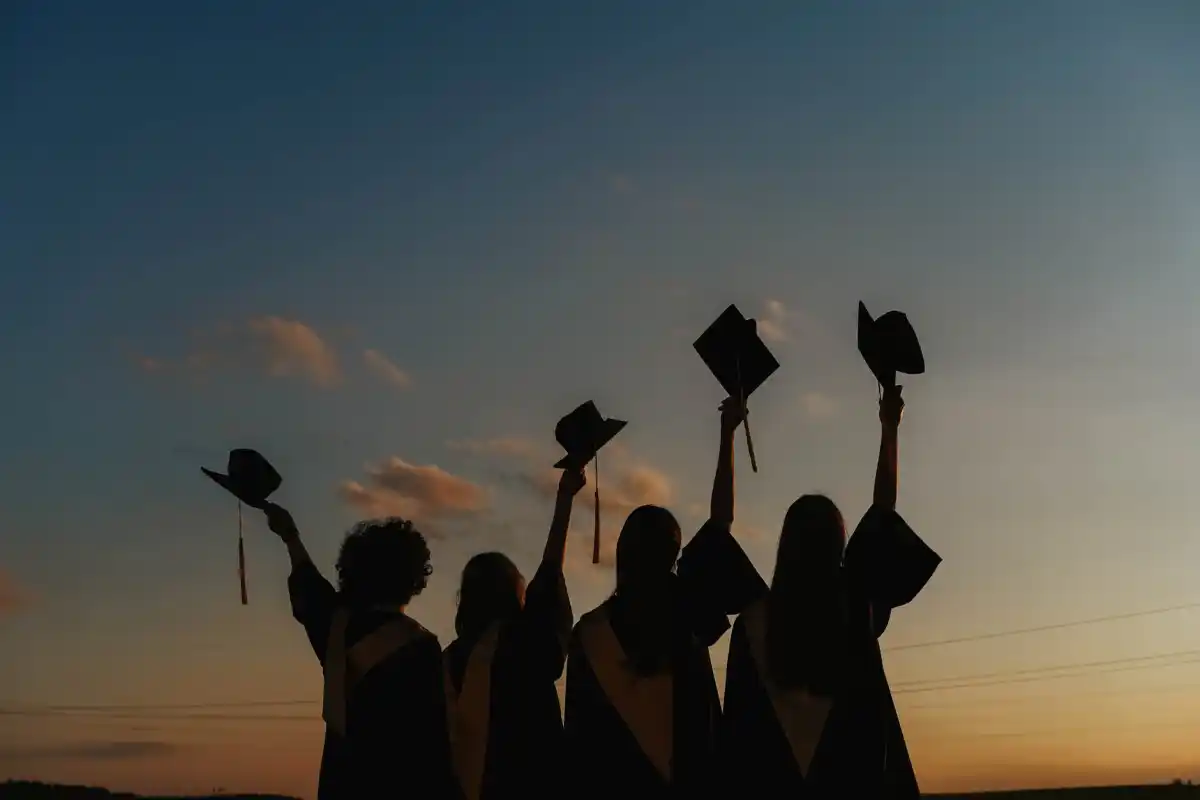 Sunrises symbolize new beginnings, while sunsets symbolize happy or pleasant endings. Completing a part of your education is a milestone, a new beginning, and an end. You can convey this feeling by taking graduation photos during sunsets, as that will be the most convenient. You can try any of the other poses mentioned, but the most classic ones, like throwing your graduation caps or putting your arms in the air, will be best. This way, the photo will look classy!
20. Bokeh Shot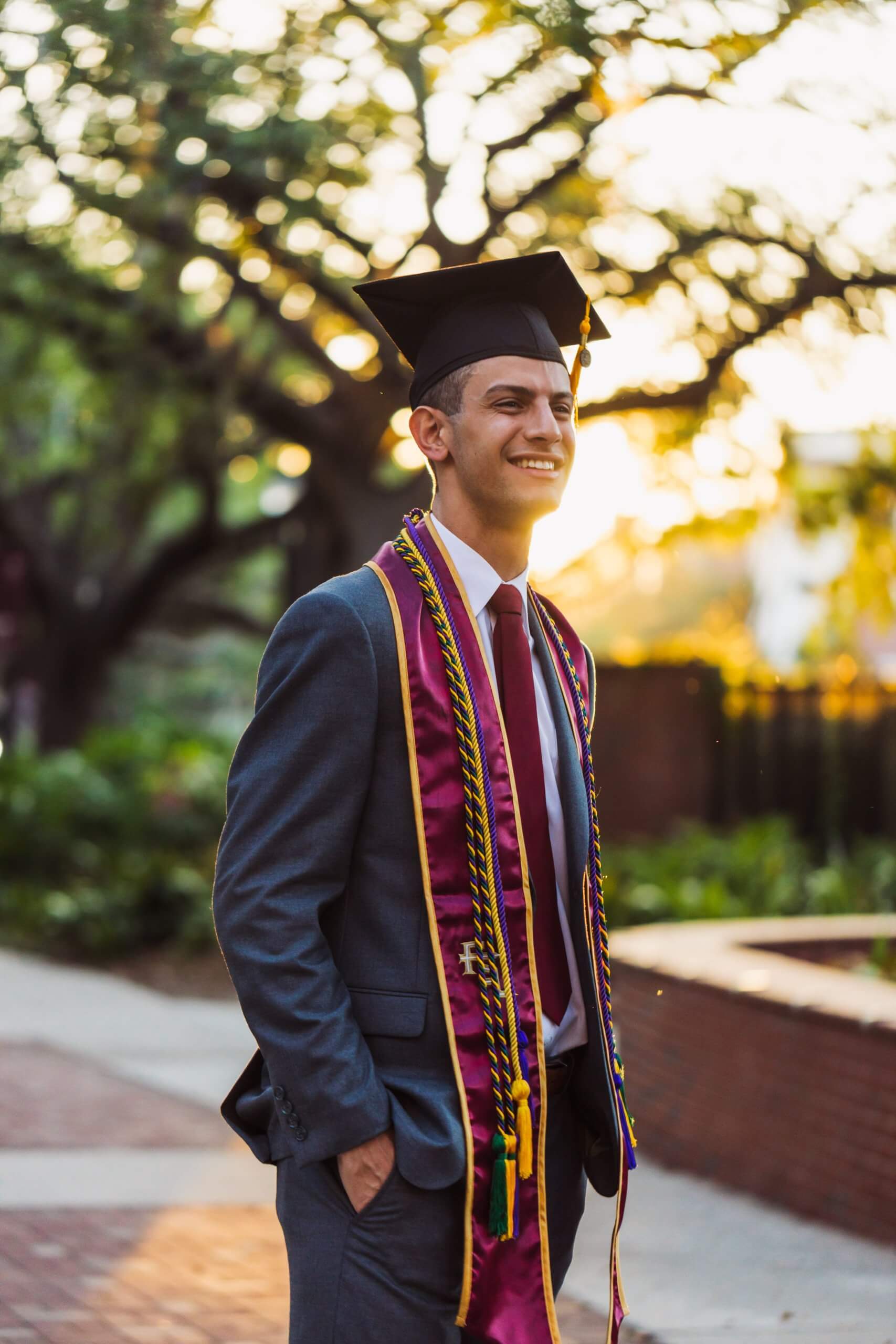 With this effect, the background will be blurred in a gentle way so that you can still make out what is there, but it will not be that clear. This blur will create a very pleasing effect, and if you take this shot during sunset, the photo will be even more amazing. You can try different poses, but a professional pose would work well, and this way, you can use this shot for your professional social media or networking platforms. 
Outfit Suggestions for Graduation Day
Since this is a day you want to remember and share with your loved ones, you need to keep a few things in mind, especially if you are hiring a professional for the photoshoot. You can wear suits or dresses as it is a formal event and you want to look your best. You will undoubtedly be given graduation gowns and caps, so make sure that your outfit goes well with the color of these. You can go for some of the classic colors like red, black, white, etc. However, these are just suggestions, and if you feel like a bolder style suits your personality better, then just go for it. What matters is your comfort and happiness! Now that we know what to wear, let's get to the ideas for the photoshoot.
In Summary
Graduation day is a memorable day in a student's life, and several achievements will finally be appreciated on this day. Therefore, these wonderful moments need to be captured by a lens to cherish for a lifetime. You can try different poses, with or without props, in different locations on your school/university campus, take photos with friends, family, and loved ones, close-up shots, celebratory shots with champagne, confetti, chalkboards, etc. You can also take photos during sunsets and convey symbolic meanings.
You need to take some classic photos of you and your graduating class, such as throwing your caps in the air, holding your diploma, hugging your loved ones, and in front of some landmark in your institution. These photos will undoubtedly make you feel proud of yourself when you look at them later! If you have any more to add to creative graduation photoshoot ideas, please let us know.
Frequently Asked Questions
Should I Hire a Professional for My Graduation Photoshoot?
It depends on you and your needs because a professional photographer will capture your special moments aesthetically, whereas a family member capturing them might not be so. But since graduations are a significant milestone in your academic journey, it would be better to ask someone with a good knowledge of photography to take your graduation photos.
What Are Some Must-Try Creative Graduation Photoshoot Ideas?
Some classic poses like taking a photo with your diploma, with your friends who are graduating, family members, and your graduating class throwing their caps are always the best choices. In addition, you can also try to take unique photos with your preferred pose with your friends, like high-fiving them, making superhero poses wearing your institution's sweatshirt, etc.