The delight of photography is unparalleled, and when you have the right camera with you, the fun escalates to a new level. DSLR cameras are known for their premium quality and ability to capture lifelike images. Nikon is a trusted and popular choice amongst photographers.
Amongst the different models of DSLR, the Nikon 610 is the entry-level camera but offers good features, and the Nikon D750 offers some advanced features. The choice between the two can be an overwhelming experience if this is your first purchase. Hence, to simplify things, we have curated this in-depth review comparing the video capabilities of the Nikon D610 and the Nikon D750.
Let's delve deeper to explore the Nikon D610 vs D750.
Nikon D610 vs Nikon D750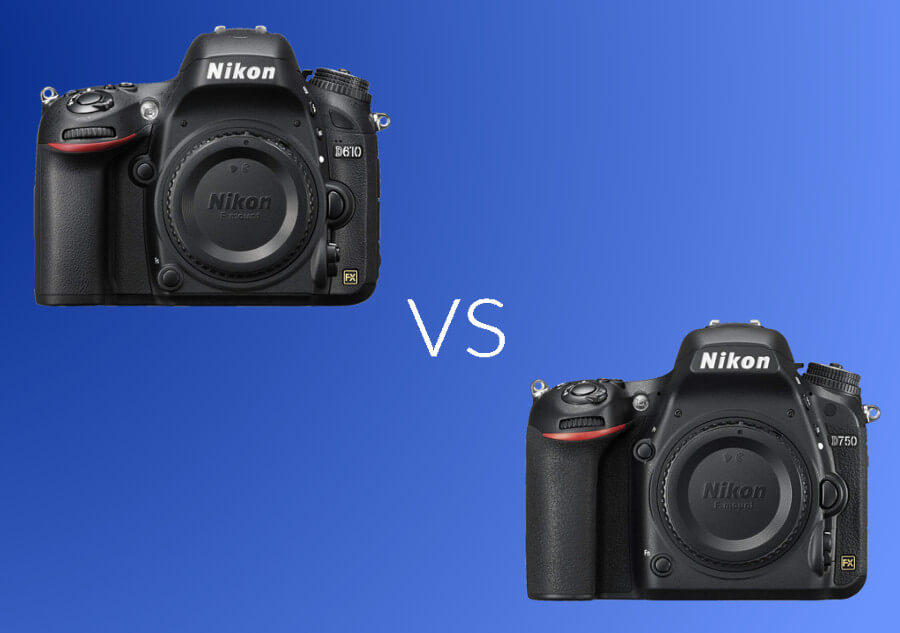 Technical Specifications
Nikon D610
It is a full-frame DSLR camera. Nikon d610 is the entry-level camera in the DSLR range. 24.3 megapixel CMOS sensor camera has powerful image-capturing features. On the sides, with one charge, you can run this camera for 900 shots. It offers a fantastic video-capturing facility at different frame rates, eventually letting you explore your creativity.
Nikon D750
This is yet another impressive addition by Nikon. The D750 takes your videography and photography a notch above. With different frame rates, you can capture the finest images. In addition, it comes with a tilting frame and a screen resolution of 1229 K; you will get the finest quality images.
Video Quality
Nikon D610
For any videographer, focusing on the finest details is imperative. It gives more explicit images and captures even the finest movement. The accurate color reproduction and depth will give you realistic image quality. The D610 lets you capture details, thus giving you complete leverage to capture videos replicating life.
Nikon D750
Regarding the video quality of the D750, it gives impressive color rendition and expanded dynamic range. Moreover, the D750 is a perfect choice for a more refined quality. Its outstanding tonal gradation lets you capture all the hues and shades, which makes the videos realistic.
Low Light Performance
Nikon D610
While shooting a video or capturing an image, the photographer has to focus on the finest details, even when the lighting conditions are not favorable. With D610, you get exceptional low-light performance. Trust us; you will not miss even the minutest details when capturing the image using Nikon D610. The commendable sensors of this camera give you a clearer image up to ISO 6400.
Nikon D750
The next best pick that we have for you is Nikon D750. The camera has functionalities that let you capture images like a charm. Even in low light conditions, you will get true-to-life photos. Moreover, if you want to capture images even in low light conditions, Nikon D750 will not disappoint you. High ISO is imperative for good image capturing in low lights, and D750 offers a high ISO between 1600 and 51200.
Battery Life
Nikon D610
A good battery is also important when it comes to videography. With the Nikon D610, with one charge, you can take approximately 900 shots. However, it is recommended that you should always keep extra batteries with the Nikon D610, or else you might have to compromise on a shorter video duration.
Nikon D750
As compared to the Nikon D610, with D750, you get extra battery life. With one charge, the Nikon D750 may give 1230 shots. Hence, you can easily record videos without worrying about frequent battery charging.
Creative Features
Nikon D610
The Nikon D 610 is a delight for videographers and photographers. Artistic video is more than the special effects option and allows you to experiment with your creative side and capture videos. It also adds a unique touch to the video and answers its visual appeal. With CMOS sensors and EXPEED 3 image processors, you can get high-resolution still imagery and full HD 1080p; you get awe-inspiring videos that capture even the finest details.
Nikon D750
Compared to the Nikon D 61050, it offers top-notch features. It has enhanced creative capabilities that enable videographers to explore new avenues of storytelling and expression via their videos. Moreover, the Nikon D750 also comes with CMOS sensors and has an EXPEED 4 that gives you shots at 6.5fps.
Full HD 1080p Recording
Nikon D610
You can record high-quality full HD videos in 1920*1080p. It lets you capture videos at different fps of 30, 25, and 24. The videos are saved in MPEG-4 AVC/H.264. Moreover, with the Nikon D610, you can manually control the exposure settings. You can easily adjust the aperture, shutter speed, and ISO, thus giving you a better maneuvering feature. It enhances your creativity while capturing the images. Also, it comes with Autofocus features that let you capture the finer details without losing a single shot. You can also choose between 2 recording areas: FX and DX.
Nikon D750
You won't be disappointed if you are eyeing Nikon D750 for videography. The camera draws some of its features from the D810, thus making it apt for videography. The D750 offers better control over the shutter movement and light penetration. This gives you better images and videos every time. Moreover, this camera offers simultaneous image storage in the memory card and an external recording device. For better sound recording, the camera offers 20-level sound control. You can adjust the sound before and during the recording. Additionally, the camera comes with two separate menus for image capturing and movie shooting.
Conclusion
The Nikon D610 and Nikon D750 offer many features, making them the best camera for those looking for videography. But when it comes to battery life and Wi-Fi connectivity, the D750 is a good choice. Moreover, with EXPEED 4, you get better-quality images.
The low-light performance of the D750 is a notch above the D610, thus making it an apt choice for professional photographers and videographers. But you may have to pay a higher price than the D610 on the price parameter.
So, if this will be your first purchase, and you are looking for a professional camera, consider investing in the D610.