For beginner photographers, working with friends or family is preferable to working with professional models. So, if you are also a beginner planning your upcoming photoshoot, you can ask friends to be the model. Portrait is the best option to begin your photoshoot with friends. But have you thought about how to pose your non-model friend for the shoot? If not, we have got you covered.
It is easy to work with a non-model friend as you both can learn together. But without knowing how you direct them for posing (especially if they are camera shy), it would be different to carry the shoot.
So, read on to learn how to pose for a friend and pose for a friend's photoshoot.
Basic Portrait Shots to Try with Your Friends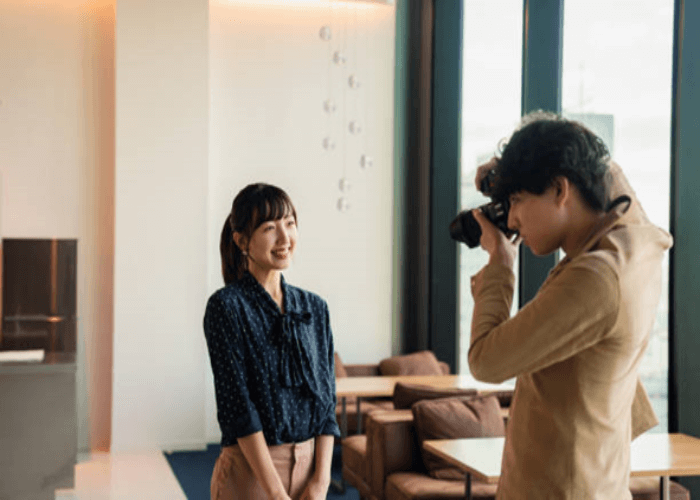 As a beginner, you may tend to take multiple shots from the same spot. But you should not limit yourself by shooting from one angle or style. Try to walk around and shoot from different angles (while your subject is still in a pose). It will help explore the good and bad angles for your shoot.
Here are some basic portrait shots you can try with your friends-
High-angle – Try when your friend sits down for a pose.
Low-angle – Try when your friend is doing a stand-up pose.
Full-length – Shot full-body-length portrait pictures.
Mid-length – Shot head to waist portrait.
⅓ length – Shot Head to shin portrait.
Head & Shoulder – Shot from head to shoulder (the most basic).
Tips to Creatively Pose Your Friends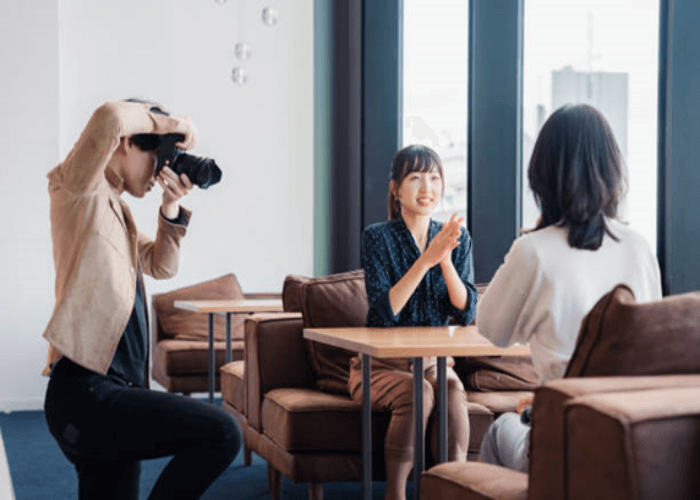 When you work with your non-model friends for a photo shoot, they tend to be more patient and understanding, giving you more time to organize everything. However, if you are working with a non-model friend, they may not know much about posing and rely on your instructions to do it.
So, here are some helpful tips for posing your friend for the photo shoot without getting awkward snaps:
1. Start with Sitting Pose
If you are not looking for a standing pose, it is good to start with the sitting pose. You can ask your friend to sit comfortably and pose for the shoot. If they still seem slightly stressed or confused, ask them to lean on the wall or anything nearby suitable for leaning. It will help to relax the body and get comfortable body language for the shoot.
2. Ask Them Not to Smile
Another useful tip to pose your friend is to ask them not to smile politely. Many people smile instinctively when they come in front of a camera, so sometimes, you need to ask them not to smile. Especially if you are not looking for a smiling pose, you must ask your friend not to smile in front of the camera during the shoot.
3. Talk with Your Friend While Shooting
You must not carry your photoshoot while being completely silent. It can be easier for you to focus when you are silent, but long silence can make your friends feel uncomfortable, and they may not perform well. So, try to converse with your friend while shooting. It will keep them engaged; also, you will get better chances to capture their natural expressions.
4. Give Them an Object to Shift Their Gaze
If you want to shift your friend's gaze away from the usual camera to a different direction, give them an object to look at (away from the camera). Remember, they are not professional models, so it can be difficult for them to retain a certain expression while staring at a blank space. So, giving them an object to look at away from the camera can help you smoothly shift their gaze in different directions without making it awkward.
Props to Use to Pose Your Friend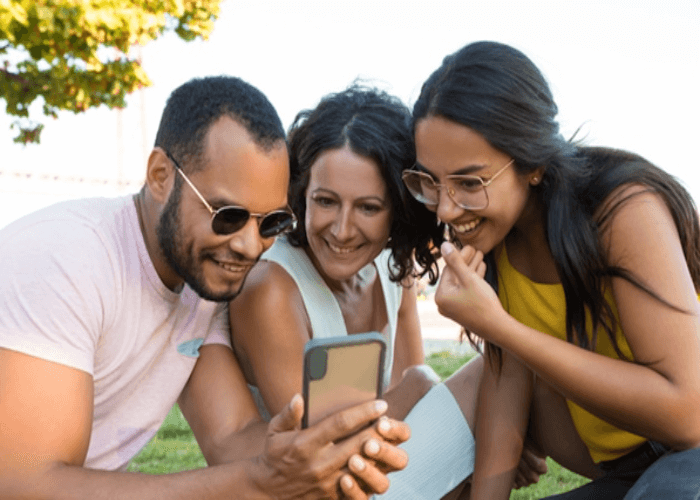 If you are still wondering how to pose your friend for the photoshoot and get better outcomes, you might try some quick props to shift their gaze from the camera and make them comfortable while shooting if you cannot think of good props for your friends to do the photoshoot. Here are a few things you can use as props.
The most easy and inexpensive prop to use while shooting with your friends is their phone. Don't be surprised! It can do wonders when you use them as a prop for shooting. It can easily shit their gaze and engage them. Ask your friend to sit down or lean on a wall and check their phones. Let them take calls or text people while you get around and shoot from different angles. Remember to avoid a double chin while shooting from a low angle.
Another useful prop can be a chair. A chair is another basic yet versatile prop for posing a friend. Ask your friend to try different poses with the chair, like sitting, standing, holding, pulling, etc. If you are shooting outdoors, try to use some natural objects such as trees to help your friend pose for shooting. The main reason to use props is to keep them distracted and comfortable while shooting.
Lastly, if you run out of props, try to give them a line to react. Tell them to recall a certain moment and shoot their natural reactions.
Wrapping Up
Posing a friend for your photoshoot has more than one benefit, like a comfortable shooting environment, more understanding, better flow of communication, and so on. But you can only make the most of your shoot when you know how to pose your friend for the shoot.
A non-model friend may be more patient than a model, but they are also unaware of what to do and how to do a photoshoot. Above, we have shared how to pose your friend for a photo shoot with all the essential details.
So, get ready and grab your reference pictures and gear handy before you call a friend for shooting.