Have you and your best friend planned a trip to Santorini or any other vacation spot? Imagine a situation where you both are wearing striking dresses with long trains (the extension of dresses) and are ready to take amazing photos. The photographer is ready, and the weather is great, but you are not sure what pose to make. Wearing a flying dress and managing to look captivating in the same are two different things. Due to their voluminous nature, its usually hard for people to capture easygoing photos.
Don't worry about it anymore because we've got you covered with elegant and simple poses that you can make with your best friend. Although awkwardly posing might be unpleasant, this is the perfect situation to explore different poses and unleash your inner celebrity!
But first, let's prepare for the photo shoot with a comprehensive checklist.
Checklist for Flying Dress Photoshoot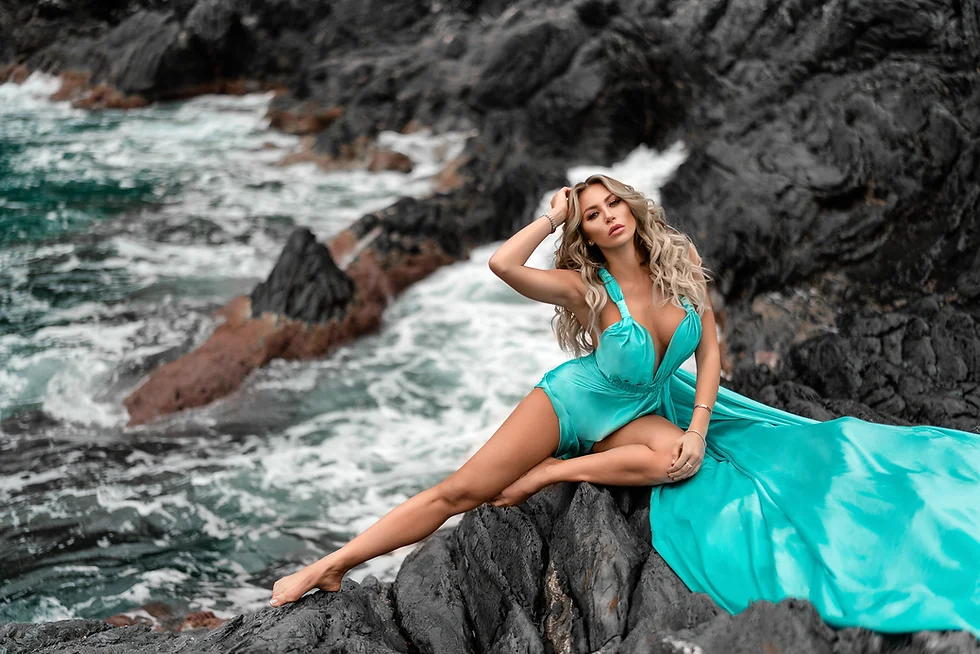 Use this checklist to ensure that you are ready to click photos you will cherish for a lifetime.
Unleash your inner fashionista and ensure your dress is not ill-fitting and suits you well.
Be confident with the poses, and don't go too overboard with them. At the same time, if you want to put in the effort to try out new poses, go ahead by all means!
Check the location and think of how you want the photo to be composed; for instance, do you wish the sky or the landscape to be your background?
Build a good relationship with your photographer so that you can be natural in the photo shoot. Let them know if you have something specific in mind.
Help each other out, as the dresses might be pretty challenging to manage.
Figure out if you need assistance before the shoot begins, as some poses or locations might need help to make the dress fly. Also, sometimes props might be required, and these should be ready before everything starts.
Finally, have fun with your best friend and ask for a few candids for good future laughs!
To help you make better choices, we have compiled in one place all you need to know about flying dress photoshoots with your best friend. At one glance, you will know how to make the poses (e.g., body position), how the background can be, which color dresses complement each other, assistance requirements, where to place the train, and the overall emotion the photo can convey.
Now that you are ready let us review the photoshoot ideas with references!
11 Flying Dress Best Friend Poses You Can Try Now
1. Boldly Face the Camera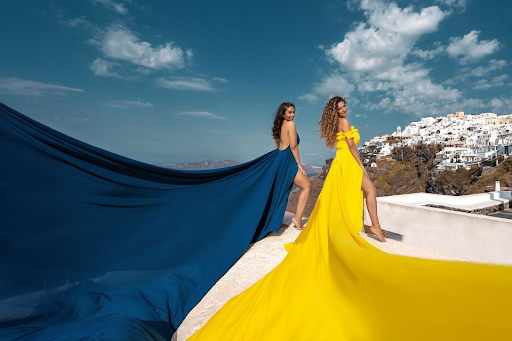 This pose will put distance between you and the camera, giving the training space to fly beautifully. If there is a slit in your dress, confidently flaunt your legs. Putting it in front works nicely as well. Your beautiful dress leading up to the camera will make for a solid and well-composed photograph. Make sure the photo's background is quite simple and elegant so that the focus is on you. This pose needs minimal assistance because the dress is in front of the photographer and can easily be held in place like that. This pose also makes it look like you are both looking at the same object.Maybe you are looking at the eager faces of your future selves, your friends or family who will look at the photo days or years later
2. One, Two, Three, Go!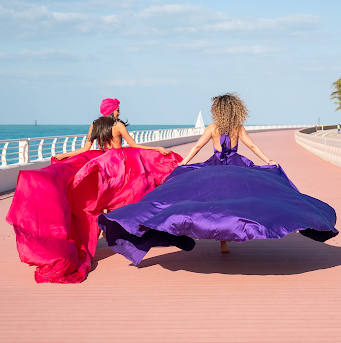 For flying dress poses, incorporating movement into the photographs will work wonders. It allows the wind to work magic and shape the dress to look vast and flowy. Facing each other gives the picture an intimate and playful vibe. Make sure to hold your dress with both hands while running so that the dress flies widely. Here, even if the clothes are somewhat of similar colors, the photo would still be striking due to the vivid movement it captures. This pose will turn out best if you both are on a trail, path, or street with a beautiful view. This pose requires no assistance and can be very easy to make.If the camera captures your smiles or laughter, then the photo will be better as you can remember these little moments as well!
3. Strike a Confident Pose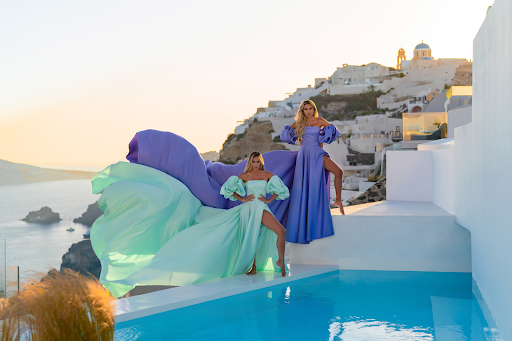 This pose might work best if there is a happening background because that way, you, your friend, and your outfits will be the main focus. Putting your hands on your waist and crossing your legs, with one leg forward, is a familiar red-carpet pose. This pose may require assistance if the location is not a windy one. In an open field, the wind might move the dress everywhere, so assistance might be needed in cases like that. As the dress flows on one side, it might give the photograph a bold vibe. Wearing contrasting color dresses will make the photo even better. The photograph tells the story of how friends give each other confidence!
4. Face Each Other and Flash a Smile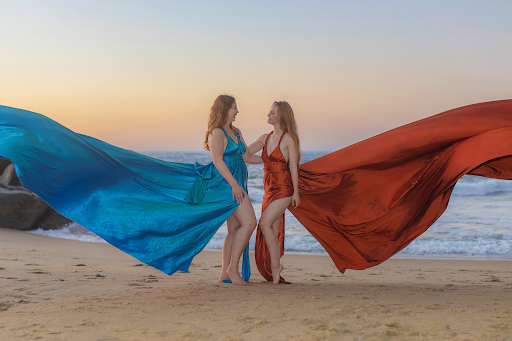 This best friend pose gives a warm feeling to the photograph. Since you both will be in the center of the photo, the dress flows to the side, making the photo look like a butterfly with differently colored wings. This pose might require assistance to make it look perfectly like wings. Wearing complementary colors will make the photo bright and eye-catching. If the background for this photo doesn't have many details, the pose will be much better. Holding hands and smiling makes the photo look more natural and relatable!
5. Do Little Dance Moves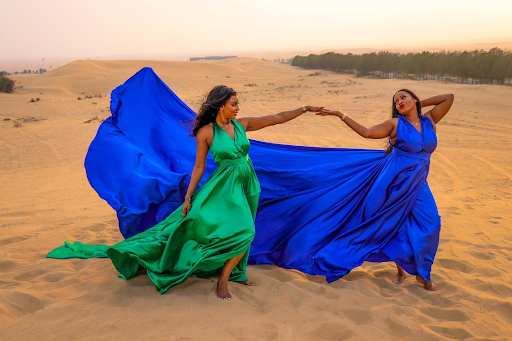 This pose is a natural one, and there is no need to figure out specific positions. You can make your favorite dance moves and let the camera work its magic. If you both look at each other while dancing, the moment captured will look amazing. This pose requires no assistance at all. The dresses can be of any color as well. For this pose to work, the background shouldn't have a lot of activity, as that will take away the wow factor of the photo. Therefore, your photos might look more striking against a still background. After all, what's better than two friends dancing and sharing little inside jokes?
6. Sit and Chat Away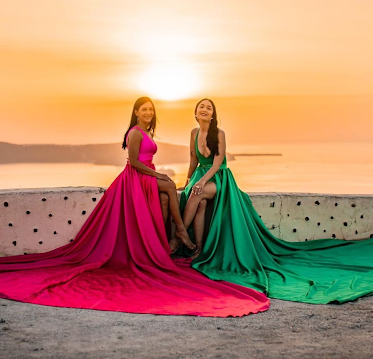 This pose creates a sense of calmness. Both looking at each other or at the camera would work well for this pose. As you can see, sitting in front of a still background like sunsets or the ocean will make the pose look more elegant. However, busier backgrounds, such as cityscapes, might work as well. Since you both will be sitting against a background, it is necessary for you to plan out and coordinate the colors of the dresses with each other and to check if it matches the background. Spreading out the dress in front of you both is crucial for it to look magnificent, and this task is not very difficult, and so this pose needs minimal assistance. This pose for 2 best friends also reminds us of the times spent chatting about silly things!
7. Hold Each Other Like You Always Have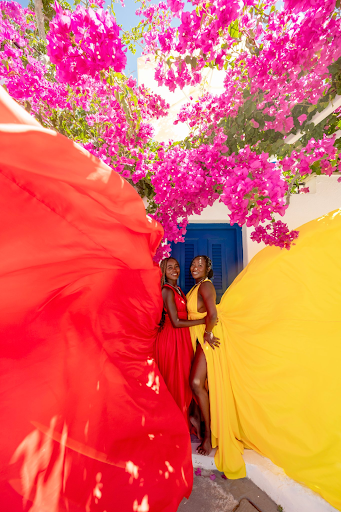 This pose requires you both to hold/hug each other and look at the camera, preferably with a smile on your face! The background can be anything ranging from plain walls, buzzing cityscape, or serene waterbodies. This pose can be done against any background because the focus here is on the friendship that is captured by the camera. Complementary colored dresses would help to make the photo more striking. This pose might need assistance to make the dress fly. This is because you want the dress to be placed in front of you, which is not naturally possible despite being in windy places. This pose conveys the deep connection that best friends usually have.
8. Got Each Other's Back?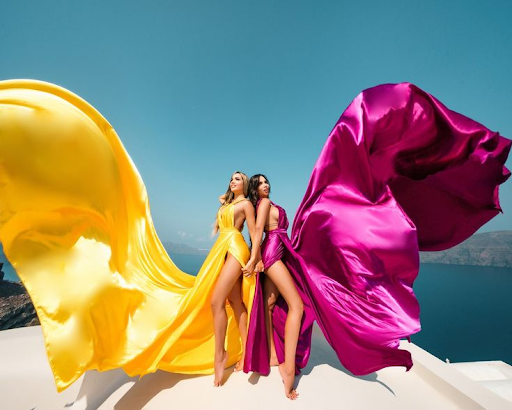 This is a commonly used pose when it comes to best friends but with several variations with the hands. For example, some might make hand gestures (peace signs, handguns, etc. ). However, for flying dress poses, making hand gestures might take away some elegance from the photo, so it is better to hold hands on the side or let them loose simply. This pose works well in any type of background. This pose also requires minimal to no assistance, depending on the location of the photoshoot. The clothes need to be of different colors for the photo to look vibrant. This pose subtly conveys the truth that best friends always got each others' back!
9. Making Hearts Always Works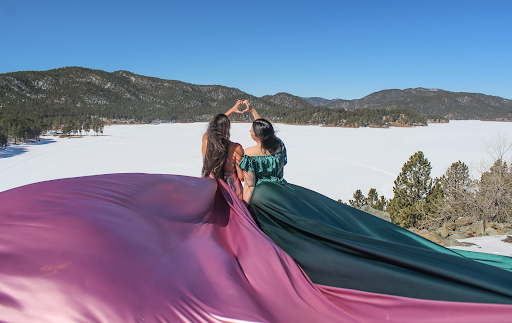 This pose gives off a playful vibe which is in contrast to the elegant satin clothes. Since the two best friends are making hearts with their hands, it is better if they have their backs on the camera. The location of the heart needs to be decided before clicking the photo. It is better if the background is plain and clean because this way, the heart will be seen clearly. Another important aspect when it comes to the color of dresses is that both should either wear pastel or saturated/bright clothes. If both of you wear different types of dresses, the photo might not look coherent. This pose also requires minimal to no assistance. Honestly, this pose captures the goofy essence of friendships!
10. You Sit, and She Stands, or Vice Versa
This reference picture serves as an example to show how cool this pose would look. This pose requires the background to be simple, as the focus should be on the two friends. It also requires minimal assistance. However, props such as high chairs or stools might be needed. If it is possible in the location, one of the friends can sit on small walls like in the photo as it makes the pose very natural. This type of posing is commonly seen when one friend is getting married, and the bridesmaids are standing while the bride sits. This can also be communicated by making the friend who is getting married wear white and the bridesmaid wear color. This type of pose might make others think of the reasons why one is sitting, so make sure the reason is conveyed. But if the background is such that there is space for only one person to sit, then no reason is required. Probably whoever wins in stone paper scissors will get to make a choice!
11. Both of You Do Your Thing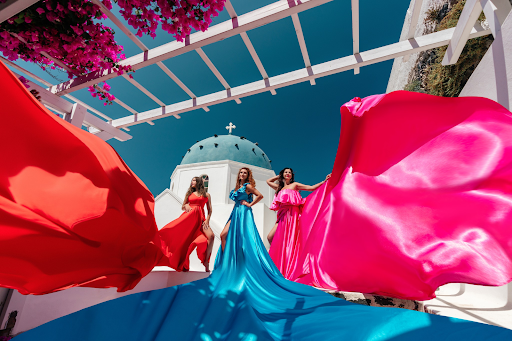 Although there are three in the photo, the same would work as best friend poses for 2 as well. Both of you can stand close together and make different poses. Due to the location and similar kinds of clothes, the photograph would still look put together. This requires assistance because you need the train to fly in front of you, which might not naturally occur.
The background needs to be plain and not with any movement or details because the two of you are already making different poses, and having too many unrelated elements would not make a good photo. This pose works well because the individuality of the friendship shines through, which conveys the meaning that despite differences, we remain strong!
Final Thoughts
When two best friends go on vacation or simply get their hands on beautiful dresses with long trains, doing a photoshoot is probably a need! There are different poses that the two of you can try. Each pose may convey a specific meaning, work better against specific backgrounds, and may require props or assistance.
Although these flying dress best friend photoshoots require time and effort, the end product has been loved for a long time. So try these flying dress best friend poses for 2, and let us know which one works for you.
If you have any suggestions for poses, feel free to let us know!
Frequently Asked Questions
Do I Need to Hire a Professional Photographer to Get These Photos?
It depends on how professional and polished you want the photo to look. Anyone can take pictures with the flying dress poses mentioned with a timer. A professional might know how to compose a photo in the best possible manner and know great locations.
Do We Always Need Extra Assistance for The Photo Shoot?
It depends on the pose you are choosing. For instance, running together somewhere or sitting on a bench or a low wall needs no assistance. However, if you want the train to fly in front or side, you need assistance to achieve that effect.