The Sony A7III is a very popular full-frame mirrorless camera with an impressive array of features. The A7III is one of the most highly regarded cameras for its low-light performance.
It has a full frame 24.2-megapixel sensor that is known for its large individual pixel size. Larger pixels can capture more light, which greatly improves the low light performance. At its price point, this is one of the most accessibly priced models, which isn't short on features or specs.
In Sony A7III, you get a back-illuminated full-frame sensor, a 693-point AF system, 4K video features, 5-axis stabilization, 10fps shooting, dual SD slots, ISO 204800, and more. 
A7III Main Specifications
Sensor: 35.9 x 24.0 mm, 24.2 megapixels full-frame Exmor R CMOS sensor.
ISO Range: 100-51200 (expandable to 50-204800).
Image Processor: BIONZ X.
Autofocus: Fast Hybrid AF system with 693 phase-detection points and 425 contrast-detection points.
In-Body Stabilisation: 5-axis in-body image stabilisation (IBIS).
Continuous Shooting: Up to 10 frames per second.
Video Recording: 4K UHD video recording at up to 30fps, Full HD at up to 120fps.
Battery Life: Approximately 710 shots per charge (CIPA rating).
Low Light Performance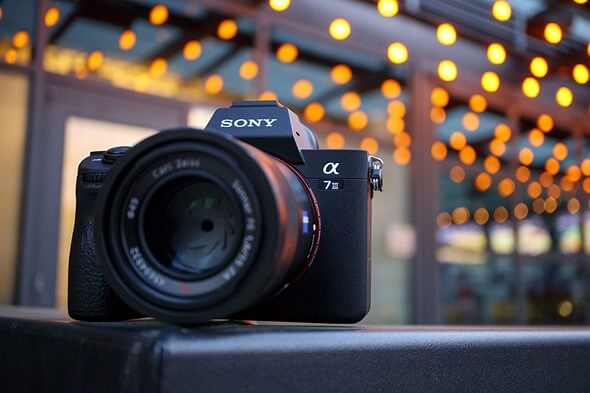 This model is generally well-regarded for its excellent low-light performance. It has efficient noise reduction and very high ISO capabilities, which makes it one of the most effective for shooting in low-light conditions.
Let's take a look at some of the features that help achieve superior image quality even in low-light conditions. 
ISO Performance
The ISO range of this camera extends from 100 to 51200 and is expandable to 204800, which helps in great image quality even when shooting in low light conditions. One can get fairly great shots even till ISO 10000. The noise is not pronounced as much and can be easily cleaned up in post-processing. 
Noise Reduction
The A7III uses advanced noise reduction algorithms to manage noise for images captured at higher ISO settings. Noise reduction is an essential aspect of digital photography to maintain image quality while minimizing unwanted noise in photos. 
BIONZ X Image Processor
This Image processor helps the camera maintain the image quality and reduce noise when at higher ISO settings, which means that your picture quality is great even in low light conditions.
Autofocus
Sony A7III features an autofocus system that performs very well in low-light situations. The fast focus is thanks to the phase detection autofocus points that cover a large portion of the sensor, which helps achieve great focus even when the light conditions are less than ideal. The eye Autofocus is an especially nifty feature that helps you lock on the eye even when at a distance. A feature that would be essential for wedding photography, event photography, and photographing kids, where the subject is fast-moving and unpredictable.
Stabilization
The A7III has in-body image stabilization, which enables better image quality in even handheld shots. The stabilization helps achieve less camera share, especially in low-light situations.
Some Low Light Settings You Can Explore
The 3 most important factors when shooting in low light conditions are your aperture, shutter speed, and ISO.
Here are some settings that you can consider.
ISO Settings: The A7III has excellent ISO performance. A median setting of ISO800 can give great quality images, while the higher you go, the more chances of noise. 
Aperture: A wide aperture will let in more light into the camera, which can help when shooting in low light conditions. A wide aperture also results in a shallow depth of field. 
Shutter speed: When shooting in low light conditions, having a slower shutter speed might enable you to take better quality images without motion blur. The in-camera stabilization of the A7III is especially useful in this regard. 
Lens: Using a fast lens with wide apertures can help when shooting in low light conditions. Consider using a prime lens when shooting in low light conditions. This has a fixed focal length and a larger maximum aperture. Most kit lenses are not ideal for low-light photography due to their small aperture range. 
Raw Format: Make sure to shoot your pics in RAW format rather than a JPEG format so that there is adequate leeway to correct during post-processing. You can underexpose your images to recover the details later in post-processing. 
Autofocus: The superior autofocus of A7III helps when shooting in low-light conditions. However, achieving autofocus in low light might be challenging; make sure to use the camera's autofocus peaking feature to ensure correct focus.
Conclusion
The Sony A7III is a well-balanced camera that is ideal for a vast array of uses. The superior specs make it a photographer's versatile tool, especially for those who work in low-light environments like indoor events, astrophotography, night photography, and more.
The A7III's capability to handle noise and deliver impressive image quality even under less-than-ideal conditions is one of the reasons why this is a camera of choice for many professionals and amateurs alike.
So, if you are in the market for a camera that can help with your low-light photography, this one is still relevant and better than most others in the market at this price point. 
Frequently Asked Questions
How Does the A7III Perform in Low Light Conditions?
The A7III is an excellent camera for low-light photography due to its full-frame sensor, wide ISO range, in-body image stabilization, and more. It can effectively produce high-quality images even in challenging light conditions.
Is the A7III Suitable for Beginners or Professionals?
This is a versatile camera and can be used by both beginners and professionals. The user-friendly features are very beginner-focused, while the advanced capabilities can be used to the max by more experienced users who will definitely appreciate them.