Nikon has always been revolutionary regarding having innovative, high-quality cameras. The brand continues to upgrade its existing masterpieces and give its customers a more holistic, fulfilling photography experience. The company announced its Nikon Z7 II range as an upgrade to its already popular Z series camera. However, how it performs when compared to its former counterparts is a question that the clan of photographers is keen to know. 
Here's a quick rundown of the performance of the Nikon Z7II review regarding image quality. But first, let's get to it.
Specifications of the Nikon Z7II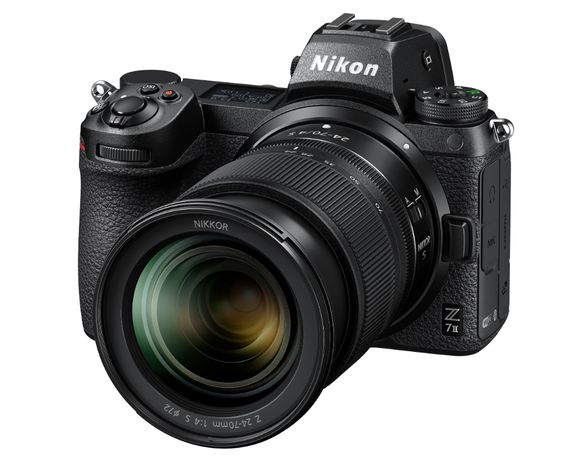 The Nikon Z7 II is a stunning 45.7MP BSI-CMOS sensor camera that comes with a native ISO 64. It has a 5-shot stabilization and a 3-shot stabilization with an adapted F-mount lens. It offers 10 fps burst shooting with a single-point AF.

The 4K/60p video with almost 93% coverage of the sensor offers excellent video quality. This camera has a new EN=EL 15c battery that is CIPA rated to 420 shots in LCD and 360 shots in EVF.

The key highlight of this camera is that it is yet another addition to Nikon's mirrorless slew of cameras. The core aim here is exceptional image quality across the board, be it low light or high contrast scenarios. 

How is the Nikon Z7II Different from the Older Variants?

Dual Card Slot: Firstly, Nikon paid attention to the user's demands and has given a dual card slot that allows for immediate back-up in case you need to have separate viewing of the stills and videos in a hassle-free manner.
Processor: The Nikon Z7 II has a dual Expeed 6 processor that allows for flawless image quality, exceptional autofocus, high-end low-light performance, better noise suppression, and image clarity. 
Buffer: This camera has a deeper buffer that gives almost 77 raw images of 12-bit RAW. 
Autofocus:The upgrade has new AF modes that have been added. It offers face and eye detection in the Wide area AF. This helps you focus on the person even if there are various people in the shot; the same is applicable to animals.  You can also autofocus in low light as low as -3EV with the lens at F2. 
Others: The 4k/60p capture is a definite upgrade of its processor in terms of video quality. You can output raw video in 1080p in full sensor and 4K in APS-C sized region. In addition, it offers firmware updates that can be done via Wi-Fi through dedicated apps.

Everything You Need to Know About the Image Quality of Nikon Z7II

Nikon Z7 II has an excellent, high-end image quality that has sustained its reputation in the Z series. The 45 MP camera sensor is the same as the previous version, known for its impeccable image quality. It works effectively across various scenarios and can be a go-to camera of pristine image quality. 

Initially, the predecessor did show minor banding in deep shadows. However, this has now been fixed in the Nikon Z7 II, making it an excellent choice.

1. Landscape Photography

Both the Z6 and Z7 have proven to be excellent cameras for landscape photography, with minor differences. However, if you opt for a tripod and need detail capturing in a landscape, then with the right accessories, i.e., lens and good technique, the Nikon Z7 II is expected to deliver better results. The high-resolution low ISO can churn out some breathtaking shots. The anti-aliasing filter allows you to capture maximum detail.

2. Action or Wildlife Photography

Owing to the higher level of buffer than the original Z7, you get higher frames per second. It, therefore, has a good video quality and better buffer than the previous variant. The buffer improvement is one of the key highlights and improvements as compared to the previous versions.

3. Low Light Photography 

When looking to work on low light photography, while both Z7 and Z7II have the same resolution, the ISO performance could differ, as it is in the case of Nikon D750 and D780. While both these had a 24MP camera sensor, the latter had a better ISO performance. But when testing Z7 and Z7II, both have almost similar image quality. Barely distinguishable. 

Regarding still objects, the Nikon Z7 II's performance is good. However, other cameras do better, for instance, the Nikon Z6 II. The focus speed has been improved; accuracy is good, too. Therefore, it can be used for blue-hour photography shots, too.  For moving objects, the camera does detect pets, faces, and eyes, but its counterpart brands do a much better job in this regard. 

Conclusion

The Nikon Z7 II is an excellent camera that offers high image quality. The stunning dynamic range, in addition to the ISO 64, makes it a good deal for photographers.

In addition, you can expect high video quality, good resolution, and ideal ergonomics, making it a preferred choice for landscape and action photographers. 

The dual memory card slot is an added advantage that helps photographers by giving them real-time flexibility. It also offers good body image stabilization that helps in overall picture quality. 

Frequently Asked Questions

Is the Nikon Z7II a Good Camera?

Yes, it is among the highest-resolution cameras in the Nikon Z series lineup (during release). The native ISO 64 is the core USP of the camera that allows maximizing dynamic range for landscape photography and offers excellent images even in high contrast set-ups. 

Is the Nikon Z7II Worth the Upgrade?

In terms of image quality, it is similar to its predecessor. However, it has a better buffer capacity, dual card slot, and improved video capture features that can help you upgrade your photography experience.