Photos are a way of preserving memories for a longer period. People often like to capture their important days and events in photos by getting a photoshoot done by a professional. It is the way the new generation captures their beautiful moments in the form of photos.
Therefore, when we consider photoshoot, we often look for good locations as it adds more depth and artistic view to basic pictures. One such location is beach photoshoots; families, friends, and even couples beach photoshoots are done widely.
Beaches are one of the most alluring locations when it comes to photoshoots. A pretty radiant sky, blue water, and sand make a perfectly happy moment for pictures. However, as a beginner, it gets quite difficult to choose how much to charge for a beach photoshoot. Where to start and how much to quote to clients is one of the major concerns all photographers face.
Hence, to help you with that, we are here with a piece that answers all your concerns about how much to charge per session.
Why Do People Choose Beach Photoshoots?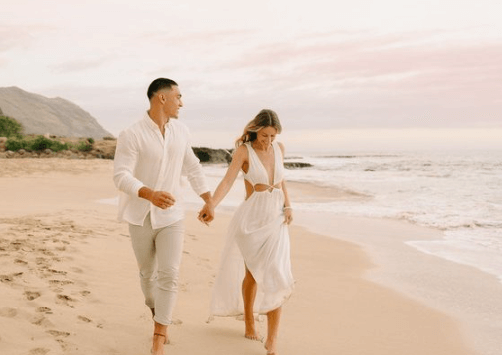 There are several reasons why one chooses a beach photoshoot. Some are related to financial parameters, whereas some are related to scenic beauty. Be it couples, family, or friends, a beach photoshoot works perfectly for all.
Hence, to know in detail why it is better to choose a couple of beach photoshoot poses than any other, read the below-mentioned pointers.
The very first reason why beach photoshoots are preferred is because it has amazing views. The blue open sky, sand, and running sea waves can make any photo beautiful.
Apart from the beauty of nature, the natural waves and winds allow the photographer to click more candid pictures and have natural-looking memories. Imagine your hair flowing naturally in the air in a photo; great, right?
Moving forward, the very next reason why you should choose a beach photoshoot is because it is cost-effective. Beaches are usually free, and you don't have to pay any rent or something for the location.
How Much to Charge for A Beach Photoshoot?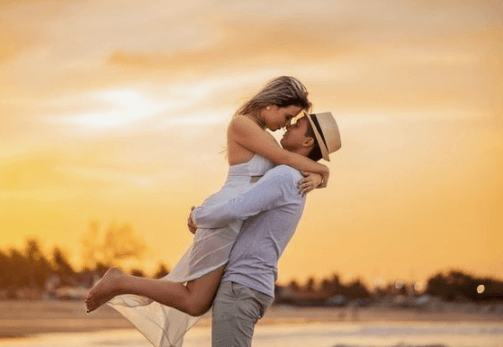 The most important question that needs to be addressed when discussing beach photoshoots is how much to charge. Clearly, the answer to this question depends on various factors, and according to preference and requirements, the cost changes. Some of the obvious reasons that can decide the cost of a beach photoshoot are mentioned below.
The average cost for a beach photographer in the USA is 155 USD, whereas the minimum can be as low as 25 USD, and the maximum can go up to 1250 USD. However, the average range for the same is between 96 USD to 295 USD. One can expect anything between this cost for a beach couple photoshoot.
Apart from this, the experience level a photographer holds also justifies the photoshoot cost. As a beginner, one can charge up to 55 USD per hour, whereas if you are an amateur, then anything between 26 USD and 90 USD will work great. Also, if your experience is a little better at photography, then you can charge 77 USD to 175 USD.
Different Sessions for Couple Beach Photoshoots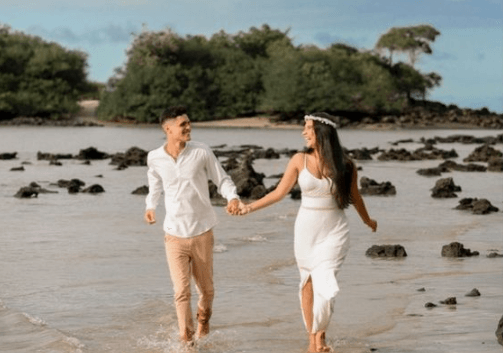 Beach photoshoot prices usually differ as per the session as well. A morning session might cost you less than the evening one. Hence, when you plan a beach photoshoot, it is always advised to plan which session you want to get your photoshoot done.
Keeping the same in mind, let's discuss what are the different sessions for beach photoshoots:
Sunrise Photoshoot Session: Sunrise photoshoots are one of the best options to consider because beautiful sunlight and fewer people will make it easy for you to get the best pictures clicked. Also, once the shoot is done, you can have all day long to take a rest.
Sunset Sessions: These are some of the most popular and highly booked sessions because it is considered to have the best golden hour photos. The photography charges for this session are quite high, but they are usually worth every penny spent.
Pre-Sunset Session: This particular beach photoshoot session is booked only when the sunset session is booked. It still has a bolt of nice lightning and can be managed with external types of equipment to get good pictures.
Conclusion
Lastly, to sum up all this, it can be said that, on average, a beach photoshoot will cost you 155 USD, whereas it can vary as per one's requirements and preferences. If you are on a budget and don't want a very costly photo shoot, then you can get your pictures clicked by a beginner as well.
Everything you choose will determine the overall cost of your beach photoshoot. Hence, make sure to prepare everything and get an estimate of the cost for a smooth experience.
Make sure to carry all the necessary things with you so that you don't have to hustle at the end.