Boudoir photography is an art form that beautifully captures the essence of intimacy, sensuality, and self-confidence. Over the years, this genre has evolved beyond the traditional soft and romantic aesthetics, giving rise to a new and exciting trend known as boudoir photography.
An edgy boudoir photoshoot combines elements of boldness, attitude, and empowerment, resulting in captivating images that challenge conventional beauty standards and ignite a sense of liberation.
There are infinite ways to add an edgy touch to your boudoir photoshoots, right from using leather and lace to experimenting with shadows, props, and lighting.
In this comprehensive guide, let's dive into the world of edgy boudoir photography and explore how to style a remarkable and empowering edgy boudoir photoshoot.
Keep reading further to venture into the world of boudoir photography and unleash your creativity to create breathtaking photos.
1. Creating the Concept and Mood Board Creation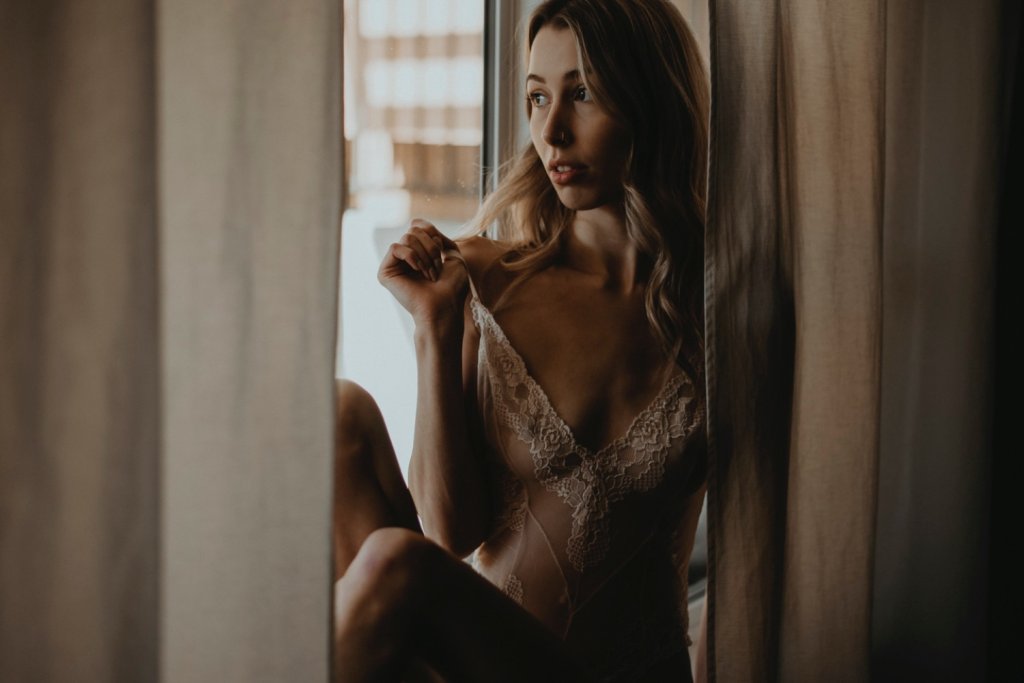 Before diving into the creative process, its essential to conceptualize the vision for your edgy boudoir photoshoot. Start by brainstorming ideas that resonate with you and your subject. Once you have a clear concept in mind, create a mood board to gather visual inspiration. Include images, colors, textures, and poses that reflect the edgy vibe you want to achieve. Collaborating with your model will simplify this process and help you achieve the desired snaps.
2. Follow A Theme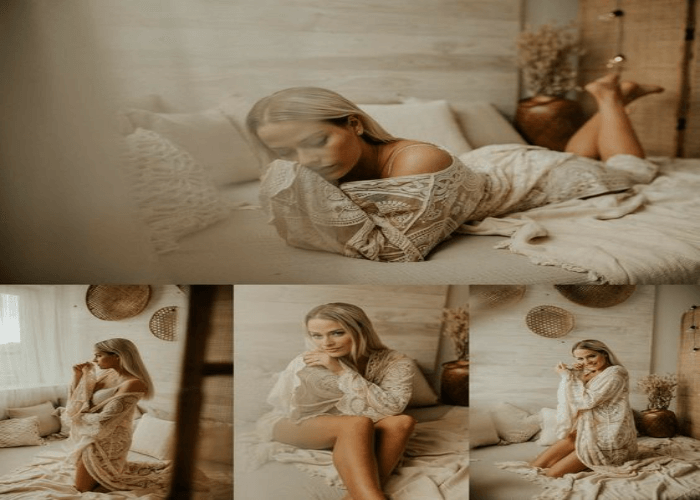 Choosing a theme for your edgy boudoir photoshoot can add a delightful touch of creativity to the images. A theme provides a central concept that guides your wardrobe choices, poses, and overall ambiance. Whether its a vintage-inspired 1950s look, a dreamy Bohemian vibe, or a bold and edgy urban atmosphere, having a theme ensures that all elements work harmoniously together. Themes spark excitement and help narrate a story through your photos.
3. Keep Your Subject Comfortable
Keeping your subject/model comfortable during a boudoir photoshoot is of utmost importance to achieving natural, confident, and empowering pictures. Begin by fostering an open and respectful environment where your subject feels safe expressing themselves. Communicate your concept clearly, and if they have suggestions, be open to incorporating those to have a win-win situation for them as well as for yourself. Encourage their inputs and preferences, valuing their comfort above all else. Throughout the shoot, it is imperative to maintain a friendly and professional attitude, offering gentle guidance and a positive approach.
4. Wardrobe and Styling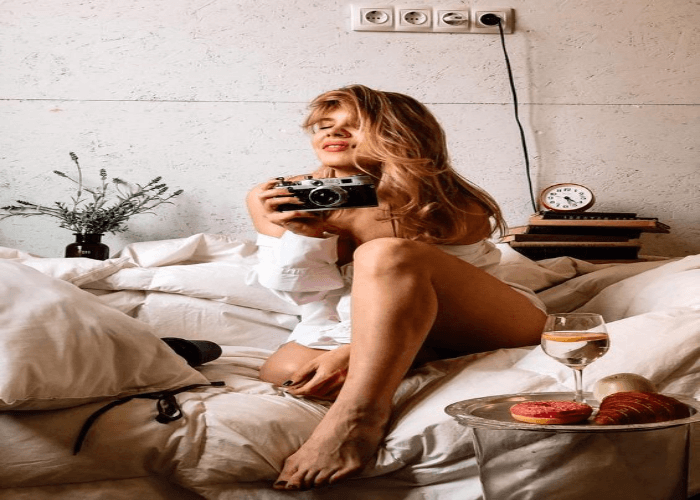 The wardrobe plays a crucial role in shaping the edgy aesthetic of your boudoir photoshoot. Choose outfits that exude confidence, power, and individuality. Leather jackets, corsets, mesh stockings, ripped jeans, bold lingerie sets, and edgy accessories like chokers and studded belts are some brilliant choices. Experiment with layering and mixing different textures to create a visually striking ensemble. When selecting the overall style for the shoot, consider your model's personal preferences and comfort. This collaborative approach can lead to authentic and empowering images that reflect the model's unique personality, which is the essence of this photoshoot in the first place.
5. Hair and Makeup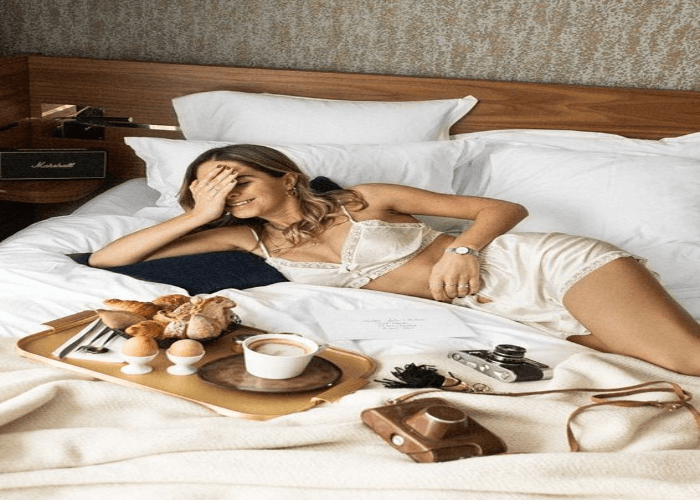 Hair and makeup are crucial elements in enhancing the edgy look of your photoshoot. Dark, smoky eyes, bold eyeliner, and deep, rich lipstick shades can add a touch of drama and intensity. Hairstyles can range from wavy curls to sleek, angular cuts or highlighted hair with a tint of maroon and chocolate brown with the original black. Collaborate with a skilled hair and makeup artist who understands the aesthetic and can bring your vision to life. Discuss your ideas and inspirations and work together to bring forth that edgy vibe.
6. Location and Set Design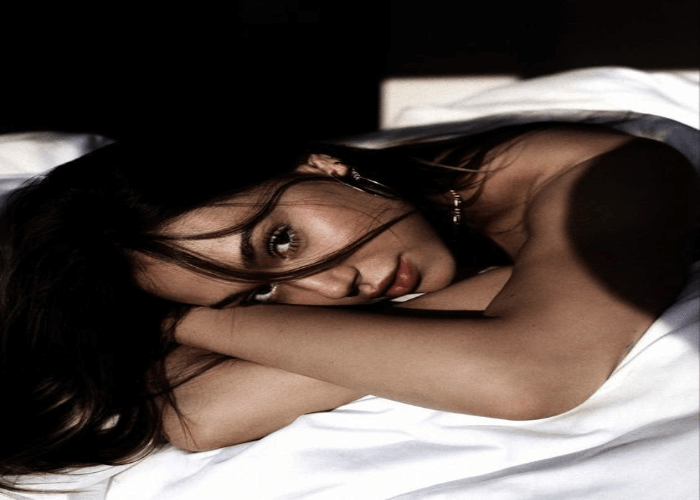 The choice of location and set design contributes significantly to the overall mood of your edgy boudoir photoshoot. Seek out urban landscapes, industrial spaces, or unconventional indoor settings that align with your concept. Remember that the environment should complement the wardrobe, makeup, and overall theme. Pay attention to lighting and shadows, as these elements are really important in accentuating the atmosphere that you wish to create.
7. Posing and Expressions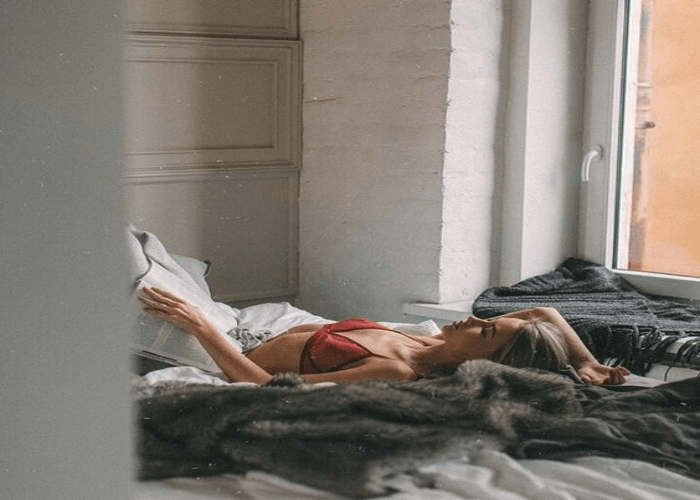 Posing and expressions are key factors in conveying the edgy, empowered feel of your boudoir photoshoot. Encourage your model to experiment with strong, confident poses that showcase their body's angles and lines. Facial expressions should really enhance the mood of the shot. Experiment with a range of emotions, from sensual gazes to playful grins. Encourage the model to tap into their inner confidence and bring out the best version of themselves!
8. Lighting and Editing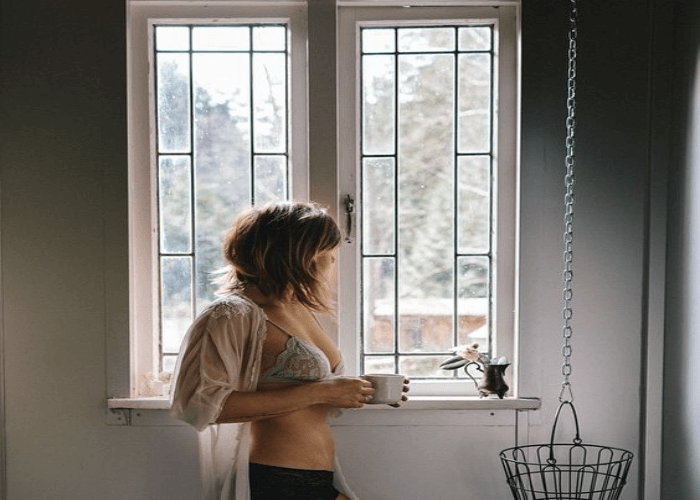 Proper lighting is essential in boudoir photography, especially when aiming for an edgy look. Experiment with dramatic lighting setups, such as harsh shadows or a bold contrast, to create a sense of mystery and depth. Explore both natural and artificial lighting techniques to achieve your desired effects. During the editing process, enhance the edgy aesthetic by adjusting colors, contrasts, and tones. Experiment with moody and cinematic presets to add a hint of drama to the images. However, it is highly essential to maintain a balance between enhancing the edginess and preserving the model's natural beauty!
Wrapping It Up
All in all, styling an edgy boudoir photoshoot is all about embracing boldness and empowerment.
By carefully selecting wardrobe, makeup, and settings that exude confidence, you can create striking and unique images that challenge conventions.
Remember, communication with your model is the key to ensuring their comfort and authenticity throughout the shoot. Its all about edgy fashion choices, daring poses, moody lighting, and celebrating your individuality.
So let your creativity flow and capture the essence of edginess in your unique way that celebrates you and your boldness!