A beach photoshoot can be quite challenging to master since there are many delicate aspects to control. The waves, sand, light exposure, and styling are just some of these factors. Are you in sight of a beautiful sunset at the beach with magnificent waves behind you, waiting for a good picture? Or are you waiting for the conventionally perfect bikini body?
Because we can assure you that the only key to pretty snaps, other than confidence, is poise, and that is why to help you with your photo sessions, we have compiled the perfect guide with incredible poses that will make you look tempting and out of the world. All you need to do is grab your favorite bikinis, get to the beach, and strike these poses.
Leave the rest of our ideas to make your bikini model photoshoot perfect!
Photoshoot Ideas for Bikini Models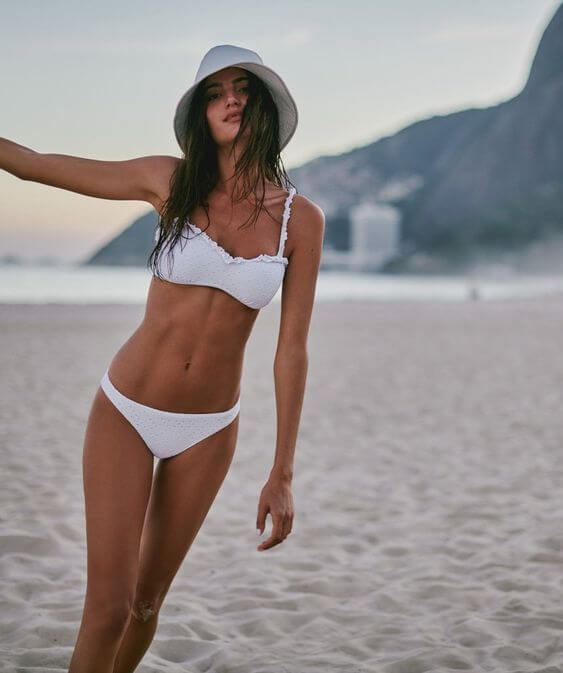 Before you move on to the next section to explore different poses and some of the best bikini models' photoshoot ideas, here are some general tips for all kinds of beach photography. Implement these to make your shots far more photogenic.
Avoid standing straight: Standing idly can make your figure seem boxy and your pictures boring. Instead, try the poses where you can flaunt your figure. But how to make the final snaps more interesting? Begin by focusing on each element. For instance, take a small step and put one leg in front of the other while swaying your hips slightly to the side.
No hands-on sides: Even the best models sometimes feel confounded about what to do with their arms while posing. Refrain from keeping your arms at your side. This way, they take away your opportunity to show off your beautiful curves. You can keep your hands on your hips or hold a strap gently or even tussle your hair.
Using Props: Adding this element to your pictures can bring out the fun and playful side. Grab a large ice cream cone, a beach ball, or even a surfboard to magnify the appeal manifold.
Outfits and styling: Pick a bikini that would complement your figure and curves and not something that would make you look dull. You can also opt for lacy or flowery bikinis, which would make you look sexier. You can also change as many times as you want. After all, the main idea of the photoshoot is to have fun!
Captivating Bikini Model Poses on the Beach Ideas
1. Running Through the Waves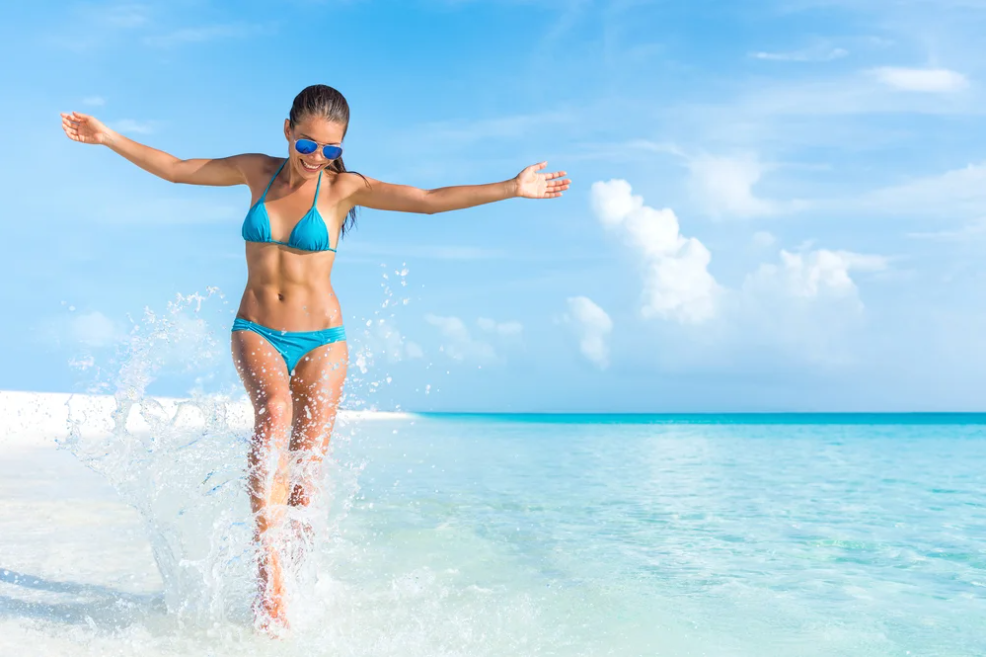 One of the most creative bikini model photoshoot ideas is adding motion to the pictures and making them seem more natural. You can run through the waves just as they touch the beach since it's a fun way to show your playful side. You can add actions instead of running, like playing with the water. However, ensure that your pose doesn't seem too crafted.
2. With a Wide Lens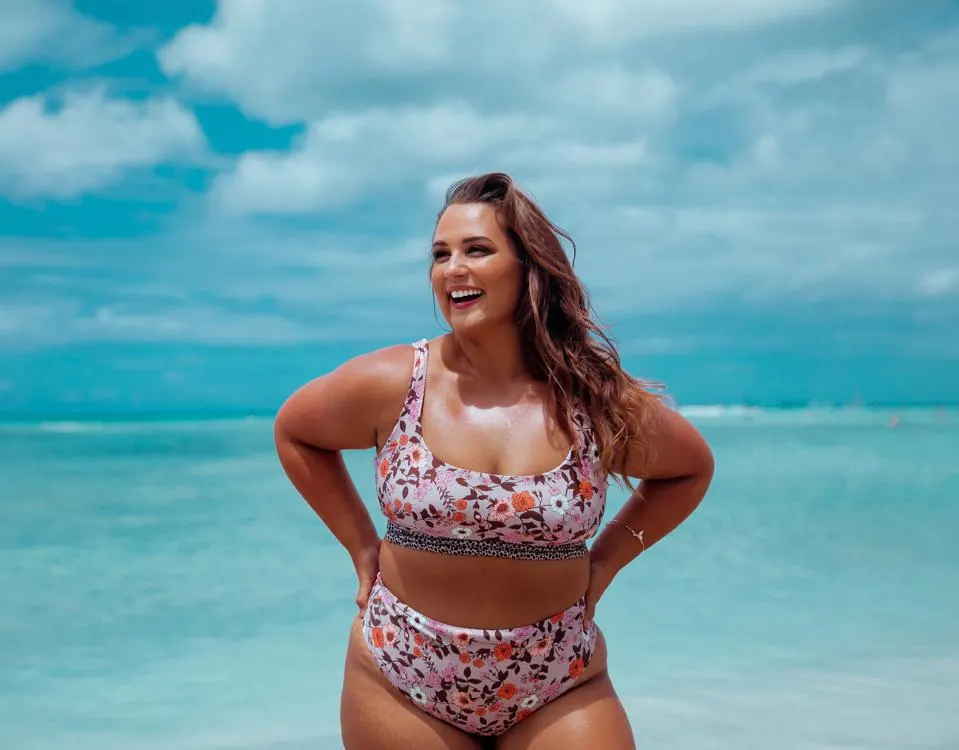 Stand elegantly in front of the crashing waves and use a wide lens on your camera to capture the magnificent view behind. But is the mere background behind you enough to make your pictures extraordinary? You can add a little jazz by looking straight into the camera while taking a confident step ahead. Remember, the key is not only confidence but also poise and attitude you carry with yourself!
3. Half Submerged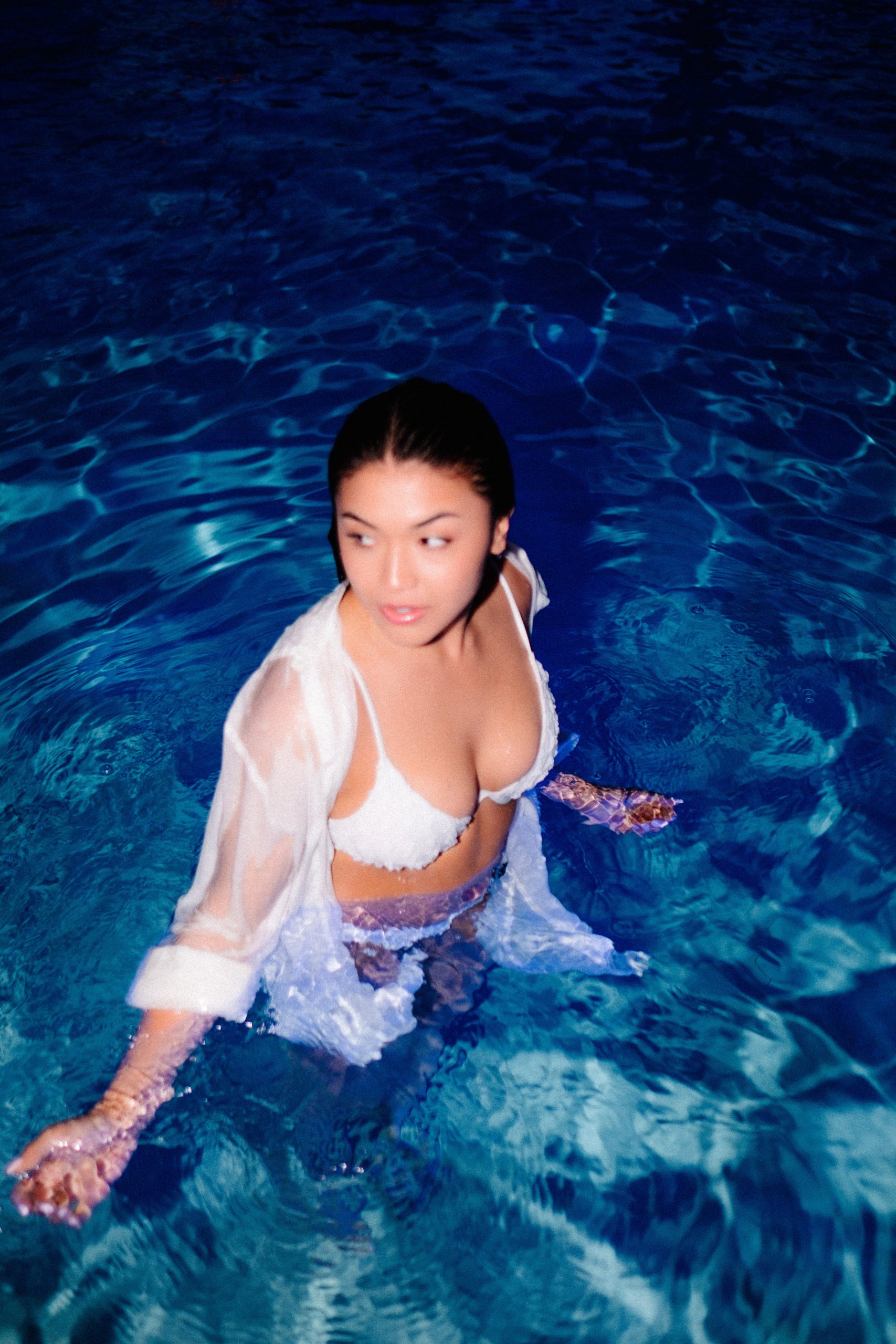 Although the title is quite self-explanatory, here's how you can nail this pose. Submerge yourself in the water till your hips or waist, raise and fold your arms above your head, look seductively into the camera, and voila! Your perfect picture with your intriguing look and intimidating waters is spot-on-ready! You can also pose while standing in deeper waters to make it sexier.
4. Walk Away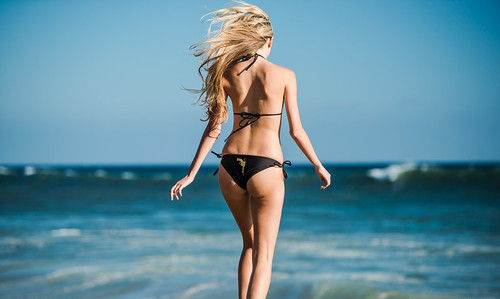 Another popular bookmark in bikini models' photoshoot ideas is suspense. Do you want to seem mysterious in your pictures? Then you should definitely try this pose. It will create a captivating effect while also making you seem cryptic. Turn around, start walking away from the camera, and let the hips do the talking! You can also pose with your arms to make it more candid.
5. Lie on Your Side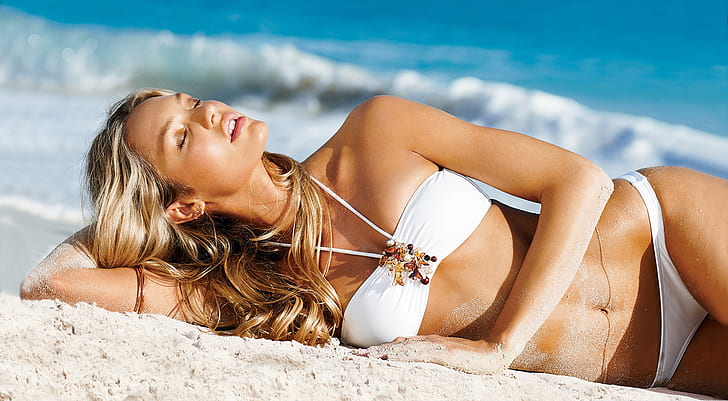 Quite easy to master, this pose is best done to portray your natural aura at the beach. Lay down a towel or sheet and lie on your side, facing the camera. It will flaunt your curves and accentuate your figure. You can smile wide or stare down or give a seductive look too. Totally up to you.
6. Relax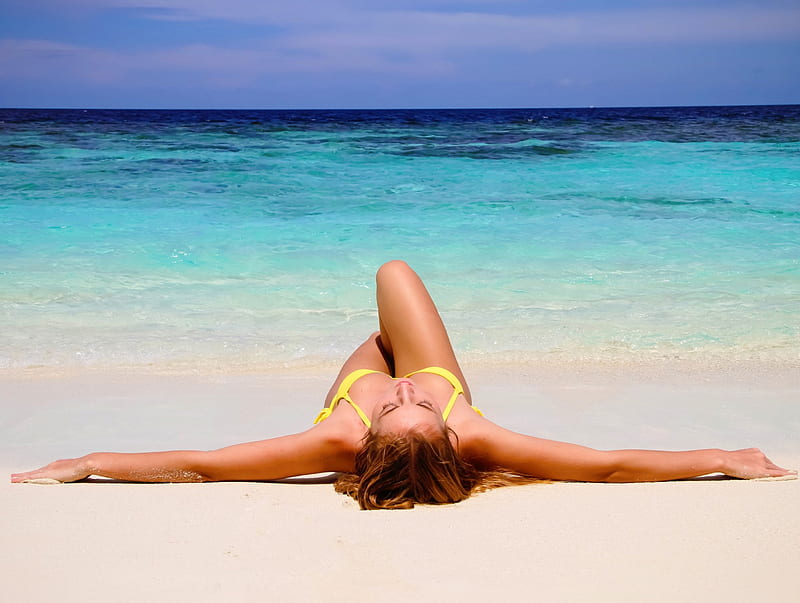 Is there anything better than to experience the melancholy of the sea calmly? You can add sunbathing or relaxing on the beach serenely to your collection of bikini modeling photoshoot ideas. It is one of the most candid and natural pictures that portray you in your innate aura.
Bonus tip: Add accessories like a hat or sunglasses into the snap.
7. Flaunt the Hips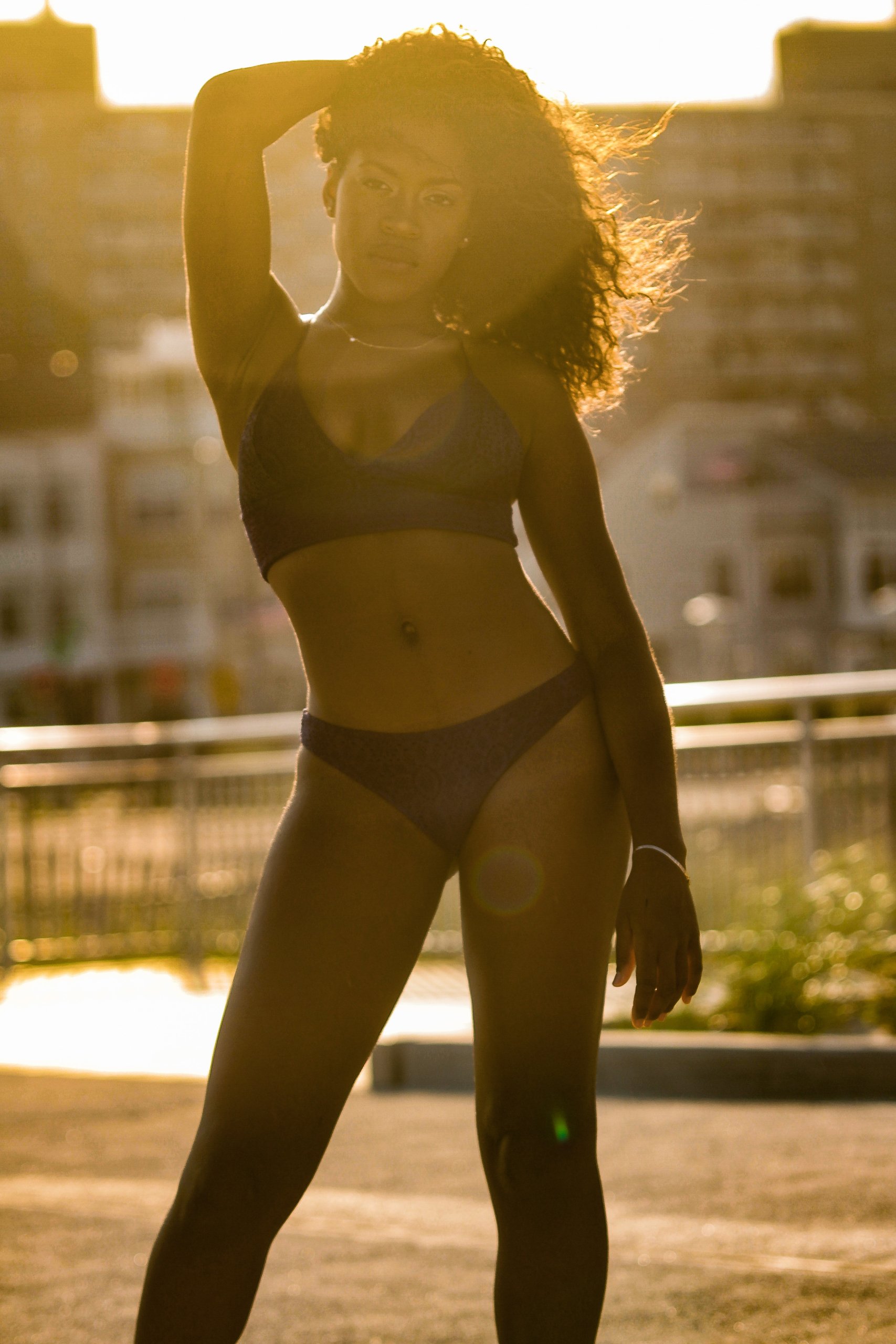 Accessories are a small way to enhance your pictures. However, simple standing poses can also accentuate your figure well. One way to do this is to flaunt your hips. The key is to refrain from standing too stiffly, or the pose won't look natural. You can smile at the camera or look away while slightly popping one hip to the side and creating a beautiful curve.
8. Stretch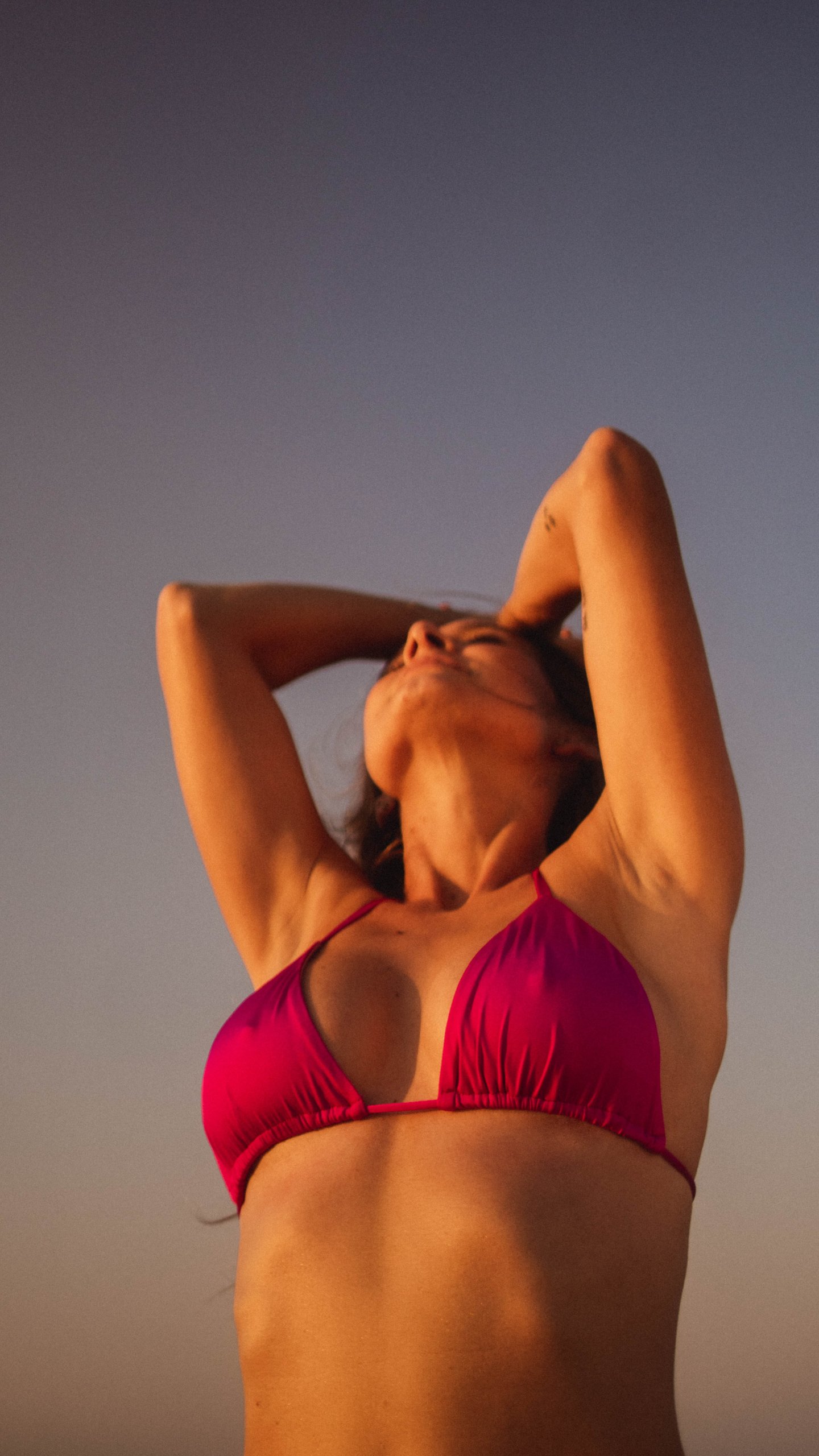 Stretching your arms up is a powerful and flattering pose that will make you feel naturally confident. It is because it not only elongates your torso but also stretches your stomach to make it look hotter. Also, look up and try to reach for the sky – it is one of the most graceful bikini model photoshoot ideas.
9. Over the Shoulder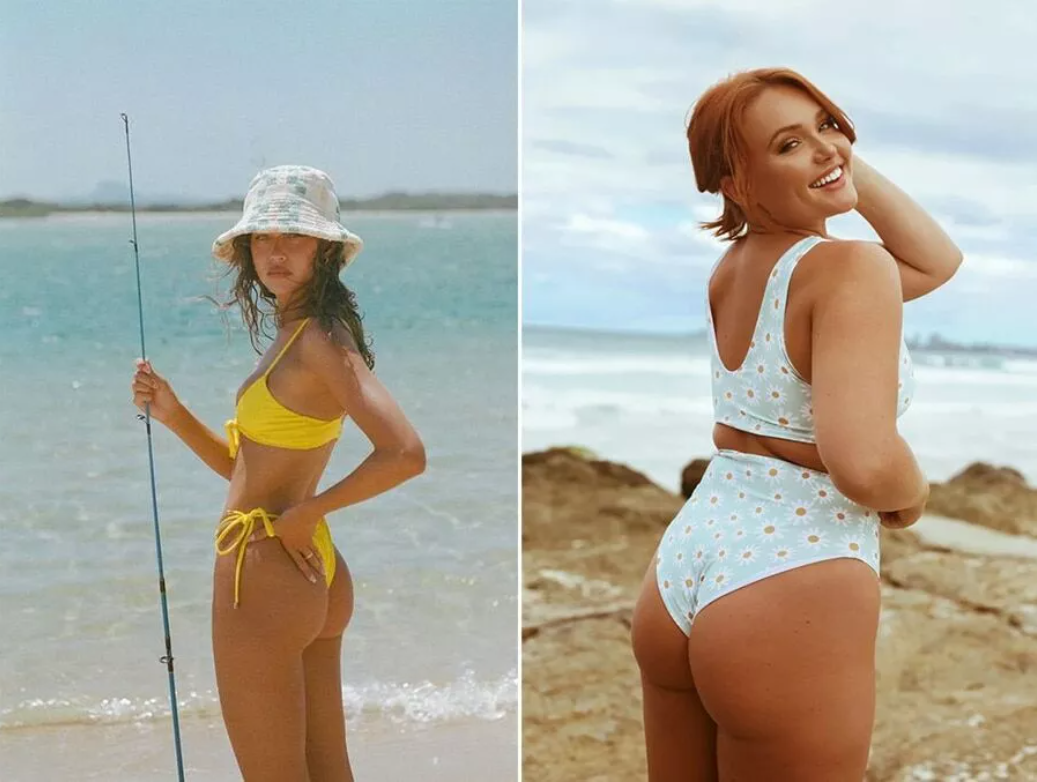 "
Turn your body away from the camera and look back over your shoulder. Your snaps will be more engaging, and you can also show off those booty curves in a subtle way. It is also a great pose for the gym nuts out there to flaunt their thigh and leg muscles. Try leaning forward to achieve an even better effect.
10. Kneel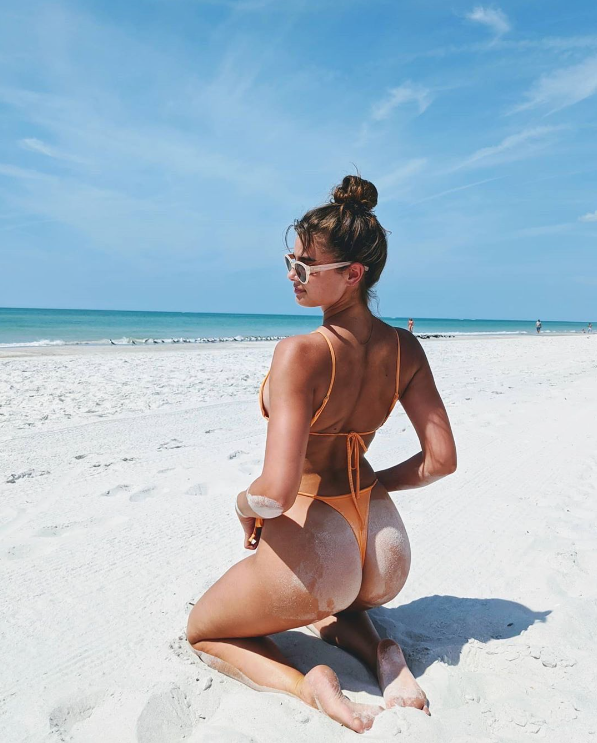 You might feel kneeling is a bit overdone, but give it a second thought. It's an effective way to get your perfect seductive pictures. The secret to getting it done is neither sitting on your heels nor simply falling to your knees, but kneeling and rising only halfway. Also, keep your legs slightly apart. It'll elongate your thighs and create a much more flattering shot.
11. Pose While Sitting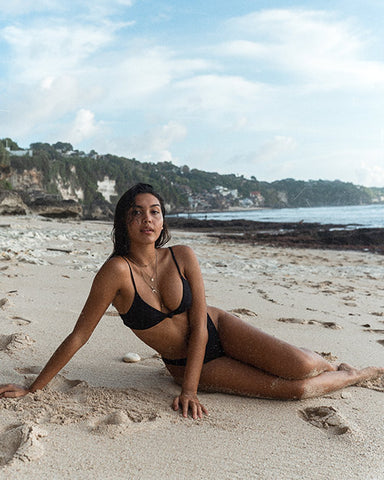 You should revisit sitting poses if you want your pictures subtle and toned down. The best way is to be as natural as possible, but you can always add a few tips to make it better. For instance, lean in front and put your hands down on the ground for support. Refrain from twisting. You also add your own element of spice to create playful pictures.
12. Arch Your Back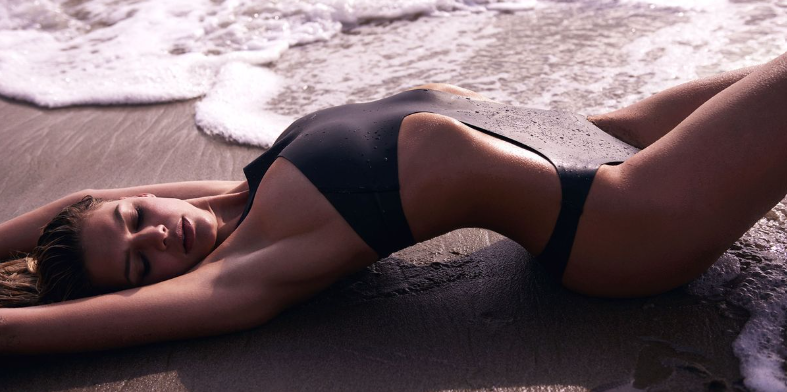 You will absolutely love how sexy this pose will make you look (provided you don't mind the sand). You will have to lie on your back, stretch your legs, raise your arms above the head, and arch your back. The lovely curve of your spine will make you look breathtaking and your pictures ten times hotter.
13. Change the Angles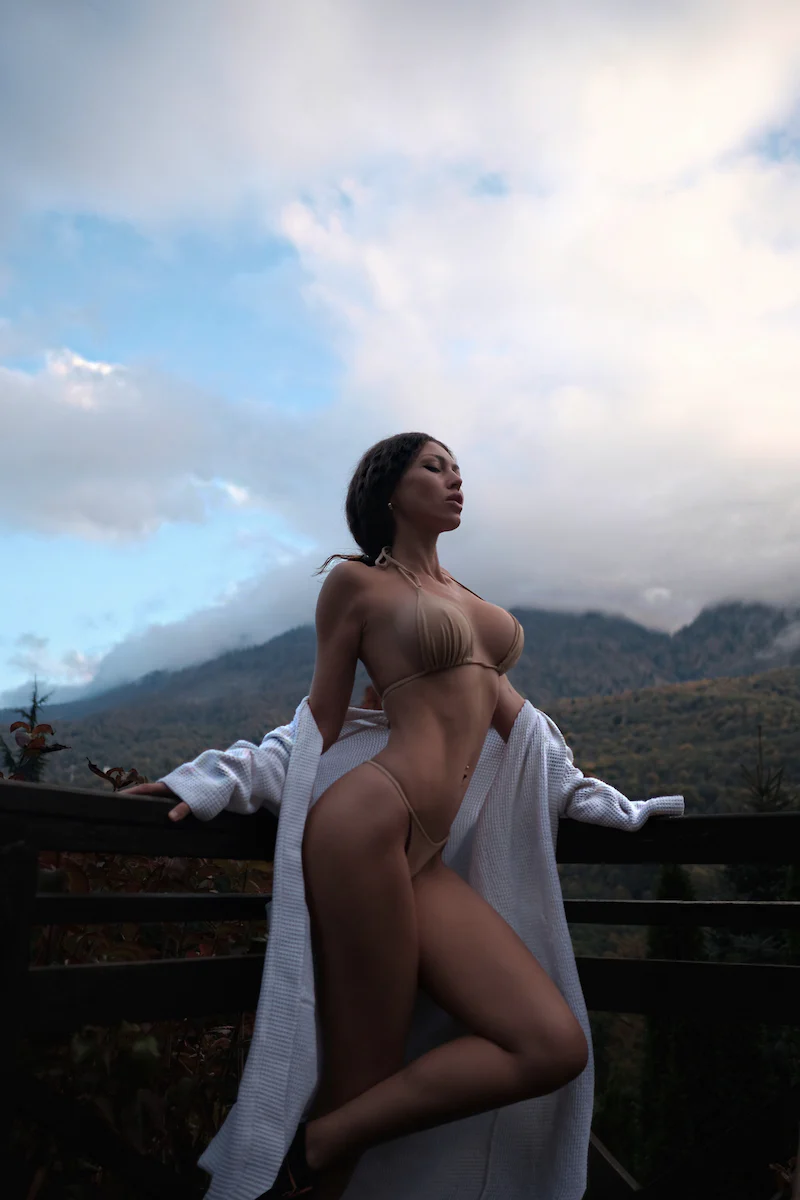 Oftentimes, a photoshoot needs a change of vision, which you can acquire by changing the camera angle. You can point the camera upwards and then take the picture since it will give your waistline an illusion of stretching while also emphasizing the shape of your breasts. You can also experiment with other angles that would complement your figure better.
Incorporating Accessories in Your Bikini Photoshoots
14. Hats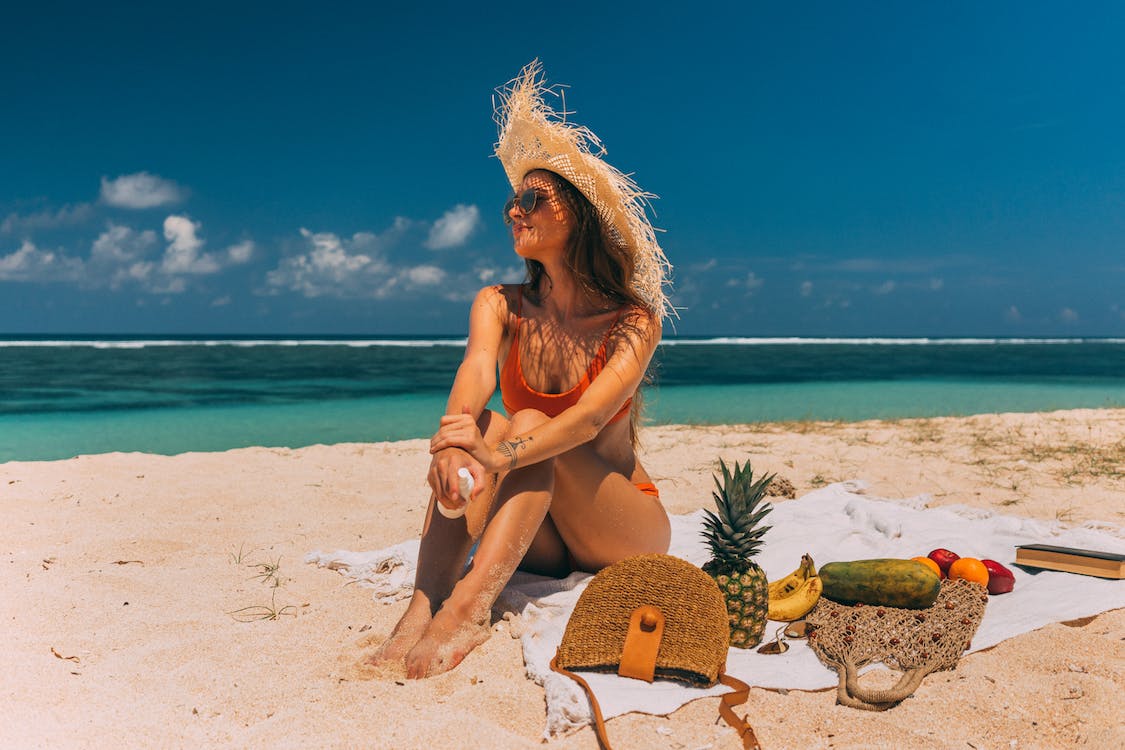 We all have to carry large hats to the beach to shield ourselves from the sun. Then why not pick one that matches your bikini and elevates your pictures? You can not only match the color but also create a contrast in style. For instance, if your bikini is lacy, go for a bold hat, whereas if you're wearing a monokini, try a cute statement hat.
15. Jewellery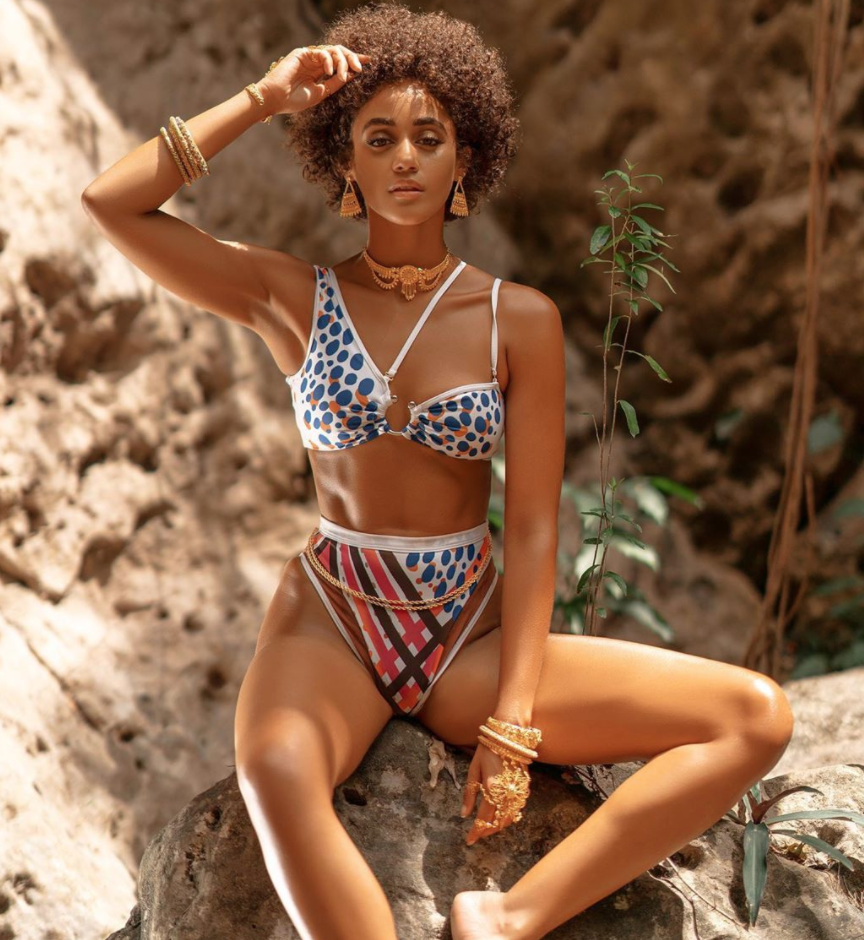 Pick a bold neckpiece to complement your bikini since it will make you look fashionable and elegant. Or you can wear a bangle or bracelet that matches the color of your outfit if you don't want it to seem too much. Although wearing jewelry while swimming isn't advisable, you can always don it temporarily for a few pictures. Trust us. You won't be disappointed with the outcome.
16. Handbags
This is one of the smartest tips for mothers exploring bikini models' photoshoot ideas. How many times have you been annoyed with carrying everyone's sunscreen, food, drinks, change of clothes, and all other things? Well, you can turn that to your advantage! Just take a standout beach bag instead of a tote, and pair it well with your OOTD.
17. White Shirt
A plain white shirt can elevate your outfit manifold. You don't need to button it down completely. Just leave it halfway through your arms, on the elbows. You can also wear it entirely, keep the buttons open and tie a knot around your midriff. You can also experiment with shirts of different colors, scarves, or other types of clothing.
18. Sunglasses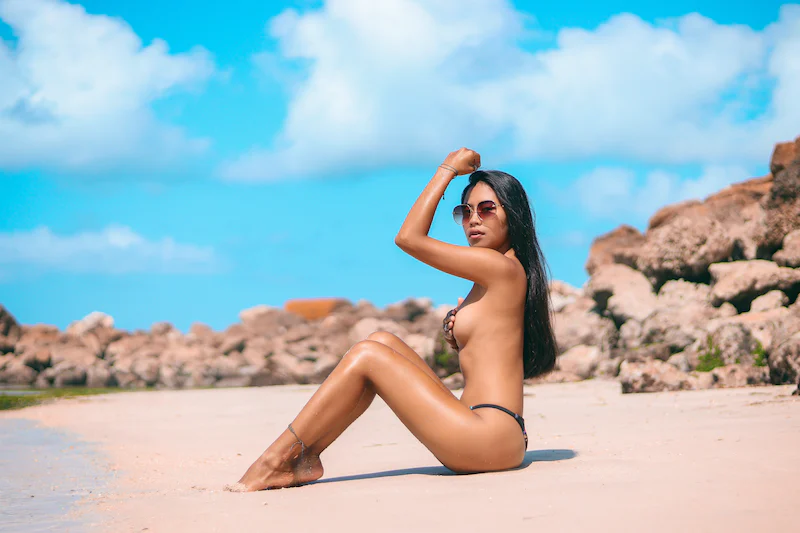 We all need a pair of functional sunglasses to shield ourselves from the sun every time we go to the beach. Then why not pair them with your bikini and make a goth look out of it? You can opt for bold and large ones or thin sunglasses according to your outfit and other accessories. They would certainly add the perfect baddie look.
Summing It Up
We mentioned several ideas above to enhance your pictures and make them better. But apart from the accessories and background, grace can work wonders for your images. We assure you that you will grab many eyeballs with these!
Although several bikini model photoshoot ideas seem complicated and tough to execute, we can assure you that they are easy and fun as long as you focus on the individual elements equally. Your first step should be to think about styling. It includes outfits, hair, and makeup. You can try out any bold and statement looks or go for natural candids. Either way, your hair and makeup styling should match your outfits.
Secondly, research the different poses you wish to try and see if they match the theme and mood of your photoshoot. Focus on the background, lighting, and exposure as well. The third and last step is to analyze if you need a professional photographer to conduct your photo shoot. In case you do, ensure to communicate with them and convey your needs and expectations from the photoshoot.
Also, don't let the conventional bikini model photoshoot ideas fool you. A beach photoshoot is for everyone, irrespective of your body. So don't wait for the "perfect summer bod." Grab your bikinis, run to the beach, and snap the perfect you!
Frequently Asked Questions
What is the Best Lighting for Bikini Photos for Models of Dark Skin?
The best lighting for bikini pictures is soft from the front and dark through the sides. This kind of lighting will certainly create a glamorous effect, especially if you have relatively darker skin. However, if you're slightly pale, it might wash you out.
Which Bikini Colour Will Make the Skin Look Darker?
You can carefully choose a particular bikini color to make your skin appear in a certain way. Bright colors, like yellow, pink, or white, can be great to create a color contrast, and they will also make your skin look even darker.
What Color Bikini is Best for Dark Skin?
If you have dark skin, you may want to select brighter colors, such as red, orange, or yellow. These colors will usually stand out and make you look radiant. You can also experiment. For instance, some dark colors, like navy blue, look incredible on dark skin.
What is the Best Angle for a Bikini Selfie?
The best angle for a bikini selfie is from the above. Hold the camera above your head and take a snap. This way, your hips and thighs will look smaller since they are comparatively farther from the camera. It's also a great pose to pull focus on your face.
How to Pose with An Hourglass Figure in a Bikini?
If you have an hourglass body shape, pick swimwear that will help accentuate your waist and lengthen your legs. To further show off your natural curves, stretch your legs and raise your arms above your head. It will certainly make you look hotter in the pictures.