In the world of professional photography, choosing the right camera is an important decision. Two major players, Canon and Nikon, are both renowned for their exceptional DSLR cameras.
The Canon EOS 5D Mark IV vs Nikon D850 debate has been on the scene for a while now. Being tough competitors, each offering many features and capabilities. These two cameras are designed to cater to the needs of professional photographers and advanced photography enthusiasts. However, these cameras have distinct characteristics that set them apart.
So, let's take a closer look at these differences to help you make an informed decision.
Image and Sensor Quality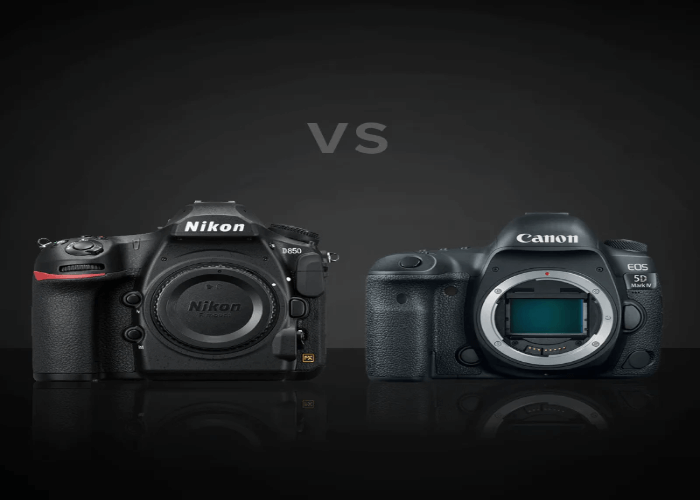 The heart of any camera lies in its sensor, dictating image quality and performance. The Canon EOS 5D Mark IV sports a 30.4 MP full-frame sensor. On the other hand, the Nikon D850 boasts an impressive 45.7 MP back-illuminated sensor. This resolution advantage of the D850 provides greater flexibility for cropping and printing large images without compromising on detail.
Autofocus System
A responsive and accurate autofocus system is essential for capturing sharp images, particularly in fast-paced scenarios. The 5D Mark IV features a 61-point HD autofocus system with 41 cross-type points for improved accuracy. On the other hand, the Nikon D850 features a 153-point Multicam 20K autofocus system with 99 cross-type points. The D850's autofocus system covers a broader frame area, making it highly suitable for action and wildlife photography.
Burst Shooting and Buffer Capacity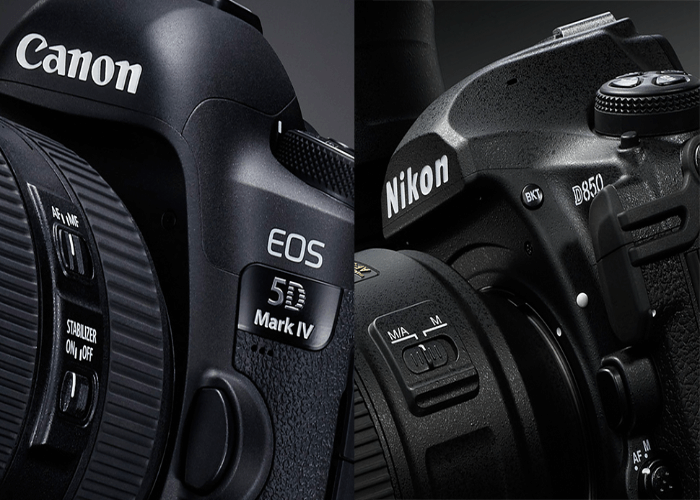 For sports, wildlife, and action-oriented photography, burst shooting speed and buffer capacity are really important. The 5D Mark IV offers a continuous shooting speed of 7 frames per second (fps), while the Nikon D850 takes the lead with a rapid 9 fps. Additionally, the D850's larger buffer allows for extended continuous shooting, thereby allowing you to take more shots and preventing slowdown due to buffer limitations.
Video Recording Capabilities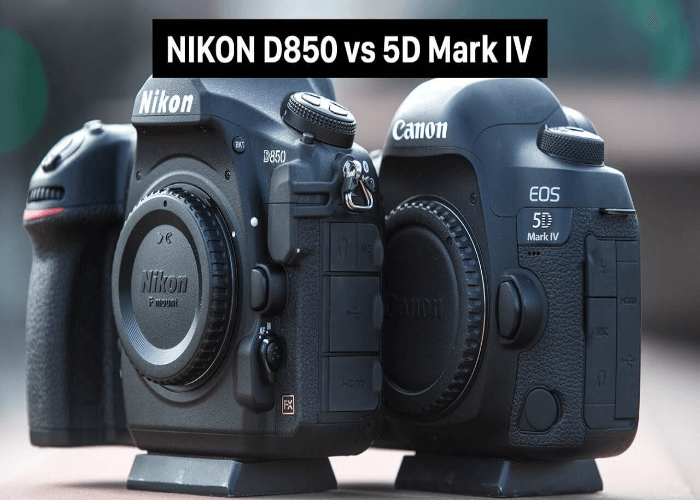 Video capabilities for shooting videos play an important role in camera selection. The Canon EOS 5D Mark IV captures 4K video up to 30 fps while offering Full HD video at higher frame rates. It also features Canon's Dual Pixel Autofocus technology for smooth and accurate focusing during video recording. In contrast, the Nikon D850 excels with its 4K video at up to 30 fps, with the added benefit of featuring exceptional video quality. The D850's 8K time-lapse mode further enhances its video capabilities.
LCD Screens and Viewfinders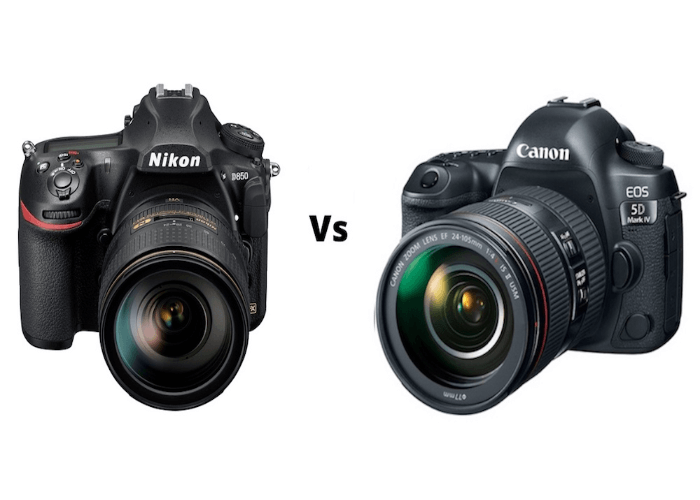 The way you see your photos before capturing them is really important. Both the Canon 5D Mark IV and the Nikon D850 have special tools for this. Imagine a tiny window that you can look through to understand what you're capturing. That's the viewfinder. The 5D Mark IV's viewfinder shows almost everything you'll capture in the photo, just like in real life.
It also has a 3.2-inch wide touch screen to help you control the camera and see a live preview of the shot. Now, the Nikon D850 has a similar viewfinder that's a bit more zoomed in, making things look slightly larger. Its screen is just like that of 5D Mark IV, but it can tilt or move. This is pretty cool because it lets you take photos from tricky angles.
Build and Weather Protection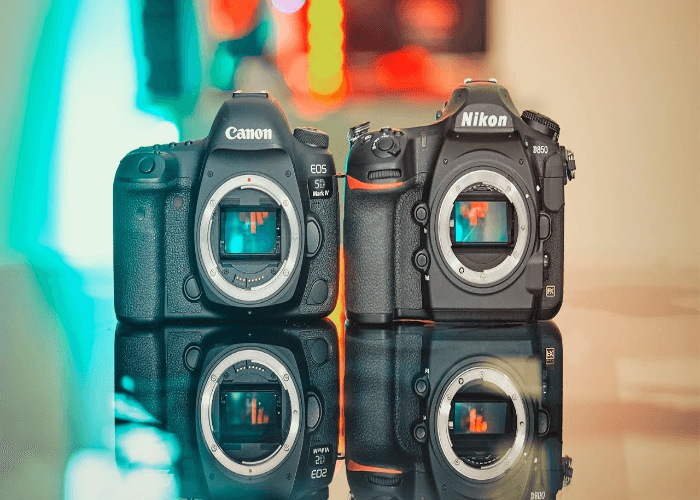 Both of these cameras are tough cookies and can handle tough situations, but they are different in how they are made. The Canon 5D Mark IV has a special metal body that is really strong and is sealed up tight to keep out dust and water. Likewise, the Nikon D850 also has a tough metal body and lots of sealing to protect it from any adverse environmental conditions.
This means photographers can use these cameras in all sorts of weather without stressing about them getting damaged. They are like the superheroes of cameras, always ready for action!
Canon EOS 5D Mark IV vs Nikon D850: Connectivity Concerns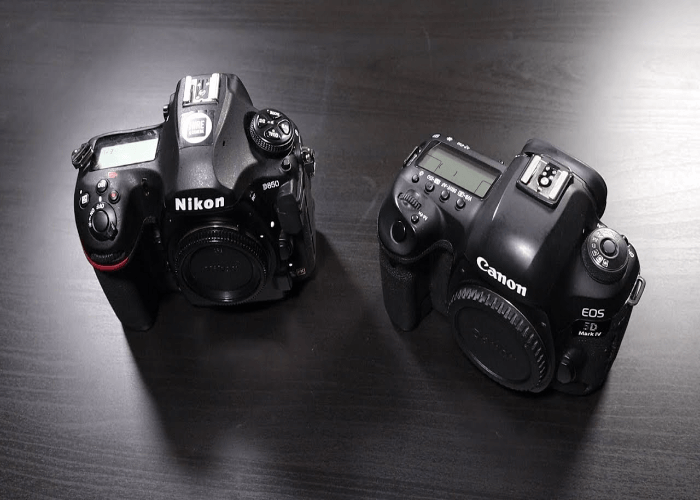 Cameras nowadays should be super easy to connect with other devices. The Canon EOS 5D Mark IV has Wi-Fi and GPS built right in. This means you can easily send pictures wirelessly, control the camera from a distance, and even tag your photos with where they were taken.
The Nikon D850 takes a slightly different route. It has Bluetooth and a feature called SnapBridge. This helps you transfer photos quickly and also lets you control the camera using your smartphone. So, both cameras make sharing and controlling your photos a piece of cake!
Battery Life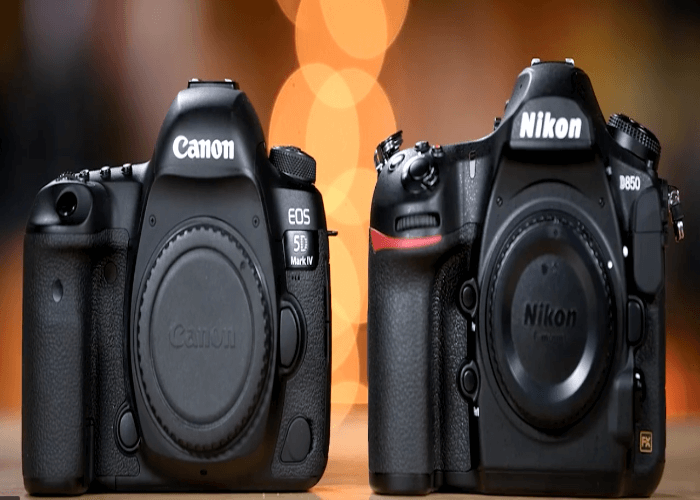 A long battery is an important feature when purchasing a camera. This is really crucial for extended shoots or travel assignments. The Canon 5D Mark IV provides a respectable battery life of around 900 shots per charge. In comparison, the Nikon D850's battery offers an impressive battery life of approximately 1840 shots per charge, making it more suitable for extended usage without frequent recharging.
Final Thoughts
Deciding between these two cameras really depends on what's most important to you. If you want super clear and detailed pictures, the Nikon D850 is a great choice. But if you are looking for a camera that is impressive for different types of photos and videos, the Canon EOS 5D Mark IV is a solid option. The Canon EOS 5D Mark IV vs Nikon D850 debate presumably will never end since both specifically suit different demands.
The world of photography is changing super fast, and Canon and Nikon are right there with cool and new features that photographers can benefit from.