Youtubers and influencers are quite in trend nowadays, and many people are blindly jumping on the bandwagon too. As easy as it looks, making youtube videos is not everyone's cup of tea.
There are many technical aspects of video making that not everyone knows, and not everyone bothers to know too. The behind-the-scenes activities need a lot of effort to get even a small byte of the video.
The most important aspect of making youtube videos is the camera you use to shoot the video. From the best and the most expensive cameras to even mobile phone cameras, there is a wide range to choose from.
The quality of youtube videos is highly influenced by the camera you use. Many times the cameras used for vlogging, clicking pictures, or making videos are also different respectively. This blog will give you an insight into a few cameras used frequently by famous YouTubers.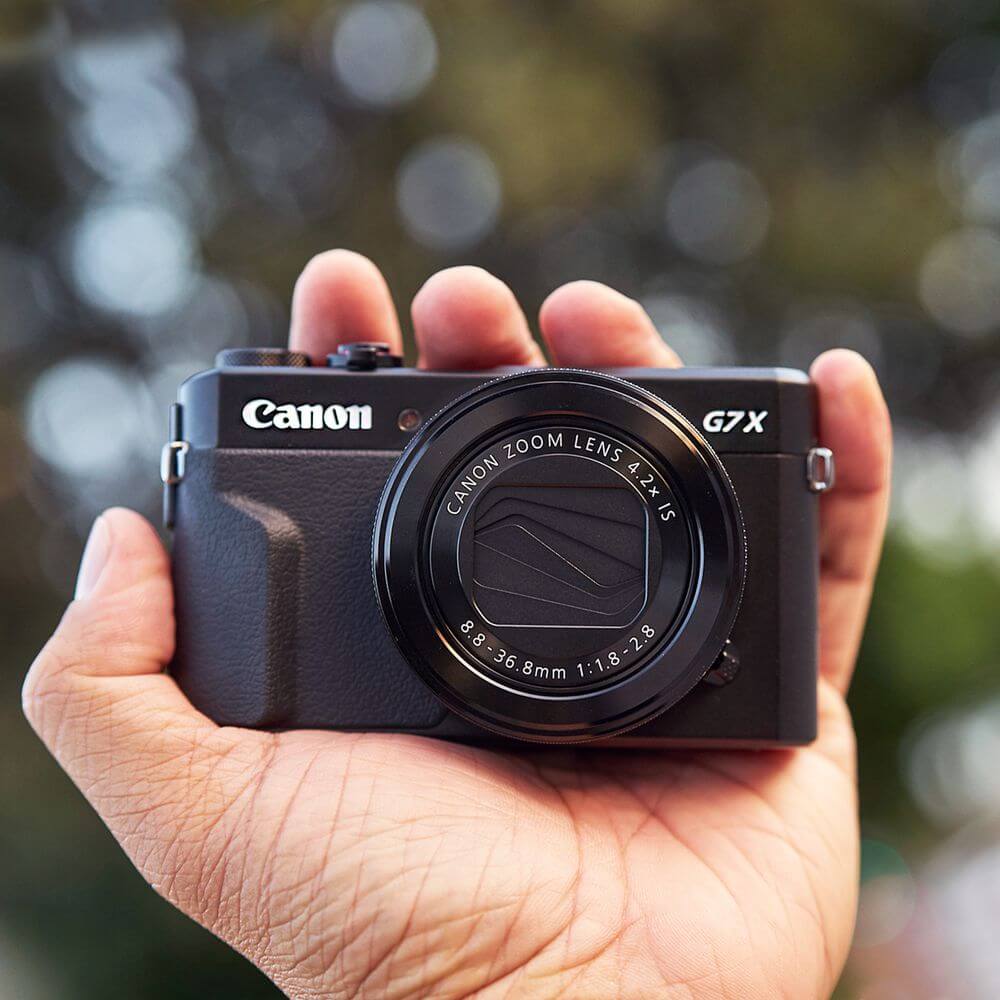 This camera is rated quite highly by all YouTubers basically because it can perform all the necessary functions that are needed by YouTubers. Also, size-wise, it is quite handy and can be traveled with easily. It weighs approximately 304 grams. It is great for beginners with not many complicated functions. It gives a maximum video resolution/frame rate of 4K UHD at 30p and a battery life of 235 shots.
It also has a 3.0-inch tilting touchscreen monitor. It is great for live streaming as you can connect it directly to the wifi, has a microphone input, and has excellent image stabilization. The important drawbacks to this camera can be its battery life, with a CIPA rating of just 235 images, and the 4k limit of only 10 minutes. Overall this camera serves the purpose of a majority of YouTubers and can be a great investment if you are looking for something pocket friendly in terms of size as well as money. You can buy it from Amazon at prices starting from 728$.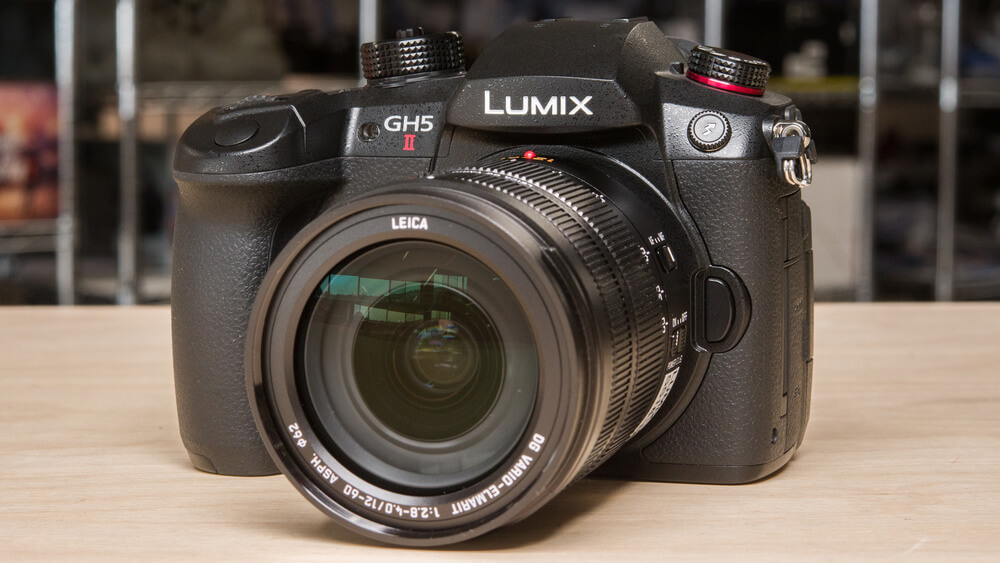 It is a mirrorless camera with dimensions of 139 x 98 x 87mm and weighs about 727 gms. Again this is not a very heavy or bulky camera, a quality most referred to by YouTubers for vlogging. Livestreaming is the biggest strong point of this camera, as it supports RTMP/RTMPS protocol. It also supports unlimited live streaming and video recording. It can capture amazing quality 4k videos and provides a professional quality imaging platform. It has a dual image stabilizer that allows you to shoot blur-free at up to 6.5-stop slower shutter speeds.
Performance in low-light settings is slightly limited. The final verdict is that this is a super versatile camera for YouTubers with a wide range of editing presets like V-LogL, Cinelike D2/ V2, MonochromeS, and L.ClassicNeo that help max out the creativity of any YouTuber and help you play around with the images and videos as you choose. The camera costs approximately $1,319.95 on Amazon.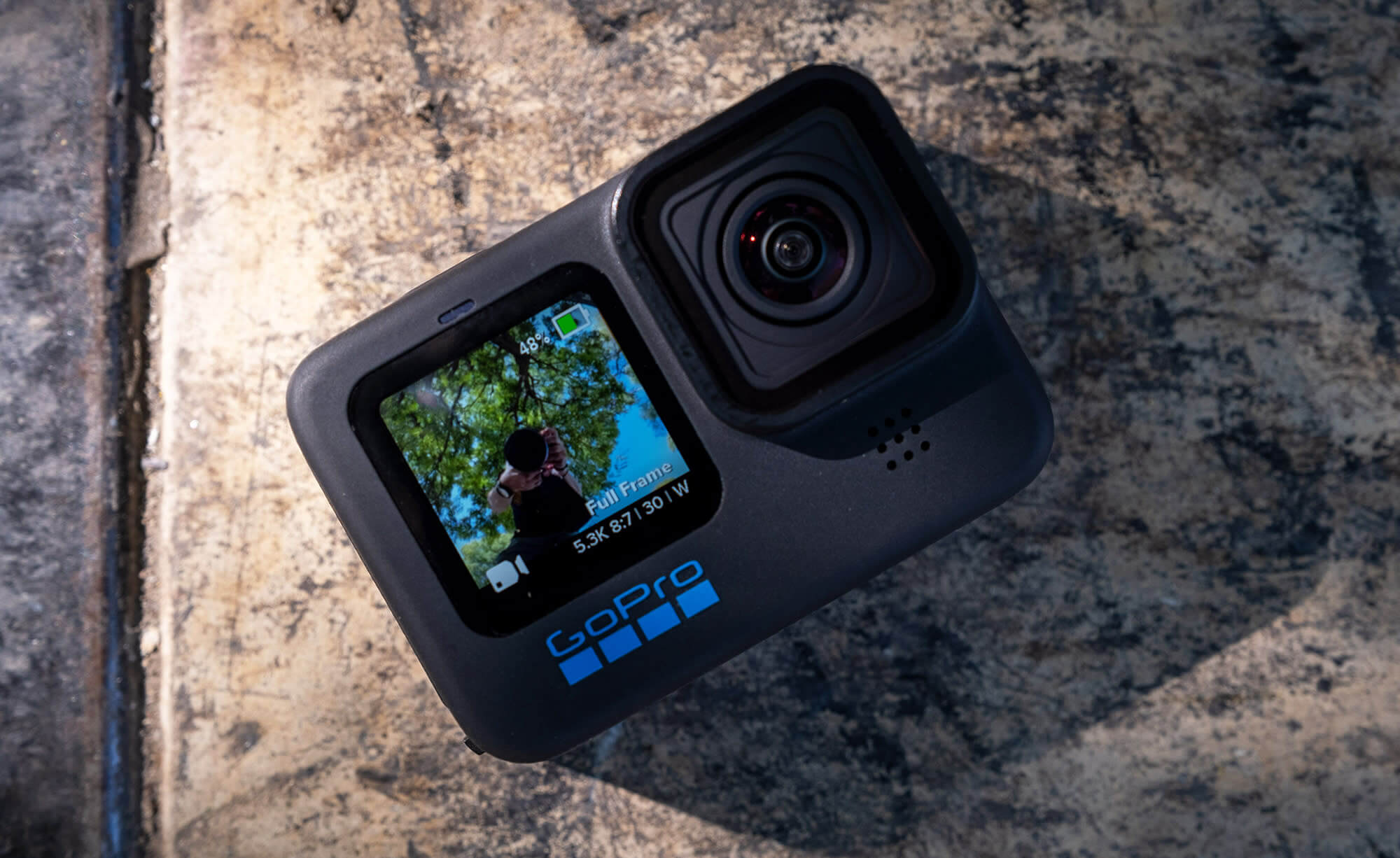 This camera is usually used by YouTubers who create content outdoors, especially sports and travel vloggers. It is one of the lightest weighted cameras in this category and weighs only 158 gms. With its battery life, this GoPro can easily capture 90 to 100 minutes of continuous shooting. This is an extremely durable product and can be used even in the extreme of sports. It is not at all fragile and very sturdy. The most important feature of this camera is that it is waterproof up to 33 feet. It has a new 1/1.9 sensor and an aspect ratio of 8:7.
You can also export videos in various formats like 9:16 without compromising on the quality or resolution; hence it is a go-to choice for TikTokers and Instagrammers. It also has some time-laps tricks up its sleeve, like Star Trail, Light Painting, and Vehicle Lights, that help you produce shareable clips on these themes. Overall the Go Pro Hero 11 black is a very user-friendly action camera that you can use for content creation on various platforms. It retails at just $399 on Amazon.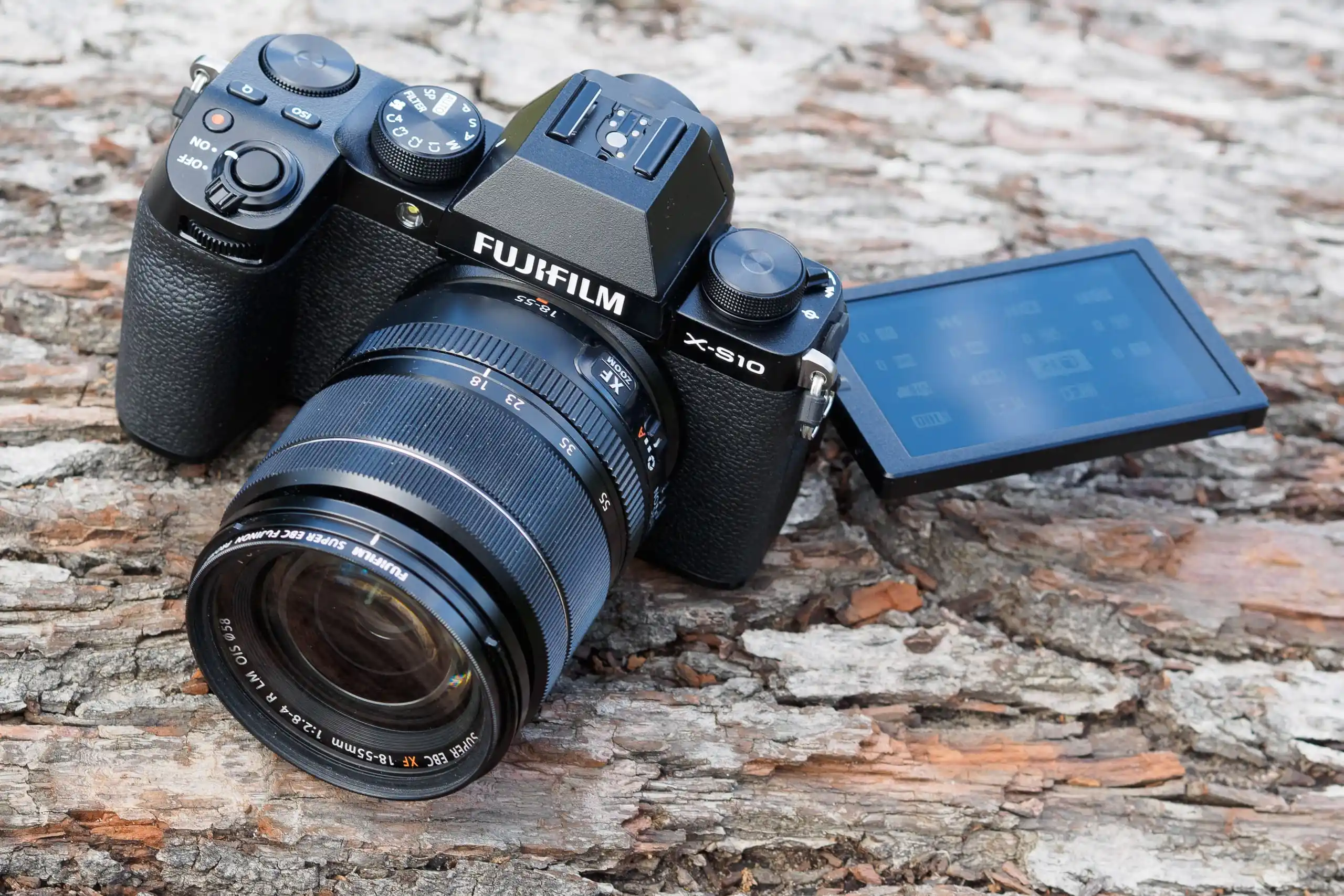 This is another camera for travel photographers. Another mirrorless camera in the mid-range price category. It has a DSLR-shaped body with a deep and prominent hand grip. Also, the EVF 'hump' stands out, on which you'll find the built-in flash. It has an interchangeable lens option and is sold as the camera alone or can be bought with either of the two lenses XF 18-55mm F2.8-4 R LM OIS lens or XF 16-80mm F4 R OIS WR lens. You also get an 'auto' Film Simulation mode, which selects between Provia (Standard), Velvia (Vivid), and Astia (Soft), depending on the scene.
Another new functionality is the joystick feature, whose functions you can change up to a limited extent. The camera costs $999 on Amazon, which is the body only. The drawback of this model may be the absence of the clever 'slider' interface when you are browsing through Film Simulation modes and no selfie modes. In conclusion, this is a camera that may not be as cheap but ticks most of the boxes for youtube content creators.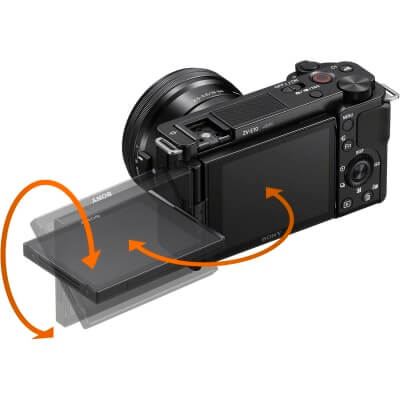 Another mid-range camera for beginner to intermediate-level content creators who shoot home videos. It is also a mirrorless camera, very flexible, with an option to change lenses. Weighing about 343 grams, it has a battery life of 440 shots. It gives excellent quality of 4K UHD detail. The Full HD can step up to 120p for footage in slow motion. The built-in mics do a credible job too. The Sony ZV-E10 has a 24MP APS-C sensor at its heart, and it's powered by Sony's NP-FW50 batteries. It also has a real-time AF and tracking that stays locked to your face. It also locks in on a product you may be clicking in the product showcase mode and then comes back to your face and vice versa.
The main limitation of this camera, which may disturb YouTubers, is that it does not have a viewfinder, lacks in-body image stabilization, and also has a 4K/60p mode. Apart from these limitations, this camera is an excellent buy for the price of $698 only. It uses a smaller Micro Four Thirds sensor that doesn't perform as well in low light.
This is an excellent camcorder that has all the features YouTubers would want to capture videos of high quality. It also allows adjusting the focus, aspect ratio, composition, and exposure. It provides 64 GB of internal storage space. Other features that work in favor of this camera which make it excellent for vlogging, are the best quality optical image stabilization and the built-in high-end microphones. The camera uses a Super Range optical image stabilization system with four modes to give excellent image quality under all conditions. This camera is also equipped with an 8-blade iris, and the extra blades are used to reduce light diffraction.
The camcorder is bulky and takes more time to understand, not being as user-friendly as other cameras. It takes a long time to charge plus the price you pay for the same is quite high too. Also, it is not capable of clicking pictures. You may want to make your usage goals clear first before investing in such a camera. The camera is available on Amazon for $999.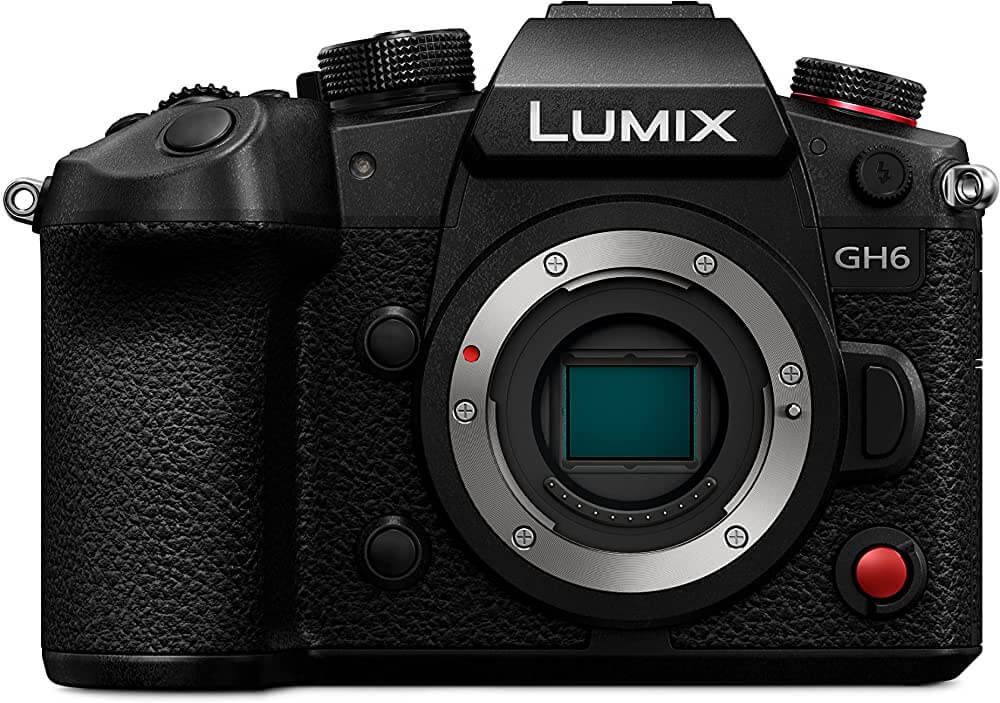 This can be called a proper camera. Another mirrorless camera but with a full-frame sensor. It weighs a little more and goes up to 714 gms. Hence can become a little heavy to carry. The 20-60mm lens is nicely sized, but if you use other L Mount lenses from Panasonic, these are much larger, so in terms of overall system size, it's not quite so straightforward. It has a 3-inch vari-angle touchscreen. The Lumix S5 shoots 4K/60p 10-bit 4:2:0 video. Its colors are comparable to other best-in-class hybrid cameras at this price. Even at relatively high ISOs like there is barely any noise visible. Its Face- and Eye-detection are decent for the job. The limitation of this camera can be said to be the lack of a full-sized HDMI port.
Also, it does not have that good an autofocus like those cameras of its class. Even then, features like uncropped 4K/30p shooting, V-Log support, time-lapses, and anamorphic 4K compatibility lure in video shooters. The dual memory card slots and articulating screen and the wide-angle 20-60mm kit lens are a bonus, too. As this camera fulfills the majority of the needs of YouTubers, it is one of the favorites among them and retails for 1697.99$ on Amazon sale.
Final Thoughts
The choice of the camera used by an influencer should depend on the utility of that camera. You need to understand the type of content you are going to make.
The environment and the terrain you are going to work in and also the content format. Based on these aspects, you can choose the camera that will fit your budget, be handy for you and also not compromise on the image quality.
But you always have to remember that your camera is like a sword. No matter how good or sharp the sword is, it all depends on the skills of the warrior and whether he will win the battle or not.
Similarly, no matter how good your camera is, your content creation skills and techniques will also play an important role in determining the success of your YouTube video.
So, choose your camera wisely before spending those exorbitant amounts on something which may not be for you.