Graduation is one of the important parts of life, but how to pose in a graduation photoshoot? If you are thinking of leaving your photoshoot preparation for the moment, the last thing you want is to ruin your photoshoot memories and styles. So, why are poses important for graduation photoshoots? Photoshoot poses help you to create a particular flow with your memories, covering all of your emotions from raw to happy, prideful, and excited.
We have covered a wide range of poses and graduation photoshoot ideas, from receiving a diploma to celebration poses, from posing on your favorite spot to posing with your favorite people, and from tossing your graduation caps poses to receiving gift poses. And the list is long.
If you want to know more about the best picture ideas and poses, then keep reading. In this blog post, we have compiled a list of 21 best picture ideas and poses for you by covering poses and graduation photoshoot ideas.
1. Receiving Graduation Diploma Poses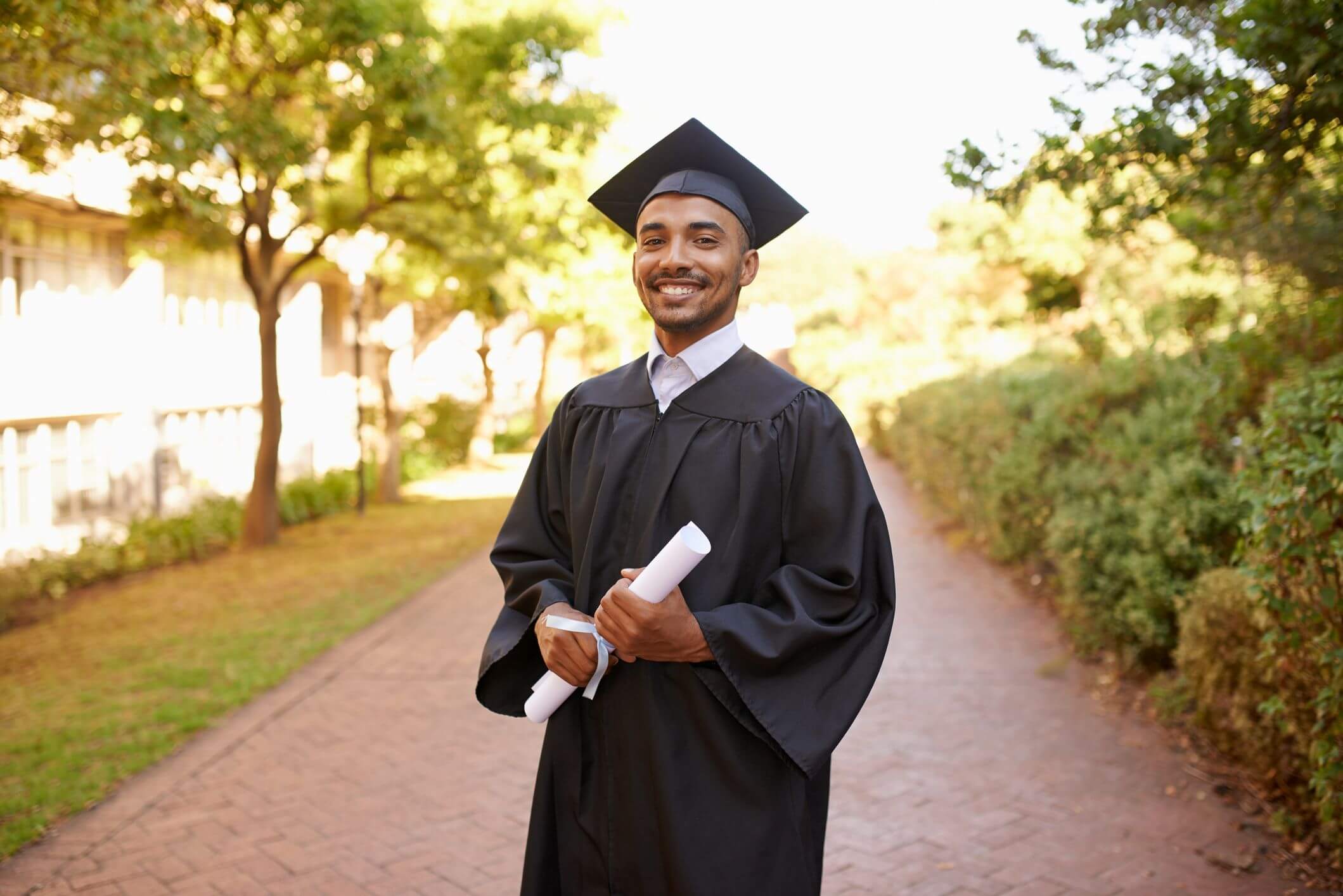 Your diploma or degree is the most important part of your graduation photoshoot. So, try as much as pose by holding it to make your day memorable and for a purposeful photoshoot. The most precious moment is when you receive your diploma. So give a smile while receiving it for your photo shoot.
2. Diploma Close-Up Photoshoot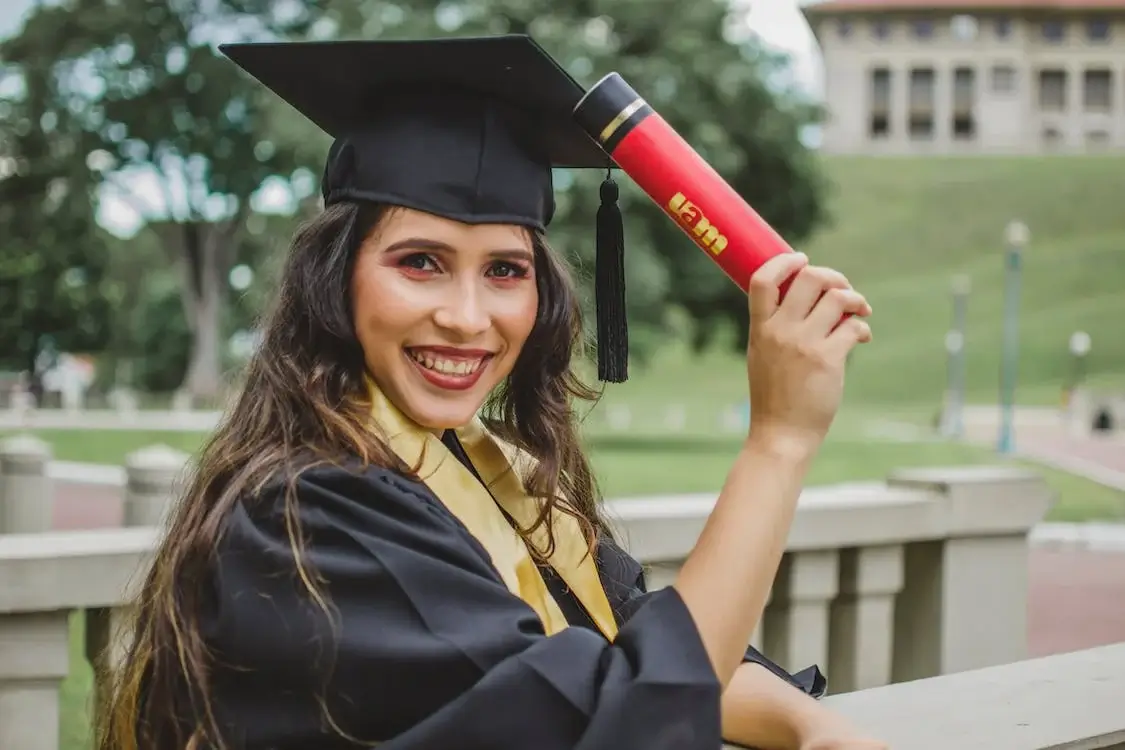 Diploma close-ups with your smiling face also work wonders, along with creativity. So get creative as much as you can for a diploma close-up photoshoot. Pose while keeping it open and straight. You can roll and tie it with a ribbon or rubber band. Flaunt it by holding it in one of your hands with various poses, such as opening your arm at a distance while holding your diploma. Tilt your head slightly outside to bring all the focus on your diploma or degree.
3. Graduation Victory Sign
Graduation is a great victory for you. You have spent many months and invested so much effort and money to complete your graduation. So feeling victory is one of the grates feeling. After all, it'll open the doors of your professional life. So don't forget to take photos with your victory poses. Here are some of the poses' graduation photoshoot ideas. Bring some excitement to your face and a wide smile. You can pose the victory sign with two fingers, creating a V shape while holding the diploma or degree in the other hand.
You can also create a victory pose with both hands while holding your diploma in one hand. Pull your hands towards the sky, and push them outwards to create a V shape.
4. On Stairs Photoshoot Ideas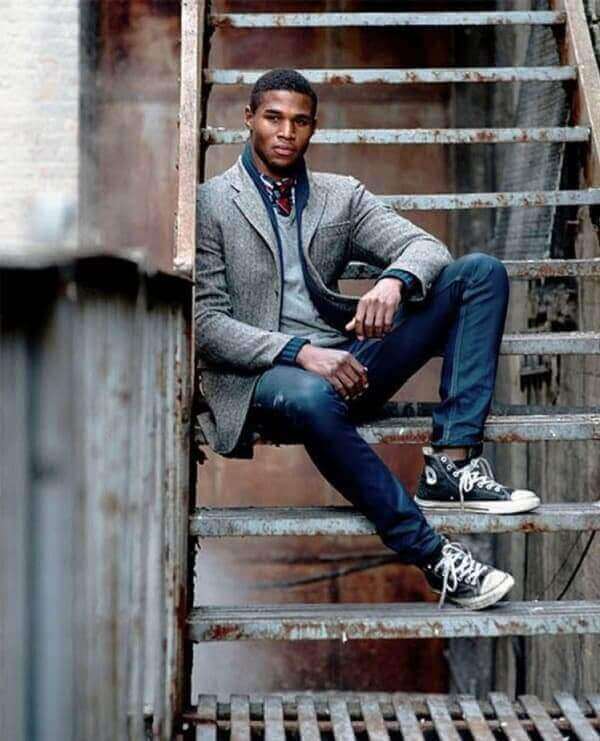 Stairs are an important part of the education building and graduation days. You can utilize them for your stunning poses and graduation photoshoot ideas. You can try different types of poses on stairs. Like, take a pose as you're going up the stairs. Put one of your feet on upstairs. Turn your face around the camera by flaunting your diploma.
You can try a similar pose in the coming down from stairs pose. Put your one foot on downstairs. Stand there while facing the camera and flaunting your diploma. You can also pose while sitting on the stairs to show how relaxed you are feeling today.
5. In Library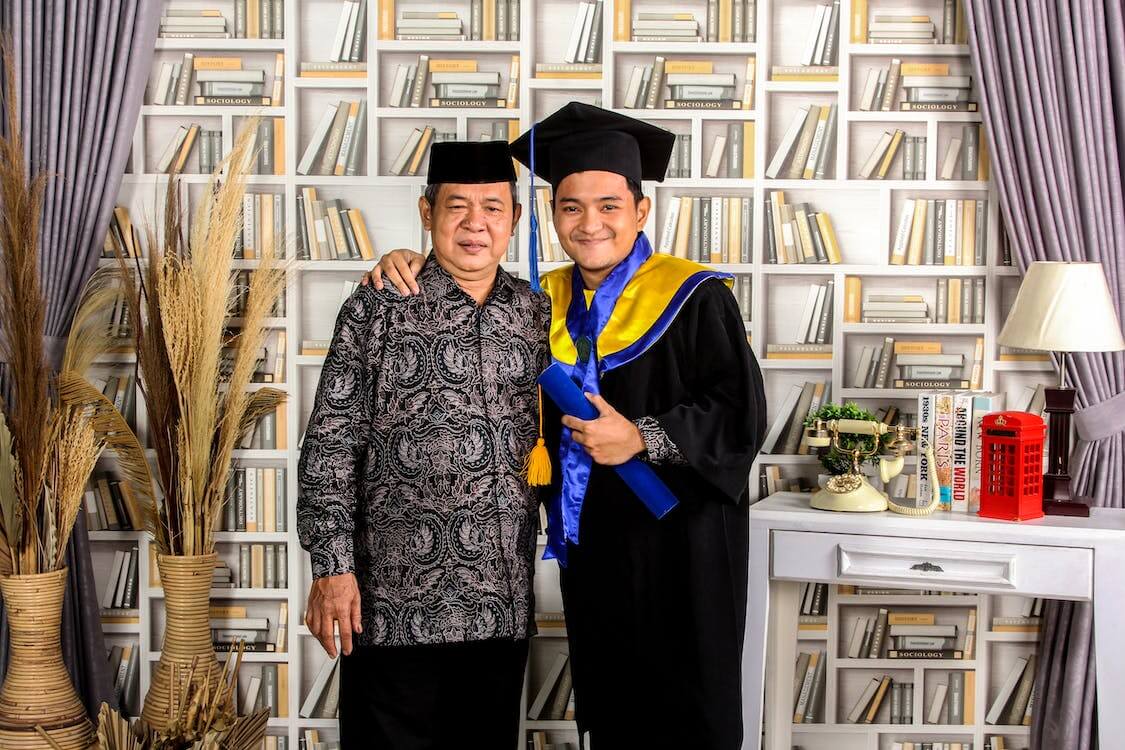 Books and the library always hold a special place in your graduation part. Even if you don't like them, don't miss the great chance to pose in your library for a memorable photoshoot. It'll keep reminding you to be a student of life so that it'll be easier got you to adapt to new environments.
6. On Campus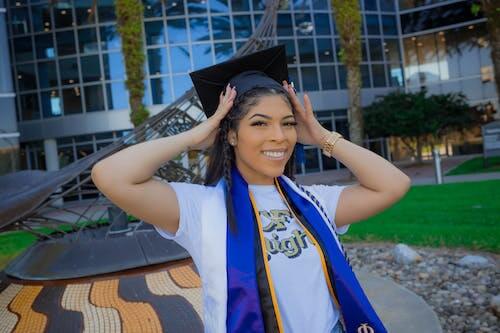 Is there any favorite spot on your campus which have always been special for you? Whatever the reason is its beauty, calming effect, or you used to spend time there with your special friends, don't forget to make it a part of your graduation photoshoot poses and memories.
You can dance, jump, or even flaunt your special pose with this special spot on your campus. It'll not only revive your old memories but always revisit them in your pictures whenever you miss them.
7. In Nature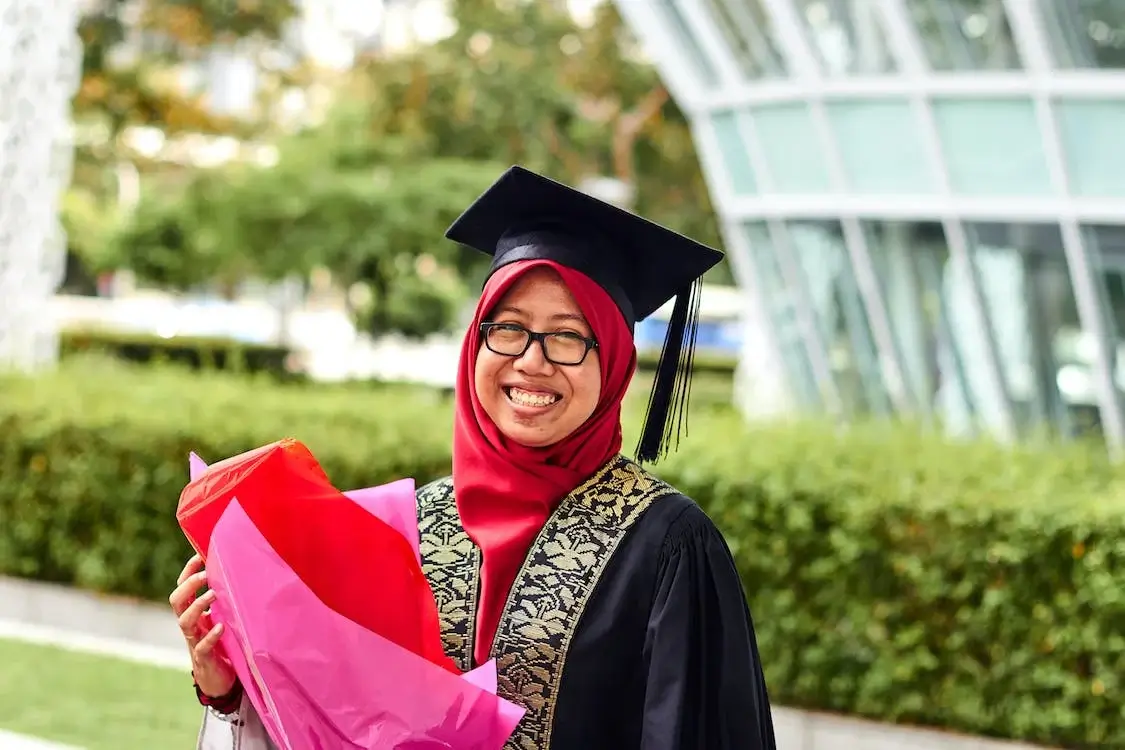 Nature is the best creation of God, which can add stunning memories and colors to your pictures. You can always freely pose with the nature backgrounds flaunting yourself, your happy moments, dress, diploma, or degree. Trees, plants, and flowers all are there to add more colors to your photoshoot poses and make your memories come alive. Walk, dance, fly, jump, adjust your tie or cap, or pose in a way you want to pose.
8. Jumping Poses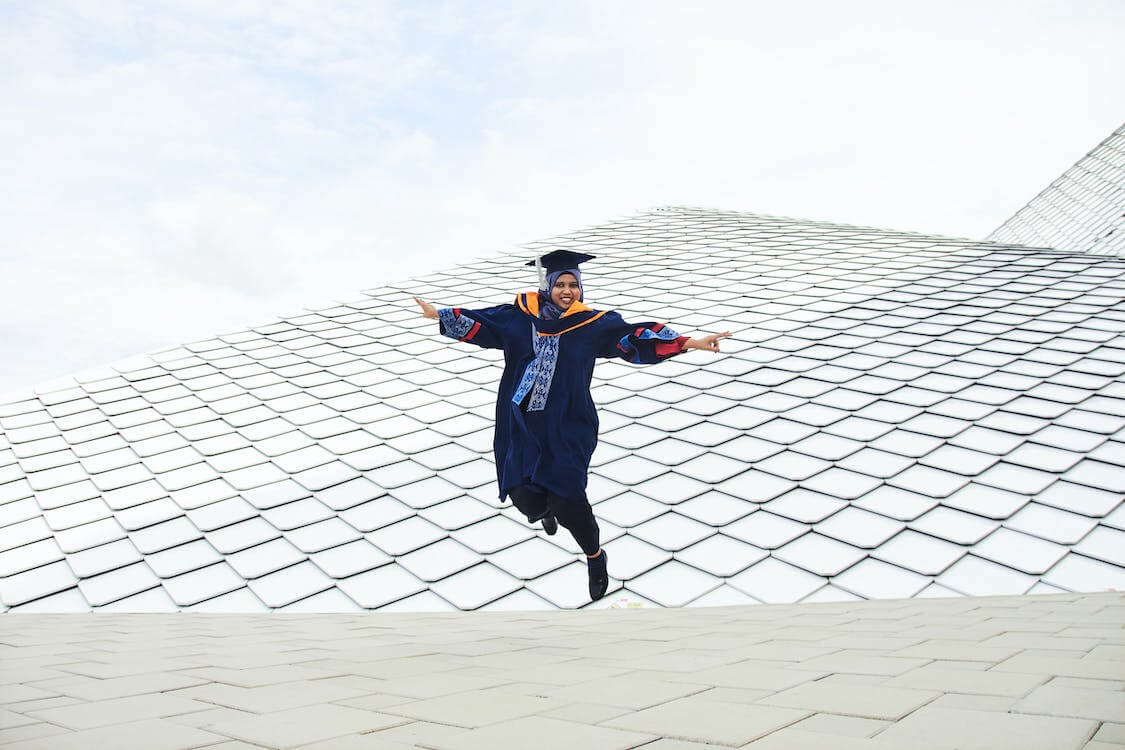 For more excited and happy poses jumping is a great way. It also makes your photo shoot session action-packed. So get in the mood, and try jumping in various ways like low jump, jumping to the knee height, or jumping by holding a pole or wall. For extra poses, you can make victory signs with your hands or flaunt your diploma or degree while holding it in your hands.
You can try the jumping pose with various backgrounds like nature or playground or in front of a blackboard with sweet notes about your graduation celebration.
9. Stretch Stole Poses Graduation Photoshoot Ideas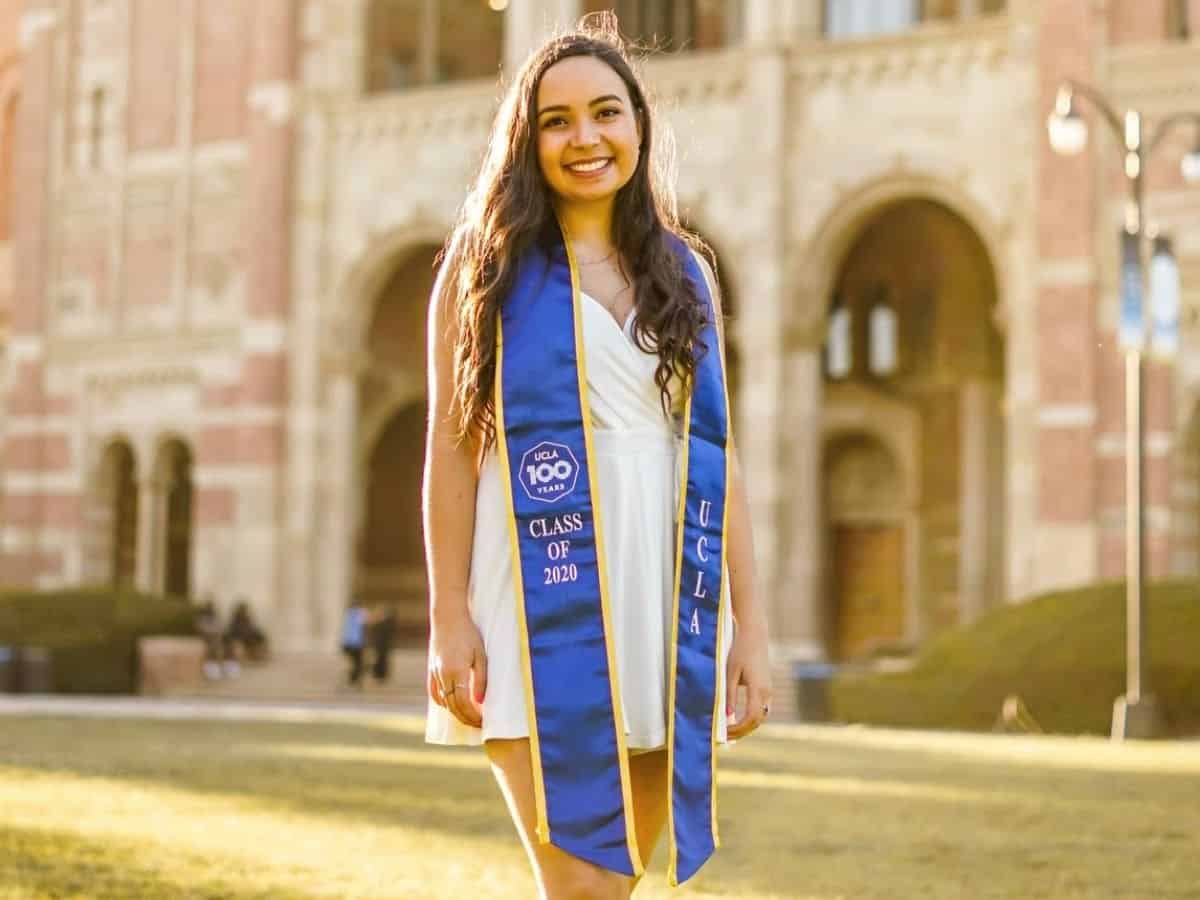 If you are carrying a stole, you can pose with it by stretching or flying it. For stole stretching poses, wear the stole casually by keeping your school or college name in front. Keep both ends free so you can give a stretching pose by holding each end in your hand. You can open your one arm holding the stole end and keep another arm near your thighs at a little distance, stretching your stole by flaunting your graduation college or university name.
You can also open both arms while holding the stole ends for a more candid pose.
10. Flatter Stole Poses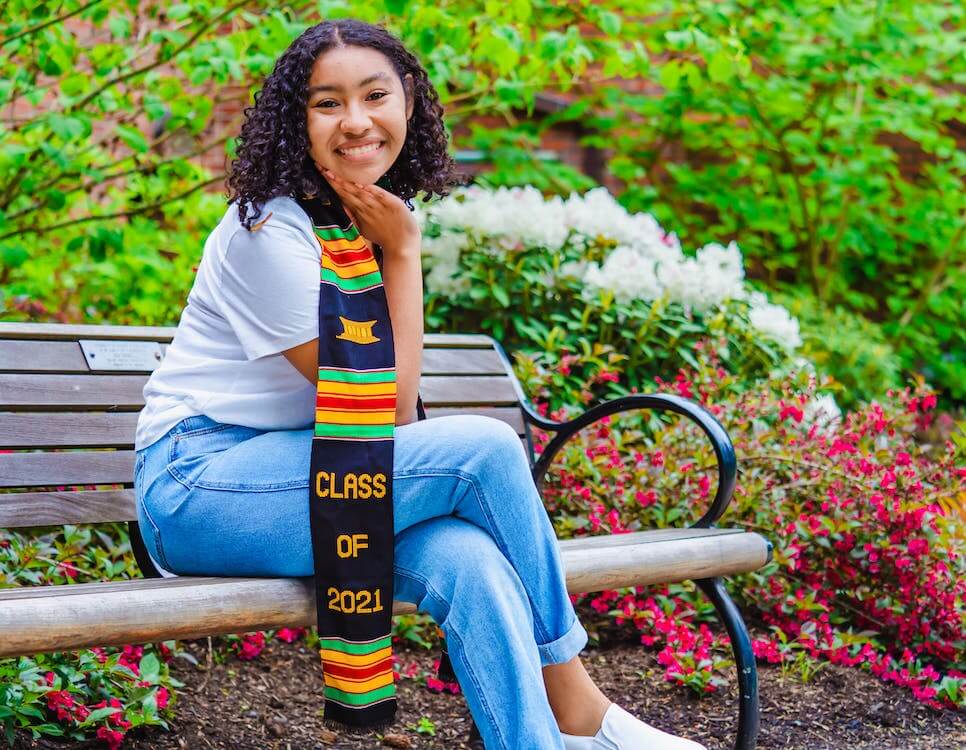 For a flattering stole pose, take the stole in one of your hands by holding it from the center part.
Give a side angle look towards the camera. Rotate or move around your arm to give your stole a flying look. And pose with confidence and a smile to capture your flattering stole poses in photoshoots.
11. Flaunt Your Dress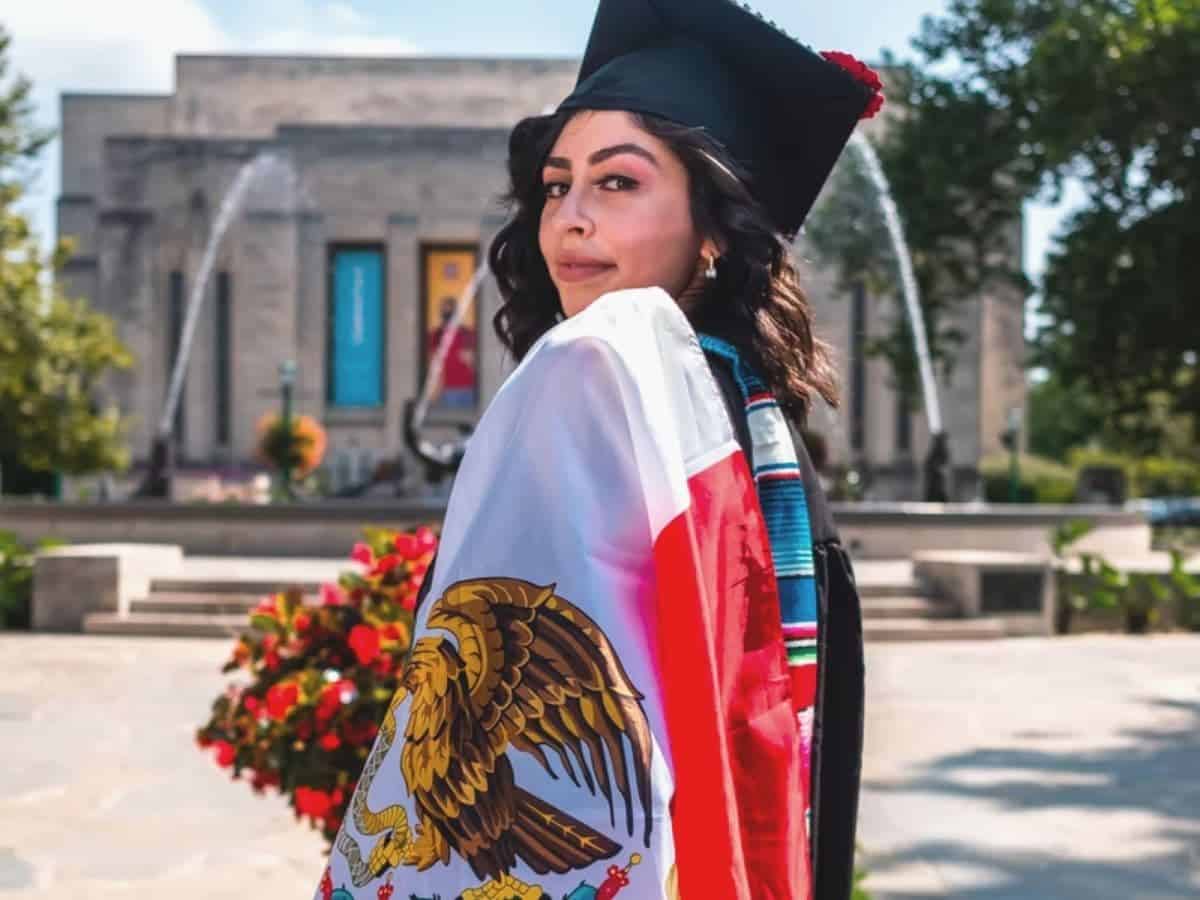 If 70 wear a gown on their graduation celebration day, then flaunting their gown can capture some candid photo shoots. To flaunt your gown, you can drape it over your shoulder and hold your cap and diploma in your other hand. While going away, stand still and move your neck toward the camera. You can also try dancing, flaunting your gown by holding the bottom from one hand and slowly dropping it to create flying dress poses.
12. Tossing Graduation Cap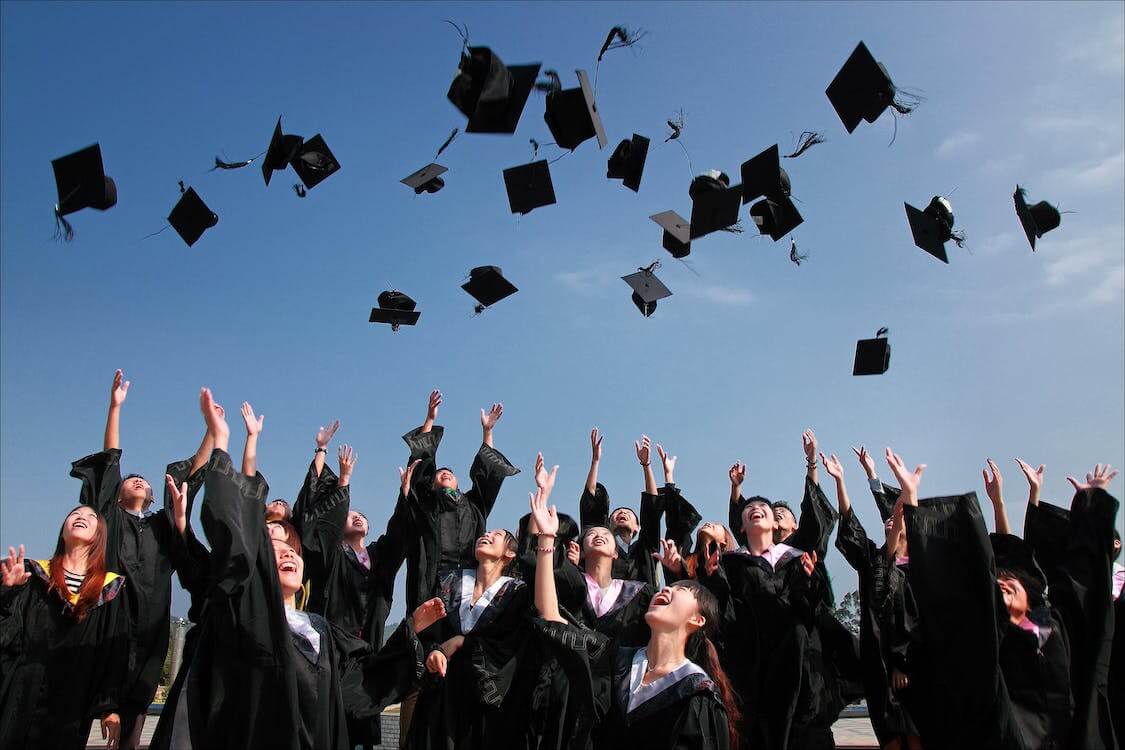 If you are with your colleagues or graduation friends, then tossing the cap is one of the best poses to show your excitement and happiness. You can stand up together in a horizontal row or a semi-circle to try this pose. Then toss your graduation cap in the air with a similar hand. Like all students are throwing the cap either with their left hand or their right hand.
For a more candid photoshoot pose, you can also toss the cap toward the camera while smiling and looking straight into the camera.
13. Celebration Poses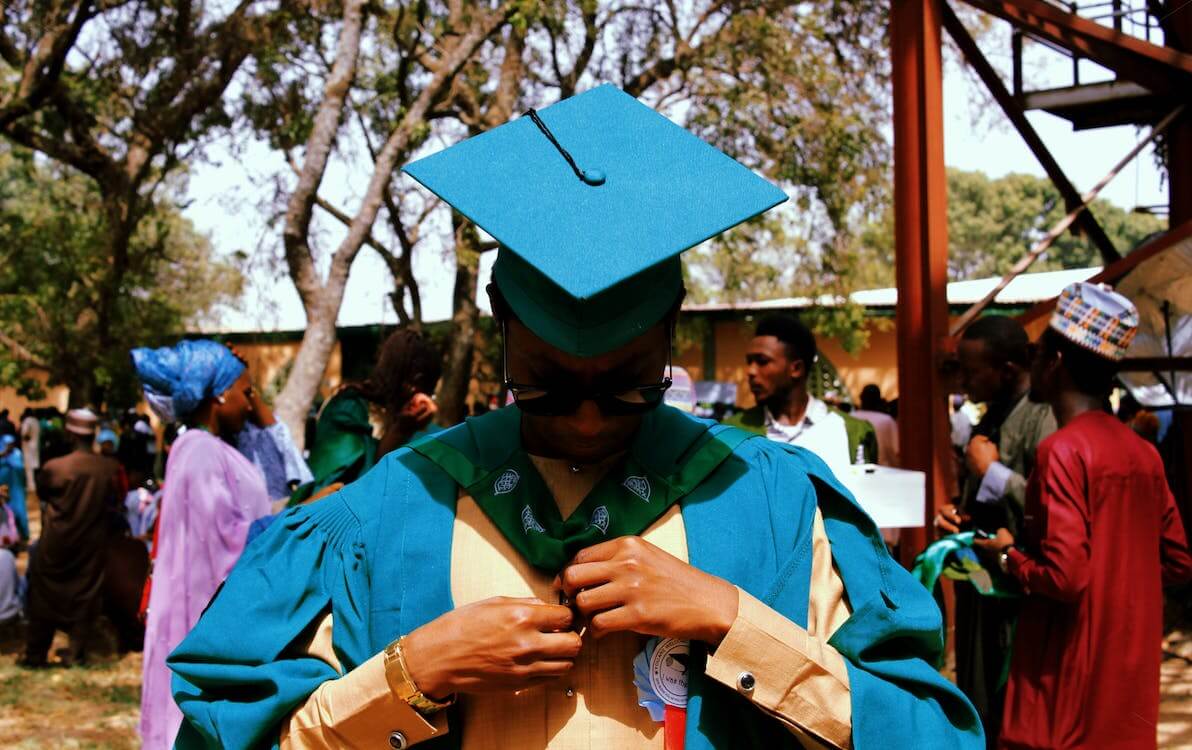 Celebrate the moment with your friends, parents, teachers, colleagues, and people present there. Celebration is the best way to capture your happy and raw emotions. You don't need an additional style guide to pose. Just lost in the moment when everyone is celebrating.
Dance, jump, and move around with your friends and make it one of your memorable celebrations. You can also flaunt your diploma or graduation cap while celebrating the moment.
14. With Parents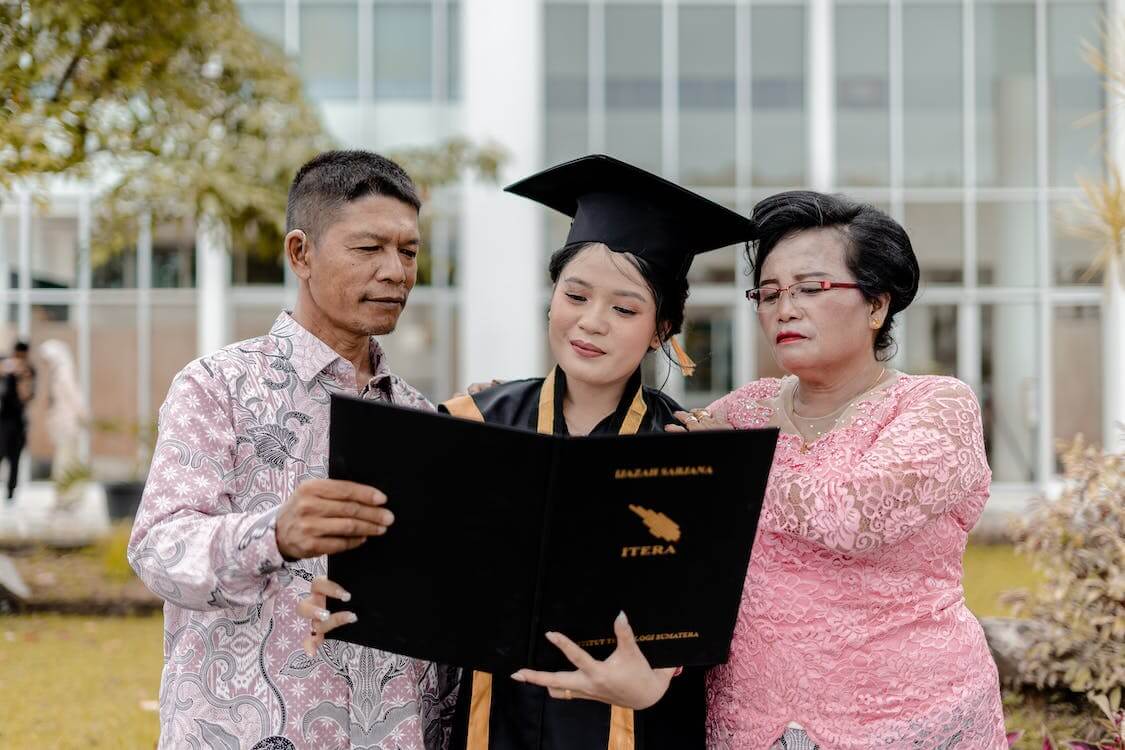 If your parents are there with you on your special moment of graduation diploma distribution, then don't forget to make memories with them. Make yourself the center of attention and stand in between your parents, sharing your happiest moment with them. You can also flaunt your diploma towards the camera in the same pose for the poses graduation photoshoot ideas.
You can also give a superhero pose while standing with your parents feeling proud that they have finally made you a superhero who is ready to fly on his or her steps.
15. With Teachers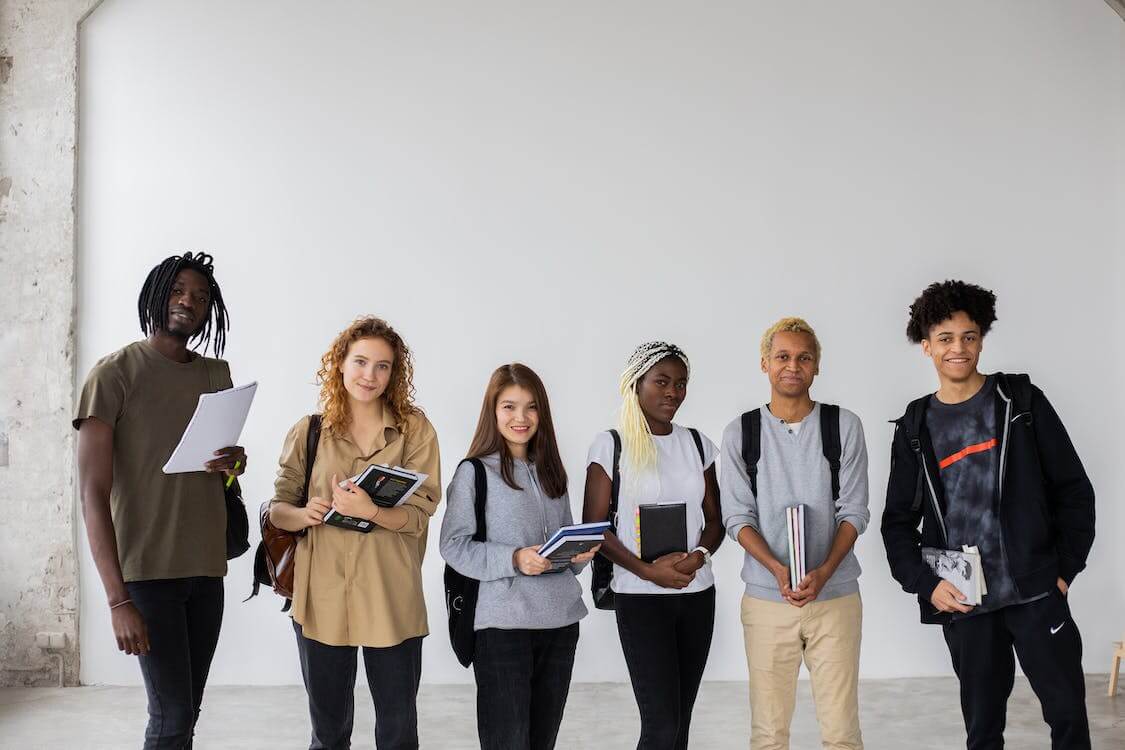 For wonderful memories with your teachers, you can also pose some of the classic portraits with your graduation teachers. You can pose with some of your favorite teachers who have helped you throughout your graduation journey. You can also pose with all those teachers who used to teach your batch. And finally taking a picture with all the teachers available at the moment is also worthwhile.
16. Gifts Exchange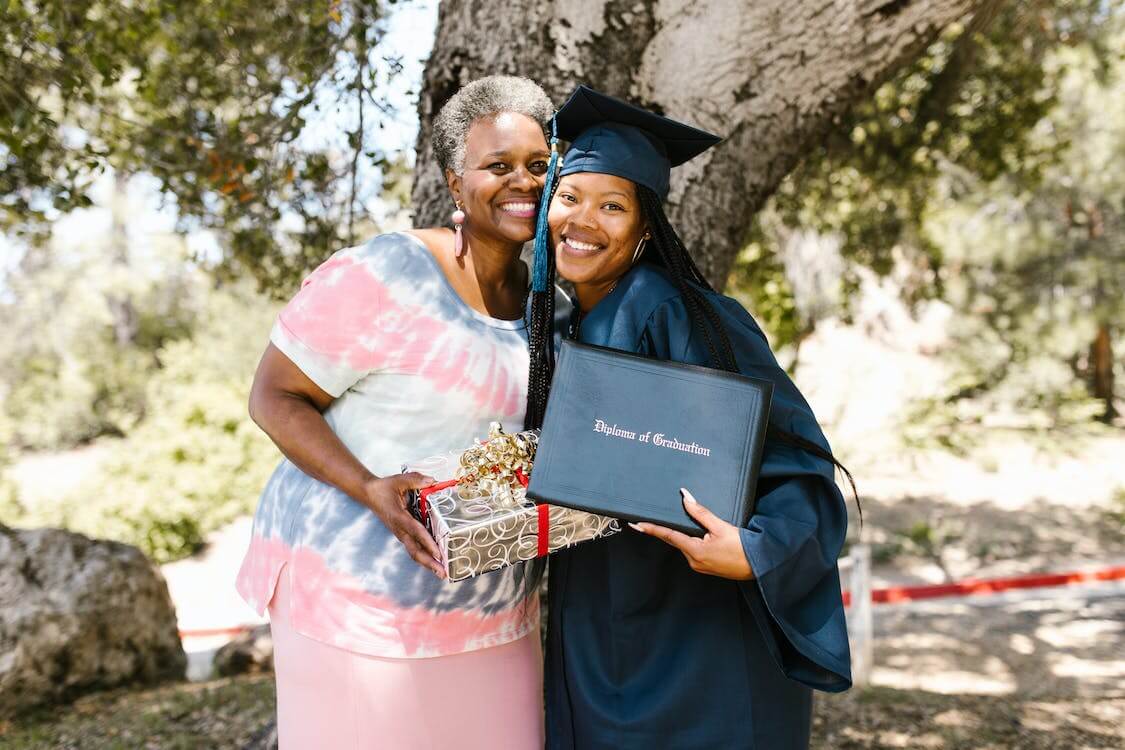 If you have received special gifts or prizes for your other achievements, don't forget to flaunt them with your diploma. If your parents, friends, or juniors have bought something special for you as gifts, include them to make your day more special, along with your graduation photoshoot session. Include the person who has gifted you while posing for a photoshoot.
Create special memories by gifting them in exchange, giving a thank you card, or even a short handwritten note as gratitude. Don't forget to keep a smile on your face with a little surprise.
17. Hugs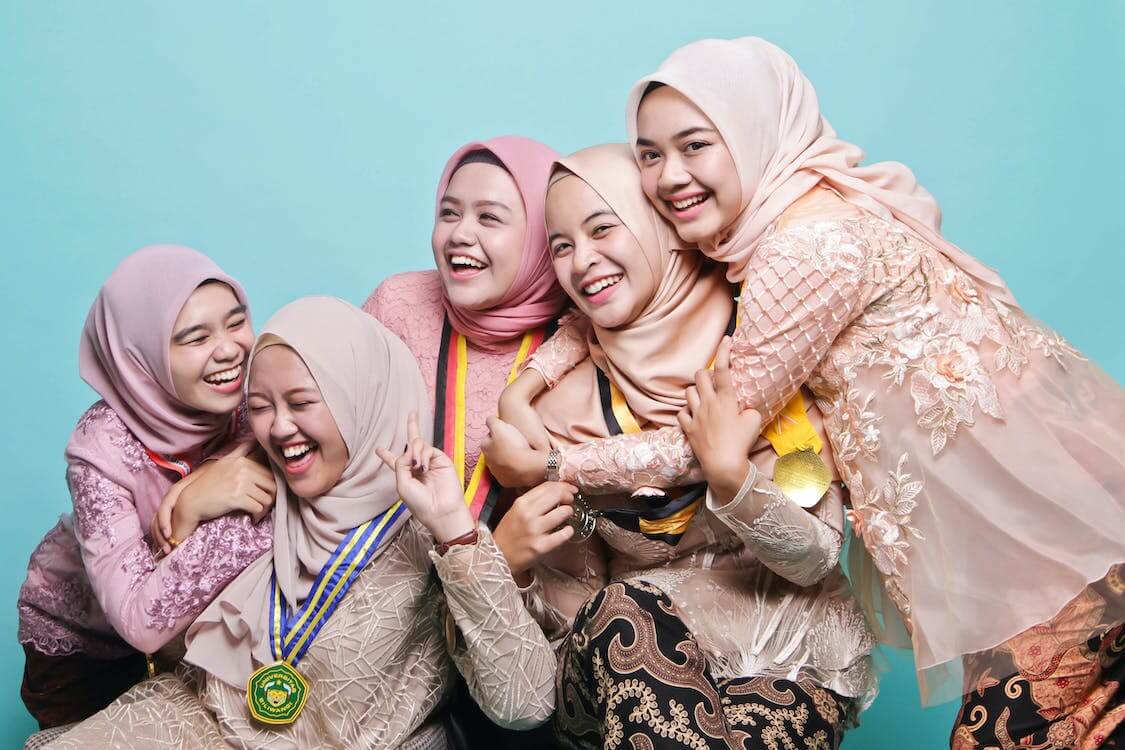 Hugs are the best form of expressing your closeness with your parents, colleagues, and friends. So be yourself and simply hug your friends or parents to share your memorable moments and candid pictures for the poses graduation photoshoot ideas. If more than two people pose in one frame, you can also try the group hug.
18. Smile and Laughter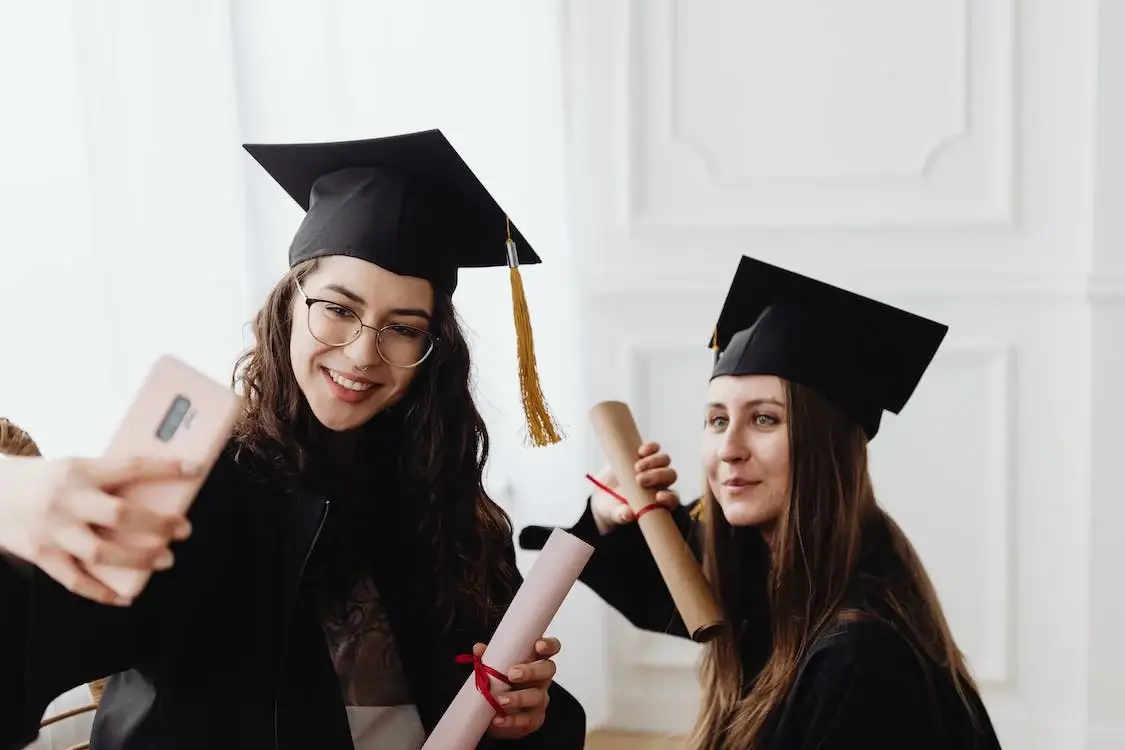 A sweet smile can make anyone's day. It'll also make yours. A smile will make your photoshoot memorable. Wear your smile with different poses, like looking toward your diploma or degree. Flaunting your dress or simply passing your smile toward the camera. For more candid photographs, you laugh. Or whenever you feel confused about how to pose, simply be yourself and laugh.
19. Classic Portrait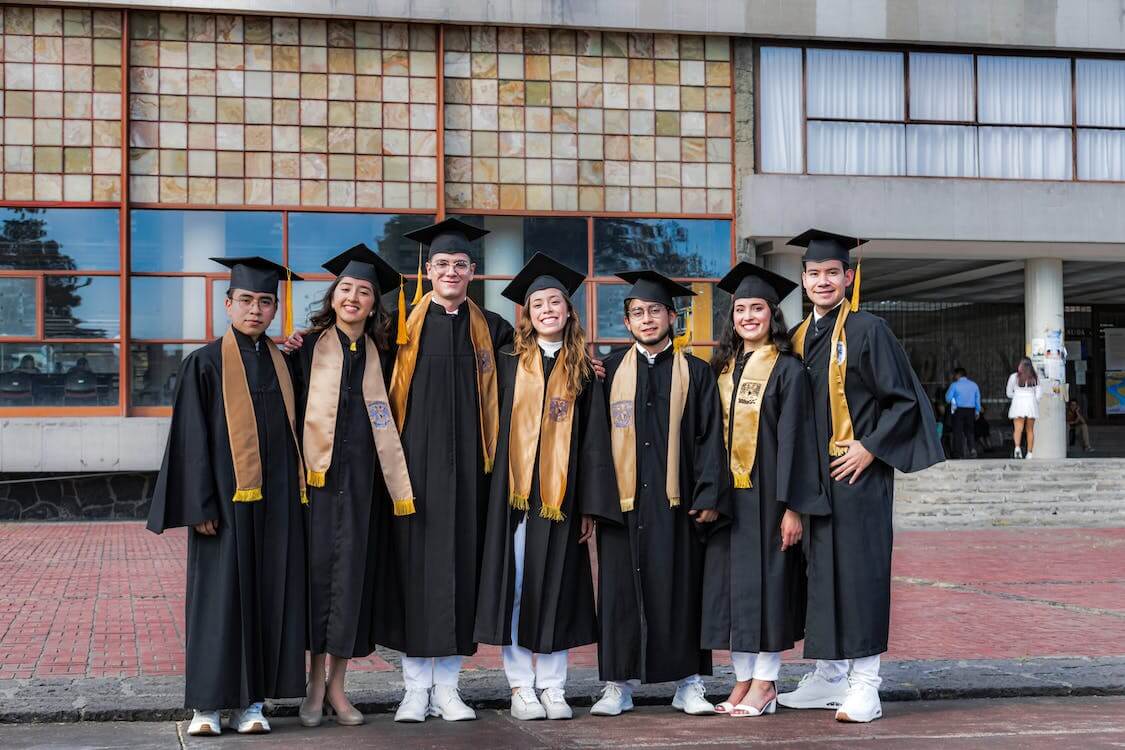 A classic pose is one of the simplest and easiest poses to capture. It'll also cover your full face with your smile and diploma. So, it's perfect for both single or group poses. All people can stand in 1 row in a classic portrait. If there are so many people, then there can be two rows, where the front row people can sit down on the ground on tier knees. You can also try this in a semicircular pose by standing or sitting down on the knee according to the strength of people and requirements.
20. Raw Emotions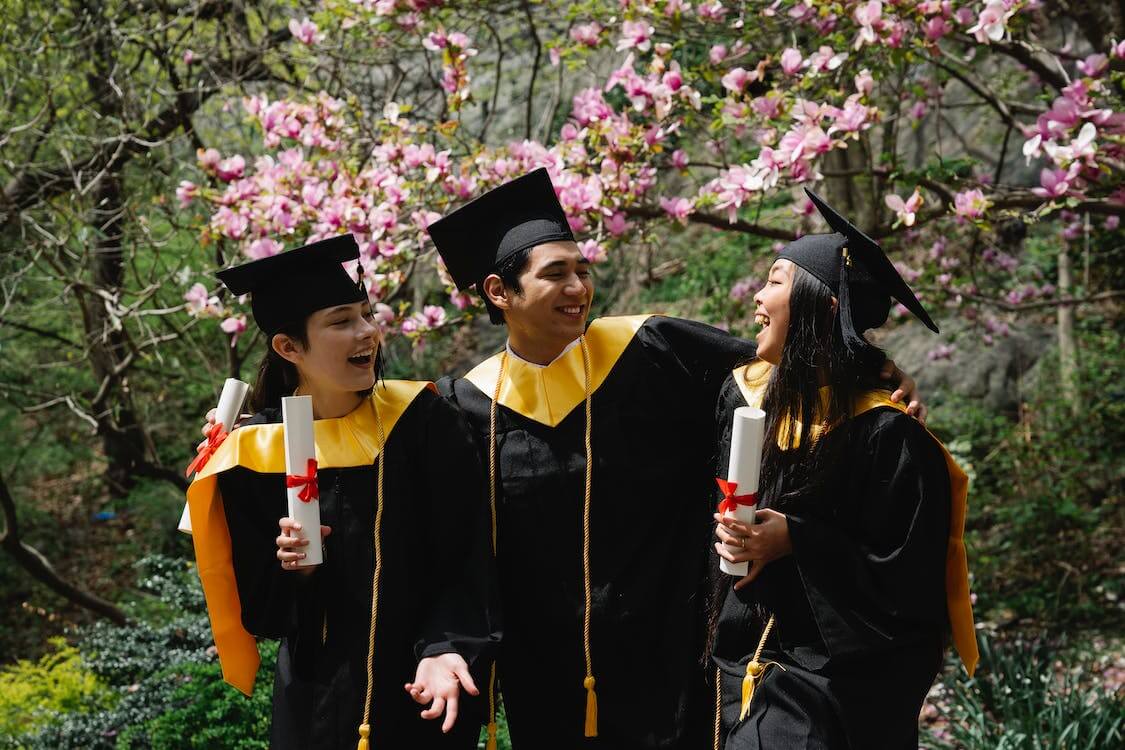 The most natural photoshoot poses are those which are taken with your raw emotions. So for a few minutes, forget about the rules and guidelines of photoshoot poses, and be yourself. Let your emotions tell their story of emotional, happy, excited, prideful, and victory moments. Poses with raw emotions are the most candid photoshoot poses that will surely make your pictures stunning and memorable.
21. Balloons And Flowers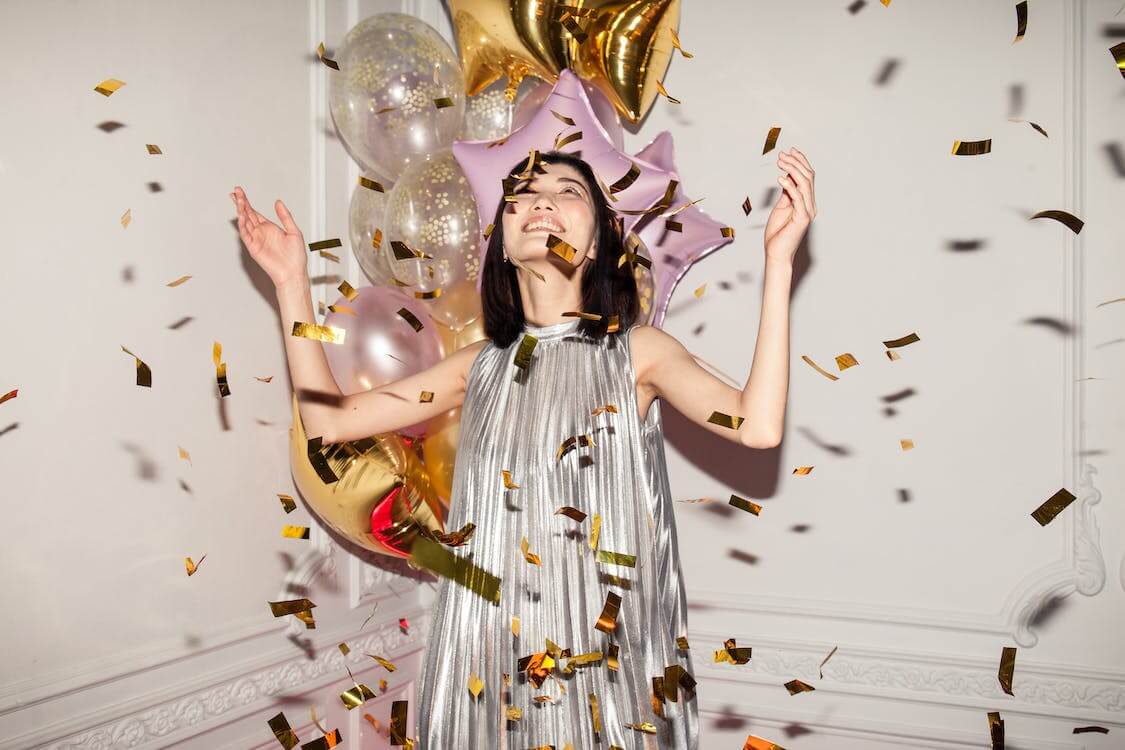 If you are looking for vibrant and happy poses, then you can try some flowers or balloons. Flowers will not only make your mood better, but they will also bring out your emotions. Try a bouquet, or throw the flower's petals in the air while feeling their touch on your face. For a more childish look, fun, and memories, you can use balloons. They will work as a great prop.
Final Thoughts
Everyone wants to enjoy their best moments on the graduation celebration day, along with capturing some of the stunning poses in pictures. And preparing yourself in advance, from selecting your outfits, colors, and shoes to preparing for the poses graduation photoshoot ideas, is the way to make your dream of a fabulous photoshoot a reality.
This post showed you the 21 best picture ideas and poses for the graduation photoshoot, along with additional tips to help you prepare better and look confident in front of the camera. For the best experience and poses, select some of the poses that suit you, and you feel comfortable while trying. Try them at your hoke in front of a mirror or in the presence of a friend.
If you are looking for a better experience and guidance, connect with one of our photography strategists and make the best of your moment and memories.
Frequently Asked Questions
What Colour to Wear for The Poses Graduation Photoshoot Ideas?
For the poses graduation photoshoot ideas, cream, white, or black color outfits are generally preferred. If there is a specific color code decided by your batch, then wear that color outfit. If there is a particular dress for your college or university, bring that with you so that you can change it for unity and group photoshoots.
What Do I Wear for The College Graduation Photoshoot?
For the college poses graduation photoshoot ideas, you can carry both professional and casual outfits. You can wear one dress at a time and carry another with you for special moments. For professional memories, resumes, or even framing your complete batch in one picture, you can wear a professional outfit. For special professional moments, you can also wear a graduation cap. Gown and shawl are other options girls can prefer.