Are you someone who loves capturing those small moments of your life and making memories? Are you someone who creates content around the clock with reels, shorts, and vlogs? If yes, then this little black beauty is what you may be looking for.
The all-new camera by Nikon here's presenting to you the Z30 for what Nikon calls compact content creation. This camera will not only capture your content, but it will also make the experience more user-friendly and hassle-free with its features designed especially for content creation on the go. Nikon Z30 gives you the comfort and joy of content creation without compromising on the quality of your content.
Let us dive in a little bit deeper and understand a few aspects about this camera that may make this camera your best content creation companion.
Nikon Z30: Review, Specs, and Body
The Z30 is Nikon's third APS-C mirrorless camera. It uses the company's Z-mount. It is similar to the DX series cameras by Nikon, which use smaller sensors that make them compact and lightweight. The Z30 is most committed to vlogging and video streaming and hence has the potential of becoming a cult favorite among YouTubers and influencers alike.
1. Body Structure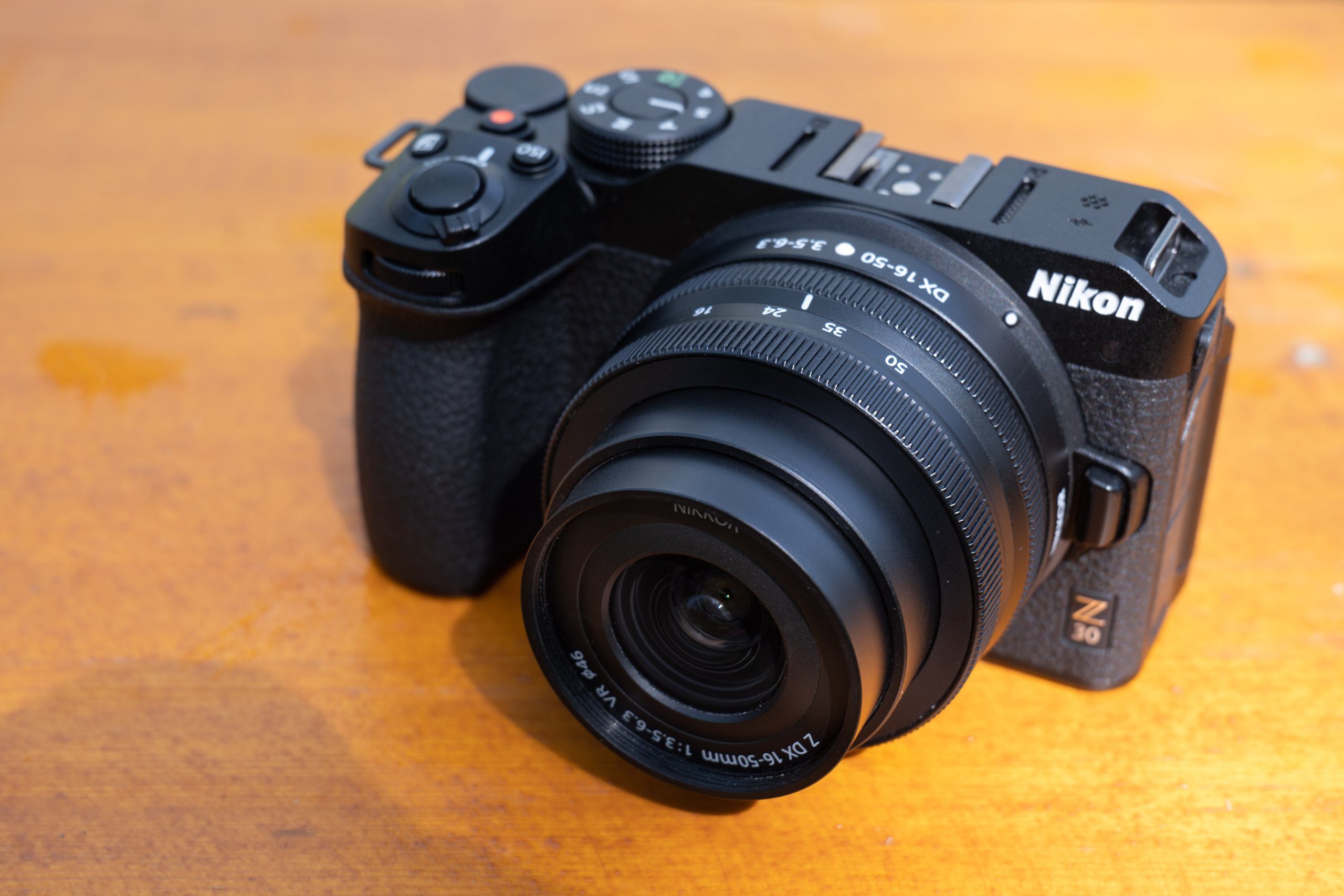 The Nikon Z30 is built keeping in mind all the needs of content creation. Being a mirrorless camera, portability becomes better for street and travel photography. It has a sleek body and is light to carry, with a weight of approximately 405 gms. The dimensions of the camera are 5.1 x 2.9 x 2.4 inches, making the camera travel friendly. It has a deep grip on the right-hand side that helps in holding the camera stable.
The buttons, dials, and interface has been balanced on the front as well as the rear to make it more comfortable to use whether you are in front or behind the scenes. There is a four-way directional pad to navigate the menu options and a selector button at the center. The dedicated zoom button will help you crop your shorts with ease. Overall this design is easy to understand as well as cool to look at!
2. Microphone and LCD Screen
The camera has stereo microphones built into its top plates that capture crystal-clear sounds. This may be useful in times when you do not have an external microphone. The Nikon Z30 also has a wind reduction function. You can even put an optional dead cat over the stereo mics that are positioned on either side of the hot shoe. There are also options for selecting frequencies. The vocal range option works for picking up dialogues, while the wide range records ambient sounds.
About the LCD screen, there is a 3-inch 1.04m-Dot vari-angle touchscreen LCD attached to the right. The screen is wide enough and very responsive, and can flip, which makes the creation of video content very easy to view while recording. Also, it is hinged at the side of the body and can be rotated to various angles for better viewing.
3. Connectivity and Battery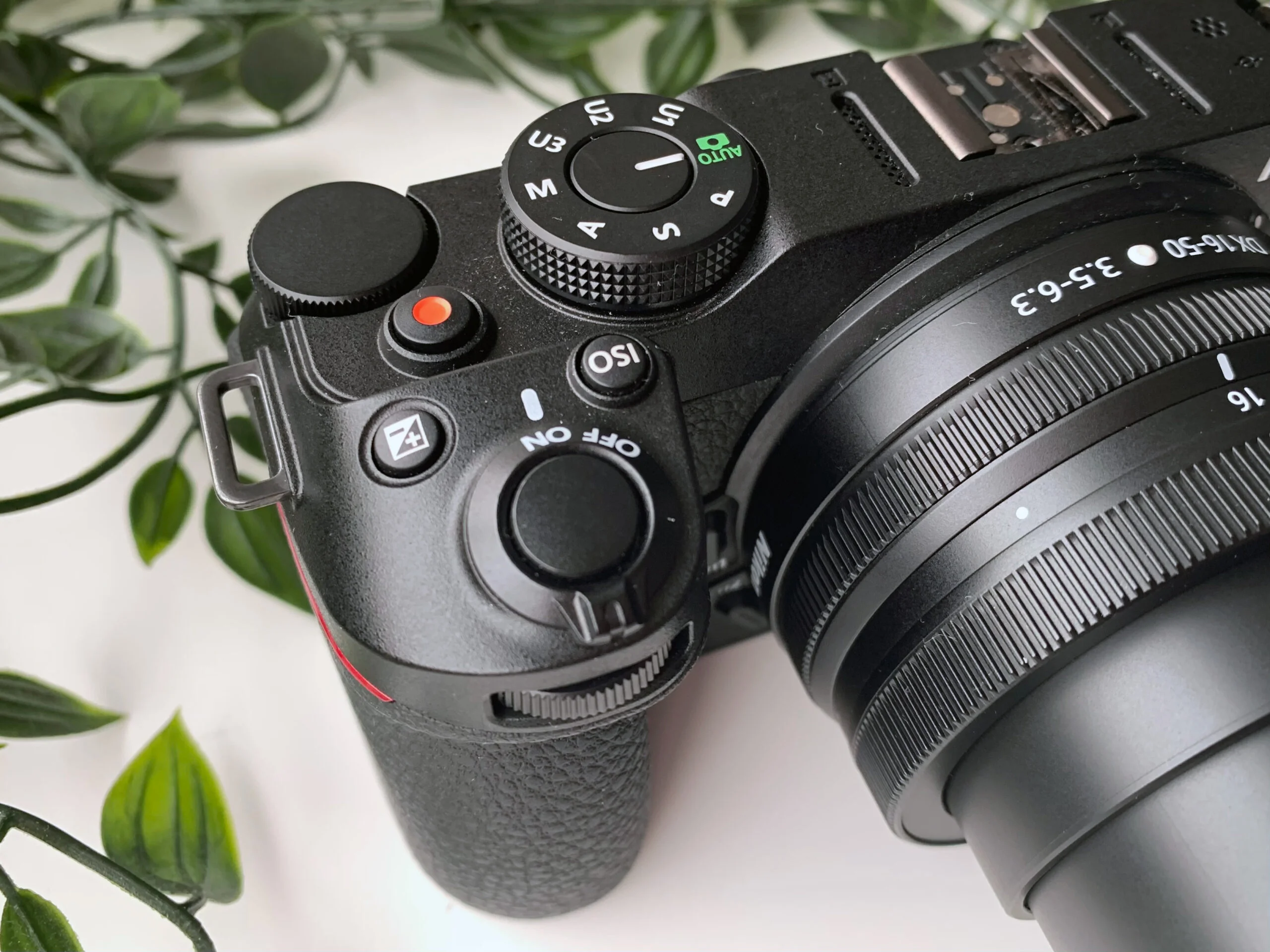 The Nikon Z30 comes with an HDMI port and a USB type C port for charging. The company does not give a kit charger, so you need to buy this separately. It is compatible with Wifi and Bluetooth connectivity through the Snap Bridge app for mobile devices. This helps with controlling your camera with the mobile and also makes it easy to transfer pictures and recordings wirelessly to your mobile or tablet.
It has a single memory card slot compatible with UHS-I type SD cards only. The camera has a 7.6 volts 1120mAh lithium rechargeable battery. It gives a recording time of 75 minutes when fully charged. This is an average battery capacity, and you may have to keep extra batteries if you are a heavy professional content creator, but for light content, this may suffice.
4. Lenses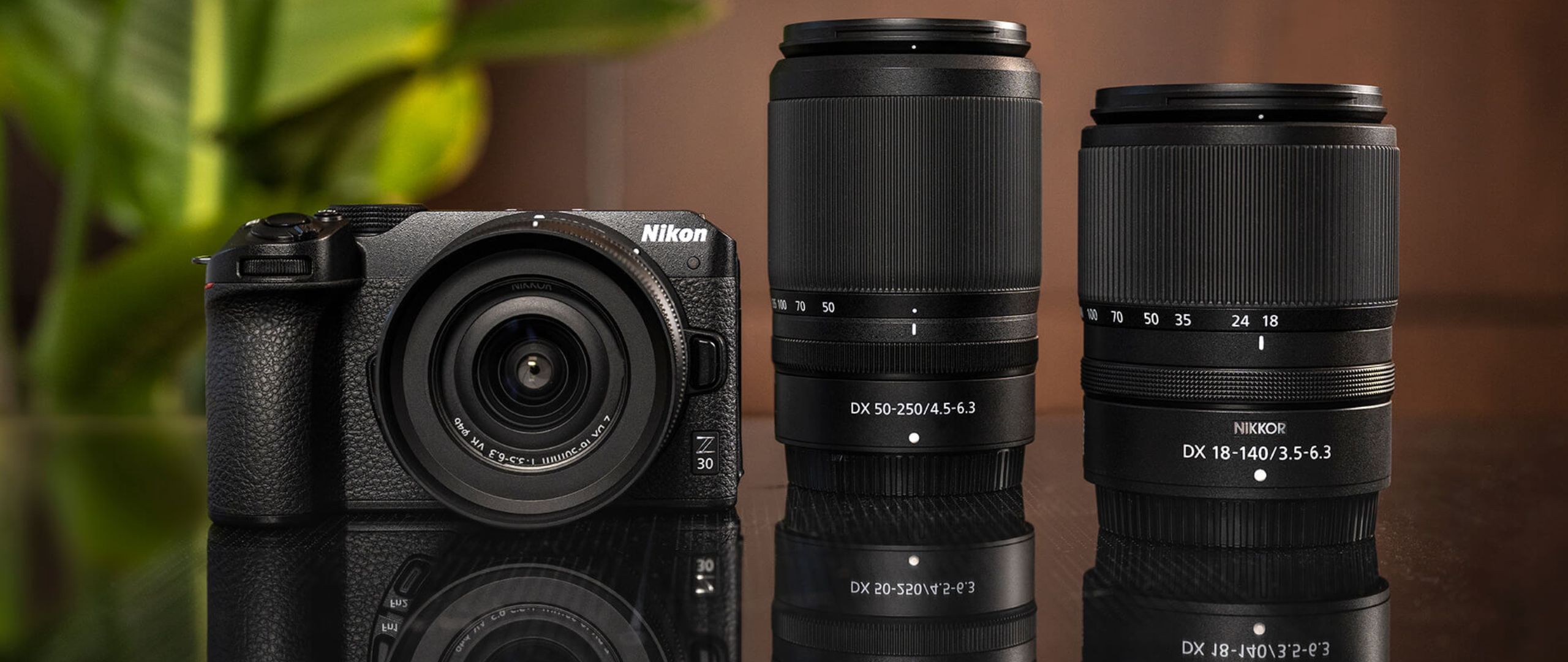 The Nikon Z30 is compatible with any Nikon Z lens mount. It is provided with a 16-50mm focal length f/3.5-6.3 VR kit lens, which works for vlogging. Though the camera has an APS-C CMOS sensor, It comes with interchangeable lens options, and any z mount lenses work with it. The Nikon DSLR lenses (F-mount) can be used via an adaptor, but it is not recommended as this may become heavy for the camera to sustain. The DX-format lenses are lighter in weight and hence more suitable for such a small camera.
5. Creators Accessory Kit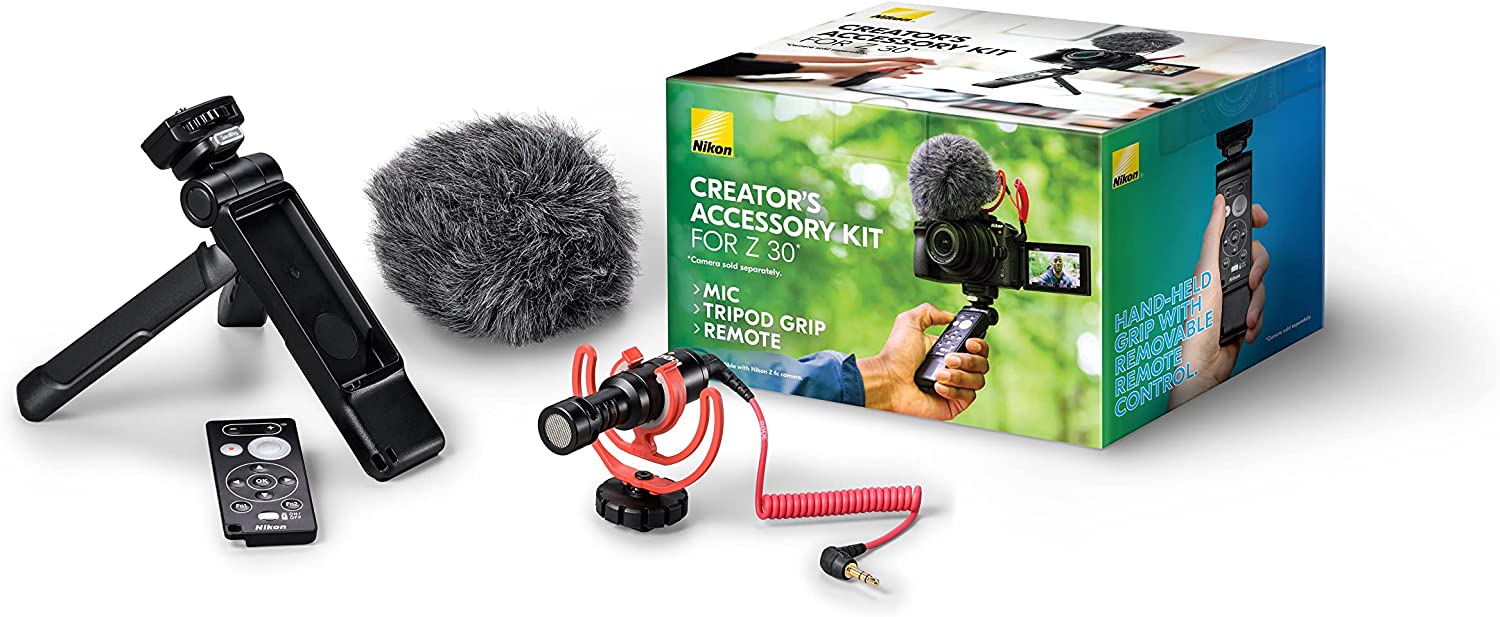 Although the accessories are to be purchased separately and do not come with the camera itself, Nikon has built a smart accessory kit just for the creators, vloggers, and streamers. This kit comes with a multifunctional SmallRig tripod for hand-held vlogging and hands-free streaming. The Bluetooth remote ML-L7 gives you the freedom to start and stop recording, rewind and watch your clips, and also to access the menu without touching the body. You can use it with the tripod to record hands-free. The last accessory in the kit, the RØDE VideoMicro™ microphone, reduces background noise in videos and helps capture high-quality audio.
These were the structural aspects of the Nikon Z30. Now let's come to the main functional aspects of the camera for which it is going to be used the most. Yes, it is the performance of the camera, the imaging, and the video production.
6. Image Quality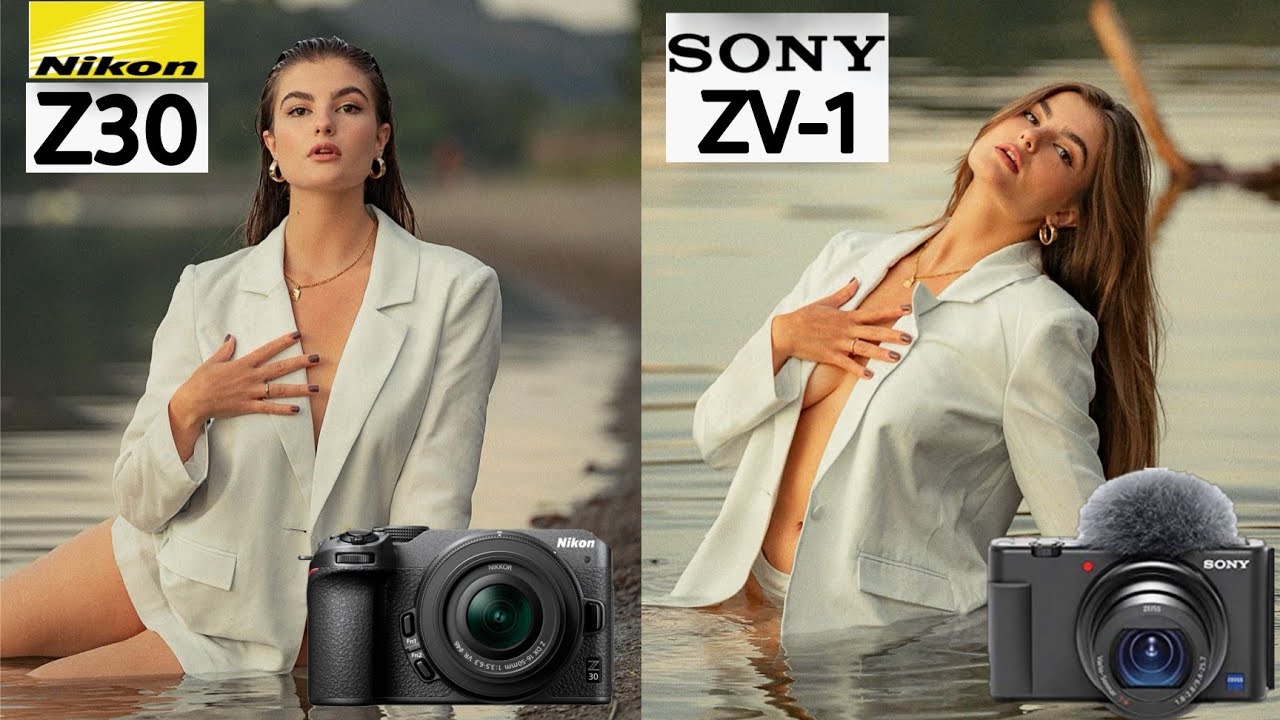 The Nikon Z30 uses a 20.2MP sensor with 20.9 effective megapixels, which is suitable for capturing high-resolution pictures for thumbnails and promotional images. This sensor also works effectively in low light conditions and produces images that are clear with low noise. The Nikon Z30 also gives built-in presets and filters that can be used straight from the camera.
They have made the merging of stills and videos in the camera time lapse possible. The "?" button provides clear details for all camera settings. The auto mode of the camera optimizes shooting settings, while a customizable "i" menu gives quick access to all the essential settings you need to produce that perfect image quality.
7. Video Capturing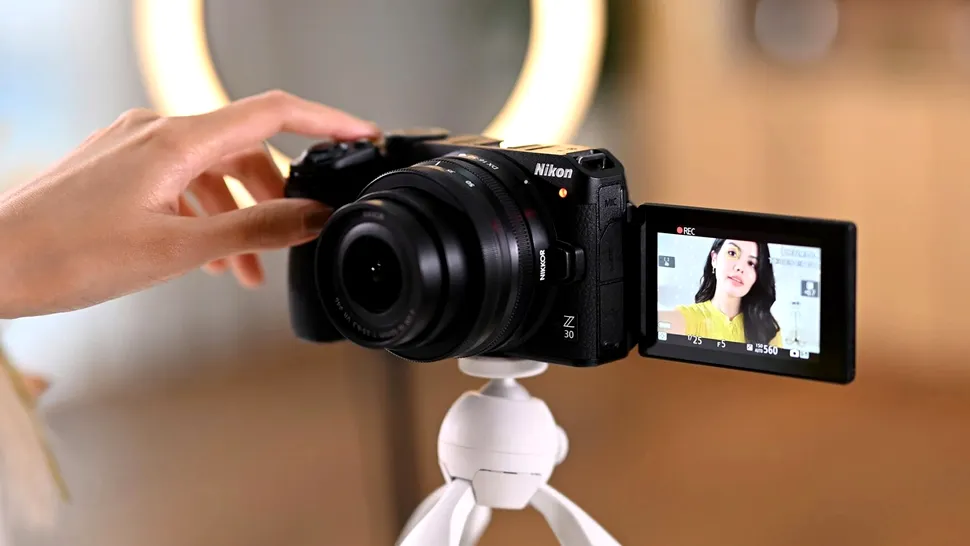 This is the most important function of why the Nikon Z30 was created. It is packed with a lot of features, especially for capturing high-quality videos. Eye tracking is convenient and captured beautifully by the Nikon Z30. It is fast as it uses both phase and contrast detection methods. The eye detection autofocus uses facial recognition while the face and eye tracking can recognize people as well as pets, lock on to them and tack focus as they move around. This hybrid autofocus model will naturally shift as and when required. Also, the red light on the front of the camera will easily tell you whether you are in recording mode or not. You get an ISO range of 100-51200 which is enough for good-quality footage.
8. Video Recording Experience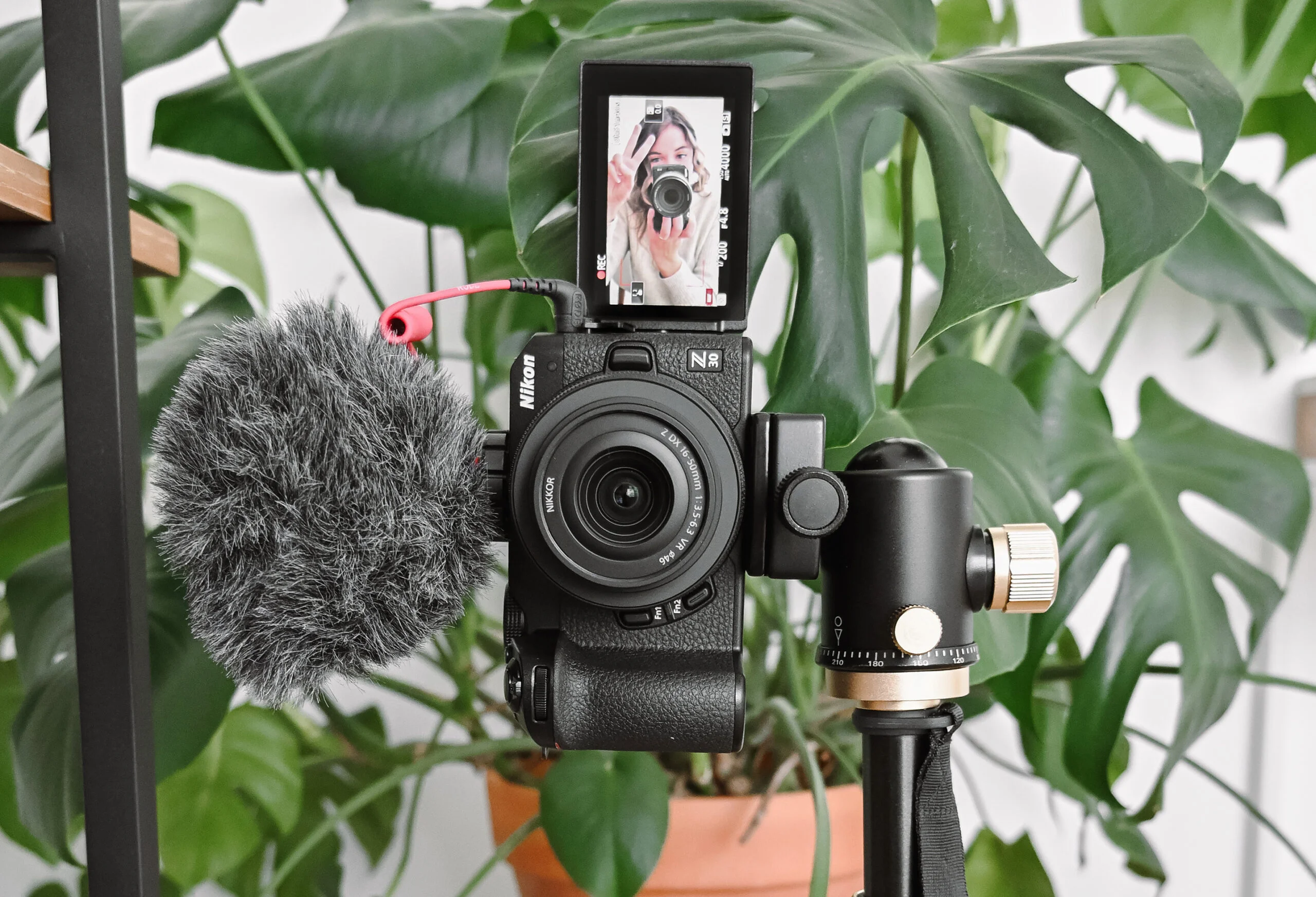 The Nikon Z30 is capable of shooting videos in 4K format at up to 30 frames per second and banks on its flat profile which makes new video editors work with the shots effortlessly. For slow-motion playback, a Full HD 120p recording is also available. Live streaming up to Full HD 60p or 4K 30p is possible with numerous web conferencing apps making it a high-quality webcam too. You can keep recording up to 2 hours and 15 minutes continuously, and for longer streamings, you can use the USB C-type port to power the Z30.
9. Image Stabilization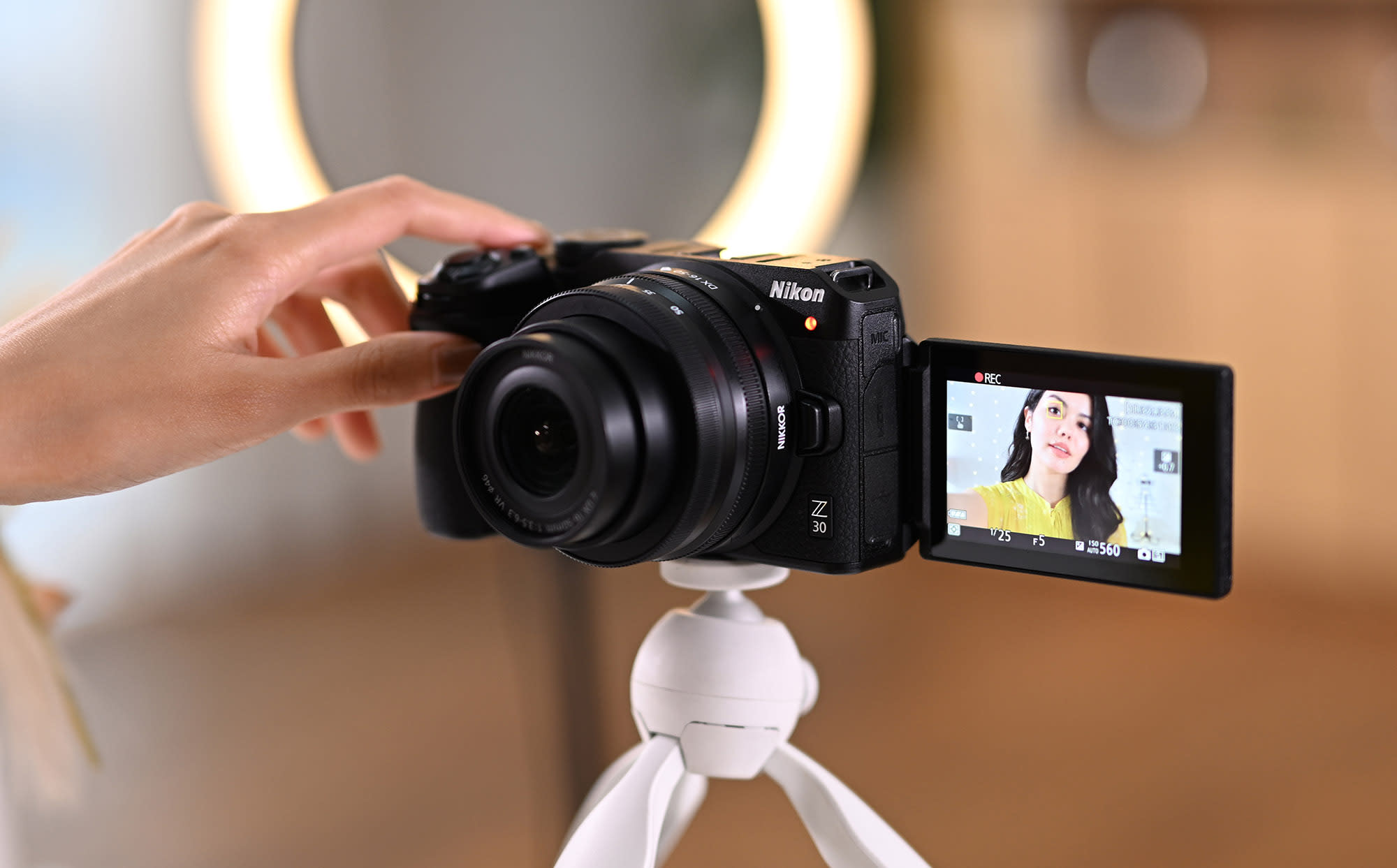 Body image stabilization is absent in the Nikon Z30. But the z mount lens makes up for the same, which would have been looked at as a red flag by vloggers. As the lenses have vibration reduction (VR) in them, it minimizes the blur caused due to shaking of the camera. Nikon claims this to be helpful as different lenses come with different levels of anti-shake depending on their focal lengths, so each VR is optimized for its lens. The stabilization effect can be confirmed by pressing the shutter halfway.
Comparisons with Other Cameras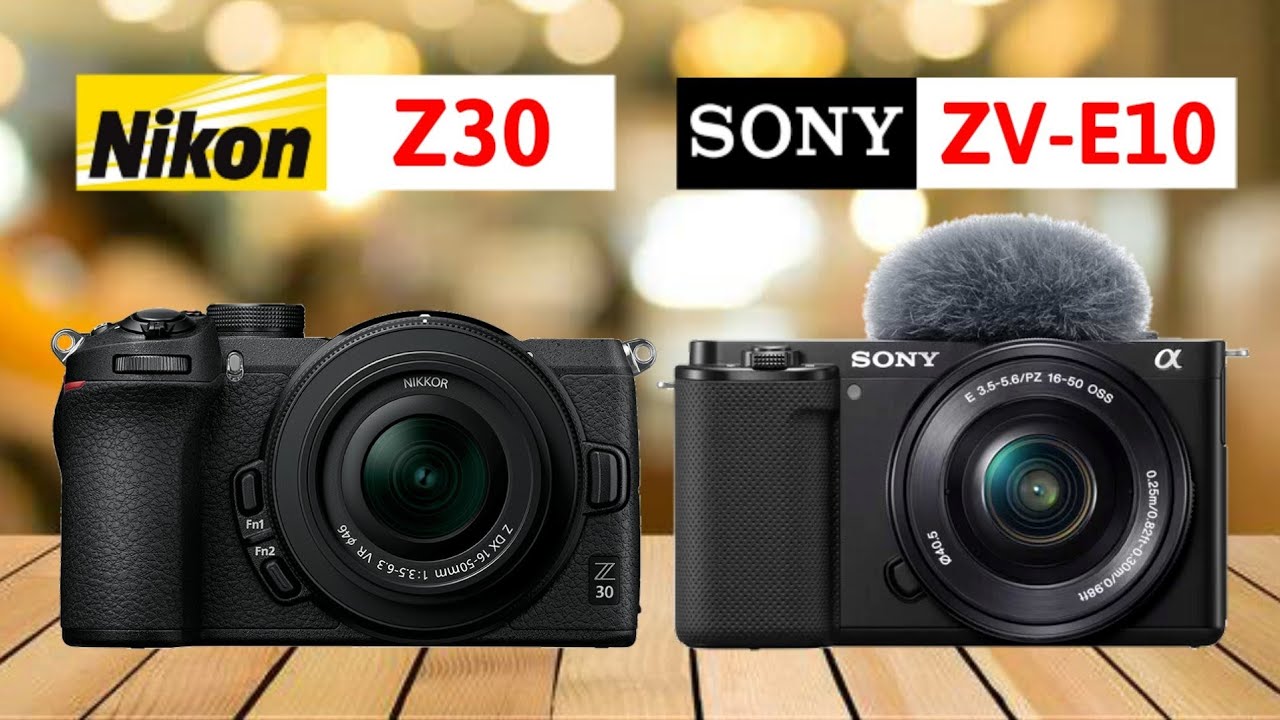 camera is similar to the Sonys ZV-E10 as both have APS-C sensors. Both also have built-in stereo microphones on their top plates. One of the major differences between the two is that the Sony ZV-E10 can only shoot at up to 24fps before it has to crop in, while the Z30 can shoot 4K video at up to 30fps without a crop.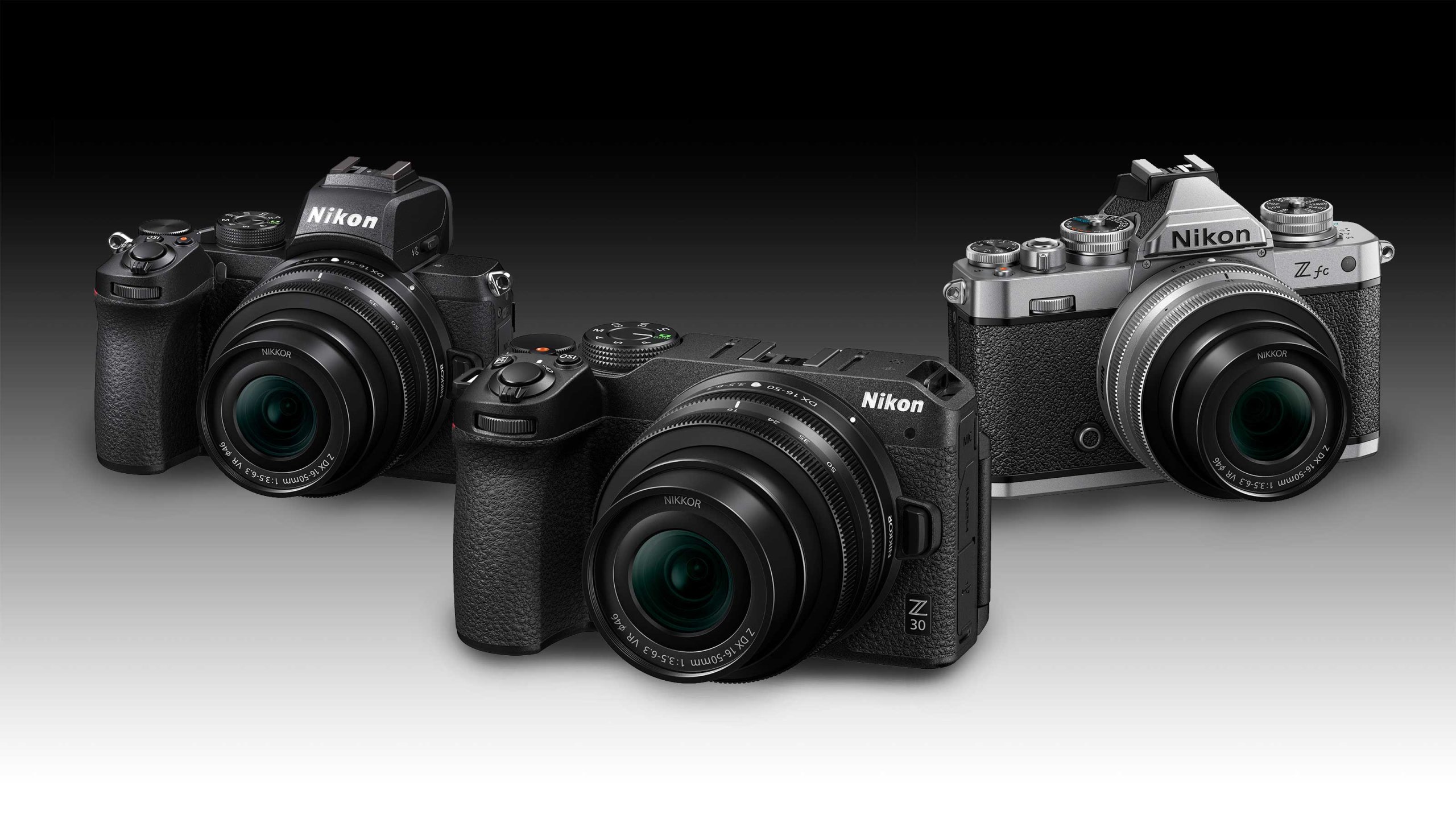 Comparing the Z30 with the company's Z50, it may look just like the Z50 but shorter. As compared to counterparts Z50 and Zfc, the Z30 differs in several ways. Firstly it can record over 2 hours of 1080p footage in a single file, while the Z50 and Zfc cap off at about 30 mins. The LCD screen is another major difference, with the Z50 having a larger screen size but with different articulation. Its screen opens at the bottom, unlike the Z30 on the side. This means you cannot use the tripod or gimbal while filming yourself. Another major difference that you may find is the missing viewfinder in the Z30. Also, you do not get an option to attach an external viewfinder to it.
Technical Specifications: In a Nutshell
| | |
| --- | --- |
| SKU | VOK110XA |
| Type | Digital camera with support for interchangeable lenses |
| Lens mount | Nikon Z mount |
| Picture angle | APS-C Size / DX-Format |
| Sensor size image | 23.5 mm x 15.7 mm |
| Sensor type | CMOS |
| Total pixels | 21.51 million |
| Effective pixels (megapixels) | 20.9 million |
| Shutter type | Electronically-controlled vertical-travel focal-plane mechanical shutter; electronic front-curtain shutter; electronic shutter |
| Self-timer | 2 s, 5 s, 10 s, 20 s; 1 to 9 exposures at intervals of 0.5, 1, 2, or 3 s |
| Slowest shutter speed | 30 sec |
| Fastest shutter speed | 1/4000 sec |
| Exposure metering | TTL metering using a camera image sensor |
| Exposure Lock | Luminosity locked at detected value |
| Exposure Compensation | Range: –5 to +5 EV, Increment: 1/3 step |
| ISO sensitivity | ISO 100 to 51200 in steps of 1/3 EV; can also be set to approx. 1 EV above ISO 51200 (ISO 102400 equivalent) or to approx. 2 EV above ISO 51200 (ISO 204800 equivalent); auto ISO sensitivity control available |
Summing It Up
So here comes the final verdict. Is this much-hyped camera worth the hype? Very much so. Although the Nikon Z30 can have its own shortcomings like the missing electronic viewfinder, absence of a headphone jack, and a relatively cheaper looking flap cover over the mic and HDMI port, this camera is a steal deal if you are a rookie content creator who is venturing into the fun and creative world of vlogging but who even is on a budget.
This camera will definitely meet your basic as well as the above basic content creation requirements. You will not only look hip when you flaunt it around but also professional. With hassle-free connectivity and out-of-the-box image quality, take your vlogging experience to the next level with the impressive Nikon Z30.