The winter season is a beautiful time of the year because it promises new beginnings, cozy sweaters, and chilly air. If you're expecting during this time, why not take advantage of the season's beauty and capture its hypnotic, magical quality in a winter maternity photoshoot?
The thought of a winter photoshoot could be intimidating, but with a little planning and imagination, you can produce breathtaking pictures to honor this important period in your life. When it comes to maternity photo sessions in the winter, the frigid environment adds a special charm to the pictures, providing a mystical setting for this momentous occasion.
Here are some helpful pointers for parents and photographers who are going to explore winter pregnancy photoshoots in order to ensure a successful and pleasant session.
Tips for Winter Maternity Photoshoot
1. Choose the Right Location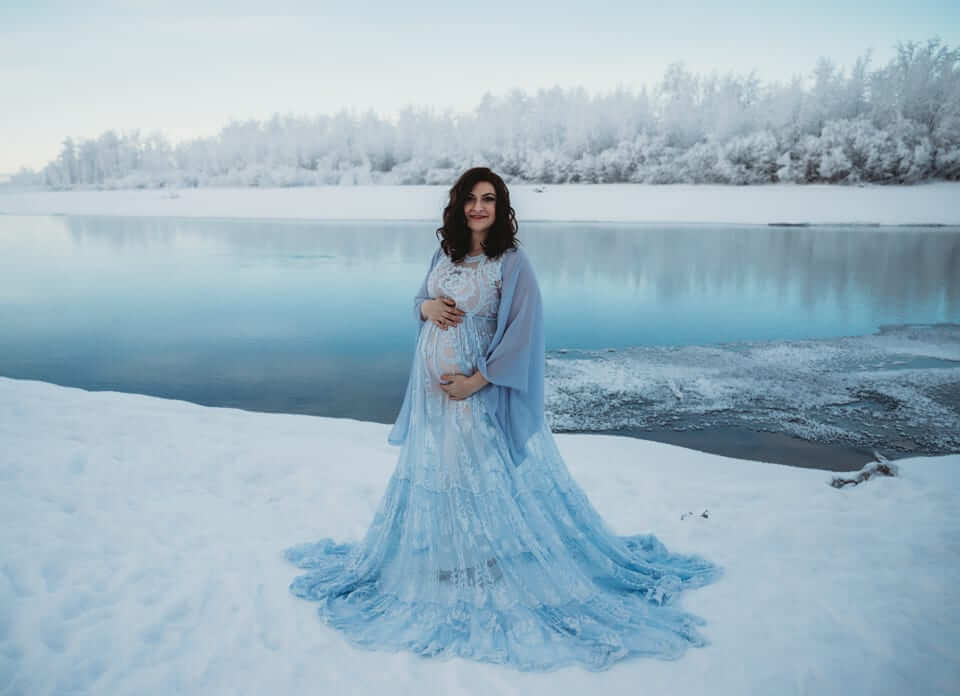 Choosing the ideal setting is essential when organizing a winter pregnancy photoshoot. Look for scenic locations that accentuate the winter landscape, such as a warm lodge, a snow-covered landscape, or frosted trees. An appealing backdrop can be created using natural settings like parks and forests.
As an alternative to outdoor chilly snow-covered areas, think about indoor settings like a tastefully arranged nursery or a well-lit living room with a fireplace. And if you are confused about the best location for your photo shoot, let your photographer do the job.
After all, what's the use of hiring a photographer if you yourself are going to plan the entire shoot? You must have heard about the term "photographer's eye," and trust me when we say that they sure have a good eye, and you can rely on them to choose your shoot location.
2. Dressing for The Season
Dress for the weather while still looking fashionable and comfortable to make the most of your winter maternity photoshoot. Choose warm knit sweaters, scarves, and coats if you want to stay warm because layering is crucial in order to keep the cold at bay.
Think of donning long skirts or flowy maternity gowns to make a lovely contrast with the white winter scenery. To complete the winter look, don't forget to accessorize with hats, gloves, and long coats and boots.
3. Embrace the Winter Props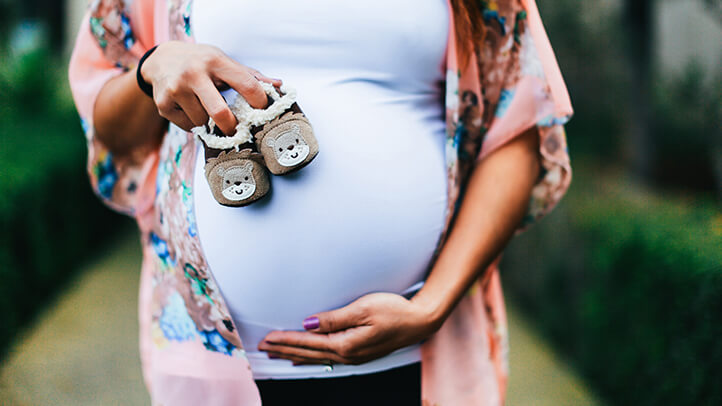 Including winter-themed items in your pregnancy photoshoot will give your pictures a magical touch. Consider including decorations like snowflakes, pinecones, fairy lights, or an old-fashioned sled.
These accessories can add to the wintery ambiance and give your photo shoot a joyful, whimsical sense. Apart from these, you can also choose to add props related to the baby, like baby boots, a holiday onesie, a board with your baby's name and due date, or even a baby sonogram photo!
Remember, this photoshoot is to capture the joy you are feeling at the moment. Make it as fun as you want it to be! Embrace this phase of motherhood and mommy glow, and let it shine through your pictures.
4. Time Your Photoshoot Wisely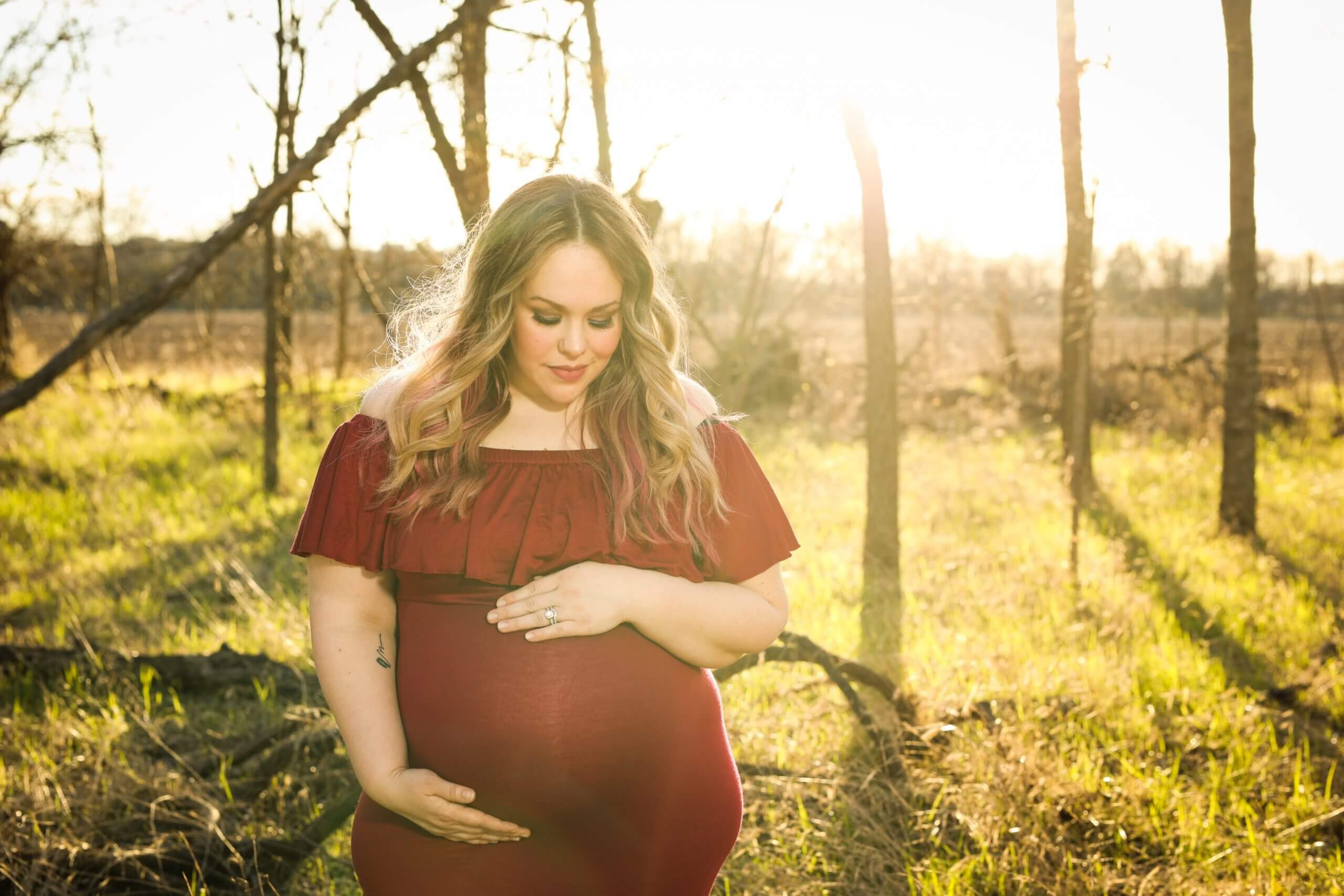 Did you know that the sun is the most golden during this time of the year? Yes! The golden period of the year is between November and March.
Plan your photoshoot during the time of the day when the light is warm and gentle, famously known as the "golden hours." Since winter days typically have fewer daylight hours, it's crucial to plan your session accordingly.
To make the most of the available natural light, try to shoot late in the morning or early afternoon. Also, keep an eye on the weather forecast and reschedule if it is not favorable.
5. Be Mindful of Safety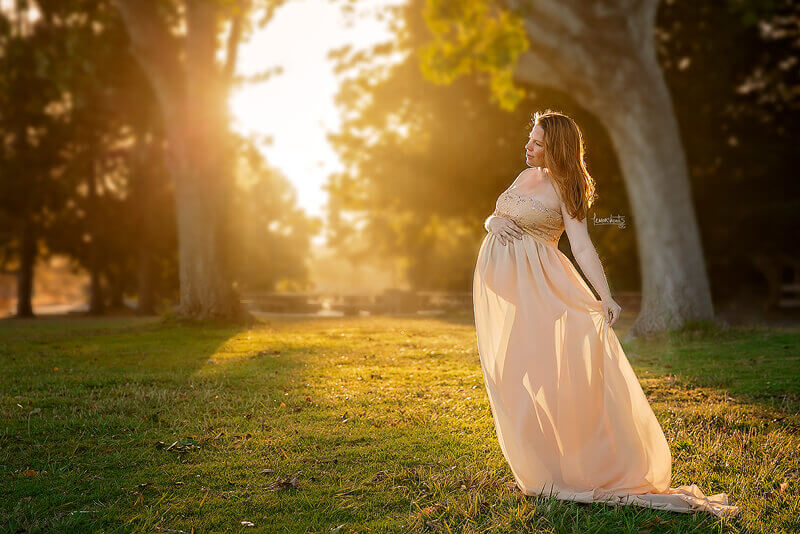 Prioritizing safety during your winter maternity photoshoot is essential because winter weather can be unexpected. To avoid any mishaps, make sure there is no ice or snow on the pathways. It may cause slipping, and you may experience a fall.
Wear layers over your clothing and carry extras to stay warm and comfortable throughout the shoot. Take breaks and warm yourself if you start to feel too cold or worn out. You can involve your partner and get help from him and the photographer.
6. Get Creative with Lighting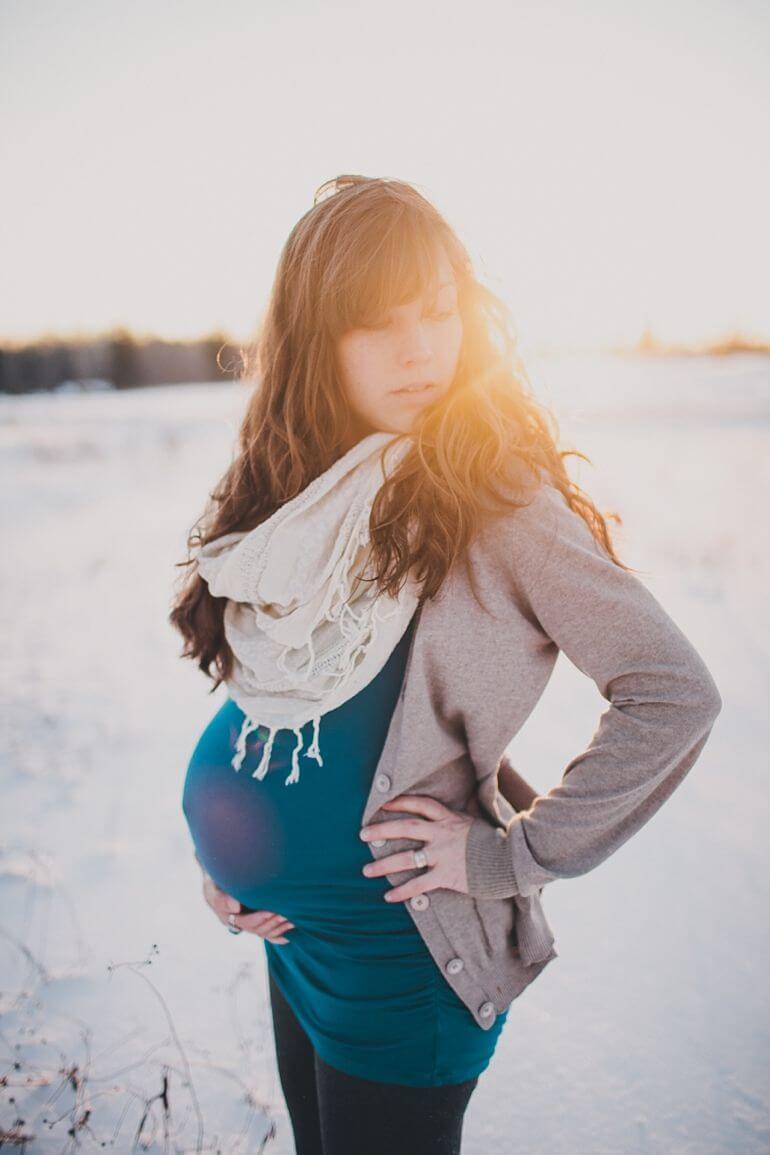 Winter's soft light can create a dreamy and ethereal atmosphere in your maternity photos. Try out several lighting techniques to improve the mood. For instance, backlighting can create a halo effect, emphasizing your silhouette against the winter backdrop.
Your indoor photos can become more personal with the addition of candlelight or warm indoor lighting. To make the most of the lighting conditions, discuss these suggestions with your photographer.
7. Involve Your Partner and Loved Ones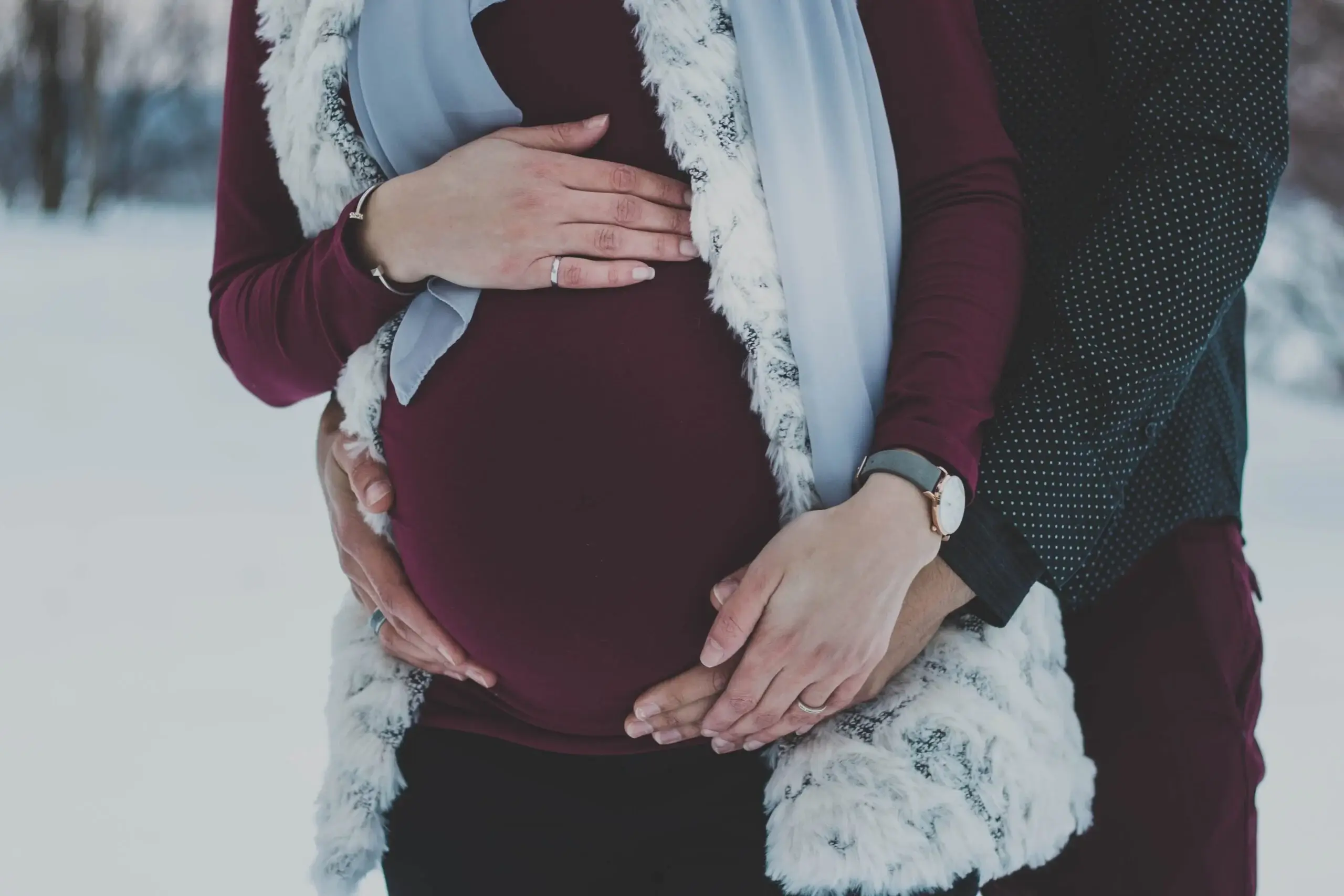 A winter maternity photoshoot is an excellent opportunity to include your partner and loved ones. To capture their excitement and joy together, invite them to participate in some of the photos.
Consider including your partner's winter wardrobe in the color scheme to create a cohesive look. Their presence will add to the significance of the photo shoot and will help you feel loved and supported throughout this momentous day.
8. Capture Candid Moments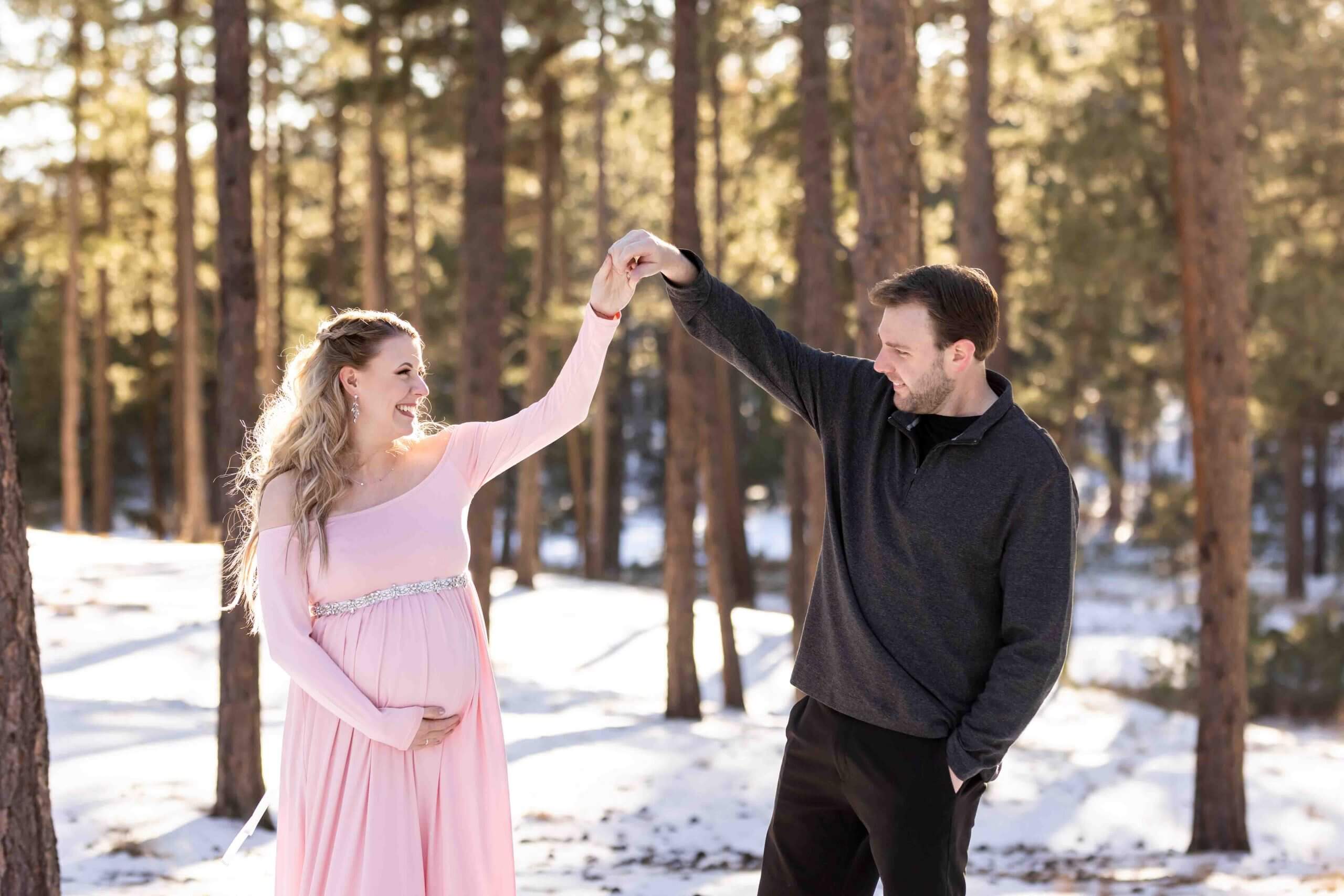 While already prepared, rehearsed poses can be lovely. Candid photographs can truly convey the real feelings and reality of your pregnancy journey. Accept the unplanned events, like a soft snowfall or a sincere chuckle, and allow your cameraman to capture them organically.
These unguarded photographs will serve as priceless mementos, capturing the joy and excitement of this unforgettable time in your life.
9. Stay Positive and Have Fun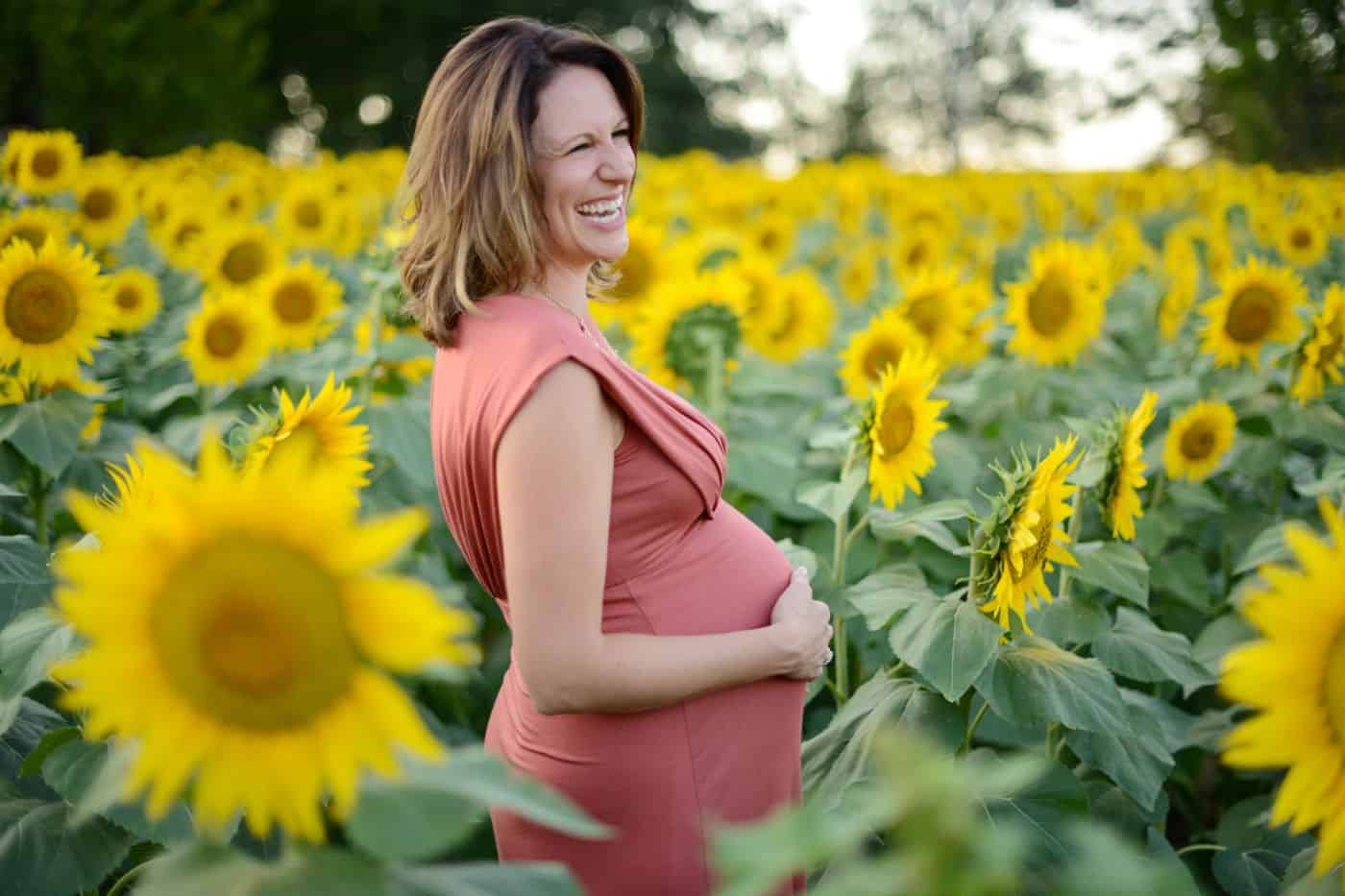 Finally, keep in mind that the purpose of your winter maternity photoshoot is to commemorate this particular period in your life. Accept the season, delight in the process, and let your enthusiasm be seen.
Even if the weather isn't ideal or things don't go according to plan, remain optimistic and flexible about the timing and date of the shoot. The most crucial thing is to enjoy yourself and make enduring memories that you will treasure forever.
Tips for Photographers: Winter Maternity Photoshoots
As a photographer, you want to make sure that everything goes smoothly during the photo session. Here are some key pointers that will help you get ready for a pregnancy shoot:
1. Schedule a Pre-Session Consultation
Before the shoot, arrange a consultation with the expectant parents to discuss their preferences, expectations, and any specific ideas they may have. This consultation will help you understand their vision and personalize the session accordingly.
2. Research Poses and Inspiration
Look for maternity photography inspiration to get ideas for poses, props, and compositions. Familiarize yourself with different poses that showcase the baby bump, emphasize the connection between the expectant parents, and highlight the beauty and glow of the mother-to-be.
3. Plan the Wardrobe
Guide your clients on what to wear on the shoot. Suggest clothing options that highlight the baby bump and make the expectant mother feel beautiful and confident. Flowing dresses, form-fitting tops, and fabrics that drape nicely can all work well. Encourage them to bring multiple outfits for variety and provide guidance on color coordination if needed.
4. Discuss Props and Accessories
Determine if your clients have any specific props or accessories they would like to incorporate into the shoot. This could include ultrasound photos, baby shoes, sentimental items, or even simple props like balloons or flowers. Encourage them to bring meaningful objects that represent their journey to parenthood.
5. Consider Hair and Makeup
Suggest the expectant mother consider professional hair and makeup services for the shoot. Having a professional enhance her natural beauty can boost her confidence and create a polished look for the photographs. Provide recommendations for trusted hair and makeup artists if necessary.
6. Be Mindful of Timing
Pregnancy shoots are typically scheduled between 28 and 34 weeks when the baby bump is prominent, but the expectant mother is still comfortable. Plan the session at a time of the day when the lighting is flattering, such as the golden hour, to create soft and warm images.
7. Pack Essential Equipment
Make sure you have all the necessary photography equipment for the shoot. This includes your cameras, lenses, extra batteries, memory cards, and any lighting equipment if needed. Consider bringing props and accessories that you think may add an extra touch to the photographs.
8. Create a Comfortable Environment
During the shoot, ensure the expectant parents feel comfortable and at ease. Provide clear direction and guidance for posing, but also encourage them to be themselves and interact naturally. Create a friendly and supportive atmosphere to help them relax and enjoy the experience.
9. Have a Backup Plan
Lastly, be prepared for unexpected changes, such as weather conditions or last-minute rescheduling. Have backup locations in mind or be flexible with the schedule to accommodate unforeseen circumstances. This will help ensure a smooth and stress-free experience for both you and your clients.
Final Thoughts
A winter maternity photoshoot is an amazing chance to appreciate the charm of the season and document the beauty and joy of pregnancy. You can guarantee a satisfying and enjoyable photoshoot by picking the ideal location, dressing appropriately, using props, and keeping safety in mind. To accurately capture the true feelings of this unique time, plan your session carefully, use innovative lighting, involve your spouse and loved ones, and shoot both scripted and candid moments.
Remember to be upbeat, have fun, and show your enthusiasm. The pictures will serve as priceless reminders of your motherhood experience. Take advantage of winter's charm and set off on an ethereal journey to capture the spirit of this wonderful chapter in your life.