If you are planning family beach photography, managing important things like location, bookings, photographer, and transport isn't easy. And in all this, you struggle twitch finding the best suitable outfits for a complete family, color coordination, and photgra[hy poses to look awesome.
What's worse is when you have tried to manage all the important things to have fun on the beach and for a family photo session, and you don't know about poses and how to look awesome in the family beach pictures. No worries! We have compiled a mini guide to help you prepare for beach family photography and look awesome in the family beach pictures. If you want to know more, keep reading.
In this blog post, we have covered important tips from what to wear to color coordination for family beach pictures, the best timing for awesome photos, and how to pose to look awesome in the family beach photos.
Outfits for Family Beach Pictures
The awesome pictures are captured in awesome poses, which is only possible when you feel comfortable wearing what you wear. So, find those outfits suitable for your skin, and you will feel relaxed and comfortable. It will help you to look more confident instead of nervous or stressed.
The tight-fitted outfits will spoil the mood, and family members will get busy fixing them instead of looking into the camera or doing poses for photography. So select comfortable and sweat-resistant fabric outfits which don't get scratched easily.
Some outfits which work better during a family beach photography are – shorts, casual, linen, and layered outfits for women like straight Mexy gowns, flowy dresses, and florals.
Also, when you go with the family to the beach, use minimal jewelry and avoid big bracelets, purses, or anything that directly fetches attention towards them instead of your face.
Choosing the Right Color Outfit for Your Family Pictures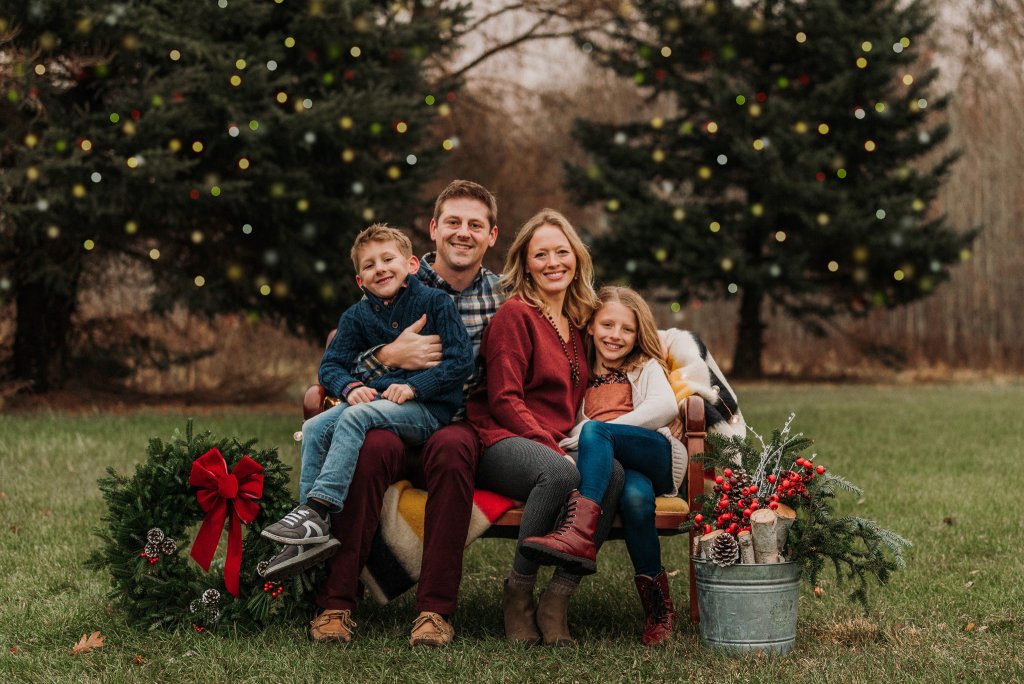 Try to select similar color-tone outfits for better coordination. Ensure that your complete family doesn't wear just one color outfit. Instead, pair your clothes and restrict them to two to three colors for better coordination. It will help to look awesome in family beach pictures.
Solid color outfits are the best when posing with a large group or family. The dress prints will not overpower the attention. So that everyone will get similar attention in pictures. Stay away from heavy or large prints and patterns.
Women can go with outfits that have sleeves. It will help you to draw attention to your face instead of your naked shoulders.
Suggested colors for family beach photoshoot sessions are Brown, Blue, Green, Fuchsia, sage green, mist blue, tan, yellow, aqua, turquoise, white, golden, cream, ivory, light pink, hues, sand color, pastel pink, Khaki, etc.
Pairing Your Outfits for Awesome Color Co-Ordination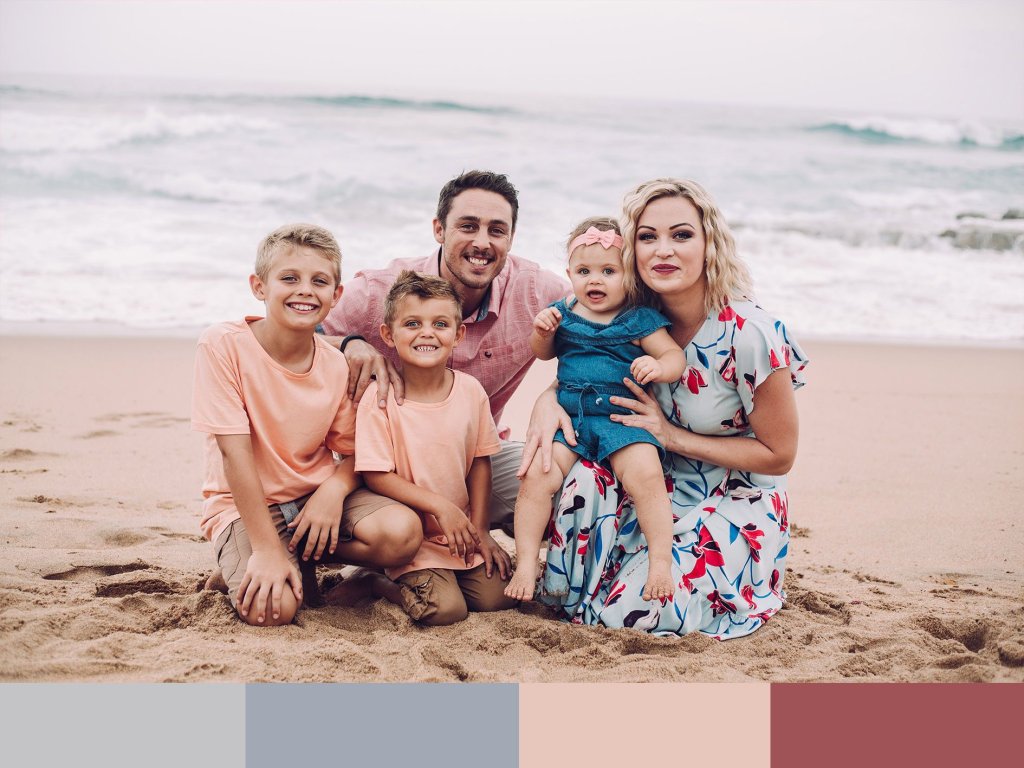 There are many options for pairing like:
White or Cream colored shorts, t-shirts, tops, and black color bottoms, pants, and shorts. You can pair cream or white tops with mist blue or denim bottoms or pants.
White shirt, t-shirt, top with tan bottoms, pants. You can also pair White color pants or bottoms with Tan shorts, a T-shirt, and tops.
White or Peach color tops, shirts, and t-shirts can be paired with khaki bottoms, pants, and leggings.
White color tops, shorts, and t-shirts can be paired with stormy blue bottoms, pants, and leggings. You can also pair White tops with Tan bottoms. Similarly, tan tops can be paired with story blue or white bottoms.
Pastel pink or white tops can be paired with grey bottoms.
You can dress in all white as well
Best Time for Family Beach Pictures
1. Sunrise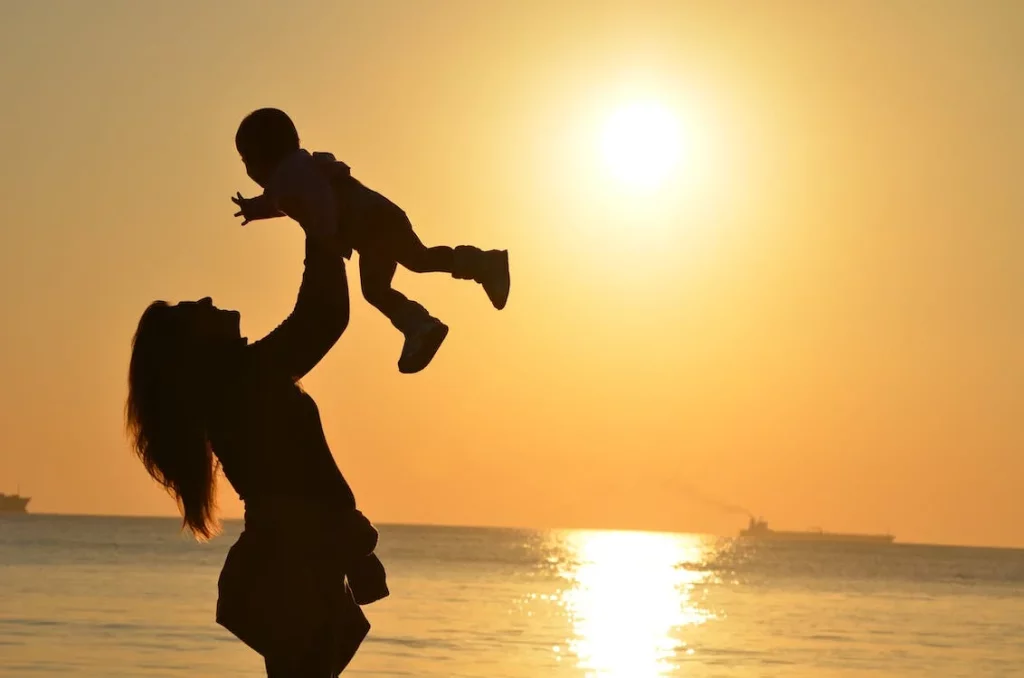 If more kids are in your family, sunrise and early morning are the best time for awesome beach photography. Kids will be excited, energetic, and happy during the early morning. The only effort you will have to put in will be to wake them early and reach the destination before sunrise. The soft and kinder sunlight will add magic to your family poses, and all will look awesome in the family beach photos.
2. Sunsets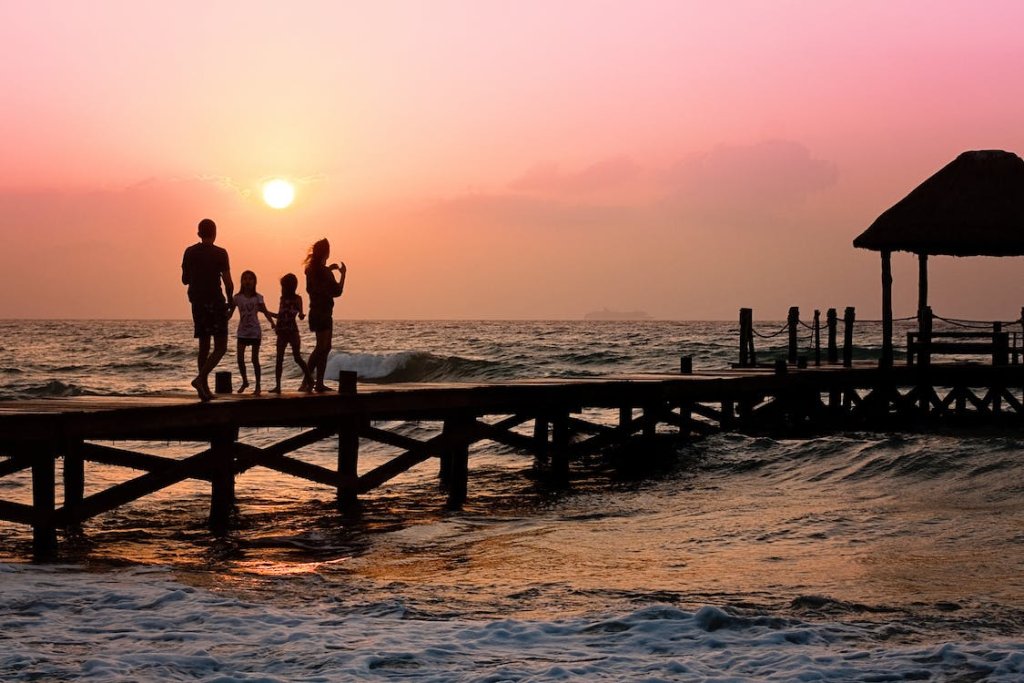 The sunlight also becomes softer during the sunset. And it is also a good time to capture the family photographs on the beach. The only downside of sunset photography is people lose energy and feel tired by the end of the day. So ensure that you keep all family members engaged and energetic til the end of the photoshoot.
Poses for Awesome Family Beach Pictures
1. Start From Line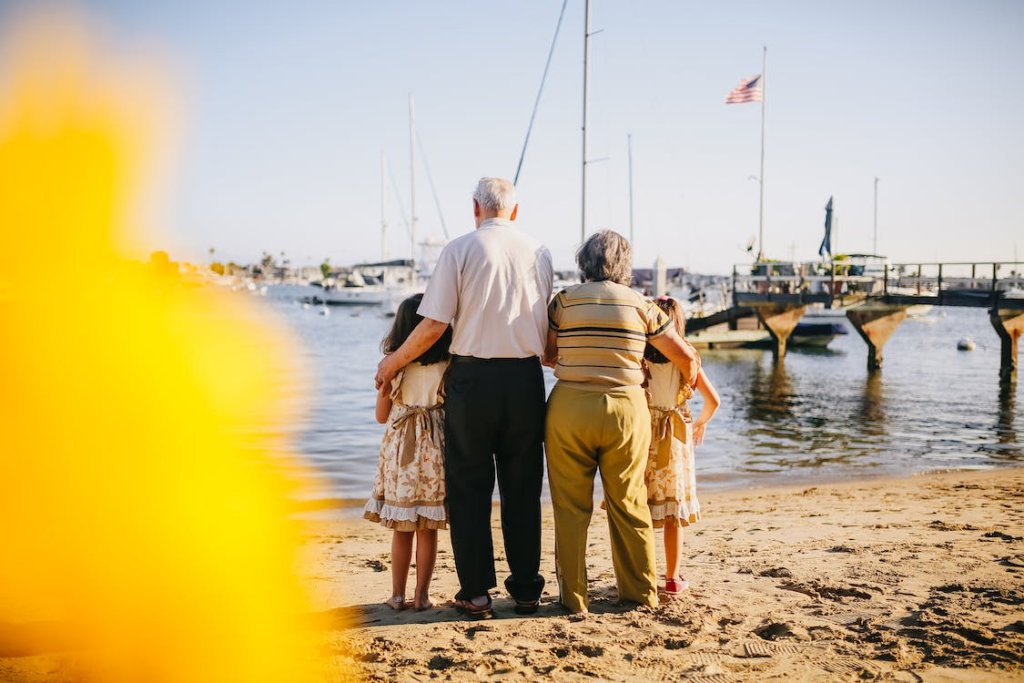 Stand up in a horizontal line so that the faces of the complete family are visible. This is the simplest classic pose for awesome family beach pictures. Standing according to the height in the horizontal row will look great. If you create symmetry of height, as the tallest person can stand in the middle, shorter ones will stand next to them, and the shortest ones are on the far end, it will look awesome. And for outstanding pictures, try it near the beach san facing the water body so that the water reflection of your body will make it outstanding.
2. Jump on The Beach Sand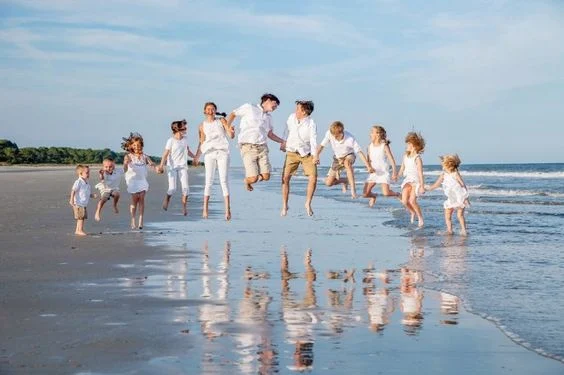 While standing in a line, all family members can jump together for fun and exciting family beach pictures. You can also make the jump in a semi-circle for more fun. But make sure your face is towards the camera lens. Be careful when you set your bare foot on the sand, as due to the intense heating of the sun, sand can get quite heated up, which can cause blisters in your feet. 
3. Play with Kids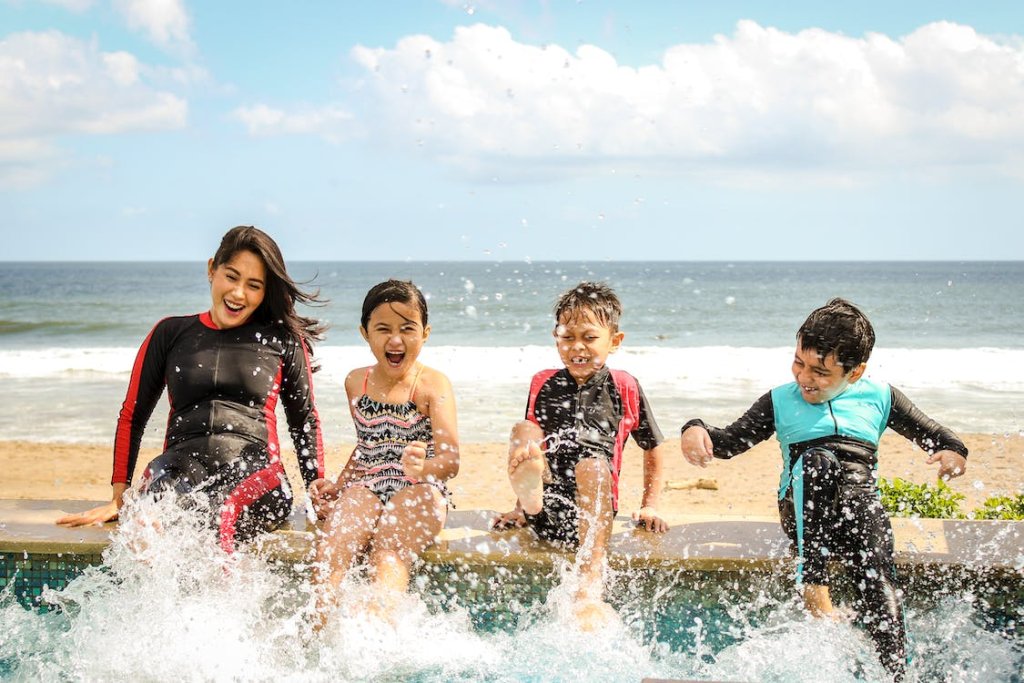 If small kids are in your family, get lost in playing with them for the family beach photoshoot. They will not only look natural but more exciting and awesome too. All family members can start playing with the kids in one group, or you can part with them in two to three small groups where each group plays with one kid simultaneously. Arrange different kinds of games with the kids to get more candid photos. They will truly reflect the accurate mood of the kids, and you can cherish those memories forever.
4. Play with Family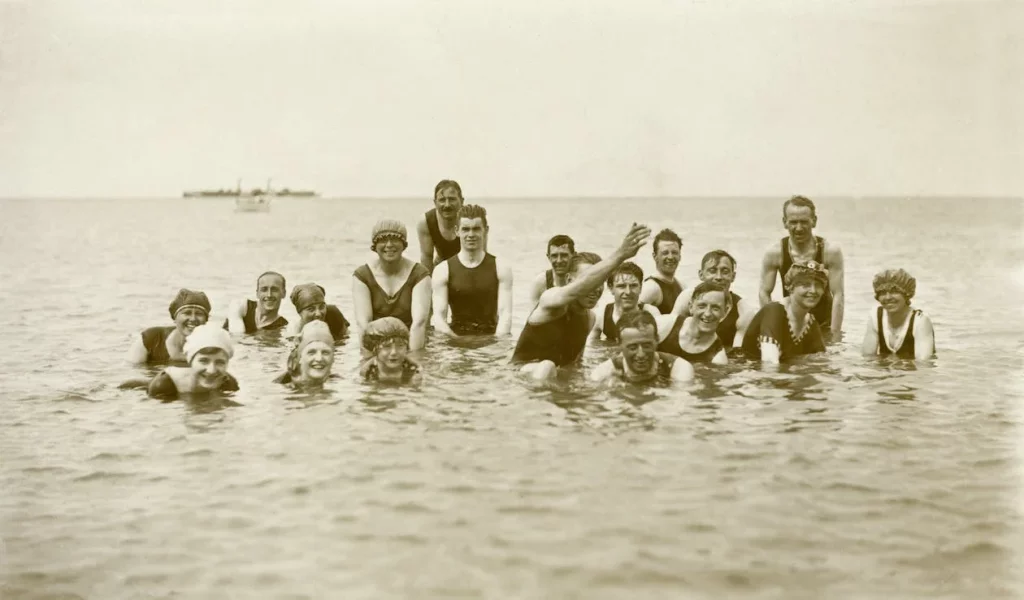 Playing with family is fun and captures the moment of enjoyment and joy. People love to play with kids, but what if elders and youngsters also started playing with each other? It will be much more fun and bring out the most unexpected, unique moments and enjoyment. So get ready to play with your family. You can pair with your partner. Or you can pair according to gender, where all women make one group and another group includes Men only. 
5. Sitting Pose on The Beach and Rocks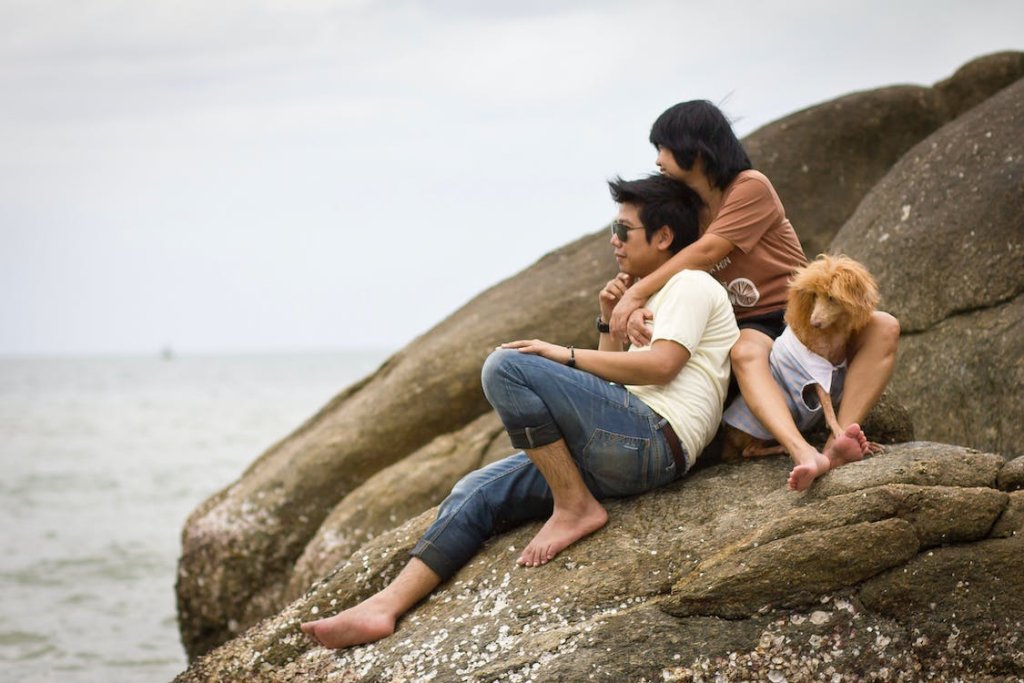 Some awesome beach family pictures are captured in the sitting pose. You can look straight into the camera lens with a smiling face or have a sweet conversation with your family members. So crack a few light jokes before you start posing for the family photo shoot. Hold each other aside or wrap your hands around their shoulders for variations. You can utilize the sun for variation in your pictures, where it falls from the center creating light effects. If rocks are on the beach sand, utilize them and include them in your family beach pictures. You can pose while sitting on them.
6. Walk on The Beach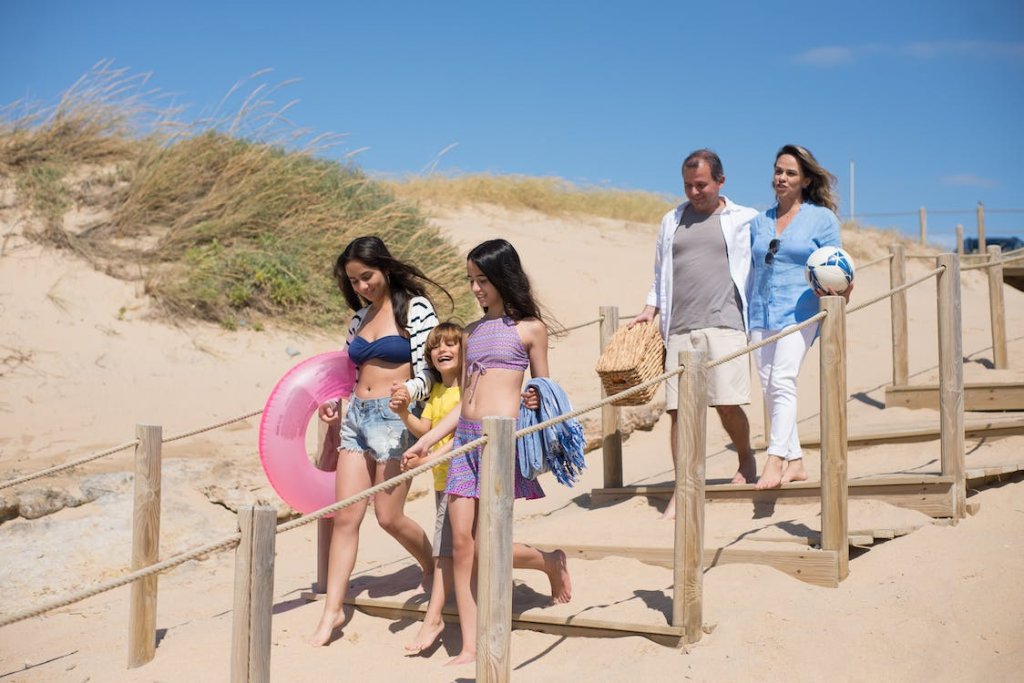 The boardwalks or group walks look exciting, where you are heading forward or casually standing and looking at each other or towards your kids. Try to pose in different directions, like facing the beach, showing your back to the beach, utilizing the rocks, bridges, trees, and all the natural beauty. You can also capture loving moments between your family in a candid way. Let them get ahead of you and capture the snap from behind for a more aesthetic photo.
7. Romance Couple Poses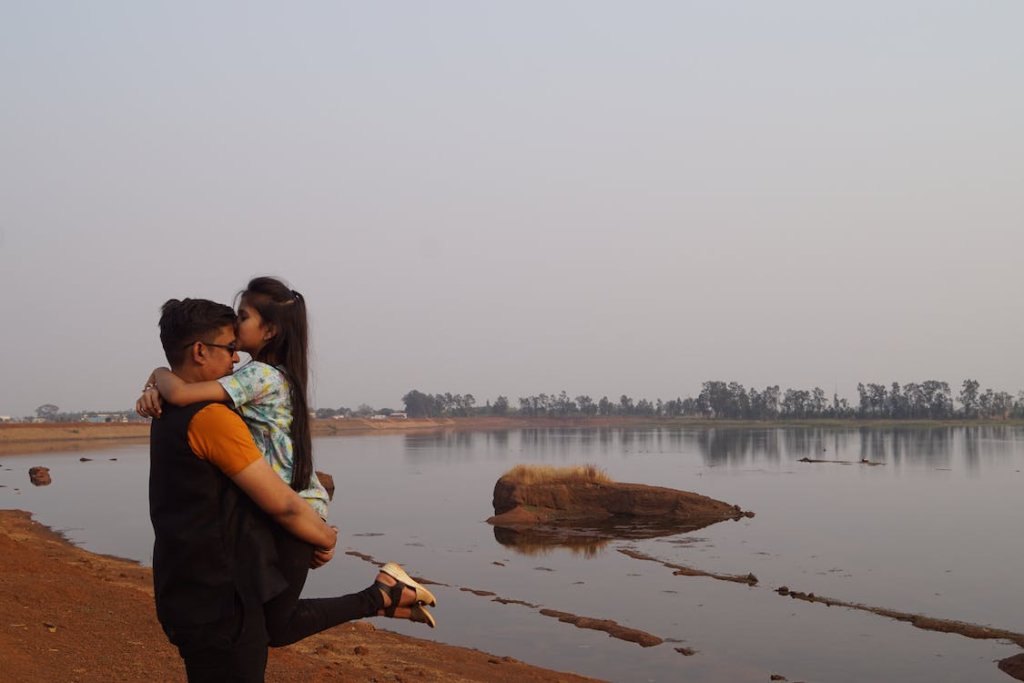 If you have a large family with two or more couples, you will surely like to include romantic poses in your family's beach pictures. Let's set the kids free and lost in the romantic moments with your partner. You can try the kissing pose and holding the waist pose. You can kiss on the hand, forehead, cheek, or lips or give a hidden kiss to your partner.
Using Props for Awesome Family Beach Pictures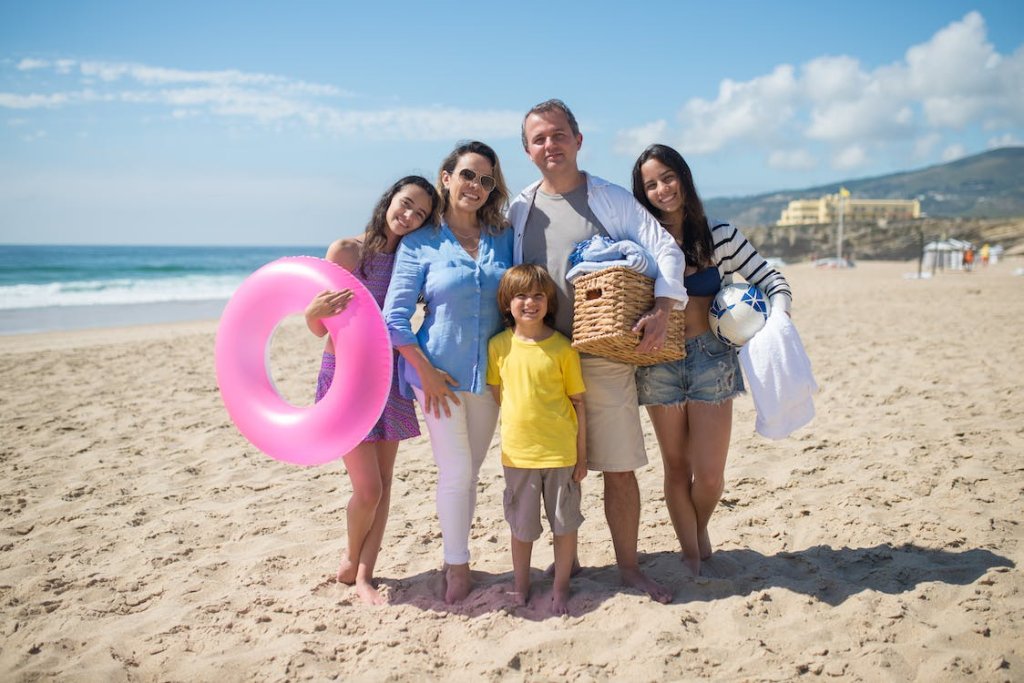 Props are used in photo shoot sessions to make the pictures more interesting and creative. So you can also utilize the props to look awesome in your family beach pictures. You can use soft towels, scarves, beach blankets, sunglasses, beach chairs, and surfboards as props to make your pictures more interesting and awesome.
Bonus Tips for Family Beach Pictures
The photoshoot will automatically be awesome When your family feels relaxed and happy.
Ensure you go for outfits that cover your tanned skin parts.
Try your best to wear Tan or nuder color undergarments to their peeping from clothes and to avoid weird looks in your pictures.
Avoid heavy patterns on outfits.
Avoid big earrings, and shiny bracelets, which steal complete attention.
Avoid oiling your hair and skin lotion. Else beach sand will stick to your hair and body, making your photoshoot weird.
Avoid heels or sharp edge sandals.
Don't carry car keys, big purses, wallets, or spectacles outside during family poses. Else it will ruin the photographs by drawing unnecessary attention.
Remove sunglasses from your eyes to highlight your face in the family beach pictures.
Final Thoughts
Everybody wants to look awesome in the family beach pictures. And preparing the outfit, and color combination, booking the professional photographer, and practicing the poses in advance is the best way to get there. This blog pose showed what to wear to look best in your family beach pictures to the best color combination and coordination for the complete family.
It also covered the best photoshoot timing for the family photo shoot session, how to pose to look awesome in the family beach pictures, and extra tips about what you must avoid for the best results. For the best results, try the outfits in advance to check the color coordination and comfort.
Prepare the family poses in advance to look more confident in the final family photoshoot session of your family on the beach.