If you are a passionate photographer, you surely would want to invest in a DSLR Camera. Canon is an amazing company featuring many cameras to click one-of-a-kind photos. If you are looking for an HD-quality camera to take your photography to the next level, you will never regret a Canon camera purchase.
In order to make the most of your camera, it is imperative to know the basics -how of these Canon cameras for beginners and the pro versions.
However, not everyone is equipped with professional photography skills. Thus, this blog post is all about helping you find some easy and hassle-free Canon photography courses that you can sign up for right from the comfort of your own home.
Most of these are pre-recorded versions so you can take these courses as per your availability and time preferences.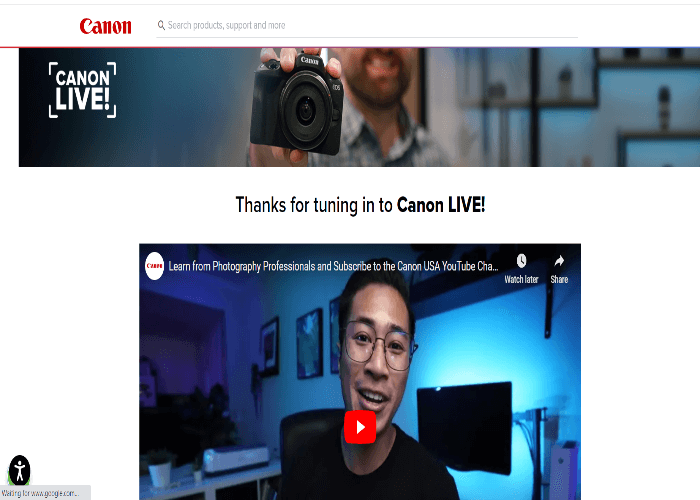 When it comes to learning photography, why not turn to the source itself? Canon offers a wide range of comprehensive courses through its official learning platform. These courses cover various topics, from camera basics to professional techniques. It is an excellent starting point to understand the camera's features and functionalities while developing their photography skills. You will get an opportunity to learn from professional photographers directly and connect with like-minded people who are equally passionate about photography. Many of these courses also offer an opportunity to attend live workshops to get a hands-on experience of the lessons.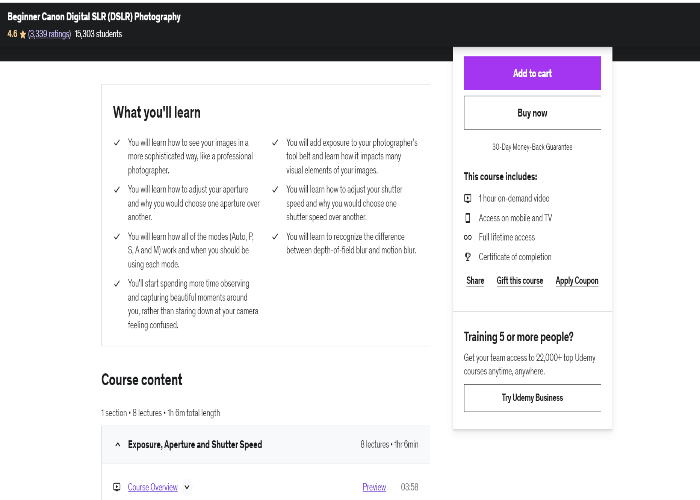 This course is designed for individuals who are eager to master the course of Canon DSLR photography. You will dive into the intricacies of exposure, aperture, shutter speed, and the mode dial (Auto, P, S, A, and M). The instructor employs many images as an illustrative sample to aid your understanding. Furthermore, the participants will get a better comprehension of the modes available on their cameras. Whether you're an amateur or possess some prior knowledge, this course provides some meaningful insights. The instructor makes learning an effective process by prompting you to perform the actions on your camera for a better understanding. Upon purchasing the course, you will get lifetime access, ensuring you can revisit the material at your convenience anytime and anywhere.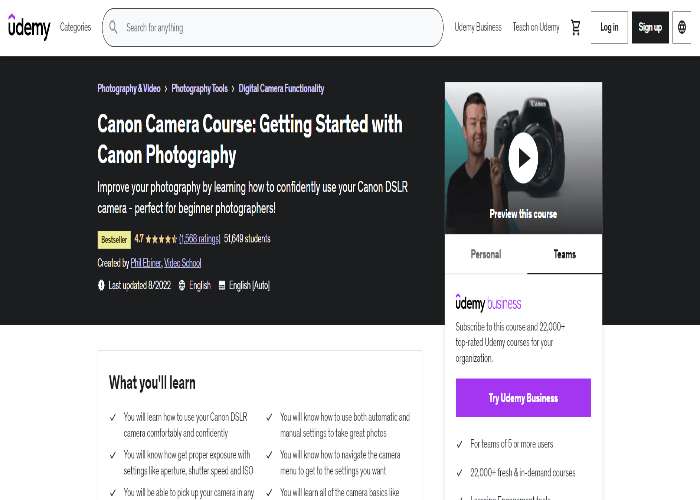 Here's another excellent Udemy course tailored for beginners. It is structured with 45 informative lectures, neatly divided into 8 comprehensive sections. Within this course, you'll dive into various topics, including exposure settings, camera menus, fundamental camera knowledge, capturing videos with a Canon DSLR, lenses, and essential accessories. The beauty of this course lies in its compatibility with various Canon DSLR models. You will gain a heightened sense of confidence as this course provides all the knowledge you need to know to capture precious moments. This course comes with a 30-day money-back guarantee for the participants who are disappointed with it. The course has a duration of 3 hours and 27 minutes.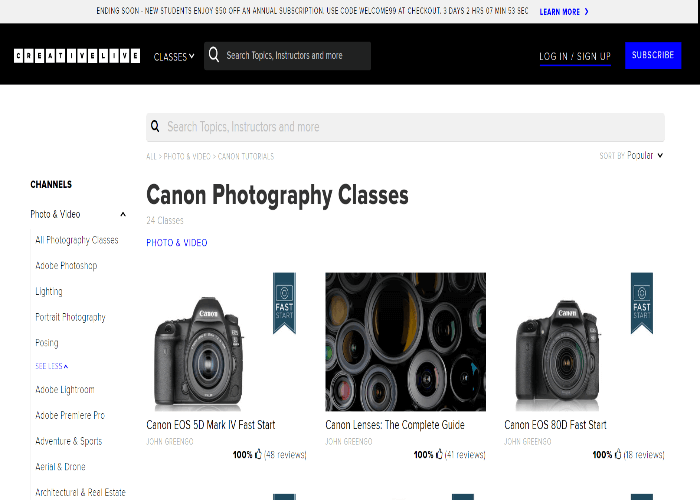 With CreativeLive's interactive and captivating learning platform, the "Photography Basics and Beyond" course is an ideal fit for beginner photographers transitioning from smartphones to DSLRs. Although the course covers a variety of cameras, including smartphones, the emphasis remains on providing extensive knowledge about Canon DSLRs. By enrolling in this course, you will gain valuable insights about elevating your photography game and effectively utilizing your Canon camera to its full potential.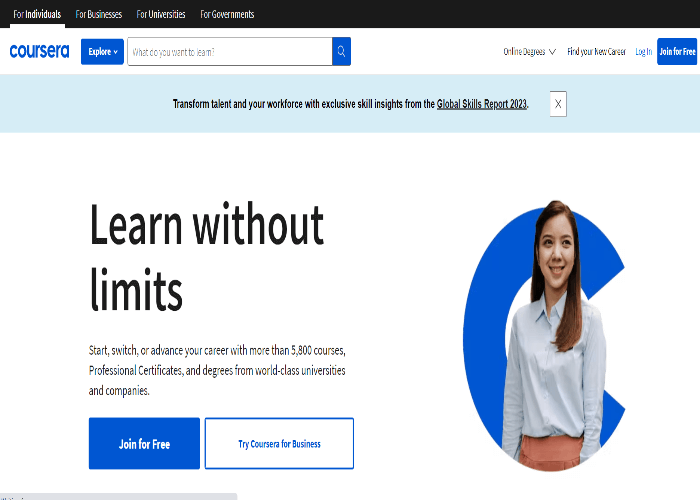 In partnership with Michigan State University, Coursera presents this extensive course named as "Photography Basic and Beyond." It is all about providing in-depth knowledge about photography for those who are learning to transition from clicking photos on smartphones to DSLRs. Delivered through a series of informative modules, this course imparts a thorough grasp of photography techniques, essentials, and equipment. Although its focus extends beyond Canon cameras, it equips beginners with the essential skills to capture breathtaking images, irrespective of the camera model. By enrolling in this course, participants can gain a versatile skill set, thereby helping them to elevate their photography skills irrespective of the camera model.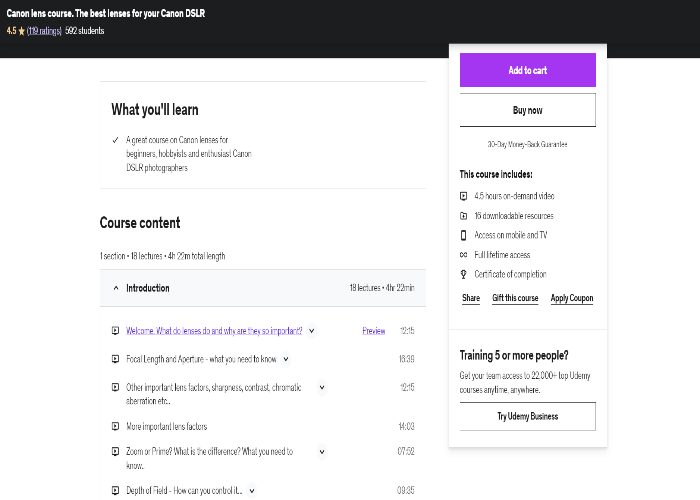 For those struggling to find which Canon lens to invest in, this course is surely for you! Crafted by Jeremy Bayston, it offers a comprehensive knowledge of various Canon lenses. It covers information on lenses for full-frame and crop-frame camera users. The course begins with an introduction to the importance of lenses to provide insights into focal length and aperture. A standout feature is Jeremy's visual demonstrations, showcasing the diverse imagery each lens can capture. By taking up this course, you'll gain a crystal clear understanding of Canon lenses, enabling you to make informed decisions on which one to choose for yourself.
Skillshare presents a wide array of online photography courses, and amongst them, "Digital Photography: Creating the Perfect Composition" stands out as an excellent choice for Canon camera beginners. As composition lies at the heart of photography, this course is tailored to instruct beginners in crafting compelling and impressive shots. While the course isn't exclusively restricted to Canon cameras, you will gain meaningful insights that you can certainly apply while taking pictures from your Canon DSLR. The techniques taught during the course will help you enhance your photography skills and compose captivating shots.
Summing It Up
Thus, in your exciting journey of diving into the world of photography with your Canon DSLR cameras, these 7 photography courses will surely be your guiding light. These courses are designed for beginners just like you to help you master the art of photography step by step.
Whether you're exploring Canon's official courses or delving into platforms like Udemy, Skillshare, or CreativeLive, these photography courses offer a treasure of knowledge.
You'll learn everything from camera basics to advanced techniques to make your Canon DSLR your ultimate best friend.
So, don't hesitate to enroll in either of these recommended courses to elevate your photography skills with ease, confidence, and creativity.