Sony is one of the biggest camera brands and is loved by professionals and enthusiasts alike. The brand has launched various successful camera models over the years, and two of them are the Sony A6000 and A7. Both of these models have been top favorite Sony cameras for a while. When compared, they have various similarities and differences.
Sony A600 and A7 were launched only three months apart, the previous one in January 2014 and the next one in April 2014, and both belong to Sony's Alpha series of mirrorless cameras.
Here, we will have a detailed study of the similarities between the Sony A6000 vs A7 by comparing their various features and specifications.
Similarities: Sony A6000 vs A7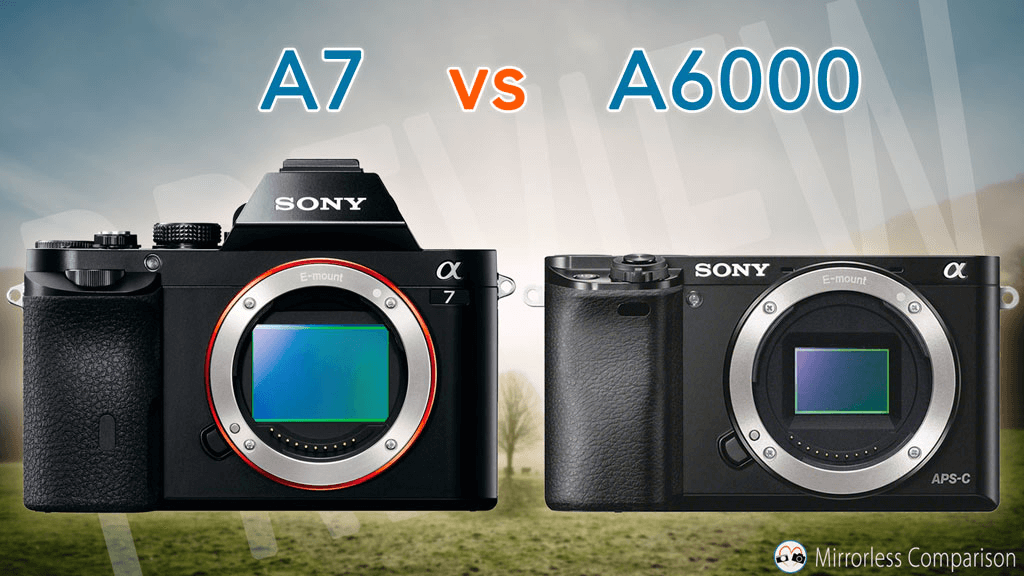 1. Mirrorless Camera
Both Sony A6000 and A6 are Sony's E-mount mirrorless cameras, which means unlike traditional DSLRs, these cameras use electronic viewfinders to display images digitally and have interchangeable lens systems.
Due to the absence of a mirror, these cameras are sleek and more compact than their DSLR counterparts. The lens is placed closer to the sensor in mirrorless cameras, which leads to superior image quality, quick clicks, and silent shutters.
2. Sensor
Both cameras boast 24.3 MP CMOS sensors that deliver excellent pictures and perform very well in low lights. On paper, both these cameras provide nearly the same quality of image because of the equal resolution of sensors. Still, in reality, there is a difference because the sensor size is not the same. The A7 has a full-frame sensor, and the A6000 has an APS-C sensor. The other similarity here is that both cameras feature a low pass filter, which is also known as a 'blur filter.'
3. Image Processor
BIONZ X processor is present in Sony A6000 and in A7, which is the reason behind the enhanced image quality, reduced noise, and faster data processing of these cameras, making using them a smooth experience. It also helps to increase shooting speed and fast autofocus. But the processor works better in A7 because of its large full-frame sensor, which helps it perform better in challenging conditions.
4. Autofocus System
A6000 and A7 both cameras have a hybrid autofocus system combining two technologies called phase detection and contrast detection autofocus. This feature gives the camera a fast and precise focus even when the subject is in fast-paced motion while taking a picture or a video. This hybrid autofocus system makes both these cameras suitable for all types of photography, from spots to wildlife.
5. Video Quality
The video quality of both these cameras is pretty similar. Both the cameras record full HD videos and use AVCHD and MP4 format at 1080p. They both have a recording limit of 29 minutes. So if your primary purpose to buy a camera is to make short videos or vlogs, it doesn't matter which one you pick between Sony A6000 and A7 because the video quality is very similar.
6. Display
Both cameras have an electronic viewfinder that gives 100% coverage of the imaging area and a real-time preview of the outcome, which helps the photographer craft the shot before clicking, but they have different resolutions. Another similarity in their display is that both these cameras feature the same size tilting LCD screen. The screen is 3.0 inches in size and tilts up to 45° and 90° down. The resolution of the screen in both cameras is 921k dots.
7. Customization
Sony has integrated controls for customization in both of these models. This has made it very easy for the photographer to change the setting with just a button according to their preference. This feature adds a touch of personalization to the shooting experience. But the settings are different; the A6000 has one adjustment wheel and two custom buttons, whereas the A7 features a compensation button and two adjustment wheels for better controls.
8. Wi-Fi and NFC
Both these Sony cameras have built-in wifi and near-field communication technology (NFC), which enables seamless connectivity between the camera and your devices like a phone or a laptop. Easy and wireless transfer of images and videos from the camera to your devices is possible with this technology. It also lets you control the camera with a phone, where your phone works as a remote control while taking self-portraits, selfies, and group shots.
Brief on The Similarities Between Sony A6000 and Sony A7
| | | |
| --- | --- | --- |
| Specifications | Sony A6000 | Sony A7 |
| Camera Type | Mirrorless | Mirrorless |
| Sensor Type | CMOS | CMOS |
| Wifi and NFC | Built In | Built In |
| Video Quality | 1920×1080 | 1920×1080 |
| Customization | Yes | Yes, but more |
| Autofocus | Hybrid, with 179-point system | Hybrid, with 117-point system |
| Display | Tilting LCD with 1.44M dots | Tilting LCD with 2.36M dots |
There are other important things like battery life ( 360 shots per charge in A6000 and 340 in A7), budget, and feature priorities that may also influence your camera buying decision. So make sure to evaluate the camera on all the parameters before the purchase. Though Sony is no longer producing both of these cameras, they are still available on various e-commerce websites. Sony A7 ll replaces the Sony A7, and Sony A6300 replaces the Sony A6000.
Conclusion
Despite all the similarities between both the cameras, we noticed that Sony A6000 and A7 have various distinct features too. These two are classic cameras from Sony; they are old but are still very relevant when it comes to photography. Whether you are a professional photographer or an amateur learner, these finest-quality cameras will always help you click better pictures.
If you want to pick one from Sony A6000 or Sony A7, it ultimately depends on your needs, usage, and preferences. Before you finalize which one to buy, prioritize the specifications and functions you are looking for.
But, whichever you choose, both come with a promise of an ultimate image-making experience!