Canon 5D Mark IV is the last variable in the 5D series, and it is considered to be better than all of the previous DSLRs in the same series. It has the latest DIGIC 6+ processor and a full-frame sensor of 30.4 MP.
The camera takes a huge leap forward by expanding its 40k video capacity to 24p and 30p and to support that, two memory card slots are provided. When you look at the brief of Canon EOS 5D Mark IV vs Nikon D850, Canon is a clear winner for us.
Canon 5D Mark IV features one secure Digital (SD) card slot and one Compact Flash (CF) card slot. Now, this may raise many questions in your head, like why two slots? How will it work? Which cards should you buy?
Worry not; you will get all your answers here.
Why Do Canon 5D Mark IV Have Two Card Slots?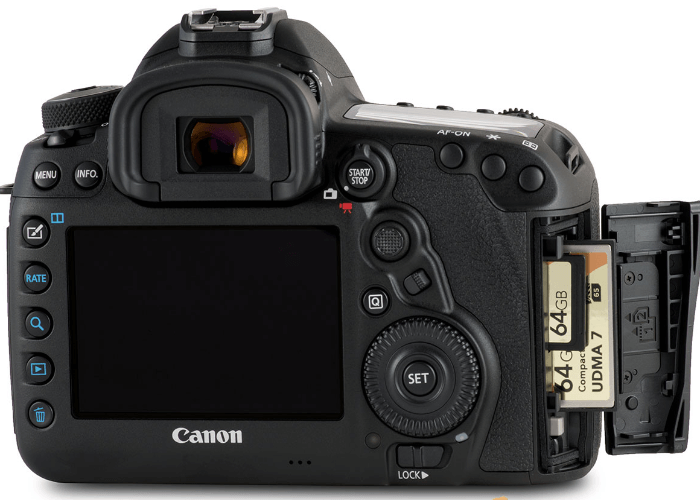 Two card slots make this camera more efficient in many ways, but most importantly, the CF card will provide incredible speed, which is needed to read, write, and process high-resolution shots or movies, especially burst frames or 4k videos.
There are several other benefits: you can save a file in both jpeg or RAW format at once in two different cards, you will always have your data protected in case one card fails, and you will always have extra space handy in any emergency. 4k videos consume a lot of space, so you can use one card to save videos and another to save images.
What Type of Card Can Be Used in 5D Mark IV?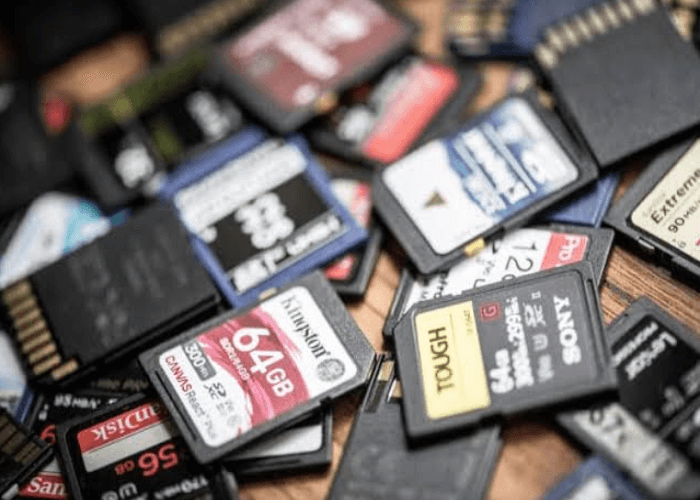 Ultra DMA (UDMA) cards for faster data writing.
SD, SDHC, and SDXC cards can be used.
The camera supports UHS-I SDHC or UHS-I SDXC.memory cards.
Mark II supports CF Type 1 Cards and CF UDMA mode 7 cards.
Memory Card Recommendations
Here, we have compiled a list of the top 3 fastest CF and SD memory cards, along with the in-camera speed they provide. These are the most compatible with the Canon EOS 5D Mark IV.
1. UHS-I SD Cards
Sandisk Extreme Pro U3 64GB with In-camera speed of 73.23 MB/s
Samsung Pro + U3 64 GB with In-camera speed of 69.23 MB/s
Kingston U3 64 GB with In-camera speed of 69.02 mB/s
2. CF Cards
Lexar 1066X with an In-camera speed of 101.16 MB/s
Sandisk Extreme Pro CF with an In-camera speed of 98.65 MB/s
Transcend 1000x CF with an In-camera speed of 100.23 MB/s
Pro Tips
If you are using a new card or a card that was previously formatted by another camera or computer, make sure again to format the card with this camera for smooth working.
Do not use slow writing cards when shooting a movie as it may not be recorded in the desired quality, and you also won't be able to play back a movie with a slow reading card.
When movies cannot be recorded properly, even on a high-speed card, format the card in the camera and try again. It is always recommended to format the card before shooting 4k videos.
When the access lamp is lit or blinking, it means that images are being read, or being erased, or transferred. Never open the card slot or remove the card during this time. The best thing to do is wait.
Though it is recommended, it is not necessary to have both cards of the same capacity.
Conclusion
All in all, two card slots have proven to be more efficient than a single one when you are dealing with high-resolution pictures and 4k recordings in professional photography. Canon 5D Mark IV is quite flexible and gives you various options on how you want to use your memory cards according to your preference.
We hope this helps you pick out the right memory card for your Canon EOS 5D mark IV and clears all your confusion about how to use them.
Frequently Asked Questions
Do Canon 5D Mark IV Support UHS-II SD cards?
This model from Canon is not compatible with UHS-II because the card doesn't have the necessary connector pins for the high-speed interface. If you insert a UHS-II card in your Mark 5 camera, the card will still work and operate like UHS-I, but the camera will not be able to take full advantage of a UHS-II card.
What is the Writing Speed of The Canon 5D Mark IV Cards?
The write speed of any card depends on its brand and type. The usual write-up speed can be anything between 10MB/s to 79MB/s for SD cards, and for CF cards, it is between 29 MB/s to 112 MB/s.
Which Other Cameras Have Dual Card Slots?
Besides Canon 5D Mark II, Canon has two other cameras with dual card slots. 5D Mark III and 5DS also support one SD card and one CF card, respectively. Other brands, like Nikon, also have two card slots in some of their cameras. For example, when you compare Canon EOS 5D Mark IV vs Nikon D850, both have dual card slots.
Is It Necessary to Have Both Cards Inserted for 5D Mark IV to Work?
No, it is not mandatory to fill both card slots for the camera to work, but which slot you fill depends on what you are using the camera for. An SD card is enough to take images, but some high-end video shooting modes will only work with CF cards.
What to Do When Your Memory Card Creates Corrupt Shots?
In a situation like this, the probability is very high that you have a bad memory card, and unfortunately, there is nothing you can do about it except to replace it.