Everybody wants their images and videos to have the best quality.
However, every device comes with a different resolution. The quality of your photos depends upon the resolution of your capturing device. Resolution can be defined as the number of pixels in an image. The images are formed by bringing together these tiny pixels. An individual pixel is extremely minute and is not visible to the naked eye. When all the pixels come together, they form an image.
The selection of your device should be done keeping in mind the resolution quality. Every device has its capacity from 640*480 pixels to 8K. The lowest one will have less clarity, and as the resolution increases, the recording quality will also enhance.
This blog helps in understanding the Full HD and 4K resolution in Canon DSLR Devices. Read ahead to find the best devices with the best resolutions.
Full HD and 4K Resolution
Before we understand how to identify Full HD and 4K resolution, let us understand the basics. When the description mentions 1080p resolution, the image has 1920 pixels horizontally and 1080 pixels vertically. The total pixels in the image are the multiplication of the height and the width. This means that a 1080 resolution has more than 2 million pixels. The higher the resolution, the better the outcome will be.
A Full HD resolution has 1080 pixels (1920*1080). Any Canon DSLR device with a similar resolution will also be known as a Full HD resolution Device. 4K has 3840*2160 resolution, resulting in over 8 million pixels. Due to the higher number of pixels, it will have a sharper and clearer outcome.
Every Canon DSLR with video support is not equipped with Full HD and 4K resolution. It is necessary to check the features of any device before buying it.
However, here are some Canon DSLRs that have in-built 4K or Full HD mode.
Best Canon Cameras with Full HD and 4K
Canon EOS Rebel T7 DSLR Camera comes with an 18-55mm lens to capture expansive landscapes. It comes with built-in Wi-Fi and NFC technology. It allows your camera to connect with any nearby devices and transfer the recordings without any cable. With a Full HD resolution of 1080, it helps you capture the sharpest images.
The classic black camera is perfect for professionals beginning their journey. It can also be a perfect gift for someone exploring photography. With a minimum shutter speed of 1/4000 second, you can capture quick images with ease. Whether it is jumping, running, or any activity, get the best mid-air shots with quick shutter time.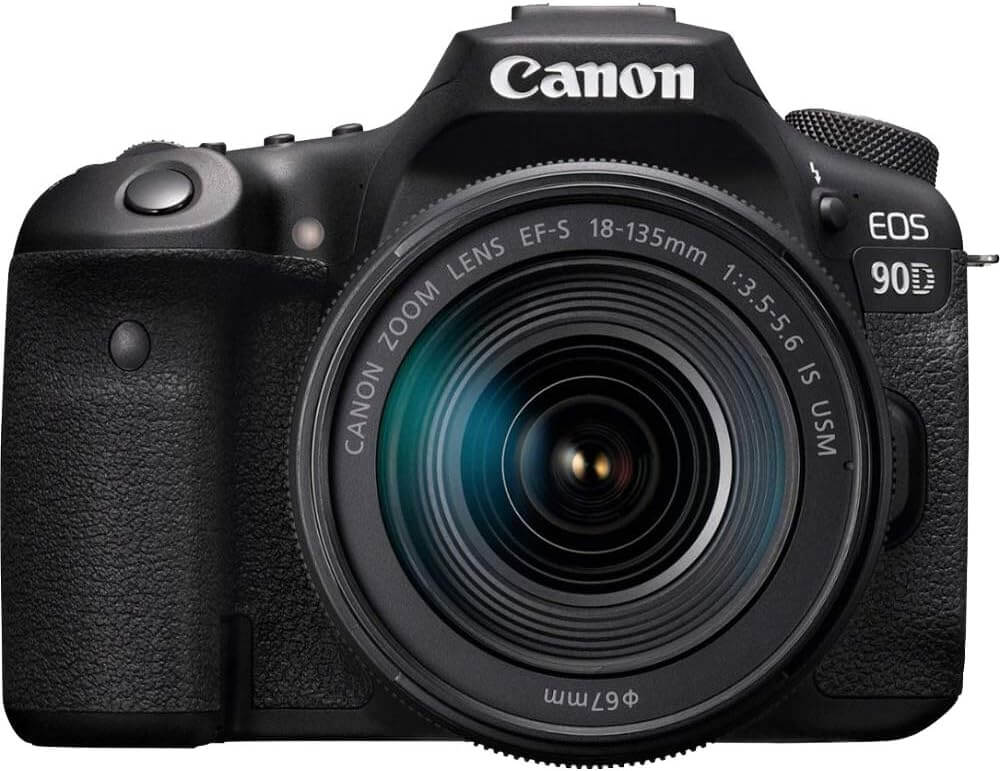 Canon DSLR EOS 90D has 4K and Full HD modes in it. This highly upgraded version of DSLR has a touch LCD screen, built-in Wi-Fi, and Bluetooth. It allows you to capture everything from high-speed events to simple everyday happenings. No matter where you end up in your journey, EOS 90D will always be by your side, capturing the most stunning shots in every moment.
The eye detection feature in this camera focuses on the subject's eye for natural and expressive portraits/movies. Whether it's natural scenery or your loved one, this camera knows how to get the best view.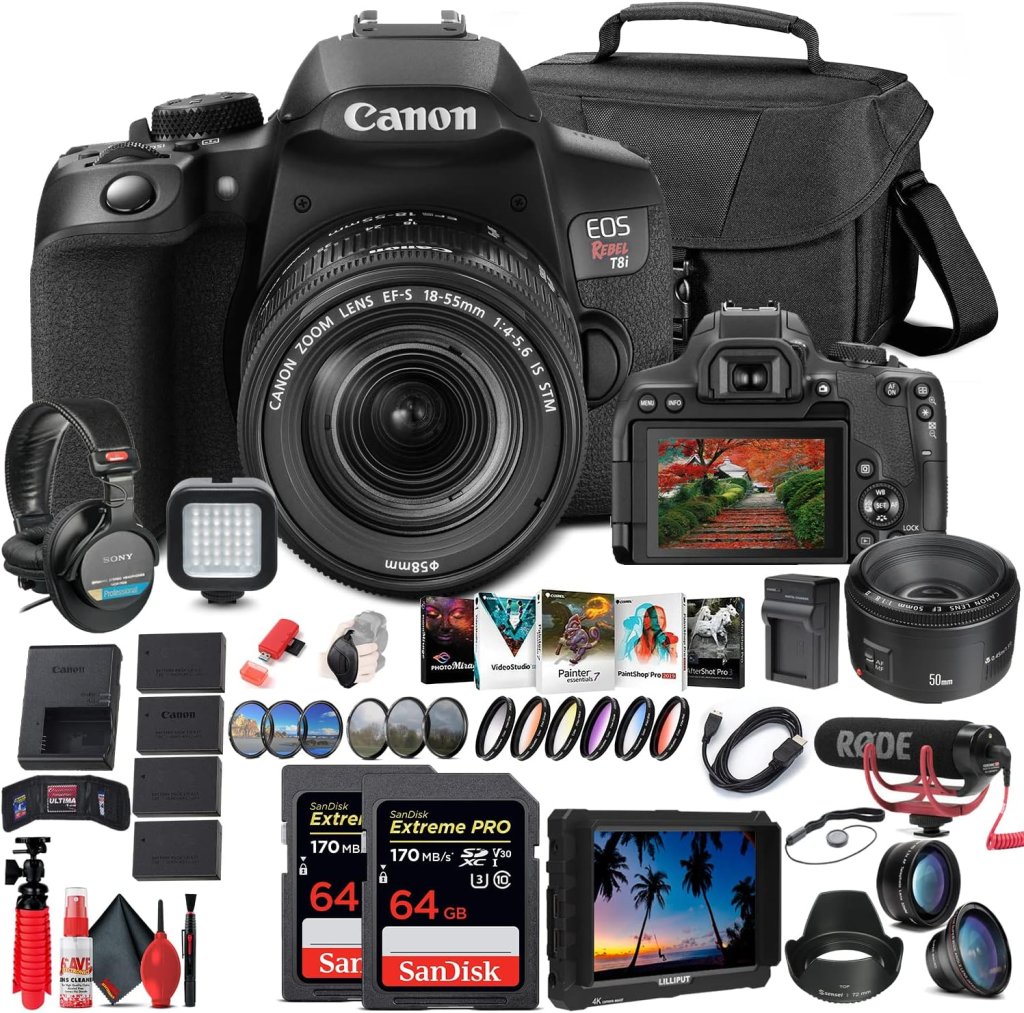 The Canon EOS Rebel T8i DSLR Camera comes with useful accessories. The 4K monitor and 2160p resolution mode enhance the image and video quality. The supporting kit, along with the Canon DSLR, includes Lens, pro mic, headphones, memory cards, color filter kit, case, and a filter kit.
With the variations of the lens in the filter kit, you can give a new look to your images and recordings. The microphone allows you to capture the best audio from the surroundings and make an appealing video. If you are a professional shooting regular advertisements at various locations, this is the best choice for you.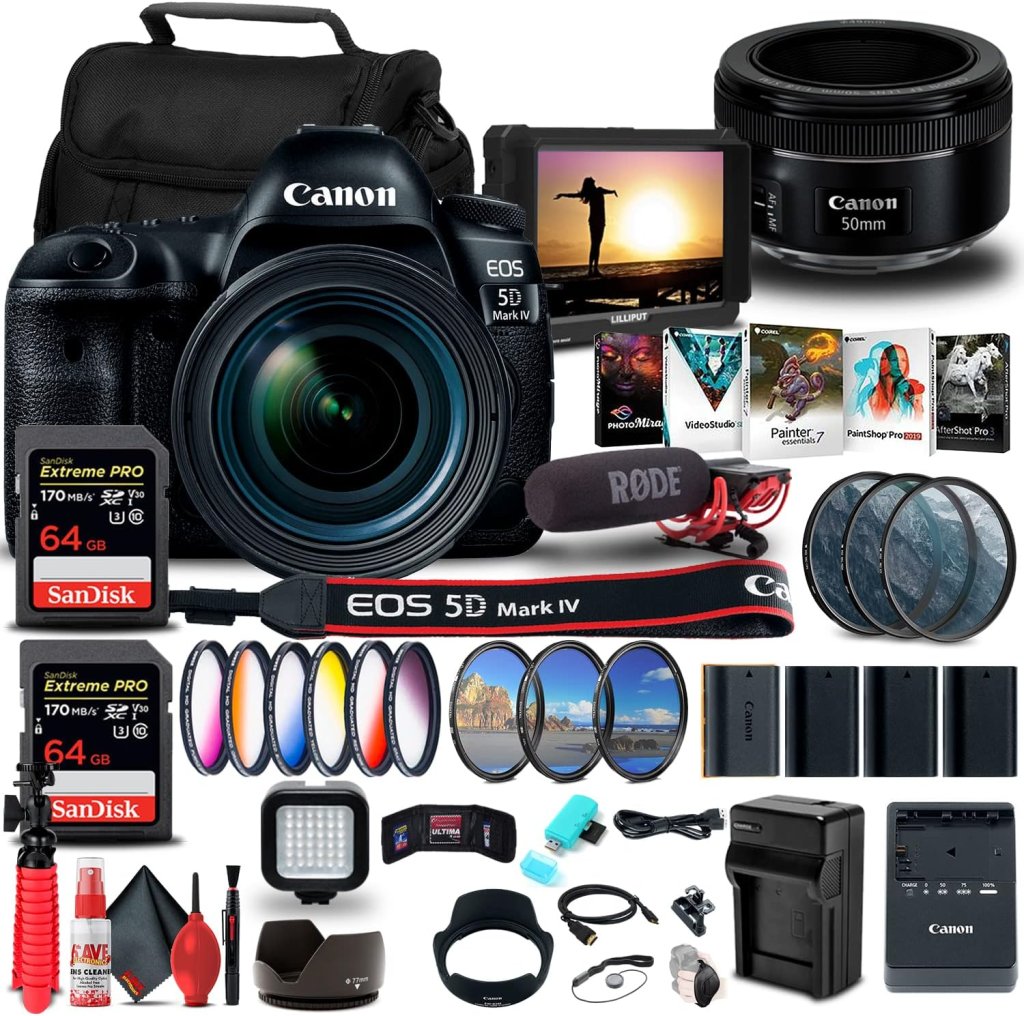 The Canon EOS 5D Mark IV DSLR Camera is an exquisite device that helps you in acing your quality of recordings. This kit on Amazon gives you many other accessories along with the camera. Some of them include lens caps, HDMI cables, Eyecup, Tripod, Battery, Body Cap, Neck Strap, Color Filter Kit, batteries, Mic, and memory cards.
The fully functional product is available for sale on the EMI option; no more worry about finances and compromising on the quality of your shoots. Create the best work while shooting and keep paying a little every month with flexible pay options.
Which One to Select?
4K resolution gives extremely sharp and clear pictures. They are perfect if you are associated with an industry that requires detailed images and precise visual presentation. Anybody in the field of video advertising or making corporate videos will need 4K resolution.
Full HD is the resolution that gives you good pictures but with less clarity than 4K. For your memory, social media updates, and live streaming for online courses, you can use full HD resolution. With 4K, you will need more storage space and high bandwidth of the network. Full HD resolution will operate with less space and bandwidth.
How to Select a Canon DSLR Resolution!
Whenever you decide to buy a new camera, the first thing you need to decide is the resolution. Selecting an ideal resolution for your camera depends upon cost, purpose, and energy efficiency. Full HD is more reasonable compared to the 4K resolution. If you are not a professional looking for the best quality outcome, go for a Full HD DSLR.
However, if you want nothing but the best for your photos and videos, opt for a 4K resolution. They will represent visuals with immense clarity on any device. They will also make more use of energy and resources compared to Full HD. With higher resolution comes a higher cost of maintaining it. The storage space and battery life will be used more in a 4K resolution mode.
So, what choice will you make when selecting a resolution for a DSLR?
v