Are you fascinated by glamorous swimsuit photos and want to know the inside secrets to get one-of-a-kind swimsuit looks? Swimsuit photography is all about experimenting with different poses, using good lighting, and incorporating props that can add interest to the photos.
Props can make regular backdrops engaging and make it easier to pose for the model. You can use beach bags, hats, beach towels, and sunglasses to click magical swim shoot photos. If you want to show your playful attitude, blow a big pink bubble on the beach while posing in style. Another great idea would be to hold seashells in your hand or play with them while lying on the beach.
You just need to be creative and use the props innovatively to nail down your swimsuit photos. With the help of props, you can turn ordinary swimsuit photoshoot ideas into the most liked post on your Instagram feed. 
How to Use Props to Add Interest to Your Swimsuit Photos?
Let's take a look at the ways you can use props in your swimsuit photos to garner everyone's compliments.
1. Hat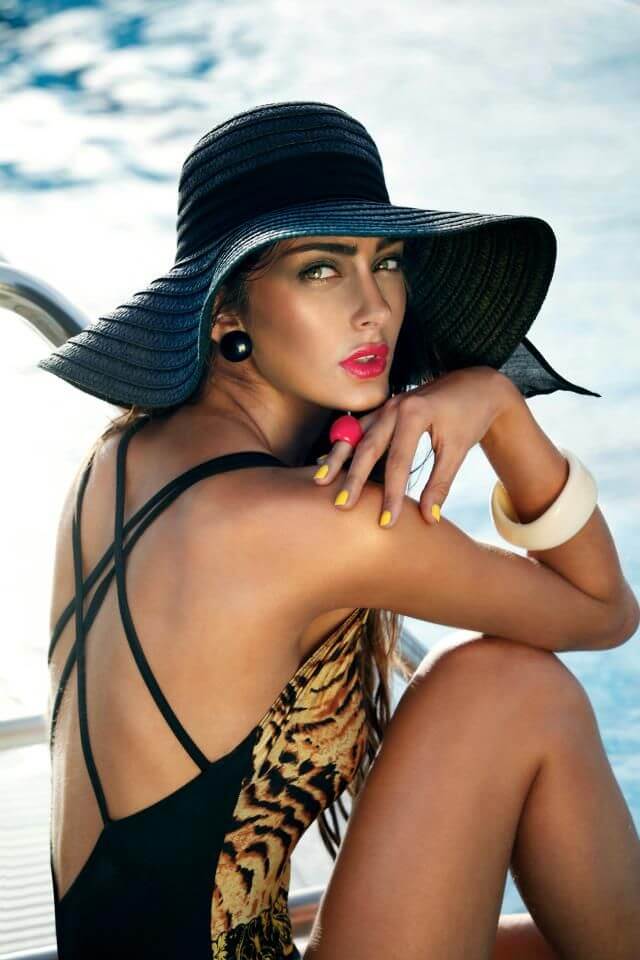 Take your swimsuit photoshoot to the next level by using a cute hat creatively. You can either wear a hat or hold it in your hand and give glamorous poses. If you want to show your fashionable style in your photos, choose a hat that aligns with the color of your bikini. Remember not to use a heavily patterned dark-colored hat as it will take away all the limelight from the subject, which you'll obviously not want. You can also pose in a way that you're about to wear the hat to get away from the sun's rays.
Whether you're giving static poses or running wildly on the beaches, a hat can be the best prop to show your fun side. Remember to smile and stay confident while giving all these poses if you want the final look to be appealing. 
2. Sunglass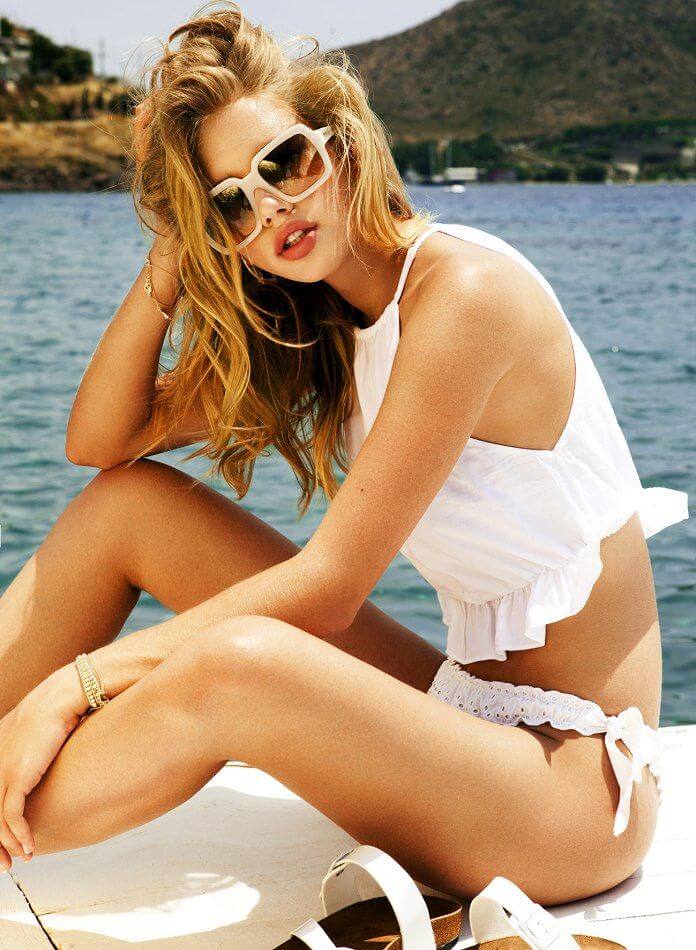 If you're taking swimsuit photos in the middle of the day when the sunlight is very harsh, sunglasses can not only save you from the intense heat but also add a wow factor to your photos. Nowadays, many funky sunglasses are available in the market that you can use in your bikini photoshoot. You can ask the model to reach toward the camera with sunglasses to create a unique effect. The model can also play with the sunglasses or wear them over her head and give interesting poses.
Another great idea can be to place the sunglasses along with a few other props like your sunscreen and scarf around your model on the sand to show that she is summer-ready. 
3. Beach Bag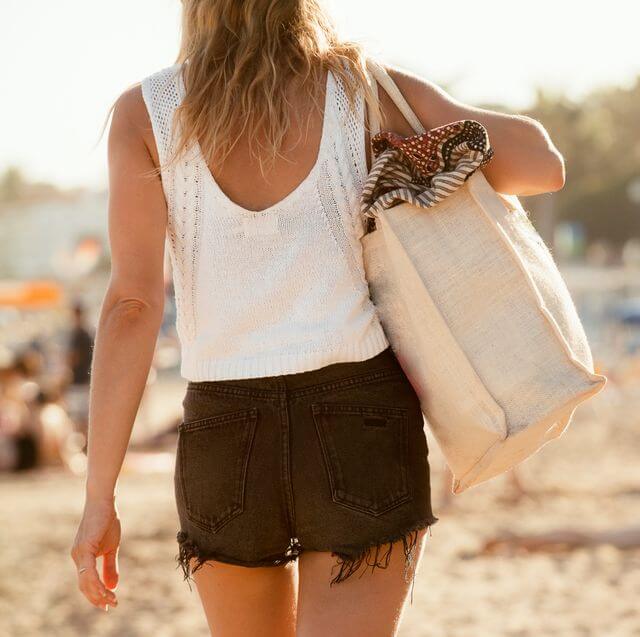 Do you know that a funky beach bag can elevate your swimwear photos from ordinary to attention-worthy? Your model can walk in style while holding the beach bag, or she can lie down on the sand, showing a few of the essentials of the bag. You can also experiment with the beach bag's placement to create a one-of-a-kind look.
Place it on the side of the model for a relaxed vibe, or let it sit on her hip to show that it is one of her treasured pieces. The model can also take out sunscreen or other essentials from the bag to show how she is getting ready for a beach party or retouching her makeup. 
4. Tropical Drinks of Fruits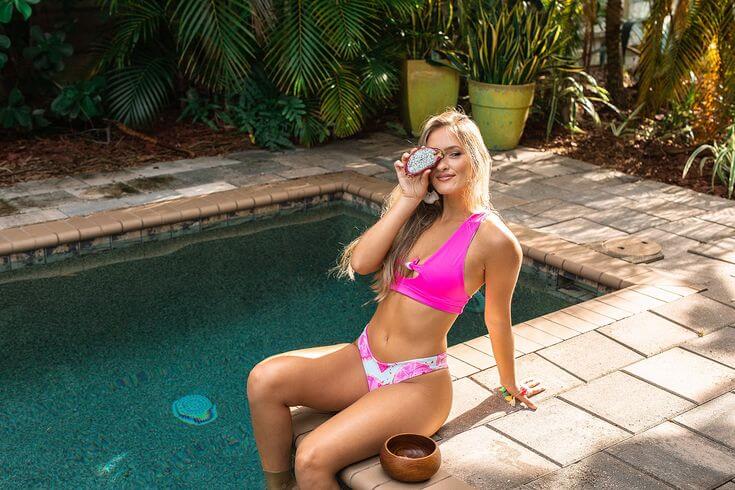 If you want to exude the perfect summer vibe in your swimwear photos, tropical drinks or fruits can be a great choice. Your model can sip the tropical drink to bring out the summer feel in the photos. If you're using any fruit, ask your model to pose in a way that she is all ready to relish it. Since the fruits have a very vibrant and colorful texture, they will definitely pop up in your photos.
Don't use fruits that are stale or overly ripe, as they will not look good in the photos. You can also ask your model to hold a placard stating tropical drinks or fruits are the powerhouse to stay energized on the beach. 
5. Flower Crown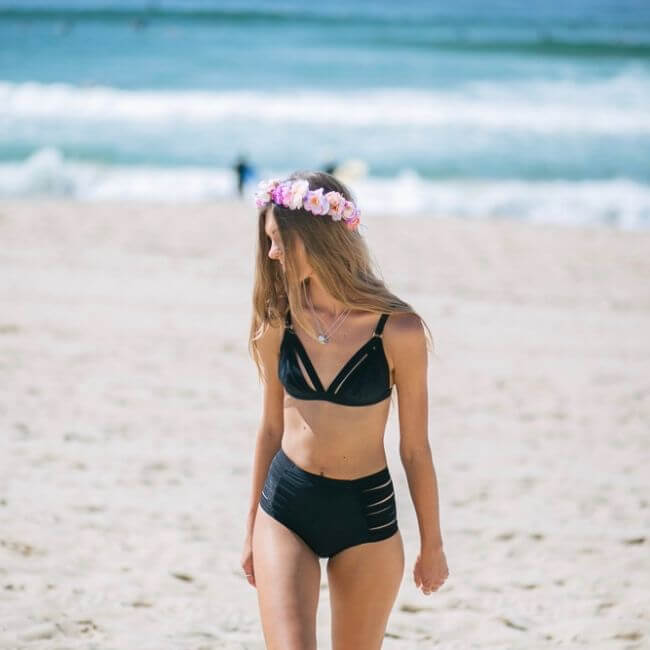 Give your model a princess-like feel during the swimwear photoshoot with the help of a flower crown. Your model can wear the flower crown on her head above her hairline and give stunning poses. You can choose a flower crown that aligns with the model's clothes to make everything look well-planned. Avoid using black flowers or wildflowers as they won't suit the beach theme.
You can also experiment with the hairstyle of the model to create a wild or somber beach look. The model can also wear accessories like dainty earrings and a necklace along with the flower crown to enhance the feminine feel in the photos. 
Conclusion
Swimwear photos can be gorgeous if you find the right prop and use it in the right way during the shoot. Choose meaningful props that pop out in the photos and help you in telling a story.
You can use tropical drinks to showcase the summer vibe and beach umbrellas to create a unique pattern of shadow and light in your photos. If you're still confused about selecting the ideal props for your swimwear photos, you can check out the ideas mentioned above.
These props will not only create interest in your photos but will also make your model feel confident to try out different poses. 
Frequently Asked Questions
Why Should You Incorporate Props in Swimwear Photos?
You should incorporate props in swimwear photos as they can make even ordinary photos stand out and bring the subject to life. They also give the model flexibility to get creative while posing. You can also convey a theme or tell a story with the help of a prop. 
What Kind of Prop Can You Use in Swimwear Photos?
You can use a wide variety of props, such as beach umbrellas, sunglasses, hats, tropical drinks, seashells, and scarves in your swimwear photos. Choose a prop that aligns with the theme of the photo and looks good on the subject.