One of the most exciting parts of growing up is meeting new people, making acquaintances, and finding your BFFs for life. Getting old together and living through the many milestones of life hand in hand are other profound experiences.
But how can you capture all this to look back on as memories? A photo shoot! Whether you are a couple of teens wishing to mark your sweet 16 together or a group of ladies who want to celebrate their decades of friendship, a photo shoot is a perfect idea to encapsulate the moment. Now you ask, how to learn some fun bestie poses with friends? You can choose your favorite themes, outfits, locations, props, and, of course, the best photographer. Although there are many steps to go through, the primary idea is to enjoy yourself and have lots of fun.
Scroll down to learn about all the zestiest best friend photoshoot ideas!
Bestie Poses with Friends: For Two
1. Matching Outfits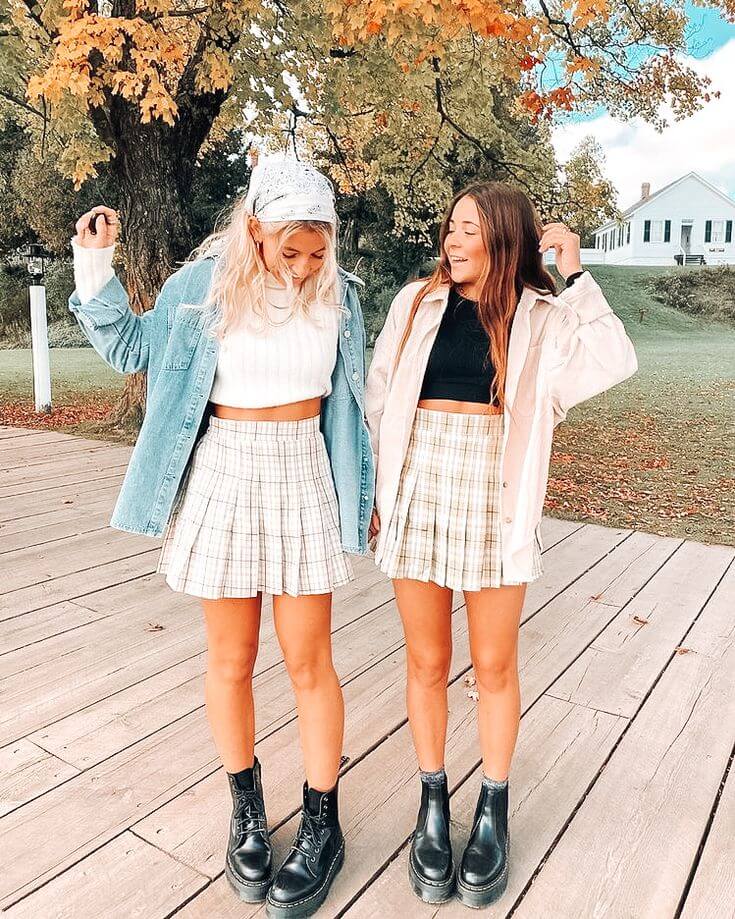 Twinning with your BFF is a simple way to show your strong bond. You can select similar colors and styles. It will not only make your pictures look cute but also make them personal for you. You can plan matching outfits for the same. You could also use this idea for a group photoshoot.
2. The Candid Glance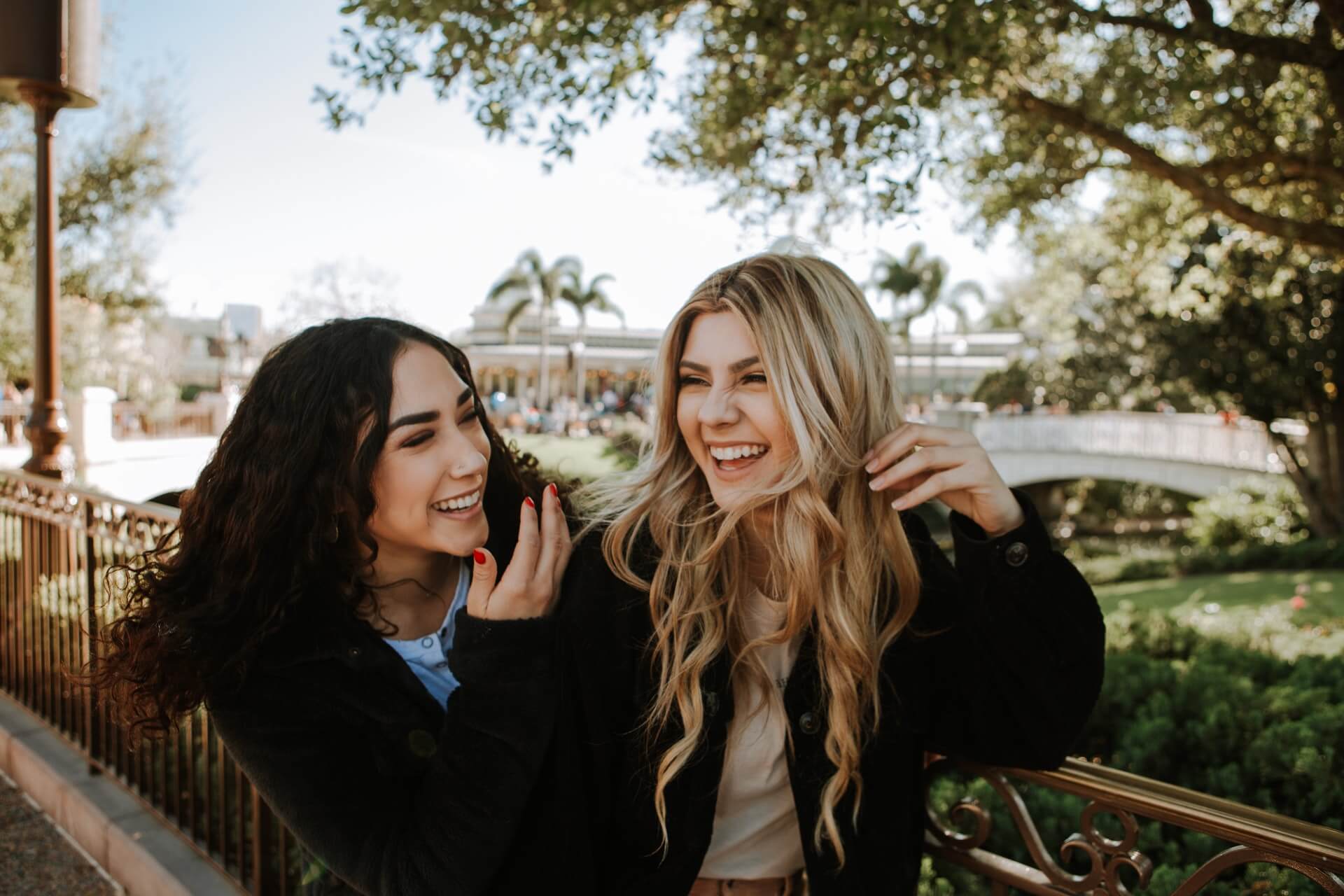 As is popularly said, eyes speak volumes. You can stare into the distance while your friend looks at you fondly. It is a great pose to show your appreciation for your BFF. And it's also one of those fun bestie poses with friends which shows your genuine love and purity!
3. Back to Back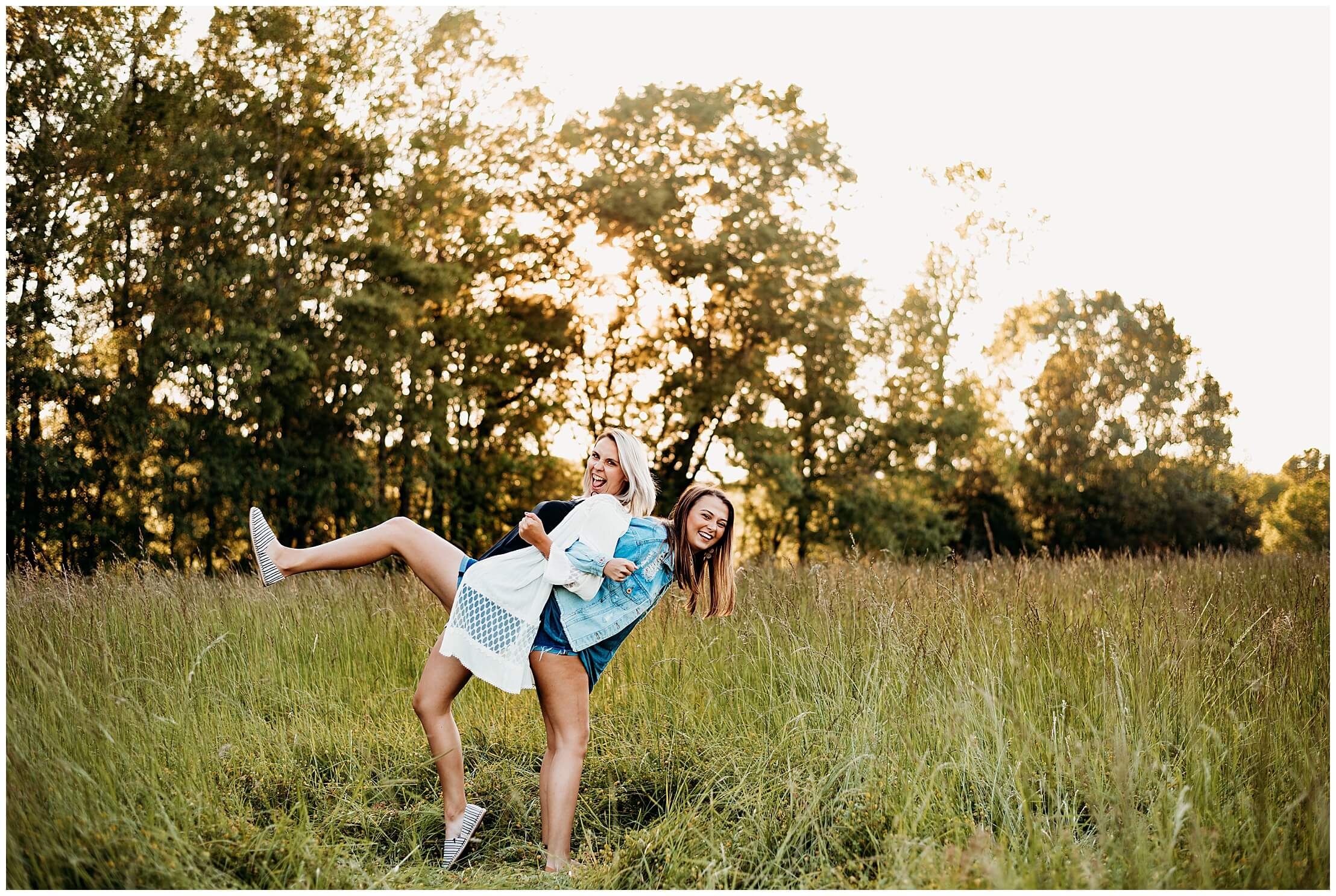 Haven't our besties had our back through thick and thin? Don't we all rely on our close friends for unconditional love and judgment-free moral support? Then what is the sweetest way to portray that? Stand back to back with your best friend and be yourselves. The camera will do the rest!
4. Secret Handshakes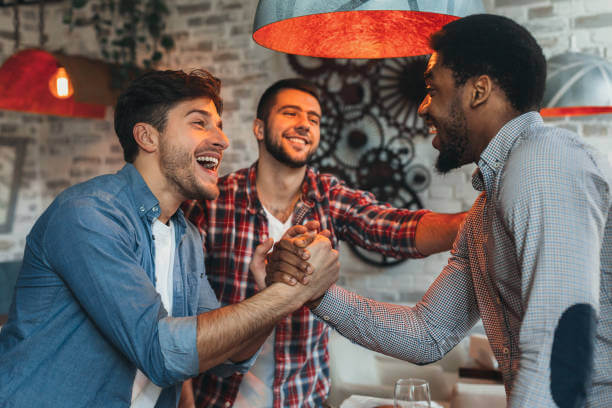 It is one of the perfect besties poses with friends for all the Spiderman and Ned fans out there! If you have a secret handshake planned with your BFF, ask the photographer to capture you both in the middle of it. This way, it shows the more personal aspects of your relationship.
5. Sunset Background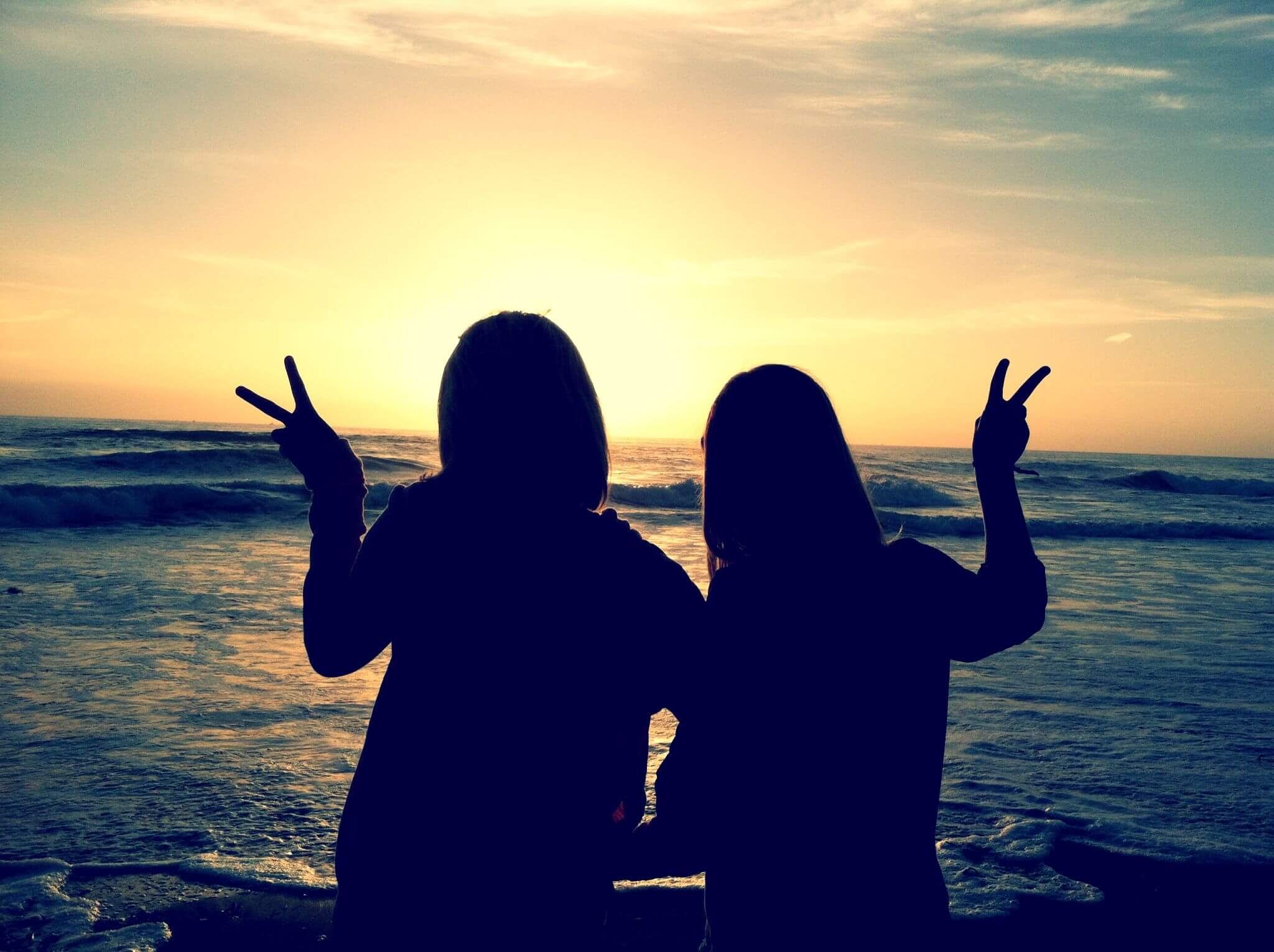 Not only is the sunset a picturesque background for any genre of photography, but the long shadows also make your images more aesthetic. Go hand in hand for a walk along the beach or empty roads, and the results will certainly reflect the beauty of your bond.
6. Go for The Photobooth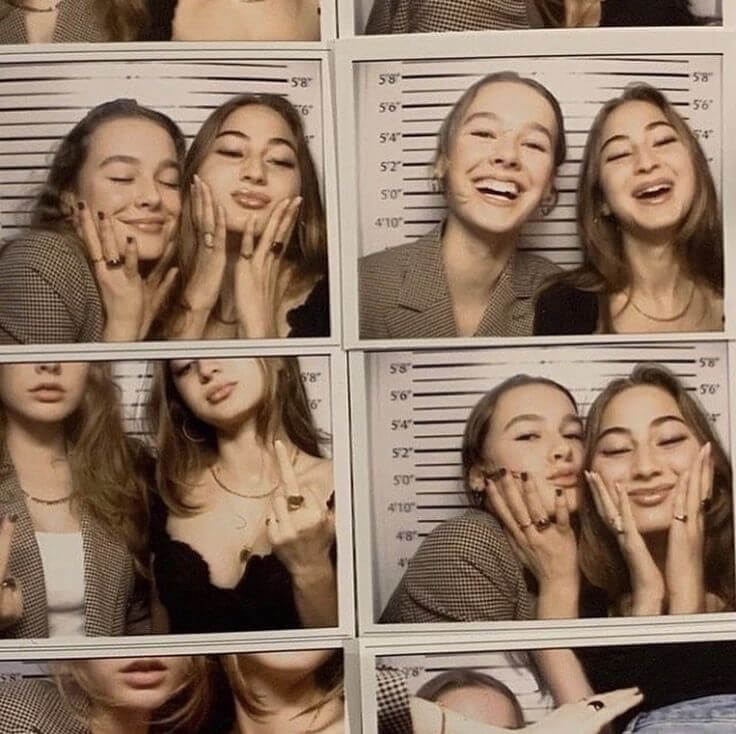 Photobooth pictures don't need you to book a photographer. As silly as they are, the quick time gives you some of the most memorable besties poses with friends! As an added tip, show your genuine and goofy self to make the experience unforgettable. You can also click group pictures in a photo booth.
7. Play Dress Up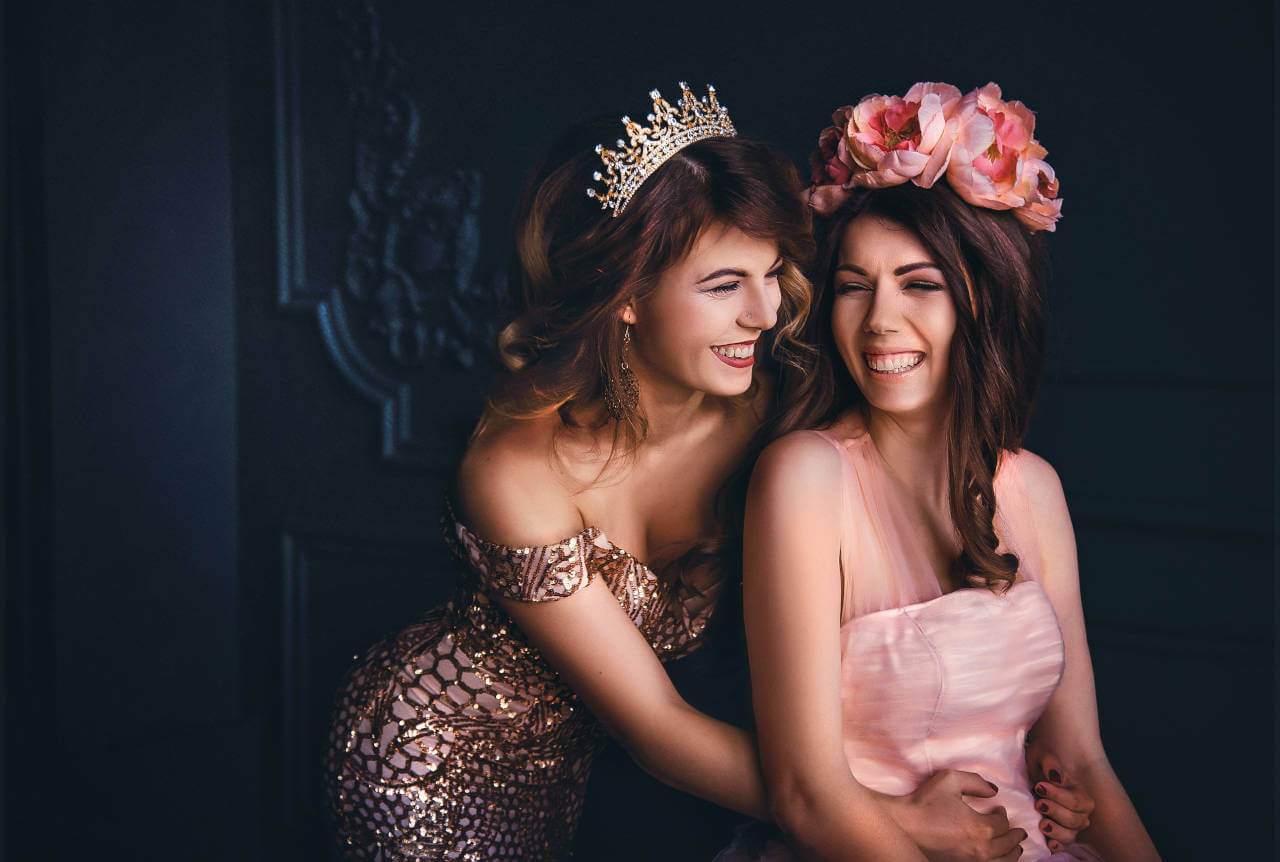 Why not dress up as your favorite superheroes? Or choose the most desirable characters from your favorite fantasy genre? You can also jazz up into complementary costumes as a couple or archenemies. Or as queens like the picture above. It is a fun dynamic to add to the many captures of your photoshoot!
8. Go to Your Favourite Cafe or Restaurant
Do you have a secret spot in town where you and your BFF often sneak to discuss plans and strategies? If yes, you can use that spot to capture your pictures and preserve those memories. Additionally, order your all-time favorite menu items and chatter freely so the photographer can take your snaps candidly!
Bestie Poses with Friends: For A Group
9. Plan A Picnic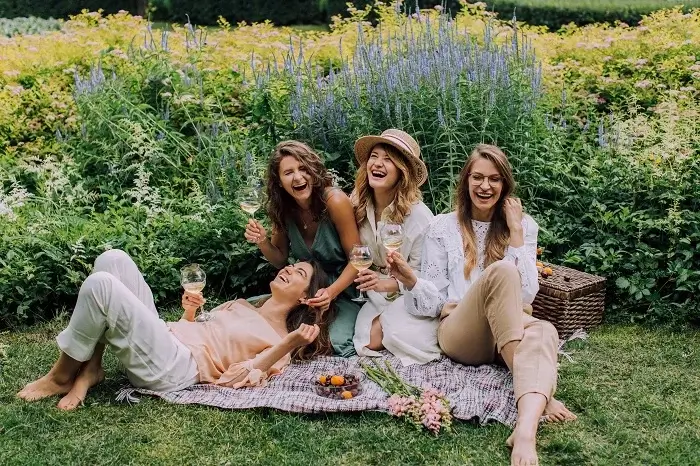 If you're a group of BFFs who have strung together through all ups and downs, what better way to capture your bond than all of you happy as one? One of the most popular bestie poses with friends is against a backdrop of a picnic or a similar outing. Spread your food or drinks, and be in your element!
10. Pool Party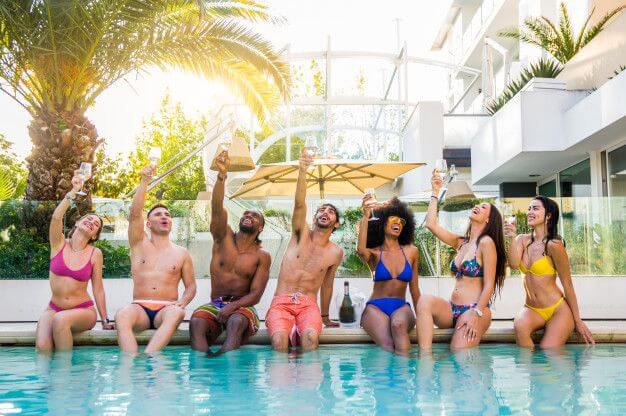 Pool parties are some of the most fun and exciting outings for friend groups. Everyone gets a little tipsy, and the water sports only add the cherry on top. Then why not schedule your photoshoot on the day of a pool party? Ask the photographer to capture you all candidly and naturally.
11. Sporting Activity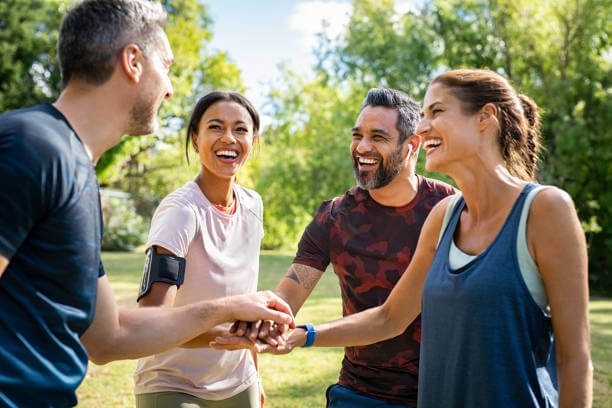 Not necessarily a sporting activity, but you can choose any outdoor activity to do together. You can select bowling, skating, beach sports, parasailing, or any other games. It's a silly and goofy way to show your group dynamics and everyone's fun and playful side. And you get to enjoy yourselves while also getting your pictures clicked.
12. Huddle Together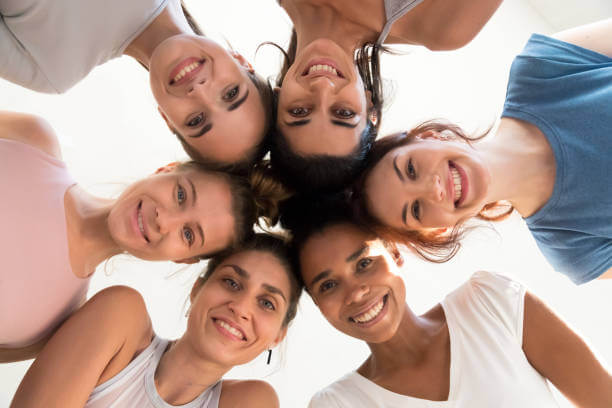 Form a circle and huddle together to take a picture. You can position the camera in the middle of the round such that you all look down into it. Or vice versa, that is, look up into the camera. You can also ask the photographer to capture all of you candidly, perhaps while discussing something.
13. Road Trip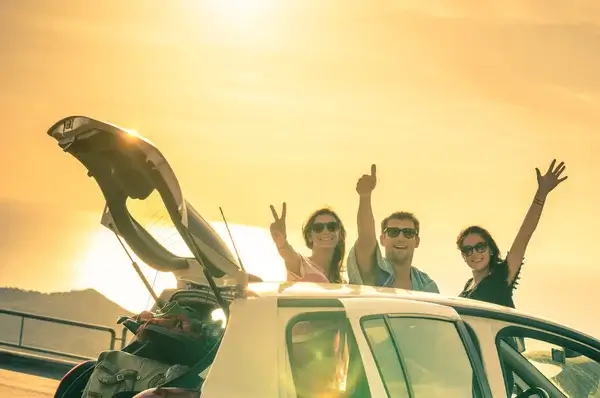 As a group of friends, what have been some of your most unforgettable experiences? A road trip, of course. It's not only a journey by road, but it's also a camping trip all bound together. Road trips are often great ways to strengthen your bond. Why not capture your pictures during the trip, then?
14. No-Face Portrait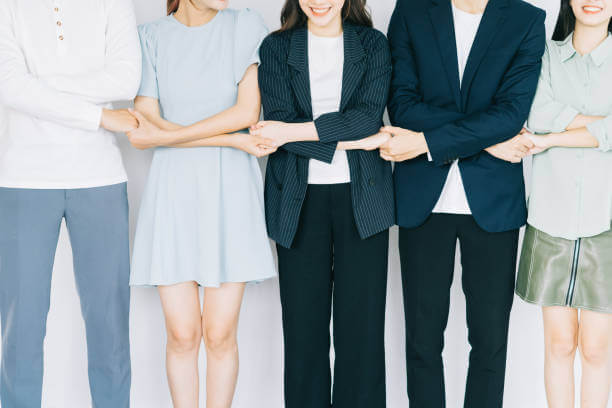 Actions speak louder than words. But are they more voluminous in pictures too? Why not try to find out? A no-face portrait can capture the body language of each member of your friend group, which will highlight the varying personalities. You can also prefer to pose similarly to depict your unity through the differences!
15. Mid-Air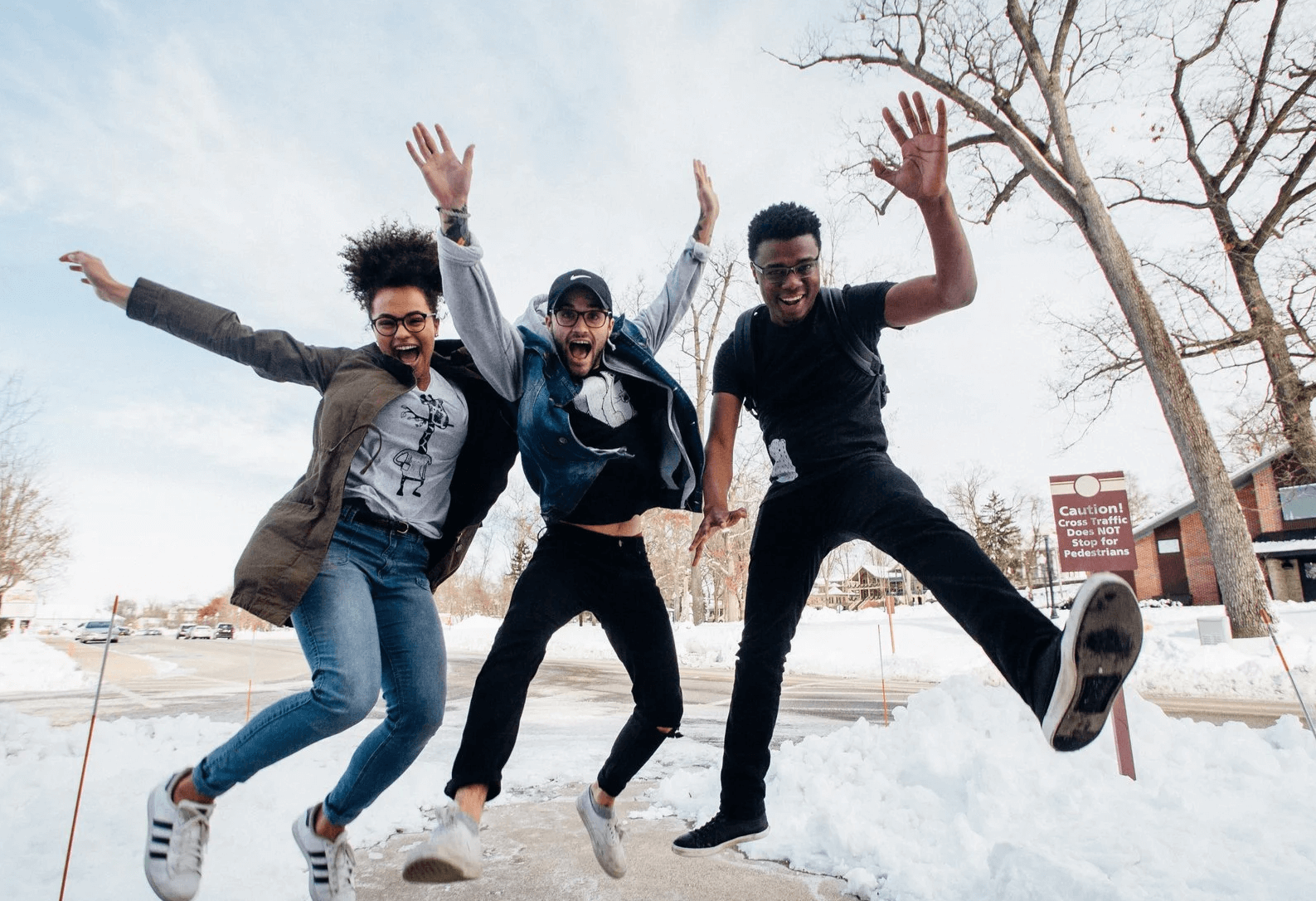 Having a genuine group of friends means you can be your true self in front of them without the fear of judgment. That is also something that should reflect in your outcome. Hence, jump in the air and ask the photographer to snap you all candidly and mid-air.
16. Celebration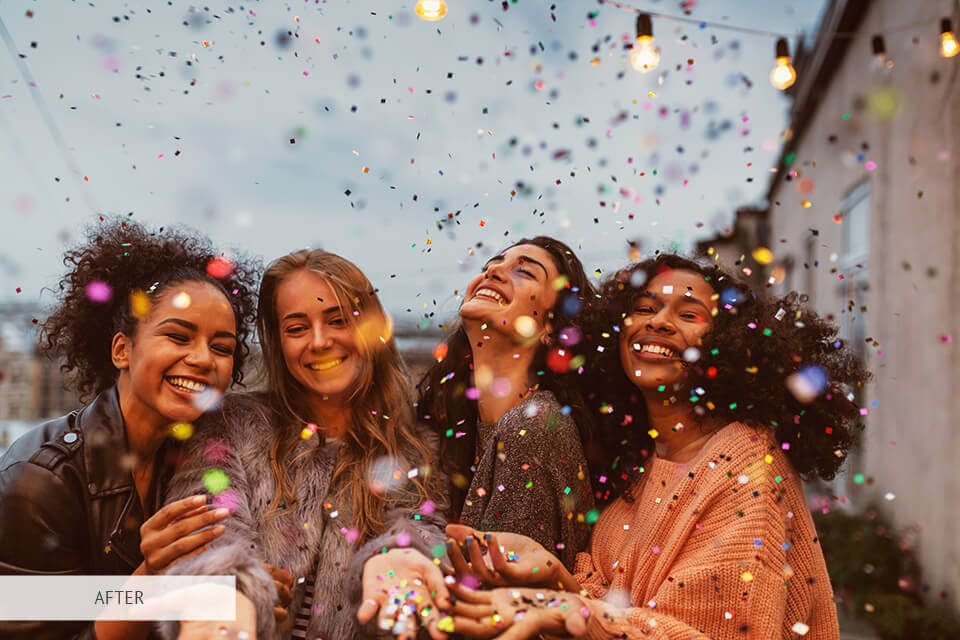 The blood of the covenant is thicker than the water of the womb. Many of us often find the comfort of family among our friends. What's the best way to capture this bond? In the middle of celebrations! Take pictures while celebrating Christmas, new year, or any of your group's special occasions.
Bestie Poses With Friends: Tips For The Photographer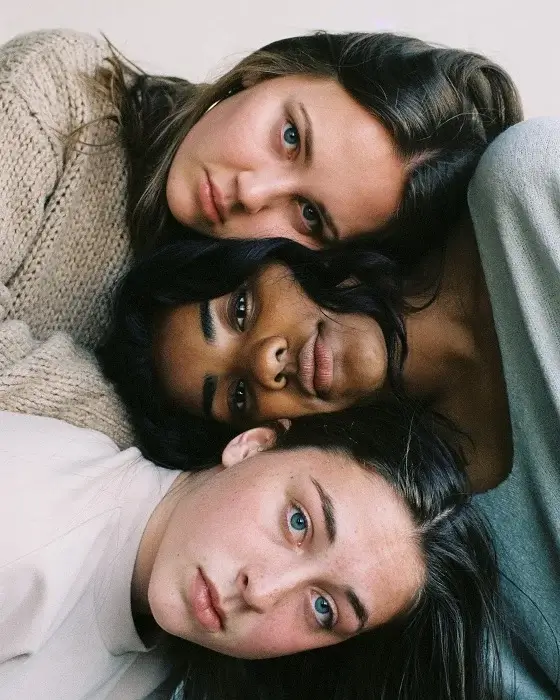 One of the most significant processes for any photography session is communication. Miscommunication can result in trivial problems during the photo shoot, which may lead to blunders in the resulting images. Discuss the client's wishes beforehand. Sometimes, a particular theme may require certain prerequisites, like specific camera gear or equipment. Talking before the photoshoot will give you ample time for that. Also, be as creative as possible. You can always start by suggesting different poses and activities to your clients to get the desired pictures. Consider the number of people to be included, the setting, and the location as well.
From a technical perspective, you should consider the lighting and the angles at the location since different lighting conditions sometimes require specific camera gear. Also, consider the backdrop and additional props that the clients may want. Lastly, focus on the editing and how your clients would like the final pictures to look.
Bestie Poses With Friends: How To Prepare?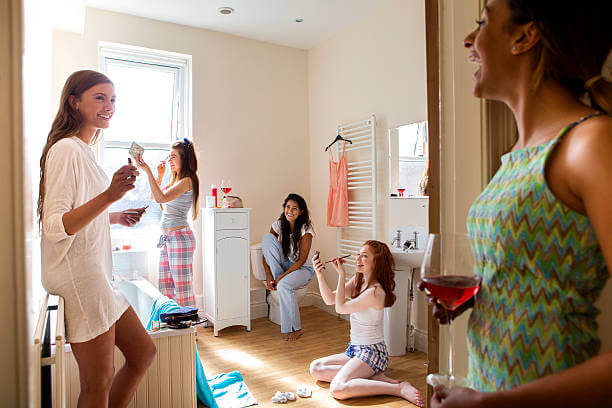 If you're planning a proper photoshoot with your BFFs, there are several steps to consider. First and foremost should be selecting your theme. The theme of your photo session should reflect your individual personalities and the dynamics of your group. You can also schedule your photoshoot to mark a special occasion, like all of you turning 18 or celebrating your graduation. However, in that case, your theme should match the intent to make it even more memorable. Several times, the location of your shoot may also vary depending on the theme. Make sure you complete all these requirements beforehand.
Next, focus on your styling. Different outfits and accessories, makeup, and hair come under this step. Especially if you wish to click pictures in matching outfits, it might take some preparation beforehand to ensure everyone has the same clothes. However, if you want your snaps to be candid and natural, it's best to go with the flow. Dress casually, and let the mood dictate your pictures! Lastly, arguably the most pivotal step is to select your photographer. It may not be necessary if you don't want your pictures to be too controlled since hiring a professional photographer can hinder the natural process. But otherwise, pick a photographer who understands your theme and intention and is open to communicating.
Final Word
A best friend photoshoot is an incredible way to commemorate your bond and preserve the memories of that time. You can conduct the photoshoot with your BFF or a friend group too.
Begin by elaborating on the intention behind the shoot, and select a theme accordingly. You can also choose varying locations depending on your intent since it will make your pictures even more impactful.
Don't forget to research the different poses, styles, and genres which you can explore for a livelier outcome. Lastly, remember to analyze your need for a professional photographer and select the one most suited to your requirements.
While searching for bestie poses for friends, which one was your favorite? Tell us in the comments section below!
Frequently Asked Questions
What Are Some Best Friend Photoshoot Ideas at Home?
You can conduct a BFF photoshoot at home by choosing different places. For instance, you can pose for semi-candid pictures in the kitchen while prepping a meal, in the bedroom while dressing up for an outing, or on the patio or deck and relaxing into the evening.
What Are Some Bff Photoshoot Ideas for The Summer?
A pool party is one of the most fun ideas for a summer BFF photoshoot. Not only does it capture the natural essence of your group's dynamics, but it also captures the silly and goofy side of everyone in your friend group.
Why Should I Conduct a Best Friend Photoshoot?
The best friend photoshoot is a great way to capture your bond with your close friends on film. You can also do it to remember your milestones together, like the Sweet 16 or graduation. It will be a fun memory to look back to!
What Are Some Tips for Capturing Group Photos?
First, understand the lighting and exposure at the location, and choose your equipment accordingly. Usually, a narrow aperture is preferable for landscape-oriented pictures. Also, interact well with your client about everything, as effective communication can help you out in maximum arenas.