In a world that celebrates self-expression and body positivity, boudoir photography has emerged as a powerful way to embrace our bodies and boost our self-confidence.
The idea of capturing intimate and sensual photos of oneself might seem daunting, but with the right guidance, it can be a journey of empowerment and self-discovery.
Whether you are new to photography or simply curious about the process, the blog post will take you through the fundamental steps on how to take stunning boudoir photos of yourself.
You do not need to be highly techno-savvy to capture stunning boudoir photos. All you'll ever need is a good camera, the right lighting, backdrop, wardrobe, make-up, and most importantly, confidence!
So, let's go on a journey of how to take boudoir photos yourself that will leave you feeling beautiful and confident in your skin.
1. Take It Easy and Truly Have Fun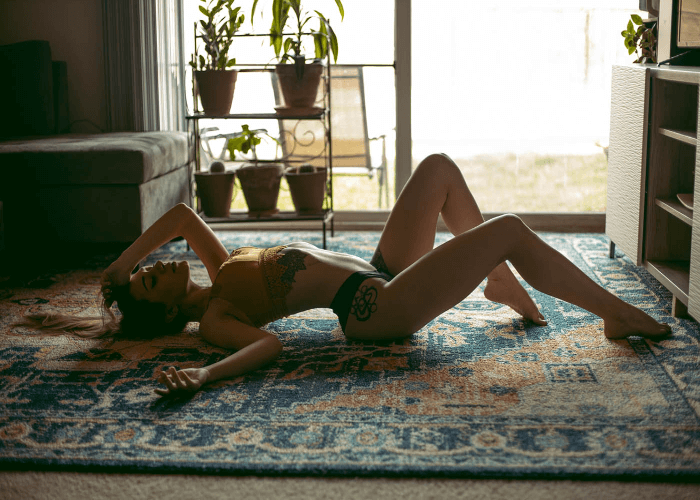 For many boudoir photographers, helping clients feel at ease during a photoshoot can be a challenge. However, with some easy and winning DIY boudoir photography ideas, that hurdle has become a thing of the past. Immerse yourself in the perfect ambiance by playing some music and setting a cozy mood with scented candles. To further relax, consider sipping a glass of wine or letting loose with a playful dance around the room, experimenting with fun and quirky poses. After all, some of the most remarkable photos often stem from moments of pure enjoyment.
2. Let Your Photos Narrate A Story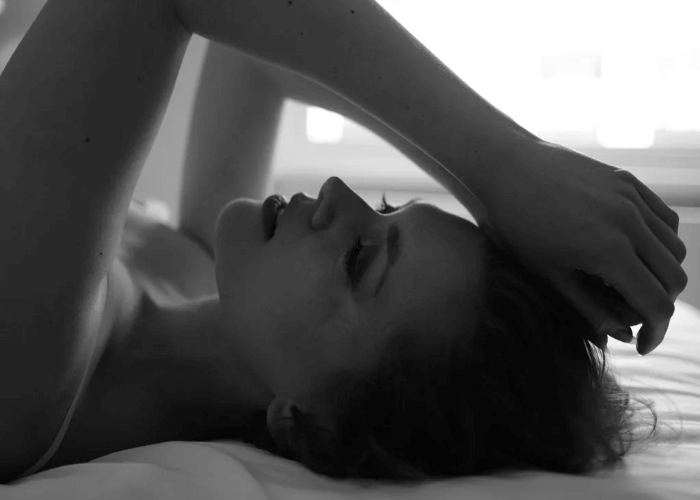 Each photograph becomes a captivating tale when it hints at a story. Boudoir photography offers a canvas for your imagination to flourish, and the more sensual the narrative, the more compelling it will be. If you have a partner, their involvement in the photos can enhance the experience. Their presence can ease any unease, allowing both of you to craft an authentic love story together. However, exceptional DIY boudoir photos do not necessarily require a partner's presence. The session is centered around you, so feel empowered to curate an environment that brings you joy and comfort.
3. Your Wardrobe and Makeup Play A Key Role
While boudoir photos frequently spotlight lingerie, there's a world of outfit options awaiting your creativity. Consider taking a bold route by exploring outfit and styling ideas that suit your taste and preferences. Select an ensemble that resonates with your comfort. Sheer and lace camisoles, a silky robe, or some loose-fitted clothing will make an amazing choice. Long-knitted sweaters or shirts will also be a good option. Smoky eyes, tinted or glossy lips, and some simple makeup will enhance your natural beauty. A touch of foundation and mascara will amplify your gorgeous features. Keep your hairstyle simple yet aligned with the overall look. Dramatic waves, silky straightened hair, or a messy bun will be the ideal hairstyles. Thus, always choose makeup and wardrobe options that truly make you shine from the inside out.
4. Practice the Boudoir Poses Before the Photoshoot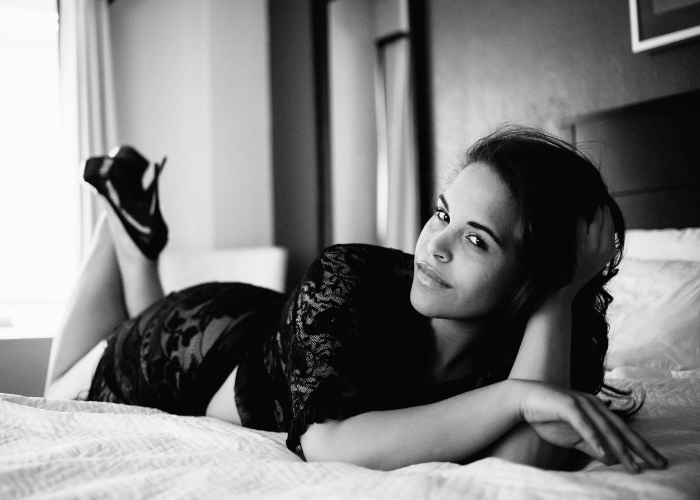 Posing is an important aspect of boudoir photography. Don't forget to spend some time practicing your poses in front of the mirror before your actual session. Certain poses work like magic for boudoir poses. For instance, lying on a bed or couch and gently arching your back can create a captivating body shape with a sensual touch. Embrace the chance to showcase your best features. Whether it's accentuating your graceful legs or your hip curves, focusing on what you love about yourself is the essence of boudoir photography.
5. Choose Flattering Lighting Conditions
No need to break the bank on pricey lighting equipment for your DIY boudoir photoshoot. The charm of natural light can get you the most stunning photos. Scoop up the best light by positioning yourself close to a window. To soften any intense rays, you can use a sheer white curtain or white paper. This little trick adds a touch of magic, thereby rendering soft and flattering lighting that enhances your features. For a touch of artistry, backlighting is your ally for casting silhouettes and highlighting your features. You can choose to go for the lighting as per your comfort level. Always remember the light direction to capture the photos of your preference.
6. A Tripod and Remote Are A Must
Since you will be your photographer, a trusty tripod becomes your best friend. It will simplify the process compared to hunting for a suitable camera spot. This will help you capture images from different angles and get images of professional quality. Should you opt for a remote, keep a little secret: discreetly tuck it into one of your hands. This clever move ensures your photos maintain that effortlessly natural vibe. This is relatively helpful as you can take your boudoir photos without dependency on any professional photographer or any other person.
7. Minimal Props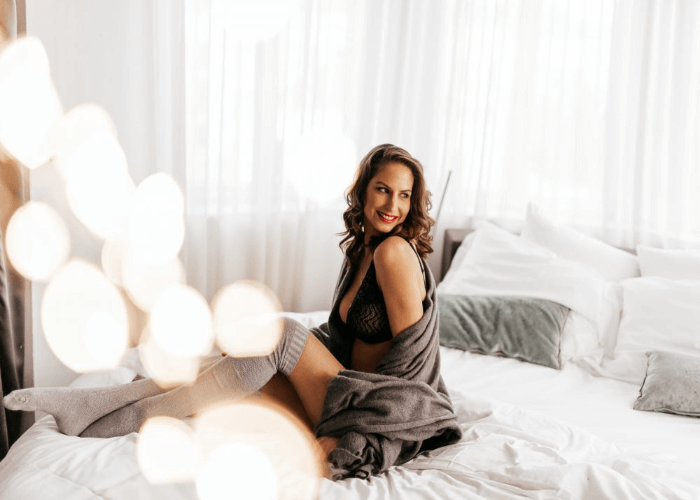 If your chosen backdrop is a cozy bedroom or a comfy couch, consider using soft sheets and plush pillows to complement your comfort. If you are choosing a soothing bath setting for the photoshoot, a sprinkle of rose petals and elegant bubble bath bottles can enhance the ambiance. And why not have a glass of champagne within arm's reach for an added touch of luxury? For those embracing a theme, the right props can elevate your boudoir photoshoot. Let your personality shine by selecting props that resonate with your personality and individuality.
8. Find A Place Where You Feel Comfortable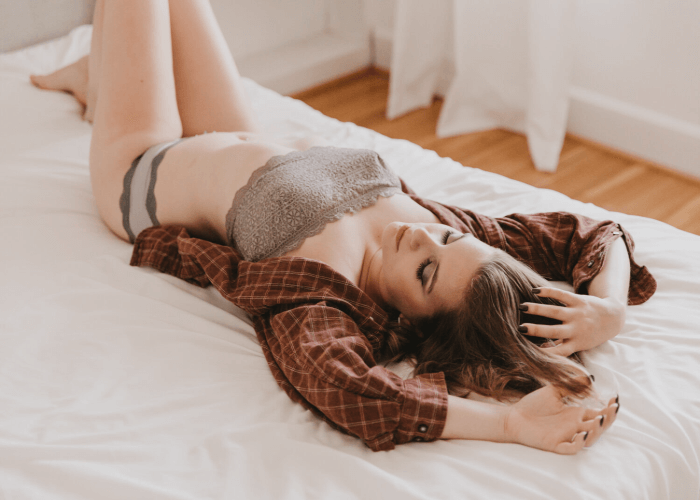 Since you will be doing the boudoir photoshoot by yourself, your home will be the ideal place to do so, as you are the most familiar with your own space. While your bedroom is a go-to option, you can also explore other areas of your home for a boudoir photoshoot. Ultimately, your chosen location should exude comfort, a place where you can confidently capture the essence of boudoir photography.
Wrapping It Up
Thus, boudoir photography is more than just pictures. Its a powerful form of self-love and empowerment. From setting the perfect mood to experimenting with different poses, there are abundant ways to take boudoir photos by yourself.
Whether you are looking to boost your self-esteem, mark a milestone, or indulge in a moment of personal celebration, the world of boudoir photography awaits your creative touch.
As you navigate through the journey of capturing your sensuality, authenticity, and individuality, trust yourself to explore, experiment, and, most importantly, enjoy the process.