Canon is a brand associated with top-quality cameras. They have been used for years for professional photography and are known for their unique features and latest technology. They have so many models which are widely used for different purposes that it becomes quite difficult to decide which one to buy.
Today, we will discuss their two top-tier cameras, Canon 80D vs 70D. These both are top-tier, good-quality DSLR cameras. They are similar in various aspects but are also quite different.
We will compare them to see which is more suitable for professional photography.
80D vs 70D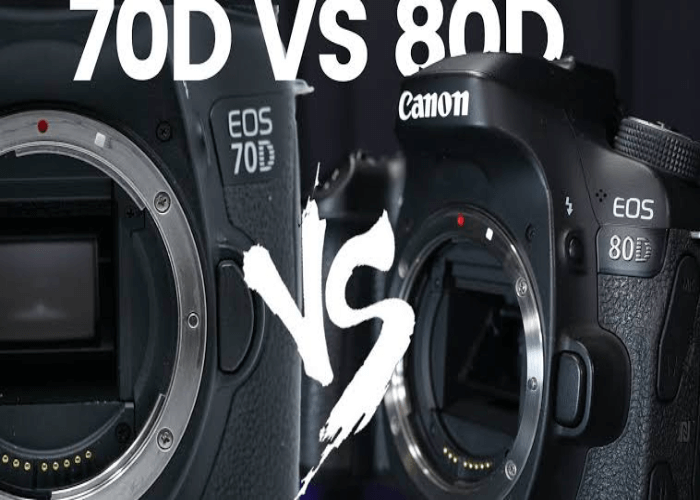 | | | |
| --- | --- | --- |
| Specifications | 70D | 80D |
| Processor | DIGIC 5+ | DIGIC 6 |
| Sensor Resolution | 20 MP | 24 MP |
| ISO | 100-12800 | 100-16000 |
| Auto Focus Points | 19 | 45 |
Which One is Better for Photography Based on Specification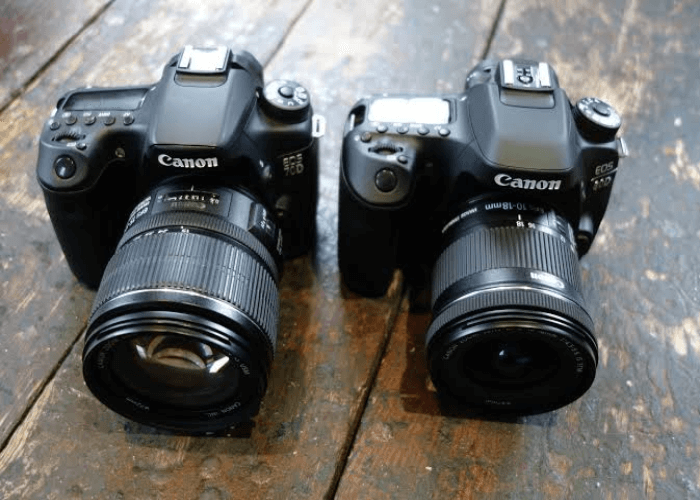 1. Sensor Resolution
A high-quality, large sensor is the first thing you must look at when buying a camera for professional purposes. The bigger the sensor, the clearer the image quality and 80D is a clear winner here.
2. Processor
Many benefits come with the DIGIC 6 processor present in 80D. It makes the working and overall performance of the camera smoother and more accurate; you get better image processing, good pictures under difficult lighting conditions, automatic white balance, and an intelligent balance with the Canon APS-C sensor.
3. ISO
This is another important feature of professional cameras. ISO decides how a camera performs in low light. 80D has a great ISO of up to 16000, and it also works smoothly and doesn't make any noise while adjusting to the light. 70D starts making too much noise, even at ISO- 926.
4. Auto Focus Points
Autofocus focus points let you capture still images of moving objects by keeping track of their moments. When you see the subject in your viewfinder, the small squares that appear in the center of the frame are AF points. Canon 80D has 45 AF points, whereas 70D has only 19.
5. Continuous Shooting and Burst Mode
Both these features are used when you have to click several pictures at once and select the best one. When using continuous shooting mode, both cameras can click 7 frames per second, but when it comes to clicking burst shots, 70D can take 14 raw shots in one second, and 80D can take 24.
6. Video Quality
Though the video resolution of both the cameras is the same with 1920×1080, 70D shoots 1080p at 30 fps while 80D shoots 1080p at 60 fps because it follows the subject better because of its higher Af points.
This compares the most important things you look for while buying a camera for professional photography. Still, your buying decision is also affected by what kind of photography you are interested in.
Comparing 70D and 80D Based on The Type of Photography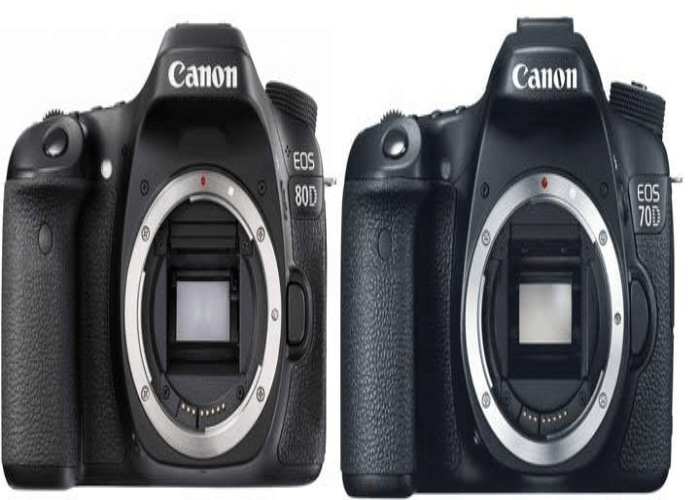 1. Portrait Photography
Both of these cameras are good at portrait photography; they will give a very similar result. The only thing that can make a little difference is a slightly higher resolution of 24 MP of 80D compared to 20 MP of 70D.
2. Street Photography
For good quality street photography, you need large sensors and shallow depth of field, which is equally present in both these cameras, so it doesn't matter which one you choose if your purpose is exclusively street photography; they both perform pretty well.
3. Sports Photography
In sports photography, you cannot get near the action, so you must have a better resolution camera to take those close-up shots, where 80D is better. The other important thing here is Autofocus points, which capture images of moving subjects. 80D has focus points, whereas 70D has 19.
4. Landscape Photography
70D and 80D both have features that work in favor of landscape photography, like environmental sealing and live view. Landscape photography is all about capturing the tiny details in nature, which is only possible with a high-resolution sensor. Higher resolution also means you get large prints without the photo getting blurred.
5. Wildlife Photography
Both of these cameras are weather-sealed, which is important when shooting outdoors. Camera performance in low light is crucial in wildlife photography, and we already know that 80D makes less noise and better images in such conditions. Animals are continuously on the move, so the autofocus function of the camera helps the photographer to cluck still images of moving animals, which is also better in 80D.
Though 70D and 80D work equally efficiently in some photography methods, 80D is better in each one and has proved to be versatile, which makes 80D a clear winner for us.
Conclusion
Though both these cameras are capable of professional photography, Canon 80D has the upper hand when compared to 70D. Still, it also depends on the type of photography you are buying a camera for. 80D was launched two years after 70D, with updated brand features and specifications.
80D is a great overall camera, but it is also costlier than 70D. So, If you already have a 70D, you don't need to upgrade to 80D because there is no major difference.
But, if you are confused between the two while buying a new professional camera, you can go with the 80D.