Are you planning for your first anniversary? Or are you considering a beach photoshoot for a beautiful pre-wedding shoot? Either way, the idea of having a beach photo session is one of the most beautiful things you can gift your partner.
Photographs are sweet and powerful tools to capture memories and cherish them forever. But what can you wear to a beach photo session? What colors should I pick in contrast to the beautiful sandy beaches?
Well, rest assured, we have your back! Here is a detailed article on colors to wear for a beach photoshoot.
Why is Beach a Great Spot for a Couple Photoshoot?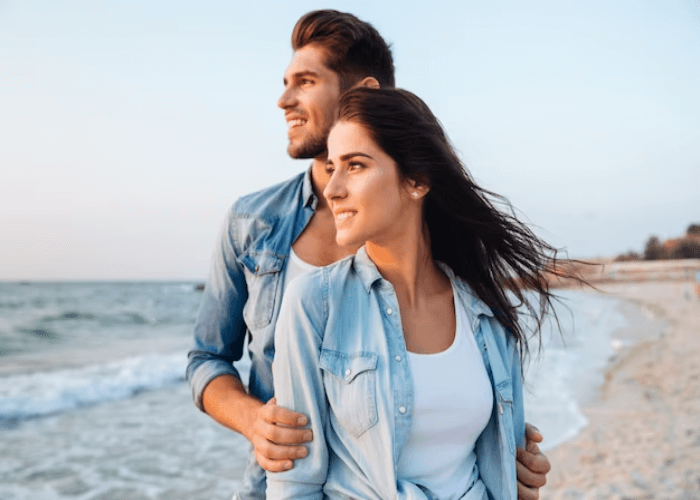 A photography session is meant to capture and immortalize your beautiful moments. Choosing a beautiful backdrop is essential, whether you're organizing a pre-wedding session or a maternity couple shoot.
Our favorite destination for a couple of photography sessions is the beach. The powdery sand and the gentle waves provide a perfect backdrop for romantic poses.
Whether you choose to have a session during the sunrise or the sunset, the warm orange sky will add an ethereal quality to your photos. You can run on white sands, sit hand-in-hand on a swing, or pose waist-deep in the blue waters. The photos always turn out to be gorgeous.
So, choose a beautiful beach for your session and try out as many couple beach photoshoot poses as you want.
Outfits for a Romantic Beach Photo Shoot
If you are wondering what outfits to wear for a couple of beach photoshoot poses, let us help you out. If you have a desirable theme, choose a complementary outfit and accessories. Usually, airy, flowy, and breathable dresses look the best. It is essential to choose something comfortable so that you can enjoy the photoshoot. A simple outfit that you would wear to the beach on a date may be perfect for the session. It would be excellent to wear matching swimwear if you want to get in the water.
Do not pack expensive shoes or sandals for the beach, as it may be difficult to run around in them. The sand is also notorious for destroying sandals, so it is better to go barefoot.
You may find beautiful beads, seashell anklets, or floral headbands to match your look. If you are confused between solid colors and patterns, choose something that won't become a distraction. Soft patterns would look nice.
Top Color Combinations for Beach Photoshoots
Colors like bright reds and flashy purples may make you look heavenly as you run through a castle, but they look quite out of place on a beach. Soft pastel hues that blend with the natural backdrop at the beaches look the most beautiful. If you are planning a beach photography session with your partner, here are some color combinations that you can choose from.
1. Wear All-White to Look Ethereal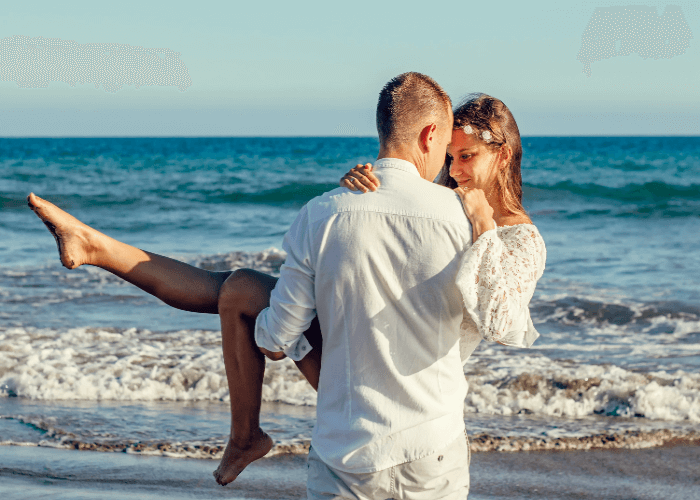 White is a classic and timeless color. It symbolizes everything pure and beautiful. You cannot go wrong with an all-white ensemble. Choose to wear a white flowy dress while your partner wears a white linen shirt with matching shorts. Against a backdrop of blue skies and golden sand, white would make you look ethereal.
2. Different Shades of Pastel Blue with White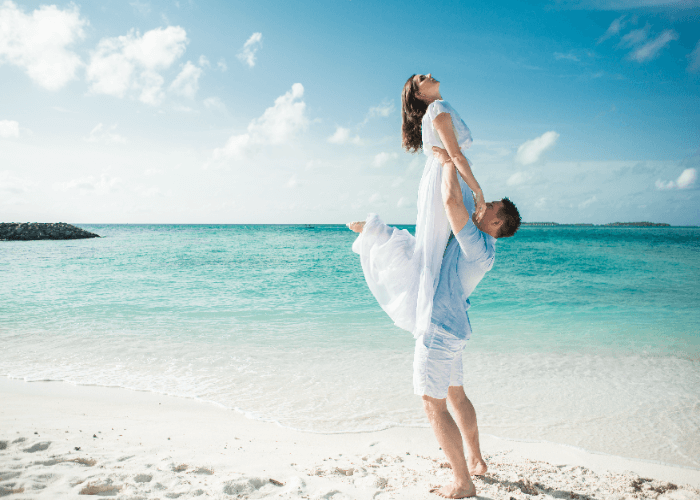 If all-white is too boring for you, add a dash of blue. Pastel and baby blues blend well with the pearly blue color of the skies and the ocean. Go for a checked dress in baby blue and white. Your partner can wear a light blue linen shirt with white pants. Alternatively, a white shirt with blue denim shorts would also look great!
3. Lemon Yellow, Blue, and White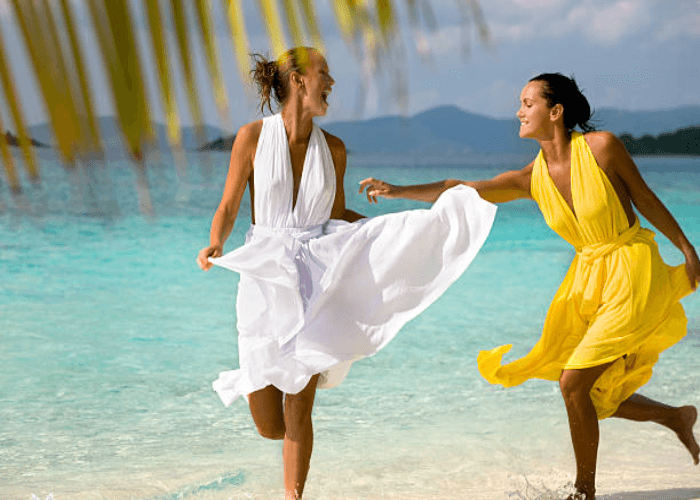 If you want to make things colorful and bright, add in some yellow! Wear a mix of lemon yellow, blue, and white for your beach photography session, and let the magic happen. This color combination would create a contrast with the backdrop of beige sand and draw attention to you.
4. Orange and White
You may think that orange is too bold of a color to wear for a beach photoshoot. However, orange goes quite beautifully with the serene blue of the ocean. Wear a white dress with orange stripes or a flowy pastel orange outfit. Your partner can wear a white linen shirt with orange shorts to match you.
5. Dark Green and Velvet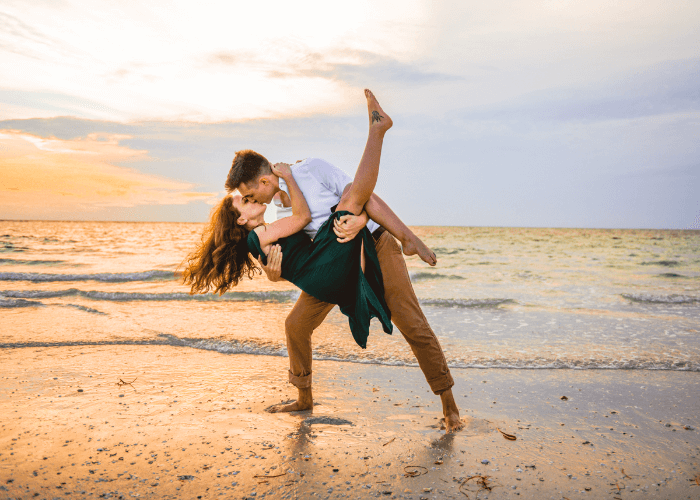 A photoshoot at the beach doesn't mean you have to stick with running on the sand or playing in the water together. You can ride a horse with your partner to get a few majestic royal shots. A velvety dress in a dark, emerald green color will bring out the goddess within you. Your partner can wear a complementary suit.
6. Baby Pink, Baby Blue, and White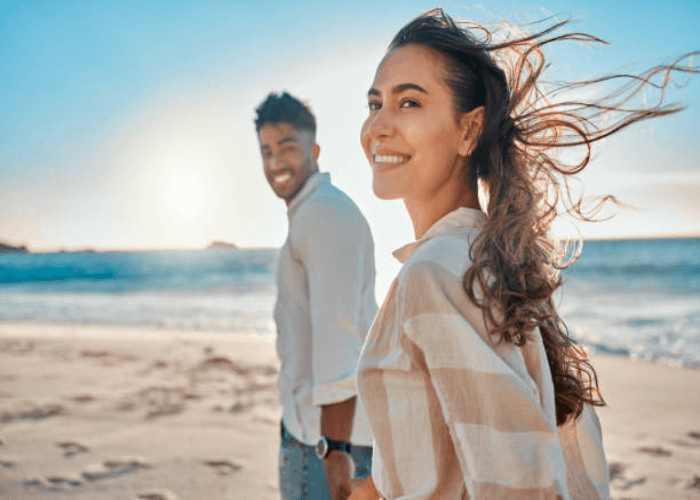 This combination is another color palette that works beautifully for a beach photoshoot. If you are planning a pregnancy couple photoshoot, baby blues and baby pinks may be the perfect color choice. Wear a dress with pink and blue stripes, or get decked in a white-slitted dress and add a crown made of pink and blue flowers to complete the look. Your partner can match you in a blue or pink shirt and white shorts.
Conclusion
A romantic photography session is one of the best ways to celebrate your relationship. If you want a photo shoot with your partner, the beach may be the perfect location.
Beaches offer a breathtaking backdrop and add a sublime quality to the photos.
Wear airy dresses in white or soft pastel colors to look magical in the photos. Color combinations like blue and white, yellow and blue, and orange and white look pretty on the beach. Dark colors like emerald green may also look gorgeous in certain shots.
Comment below and let us know which ones you like the most!