Are you a photography enthusiast who's just getting started with DSLRs? If yes, you'll be happy that the Nikon D3400 is an excellent camera for your journey. The Nikon D3400 is an entry-level DSLR camera designed specifically for beginners. However, with its easy-to-use interface, compact size, and impressive performance, the Nikon D3400 is the perfect camera for those new to the photography space.
If you find using a DSLR intimidating, then the Nikon D3400 answers your problem. This camera has been designed considering the pain points of beginners struggling to navigate a typical DSLR's complicated menus and settings. As a result, the Nikon D3400 is regarded as the simplest DSLR for beginners, as it provides an excellent user experience without compromising image quality. In this article, we'll explore the key features of the Nikon D3400 and explain why it's the perfect camera for those just starting.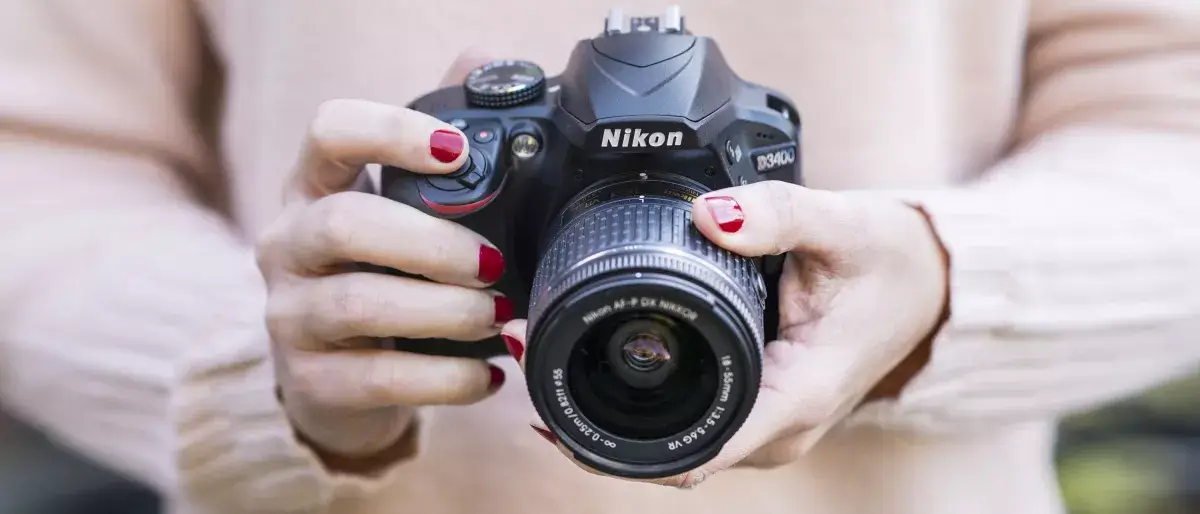 An Overview of the Nikon D3400
Nikon's entry-level DSLR, the D3400, was released in August 2016 as the D3300's successor. It's an entry-level DSLR with a 24-megapixel sensor that rivals some of the most excellent crop-sensor cameras on the market. The key selling feature of the camera is its high-quality photos. However, the D3400 falls short in sports and action photography, with just five frames per second and 11 autofocus points. Nonetheless, given its limitations, the focusing mechanism functions admirably.
The D3400 lacks numerous high-end features, such as a tilt-flip component or a touchscreen. Instead, it includes Nikon's SnapBridge technology, which allows you to instantly send low-resolution JPEGs to a smartphone as you snap photographs. However, because the camera lacks WiFi, SnapBridge's usefulness is limited to remote shooting and movie transferring.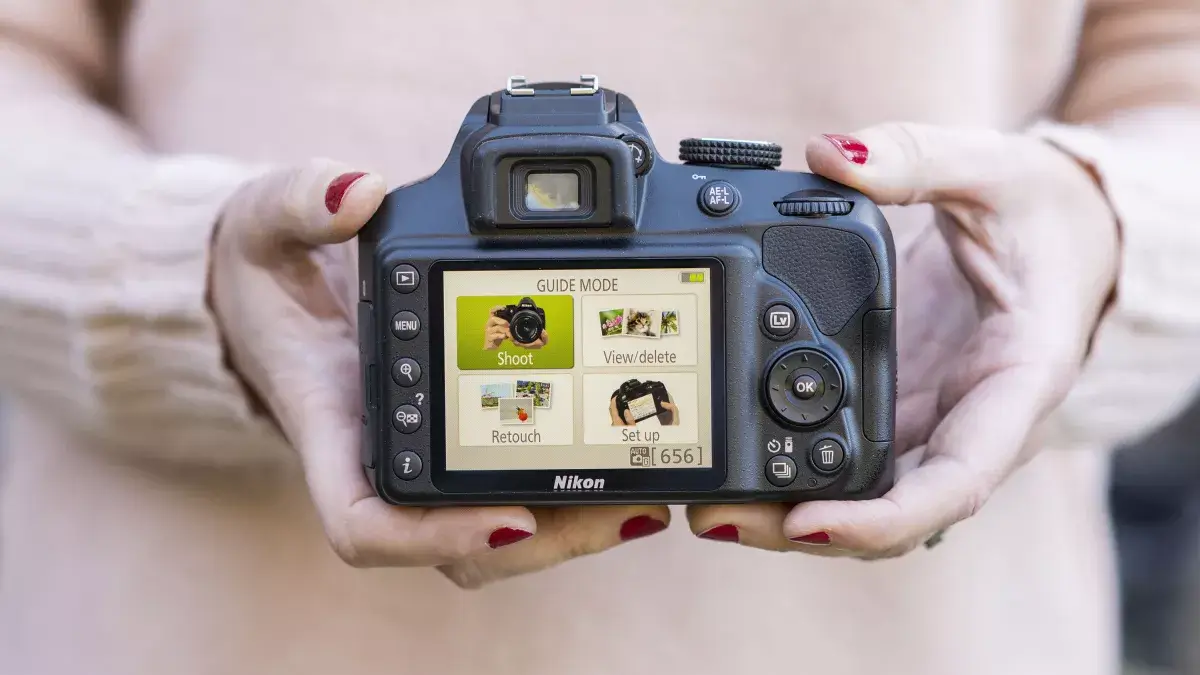 The D3400 offers few enhancements over its predecessors. The only visible improvements to the Nikon D3400 are a somewhat lower weight/size, improved battery life, and SnapBridge. This absence of significant improvements is not uncommon for Nikon's entry-level cameras. Despite a 2.5-year gap between the D3300 and the D3400, the differences between the two models are slight.
Nikon D3400 Specifications
24 Megapixels Resolution
The Nikon D3400 features a 24-megapixel sensor capable of creating high-quality, detailed images, making it a popular choice among new photographers. Because of the excellent quality, you may generate huge prints without losing detail. Because of this function, the camera is ideal for travel, landscape, portrait, and architectural photography.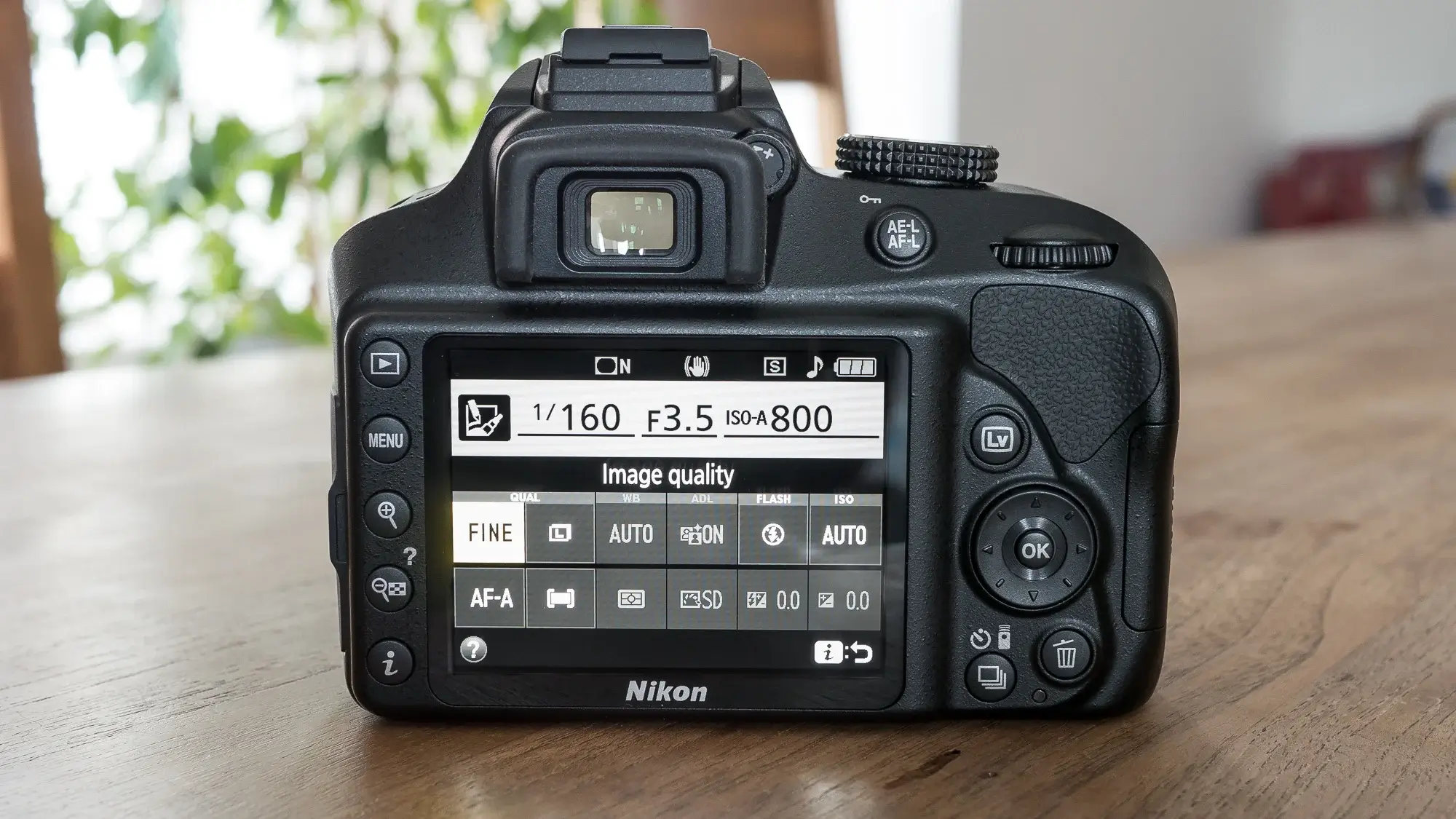 Autofocus System
The Nikon D3400 has an autofocus system with 11 points. Although the technology appears poor compared to other high-end cameras, the autofocus operates admirably, given its restrictions. Because the focusing technology can identify vertical lines, it is excellent for portrait photography. In addition, the camera's autofocus is quick and reliable, allowing beginners to concentrate on shooting amazing photos rather than fiddling with confusing settings.
Battery Life
The Nikon D3400's battery life is remarkable, with a single charge lasting up to 1200 photos. This feature is essential for novices who want to take as many images as possible without worrying about running out of battery power. The battery life also ensures you don't miss essential photo opportunities.
More notable features of the Nikon D3400:
2-megapixel DX-format CMOS sensor: Capable of capturing clear and detailed photographs, this sensor is an excellent choice for photographers who value image quality.
EXPEED 4 image processor: This processor assists the camera in low-light scenarios by eliminating noise and delivering clean, crisp shots.
11-point autofocus system: It is quick and accurate, making it ideal for action photography.
SnapBridge connectivity: This feature lets you link your smartphone or tablet to the camera for convenient image sharing and camera control.
Continuous shooting at five frames per second: The camera can capture up to 5 frames per second, making it ideal for capturing fast-moving subjects.
Full HD 1080p video: The camera can record high-quality video footage, making it a versatile solution for photographers who want to record video.
Guide Mode: This function is helpful for novices because it provides step-by-step instructions on using the camera and modifying settings for various shooting scenarios.
While the D3400 lacks some of the capabilities of higher-end cameras, it still has much to offer for the price. As a result, it is a good option for entry-level photographers seeking a camera that delivers high-quality photographs.
Nikon D3400 – Build Quality and Feel
The Nikon D3400 has impressive features, but its build quality falls short. The rubber material has less grip and feels less comfortable than other Nikon DSLRs or comparable Canon SL2. The grip itself is shallow, making it difficult to hold. The grip of the Nikon D3400 falls short of that of the somewhat bigger Nikon D5600.
The camera is also not waterproof, though it may resist mild rain and sand. So while exposing it to extreme weather is not recommended, it can withstand a modest quantity of rain or sand.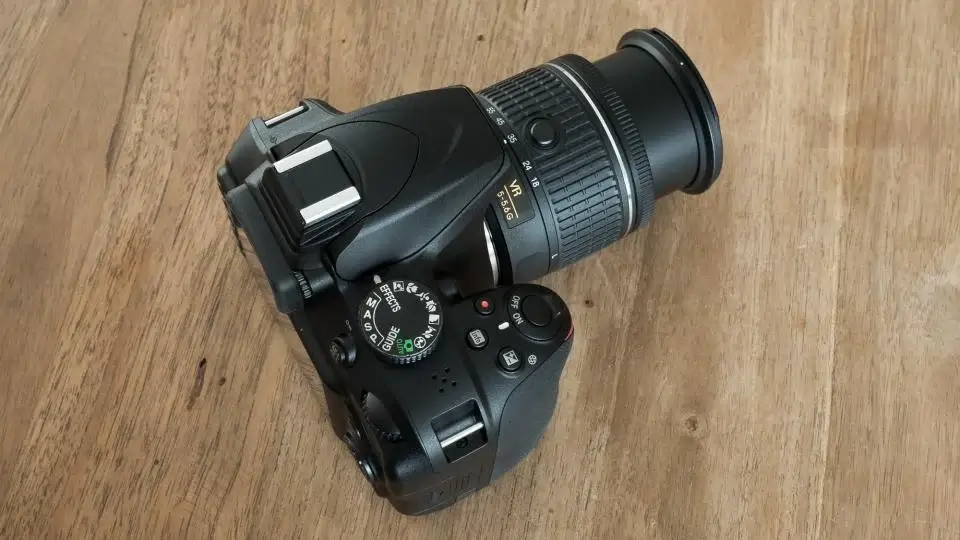 Handling and Usability
Despite the D3400's initial poor build quality, its simplicity of use and handling can more than compensate. Although it does not have as many handling options as high-end Nikon cameras, it only has a few functions that require more than a single button click to configure.
To switch between AF-S, AF-C, and AF-A modes, press the "i" button and click left or right to the desired option. While imperfect, it is far superior to Canon's equivalent approach on the SL2, which necessitates opening the camera's whole menu system to make the same modifications.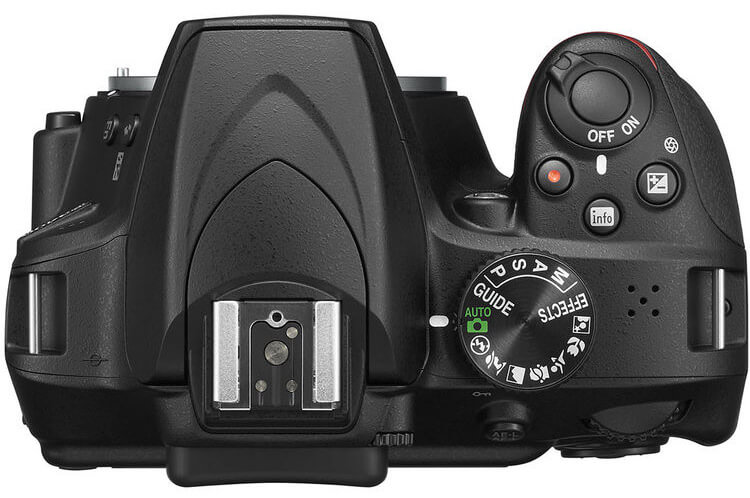 The D3400 features only one customizable button, which is located on the front left of the camera. While it may appear to be an unusual place, it is relatively easy to use. Personal preferences may differ; however, it can be used to alter ISO, which the D3400 does not have a specific button.
Accessories and Lens Options
The Nikon D3400 is compatible with all Nikon F-mount lenses, meaning photographers looking to increase their shooting capabilities have many possibilities. Typically, the camera comes with a kit lens, a versatile all-purpose lens capable of handling most forms of photography. In addition, however, a plethora of additional lenses are available specifically suited for specific genres of photography.
A popular choice is a telephoto zoom lens, such as the Nikon AF-S DX Nikkor 55-200mm f/4-5.6G ED VR II. This lens has a greater focal length than the kit lens, making it perfect for capturing distant scenes like animals or sporting events. Another choice is a wide-angle lens, like the Nikon AF-S DX Nikkor 10-24mm f/3.5-4.5G ED. This lens suits landscape or architectural photography, requiring a broad field of view.
In addition to Nikon-branded lenses, there are numerous third-party choices. Sigma and Tamron are two well-known third-party lens manufacturers that offer Nikon F-mount lenses. Third-party lenses have the advantage of being less expensive than Nikon-branded lenses while still producing high-quality photos.
The Nikon D3400 is compatible with various external flashes, which might be beneficial for adding more light to your photographs. The Nikon SB-700 Speedlight is widespread, has a high output, and can be used for on-camera and off-camera flash photography. Another helpful addition is a remote control, which allows you to trigger the camera from a distance. This is especially beneficial for self-portraits or long-exposure photography, where the camera must be stable.
Finally, numerous additional accessories are available to ensure you get the most out of your Nikon D3400. A tripod, for example, might be beneficial for holding the camera stable during lengthy exposures or for taking repeated images of the same scene. In bright situations, a polarizing filter can reduce glare and reflections. In contrast, a neutral density filter can reduce the light entering the lens, allowing you to use slower shutter speeds or wider apertures.
Performance and Image Quality
The Nikon D3400 is a flexible camera that excels in various shooting conditions. The camera's 24-megapixel sensor captures outstanding detail in landscape photography, and its dynamic range enables a wide range of tones to be caught in a single frame. The camera also generates realistic and rich colors, essential for capturing nature's beauty.
The D3400's autofocus technology works well for portrait photography, and the camera creates beautiful skin tones. In addition, the camera's shallow depth of focus enables artistic and imaginative portraits.
In action photography, the D3400's continuous shooting speed is limited to 5 frames per second, which may not be quick enough for high-speed action. On the other hand, the camera's autofocus technology is dependable and can track moving things accurately. Furthermore, the camera's high ISO capability enables faster shutter speeds in low-light situations, which helps capture movement.
Nikon D3400: Compared to Other Entry-Level DSLRs
The Nikon D3400 competes with several entry-level DSLRs from Canon, Sony, and Pentax manufacturers. The Canon EOS Rebel T7, likewise geared at beginner photographers, is one of the most popular competitors to the Nikon D3400.
Regarding image quality, the Nikon D3400 and the Canon EOS Rebel T7 are comparable, with both cameras providing good image quality at lower ISOs. The Nikon D3400, on the other hand, features a higher resolution sensor than the Canon EOS Rebel T7, allowing for more detailed photographs. Furthermore, the Nikon D3400 has a longer battery life than the Canon EOS Rebel T7.
The Sony Alpha a6000, which has a similar sensor resolution to the Nikon D3400 but at a higher price point, is another prominent competitor to the Nikon D3400. The Sony Alpha a6000, on the other hand, has faster continuous shooting and a more extensive range of autofocus points, making it an excellent choice for action photography.
Pentax is another company that produces entry-level DSLRs, with the Pentax K-70 standing out as a worthy rival to the Nikon D3400. The Pentax K-70 has weather sealing, something the Nikon D3400 does not have, making it a fantastic choice for outdoor photography. The Nikon D3400, on the other hand, has a better resolution sensor than the Pentax K-70.
Tips for Using the Nikon D3400
If you're new to photography or just getting started with your Nikon D3400, here are a few pointers to help you get the most out of your camera.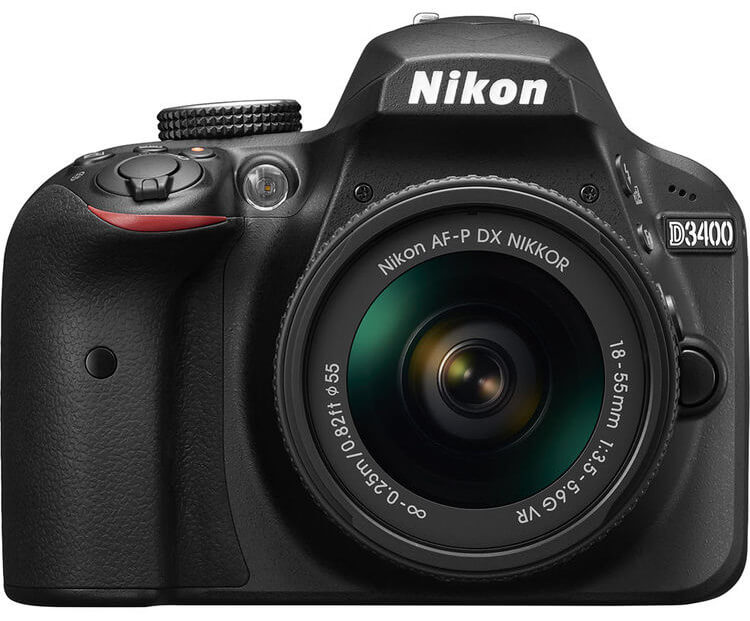 First, learn about the various shooting modes and what they accomplish. Several methods are available on the D3400, including auto, program, aperture priority, shutter priority, and manual. Each technique provides varying degrees of control over your settings and can be utilized for various types of photography.
To achieve a deeper depth of field in landscape photography, use a wide-angle lens and a smaller aperture. A tripod can also keep your camera steady and reduce camera shake.
Use a bigger aperture for portraits to blur the background and let your subject stand out. A longer focal length can also be used to produce a positive perspective.
To freeze the activity in action photography, use a quick shutter speed. Continuous shooting mode can also record many shots in quick succession.
Final Thoughts on the Nikon D3400
The Nikon D3400 is a fantastic alternative for novices seeking a straightforward and economical DSLR. In addition, this camera is ideal for individuals just beginning in photography because of its compact and lightweight design, excellent image quality, and user-friendly features.
Despite a few limitations, like a lack of advanced capabilities and menu settings, the D3400 represents outstanding value for money, making it a popular entry-level DSLR. In addition, its interoperability with a wide range of lenses and accessories allows photographers to experiment with diverse styles and techniques.
The Nikon D3400 distinguishes among entry-level DSLRs due to its ease of use and exceptional image quality. As a result, it's ideal for beginners who want to learn photography fundamentals without being overwhelmed by numerous settings and menus.